Give Thanks Together
By Suzanne Pollak
Trends happen suddenly. A random person decides, "Hey, dude, it's time to pivot. I prefer this to that. And you should too." Such a person, well known or not, must have confidence, authority, and gravitas so that others perk up and follow. J.Crew CEO Jim Brett recently opined that a glen plaid jacket with a graphic tee and camouflage pants is anything but pretty and that femininity is critical. Brett laid down the new fashion law, and we love his declaration that pretty is powerful. The principle leaps back to the days when it was an everyday thing, perhaps taken for granted—think of the 1950s suit, hat, gloves, and lipstick look. There was a time when you wouldn't go out without "putting your face on" first, even if it was just to the grocery store.
Trends take time to stick and might transition slowly into tradition. The long take occurs in the world of domestic pursuits because the family has to buy in before a trend can truly be adopted. Another difference in trendsetting at home is that even a shy wallflower can ignite a shift. The meekest person can have authority over her domain, especially if she has a strong sense of how best to operate. A domestic trendsetter turns an idea or belief into a new culture that morphs the way things are done for the whole family. The trend may involve manners, how to use the rooms in the house, or even how to spend holidays. One person can stamp personal style onto their family history, and that person could be you. Who wants to be a copycat anyway? Nobody!
It may not be apparent that a domestic trend has turned into a tradition until years later. For instance, you may observe your offspring setting the Thanksgiving table in a way that you had demonstrated in the past as they try to re-create wonderful family memories.
Cooking your first Thanksgiving dinner might be new territory. Maybe you are inviting your in-laws and making the entire meal, and you have little children underfoot. Don't worry! It will all be worth it because you are embarking on a lifetime of curating everyone's holiday experience for decades to come and creating love and memories. You are investing energy into something that will pay deep dividends later.
No matter what you choose to cook, the tradition could catch like wildfire and become the Thanksgiving trend that continues for generations, so make the most of it!
My family switched to frying our turkey at the start of that particular trend because I know to adopt a smart idea when I see one. Roasting a turkey for a four o'clock afternoon feast involves getting the big fat bird in the oven at seven in the morning to have enough oven space to finish the sides on time. Manning the oven all day smacks of one person doing all the work—hardly gratifying for any mom. As soon as my three sons were capable and mature enough to take on frying a turkey, the job became theirs. I figured the chore would fuel their testosterone, cause them to feel vital, and lessen my workload. They calculated how much oil to buy, procured the necessary equipment, and set up the outside workspace within eyesight of the kitchen window (so I could keep an eye on them). Watching my three sons hang out together, hearing their deepening voices as they handled the hot oil and flames, and then feeling their pride as they presented and carved the bird added to the joys of being a mom of teenagers. The fried turkey was even tastier than a roasted one. We proved the point by both roasting and frying turkeys for three years running (for a grand total of twenty-one guests); the fried turkey, with its crispy skin and moist meat, became part of the fabric of our family's history. My children continue the tradition to this day.
We all know it's the side dishes that make Thanksgiving personal. The sides are a chance to recall a place and time in your family lineage. All over the country, they offer a window into our cultural communities. Maine is the home of lobster. The Southeast is all about pecans, cornbread, and sausage. Farther west, they celebrate with tortillas and green chilies. In San Francisco, it's Dungeness crab and sourdough. And in the heartland, it's Idaho potatoes gratin. Look to your hometown and choose a recipe that represents those roots.
Pitching in is cool! Give each person a dedicated job. An elderly uncle can be in charge of helping a five-year-old pour the water and wines. The athletic thirty-somethings could organize touch football games. A creative person might fashion centerpieces. The obsessive guest gets the opportunity to handle cleanup. Your job as the executive chef is to be thankful for the help but not critical of the way it is done. The important thing to remember is people want to be given jobs and you do not need to be in charge of every single thing.
Your Thanksgiving might be a long weekend, not just one big dinner. The beauty of the holiday is that it spans four days, giving family and friends many opportunities to connect. Putting your entire effort on Thursday's meal is like concentrating on the wedding and not the long marriage ahead. Start a trend by planning the whole weekend for more memories and more fun—but not necessarily more work. It could be fun to make buttermilk pancakes and sautéed pears for breakfast on Thursday while everyone wanders in and out of the kitchen. It's casual, and you are probably already standing in front of the stove anyway. Plus, pancakes might fill people up so they will be satisfied until your late afternoon feast.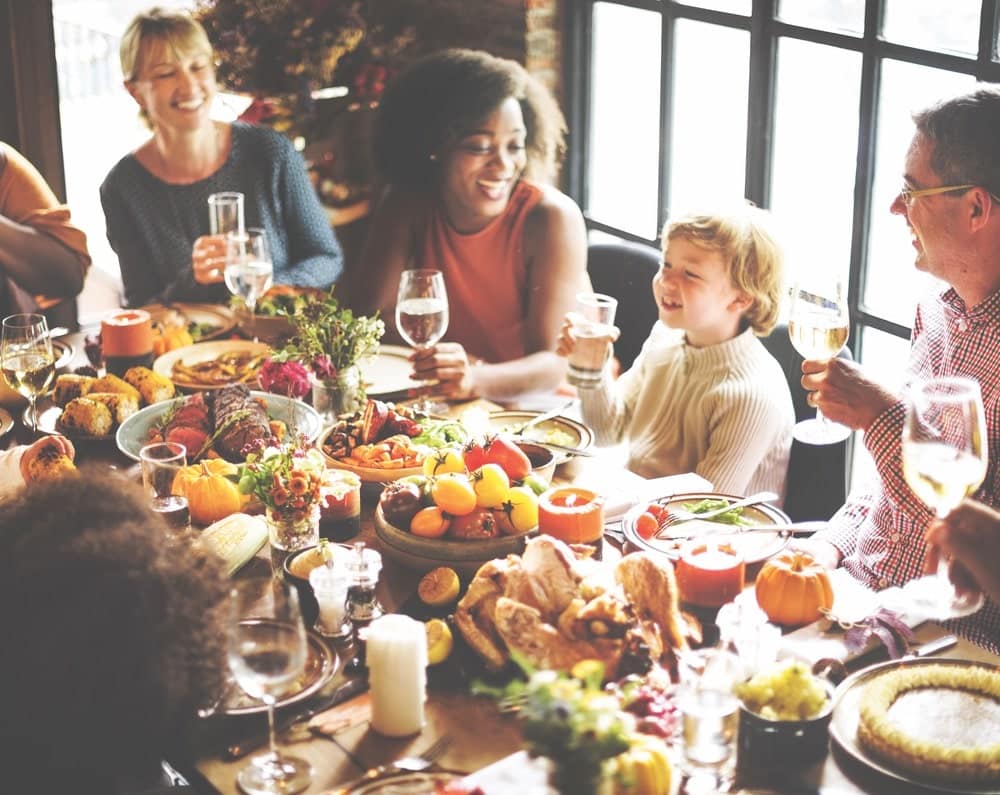 On Friday, the ideal breakfast is leftover pie and coffee. (Often leftover pie tastes better than it did the first time around.) If your brood includes starving teenagers, consider macaroni and cheese for lunch. It can be made ahead of time as long as you have enough refrigerator space to store it. Friday night is ideal for some kind of roast to feed the masses. How about an oyster roast? The bivalves are in high season at that time, and the event makes for an unforgettable party. It doesn't matter if they're raw, steamed, or fried—all preparations are delicious.
Another crowd-pleaser requiring even less work is gumbo, a complex and elegant stew that can easily be prepared the month before and frozen. The Charleston Academy of Domestic Pursuits has tested over fifty versions, and, not surprisingly, ours is in a class by itself. Paired with cornbread and Carolina Gold rice, nothing could be finer. If your group is down to six or eight on Friday night, then go back to the oyster idea and serve a scrumptious oyster stew. Have cocktails in the kitchen and prepare the stew in front of your guests. To gild the lily, ladle the stew into silver cups so your freshly polished ladles will be put to more use than just serving the Thanksgiving gravy.
By Saturday night, your gang might be craving a piece of meat. For a dozen years, we had an annual steak-and-cheesecake night with a game of charades after dinner. No matter what you choose to cook, the tradition could catch like wildfire and become the Thanksgiving trend that continues for generations, so make the most of it!
— V —
---
Suzanne Pollak, a mentor and lecturer in the fields of home, hearth, and hospitality, is the founder and dean of the Charleston Academy of Domestic Pursuits. She is the coauthor of Entertaining for Dummies, The Pat Conroy Cookbook, and The Charleston Academy of Domestic Pursuits: A Handbook of Etiquette with Recipes. Born into a diplomatic family, Pollak was raised in Africa, where her parents hosted multiple parties every week. Her South Carolina homes have been featured in the Wall Street Journal "Mansion" section and Town & Country magazine.
ARTICLE CATEGORIES