A Story of Hope from Behind the Lens
Introduction by Ainsley Rogers | 
Photography by Romona Robbins
The tenth anniversary of September 11 weighed heavy on the hearts of Americans across the nation. No one, however, stared this memory in the face more than the New Yorkers committed to rebuilding their city and their lives after such a devastating tragedy. Upon our arrival at Ground Zero, it was obvious the throngs of people, there to pay tribute to the fallen and the survivors, were surrounded by emotion. Flags of red, white and blue, lining the streets and hanging from buildings, seemed almost mournful as they snapped in the gentle breeze. Protestors of all types filled the streets: some were there to create controversy and to question the events that had occurred on 9/11 ten years before; still others were there for a different cause entirely. They created a stark contrast to those gathered with heads bowed in quiet memory of those who were lost in the attacks. But above all the chanting, tears, and voices, an impromptu a cappella rendition of "I Surrender All," sung together by strangers, filled the air and placed hope in the hearts of many.
Award-winning photographer Romona Robbins was there to capture the emotion that permeated the day from behind her camera lens. A photographer often sees details that otherwise go unnoticed by the average passerby. It was with this eye that Robbins was able to encapsulate the emotion, grief, healing, and hope that defined the tenth anniversary of September 11. Below is VIE's exclusive Q&A with Robbins.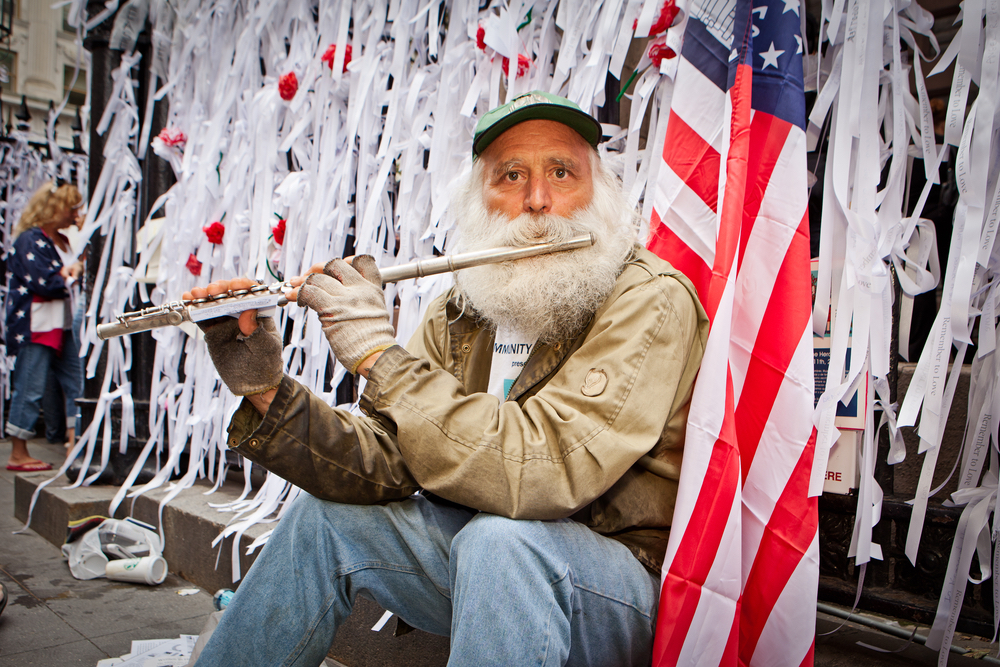 VIE: First things first. How did you personally interpret the mood of New York City on this tenth anniversary of September 11?
Robbins: That day in particular was appropriately somber. Ironically, for seven days that we were there, there was not a cloud in the sky. On September 11, however, there was no sunshine; it was windy and chilly. It was as if all the souls lost in that tragedy were present to remind us of what happened that day ten years ago. The energy of the entire city seemed mournful.
VIE: The memory of what happened is such a sensitive one to New Yorkers. How were you equipped to cover the tenth anniversary and talk to people affected by the event?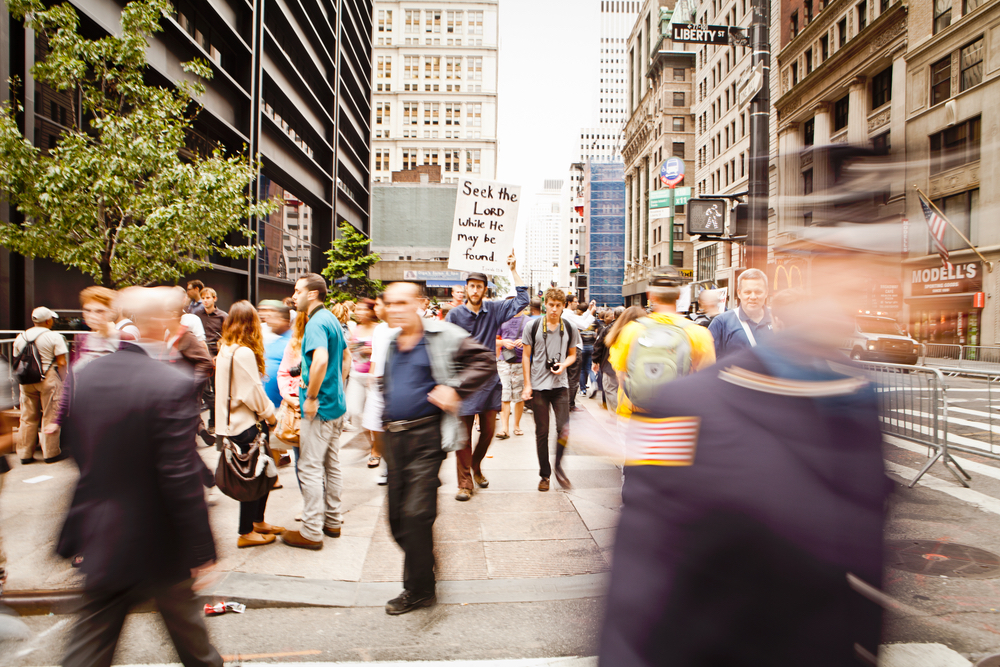 Robbins: I couldn't actually say that I was emotionally prepared. I honestly didn't know what to expect when we arrived at Ground Zero. I remember telling the cabbie to take us to Ground Zero, and he said, "I'll take you as close as I can get you. But you can hardly walk down there right now." Most of the people had the attitude of being survivors and yet there were others trapped in that moment a decade ago. Security was tight because of bomb threats. People were practicing their rights of free speech and religion. It was somewhat emotionally overwhelming.
VIE: Which of these people's story stood out the most?
Robbins: There were so many stories to hear that day. Some of the policemen we talked to were survivors, and when I asked how they felt about not being invited by the President to attend the official memorial, one responded, "Honestly, I'd just rather be at home with my family that day. Because I can."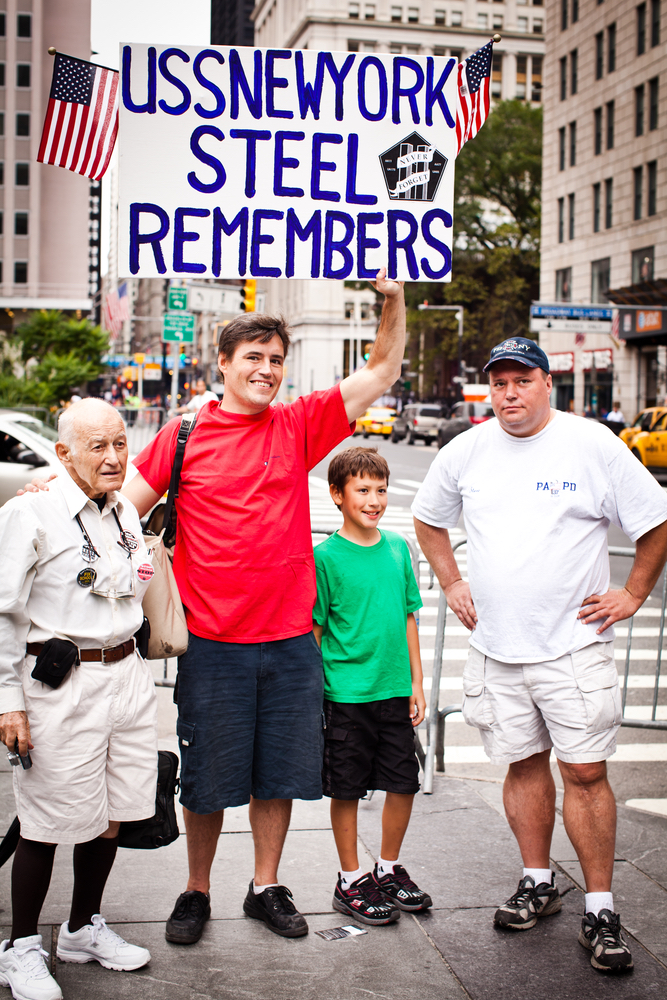 John Hamm's story of escape was also heroic and powerful. His company was located on the eighty-seventh floor of the first tower to be hit. He was able to describe the whiplash effect of being inside the building when the plane crashed into it. John carried a woman down eighty-seven flights of stairs to safety and when they reached the bottom, a firefighter, using a penlight, found an escape route for them. But his joy the day we met him was contagious; he was so grateful for the life he had. He was with his eleven-year-old son, who would have been a year old at the time of the attack. And he wouldn't stop smiling.
John's brother's story was even more profound. Steve Hamm wasn't in either of the towers but he had five family members that were. At first, all were presumed dead. But, one by one, they each came home to him that night. Each and every one of them had a unique story, yet they all shared one experience that day: they survived.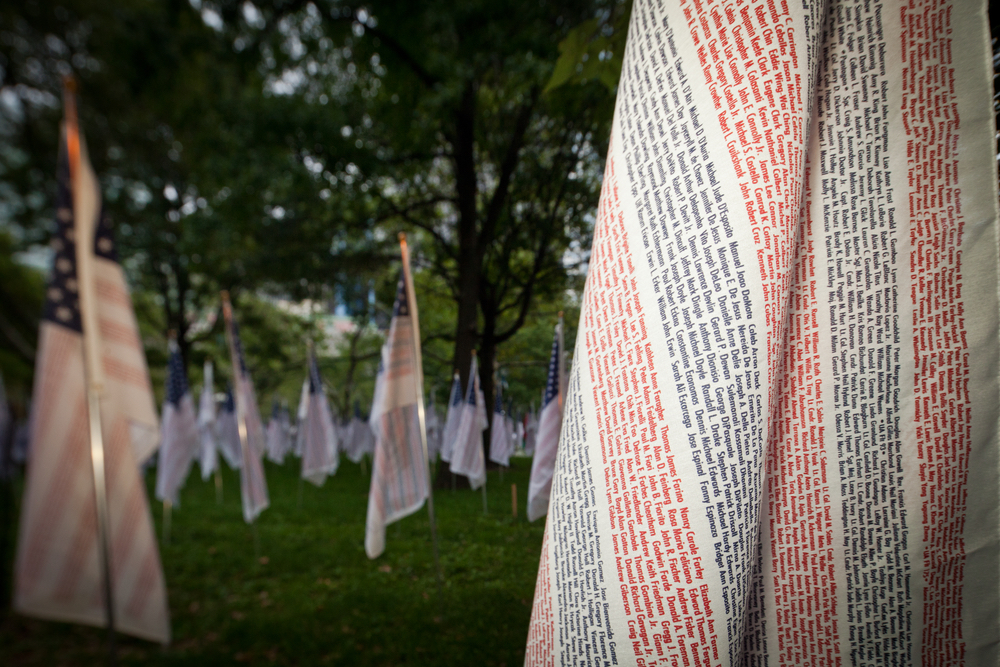 VIE: How did talking with these people about their experiences feel?
Robbins: There were moments that were hard to take in. When dealing with grief, you have to be so delicate. You have to be respectful of people and their journey. To see a full-grown man in uniform crying broke my heart. I could not bring myself to steal him from his moment to snap a photo. Images like this were all over the city, but they weren't for anyone else to take.
VIE: From the people and scenes you photographed on September 11, 2011, what is the story behind the tenth anniversary?
Robbins: I certainly feel that the tenth anniversary was a story of hope and strength. In my mind, America is a powerful nation that was once deemed untouchable. That day (9/11) destroyed or touched the lives of millions, whether it was with lives lost, through economic fallout, or in connection to our freedoms in general; and the repercussions continue to be felt. Maybe we aren't invincible like I thought we were, but that experience definitely taught us how to come together, to rebuild our spirit, and to make ourselves stronger, and that will make us more resilient. This is what I witnessed on the anniversary of that day.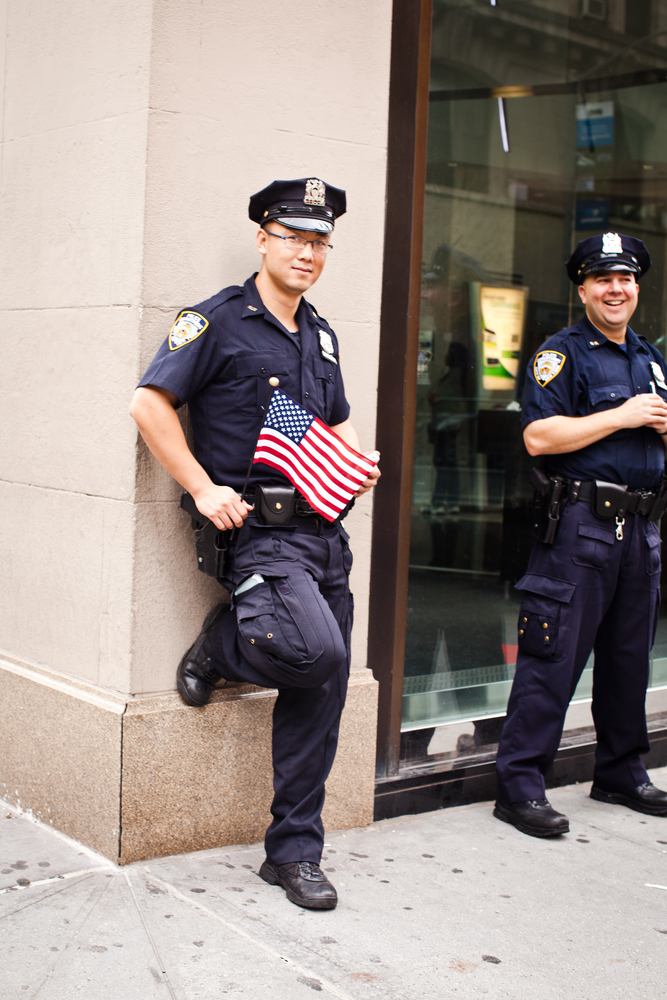 VIE: Is that why the skyline shot you captured of the Twin Towers Tribute in Light is so dear to you?
Robbins: Yes, but I wasn't expecting that. I had read over the years that the city had discussed ceasing the light tribute due to various factors. Someone mentioned that it cost several million dollars to run it for just a few hours. This was probably the last time those lights would illuminate the New York skyline, so I wasn't going to miss it. We had been walking for ten hours that day covering the tenth anniversary, and when we finally managed to get across the Brooklyn Bridge to make the shot happen down by the river, that skyline was the most beautiful thing I'd ever seen. What struck me in that moment was how the clouds that had hung ominously in the sky all day were trapping the beams of light and creating a protective blanket over the city. To me, that blanket of light is so symbolic. It represents the lives that were lost and that will live on in our hearts forever.
—V—
ARTICLE CATEGORIES