By Tori Phelps |  
Photography Courtesy of Rachel Parcell
At just twenty-two years old, Rachel Parcell has turned Pink Peonies into a must-read style blog for thousands of similarly fashion-obsessed readers. She popped up on VIE's radar long before New York Fashion Week last September, but after meeting her there, we were seriously hooked. Here's why.
Most high school students just want to blend in, but even back then, fashion blogger Rachel Parcell didn't mind standing out in what she calls "outlandish" outfits—which she now admits were hit and miss. The Utah native has always adored fashion. In grade school, she remembers being at the ballet barre, appearing to be focused on her pliés, while her real thought was on assembling her next day's outfit.
The dance world's loss is the fashion world's gain. In just a few short years, Parcell's Pink Peonies blog (named for her favorite flower) has become a style bible for women all over the country.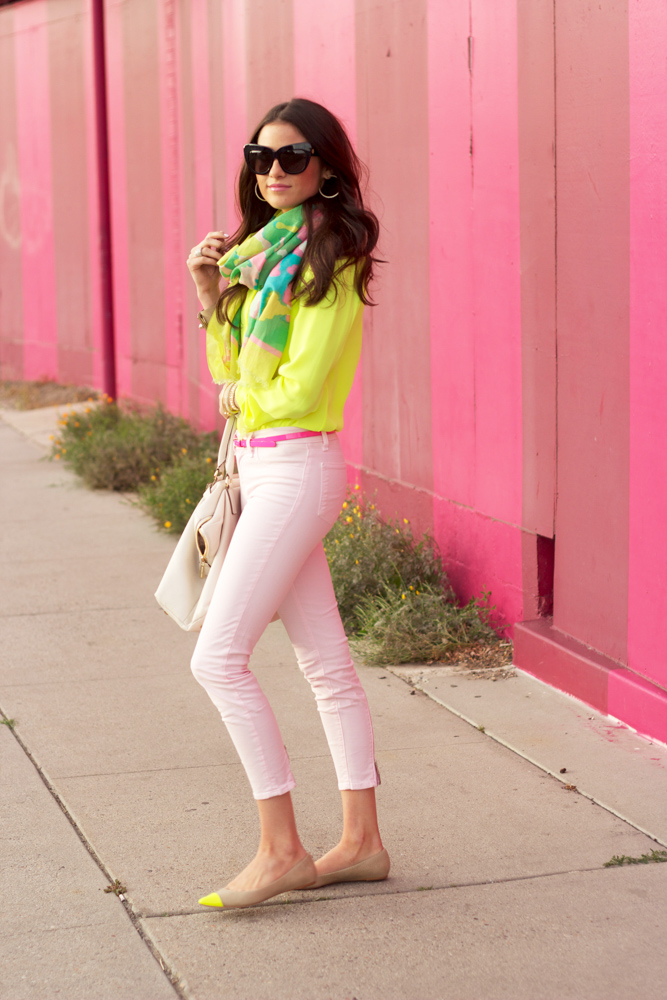 Ironically, Pink Peonies had nothing to do with fashion in the beginning. Parcell launched the blog when she was engaged to her husband as a tool for sharing their first year of marriage with friends and family. After the two vacationed in Greece, Parcell naturally blogged about it. "When women googled 'what to wear in Greece' for their own vacations, my blog popped up," she explains. "They asked me to share where I got each article of clothing, and that's what sparked the idea to create what is now Pink Peonies."
Today, the site is a repository for Rachel's style adventures, in which she documents her daily outfits and provides little glimpses into her personal life. "Mainly, it's a space where I can share what inspires me, with hopes of inspiring other women," she says.
Mission accomplished. In fact, some of the fashion industry's biggest names have taken note of Parcell and Pink Peonies. Celebrity stylist Rachel Zoe named Parcell her "blogger crush of the week," and she's been mentioned everywhere from the online pages of Glamour and Elle magazines to top designer Tory Burch's Facebook page. Parcell's intuitive approach to fashion has also netted collaborations with names like Ann Taylor and WhoWhatWear.com. In addition, she recently hosted a style night out at J.Crew in Salt Lake City, which allowed her to meet some of her readers in person.
So where does the woman with inspirational style find her own inspiration? Parcell depends on fashion magazines like Vogue and InStyle, as well as trips to Fashion Week, to help shape her personal style, which she describes as "feminine and classic with a little edge." But she, too, has a long list of favorite blogs, with Cupcakes and Cashmere and The Glamourai getting the most play lately. "I can feel their passion and the love for what they do, and that, to me, is what makes a blog interesting and exciting to read," she says.
Mainly, it's a space where I can share what inspires me, with hopes of inspiring other women.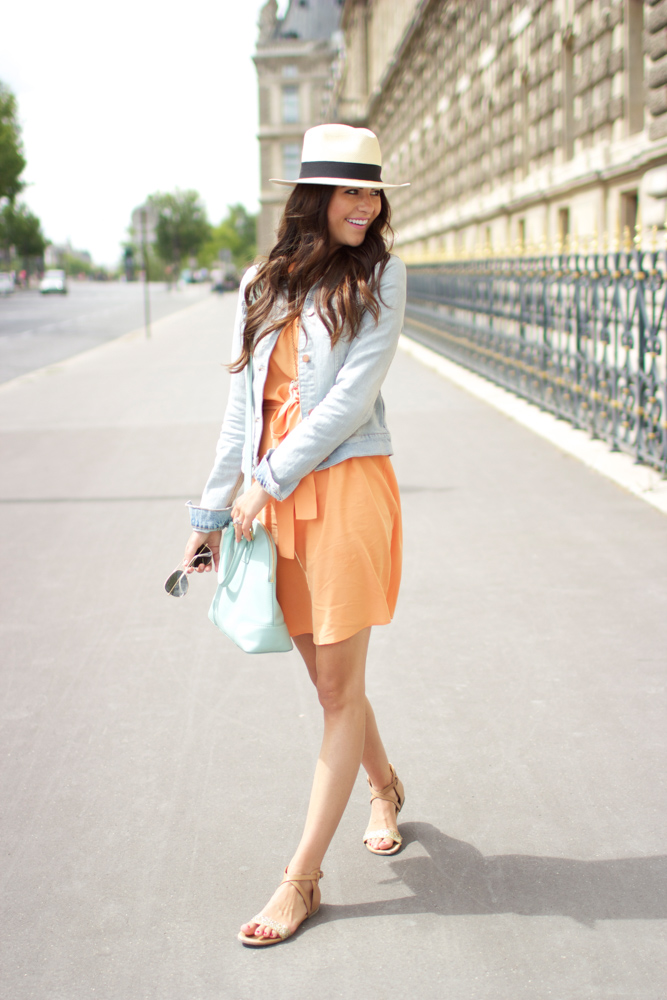 Each season provides a fresh new canvas of ideas, too, and for spring, emerald-hued items are topping her list of must-haves. "It's always been one of my favorite colors, so I'm excited to experiment with unique color combos," she shares.
Another swoon-inducing trend: interesting geometric prints, like the square print she fell for in the Louis Vuitton Spring/Summer 2013 show.
The problem, as always, will be finding time to restock her closet. Parcell, who is based outside Salt Lake City, is working toward her bachelor's degree while also serving as head jewelry designer at local clothing company DownEast Basics. Oh, and did we mention that she blogs? She fits it all in by committing a serious beauty don't: skimping on shut-eye. "I don't sleep, or at least not much," she confesses. "It would be really easy to put my blog on the back burner with everything else I have going on, but it's truly my passion. It keeps me sane."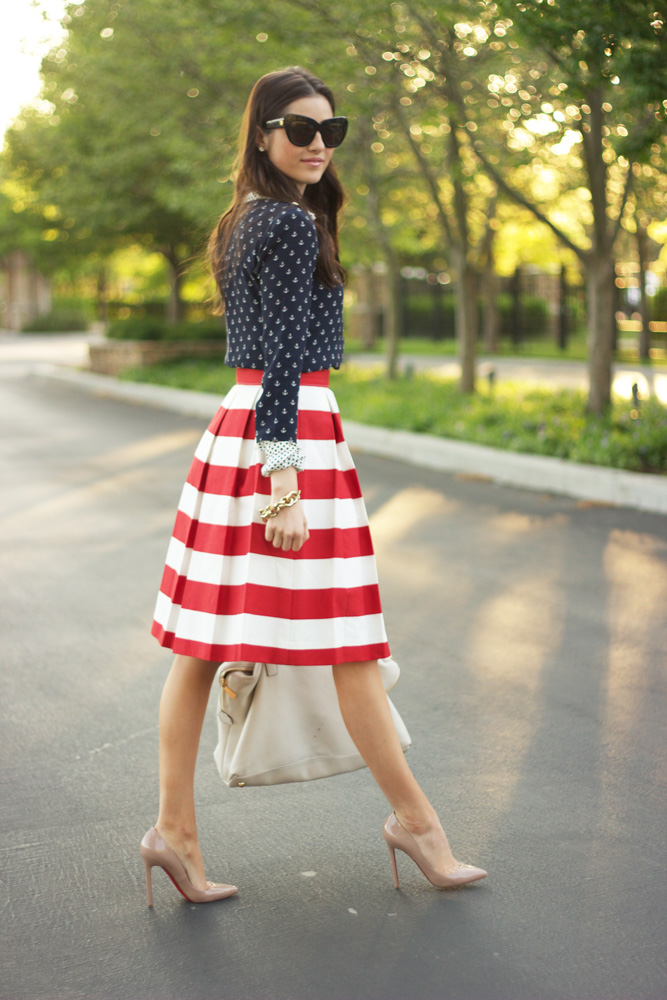 A devout Mormon, Parcell also relies on her faith, opting not to hide what she considers the most important thing in her life from view within an industry where sometimes-sinful headline-grabbing behavior is not unexpected. "My faith has taught me to seek anything virtuous, lovely, or of good report," she says. "For me, blogging and fashion fall into that category. The industry possesses both vice and virtue; I look for the virtue."
Whatever she's doing is certainly working. Parcell is still in awe of Pink Peonies' enormous success, marveling at how her little space on the Internet has opened so many doors and introduced her to people she wouldn't have met otherwise. Perhaps because of its meteoric rise, it's difficult for her to predict where her blog will be in five years. Her own future is a little clearer, however. She hopes kids are in the picture within a few years (she envisions them spilling apple juice down the front of her Alexander Wang dress) and that her career both satisfies her and stokes her passion.
Not one to sit back and congratulate herself on everything she's achieved at such a young age, Parcell is much more interested in what's next. "I have so many goals to check off that it's hard for me to appreciate what I've accomplished," she says. "By the time I've done everything I'd like to, I'll be an old woman."
In a stunning outfit, no doubt.
— V —
ARTICLE CATEGORIES