Visions, Love, and New Urbanism
By Jordan Staggs
It was 1981. President Ronald Reagan took office, Walter Cronkite signed off on CBS Evening News for the last time, the space shuttle Columbia flew its first mission, and Raiders of the Lost Ark hit cinemas as the debut of Indiana Jones. Also that year, on the Gulf Coast of Northwest Florida, a legacy was born.
In the late 1970s, Seaside founder Robert Davis and his girlfriend at the time (now his wife), Daryl, were on the set of a House Beautiful photo shoot for a home in Coconut Grove, Florida, when they met architects Andrés Duany and Elizabeth Plater-Zyberk. The friendship they formed that day would echo greatness for decades to come as the two couples worked together to create the town of Seaside, Florida. Seaside, a charming hamlet with white-sand beaches overlooking the Gulf of Mexico, became the first example of New Urbanism town planning in the United States. What began as a few sharecropper cottages transported to the beach from Alabama became the vibrant tourist town full of renowned architecture, art, and culture that it is today. Seaside celebrates its fortieth anniversary in 2021.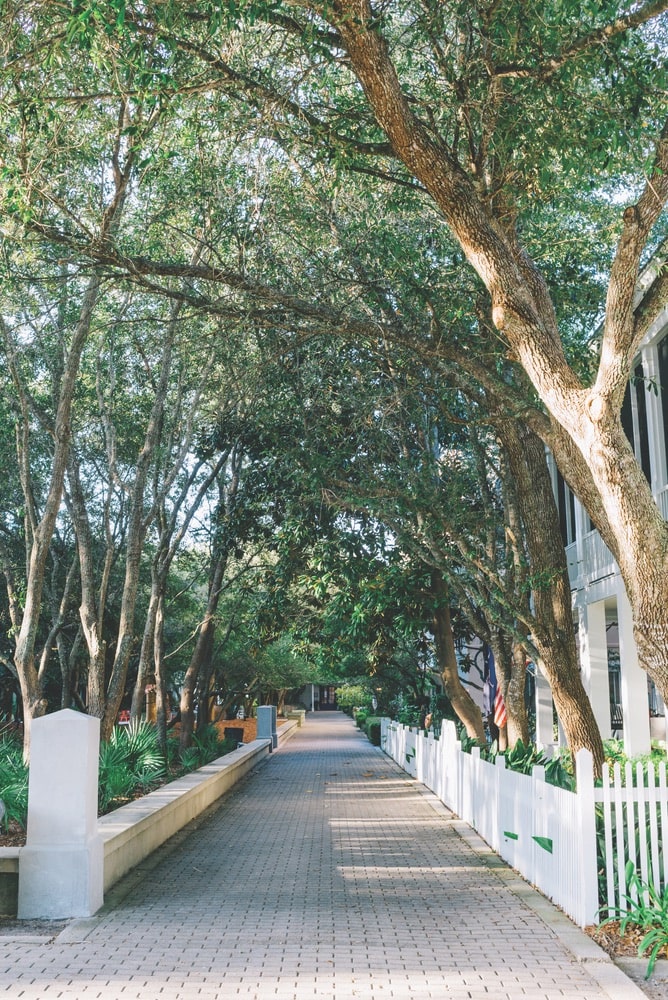 New Urbanism became the manifestation of Americans' desire to return to a simpler, more beautiful life after the boom of national industry and urban growth. The idea of a town where people could live, work, play, and form friendships in one safe, walkable area began to grow in the minds of Seaside's creators. The Davises had spent many road trips exploring rural towns across the country, studying communities and lifestyles that embraced the philosophy that sometimes less is more. Family, neighborhood, and happiness were staples to be achieved in the creation of their new development. Robert's grandfather, J.S. Smolian, had left him a pristine half-mile stretch of beach and the land just north of it. Many fond family memories had been made there while building sand castles, collecting shells, and watching the skies blaze with color as the sun sank beyond the Gulf. Robert knew it was the perfect place to build his New Urbanism oasis.
The Davises, Duany, and Plater-Zyberk set out to reinvent American small-town life both in design and prosperity—a monumental feat that would literally take a village to accomplish.
"When Daryl and I first dreamed of creating a town, we imagined experiences such as those we cherished from my childhood summers on the beach with my family, and Daryl's summers on streets filled with children and adults sitting on front stoops," Robert has said. "We wanted Seaside to be a place where families could leave behind their workday lives, slow down, and play together." He continues, "We were aware that we were making a statement about how American small town urbanism could and should be revived, and that Seaside, as a pilot project for the revival of traditional urbanism, was a critique of the soul-sapping sprawl that had covered over so many fields and forests by 1981. But it wasn't until several years later that Seaside became the birthplace for a movement."
"When Daryl and I first dreamed of creating a town, we imagined experiences such as those we cherished from my childhood summers on the beach with my family."
As Seaside gained steam, Davis enlisted more award-winning architects to create homes and community hubs within its limits. Léon Krier had been a consultant and inspiration for Duany and Plater-Zyberk (who went on to form their own firm, DPZ) during their town planning. His vision to create sandy footpaths throughout the town was also a stroke of brilliance, and it is still ingrained in the town's identity. Architects Rodolfo Machado and Jorge Silvetti, along with Steven Holl, have their visions (and names) stamped on the commercial hub in Central Square, the town's epicenter.
This appreciation and implementation of great architecture in a seemingly quaint town by the beach further spread Seaside's revolutionary message throughout the late 1980s and the 1990s. The Congress for the New Urbanism was founded in 1993 with the help of DPZ, celebrating the movement's significance in twentieth-century American architecture. The Seaside Prize was also formed as a weekend-long convention of some of the brightest minds in town planning and architecture, with lectures and events hosted by the Seaside Institute along with awards presented to visionaries who, through their designs, have changed the way people live.
Along the sandy pathway to perfectly melded form and function, Seaside's cultural identity also grew. Southern travelers were drawn to its idyllic family-owned shops, brick-paved streets, and tree-lined parks just as much as they were to the shimmering Gulf. The diverse homes planted throughout the eighty-acre community became homes away from home for those seeking a mix of privacy and neighborhood connections during their beach vacations. Today, families and visitors from around the world seek Seaside's simple elegance for their getaways, relishing its hopeful exuberance and reverence for the "old ways" of living.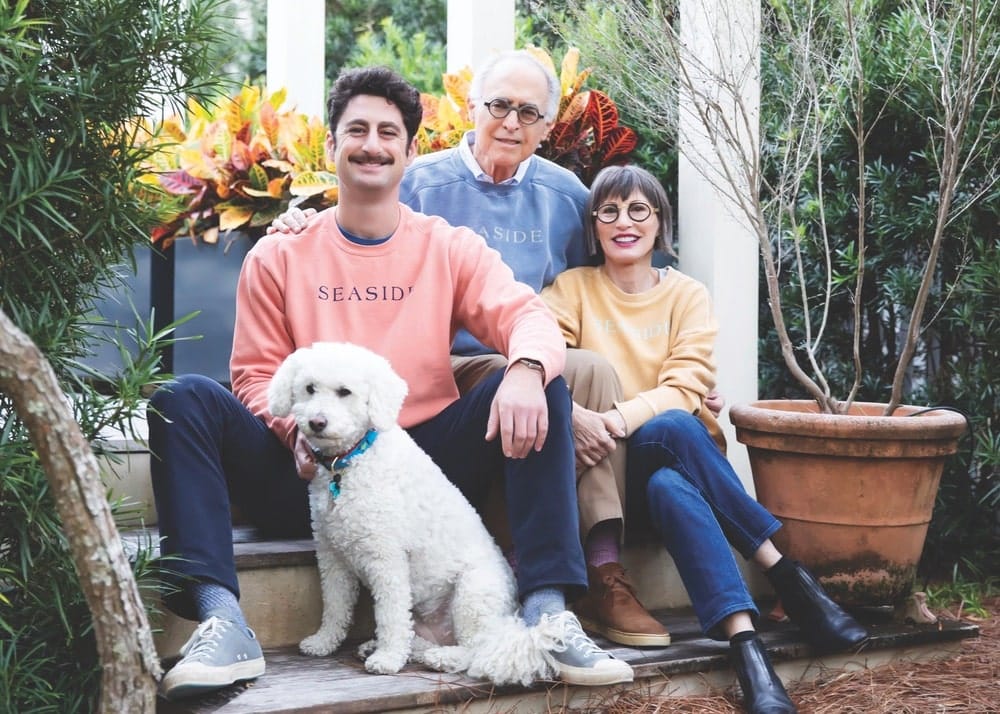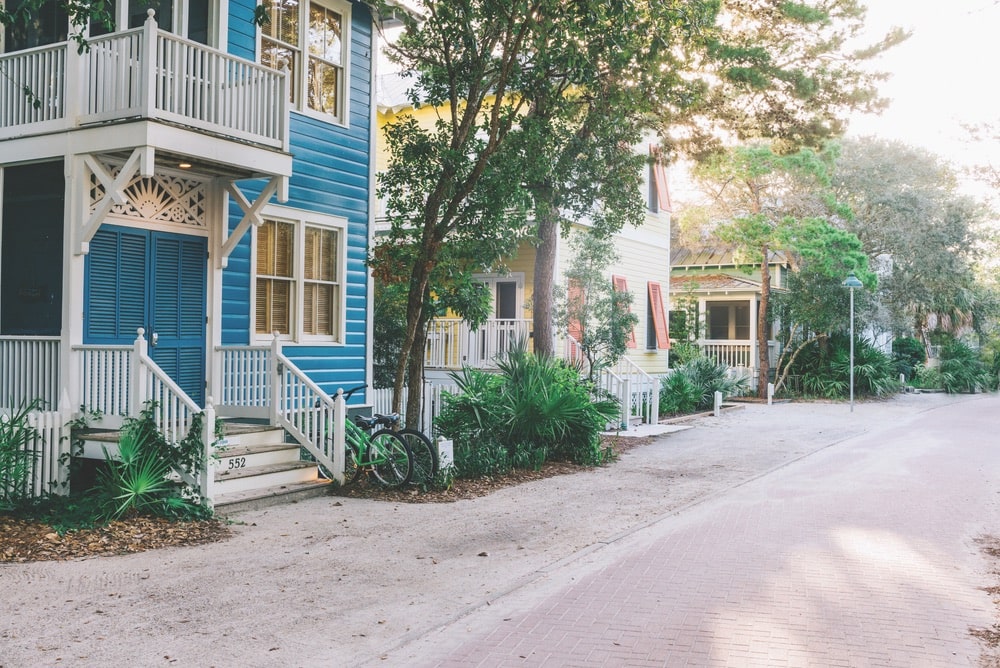 In 2021, as it prepares to celebrate entering its fourth decade, Seaside looks back on all that has been accomplished by its founders and community members while also boldly embracing all that the future holds.
The town has seen many changes in recent years. Visitors who know it only as the technicolor backdrop for the 1998 film The Truman Show would be surprised at its growth. But visionaries, by nature, are always improving upon their visions, and the creators of Seaside are no exception. A massive expansion to Bud & Alley's Waterfront Restaurant and its surrounding outdoor courtyards is under way. The iconic Seaside Post Office was relocated in 2018 to Central Square's northeast corner, making way for a planned tower designed by Léon Krier. The Lyceum and Seaside Neighborhood School have grown into a two-story classroom arcade with an events lawn and amphitheater.
Dhiru A. Thadani of Thadani Architects + Urbanists, a former Seaside Prize recipient, Seaside artist in residence, and author of Visions of Seaside, has worked closely with Robert Davis since 2011 to help realize many of these plans and propel Seaside into the future.
"For me, Seaside is a living and continually changing laboratory for making places that add to human happiness."
"I believe that the success of Seaside is based on love: Robert's love for the land and the memories it holds; Daryl's love for Robert and her willingness to move to a desolate part of Florida and aid him in realizing his dream; Andrés and Lizz's love for humanity and their search for making a model sustainable community," Thadani has said. "It shows in the homeowners and the millions of visitors who fell in love with the town the moment they set foot there and in the residents of Walton County who love the place and identify Seaside as home. In a conversation I had with the world-renowned Danish planner Jan Gehl, we concluded that great places could only be created if clients and designers truly loved people. That sentiment is the essence of Seaside's success, making beautiful places for all people to enjoy, where they can love and feel loved."
In short, Seaside has always been about family. The Davises' son, Micah, has also opened his arms to the community his parents built. He has been a marketing executive for the Seaside Community Development Corporation for over five years now after moving to the area from San Francisco, where the family splits their time when they're not enjoying sandy feet and fresh seafood along the Gulf Coast.
As Seaside plans its fortieth-anniversary celebrations, keeping social distancing and COVID-19 safety precautions in mind, it also welcomes a new boutique hotel called The Court and Aperitivo, a new cocktail bar concept from Bud & Alley's owner Dave Rauschkolb, coming in 2021.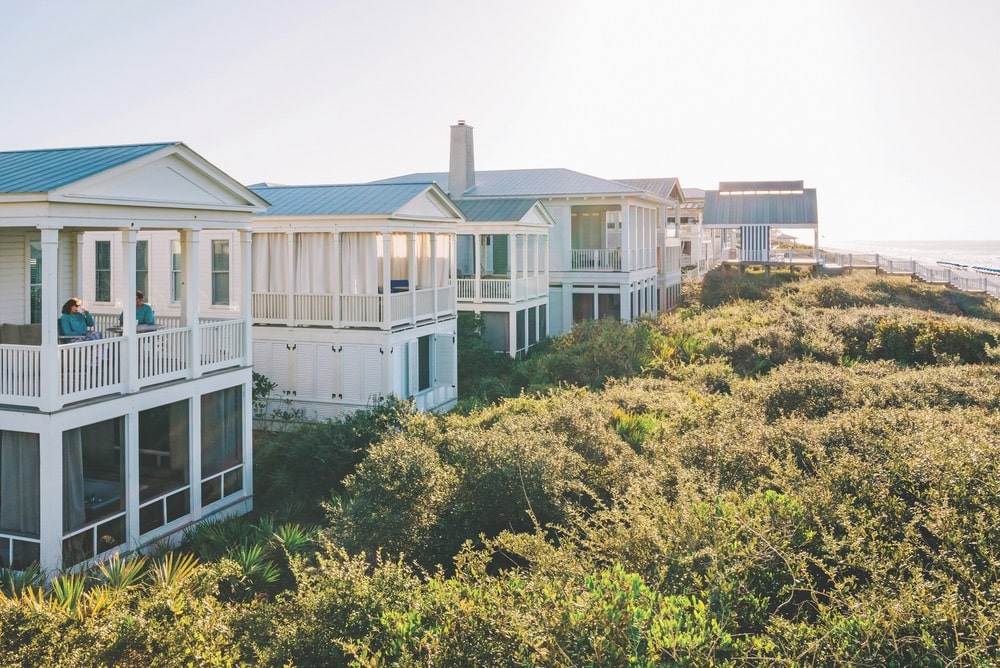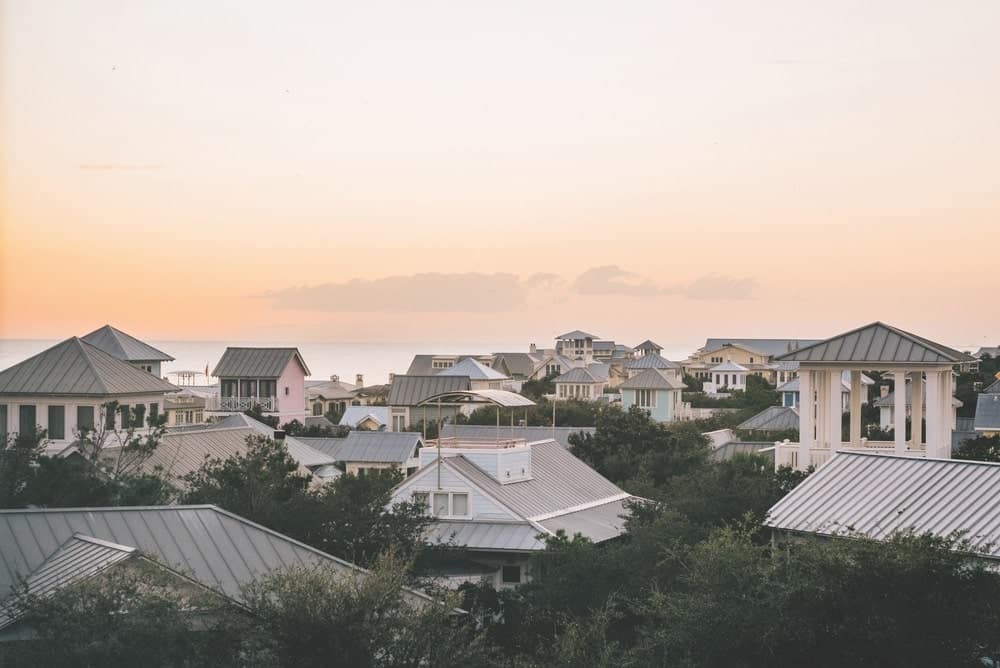 "We are so thrilled to continue growing and expanding the vision and the meaning of the Seaside lifestyle here along Scenic Highway 30-A," says Erica Pierce, vice president at The Seaside Style. She and her team are spearheading the anniversary preparations, working alongside the Davis family and other town merchants. "Although we've faced many challenges in 2020, our community has remained a place where families can get away from it all and enjoy their time at the beach together. The lifestyle built here in Seaside is unlike any other. We are proud of what's been created and so excited to see what the future holds."
That future will include improvements and changes for the town, but its leaders see this growth as an opportunity rather than a detriment. Change is permanent, as they say, and it's a philosophy Seaside has always embraced wholeheartedly.
"For me, Seaside is a living and continually changing laboratory for making places that add to human happiness," Robert Davis wrote in VIE in 2014. "As a holiday town, it has a head start on making people happy. They come here, prepared to relax and let their hair down, to play with their kids and become more childlike themselves. The other towns that I know well—including Rome, Italy, and San Francisco, California—have the ability to make people happy through the conviviality of urban life, the opportunity to share great cuisine with friends and family, and the beauty of their architecture and urban spaces. Daryl and I have sought to learn from great cities and towns and incorporate our knowledge into making Seaside a place that combines beauty, fun, and funkiness in equal measure. Though it has become chic and fashionable, like any successful holiday town from Nantucket to Portofino, it is inclusive and accessible to almost everyone who wants to visit for a few hours or a few days."
Cheers to forty more years of vision, love, and happiness, Seaside!
---
Visit SeasideFL.com to learn more or plan a visit.
---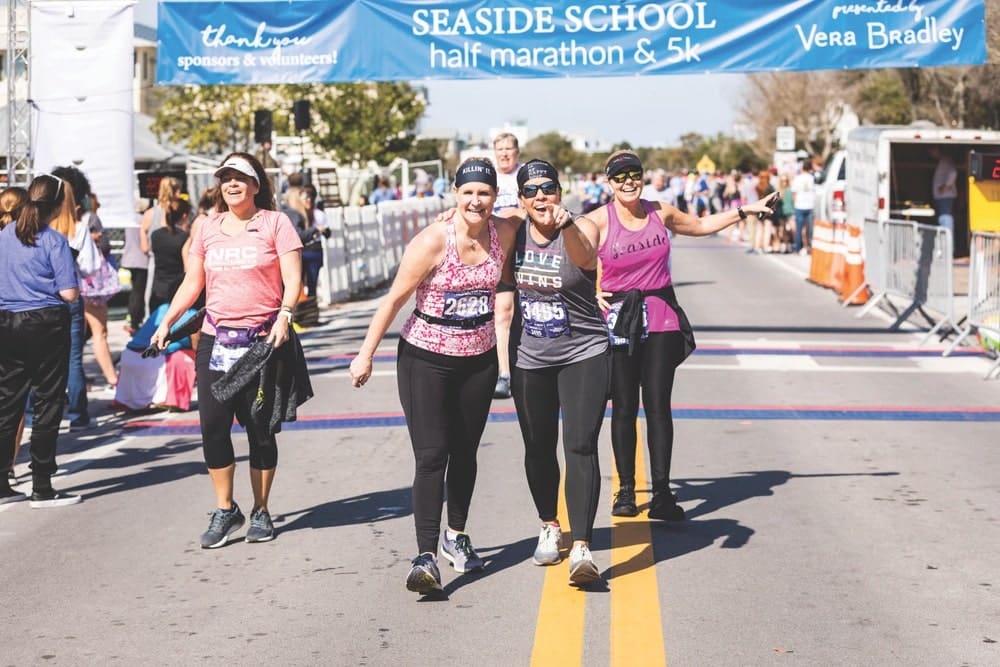 A New Step for Tradition
19th Annual Seaside School Half Marathon + 5K Goes Virtual
The Seaside School Virtual Half Marathon + 5K is now open for registration to participants around the world. In an effort to minimize the spread of COVID-19 and prioritize the health and safety of the community and participants, the Seaside School, Inc. and Seaside School Foundation have decided to move forward with a virtual half marathon and 5K for the nineteenth annual event.
The virtual half marathon (13.1 miles) and 5K (3.1 miles) will start on Sunday, February 14, 2021, and end at midnight on Sunday, February 28, 2021. Participants can run or walk at any pace during the race dates, then report the time to be added to the national results leaderboard.
"With continued uncertainty, this virtual option will allow us to provide the safest possible experience for participants," says Teresa Horton, executive director of the Seaside School Foundation. "This was an incredibly difficult and emotional process for our school and community as a whole to make. With that said, we need the community's support this year more than ever. We look forward to virtually cheering on our runners in 2021!"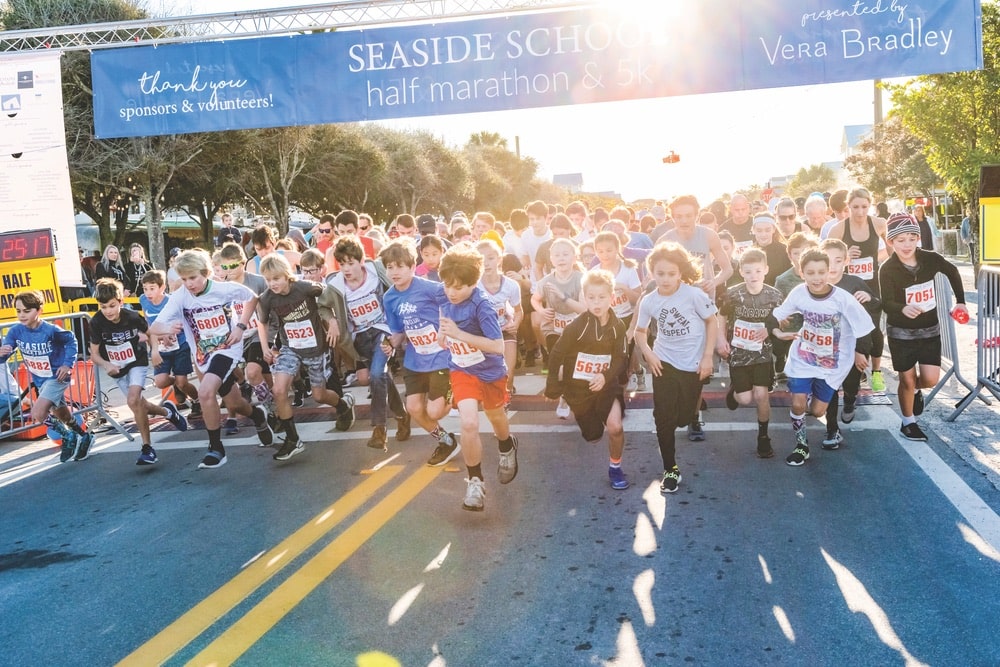 Registration cost for the 5K is $75 and the half marathon is $100. For participants to receive complimentary swag bags before race week, runners need to complete registration before January 17, 2021.
"We're looking forward to engaging with the runners virtually while still offering some perks of race day our participants have come to know and love!" says Mrs. Horton.
One hundred percent of the funds raised from the virtual race go to the Seaside Schools Foundation, supporting the operating budget for the Seaside Neighborhood School and Seacoast Collegiate High School. The Seaside School is a tuition-free, public charter school serving students across Walton County. Last year the race raised more than ever, with proceeds totaling more than $600,000.
"Our students and parents are extremely grateful for each and every race participant this year," says Kim Mixson, principal of Seaside Neighborhood School. "This fund-raiser has become a part of our school culture, a stellar example of the Seaside Way in action. By applying creative thinking and problem-solving, we can keep this tradition alive and meet the needs of our growing school and community."
---
Find registration options at RunSeasideFL.com.
ARTICLE CATEGORIES