By Colleen E. Hinely | Photos by Chryseis Golden Photography
schatzi [shaht-see] noun. German slang. darling; sweetheart
Her spirit is palpable, ambient, and wise. Dannica Lowery, a.k.a. "Schatzi," is the transcendent darling of the duo Schatzi and the String Boffin. Born and raised in Pensacola, Florida, Dannica inherited a lyrical virtue from her raconteur mother, Kathy, a published poet and storyteller. Her instrumental prowess is the propagated legacy of her musician father, Mark Lowery. Dannica Lowery's early life was fortified by music and nurtured by her parents and other talented family members, including several aunts, uncles, and cousins. Schatzi's early exposure to various genres of music, including rock, blues, and folk, triggered her hunger to pursue a musical career.
boffin [bof-in] noun. British slang. scientist; technical expert
Ben Parsons, the "String Boffin," began playing guitar at the age of eleven. Impelled by his love of blues guitar, Ben spent his formative years mastering various techniques and the artistry of classical guitar. Later, Ben would whet his musicianship as a music theory and composition major at Florida State University, expanding his string acumen with study of classical guitar, mandolin, and piano. Ben's early exposure to the various genres of music, his later course of study in music theory, and his unwavering lust for perfecting his craft actuated the "String Boffin" and prompted his dedication to melodic creativity.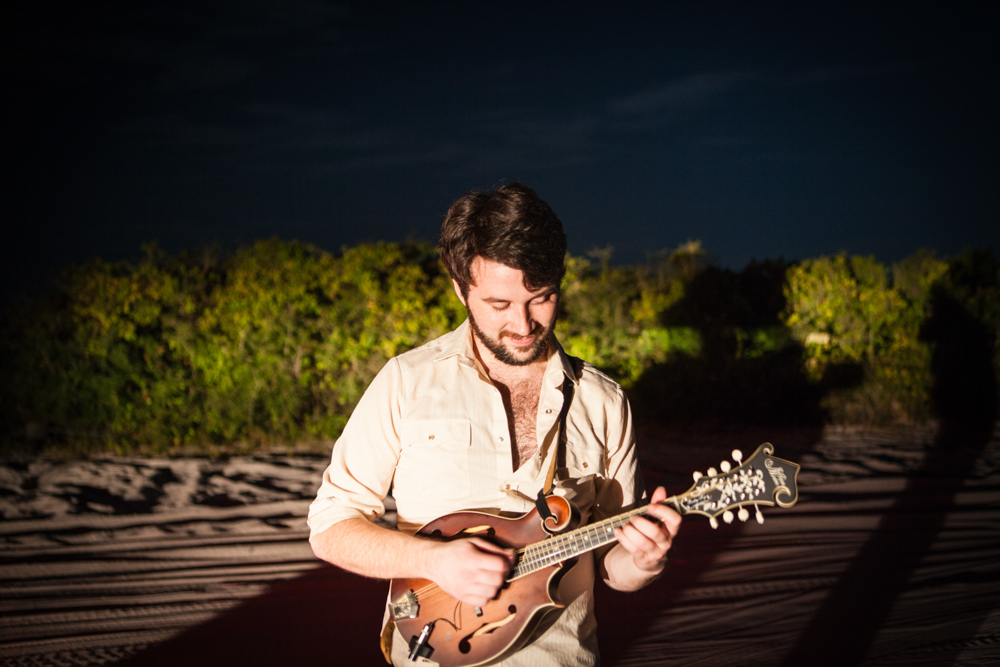 Whether experimenting with an impromptu riff during a live performance or collaborating on a new song, there is a discernable, unspoken harmony of thought patterns exchanged between them.
High atop an oceanside bluff in Playa Maderas, Nicaragua, a dream crystallized. In the spring of 2013, Dannica's then fiancé, a boat captain, was out to sea on another prolonged trip. She recalls, "The wind was blowing. I had never felt so alive. I had never felt so free, and I realized at that moment that I knew exactly what I wanted to do. I wanted to play music." Dannica recalls looking at her engagement ring: "I felt at that moment that this huge rock represented shackles almost, and that I was not wanting to skip seasons in my life—I wanted to bloom properly."
Upon return to the United States, Dannica began planning a nationwide tour, and her first order of business was to find a mandolin player. "I had shopped around Nashville for one, but I just wasn't able to find anyone that I jibed with," recalls Dannica. Feeling discouraged after her diligent quest, Dannica came across a picture on Facebook taken at Topsail Hill Preserve's weekly concert series, Americana Under the Stars. This particular photo showed Ben Parsons playing the mandolin. It so happens that Ben is Dannica's stepbrother—a familial alliance created by the marriage of Dannica's father, Mark, and Ben's mother, Paula. According to Dannica, "I had always known Ben to play the guitar; I didn't realize he had learned the mandolin." Without delay, Dannica contacted Ben and asked him to accompany her on the impending U.S. tour. In August of 2013, Schatzi and the String Boffin began touring the nation; their first show was in Taos, New Mexico.
During their very first rehearsal, it was plain to see that Dannica's and Ben's respective musical styles meshed perfectly. The synergetic alchemy between Schatzi and the String Boffin, as it happens, is a deep-rooted and organic arrangement. Though they may not share DNA, Ben and Dannica do share a parallel, twinlike telepathy. Whether experimenting with an impromptu riff during a live performance or collaborating on a new song, there is a discernable, unspoken harmony of thought patterns exchanged between them.
This telepathic communion enables Dannica and Ben to expand upon shared musical objectives. It is palpable on stage and divulged through their folk and Americana-styled songs. Schatzi and the String Boffin's newly released single, "Creek Don't Rise," showcases Ben and Dannica's unity as collaborators. It also underscores their individual musical strengths: Dannica as masterful songwriter and storyteller, and Ben as proficient instrumentalist. "Dannica is an amazing lyricist," Ben reveals. "I tend not to focus my attention too much on the lyrics. I'm more focused on the lead-line that I'm going to write in or how far I am going to bend the string."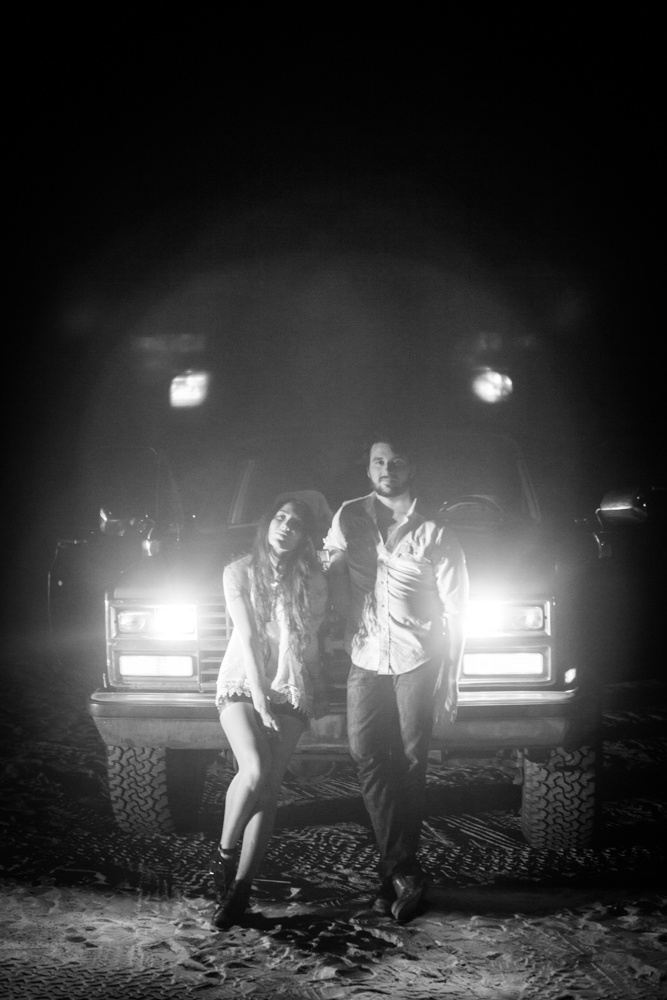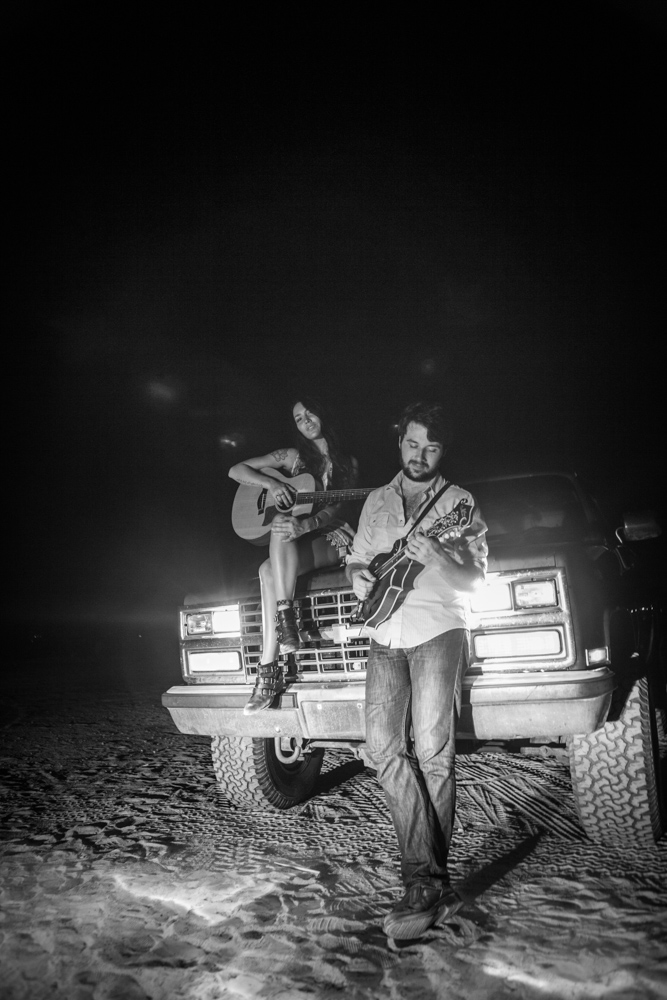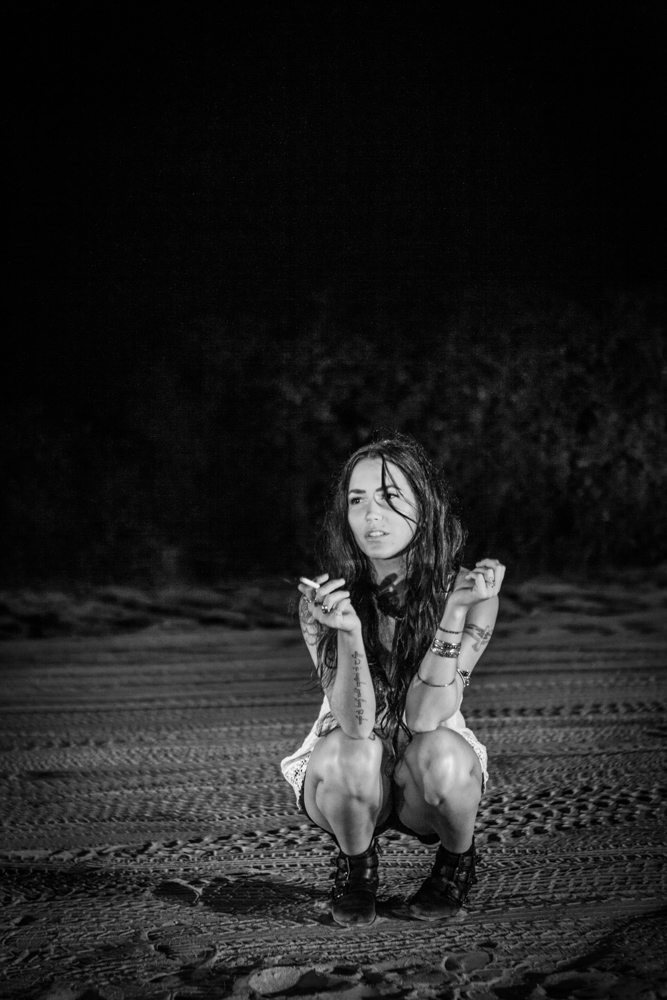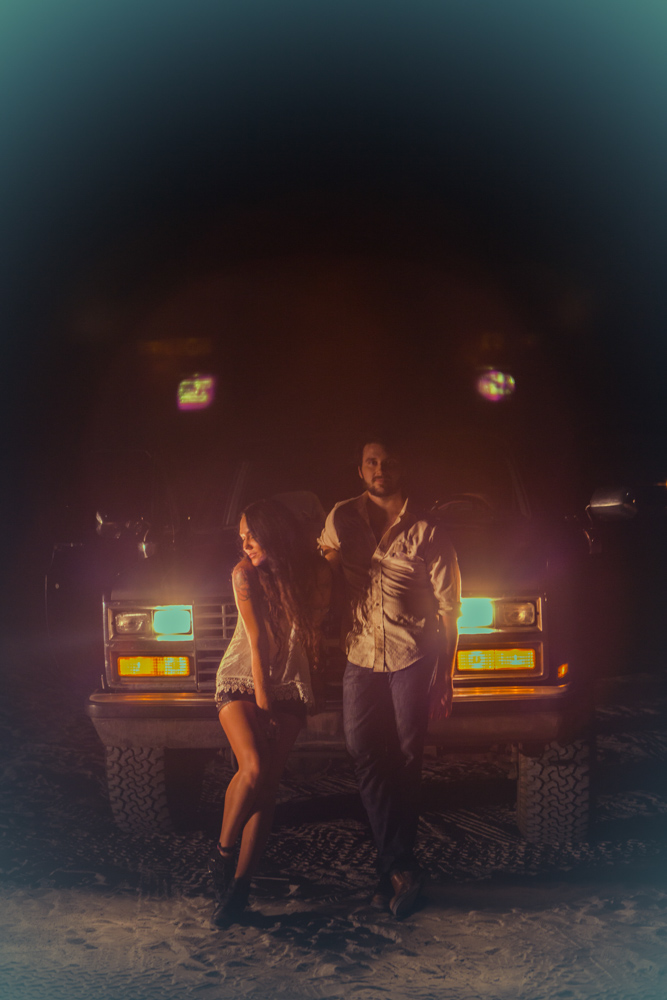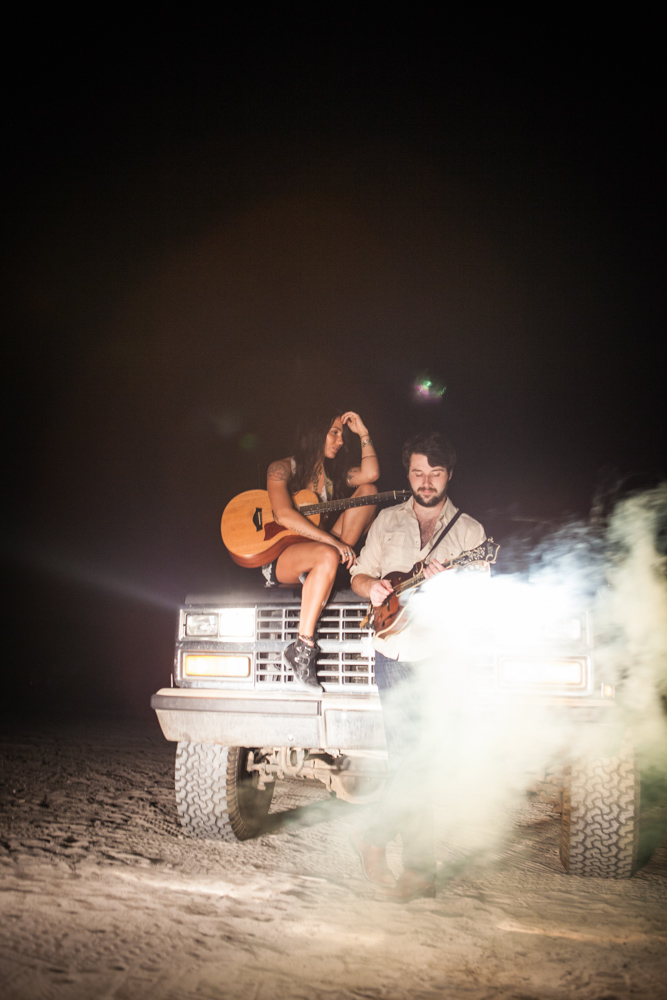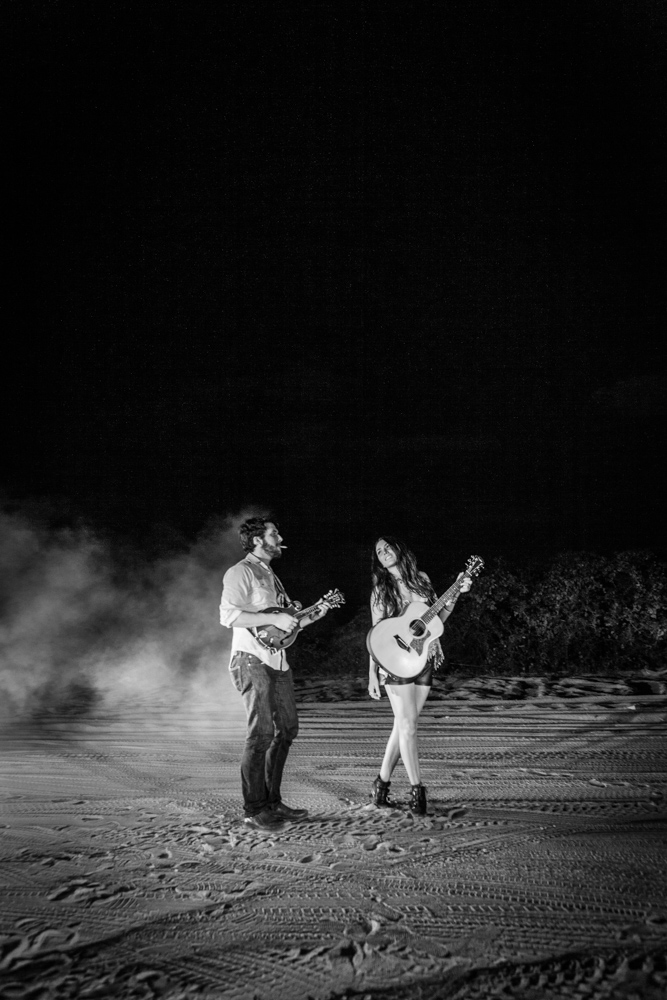 We strive to be genuine in our music and let it come naturally.
The recent release of "Creek Don't Rise" has been a lofty accomplishment for the duo. The song was penned by the dim, auxiliary dashboard lights of Dannica's Jeep, though the listener may imagine the songwriters drifting across a barren western landscape in a virgin '60 Chevy. Snaking through the desolate canyons and tabletop mesas, Ben and Dannica wrote the song as a soulful, lyrical tale about emancipation and a newfound moxie for leaving an unwanted past behind. Redolent of James Dean's iconic wanton abandon, "Creek Don't Rise" is a combination of deep, fiery lyrics and effluxes of pungent leaded gasoline.
The folked-up, progressive rock duo is admittedly awestruck by the musical journey thus far. Ben and Dannica acknowledge their continued growth and development as singers, songwriters, and performers. They're humbled by the music industry's early embrace, which has dexterously advanced the duo to perform recent preshow acts for headliners such as Rascal Flatts and Sheryl Crow. "We strive to be genuine in our music and let it come naturally," Ben declares. Dannica chimes in, "Yeah, we are pretty much on the same page; we want to stay true to our roots and ride the divine flow."
The banding of this pair was a seemingly spontaneous union, yet consideration of their analogous upbringing affirms a predestined and ethereal intervention. They admit becoming stepsiblings at a young age must have been a predetermined fate that would unite their individual and organic talents. Dannica's lyrical aptitude results in soulful and intimate passages. Her songs are calculated journals of her experiences and her neo-hippie insights. Ben, characterized by Dannica as "brilliant, gifted, and unwavering," is the architect and designer of the duo's fundamental melodic uniqueness. Together, Schatzi and the String Boffin exuberantly forecast the design and recording of their first full-length album. Meanwhile, they build on an already firm foundation, an infrastructure designed by family and by fate.
ARTICLE CATEGORIES