By Kelli Deary
In my experience as the former editor of a local destination wedding magazine, I've learned that brides today are looking for a beautiful place to have their wedding; but, they are also seeking the comfort of knowing everything is going to be taken care of to make their day special and stress free. Signature locations along the Emerald Coast have garnered a reputation for hosting these carefree, memorable events. Considered a "driving destination," our divine location has played a major role in providing elegantly serene settings for saying "I do."
To alleviate the stress of planning destination weddings, I usually advise couples to book at an all-inclusive resort, especially if the bride and groom aren't familiar with the area. However, if the couple is familiar with the area, such as Caroline Cox and Randy Brantley, resort locations are great for designated activities, such as a spa for the bridesmaids' gathering, a poolside rehearsal dinner, or a reception in the resort ballroom.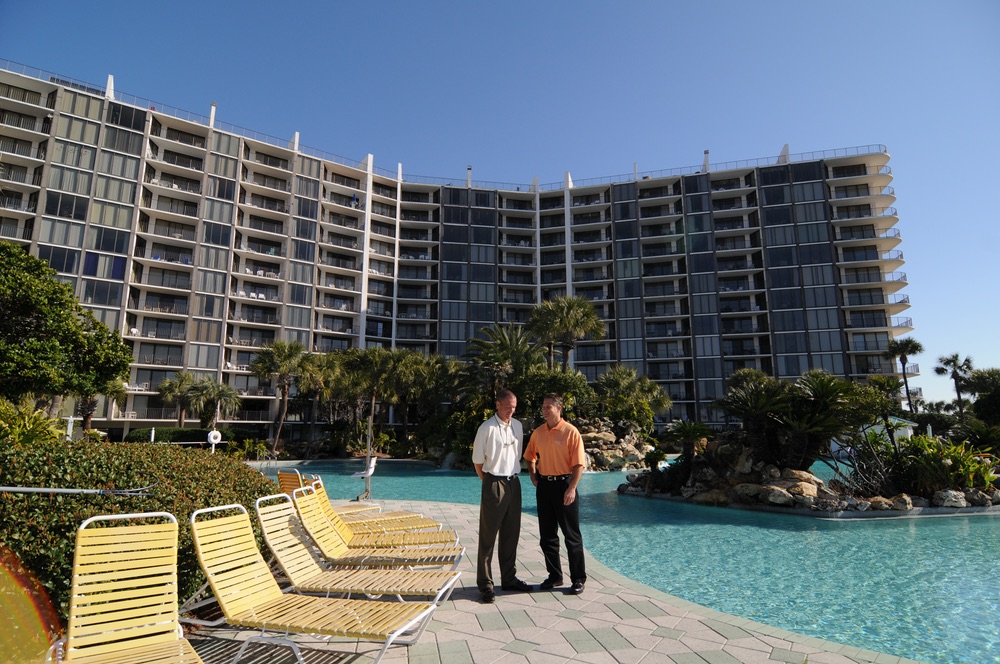 Caroline and Randy are one of many couples to celebrate their nuptials at Edgewater Golf & Beach Resort. They chose the ballroom as the perfect location for their reception following their intimate ceremony at her parent's home in Wild Heron. Guests entered the elegant ballroom filled with towering sprays of calla lilies and fresh-cut daisies. Strands of gemstones and ribbons cascaded from crystal chandeliers. As guests marveled at the exquisite detail, they were directed to a gourmet buffet of fresh seafood, pasta bar, international cheeses, and a decadent three-tiered cake, with each tier accented in yellow and black fondant flowers and beads. The cake was topped with a spray of faceted gems and a silver monogram of the newlywed's initials.
Guests were seated as acclaimed actress Courtney Cox, Caroline's maid of honor and aunt, toasted the bride and groom. Careful attention to detail, delicious food, and a night of mingling and dancing with friends and family made this event every bride's dream.
Edgewater Golf & Beach Resort is one of two locations owned by The Resort Collection of Panama City Beach that cater to weddings and events. Majestic Beach Resort is an additional location and also provides breathtaking gulf views, a relaxing spa, a movie theatre, a restaurant, catering, and an event-planning department.
For information on planning weddings or special events, call Edgewater Golf & Beach Resort at 800-874-8686, Majestic Beach Resort at 866-494-3364, or visit www.resortspcbeach.com.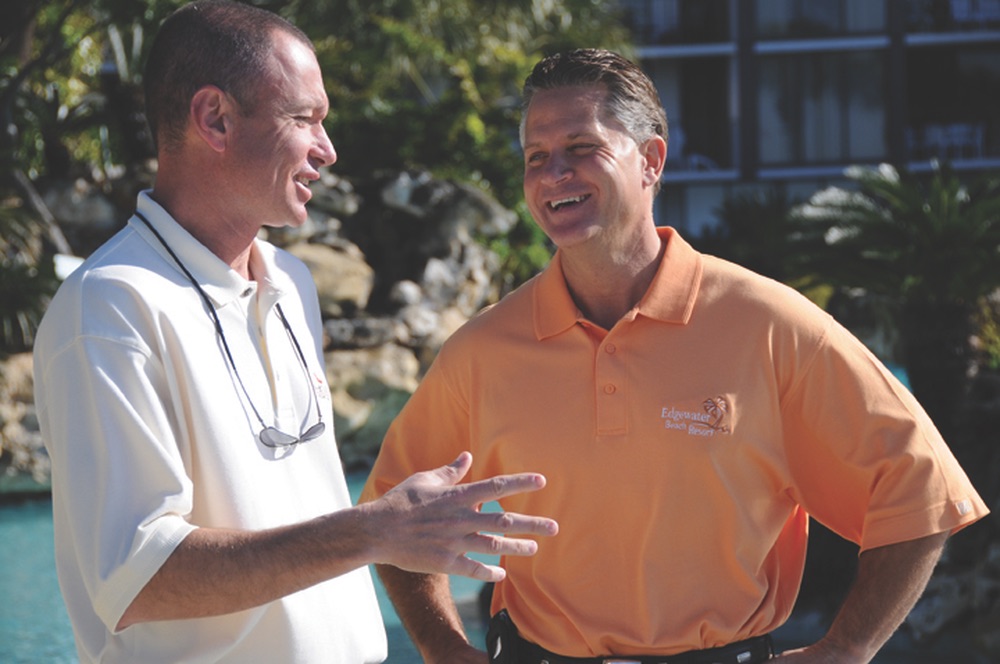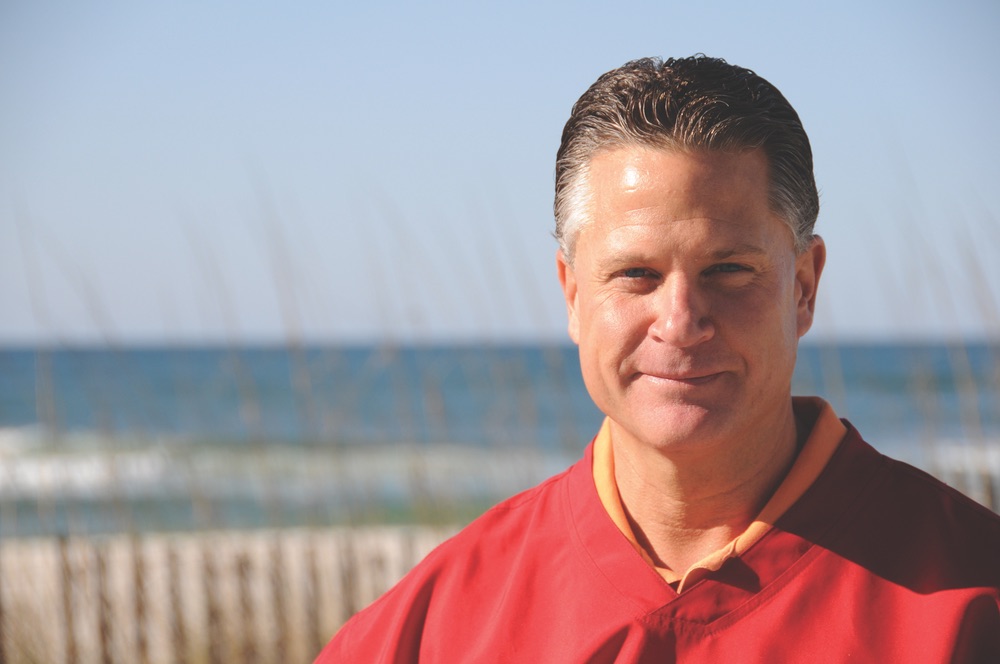 ---
UP CLOSE AND PERSONAL
with Paul Wohlford
By Lisa Burwell | 
Photos by Jessie Shepard
Possessing energy, vitality, and passion are prerequisites for making things happen.  When speaking with Paul Wohlford, Vice President of Sales and Marketing for The Resort Collection, you glean that he embodies all these characteristics and that he is serious about evoking positive changes in the company. Paul is one of the leaders of Panama City Beach's largest conglomeration of rooms, boasting more than 1,500 full-service suites and villas; he is also insightful, as he understands the Panama City Beach market better than most. According to Paul, "We need to attract new visitors both stateside and internationally, from untapped markets, as the additional 3,200 rooms on the market in 2008 warrant this mandate just to keep our 52% occupancy rate status quo." 
The Resort Collection has a powerful voice in Bay County and is at the forefront of change, and Paul has been integral to perpetuating the mission of Coastal Vision 3000.  "This organization is not an airline initiative, but rather a grassroots community initiative," said Paul. "Competitors in the resort industry, aligning with one another for the greater good, is at the core of Coastal Vision 3000." (www.thebeachfla.com)
The brand marketing initiative is aimed at the target markets of Baltimore, Chicago, Dallas, and Orlando. Paul explained that since the meetings with Southwest began last year, American Airlines and US Air have also approached Coastal Vision 3000. He added that, "If the folks in Chicago begin to recognize our brand as 126 miles of beach, our destination will begin to be portrayed as a sense of place and a viable resort destination."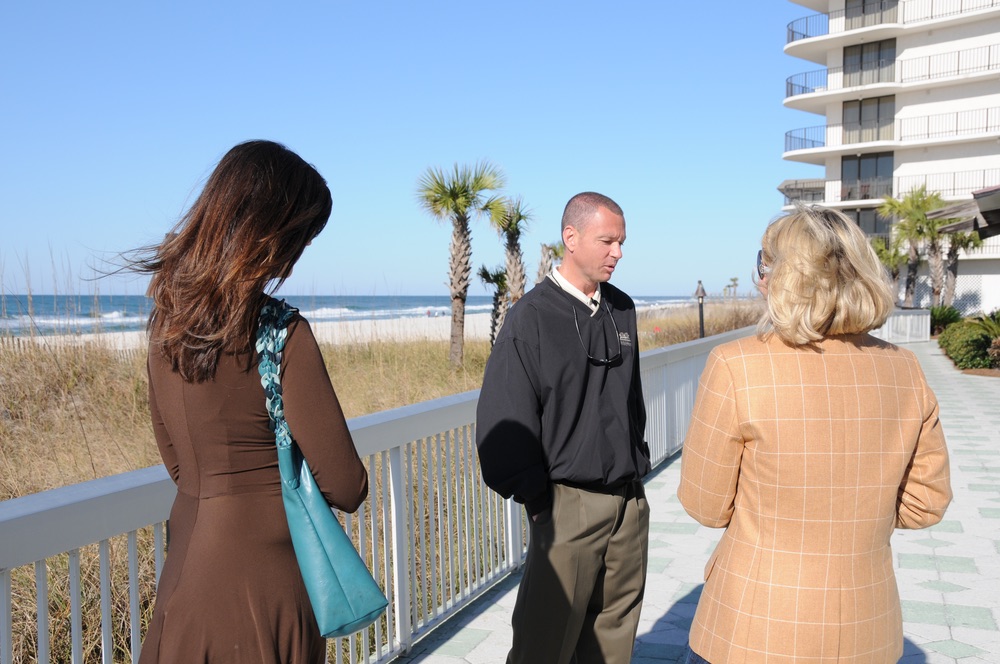 Paul's career spans an impressive list of resort hotels, including Renaissance Esmeralda Resort in Indian Wells, California; Hyatt Regency in Hilton Head; and the Park Hyatt in San Francisco. Paul was a member of the Panama City Airport Authority, founding president of Golf the Florida Gulf, on the board of directors of the Emerald Coast Boys and Girls Club, and the co-creator of the Emerald Coast Billfish Classic.
"We have so much to offer our customer. A new form of vacation is emerging called 'Togethering,' which is all about family legacies and bringing three and sometimes four generations together. We offer four-bedroom suites and the amenities cannot be outdone at The Resort Collection," said Paul.
The Resort Collection is the largest hotel management company in Panama City Beach and is managed by The Edgewater Beach Resort Management. The resort boasts more than 1,500 full-service suites and villas, ninety thousand square feet of indoor and outdoor meeting space, thirty-six holes of championship golf, including the Hombre Golf Club on Florida's upper Gulf Coast. In addition, the resort offers state-of-the-art fitness centers and spas, six fabulous restaurants, fourteen Plexicushion tennis courts, and twenty-one luxurious pools, including Edgewater Beach & Golf Resort's famous 11,000 square-foot Lagoon Pool with cascading waterfalls and surrounding hot tubs.
The company also includes the family-friendly Edgewater Beach & Golf Resort, intimate Majestic Beach Resort, new luxuriously sensible Emerald Beach Resort, Long Beach Resort, En Soleil, and Marina Landing.
To learn more about The Resort Collection please visit www.resortspcbeach.com or call 866-203-1164.
— V —
ARTICLE CATEGORIES