story and photography By Susan Benton
For the culinary connoisseur, foodie, or anyone who loves to try new things, tasting exotic foods from other parts of the world is an adventure. For those, like me, who also love to travel, Paris is the ultimate gastronomic destination.
Recently, I was introduced to Wendy Lyn of The Paris Kitchen at a dinner party in her honor, which was hosted by my dear friends, Dr. Phillip and Brenda Nunnery. The gathering was held at their beautiful home on the picturesque St. Andrews Bay in Panama City.
Wendy had grown up in Panama City; in fact, she was back in town to visit her parents. She spoke with fondness to me about her grandfather, "Papa," who also lived on the bay, and how she had spent countless weekends with him as a young girl, helping him fish and cook. "My love of good food came from fishing, shrimping, scalloping, and oystering along the bay with my grandfather," Wendy said.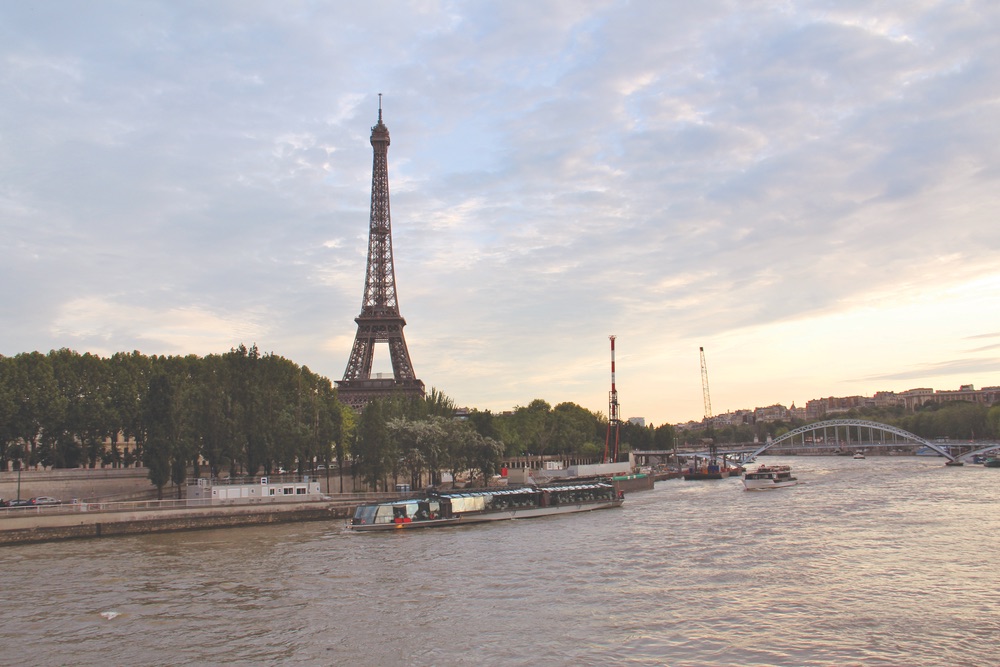 By the end of the evening, the makings of an adventure to Paris and beyond had started to come together. Brenda, Phillip, Wendy, my husband, and I invited two other local foodie friends of ours, Susan and Sparky Lovelace (who also have a passion for travel), to join in, and we set our plans in motion.
Wendy has lived in Paris for the past twenty-three years, is a former restaurant consultant to such top chefs as Alain Ducasse, Guy Savoy, and Charlie Trotter, and has become well known for her food tours, her personal connections with the hottest "it" chefs in town, and her food blog, The Paris Kitchen. While most have to wait months for a reservation, Wendy makes it happen by calling in special favors from the chefs she refers to as her "little brothers."
My husband and I arrived at Paris-Charles de Gaulle Airport and were soon situated in our lovely boutique hotel, the Hotel Chambiges Elysées, located a short walk from the Champs-Elysées in the heart of the famous Triangle d'Or. (We were thoroughly pleased with the Chambiges Elysées: the staff was warm, knowledgeable, and accommodating; our suite was elegant yet modern, and we received a scrumptious complimentary breakfast each day.) Though excited to hit the streets, we were also jet-lagged, so we opted to dine nearby, as per Wendy's suggestion, at Marius et Janette.
Located in the 8th arrondissement (district), Marius et Janette exudes the feeling of an elegant yacht. We felt fortunate to be seated side by side in a banquette that faced the large front window of the restaurant. Apparently, our timing had been perfect: not a seat was left and many would-be patrons were turned away on this busy night. Inside, we watched extravagant tiered trays of seafood being presented to fellow diners.
The menu was filled with the finest of seafood choices, including an extensive and rare oyster selection. Chef Bruno Brangea is called "the magician of all things seafood"—an apt nickname, as we discovered. My sautéed skate wing in browned butter was cooked to perfection, as was my husband's grilled turbot fillet, which paired deliciously with the crisp Bandol Rosé from Domaine Tempier. The dishes were accompanied by fresh local vegetables, and I was impressed to learn that Marius et Janette only serves wild fish caught from small boats, except for the salmon, which comes from the Scottish organic sector.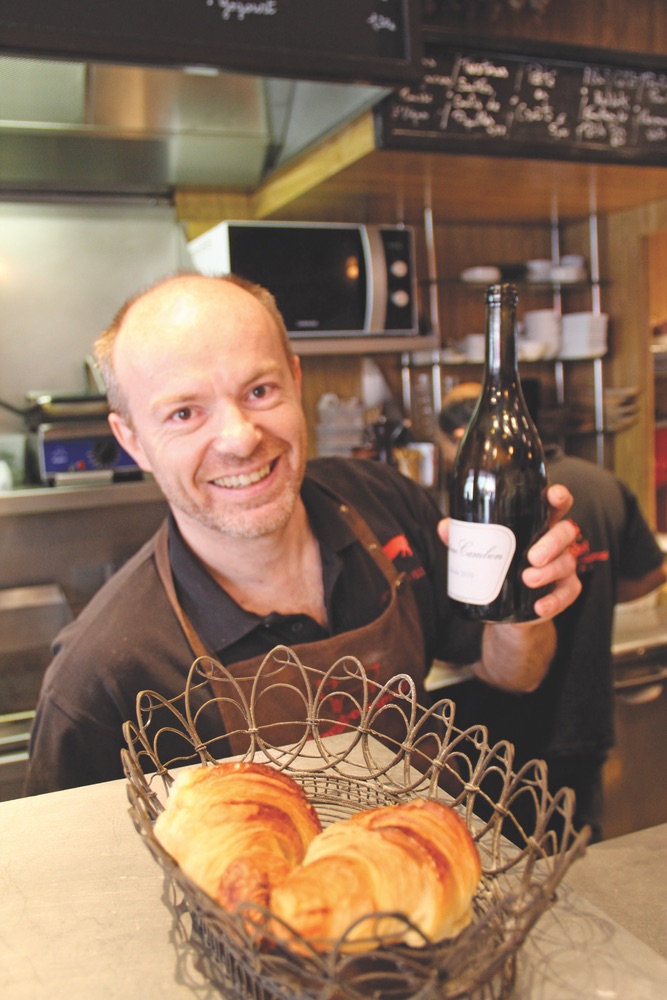 On Friday, Wendy surprised us by taking us to her favorite bistro in Paris, Bistrot Paul Bert. This classic, hearty eatery often wins awards for being among the best bistros in Paris. Upon arrival to this charming and eclectic restaurant nestled in the 11th arrondissement, we were treated like family: owner Bertrand Auboyneau welcomed us with open arms. My husband commented on the excellent wine list, which is filled with hard-to-find selections, and talked with Bertrand about the interesting antique mosaic floors that bear the restaurant's name.
We noshed on perfectly seared steak, a dish of luscious, roasted chicken with crispy skin, and an incredible order of thoughtfully prepared veal piccata, and we finished with the sweet, creamy pastry Bistrot Paul Bert is known for. I could not leave without a signed copy of Bertrand's recently released cookbook, French Bistro (a favorite of Wendy's and now mine), which he coauthored with well-known restaurant critic François Simon.
That evening, we met up with our friends, as Wendy had arranged reservations at Restaurant Spring. Just before dinner, we visited nearby Spring Boutique and were then guided past Spring Buvette to the four-hundred-year-old wine cave located beneath the lower level of the main restaurant, where we gathered around a communal table. Josh Adler, sommelier and wine curator for Spring, shared a dizzying array of spectacular bottles with us as decadent plates of plump, juicy crabs, fresh breads, and sausages that melted like foie gras on the tongue arrived from the kitchen.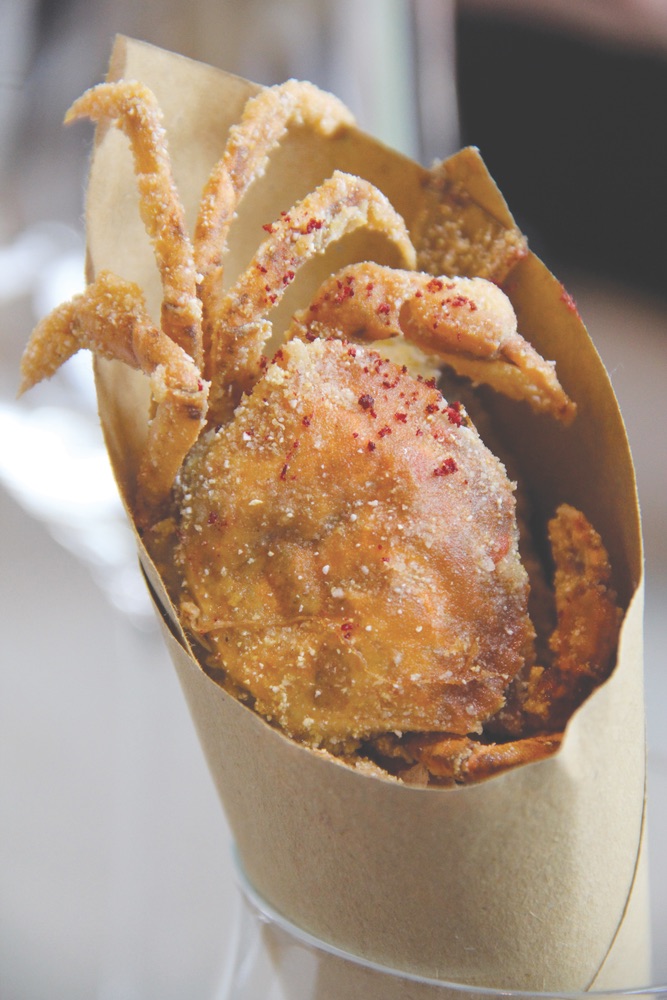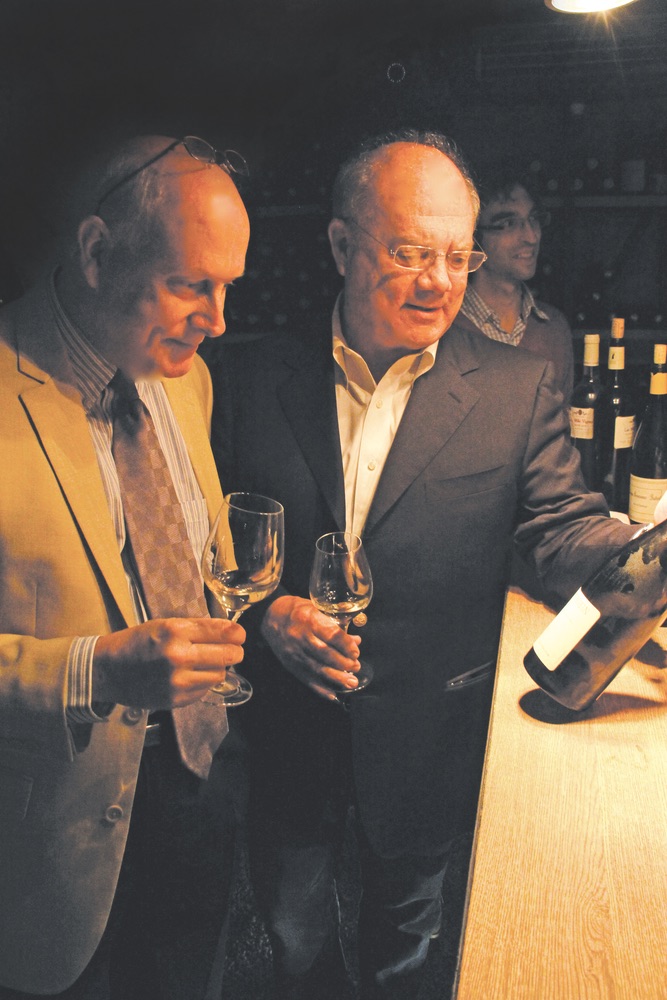 We moved upstairs to dinner, where we met Chef Daniel Rose, a Chicago native who opened Spring in the 9th arrondissement before relocating it to the 1st arrondissement two years ago. Spring is located in a sixteenth-century space, and the restaurant is stunning after its exhaustive renovation. Architectural details were unearthed and left in place, yet the design is contemporary with a relaxed, casual vibe. Boasting only twenty-eight seats, the dining room surrounds the open kitchen so that all can see Chef Rose and his staff creating their masterpieces. Spring is booked months in advance, and the reason was apparent to everyone in our party.
The next morning, we all gathered at L'Avant Comptoir, located next door to the famed La Comptoir. Wendy had arranged space for us in this small wine and hors d'oeuvres bar—it's standing room only for about twelve at the zinc bar and a second counter located on the back wall. They don't take reservations. While noshing on the selection of cornichons, freshly baked baguettes, creamy Bordier butter, and Breton artichokes that were lined up along the bar for sampling, we sipped small-production wines and learned the menu with help from Eric, the manager. Hanging from the ceiling were hams and dried sausages, on which were the names of their producers, like charcutier Philippe Camdeborde, brother of owner Yves Camdeborde, who popped back and forth between his two restaurants to say hello. We indulged in waffles topped with artichoke puree and jambon, as well as a ham and mushroom crepe that delivered delicate flavors as expected. Located in the 6th arrondissement, this is a place where time is well spent.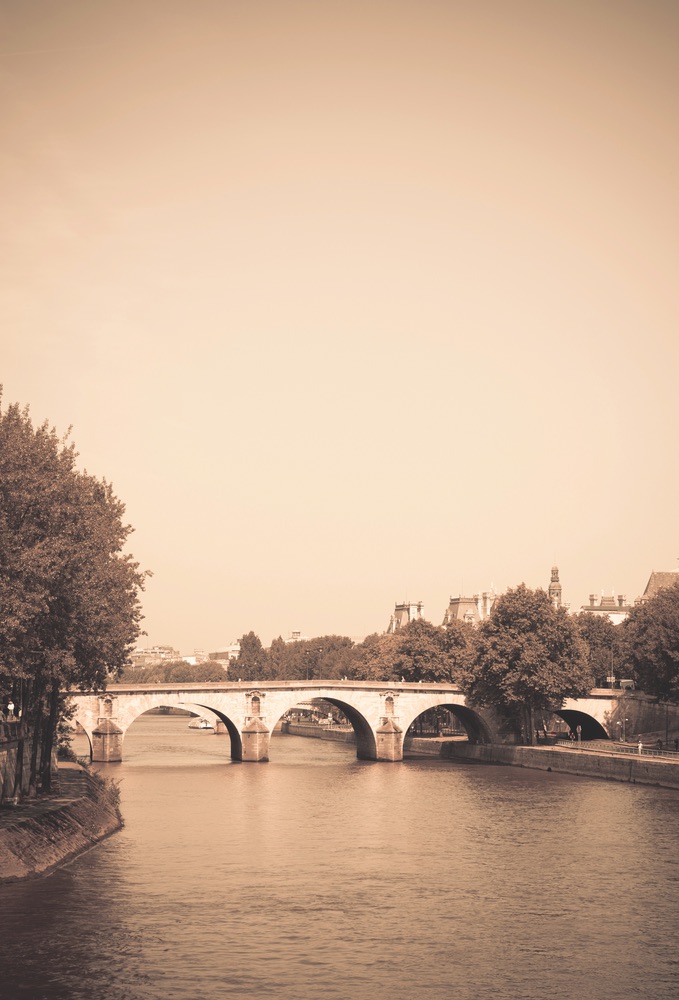 Next, a few of us struck out for Willi's Wine Bar, a landmark near the Palais Royal, where owner Mark Williamson, a dry-humored British expat, happily shared his wine secrets with us as we sampled a glass or two of his offerings. This small local haunt, inspired by the 1930s, displays a collection of bottle art posters against a white-wall backdrop; Mark commissions a contemporary artist to create a new image each year.
We headed to Stéphane Jego's gastropub, Chez L'Ami Jean, well known for long late-night dinners and hard-to-come-by reservations. Wendy brought along a friend to join us: Pierre Rovani, one of the world's experts on the wines of Burgundy and a former member of Robert Parker's team. Having Pierre with us was a real treat, and we enjoyed swapping stories of favorite wines and SEC football outside of the restaurant while we awaited our table, savored trays of charcuterie, and sipped champagne.
Though the decor may be fun and charismatic, the food is taken seriously; Jego obsesses over each detail, searching for the most seasonal products possible. We ordered carte blanche, which meant that it would be whatever Jego wanted to prepare and served until the diner said, "No more!" We started with the most incredible bowl of creamy Parmesan soup, which cradled seasonal vegetables and crispy bacon and was sprinkled with tiny croutons. It was followed by Breton langoustine and wood pigeon, including its legs and meticulously severed head with brain. (Jego's rustic country cuisine is inspired by his Basque upbringing and is not for the faint of heart.) Pierre selected our wine pairings, we finished with the famed rice pudding, and life could not have been sweeter.
Four-thirty in the morning comes early no matter what the language is, especially after the amazing night we had shared. It was Sunday, Mother's Day, and while our new friend Pierre was off to the states to visit his mother, Wendy arranged for us to fly to Venice, Italy, for lunch. We met at Orly Airport, boarded a short flight that took us over the Alps, and arrived in the water city, where Alessandro, Wendy's driver, picked us up in his vintage teak speedboat. We motored through the Grand Canal viewing ancient buildings whose facades ranged from those influenced by Byzantine and Moorish styles to the more Italianate—it was amazing that one short boat ride could take us past over a thousand years of history. Our destination was Venissa, a small restaurant and hotel located on the sparsely populated island of Mazzorbo. Mazzorbo is just a wooden bridge away from the neighboring island, Burano, known for its lacework and brightly painted houses.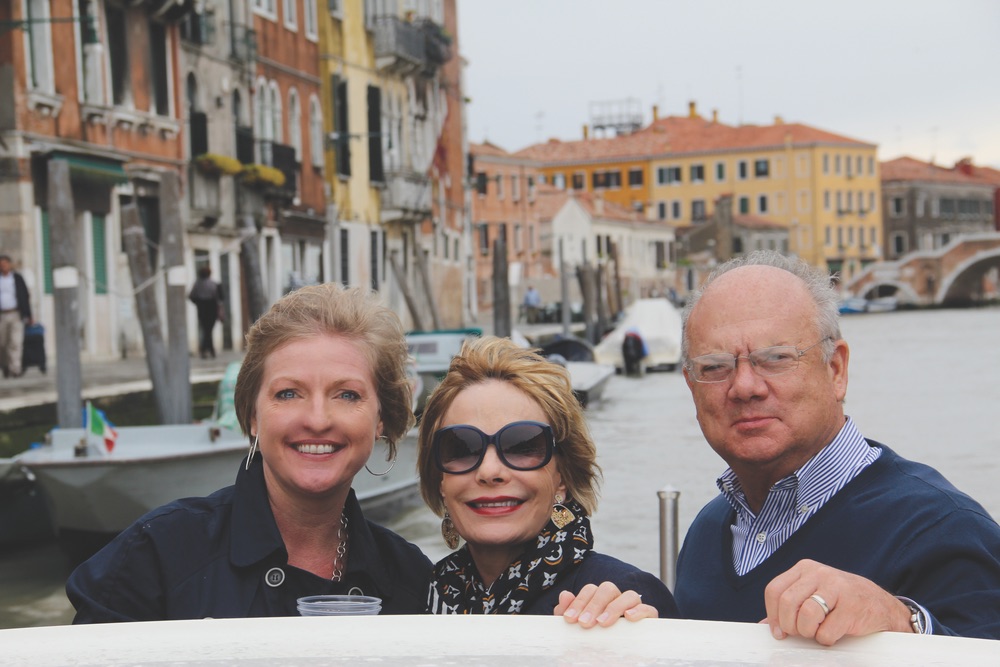 Entering its second year, Venissa sits on a vineyard in a walled private estate owned by the Bisols, a centuries-old wine-making family. After an arduous, decade-long restoration led by Gianluca Bisol, the estate was designated as an Italian National Environment Park. Maitre d' Franco Bianchi greeted us on arrival and we were quickly shown to the state-of-the-art kitchen for a tour with Paola Budel, who is at the helm of the restaurant.
The restaurant is small but pristine and boasts touches by Bisol's friend, designer Philippe Starck, who has a home on the island. The glass walls of the building allow for natural light to pour through, and diners have a clear view of the twelfth-century tower that sits alongside the vineyard. A panoramic patio, used also for dining, affords guests a view of Budel's abundant garden of fresh vegetables and herbs. Bianchi passionately described the local purveyors from which they source all other ingredients, such as honey, fish, oysters, birds, and the lagoon delicacy, the soft-shell crabs or moeche. Bianchi said, "We live from the waters or what we shoot from the sky."
We dined on the prized and succulent soft-shell crabs and were honored to do so, as they are only harvested in spring and fall, with females only available in the spring. There is a small five-hour window to locate the lemon-sized crabs when they are molting (shedding their hard shells). Budel fried them to crispy perfection along with small shrimp and calamari. Her goal, like Bisol's and Bianchi's, is to choose the restaurant's sources carefully from local waters, farmers, and on-site agriculture. One of our great delights was opening a bottle of one of the estate's first vintages in two hundred years. The wine, made from the Dorona grape, was sealed in a Murano glass bottle with a label of 24-karat gold. Until Bisol reclaimed and restored the Dorona, this Venetian varietal grape had not been cultivated for more than six hundred years.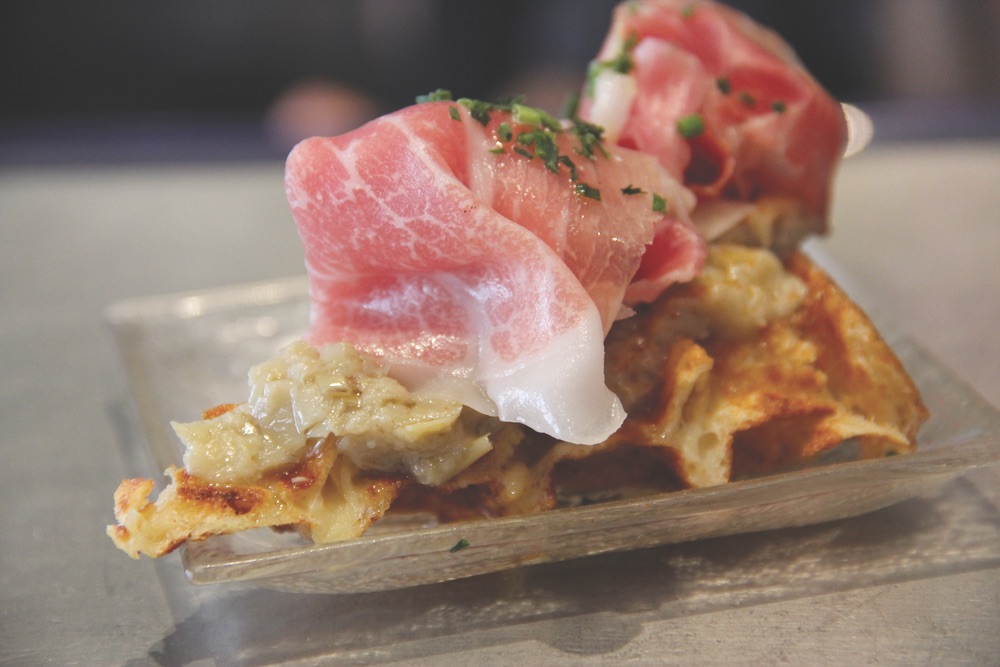 We ended our visit with a tour of the vineyards and gardens that have been flooded with seawater off and on over the centuries but now bloom with a sensational display of colorful edibles and roses. We walked to where our boat transport awaited and, with prosecco (Italy's version of champagne) in hand, departed the tiny isle. We were then sped through the waters of the Venetian Lagoon to the airport for our evening flight back to Paris.
Before leaving Paris the next day, we thanked Wendy for all of her unbelievable hospitality and then wandered the streets near our hotel one last time, taking in again the lunching Parisians at the tiny bistros and the picture-perfect charcuteries such as Bellota-Bellota, where one sits to have fine jamón ibérico or caviar and champagne. We made our way back to the hotel, passing windows full of the high fashion so common on the Rive Droite. Then, it was into the taxi and a big "Au Revoir" to Paris. In a relatively few hours, we were back to our home shores.
— V —
---
Susan Benton is the founder of 30AEATS.com where she shares her passion and twenty years of experience in the food industry as a freelance food and travel journalist, photographer, cook, and speaker. As a nationally recognized recipe developer, Susan also judges food-related competitions and reviews cookbooks and products for famed chefs and corporations. The Gulf Coast native calls the beautiful beaches of Northwest Florida home and has a commitment to promoting local farmers, chefs, artisans, and businesses along the Gulf Coast.
ARTICLE CATEGORIES