Chef Sam Jones and Family Tradition
By Jordan Staggs | 
Photography courtesy of Sam Jones BBQ
Lovers of barbecue know that it's not just food. It's a culture and tradition that is distinctly American. Indigenous peoples used traditional wooden pit-style cooking techniques that date back to pre-Colonial times. In the 1920s, Edward G. Kingsford worked alongside Thomas Edison and Henry Ford to mass-produce the first charcoal briquettes from wood by-products left over from the Model T line. Then, when Don McGlaughlin developed the portable outdoor gas grill in the 1950s, backyard barbecues became a staple of summertime and holiday gatherings across the nation. Today, that tradition is carried on in households across the US and, on a grander scale, by the chefs who have perfected this form of culinary art—chefs like Sam Jones of Winterville, North Carolina.
For Jones, barbecue is a lifestyle.
"I began my career helping my grandfather, the late Pete Jones, and my uncle sell chopped pork at Skylight Inn, which opened in 1947 in my hometown of Ayden, North Carolina," Jones says. Sam's father, Bruce, and his cousin Jeff are also partners at Skylight Inn BBQ. "I remember that, as a child, someone asked me what I wanted to be when I grew up, and my response was, 'I am going to be the prince of barbecue.' I swore off the family business when I was fifteen years old, but while working on a thirteen-page paper about barbecue during my time as a college student, I was inspired to move back to Ayden to help with the restaurant and dedicate my life to the art of making traditional Eastern North Carolina–style pork barbecue. In 2015, I partnered with my longtime friend and former Skylight employee Michael Letchworth to open Sam Jones BBQ in Winterville."
Although it is complementary to the Skylight Inn brand, Jones says he and Letchworth wanted the new restaurant to be a fresh start, unique from the family business. "Skylight is not a cookie-cutter concept, and you can't duplicate it," he says.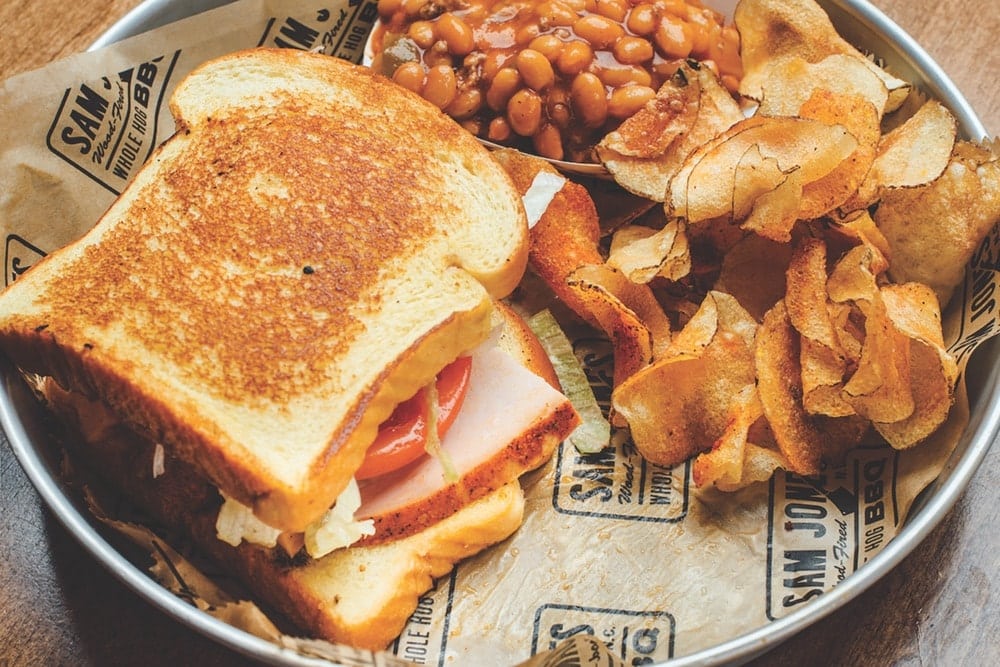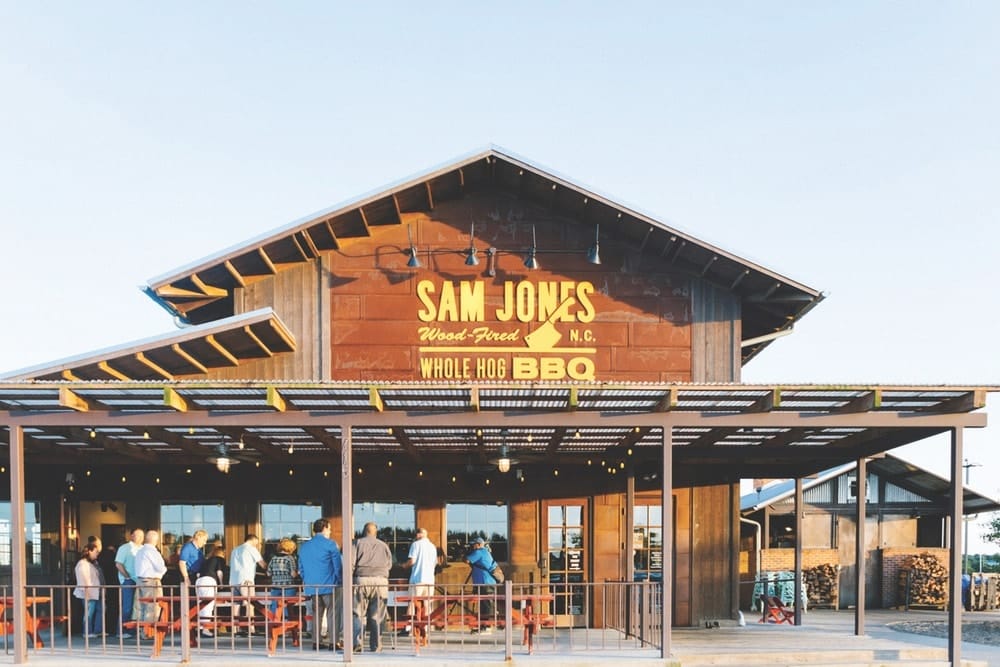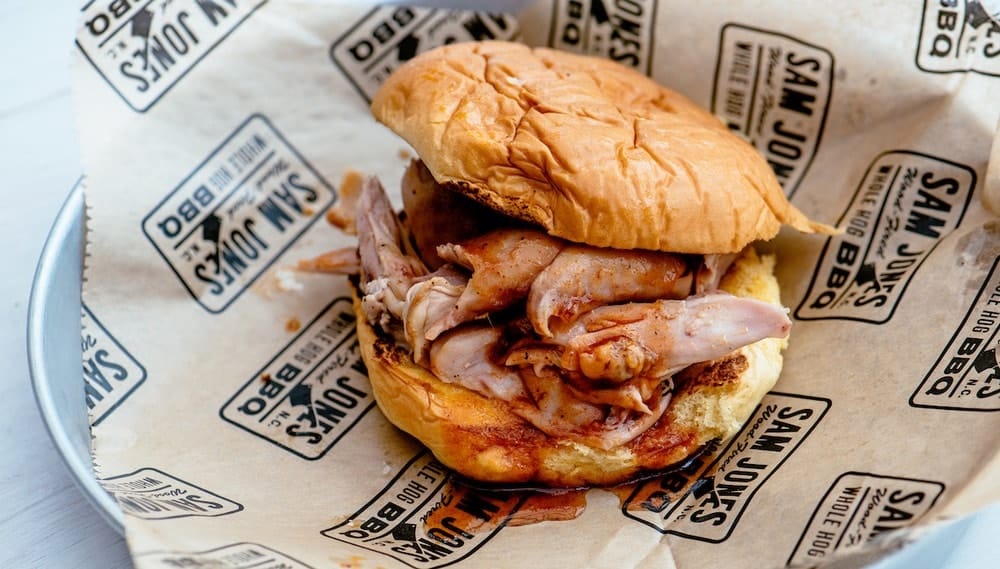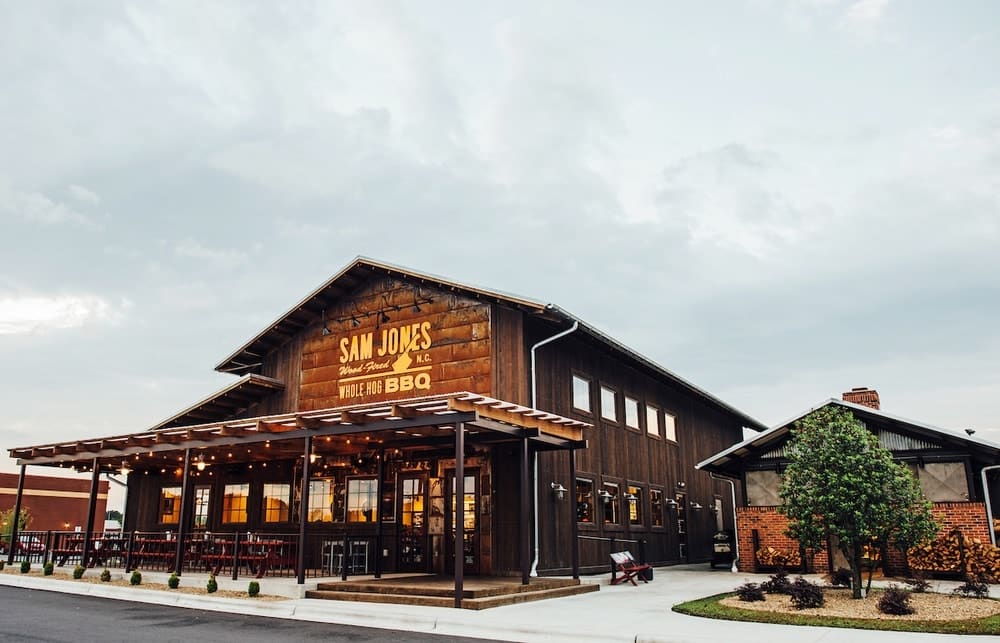 Staying true to their roots, Jones and Letchworth opened Sam Jones BBQ with a specialty focus on whole-hog barbecue pork, which Jones says is the definition of North Carolina barbecue. "A lot of people look at whole hog as being the holy grail of barbecue," he says. "It does take more time than other techniques, but it's definitely worth it."
The restaurant's menu also includes slow-cooked chicken, smoked turkey, spare ribs, wings, and more, but it's the Jones Family Original BBQ that customers know best. The pork is slow-smoked over Carolina oak and pairs best with a slice of fluffy Skylight Inn–style cornbread and other traditional Southern sides. Jones's favorites are coleslaw and baked beans.
"I remember that, as a child, someone asked me what I wanted to be when I grew up, and my response was, 'I am going to be the prince of barbecue.'"
Then, of course, there's the sauce. Many fans believe this element can make or break a tasty barbecue dish, but Jones asserts, "If you start with good meat that you're cooking the right way—which is over wood, in my opinion—then the sauce should be applied very lightly. The Sam Jones BBQ Sweet Heat sauce is one of my favorites, and the application of it should be more like a dressing than a sauce."
Sam Jones undoubtedly lived up to his childhood dream of becoming barbecue royalty; he has been a semifinalist for the James Beard Awards Best Chef: Southeast, and the Skylight Inn has won an America's Classics Award from the James Beard Foundation. Both restaurants have been recognized as top barbecue destinations by national entities, including Southern Living, AFAR, Details, Bloomberg.com, Travel Channel, Food Network, History Channel, CBS Sunday Morning, Southern Foodways Alliance, and more.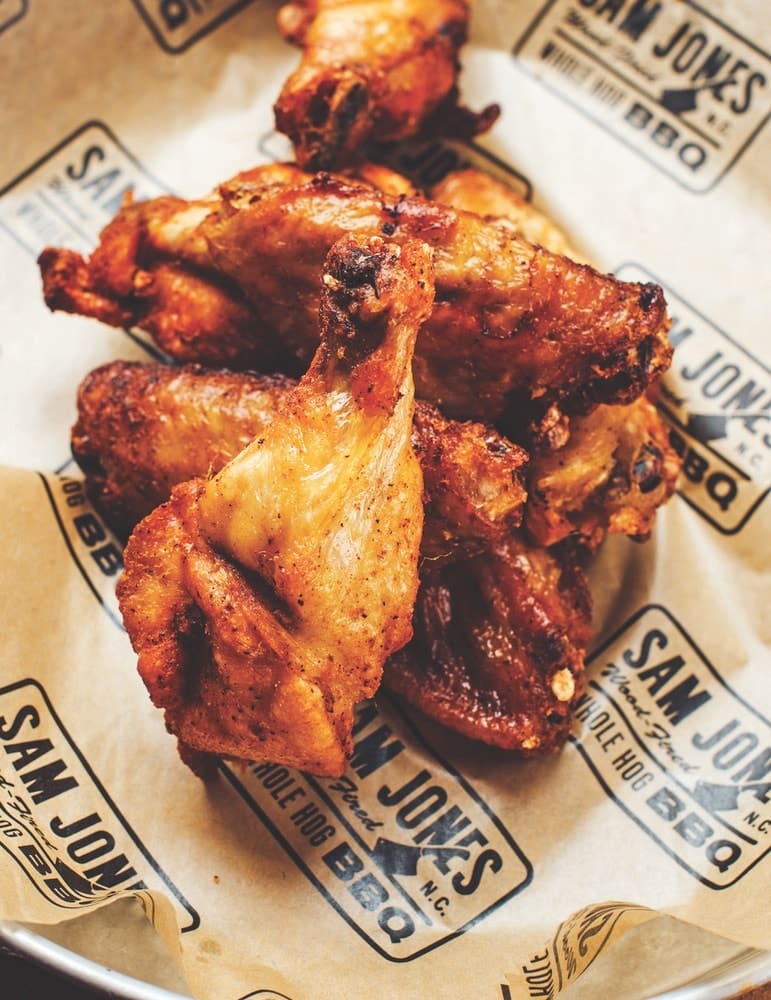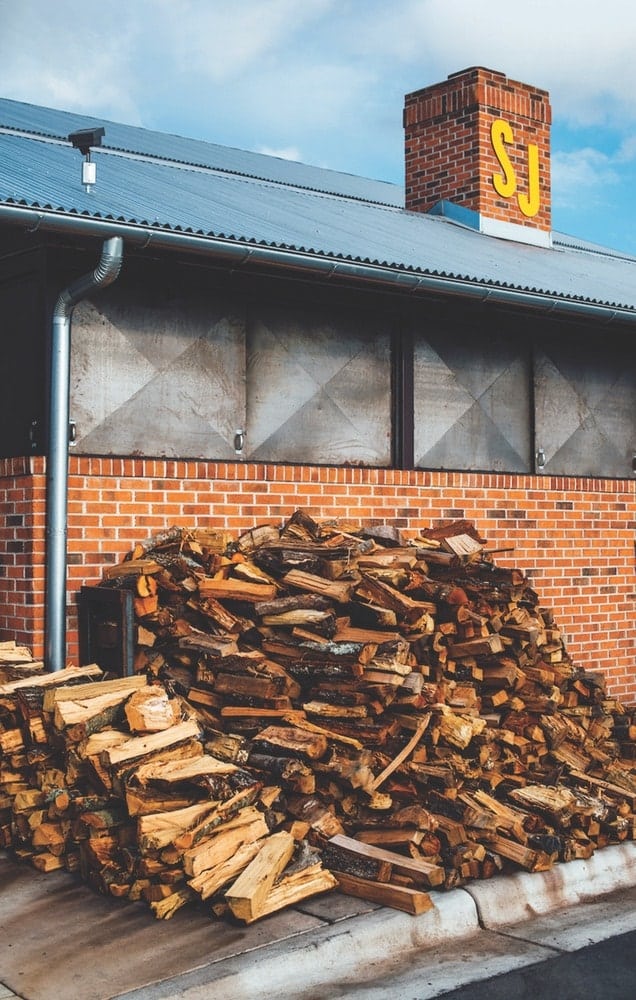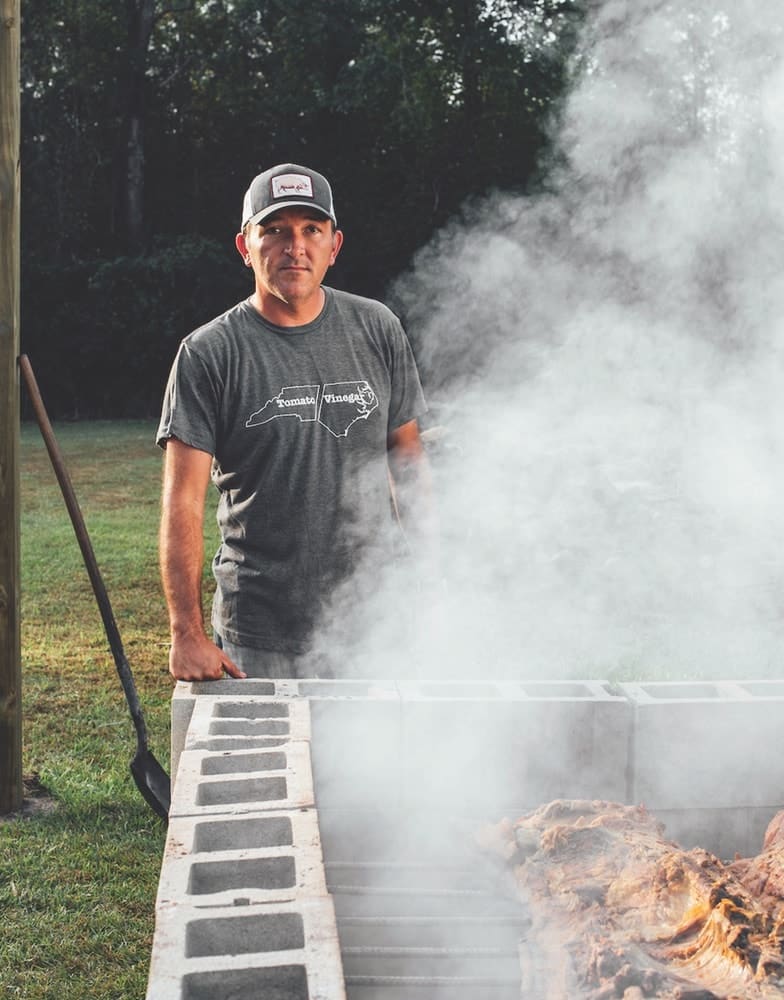 You might even say Jones wrote the book on Carolina barbecue—because he did.
"The idea for Whole Hog BBQ: The Gospel of Carolina Barbecue with Recipes from Skylight Inn and Sam Jones BBQ started at a dinner with friends who mentioned I should write a book," he recalls. "My first thought was, 'Who would even buy it?' But they said I was selling myself short. I then signed a publishing deal with Ten Speed Press in 2016 and teamed up with barbecue expert Daniel Vaughn to share his best stories, recipes, and family secrets from both Skylight Inn and Sam Jones BBQ."
"Depending on what they are cooking, the most common mistake is not allowing enough time for specific kinds of barbecue and not having the grill set up correctly."
Almost a year after the book's release, fans and aspiring pitmasters can purchase it from Amazon and other booksellers and the online store at SamJonesBBQ.com. They can also put the book's recipes and tips to great use by purchasing a Sam Jones Southern Starter Kit, which includes a variety pack of four full-sized dry rubs designed to be complementary to almost any protein or vegetable. The kits are also available in the online shop, along with other samplers of dry rubs, Sam Jones BBQ sauces, apparel, and more.
Jones also offers words of wisdom to those barbecuing at home: "Depending on what they are cooking, the most common mistake is not allowing enough time for specific kinds of barbecue and not having the grill set up correctly. Cooking hamburgers and hotdogs is not the same as cooking barbecue. Cooking different types of meat—from brisket to ribs to whole hog—requires different time frames, different equipment, and different grill settings."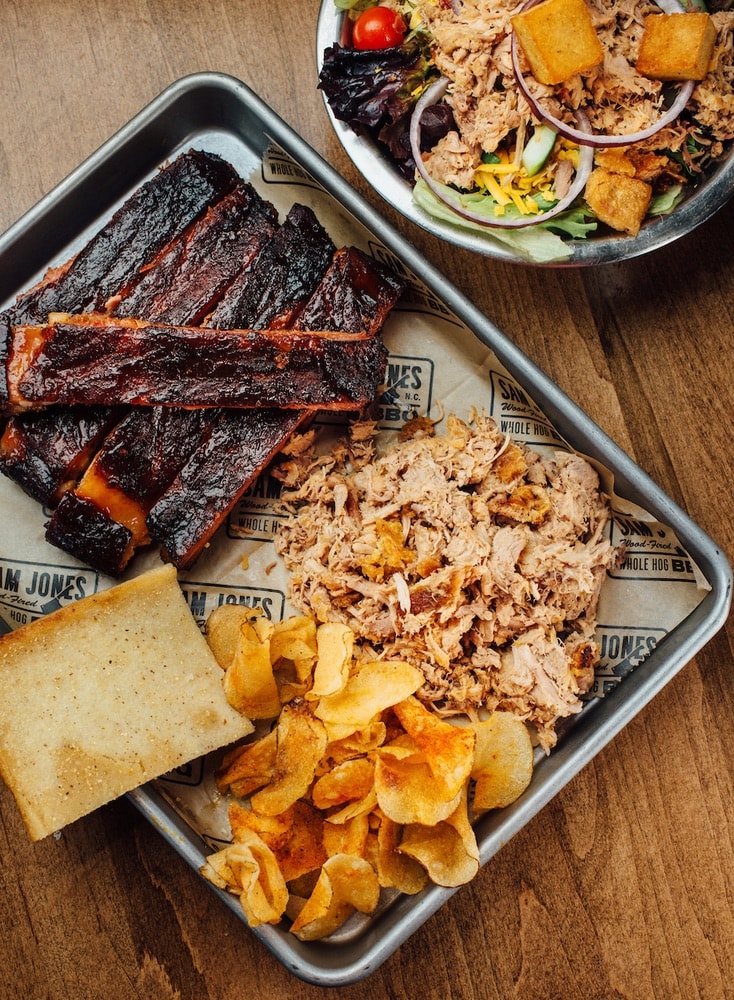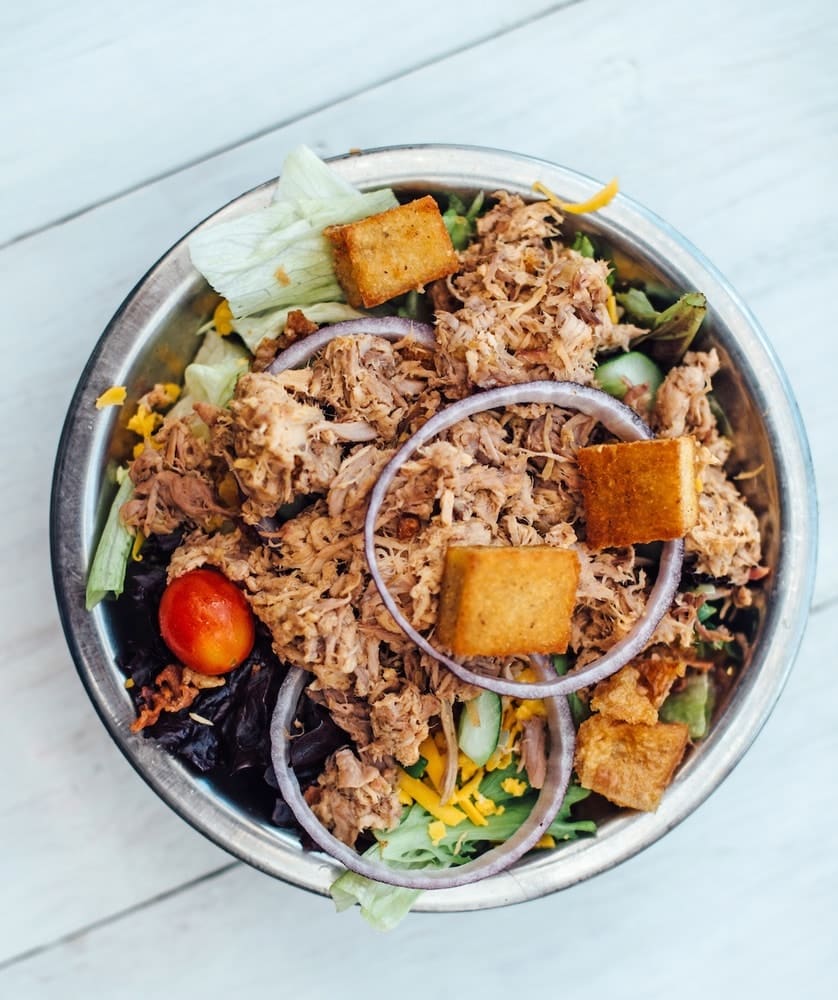 Always striving for the next achievement, Jones and his team are making 2020 the year to expand the business by opening a second Sam Jones BBQ location. The new restaurant will serve the Raleigh, North Carolina, community with the same incredible barbecue and Southern favorites for which they're currently known. "The new location in Raleigh is going to be different in regard to architecture, because we are remodeling an existing building," Jones shares. "We never intended Sam Jones to be a conceptual design, and this particular building is super special because it was originally a garage that has been there for many years. We are still going to have certain elements and touches from our store in Winterville, while also fitting in with the new neighborhood. It will have around 130 seats, a full bar, and a meeting room that will hold thirty-five guests."
In the meantime, the Winterville location is open daily and also offers online ordering and curbside pickup. Stop by for a taste of Carolina barbecue with the royal treatment!
— V —
---
Visit SamJonesBBQ.com and SkylightInnBBQ.com to learn more.
---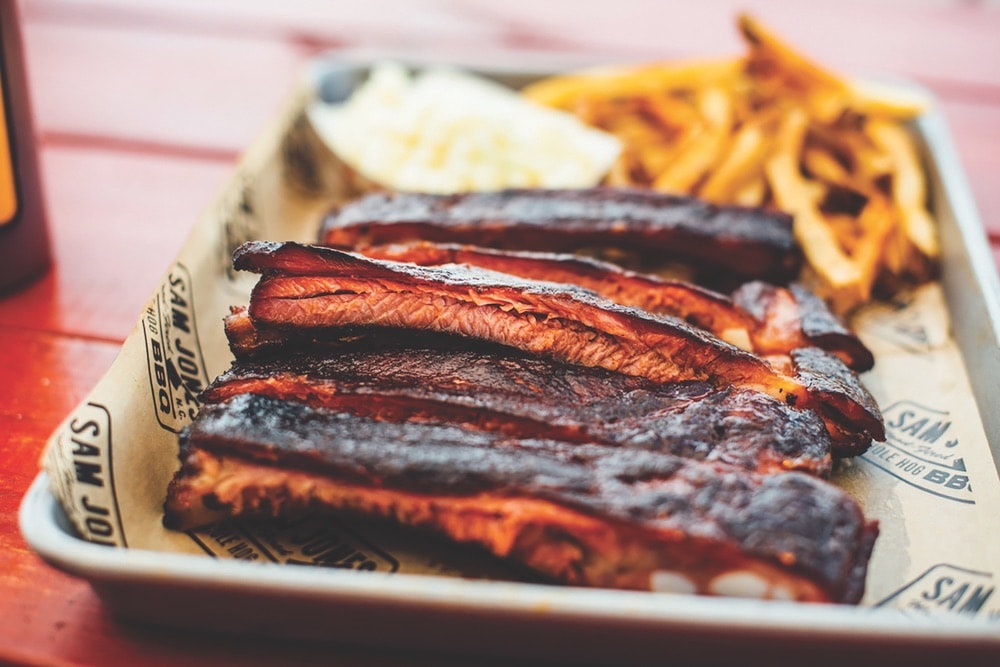 Pork Spare Ribs
Courtesy of
Whole Hog BBQ
by Chef Sam Jones
Makes three to four servings
Ingredients
Brine
1 gallon water
1 1/2 cups sugar
1 cup kosher salt
1 gallon ice
Ribs
1 full rack pork spare ribs (about 2 1/2 pounds)
1/4 cup Sam Jones BBQ Rub Potion Number Swine
1/3 cup Sam Jones BBQ Sweet Barbecue Sauce
Directions
To make the brine, bring the water to a boil in a ten-quart pot, then turn off the heat. Add the sugar and salt and stir until dissolved. Pour in the ice to chill the mixture. If you'd rather not bother with the ice, make the brine with two gallons of water, and do it far enough in advance so it will be completely cooled before adding the raw ribs.
To make the ribs, brine the ribs overnight, or for at least 4 hours. Preheat a smoker to 250°F.
Evenly coat the ribs with about two tablespoons of the rub on each side. Put them bone side down on the rack of the smoker, directly over the coals. Let them cook for 1 hour, then flip and cook for another hour.
(A tip from the chef: "Feel free to season the ribs as heavily or as lightly as you like at home. At the restaurant, we evenly coat them from a shaker full of Rub Potion Number Swine. 'Evenly coat' means a lot of different things to different people, but it's not a rub. The racks aren't dunked into a large pan full of rub either. It's shaken on to a thickness where you can still see some of the meat underneath.")
Check the sag of the ribs with the bend test. To do so, take a pair of tongs held perpendicular to the rib bones and guide one arm of the tongs under the rib rack. Do so carefully so as not to rough up the underside of the ribs too bad. Once the arm of the tongs is halfway up the rack, pinch down on the rack and lift the whole thing up. If the ribs don't bend at all, you still have a long way to go. The more tender they become, the more bend you'll see when performing this test. Once there's enough bend that a seam opens up, cracking the surface of the rib bark on the top side of the ribs, they're tender enough to wrap.
Once they've reached the proper sag, wrap the ribs in foil and place them back on the pit for at least another hour. Use the bend test to check for doneness and tenderness. Rewrap and continue cooking if needed.
(Note: The foil wrapping helps tenderize the ribs, and it also buys you some time. If you're at home executing an entire meal, it's hard to keep a close eye on meats that are cooking over direct heat. They might be burning while you're brewing sweet tea or mixing up the potato salad. The foil wrapper helps prevent that.)
Unwrap the ribs, lightly brush each side with half the barbecue sauce, and put them back on the pit for ten minutes longer or until the surface of the ribs is browned.
To serve, cut through the rack between the rib bones. The bones will be easier to locate with the ribs turned upside down. Serve with the remaining barbecue sauce on the side. Enjoy!
ARTICLE CATEGORIES