By Emme Martin | Photography by Maggie Braucher, courtesy of Highlander Mountain House
When taking a vacation, we often don't realize that our intention should be to return to ourselves rather than escaping reality. A getaway should remind us of the beauty in life's simplicities. The formula for achieving this sense of bliss doesn't have to be complicated; sometimes, all it takes is an aromatic cup of tea by the fire or a locally sourced meal shared with good company. These simple moments remind us to slow down and soak it all in, especially when visiting somewhere as charming as the North Carolina Highlands.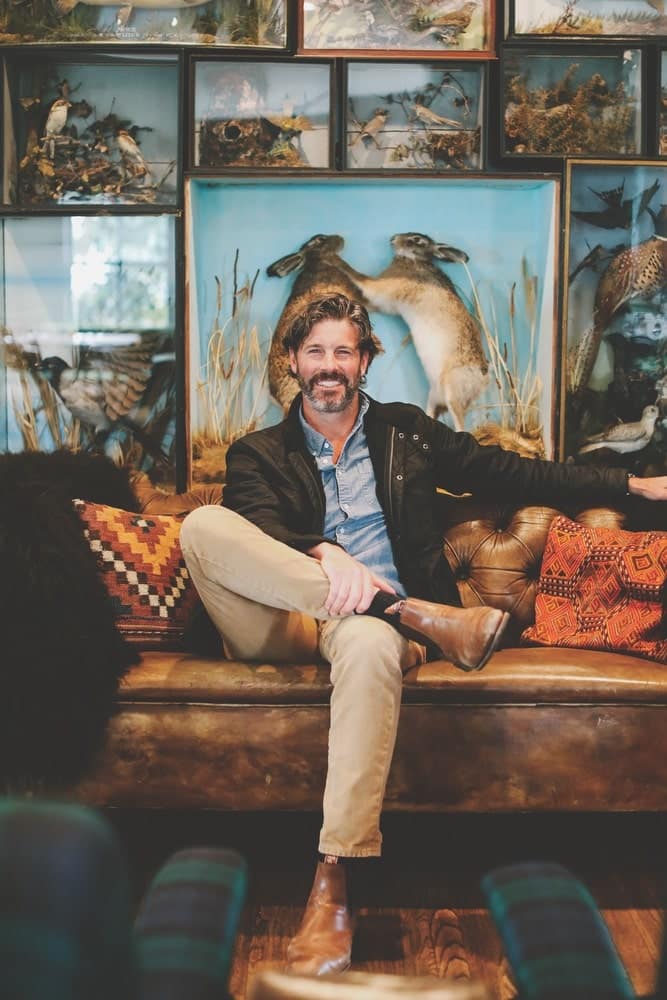 No one understands the meaning of life's simple pleasures better than Jason Reeves, owner of the Highlander Mountain House. Growing up in a series of old country homes in Lexington, Virginia, taught him a thing or two about the rustic charm his inn exudes in every detail. "My mother was a curator of several museums and had a career in the decorative arts, so it was in the blood," says Reeves. He graduated with a degree in economics from Sewanee before moving to Charleston, South Carolina, to focus on historic preservation and restoration of historic homes. Furthering his enthusiasm for restoration, he later moved to Boston to pursue a master's degree in preservation from Boston University and a master's in real estate and urban design from Harvard. Fully equipped with three degrees, Reeves enjoyed a career in real estate development and finance in New York City that ultimately led him to the boutique hotel industry. "The Highlander Mountain House is the coming together of all my meandering personal and professional pursuits—it all finally makes sense," Reeves reveals.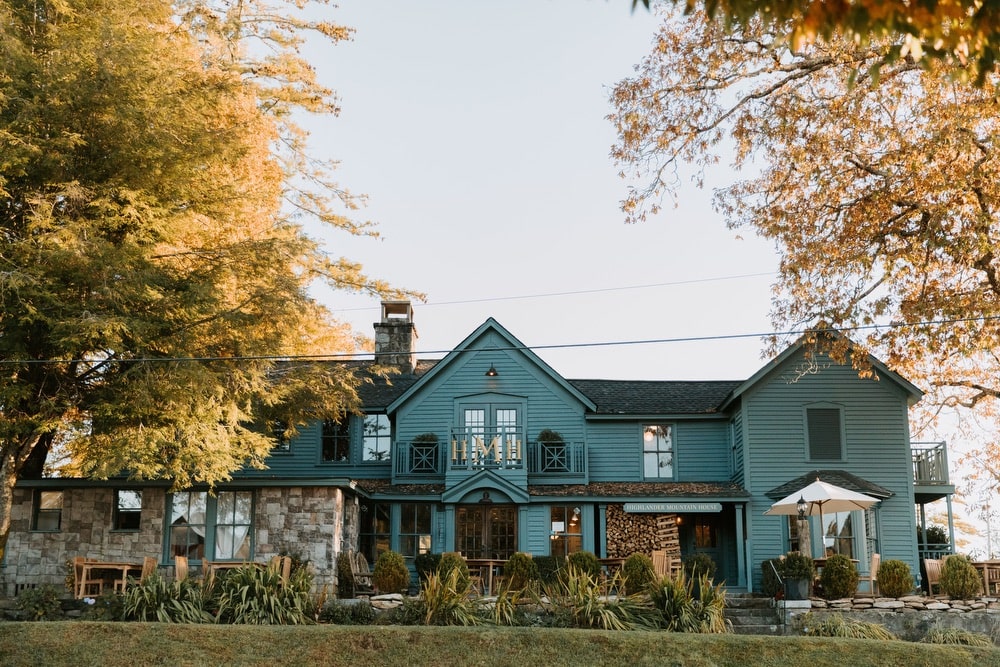 Looking back at his childhood, Reeves sees he was preparing his whole life to open the Highlander Mountain House.
"I was inspired by coaching inns and country house hotels in the Cotswolds where my family was fortunate to have a small cottage growing up," recalls Reeves.
He elaborates on his childhood memories of watching these English countryside properties transform through design-forward renovations and their adaptation of better seasonal cuisine. "I watched as flocks of Londonites descended upon them seeking a scale, landscape, and authenticity they couldn't find in the city." Reeves realized from a young age the value of authenticity. It was fate when he acquired the alleged second oldest building in the North Carolina Highlands, built in the 1880s for a retired sea captain from Charleston who became the keeper of the town's first inn. Reeves knew the building was special after it sustained itself through a series of hurricanes and still held strong. "I was immediately drawn to the bones and potential. I just wanted it to be more," he describes. The vision was clear from the moment he walked in the door; Reeves set out to create a place where he would like to stay when he traveled. "It's the antithesis of the branded, commodity hotel experience—a restaurant with rooms if you will."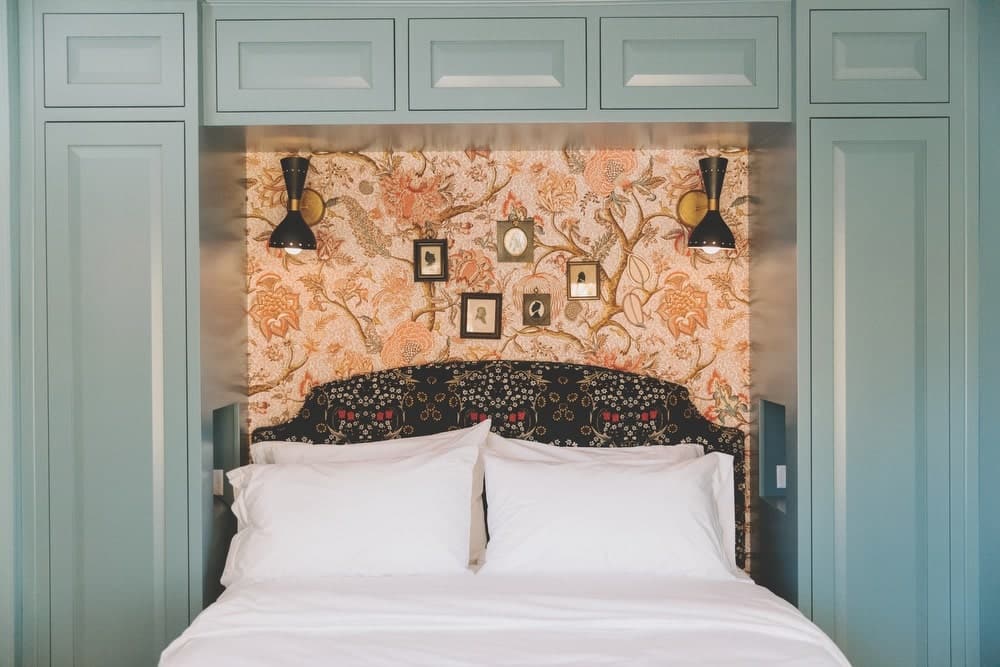 Guests visiting Highlander Mountain House can look forward to the welcoming and warm atmosphere. Reeves describes the feeling as staying at your very own mountain retreat. Beauty is all around as the property is distinguished by its rustic, old-world style and mix of modernity throughout—a vision of Reeves's long before the inn came to fruition. "I am far from a purist in any sense of the word—good design, to me, is not one particular style or element but more of the sum of all parts," he says when describing his inspiration. It was vital for him to maintain the original elements of the building so guests could feel the layers of history that make this place unique. The "English eclectic" theme of the hotel gave him license to create spaces that feel well-worn and comfortable. "Nothing is too precious or perfect, so it feels authentic and approachable," he adds.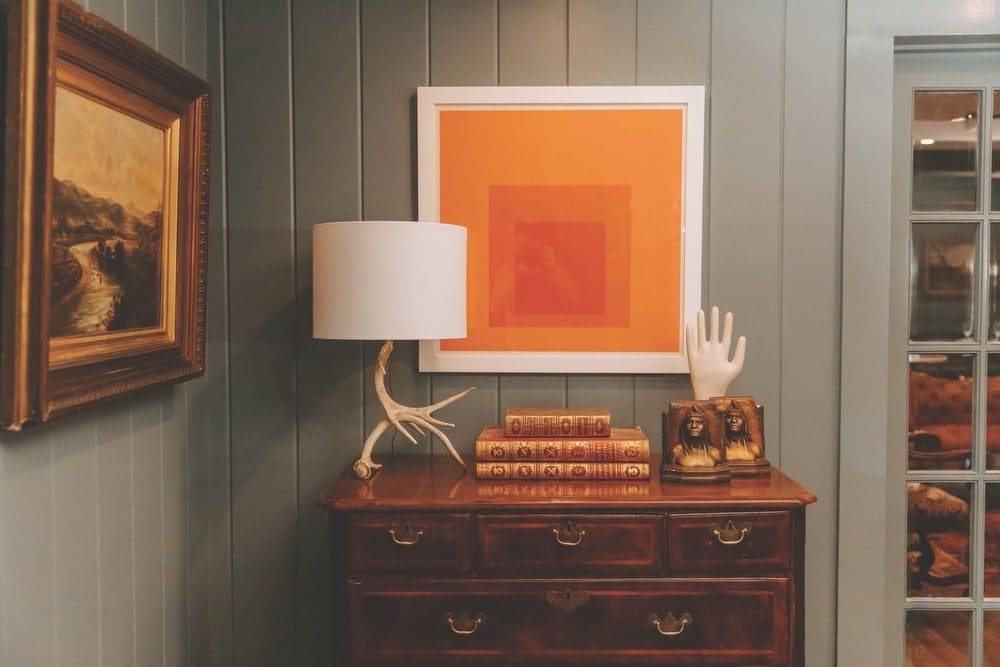 Visitors can choose to stay in the Main House or the Bunk House, each bringing a different style to the table. Those staying in the Main House can enjoy the English and French botanical wallpaper, period antiques, funky artwork, and mid-century modern furniture and fixtures. Vinyl records from Reeves's personal collection are sprinkled throughout many rooms to give a rock 'n' roll vibe, making for a fresh design juxtaposition. "The Main House is essentially an English country house hotel transposed in Appalachia, layered with the area's rich history, and infused with a heavy dose of music, literature, and culture," Reeves describes. For those looking for a more quintessential Appalachian summer camp experience, the Bunk House is the perfect spot. It embodies a more rustic design, with coziness being the most prominent element. The hickory beds, Pendleton blankets, and mountain art give these rooms a nostalgic feel that will take you back to your fondest summer camp memories. Those staying in the Bunk House can enjoy all of the same luxury linens, mattresses, and toiletries as the Main House at a lower price and even have the option of bringing a furry friend.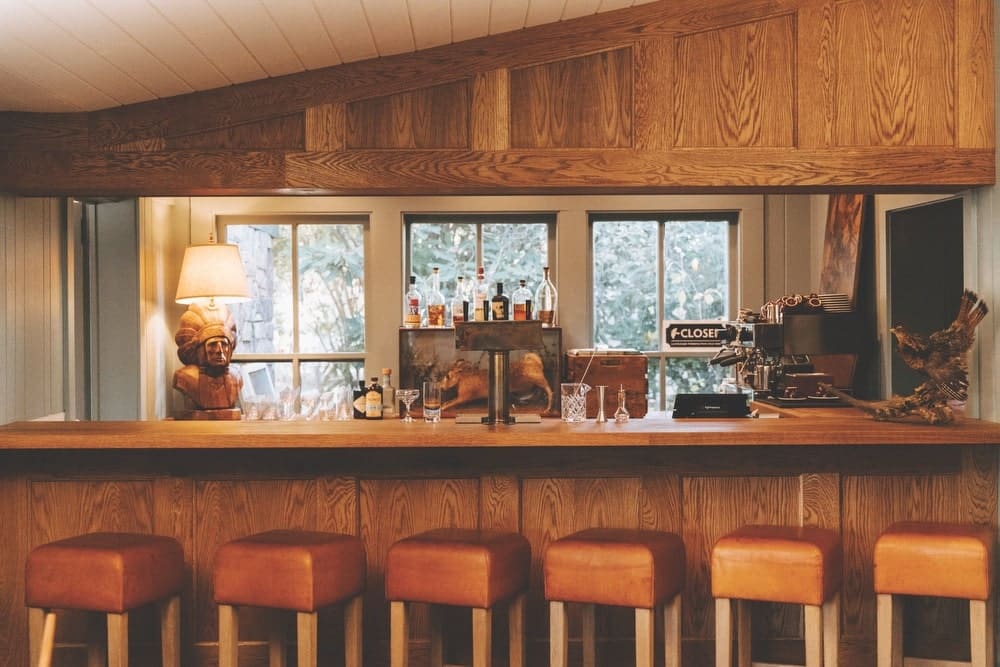 Warmth and comfort are abundant at Highlander Mountain House, as the fireplace stays burning and the music is playing at all times. Patrons are encouraged to start their day by the fire, in the café, or outside on the terrace with a coffee, croissant, and newspaper. The common areas are also open to the local community, furthering the Highlander Mountain House's ethos as a place for good conversation and human connection. As guests begin their day with stillness and simplicity, they can explore the nearby mountains and towns with a clear mind and open heart. The North Carolina Highlands are ideal for fishing, hiking, or simply connecting with the magic of nature. Reeves prefers fly-fishing for native trout on the Cullasaja and Chattooga Rivers or the myriad private waters accessed through local guides. He also recommends hiking to an inspiring mountain vista or waterfall—followed by a cocktail in front of the woodburning fireplace, of course. The Highlands are notorious for being one of the highest towns east of the Mississippi River, so gorgeous views are abundant.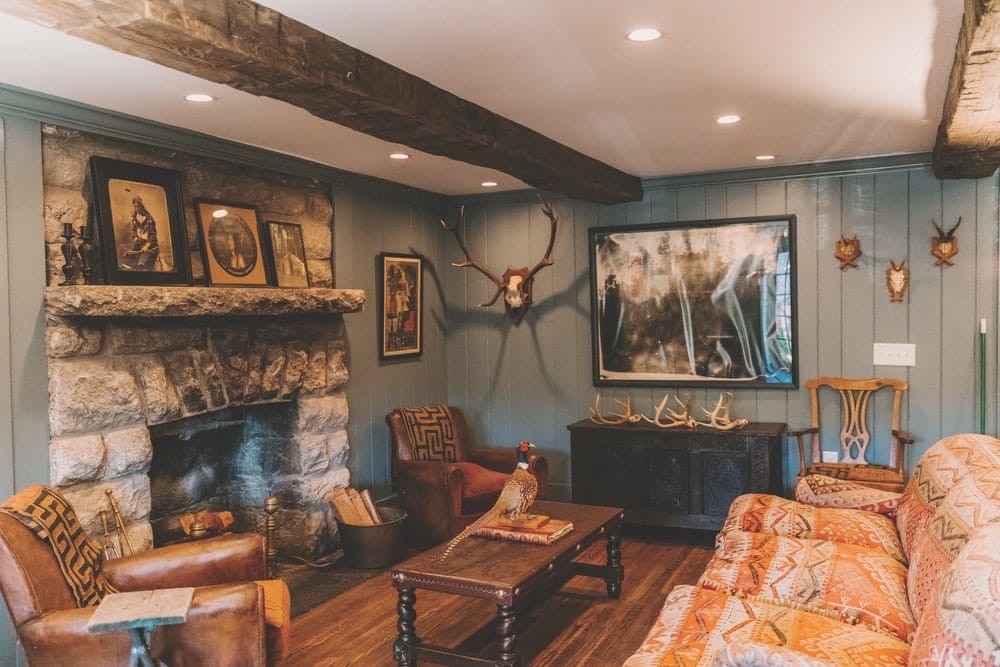 The evening options at Highlander Mountain House are just as enriching, as they frequently showcase authors, musicians, makers, and artists in a nineteenth-century salon-style setting. "Basically, we feature super cool people who have a lot of inspiration to share, set in the most intimate of environments," adds Reeves.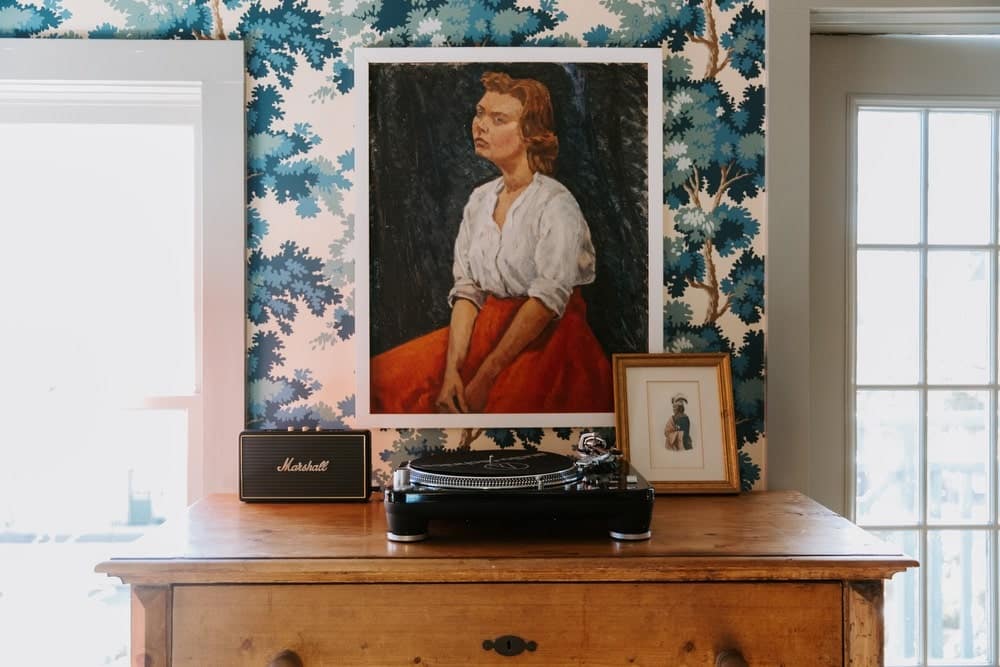 Guests can also enjoy a memorable dining experience at The Ruffed Grouse Tavern, the in-house restaurant that offers seasonal dishes from the surrounding area. The local fare is sourced from farms and fisheries in western North Carolina, striving to showcase the integrity of the ingredients and keeping it simple. When asked about his favorite dish on the menu, Reeves insists on the trout but says the burger also gets an honorable mention.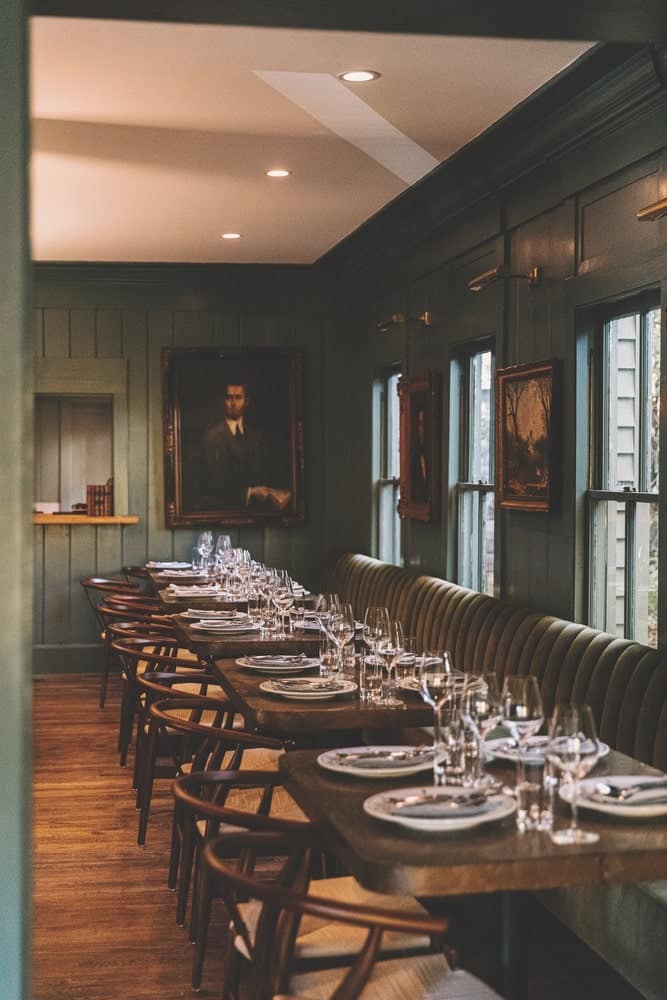 Reeves ends our conversation by reminding us of the purpose of a getaway:
"a chance to unplug, unwind, and let your life slow down and focus on the simple things—warmth, sustenance, human connection, and inspiration."
It's all the fundamental elements of Highlander Mountain House. He further explains, "Twenty-first-century life is fast-paced and overwhelming, so we want to offer a brief respite where you can go from digital back to analog, if only for a moment." Reeves's deep understanding of warmth and comfort through Highlander Mountain House has us excited to turn off our phones and connect with nature.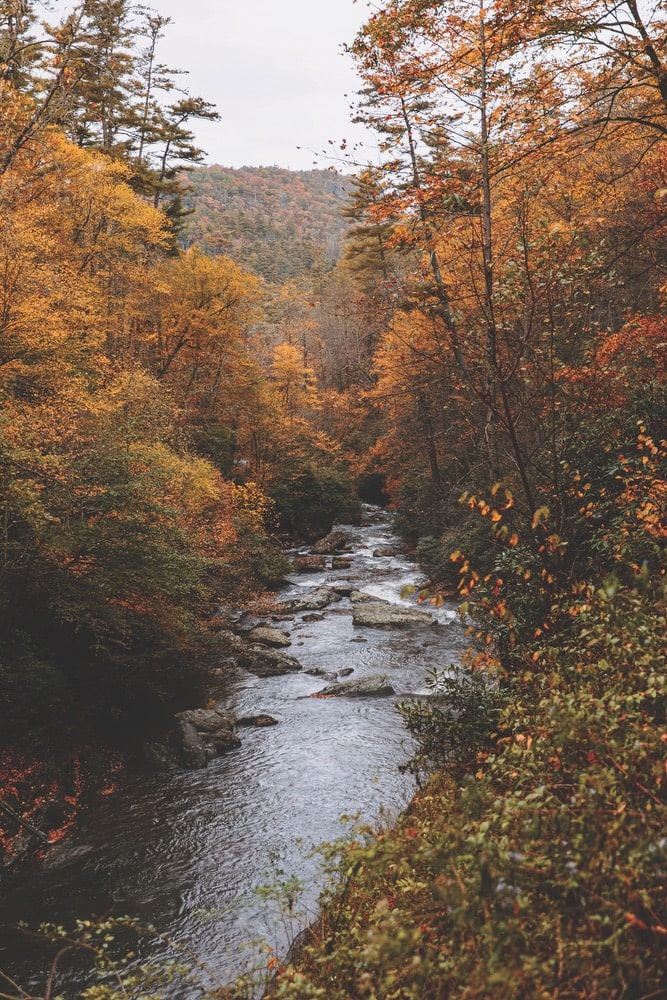 — V —
---
Visit HighlanderMountainHouse.com to learn more, book your stay, or make a reservation at The Ruffed Grouse Tavern.
ARTICLE CATEGORIES