Caught in the Camera Eye
By Brandan Babineaux | Photography by John Arrowsmith
For over thirty years, the Canadian power trio Rush has been churning out some of the most intense and complex music in the progressive rock genre. Since releasing their self-titled debut album in 1974, Rush has gathered an assembly of dedicated fans and they continue to record and perform live. Rush is: Geddy Lee—bass guitarist, vocalist, and keyboardist; Alex Lifeson—guitarist; and Neil Peart (pronounced Peert)—drummer, percussionist, and chief lyricist.
Except for their debut album, the band has maintained its current lineup of members. The original drummer, John Rutsey, was replaced by Neil Peart during the recording of their second album, Fly by Night, which was released in 1975—all subsequent recordings and tours have seen Lee, Lifeson, and Peart as Rush. With nineteen studio albums, six live recordings, and several greatest hits compilation albums to their credit, the group shares an impressive musical résumé. In 2004, Rush celebrated their thirtieth anniversary with a tour and DVD entitled R30.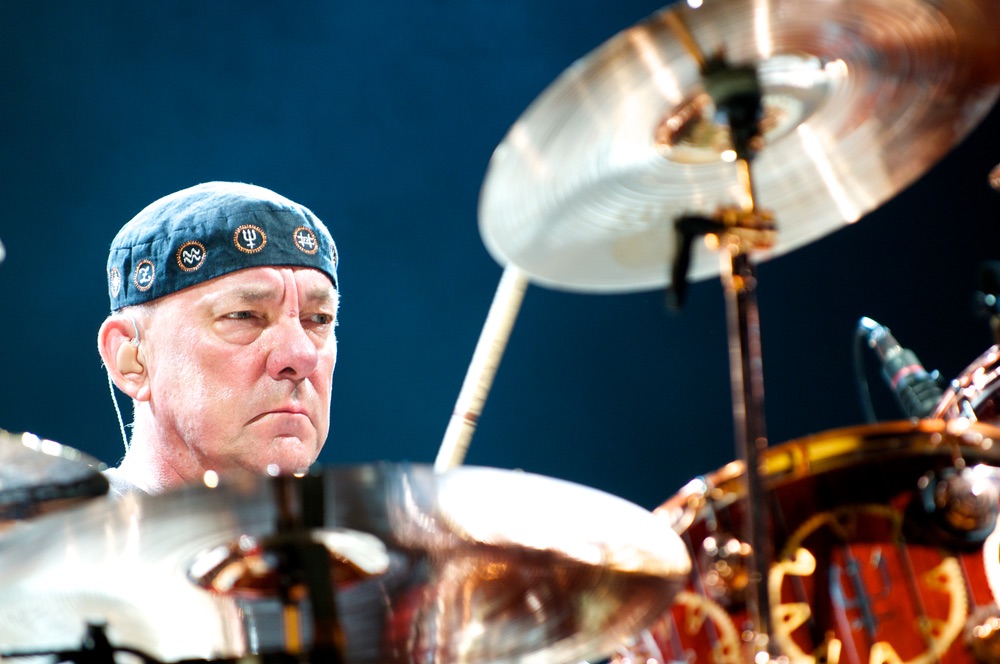 For some, Rush may be hard to define and categorize, but it's safe to say that Rush fits comfortably, but uniquely, into the progressive rock (prog rock) category. Prog rock bands emerged in the late '60s and early '70s in an attempt to elevate mainly British rock to a more creative and artistic level of acceptance. Prog rock bands have certain characteristics that define their style; they skillfully navigated away from the standard verse-chorus-bridge song structure and many times incorporate complicated time signatures different from the more common 4/4 tempo of most rock music. Normally, you won't find prog rock playing as background music in restaurants or shopping malls. It demands complete attention of the auditory sense and usually doesn't compete well with distractions to the listener.
Another important component of the prog rock genre is album structure. Many times an album will be an epic tale with an underlying theme with each song, placed in sequence, telling a specific part of the story—much like a novel is made up of chapters. These themes usually include complex fantasy, philosophy, or science fiction with technical instrumentals interspersed throughout. Bands such as Rush, Yes, Pink Floyd, Genesis, the Moody Blues, and others, all explored this concept of album structure with success. Though Rush has explored the themed album structure, the trio has been on a musical evolutionary arc that has allowed them to develop from their raw debut album sound to their deep conceptual musical tomes such as 2112 and Hemispheres. On one of their most successful records, 2112, side one of the album is a futuristic tale, loosely based on the writings of fiction novelist Ayn Rand, set in a dystopian society in the year 2112. Released in 1976, 2112 became the group's first record to reach gold status, selling over 500,000 copies in the U.S. and over 50,000 in Canada.
As Lee stated so accurately in their Rush in Rio DVD, "Rush has always been about musicianship first." They are known for their technical and complex mastery of music. Peart is widely known as one of the best rock drummers in the world and is responsible for the cerebral lyrics behind the music. These lyrics emanate from Peart's voracious appetite for literature, and I've often put Rush into a new category—one that I've dubbed "scientific rock." Geddy Lee has an unmistakable high range in vocals and his bass playing is more like continuous complex lead guitar solos. Lifeson fills in the gaps with power chords and snake charmer–like solos, completing the signature sound of Rush. The typical Rush fan is loyal to the band, and according to Lee, "A number of fans look at Rush as their little secret." Rush has explored raw guitar-oriented sounds, the heavy synth-laden new wave sound of the '80s, and then back again, all the while remaining loyal to the unique, identifiable sound that is Rush. Not many rock bands can enjoy that much creative latitude and still be a force within the rock world, but Rush has done it—and with class.
Rush has consistently written music, not to satisfy a record company's idea of a hit record, but to remain loyal to the core of what Rush is: a band determined to stay true to themselves while relying on their core fan base to partake in the musical journey with them. But all of this success was not without its setbacks and challenges. During a ten-month period of time in 1997, Peart lost his nineteen-year-old daughter to a car accident and his wife to cancer. According to the back cover of his book Ghost Rider: Travels on the Healing Road (2002), these tragedies left him "... a ghost, physically a man, but with nothing." Peart mentions in the book that he told his bandmates they "should consider him retired." The devastating events and his decision to leave the band affected Peart in a profound way, prompting him to embark on a fourteen-month 55,000-mile motorcycle journey. Ghost Rider, the culmination of Peart's five-year hiatus from the band, is essentially a journal of his experiences as he searched for a reason to live and tried to recover his life. The band ultimately regrouped and began to record and tour again. Returning to the studio, the group recorded Vapor Trails, a frenetic album heavy on the angst but an explosion that said to the fans: We are back!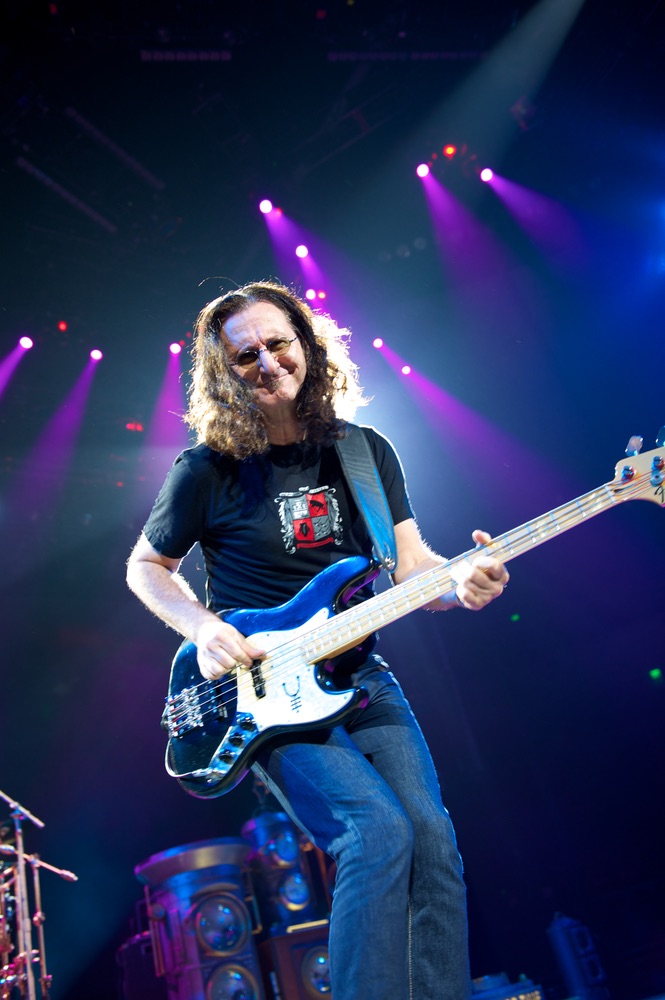 In 1981, Rush saw the release of Moving Pictures, probably one of the most well known and well received records of their career, which gave us the ever popular "Tom Sawyer" and "Limelight," which is an essay on what it's like to be a musician in the spotlight. Written from the perspective of having the desire to avoid the limelight and meeting an overambitious fan, one verse says it so well:
Living in a fisheye lens Caught in the camera eye. I have no heart to lie, I can't pretend a stranger Is a long-awaited friend.
The Moving Pictures album is being revisited on this latest Time Machine tour and marks the first time in Rush history that the entire album is performed during a show. A typical Rush show is a great value for a live performance as the band works hard during the nearly three-hour show. Before wrapping up their Time Machine tour, Rush was captured live in New Orleans on June 10 of this year by John Arrowsmith. Arrowsmith is Rush's personal tour photographer and accompanies the band at every show, shooting live shots of the band during their intense workout. Highlights of the set list from the New Orleans Arena performance included a comedic video intro, "Rash: The Real History of Rush – Part 1," before the opening classic "The Spirit of Radio." Other favorites, "Freewill," "Marathon," and "Subdivisions," were included before the intermission.
The second set opened with the classic and explosive "Tom Sawyer," and the remainder of the Moving Pictures album unfolded in order of the record. In this tour, Peart's customary drum solo appeared towards the end of the second set prior to the band disappearing before the much-anticipated encore. As if the two preceding face-melting sets were not enough stimulation for the average fan, the group emerged to start the three-song encore with my all-time personal favorite, "La Villa Strangiato," a complicated twelve-part instrumental piece from their conceptual Hemispheres album of 1978.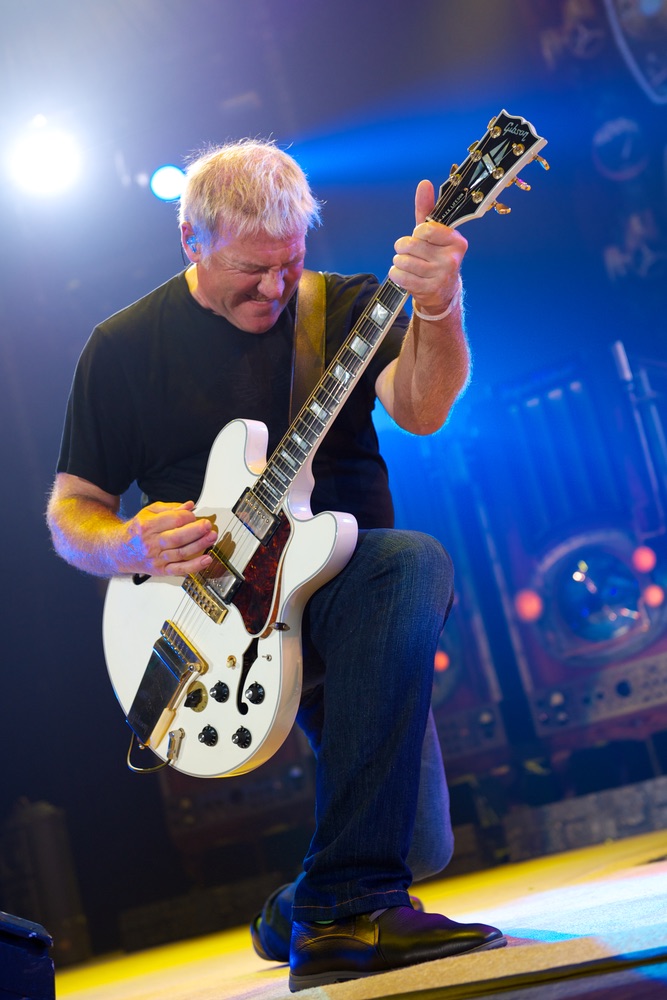 After some much-needed time off from touring, Rush will be working on their next album, Clockwork Angels, this fall. Two tracks from the album, "Caravan" and "BU2B" ("Brought up to Believe") were included in the Time Machine set list. With Rush returning to the studio to complete their newest album, fans are given hope that the two most important questions will be answered: When does the next album come out? And, when does the tour start?
Not soon enough.
— V — 
---
Special thanks to John Arrowsmith for images provided of the New Orleans Arena show. 
If you are interested in the mystery of Rush, here is link to a snippet from their new documentary, Beyond the Lighted Stage; http://youtu.be/sk8hbSxY0sE.
ARTICLE CATEGORIES