Sailing the Moroccan Coast
By Sarah Freeman
With its picture-book battlements, perfumed markets, French-style pastries, and exquisite Islamic gardens, Morocco awaits discovery, but from a new perspective—namely, from the water on an adventurous sailing trip along its storied Atlantic coast.
"Welcome to the snake pit!" skipper Neal exclaims, wearing a smile as wide as his Tilley hat. This is not the Amazon, but the roiling Atlantic Ocean, where our newly acquainted crew of eight amateur and seasoned sailors are grasping the naval origins of "all hands on deck!" The snake pit—so-called because it holds ropes that can quickly become a tangled web of sheets, halyards, and reefing lines—is part of our stem-to-stern reconnaissance of Hummingbird, my floating home for the next fortnight. The retired Clipper 60 (the first generation of boats to sail around the world) is one of a fleet of four vessels owned by Rubicon 3, a British company specializing in expedition-style yachting vacations on both sides of the Atlantic. Our six-hundred-nautical-mile journey from southern Spain to the Canaries via Morocco's Atlantic coast should be plain sailing for Hummingbird, who's clocked an impressive three laps of the globe.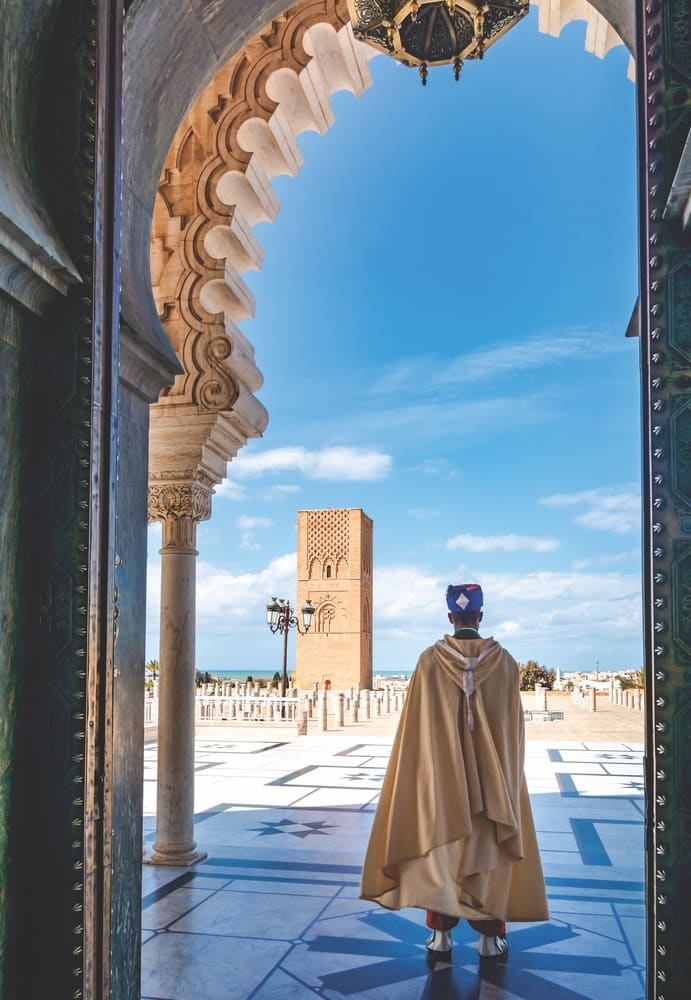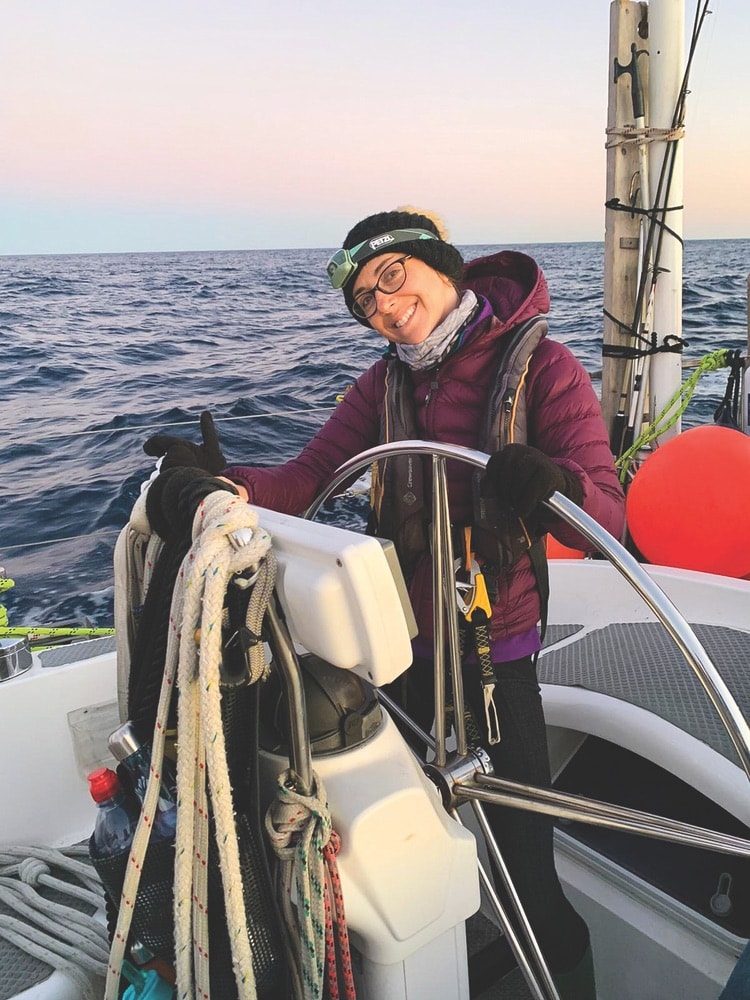 For fledgling mariners like myself, crossing the Strait of Gibraltar on day two of the voyage is an exhilarating first taste of life on the open water. While wind pummels Hummingbird, causing her to heel, we learn to hoist, winch, trim, feather, tie, steer, and master some basic boating knots. We do it all under the watchful eyes of experienced deckhands: Scottish skipper Neal Gwynne and first mate Alex Laline, who hails from Barcelona. During the trip, becoming an operational crew member while exploring corners of the world less accessible by land is underscored by founder Bruce Jacobs's motto, "Sail, train, explore."
With the northern tip of Africa thrillingly close, it's surreal to think that forty-eight hours earlier, we were sipping Manzanilla (a local sherry) in a freiduría (fried fish bar) in Cádiz. The Andalusian city's Spanish-Moorish charms have rubbed off on Tangier, which stands sentinel at the Strait of Gibraltar where seas and continents meet. Tussled over by the British, Spanish, French, Portuguese, and Moroccans, the city has long been romanticized by artists and writers. You can stroll through the real-life scenes of Matisse's paintings inside the seventeenth-century casbah's peeling walls, or sip mint tea (one of the most cherished Moroccan traditions) in one of Petit Socco's louche cafés as Tangier habitués Jack Kerouac and Tennessee Williams did. This plants you in the heart of the city's stepped alley and adobe-arched medina, where the first American-owned property outside the US, the American Legation Museum, stands in all its stuccoed glory. I return to the corniche with precious cargo—a stenciled lamp and souk-bought sumac spice, the tangy star of the fattoush salad I've been tasked with rustling up in Hummingbird's snug saloon-galley. The ship is equipped with a gimballed stove (which you can tether yourself to on rough days at sea!). Everyone shares duties with the cooking and cleaning on board. Expedition sailing, it turns out, is a great leveler.
Next is a pilgrimage to one of Morocco's most venerated shrines: the Mausoleum of Mohammed V, who led the country to independence from the French in 1956.
After two days on terra firma, a pod of forty or so porpoising dolphins bid us safe overnight passage to our next port of call: Morocco's oft-overlooked capital, Rabat. The upshot of velvety calm waters and motor sailing, I discover, is learning celestial navigation under wide-open skies with a sextant, an instrument used by sailors for centuries.
With the Atlas Mountains rippling on the horizon, Hummingbird makes landfall just in time for a late breakfast of fekkas (twice-baked cookies) and pomegranate juice at Café Maure, adjacent to Rabat's Andalusian Gardens. Rabat, a UNESCO World Heritage site, is an oasis of date palms, air scented with orange blossoms, babbling fountains, and chirping birds, all befitting the city's Arabic moniker meaning "a refuge." It's all uphill from here along the hushed alleyways of the city's Kasbah of the Udayas—a vision of studded wooden doors and intricate geometric architecture. Next is a pilgrimage to one of Morocco's most venerated shrines: the Mausoleum of Mohammed V, who led the country to independence from the French in 1956. Flanked by horse-mounted guards dressed as Berber warriors, the mausoleum overlooks another Rabat landmark: Hassan Tower, the twelfth-century minaret of an unfinished mosque that was intended to be the world's largest.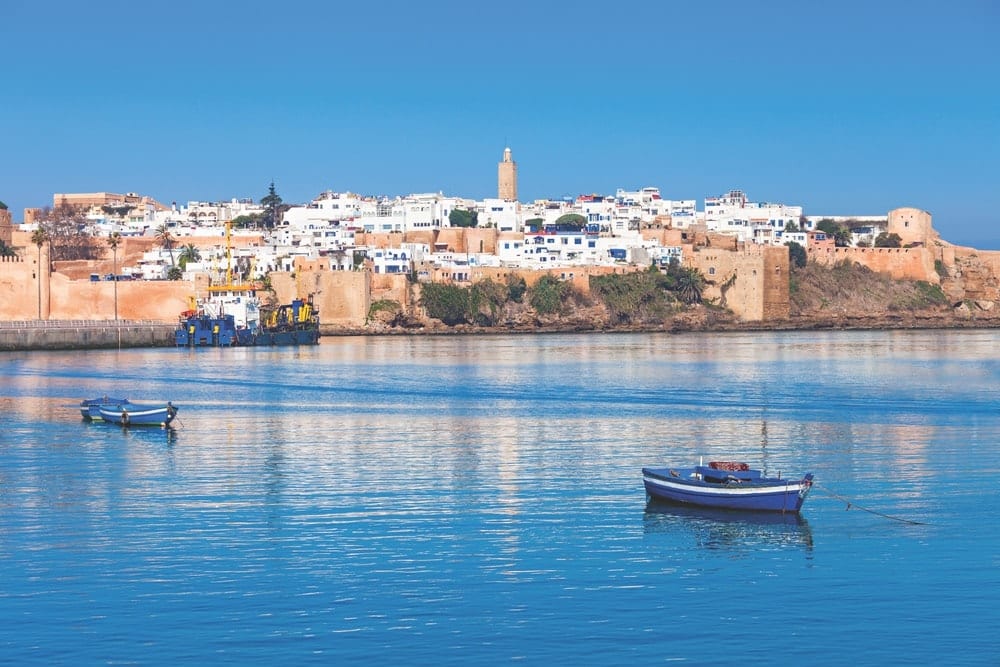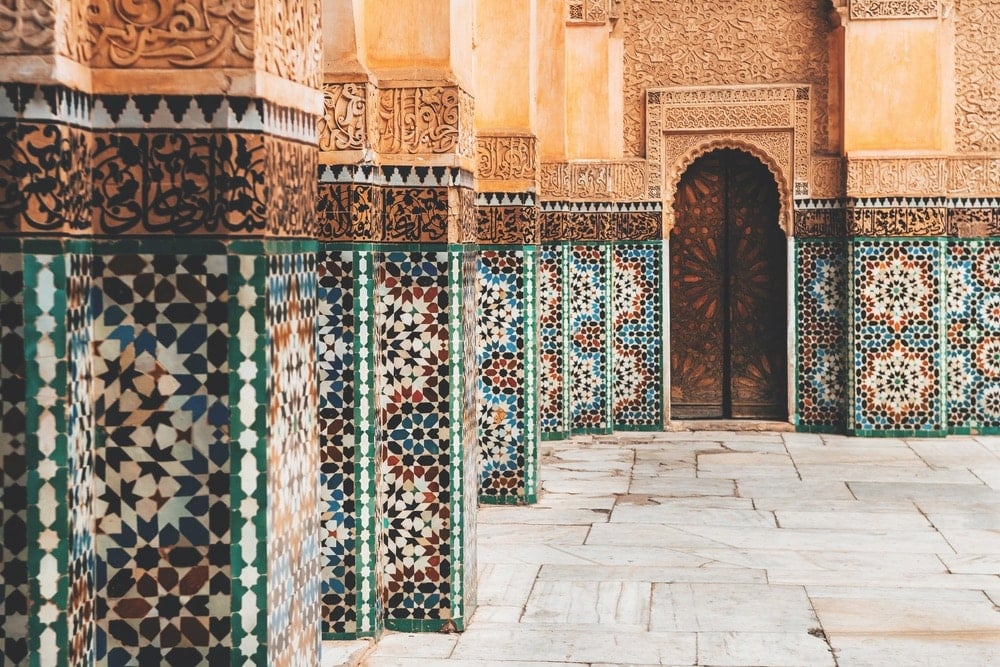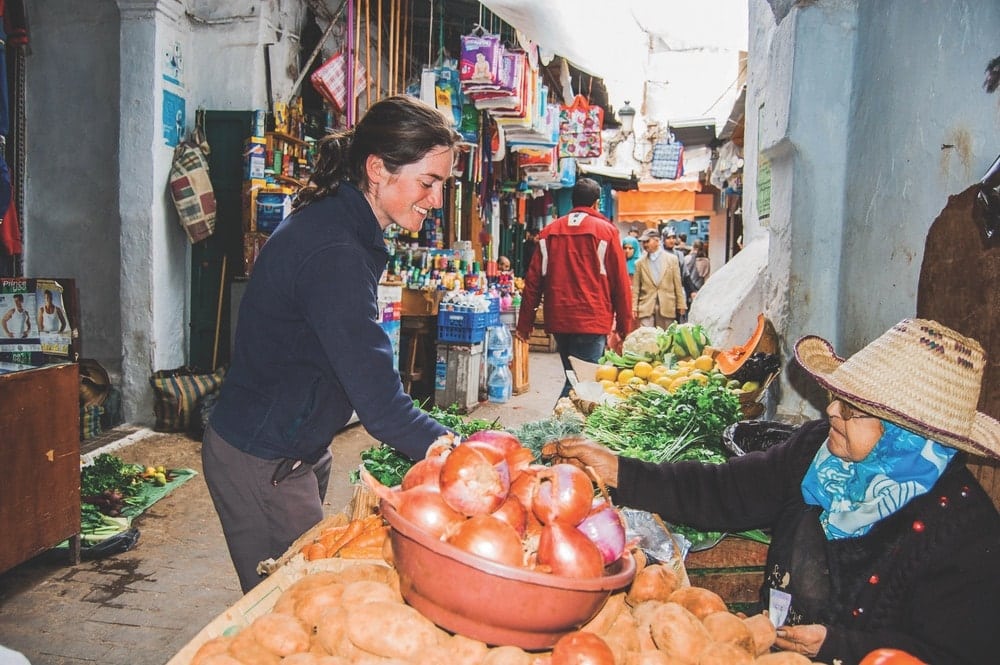 Casting off the lines at first light rewards us with a smooth fifty-nautical-mile downwind sail under cloudless skies to El Jadida, one of West Africa's earliest Portuguese colonies. It's a tight squeeze mooring up alongside traditional feluccas in its working harbor, which was a stopping point for spice traders heading east during the Age of Discovery. Today, burnoose-clad locals haggle over the price of the day's catch. Preparing the RIB (rigid inflatable boat) for shore in the briny air whets my appetite for Morocco's famous pilchard sardines, charcoal grilled to perfection at no-frills Pesca Mazagan, which overlooks the city's pretty palm-lined promenade. The afternoon is spent strolling the ramparts of the star-shaped Fortress of Mazagan and cooling off in the dramatically lit Portuguese cistern (where Orson Welles shot scenes for his movie adaptation of Othello).
We settle at anchor for a second night and plot the next day's passage over a meal of aromatic chicken curry, made with ingredients gleaned from local markets, before being gently rocked to sleep in our bunk berths.
"The sea, once it casts its spell, holds one in its net of wonder forever."
Several hours of timed reefing practice later and the sight of Safi's scorched red headlands signal our arrival to Morocco's unsung ceramic capital. Its fortified medina has all the faded grandeur of Havana—men play backgammon propped up on plastic stools, and wheeled carts are piled high with babouche slippers and pyramids of sticky dates. I go in search of Africa's first Gothic building, the ruined Portuguese Cathedral (reached from Souq Street), with just its choir galley and vaulted hall still standing.
Crafted not to crumble are the city's renowned wood-fired ceramics, baked in earthen kilns at hobbit-esque Potters' Hill. Some seven hundred artisans work barefooted at wheels, as their ancestors did, in forty cooperative workshops. I watch a potter deftly mold the conical shape of a clay tagine, which slow-cooks its namesake stew by "catching" the steam.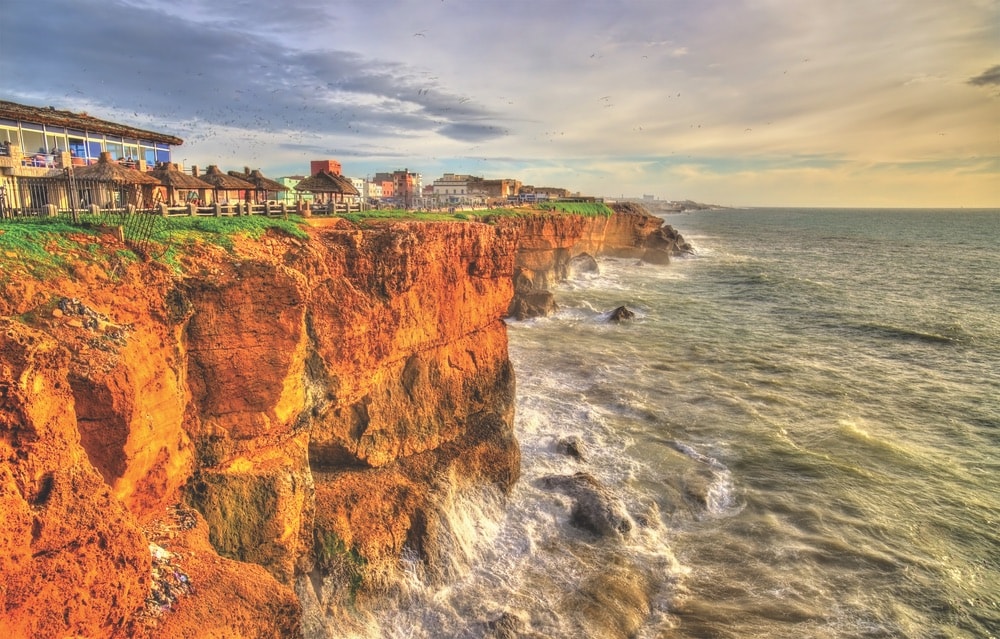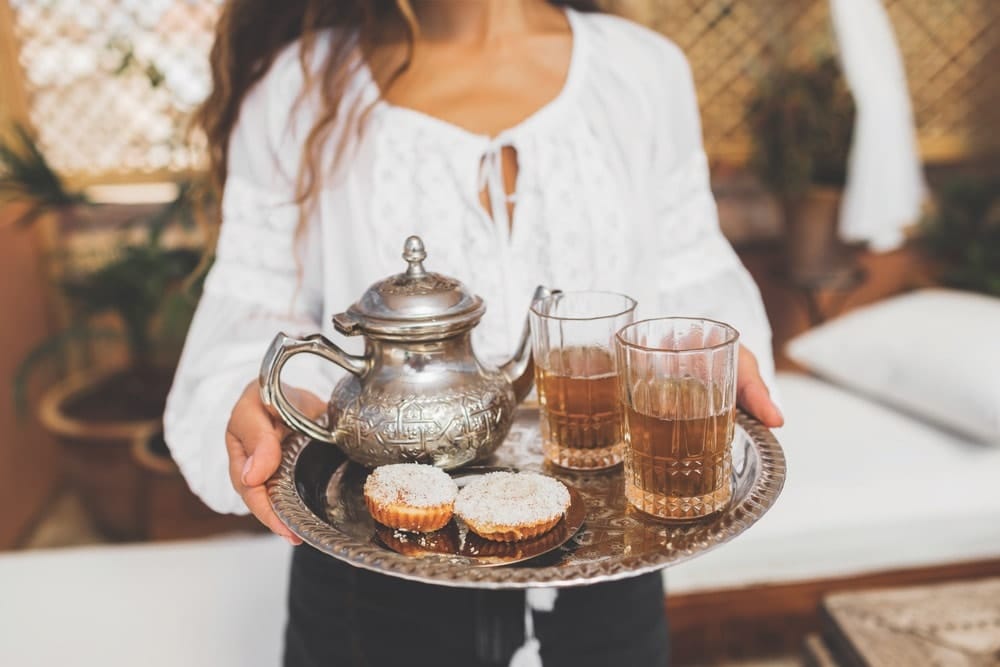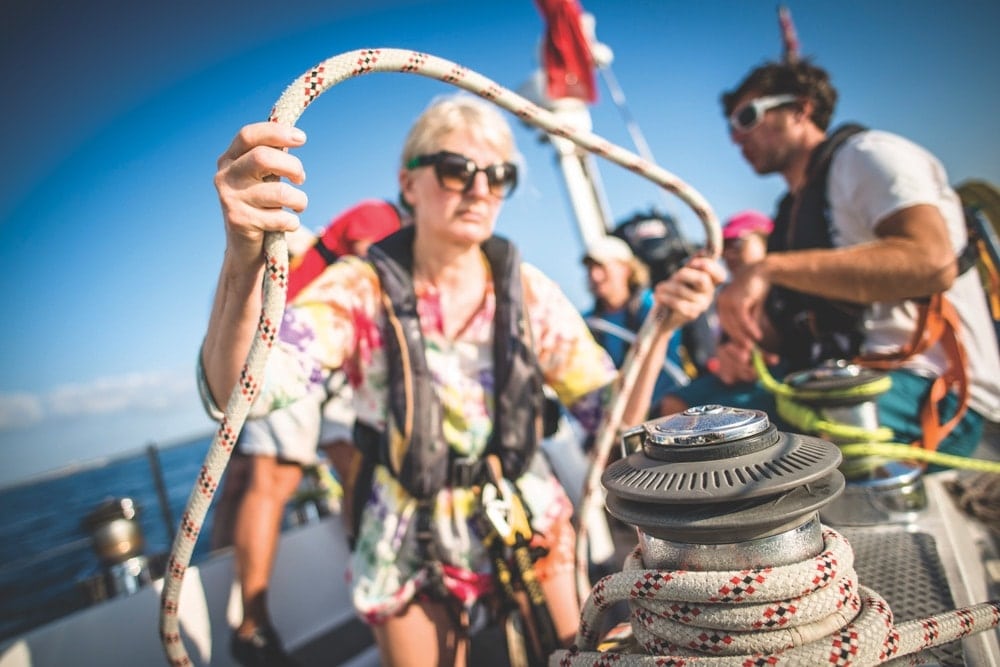 Bidding ma'a salama to Morocco, Hummingbird's final twenty-four-hour sail from Safi to the Canaries is the ultimate test of our crew's seafaring mettle. Spirits buoyed by flasks of tea, our group (on watch for four-hour shifts) scan the horizon for minesweepers and take turns at the helm.
With the wind in my hair and sun on my back, the last push to Lanzarote's rocky volcanic shores is champagne sailing, but our final berth in Puerto Calero's sun-kissed marina is bittersweet. In the words of Jacques Cousteau: "The sea, once it casts its spell, holds one in its net of wonder forever."
— V —
---
Visit Rubicon3Adventure.com for more information about this trip.
ARTICLE CATEGORIES