A Front-Row Seat on Bourbon Street
By Tori Phelps |  
Photography courtesy of Royal Sonesta New Orleans
New Orleans is different things to different people: a culinary mecca, a historic gem, a musical powerhouse. But the one thing everyone agrees on? Much of the magic happens in the French Quarter.
Royal Sonesta New Orleans offers a front-row seat—on Bourbon Street, no less—to all of the foodie, jazzy, festive fun. Even better, they add their own ingredients to the merry mix with a lineup of signature amenities and events. "It's the only luxury hotel space on Bourbon, so guests can take advantage of upscale comforts while being in the center of all the action," says general manager Al Groos. "It's the go-to spot for the ultimate Crescent City experience."
That experience starts with 483 recently revamped rooms and suites, plus a Southern-chic design that extends throughout the property. Then it's on to five food and beverage outlets where guests can dig into award-winning cuisine, sip seasonal cocktails, and groove to live music from the city's jazz masters. Throw in a lush courtyard, wrought-iron balconies, and a world-class art collection, and it does, indeed, add up to the complete New Orleans package.
So whether you're throwing an event of your own or attending one of the hotel's, you'll quickly understand why Royal Sonesta has earned a reputation as the "VIP box seat to the French Quarter."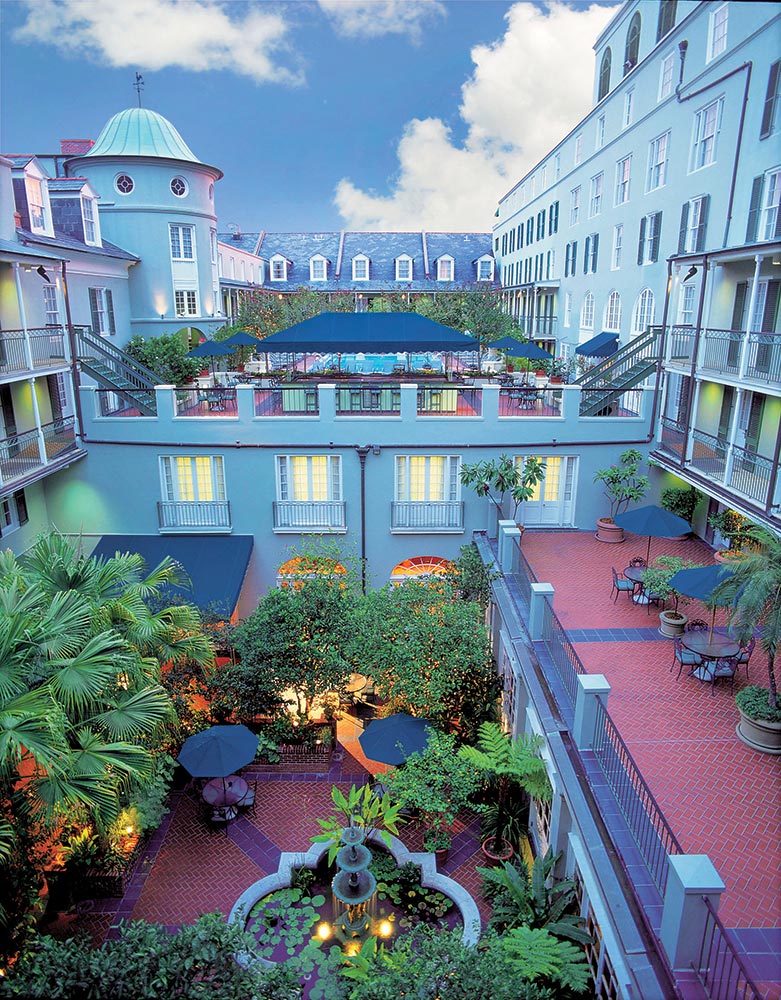 Here Comes the Bride
Royal Sonesta should probably consider adding wedding bells to its roofline because marriage is kind of their thing. From proposals and engagement celebrations to bachelor and bachelorette parties and the big day itself, the hotel's collection of public and private spaces, not to mention its dedicated event staff, means you can do "I do" your way. Five hundred guests for a reception? No problem. An intimate affair for fifty? You bet. The only thing that's standard is an atmosphere of charm-soaked romance. "You're going to get a very quintessential New Orleans event here," says Groos. "The architecture, the jazz-inspired flair—there's only one place in the world like this to get married."
Kidding Around
New Orleans probably isn't the first city that comes to mind when you think "family friendly," but Royal Sonesta might change your mind on that. There's a seismic shift that happens when you step from Bourbon Street into 300 Bourbon Street. The hotel serves as a haven for families, allowing all of the noise and hubbub outside to melt away. At the pool, which sits in the middle of a stunning courtyard, the only sounds you'll hear are happy splashing.
Royal Sonesta hosts multiple events geared toward families throughout the year: an Easter Bunny encounter with cookie decorating; a Royal Teddy Bear Tea, held in partnership with the Children's Hospital of New Orleans; and the holiday Lighting of the Balconies, where young Children's Hospital patients "flip the switch" to illuminate thousands of twinkling lights draped over the property's iconic wrought iron.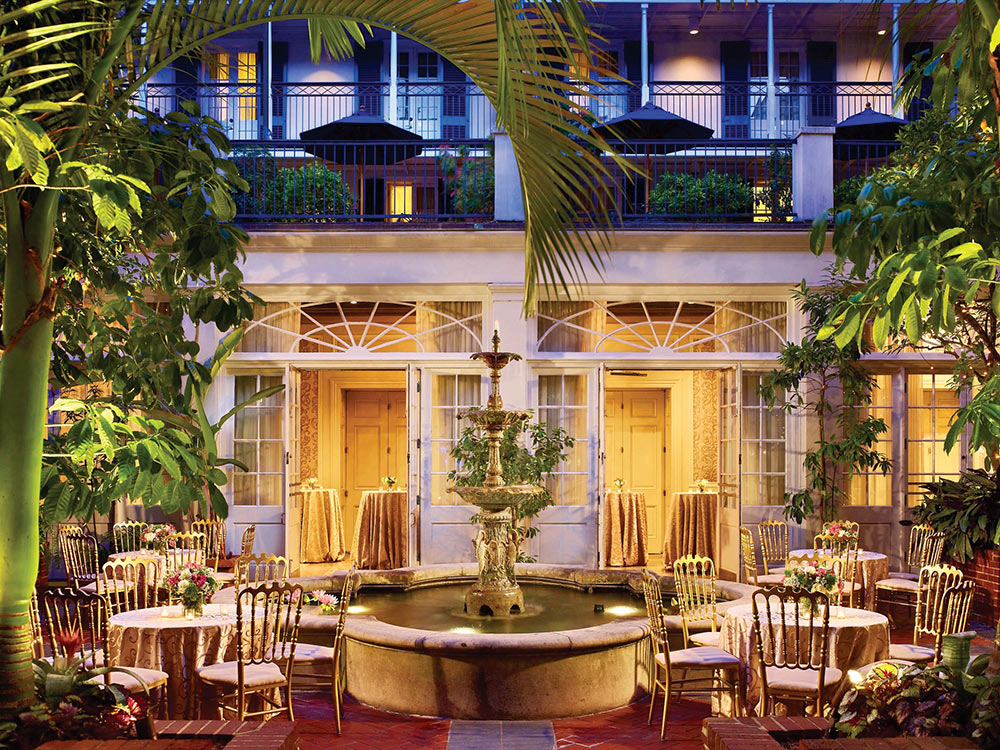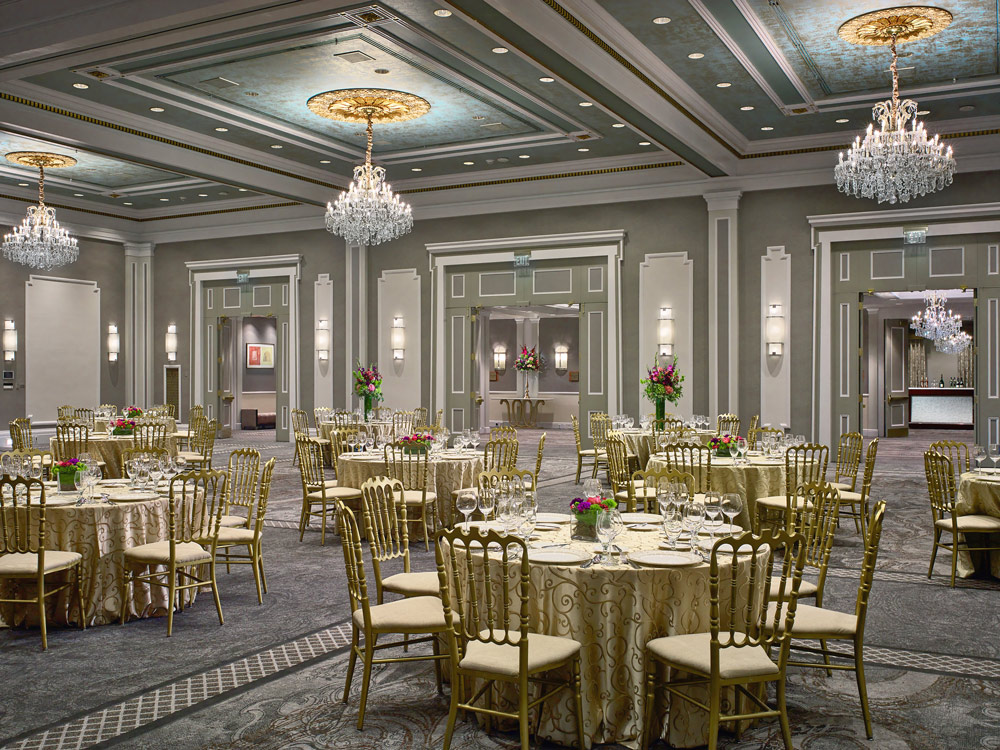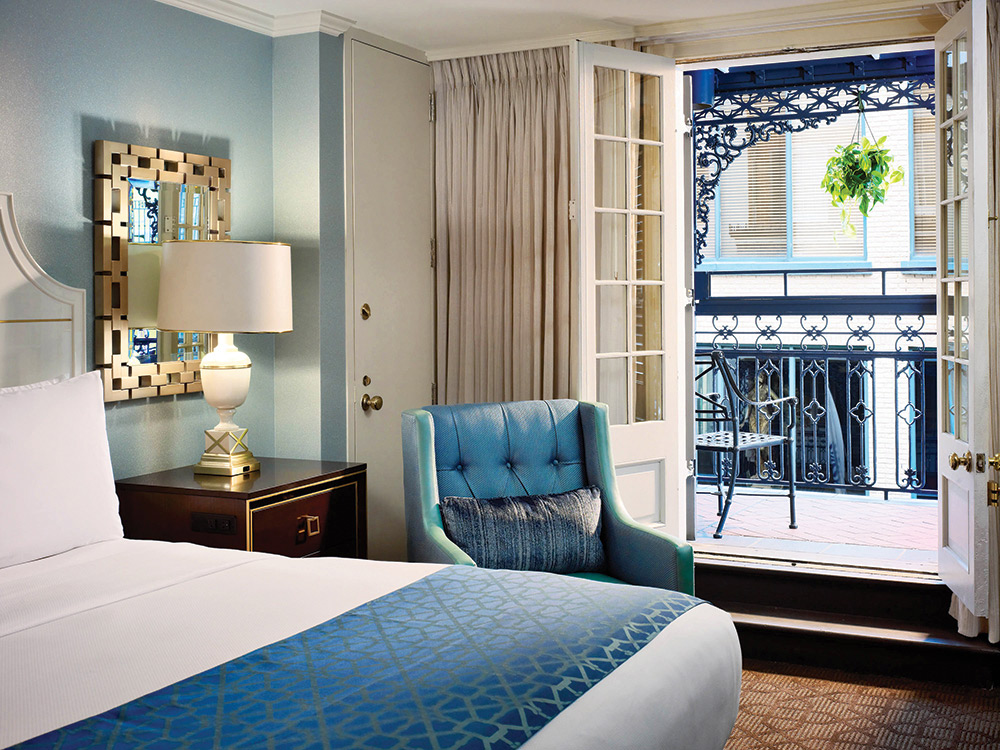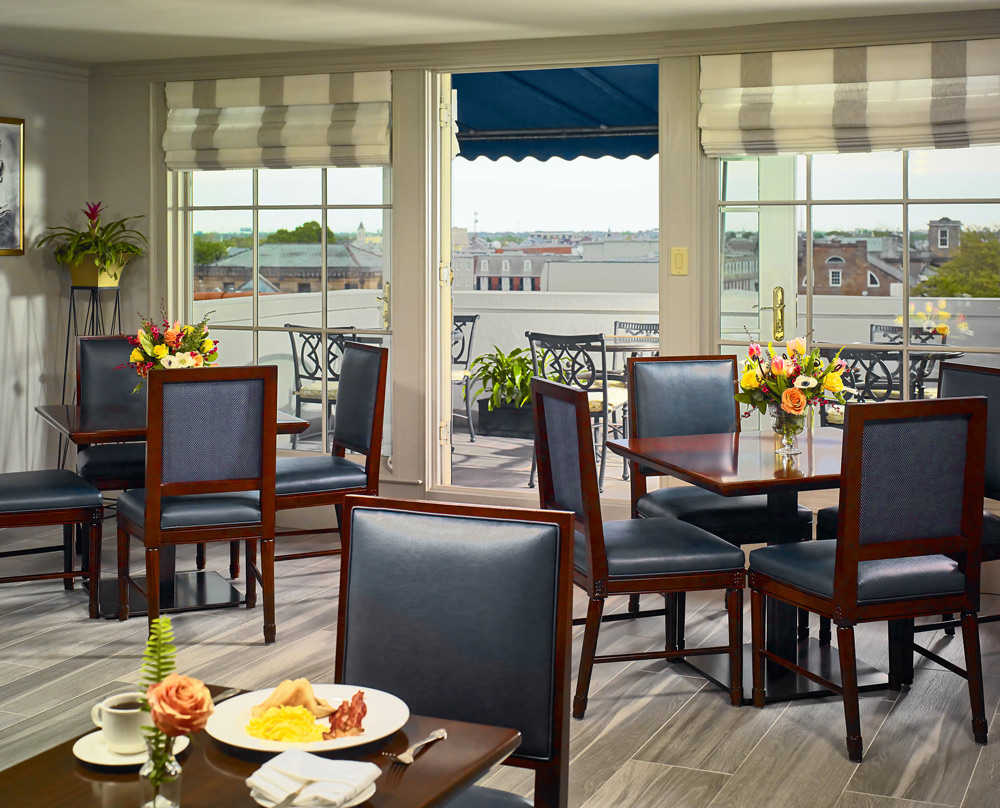 Stand-Alone Soirees
Here, once in a lifetime happens all the time. Take the Hotel Thrillist visit in 2016, for example. During the three-day event, the popular lifestyle media brand flew in a hundred-plus influencers, clients, and friends. What they found at Royal Sonesta was a self-contained "best of NOLA" encompassing music, food and drinks, and distinctive city experiences. This year, the James Beard Foundation Taste America Awards hit the hotel on October 6, and—ahem—the recent VIE magazine meet-and-greet was pretty special, too.
Music and (a Bit of) Mayhem
Sometimes naughty but never nasty, Royal Sonesta keeps a sense of decorum even when events are more grown-up in nature. The annual Greasing of the Poles on the Friday before Mardi Gras traces its roots to the days when hotel management would grease balcony poles leading to guest rooms to prevent sidewalk revelers from finding their way inside. Celebrating its forty-eighth year in 2018, it's now a fun tradition that features celebrity "greasers" and guest judges who decide on the oily winners.
Where guests can dig into award-winning cuisine, sip seasonal cocktails, and groove to live music.
Then there's the yearly New Orleans Saintsations Calendar Release Gala that Royal Sonesta hosted for several years. Marking the first official appearance for the entire squad, the event allowed fans to meet the cheerleaders and get their calendars autographed. "Only in New Orleans does a calendar release become a major sold-out event," says Groos of the red-carpet bash.
America's music—jazz—is a nightly occurrence at the hotel in The Jazz Playhouse. But the place really gets swingin' during French Quarter Fest, when The Jazz Playhouse turns into an official stage for a variety of daily performances. One especially cool moment: Stevie Wonder's impromptu, private gig on the Playhouse stage in 2016.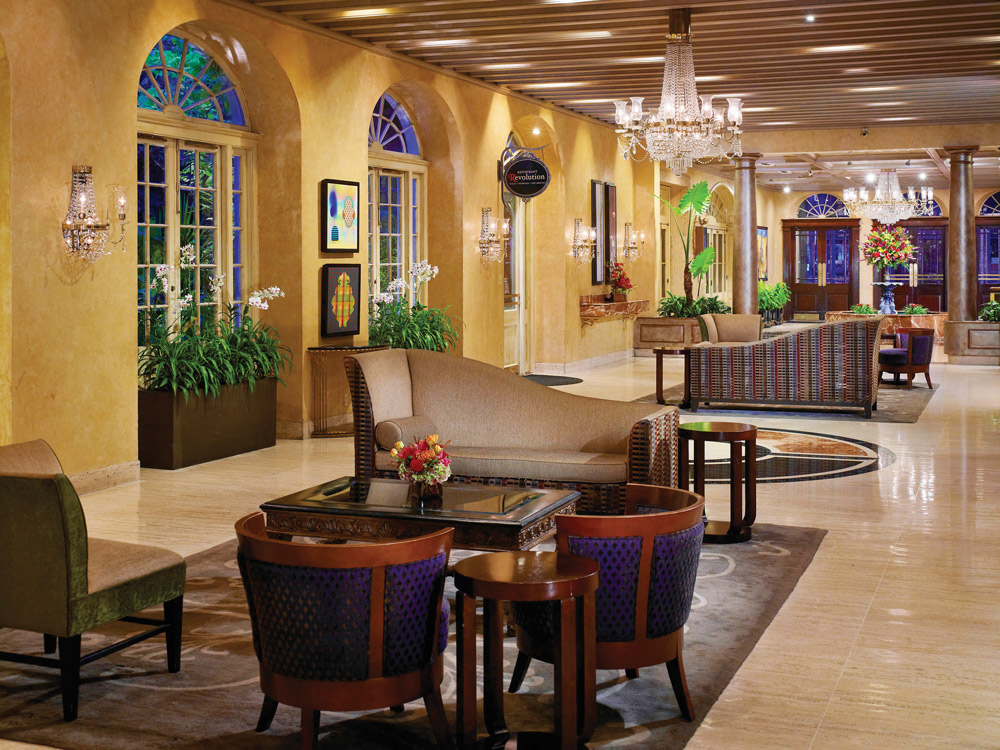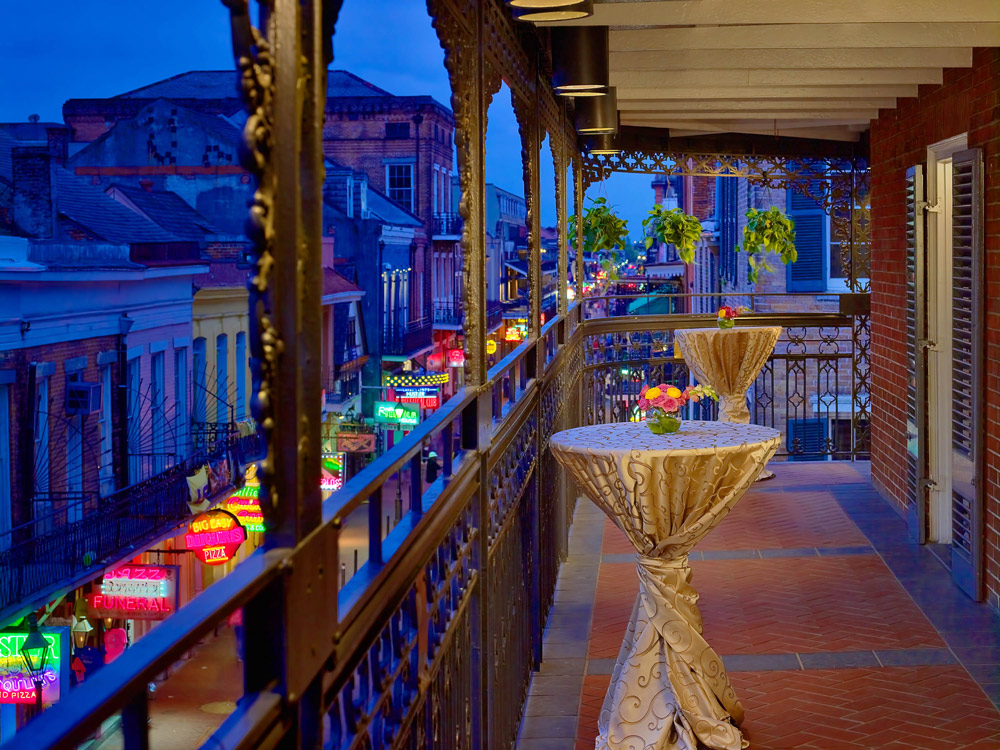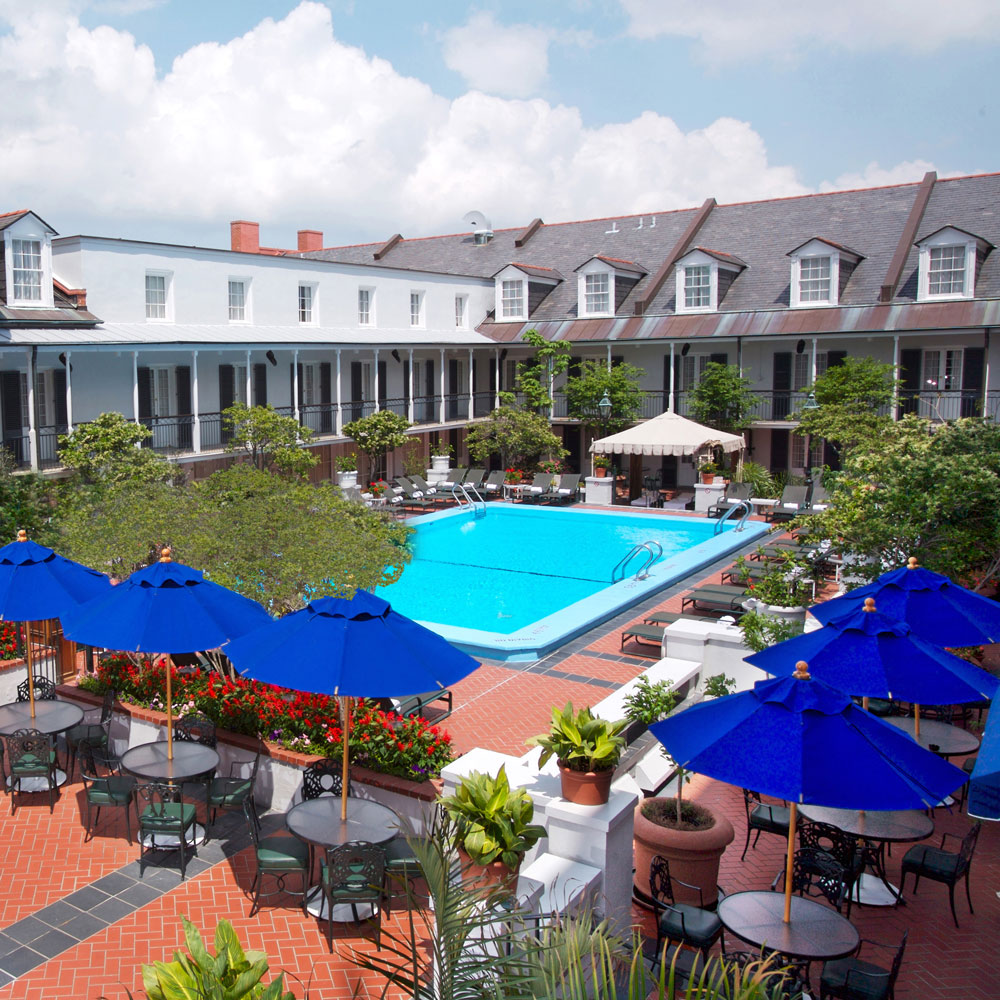 Eat, Drink, and Be Merry
There's an average of three festivals every weekend, and many of them highlight the Crescent City's free-wheeling culinary and cocktail scene. One of the best—the New Orleans Wine and Food Experience (NOWFE)—has brought together the finest food and wine in the city for twenty-five years. As part of this year's event, Royal Sonesta's Restaurant R'evolution hosted a six-course dinner of signature Cajun and Creole cuisine, paired with wines by Julien Pilon. Executive pastry chef Jackie Lopez also took home first place in the Big Gateaux Show, an illustrious pastry competition held during NOWFE.
Adding a great cause to great food makes you feel even better about stuffing yourself silly. Maybe that's why the annual United Way of Southeast Louisiana's "Got Gumbo?" Cook-Off is a yearly favorite. The city's best chefs put their best gumbos (and desserts!) forward to compete for sought-after awards and, of course, raise money for the community—all at Royal Sonesta. 
If you love a good cocktail, plan to visit during the weeklong Tales of the Cocktail. Every summer, libation lovers from around the world flock to the hotel for seminars, tastings, tours, and lessons in both old-school and modern cocktail techniques.
No matter why you come to New Orleans, Royal Sonesta is designed to make your visit more exciting, more memorable, more New Orleans. Your VIP seat is waiting.
—V—
---
Tori Phelps has been a writer and editor for nearly twenty years. A publishing industry veteran and longtime VIE collaborator, Phelps lives with three kids, two cats, and one husband in Charleston, South Carolina.
ARTICLE CATEGORIES