By Meredith Snow  |  
Photography Courtesy of The Brazilian Court Hotel
There are those who may find the prospect of sharing a pleasure trip with a tropical storm disheartening; an inner turmoil that echoes the storm may threaten to douse the hope and excitement of having a perfect getaway. Fortunately for me, I have love and the man whom I now call my husband to chase away any clouds that would encroach on our happiness.
Just last June, we were wed on my home island of Kauai—a magical moment that will forever be imprinted on my heart. So, how is it that our trip to Palm Beach, Florida, could be considered a honeymoon? Our whirlwind wedding was filled with unforgettable memories, none of which I would want to change. However, with so many things to do with my friends and family throughout that week, it made it very difficult for me and my husband-to-be to enjoy any alone time. Even our honeymoon suite was not exactly private—my parents were in the adjacent bedroom! Needless to say, the experience was the equivalent of "bridled intimacy." So, for our first-year anniversary, we embarked on an adventure to South Florida in hopes of recapturing that honeymoon spirit.
Approaching our hotel destination in a torrential downpour on Friday, June 7, we navigated through soaked yet cozy streets flanked by beautiful homes. Nestled within this gorgeous Palm Beach neighborhood was our weekend oasis—the recently renovated and highly acclaimed Brazilian Court Hotel and Beach Club. We pulled up beneath the awning to escape the rain and were welcomed by a flock of valets. Our luggage was whisked away as quickly as it was unloaded from the car.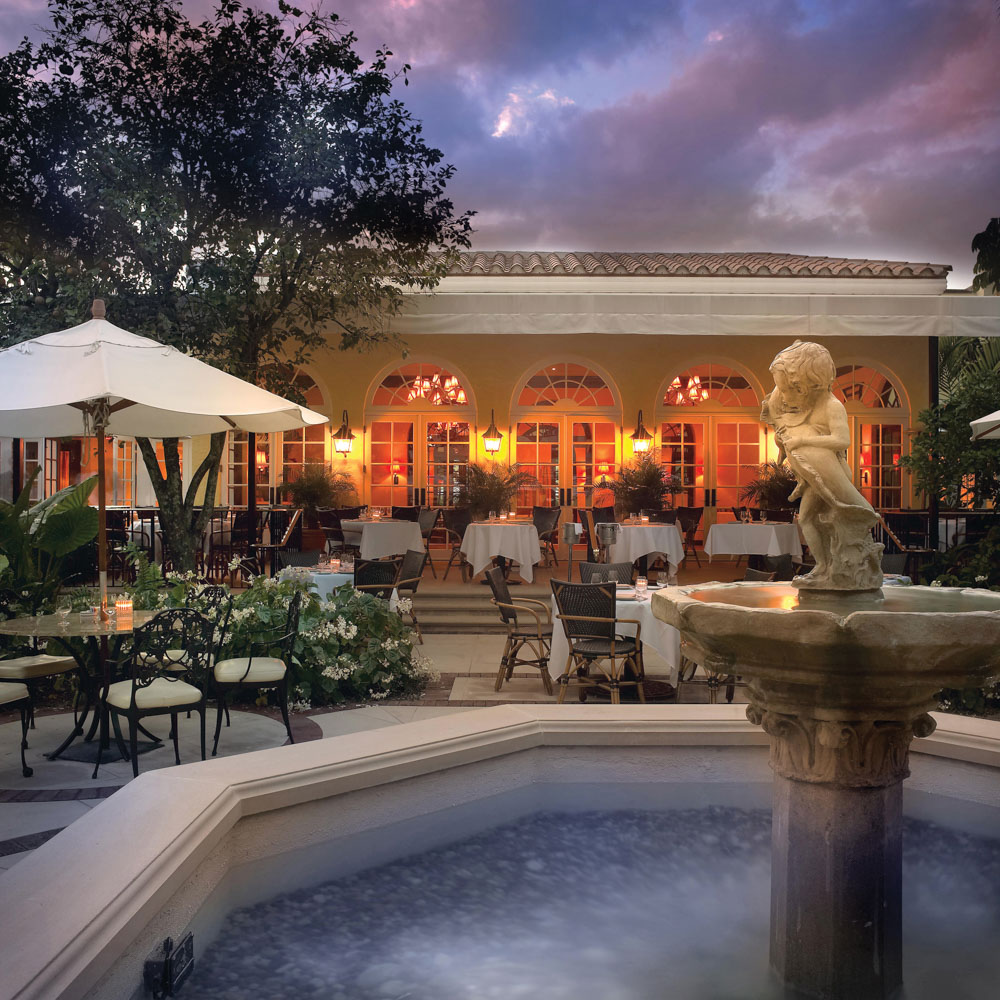 After check-in, our guide led us to our room through a labyrinth of corridors, part of the hotel's Mediterranean Art Deco charm dating back to the 1920s.
After check-in, our guide led us to our room through a labyrinth of corridors, part of the hotel's Mediterranean Art Deco charm dating back to the 1920s. Upon entering the room, my eyes welled with tears of happiness: inside to greet us was a tray of delectable treats with a personalized note and a subtle serenade of classical music that embraced my heart. After a quick assessment of the huge jet tub and private patio, I knew that it could rain all weekend, and still I would be happy.
It rained for two days, and yet my happiness persevered. Our mornings were lazy. You know the ones—when you're so happy there is no room for words, and you just absorb the moment. In the afternoons, we took advantage of rainy-day specials and indoor entertainment at the Palm Beach Zoo and the South Florida Science Center and Aquarium—just minutes away across the Intracoastal Waterway.
Since the weather forced us to spend plenty of time indoors, we indulged our curiosity and fully explored the beautiful Brazilian Court. To pamper its guests with hairstyling and body treatments, the hotel boasts a full-service salon and spa by world-renowned celebrity hairstylist Frédéric Fekkai. There's a bar with live music to soothe your nerves while sipping cocktails, and Café Boulud, a French-American fine dining restaurant that features an award-winning menu from New York–based chef Daniel Boulud. In addition, scattered throughout the hotel are secluded indoor meeting areas. A media loggia has  several big screens set into the wall that allow guests to catch up on news, sports, or other televised events, and a library loggia, which often plays host to book signings by famous authors, is complete with books and board games for guests to enjoy. The Brazilian Court is a wedding planner's dream venue, providing elegant surroundings to accommodate all varieties of guests and every wedding day ritual.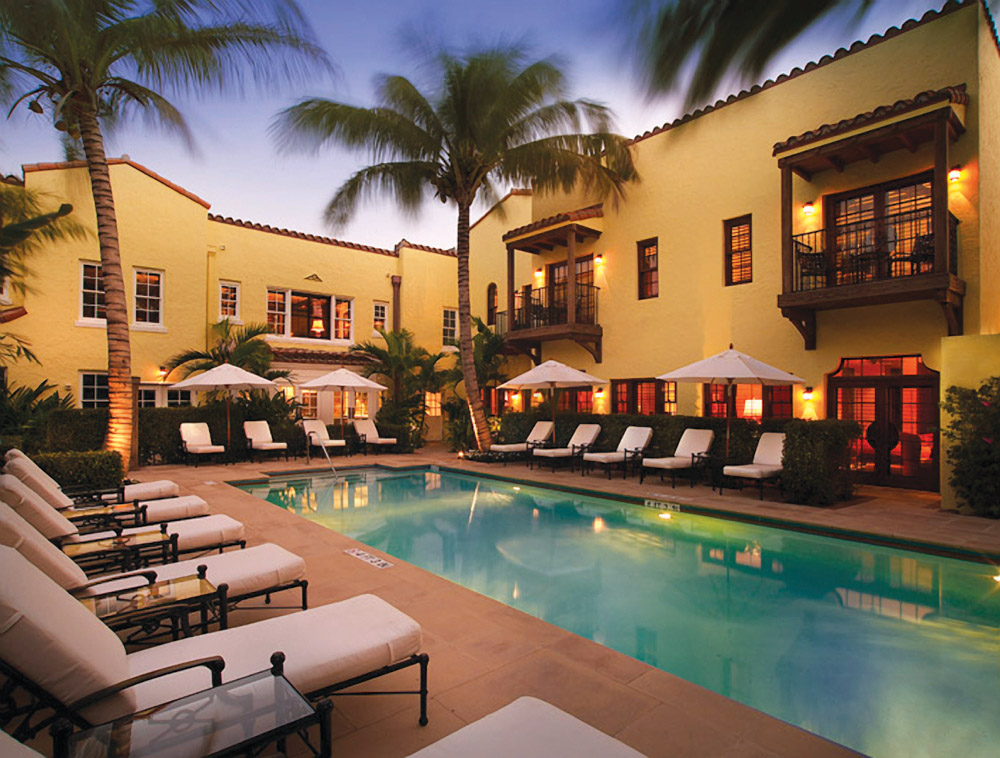 A gorgeous courtyard with lush plantings seemed to sway magically as delicate tunes from the 1930s whispered in the breeze.
Hidden among so much vegetation, I completely forgot we were in the middle of a city. With difficulty, we forced ourselves to leave this sanctuary to discover more of the hotel's surrounding area. Stepping out into the welcome sunshine, we had walked only two blocks to Worth Avenue for a little window-shopping when more secrets were revealed: lavish public gardens and secluded cobblestone paths to explore. We found we were within walking distance of nearly everything the area had to offer, including Buccan, a fabulous tapas-style restaurant, which provided the setting for our anniversary dinner. Ryan, who seemed more friend than waiter, was well-versed in the vicinity and filled us in on the history of the restaurant, the local area, and even where to get one of the best breakfasts in town. To complete our extraordinary evening, we crossed the street to walk hand in hand along the ocean shoreline, counting stars and making wishes.
Eventually, we had to return to the lives that awaited us back home. But, I will never forget the oasis of comfortable and luxurious accommodations, the captivating courtyards, and the phenomenally orchestrated staff of the Brazilian Court Hotel and Beach Club—a magical hideaway with the miraculous capacity to transform a tropical storm into a romantic rain shower.
— V —
ARTICLE CATEGORIES