A Classic Board Game Goes to the Beach
By Sallie W. Boyles  |  
Photography by Troy Ruprecht
If asked to name some of the most popular games today, grammar school kids to grandparents would be quick to mention virtual sensations like Angry Birds, Grand Theft Auto, and Minecraft. Many would also include Monopoly, the legendary American board game first published by Parker Brothers in 1935. Although now available in an award-winning mobile app and other handy forms, the old-fashioned real estate board game, complete with real fake money, still entices all ages and engages families, friends, and even world champions to play for hours. One seriously fun competition in Monopoly history lasted seventy days straight!
With a universally compelling theme of building a real estate empire by strategizing and landing in the right place at the right time, the official game, now owned by Hasbro, is sold in over one hundred countries and comes in forty-three different languages. Varying from the US standard edition, versions from other parts of the globe reflect regional influences. Americans, for example, know Boardwalk as the most exclusive Monopoly property, while French players identify with Rue de la Paix, named after the fashionable shopping street in Paris. Other officially licensed, special edition games embrace an array of themes—places, brands, movies, comic book heroes, sports teams, and more.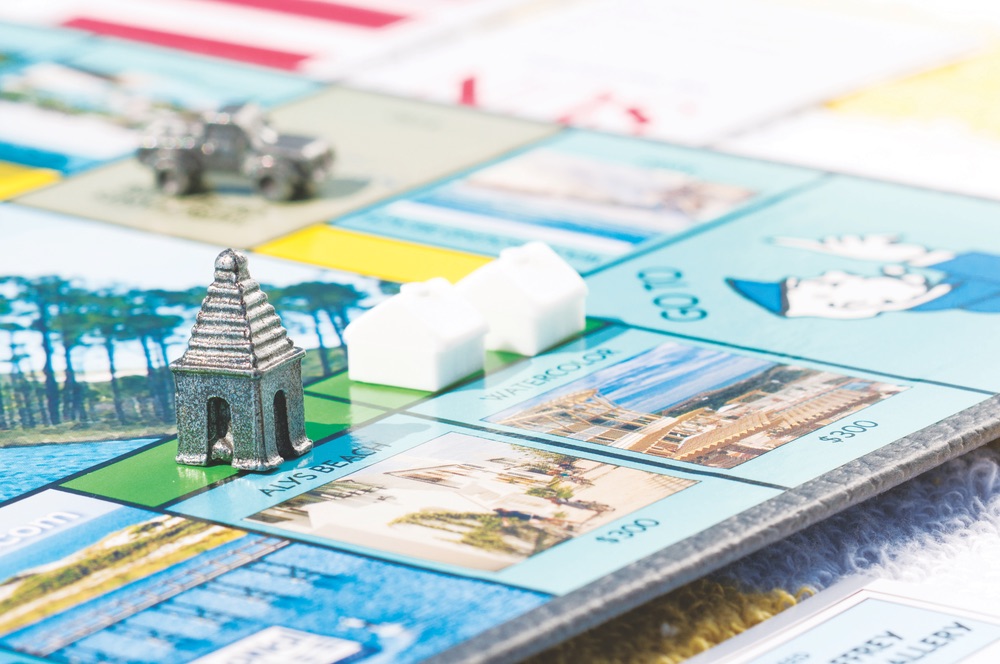 The Monopoly franchise is extensive but exclusive. As the creators of Monopoly: Visit South Walton Edition attest, achieving Monopoly-worthy status is anything but child's play.
The idea originated when George Wickey, who works in the software industry, observed his daughter making a construction-paper board game for a school project. Drawing a connection between how Walton County's beach towns were aligned and how well the landmarks would lay out on a board game, he had an aha moment. A locally inspired game, he imagined, would coincide with the concept of relaxing and making memories at the beach and at the same time would provide a unique way to augment the Visit South Walton brand, one that residents and visitors have come to recognize and treasure.
"I began researching manufacturers with the intent to develop a game from scratch," explains Wickey. "When I stumbled upon Hasbro's officially licensed games, I realized that Visit South Walton, a premium brand in itself, should be associated with Hasbro and Monopoly." Convincing Hasbro of this was the next step.
"When I reached out to Hasbro, they hadn't heard of us," says Wickey. "They wanted me to prove that we were Monopoly-worthy. I was engaged in a three-month courtship before they were sold on the notion that our branding would be a positive extension of Monopoly." Once Wickey closed the deal, winning approval for the Visit South Walton Edition, Hasbro awarded his company, 30A Games, exclusive distribution rights.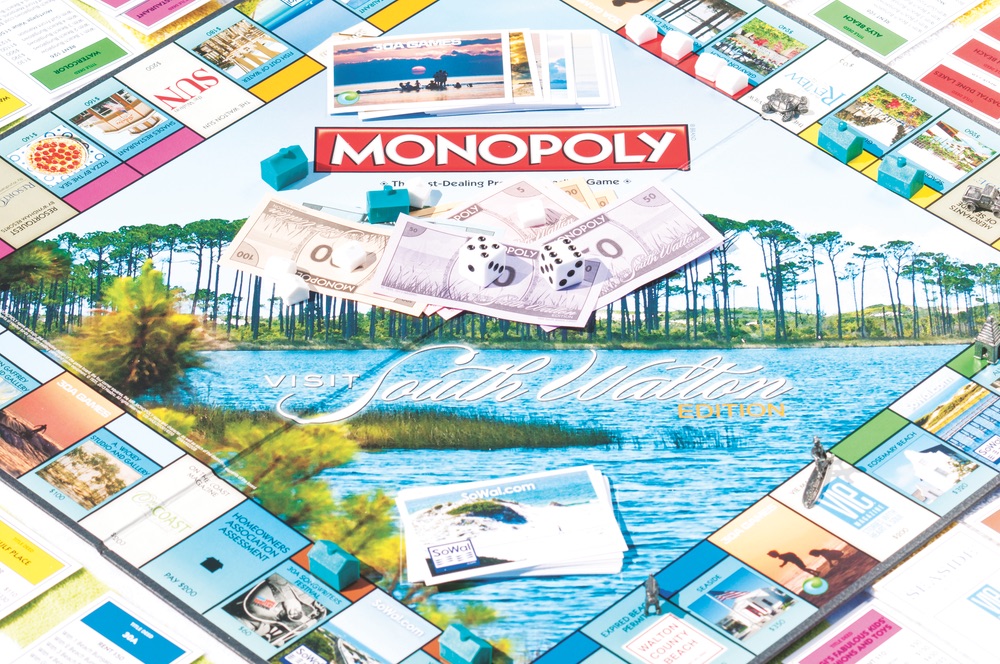 Wickey, nevertheless, asserts that the Monopoly project was never a one-man production. "The effort has succeeded as a collaboration of 30A Games, Hasbro, and the South Walton Tourist Development Council, or TDC," he insists. "The TDC immediately understood the vision."
Without a doubt, Wickey and others in the region see real value in being distinguished as the first beach destination of its size and kind to have a Monopoly game. "That gives us international recognition," he says.
Filling the space where the prestigious Short Line Railroad would normally be on the board is VIE Magazine. When Wickey approached VIE  about the possibility of participating in his brainchild, he was met with an immediate and enthusiastic "Yes!" VIE 's parent company and publishing house, Cornerstone Marketing and Advertising, Inc., has been an integral part of the South Walton community and its growth for the past twenty years. "When I was growing up, Monopoly was always a favorite with our rather large family," says VIE 's editor-in-chief, Gerald Burwell. "We are thrilled to have VIE proudly displayed on this Monopoly board and to be part of creating unforgettable memories from one of the world's most exciting beach communities."
Our brand is prestigious, as are the Hasbro and Monopoly names. Monopoly is also known as a beloved family tradition—a theme that describes South Walton. We have so much to celebrate here, and the game exemplifies what we value.
"For many years, and now spanning generations, families have traveled to Seaside and South Walton to find top-notch quality and service coupled with a comforting throwback to simpler times; here, they build traditions and create memories of their time together," says Lori Leath Smith, director of public relations and marketing for the Seaside community. "The Monopoly: Visit South Walton Edition provides these families with a unique activity that takes them back to that easy, somewhat slower pace. It also provides a unique memento to remind them of how they feel when visiting."
Specifying what would portray the essence of South Walton did present some tough decisions. Icons represented in game pieces and within categories on the board—beach towns, art, music, natural outdoor wonders, and restaurants—were sponsored, but each symbol chosen had to be meaningful, not monetarily motivated. Players' tokens, for instance, include a YOLO boarder and a sea turtle. Meanwhile, gamers who are intent on landing the highest income-producing properties on the board will roll the dice for 30A (Boardwalk) or Seaside (Park Place). "Seaside is thrilled to be featured as one of the premier properties on the game board," Smith remarks.
Every feature and detail mattered. Surrounded by a border of brightly color-coded property squares, an iconic view of pines along Western Lake by local photographer Kurt Lischka fills the center, creating a particularly eye-catching game board. Additionally, partway through the design process, Hasbro's project manager and designers grasped the beauty of the region and encouraged the South Walton team to use photographic images for the individual Chance and Community Chest cards rather than the usual logos. Local photographers responded by providing an array of photos from which the TDC and Hasbro made their selections.
"Only New York City's Monopoly game cards had that custom treatment," says Wickey. "Our objective was to represent the beach experience in ways that would withstand the test of time. The TDC ran the checks and balances, and we all made the investment to ensure we had an aesthetically beautiful game that would reinforce and enhance the image and standing of the Monopoly and South Walton brands."
Just in time for holiday giving, Monopoly: Visit South Walton Edition, which retails for $39.95, is available to purchase online from 30A Games (www.30agames.com), or from numerous South Walton area retailers, including Publix Super Markets. All retailers are listed on the 30A Games website. "It's a great gift for people who live or vacation in South Walton," says Wickey.
Above all, as "Play Together"—the tagline for 30A Games—suggests, Wickey hopes that Monopoly: Visit South Walton Edition will bring families together and compel them "to slow down, unplug, and enjoy the most important things in life."
— V —
ARTICLE CATEGORIES