By Liesel Schmidt |
Photography by Richard Leo Johnson
Not everyone can walk into a space and see it as a living, breathing entity where light and lines are something to be captured and respected, where the colors, shapes, forms, and details dictate which lens should be used, which vantage point should be taken, and what time of day will best convey the room's feeling and atmosphere. Even for those with a natural gift and an inherent eye for such nuances, there is no such thing as merely walking into a home and lining up a few shots without taking the time to connect, think, and feel. To those who know the subtleties of photography and understand it to be an expression, an art, and a form of storytelling, architectural photography goes far beyond capturing the facts of a room in a shot. It's about highlighting the beauty of the forms and showing them in a way that seems to make them come alive.
It's that way of looking at things that makes renowned Savannah, Georgia–based architectural photographer Richard Leo Johnson highly successful. He brings appreciation and passion to every project, and that has led to more than thirty years of accomplishments. Others might simply take the easiest approach, using, as Johnson says, "a wide-angle lens from a single vantage point that makes everything appear almost hyper-realistic," but he views each space with an understanding that the details command the approach, informing him as to which lens to pick up, where to position his cameras, and which points of light to play off. "It's an important aspect of creating photographs that aren't distorted or warped and that each have an individual look—there's a sense of intimacy to taking that approach, to getting in there and letting the space speak to you," the Arkansas native says. "Especially with this kind of photography, it's important that it all be done in such a way that the space is captured—you want people to notice the beauty of the room before they notice the quality or the skillfulness of the photography."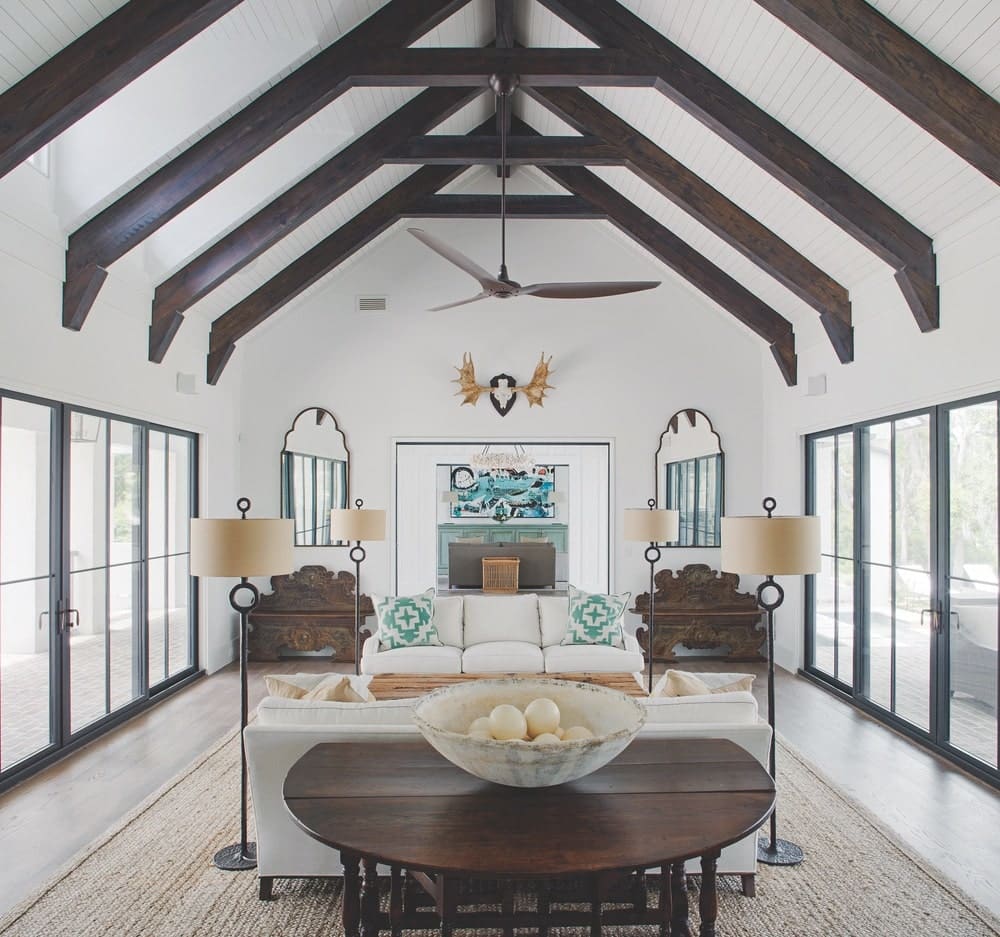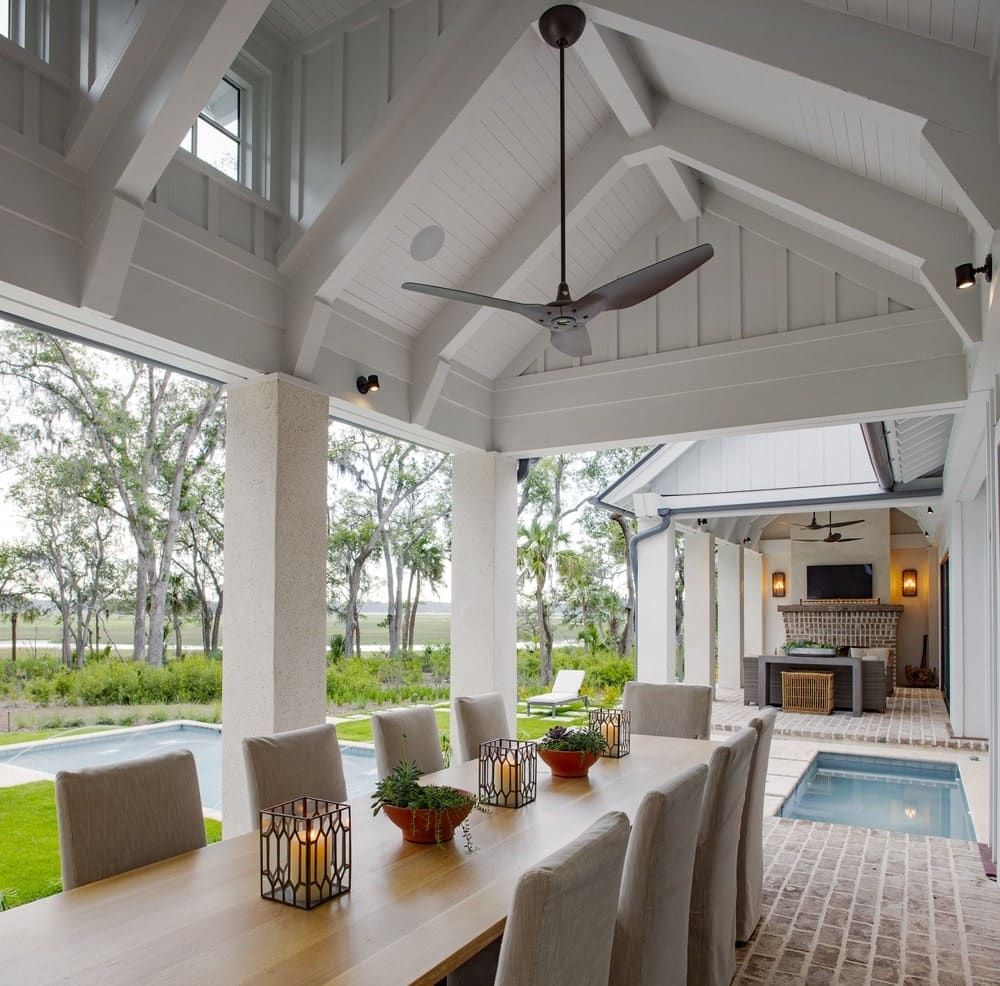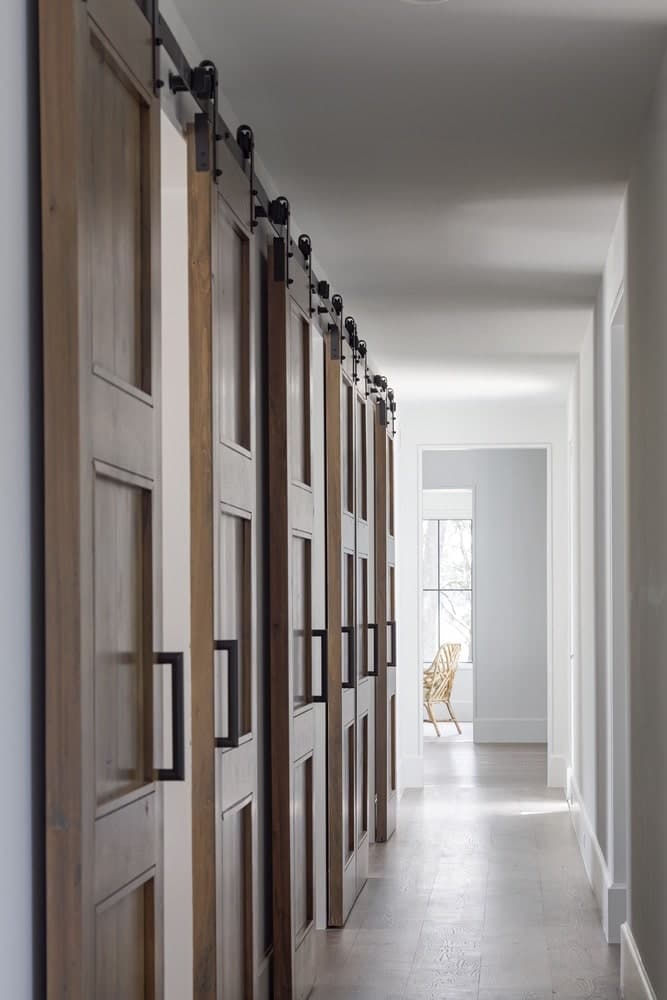 Not that the skillfulness of his work should, in any way, be downplayed, as Johnson's extensive and impressive portfolio attests. His work has been featured in Garden & Gun, Dwell, Cottage Style, Coastal Living, and other widely read titles whose glossy covers and slick pages serve as galleries for his breathtaking photographs. Johnson has indeed come a long way from the teenaged boy whose artistic eye was captured by birds despite being tasked with snapping family photos on vacations to the beach. And while nature does certainly inform some of his shots, it is the "functional sculpture" of architecture and the finer details and design features that inspire him and keep him excited to pick up a camera. Johnson now gets most of his commissions from the architects and interior designers of dwellings along the eastern seaboard, where history and mystique seem to imbue the streets and cloak the homes with romance, charm, and soul.
Granted, some homes have a soul that is a natural extension of their heritage, the many years they have stood tall and proudly in place. But achieving a soul that feels rich and storied can be more of a challenge in a home where every square inch is newly constructed, as the newness of it all can seem stark and charmless without the years to back it up. Not so in the case of one particular home in Palmetto Bluff, South Carolina, a veritable compound of structures whose style Johnson terms as a "contemporary Bermuda farmhouse." Its blended architectural elements and clean lines are not so clearly defined by one distinct era or cultural influence, achieving something unique and striking. Clean white stucco exterior walls create the façade of the home's two wings, adjoined by a feature inspired by the old South, a dog run or breezeway where the gentle winds can lazily blow through from the water that lies mere steps away at the edge of the property.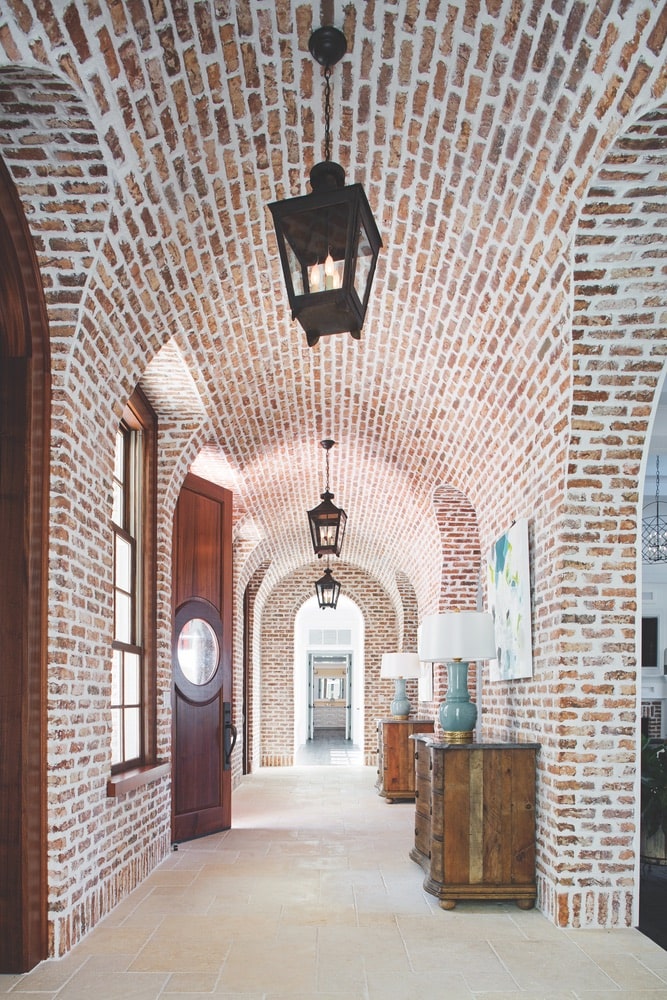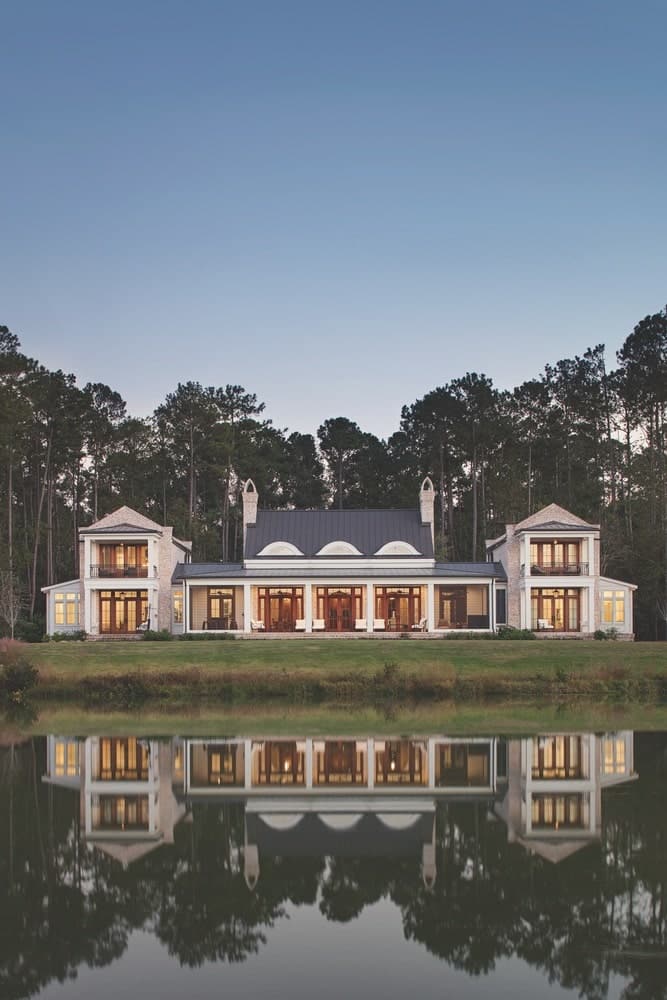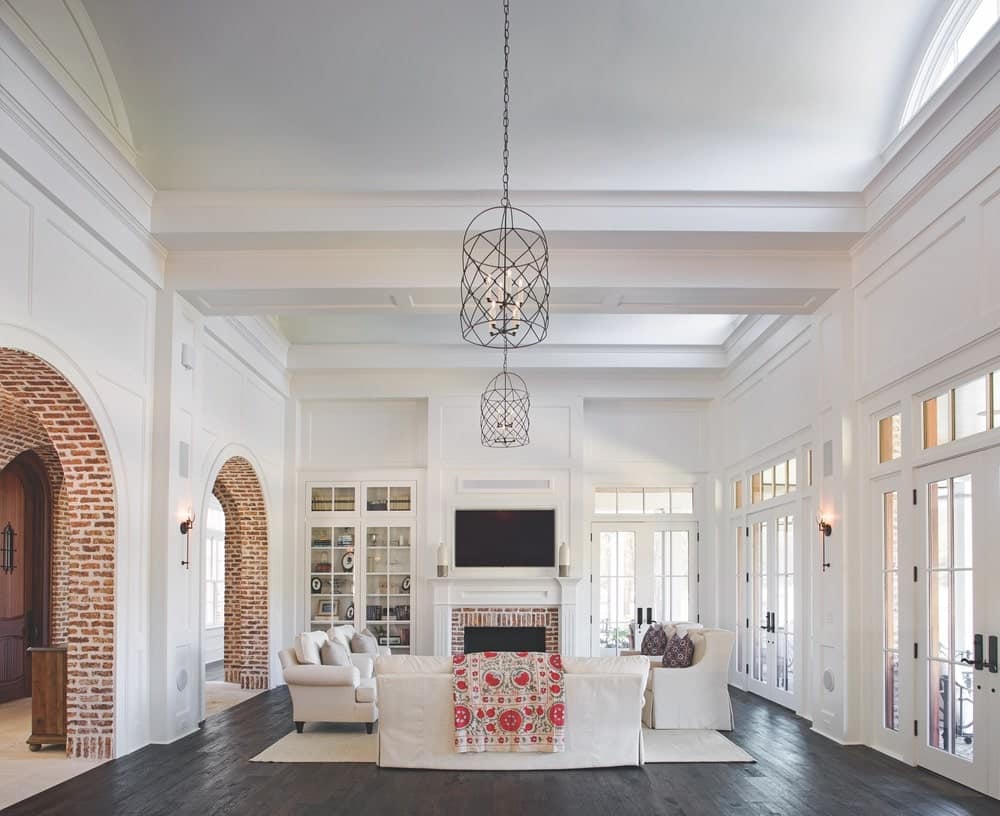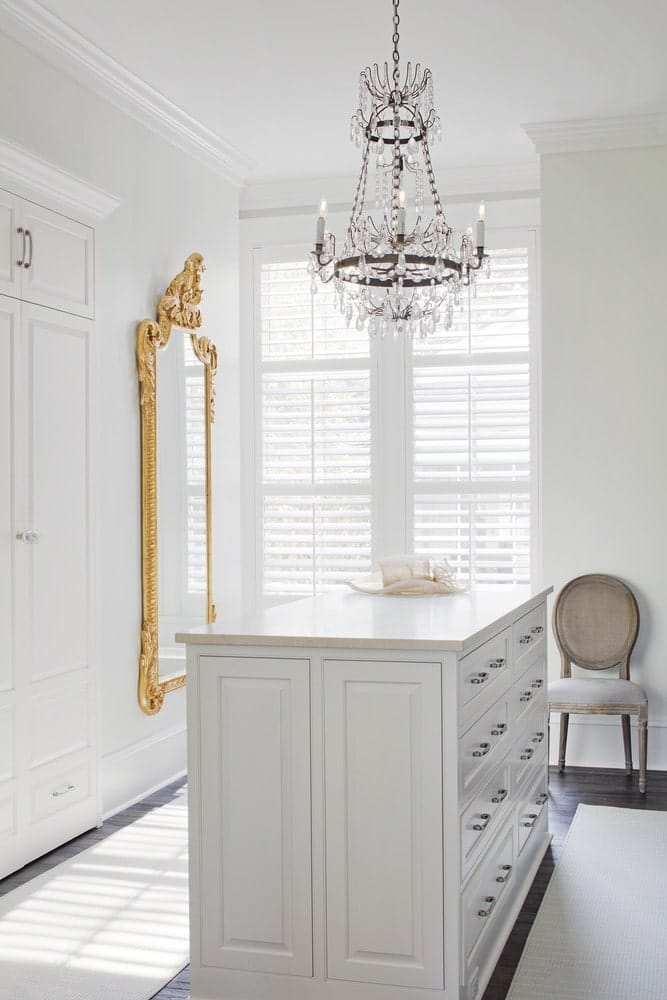 Designed by architect Michael Gentemann of G2 Design and built by Richard Best of Richard Best Custom Homes, the massive home is a true Southern beauty whose every inch is celebrated in its furnishings, lush fabrics, and fine finishes. A sparse use of color pairs perfectly with the overall whiteness of the space, showcasing the singular talents of interior designer Lee Stough of Lee R. Stough Interiors.
Built in a style that Johnson would consider unexpected and somewhat eclectic in its design, the home of Jeff and Teresa Fusile within the Ford Plantation community in Georgia is unique in that it features bricks in such a prominent way, with a stunning amount of brickwork both on its exterior and running throughout the interior. Nowhere does the brick seem arbitrary or out of place, so artful is its incorporation—from the massive mudroom to the arched doorways leading into the great room and the sloped ceilings of the hallways. Rather than creating a cave-like effect, the brick is perfectly balanced by the white walls, the massive windows, and the natural airiness created by high ceilings that seem to open up the rooms and reach skyward toward heaven.
Nowhere does the brick seem arbitrary or out of place, so artful is its incorporation—from the massive mudroom to the arched doorways leading into the great room and the sloped ceilings of the hallways.
Designed by the visionary architects Andy and Becky Lynch of Lynch Associates Architects, the Fusile home was brought to life by builder Josh Brooks of Brooks Construction Group. Imbuing the spaces with warmth and life through beautiful accessories and accents, interior designer Anne Hagerty of Anne Hagerty Interiors was able to create a sense of sophistication blended with just enough whimsy to keep the home from feeling overly stuffy or staid.
Far more traditional in its design and almost in the style of homes found on the shores of Cape Cod, a breathtaking mansion that Johnson photographed on Sea Island, Georgia, is a study of shake shingle and stonework. It's flanked at the rear by a turreted tower on one side whose windows allow a sweeping view of the stretch of water around it and the lush grounds below. Spilling light into its many spacious rooms, countless windows chase away any hint of shadow, creating a sense of airiness in a home whose greatest source of color is the warm wood in overhead beams and pieces of artwork curated with a careful eye. Adding the unexpected element of fun and adventure, an indoor climbing room creates the perfect opportunity to take advantage of the vaulted ceilings, and the wood-lined wine room showcases the owners' love of a fine vintage.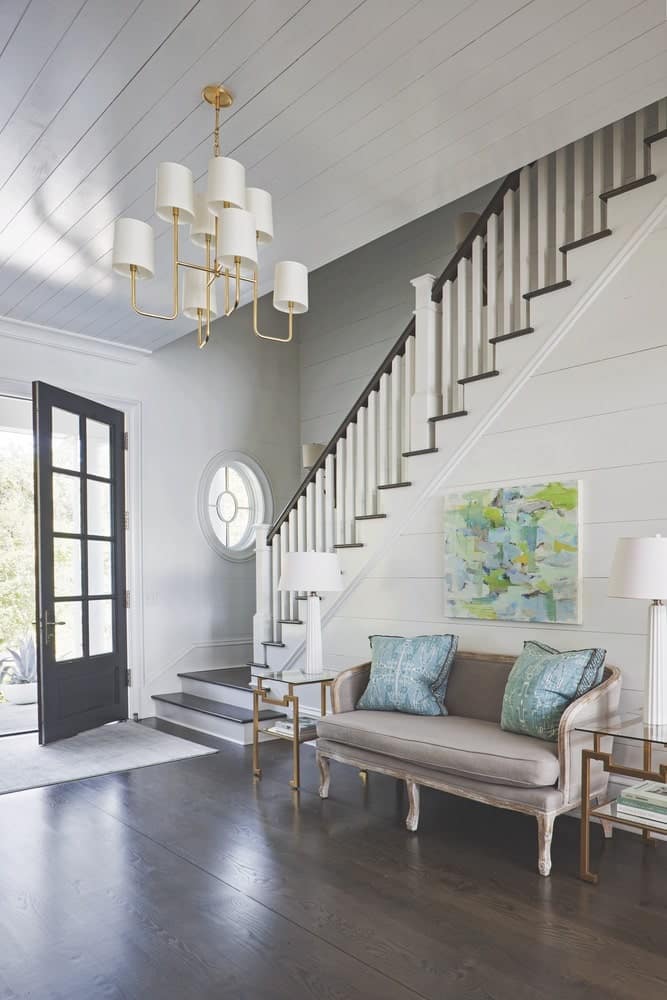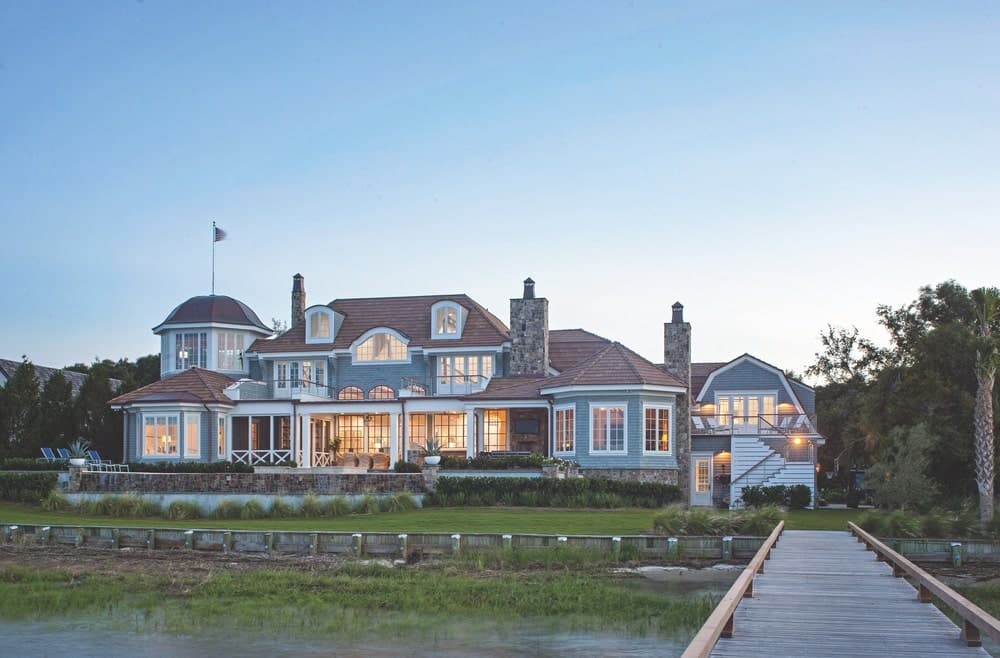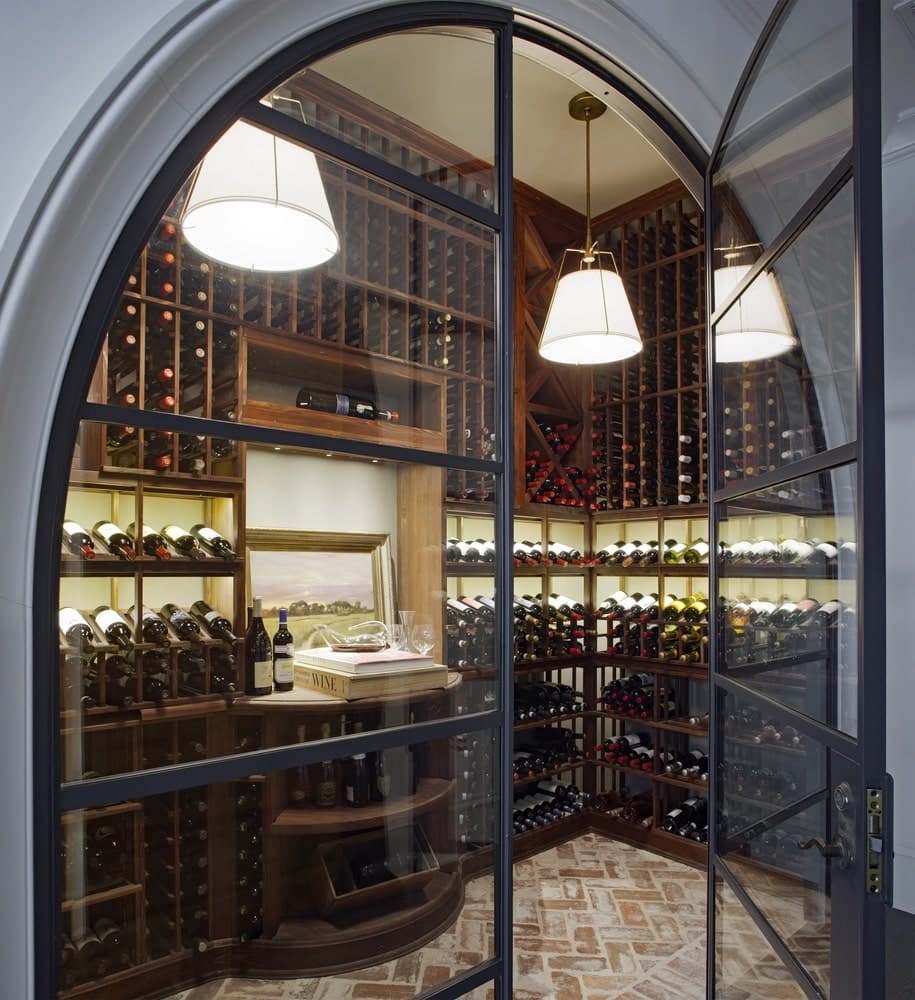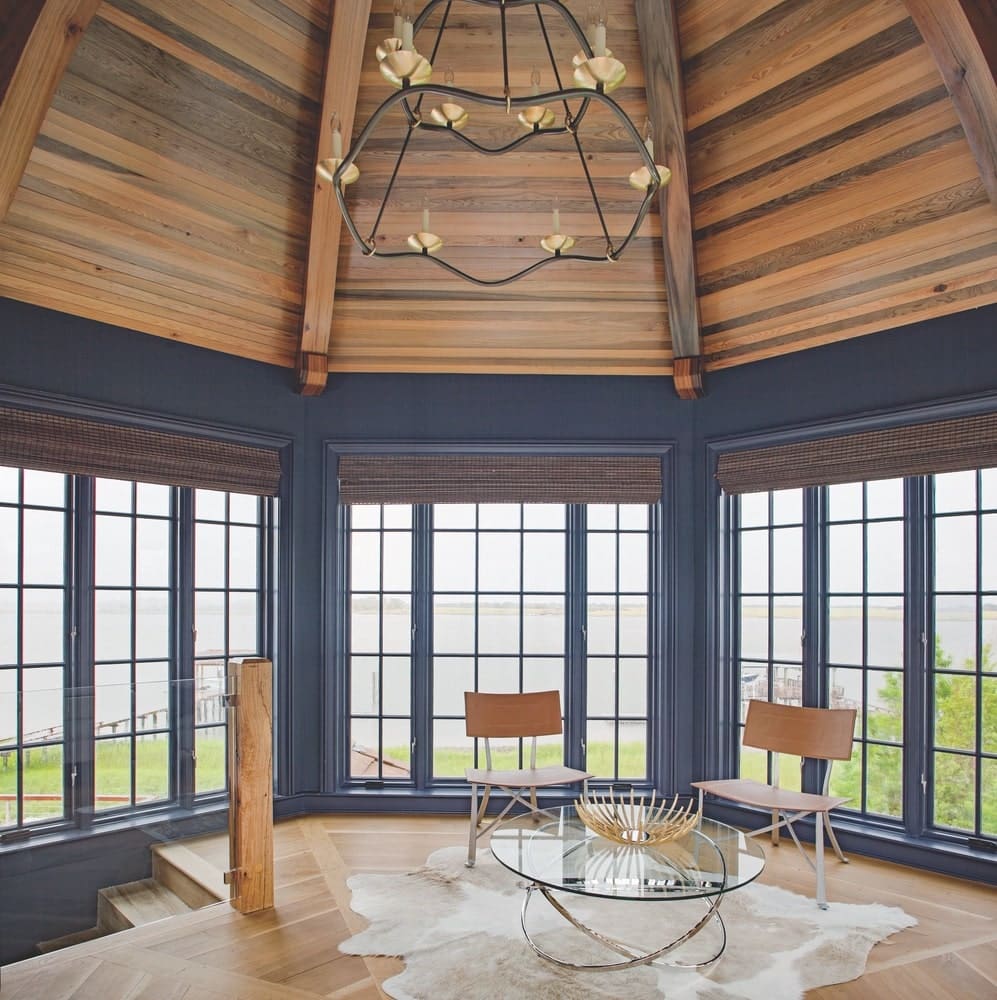 Designed by Harrison Design and executed to stunning perfection by Golden Isles Custom Homes, the Sea Island home's waterfront locale was brought to life by the talented landscape design of Sea Island Landscape, balancing greenery with hardscaping in a way that showcases rather than overwhelms its surroundings. The perfect visual counterpoint to an island where the mood of the water and the sky seem to dictate the ambiance, the architecture of the stately home provides an ideal framework for the ever-changing colors offered by the shifting tides and the sunrises and sunsets that paint their way across the firmament.
— V —
---
Visit AtlanticArchives.com to see more of Richard Johnson's work.
Liesel Schmidt lives in Navarre, Florida, and works as a freelance writer for local and regional magazines, a web content writer, and a book editor. Having harbored a passionate dread of writing assignments when she was in school, she never imagined making a living at putting words on paper, but life sometimes has a funny way of working out. Follow her on Twitter (@laswrites) or download her novels, Coming Home to You, The Secret of Us, and Life Without You on Amazon and BarnesandNoble.com.
ARTICLE CATEGORIES