These Hotels Are a Blast from the Past
By Jordan Staggs
It's time to pack up the station wagon or the VW Bus and get ready to groove! When you grab your room key at any of these old-school–style accommodations, you'll feel you've been transported back in time in the best way. Hitting the road instead of the skies looks to be the preferred way to get your travel kicks this year, and these all-American getaways are waiting for your next trip.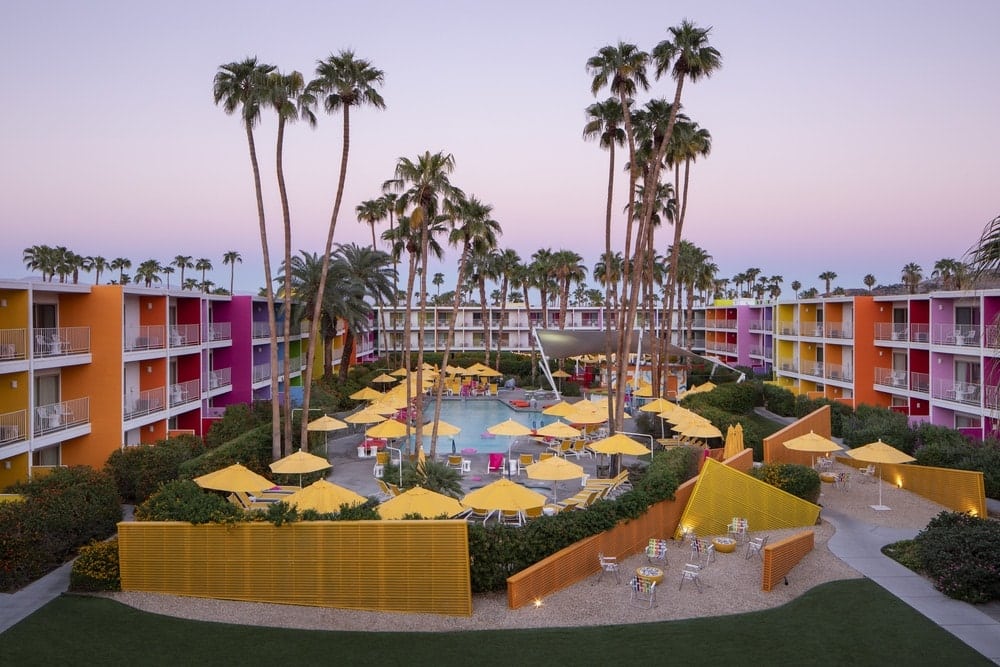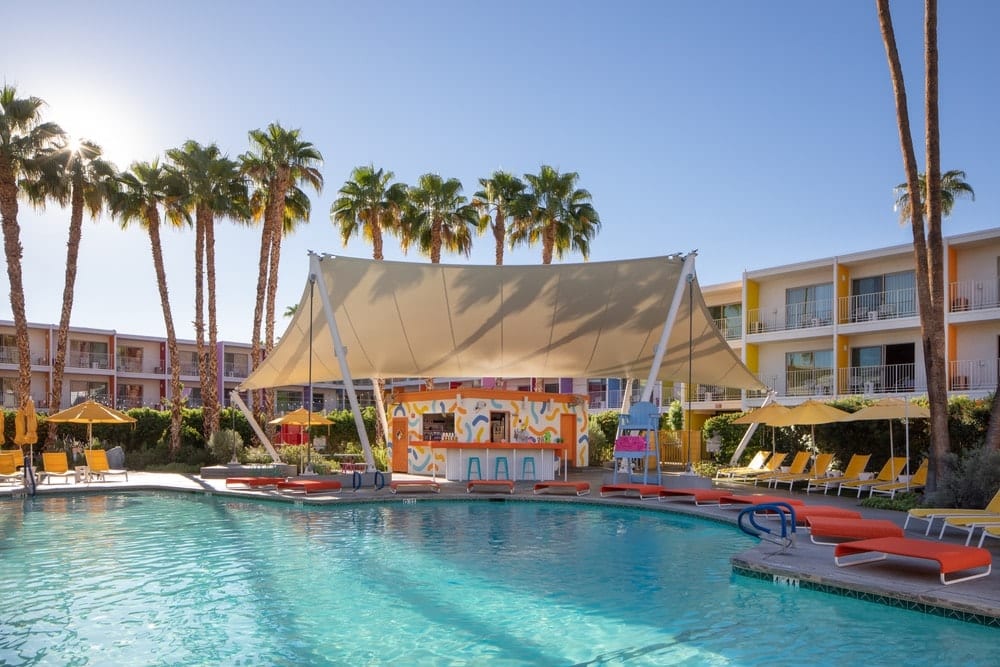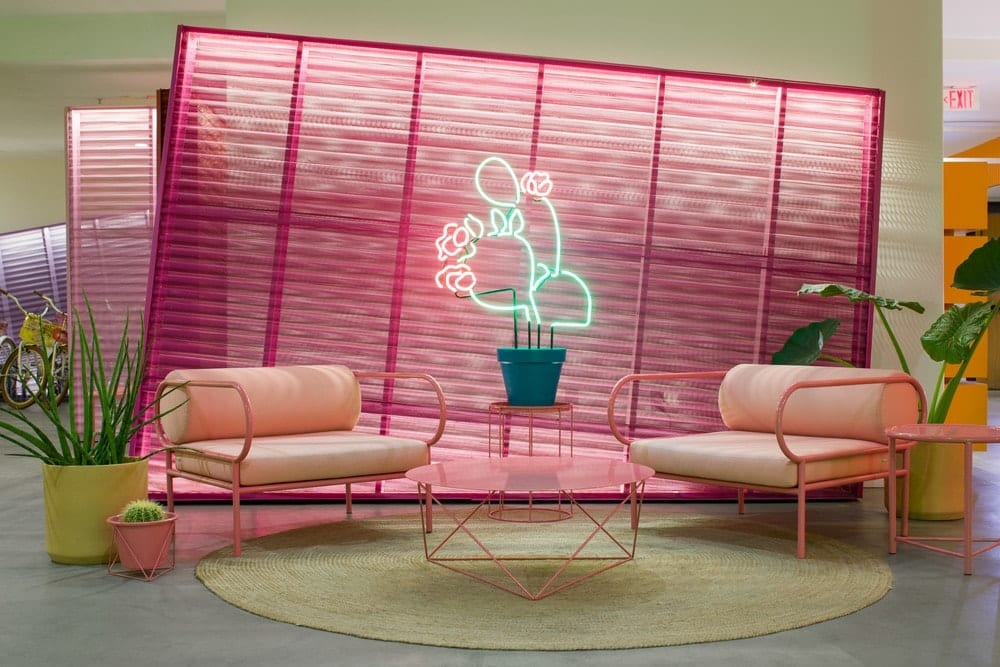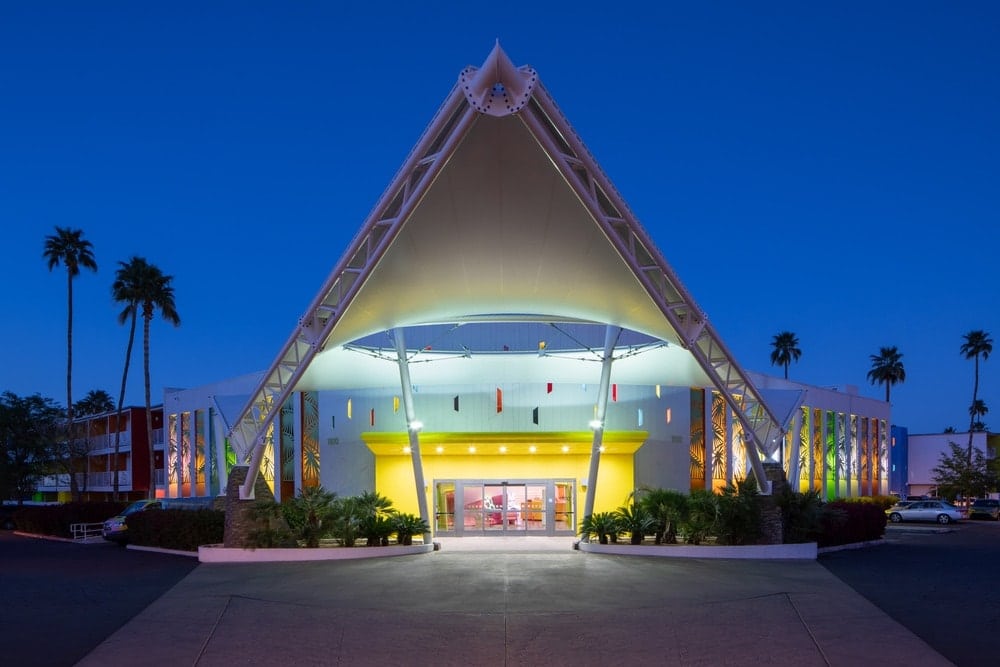 Saguaro Palm Springs
Coachella Valley is calling your name, so it's time to book your California adventure at the Saguaro Palm Springs. This rainbow-hued retro wonderland is a favorite among celebs, trendy brands, and influencers as it hosts parties during the famous annual music festival. Guests are encouraged to get some color in the vast swimming pool between the hotel's colorful walls and beneath a canopy of crisscrossing palm trees. Each room has a private balcony with views ranging from the pool to the mountains, the city, or the garden. The pool bar is fully stocked, while Rocco's Electric Patio offers coffee, breakfast, Southwestern bites, Taco Tuesday and Thursday specials, and an expansive tequila menu.
The Saguaro is an event planner's dream, with spaces for weddings, meetings, private parties, and bigger throwdowns. Its newest area, the Sago Ballroom and Terrace, features an industrial-chic indoor space and an adjacent deck with pool and mountain views, so your guests get the best of both worlds! Live like royalty in a king or queen suite with a poolside view worthy of a classic James Bond film, or grab your friends and snag a two-bedroom suite. Whether you're at Saguaro to chill, explore nearby parks and attractions, hit the gym and yoga studio, or celebrate a special event, this is one place where being a "deserter" isn't such a bad thing.
See more from Saguaro Palm Springs and its sister property in Scottsdale on Instagram @saguarohotels and visit TheSaguaro.com to book now.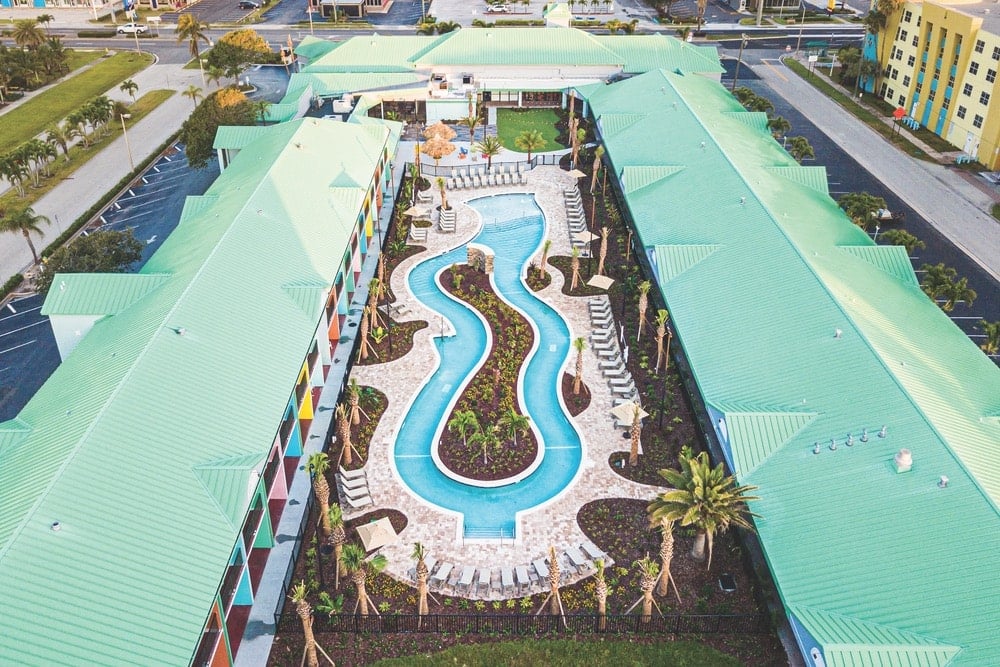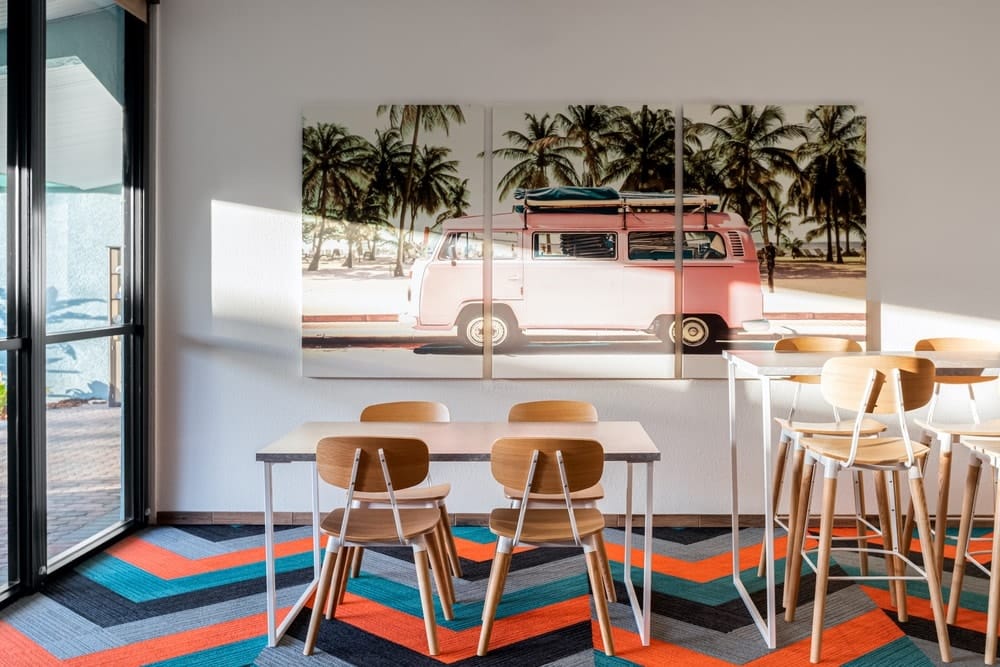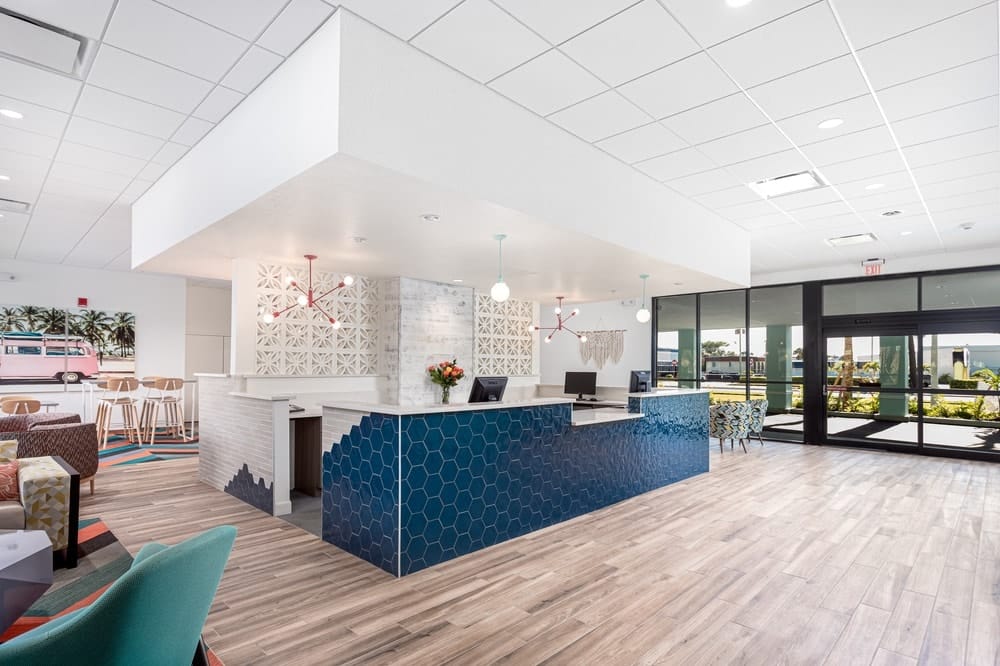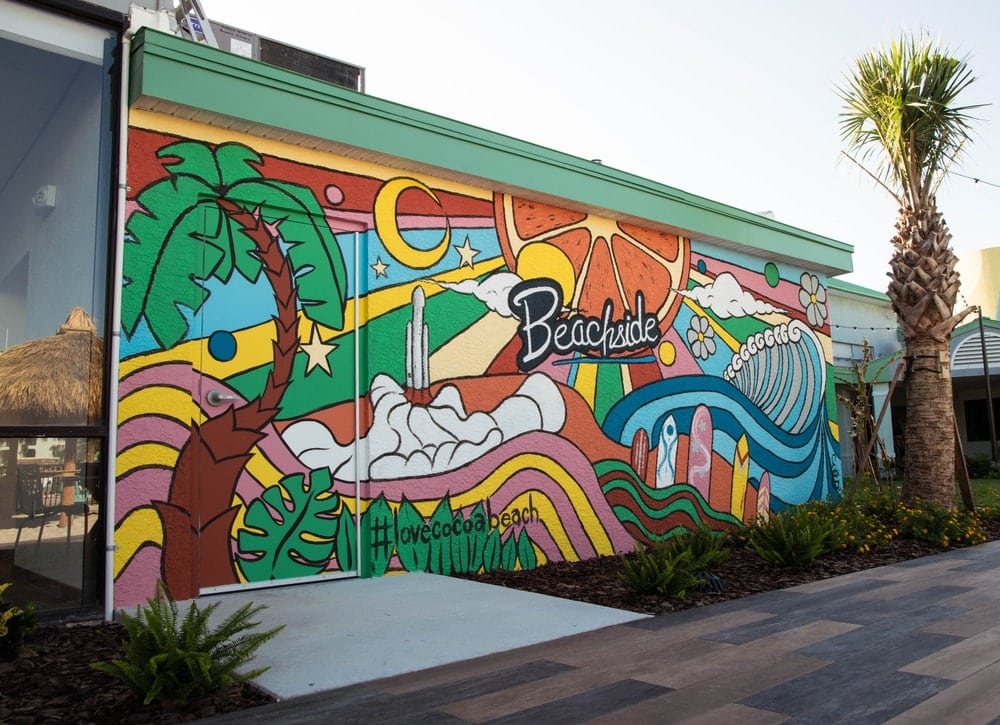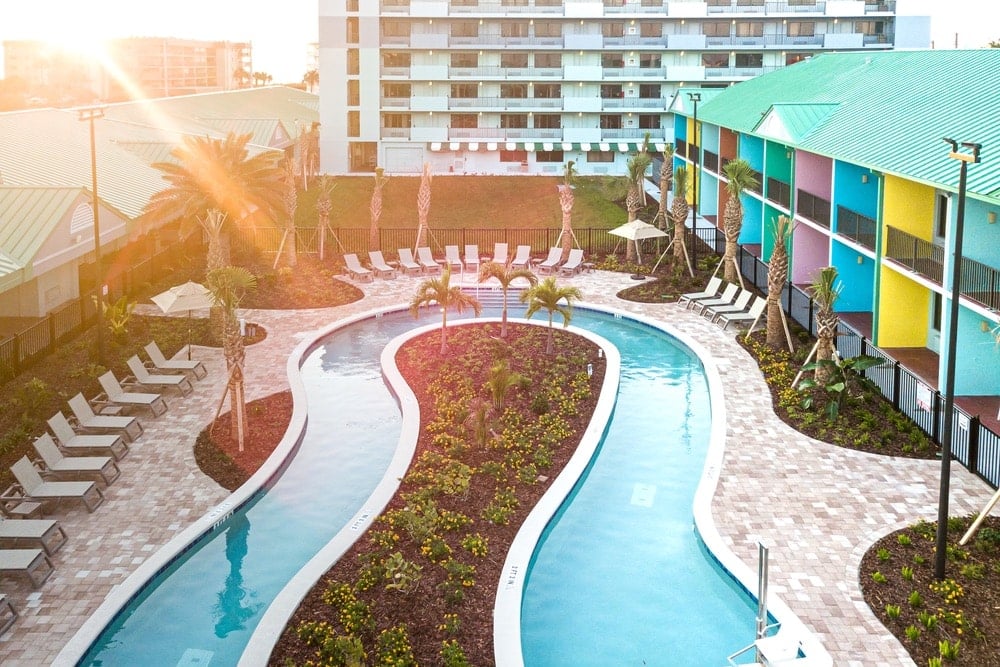 Beachside Hotel & Suites
When pastel shades and midcentury-inspired design meet in a charming beachside boutique hotel, you might be in sunny Florida! Just off the Atlantic at Cocoa Beach, with a prime view of the occasional rocket launch from NASA's Kennedy Space Center, Beachside Hotel & Suites is newly renovated but kept the old-school vibes alive and well. It was built in 1965, and the website cheekily states: "This is the Cocoa Beach your grandma remembers. (If your grandma was a hip sun goddess of the '60s.)" Embrace your inner sun deity when you stop by the hotel's courtyard pool and lazy river, score a classic umbrella drink and other libations at the Duck Dive pool bar, enjoy complimentary breakfast in the retro-chic lobby and dining area, and take advantage of specials like the Mars Rover Launch Package or Christmas in July. Visit the website for the most recent deals!
The beach is the star of the show, but it's hardly all there is to love about staying at this colorful hotel. Cruise the boardwalk like the cool cats when you head to the Cocoa Beach Pier just a mile away, and don't forget to stop by the famous Ron Jon Surf Shop for all those tchotchkes and souvenir T-shirts. Other nearby attractions include the Eau Gallie Arts District, Jetty Park, Historic Cocoa Village, Brevard Zoo, and I Dream of Jeannie Lane, which celebrates the area's TV history (the popular series I Dream of Jeannie, which aired from 1965 until 1970, was set in Cocoa Beach).
Cross your arms and nod your head—and if that doesn't work, head over to BeachsideHotelCocoaBeach.com to book your stay or Instagram @beachsidehotelcocoabeach to see more!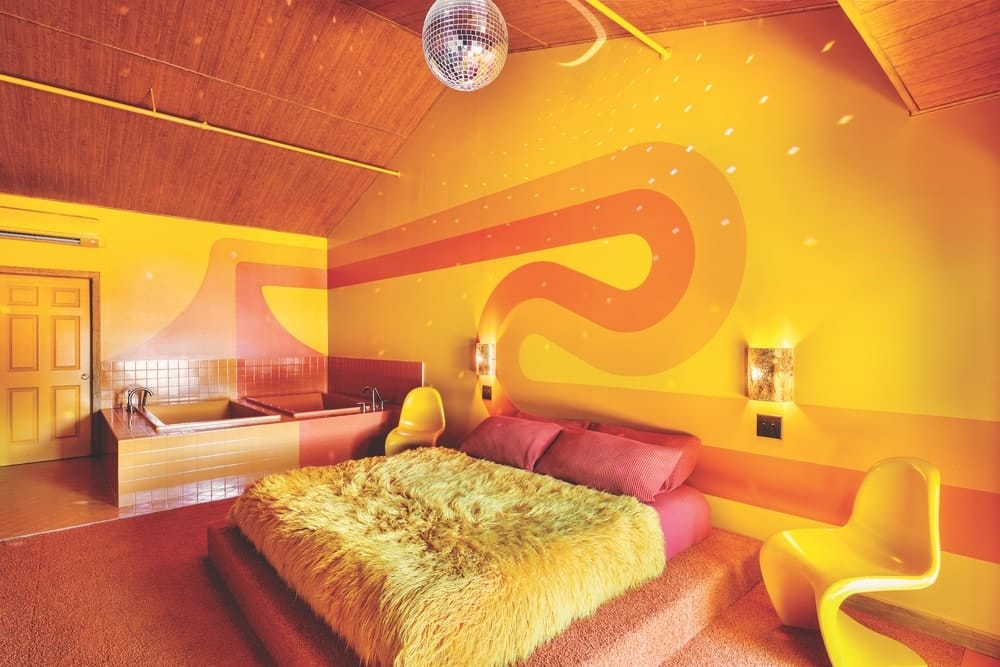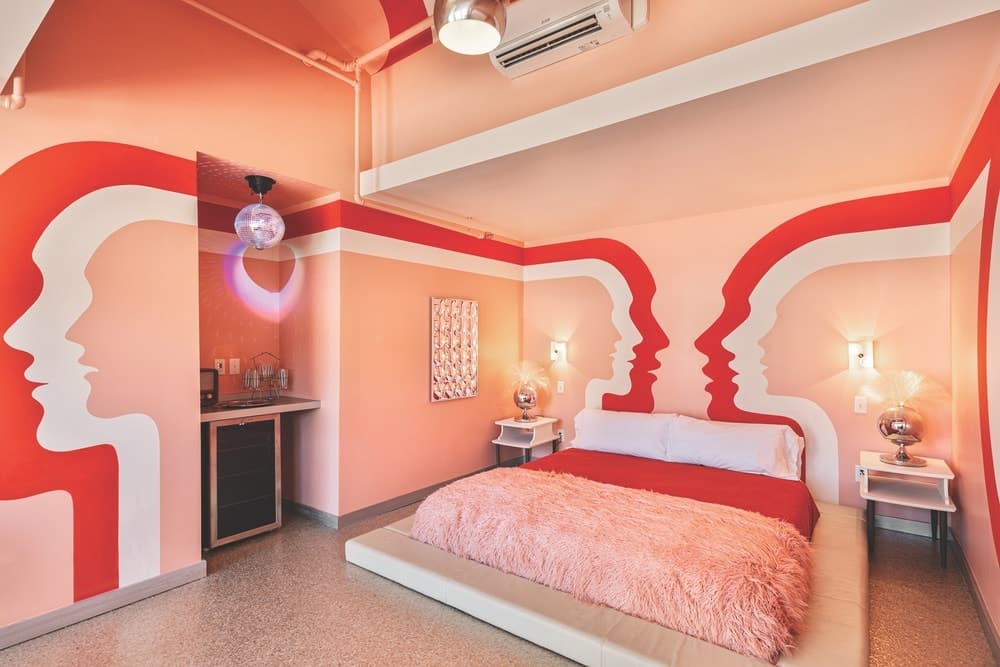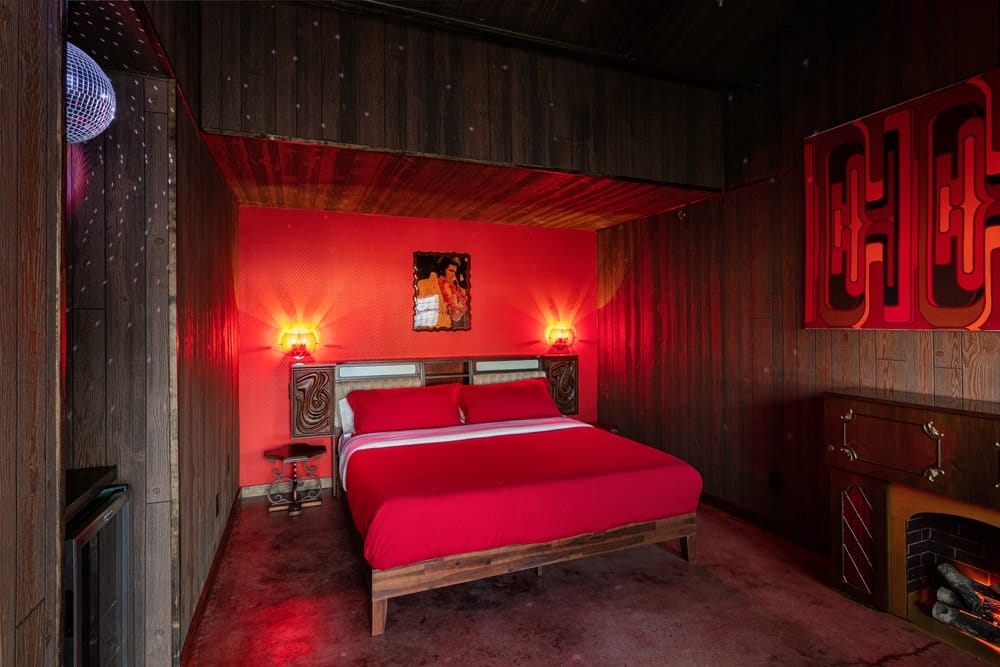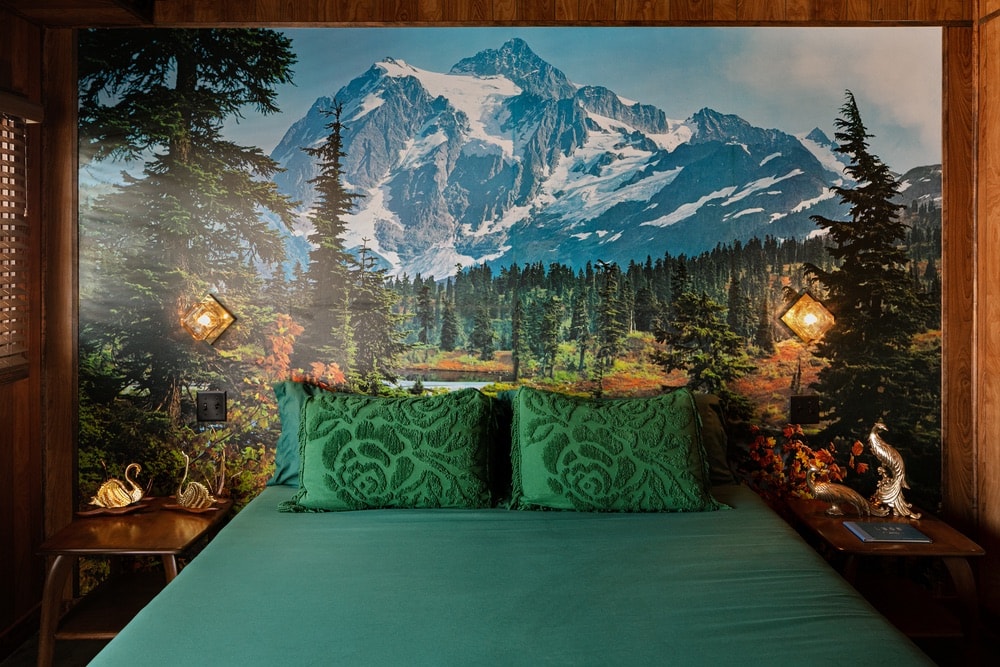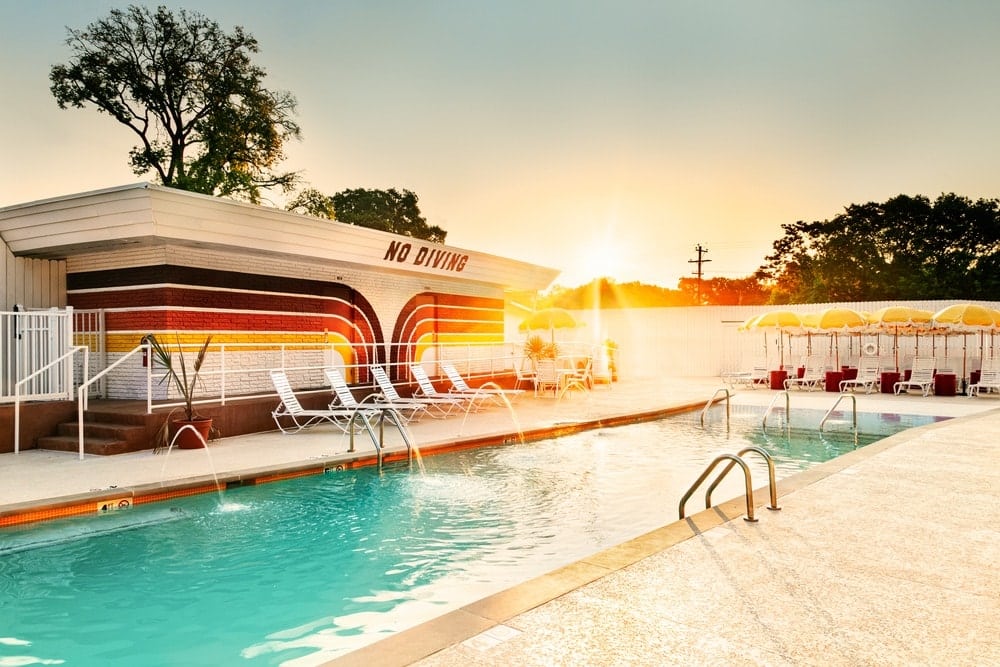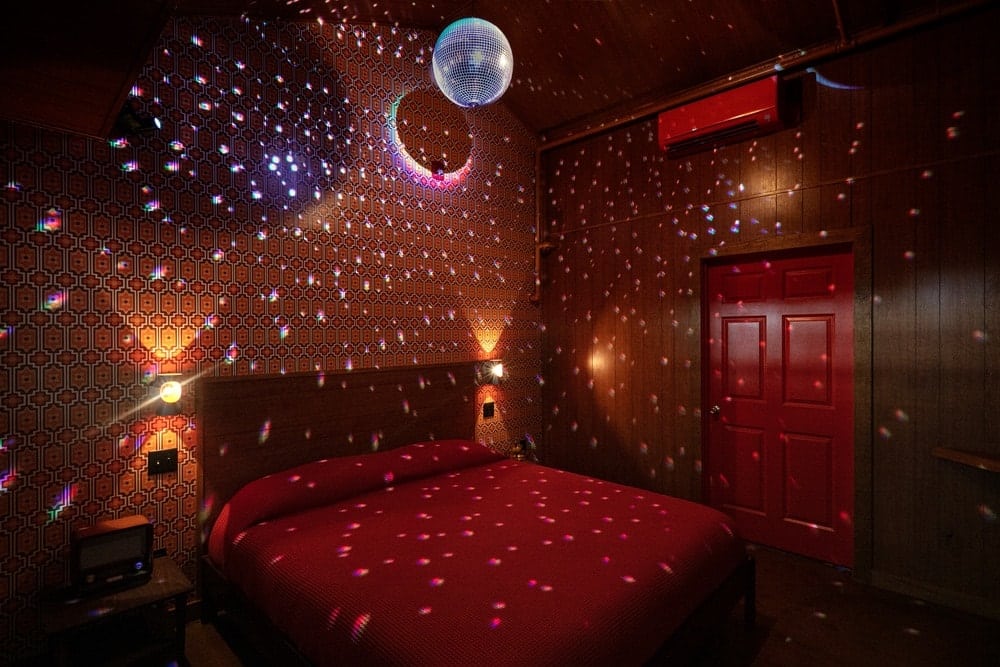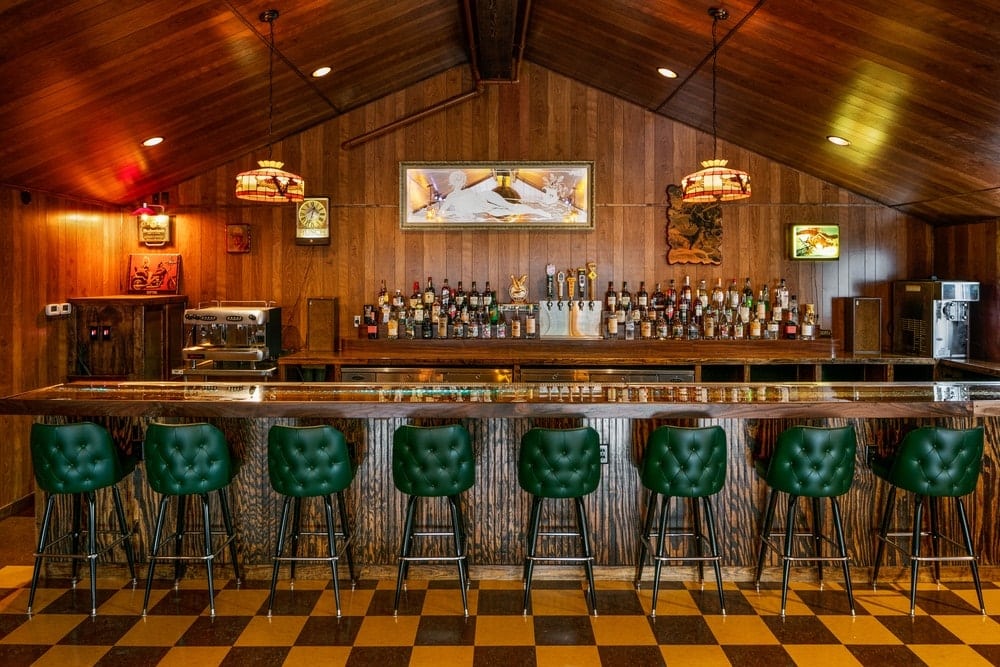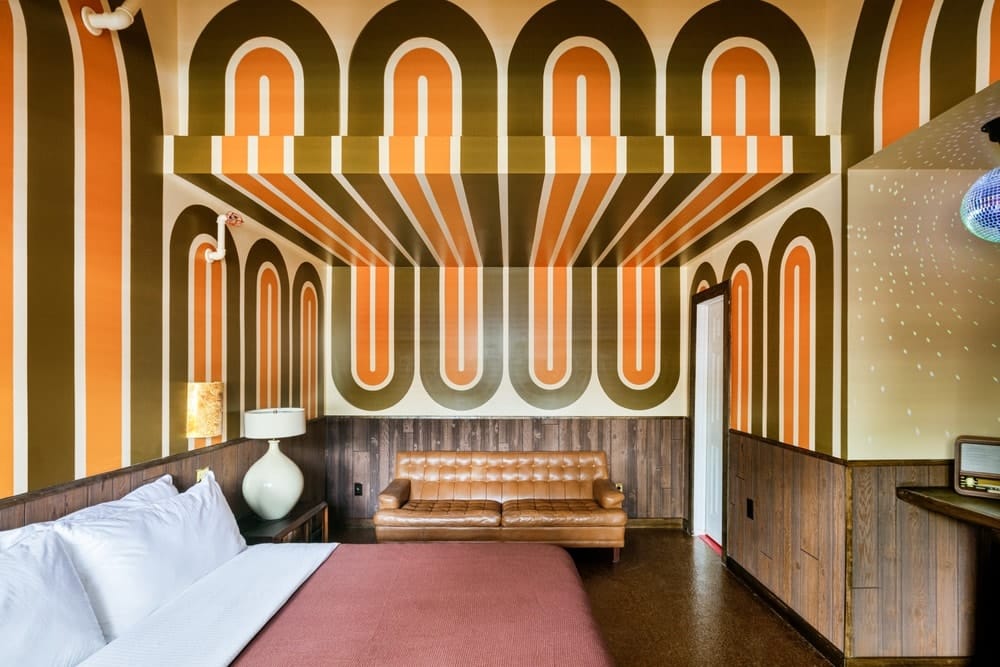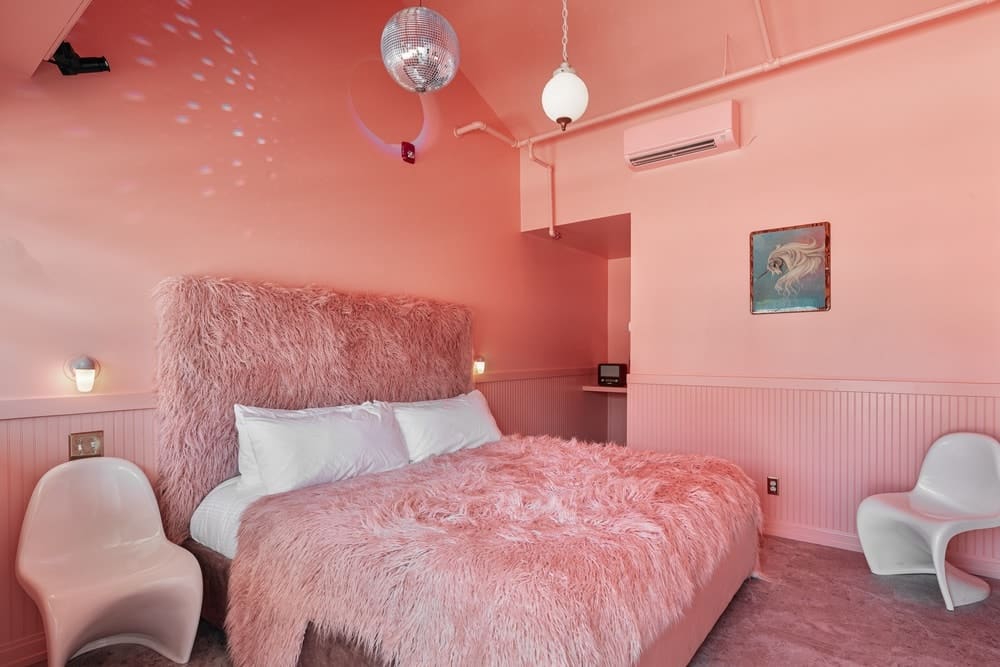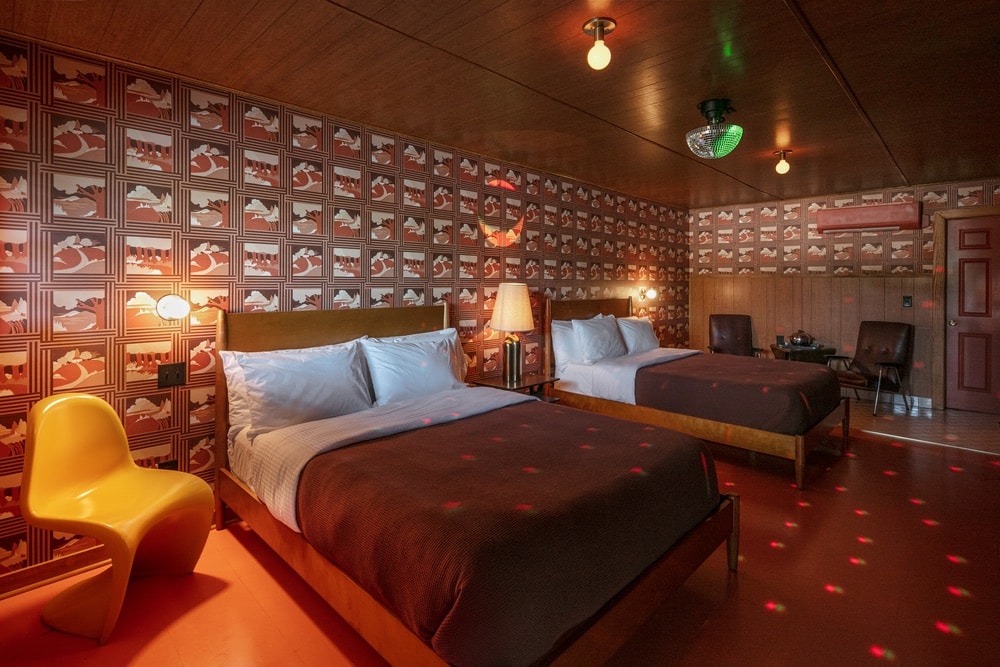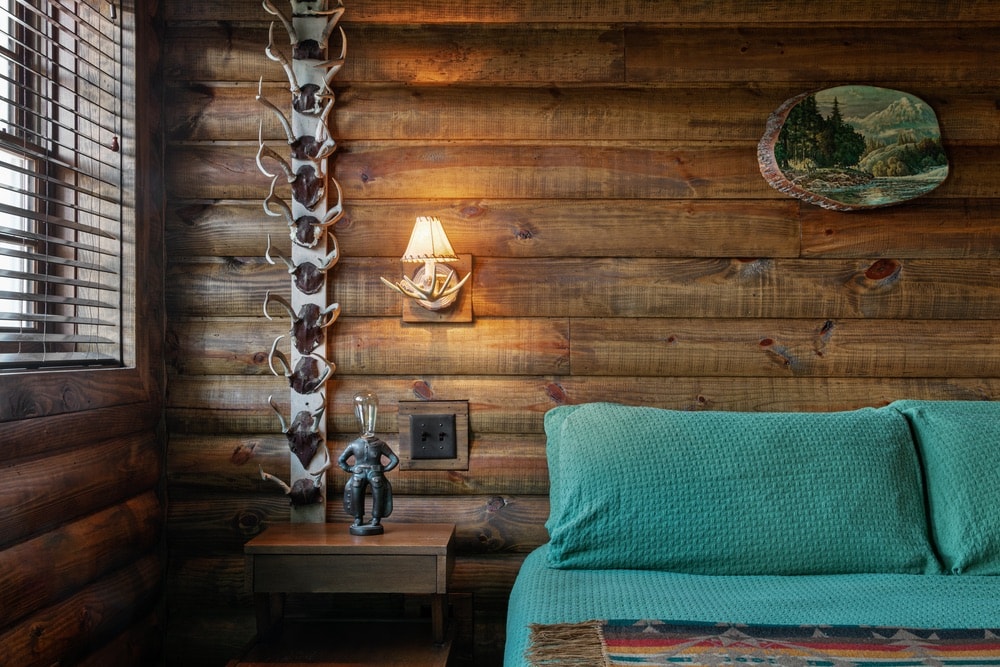 The Dive Motel
This next stop will have you saying "Oh, behave!" You have to get into the groove when you check in at Nashville's Dive Motel. With guest rooms decked out in shag carpet, 1970s-inspired color schemes, psychedelic murals, and disco balls, they make it pretty easy. This hip hideaway is located on the Old Buffalo Trail, a few minutes' drive from the city's vibrant downtown nightlife and live music venues. With twenty-three rooms, it's the perfect retreat for those looking for something off the beaten path when it comes to accommodations—but be prepared to mingle, because the Dive Bar is open to the public five nights a week and the Swim Club offers annual memberships. Each room is uniquely decorated to fit the retro theme, and the best part is that each comes with a disco ball fully programmed with party channels and a sleep channel for your in-room playlist and mood-lighting needs! Did we mention there's a VHS library for rentals?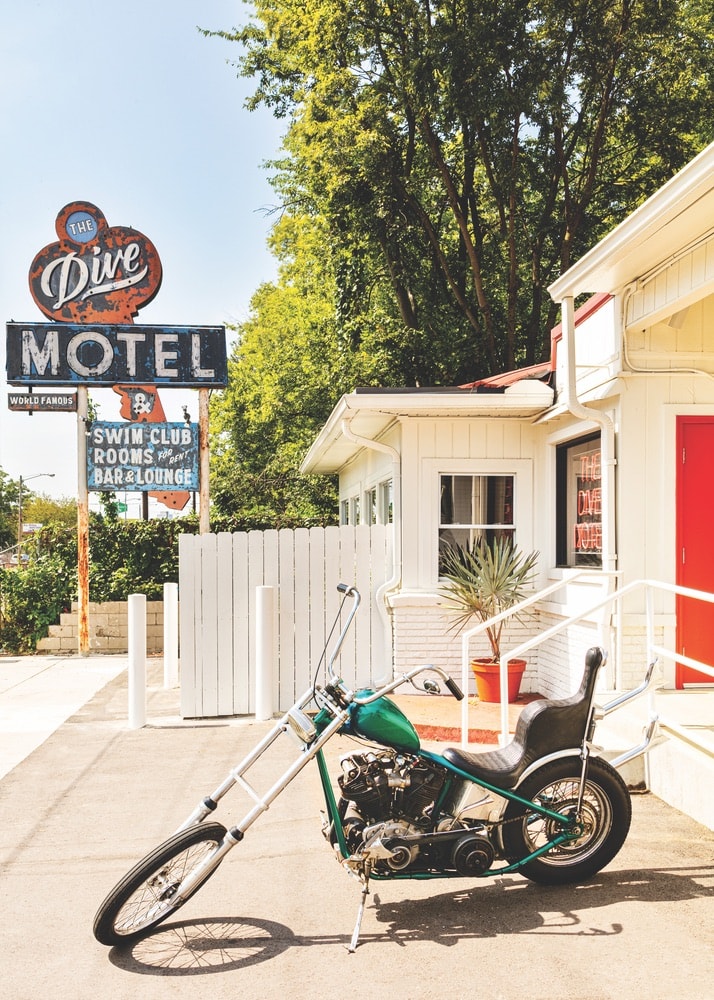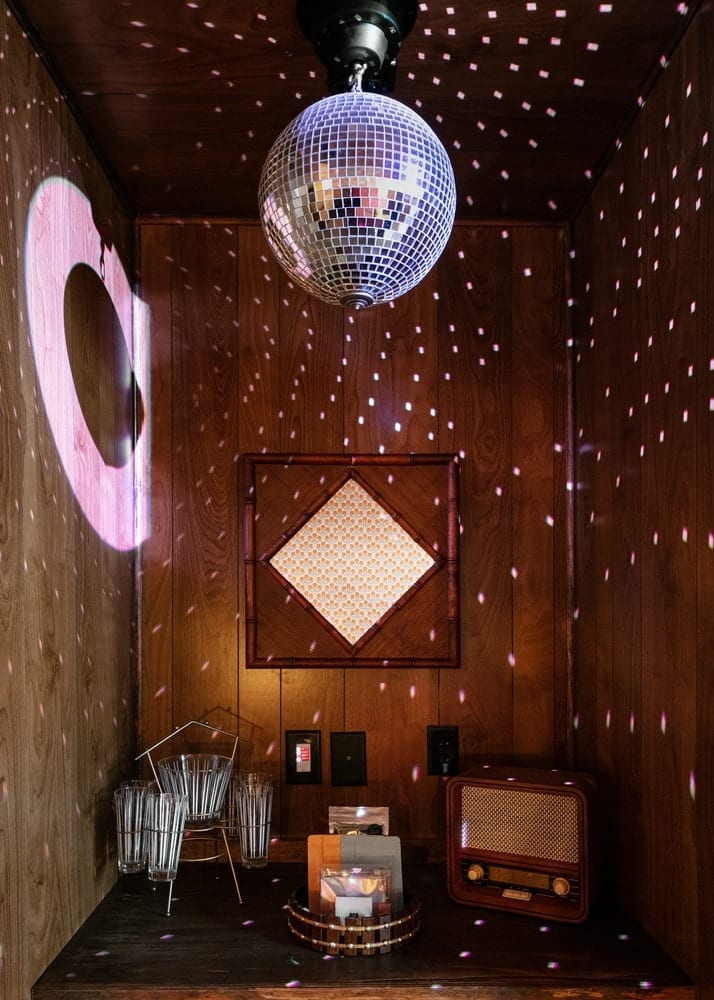 Originally the Key Motel, the Dive Motel opened in summer 2019 with newly designed spaces curated by hotelier Lyon Porter, who also owns the Urban Cowboy hotels in Nashville, Brooklyn, and the Catskills. The website calls The Dive, "a mixture of classic motel Americana meets Pantone-inspired romantic nostalgia. From the handpicked vintage decor to the original '70s wallpaper, wood paneling, shag carpet, and soaking tubs, she's a blast from the past, back to claim her former glory one more time!"
Visit TheDiveMotel.com and Instagram @thedivemotel to learn more and make reservations.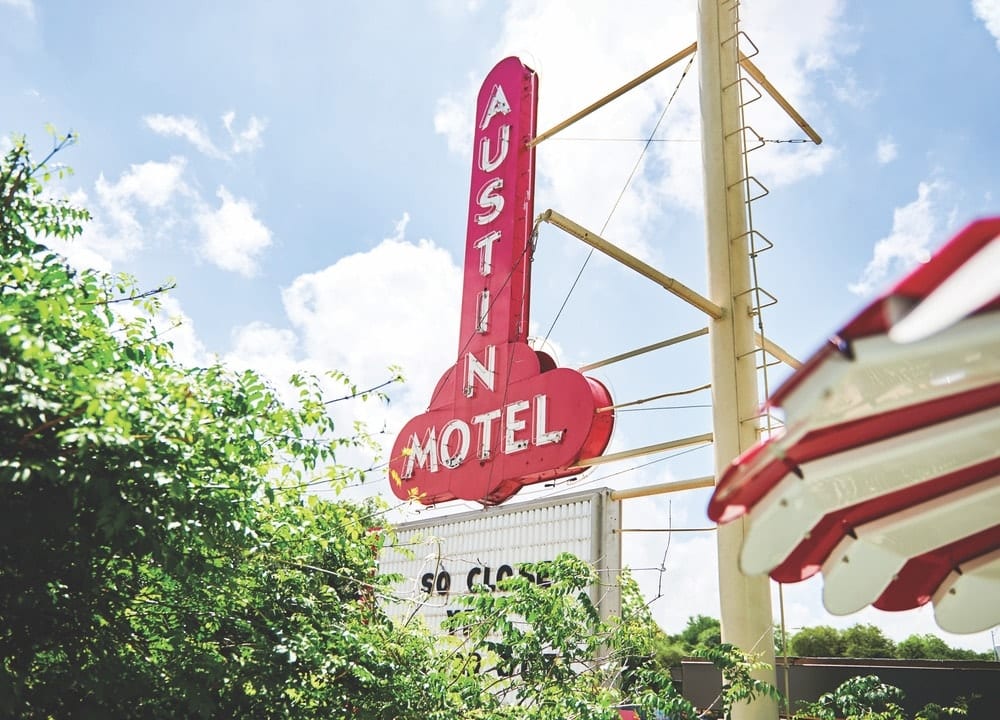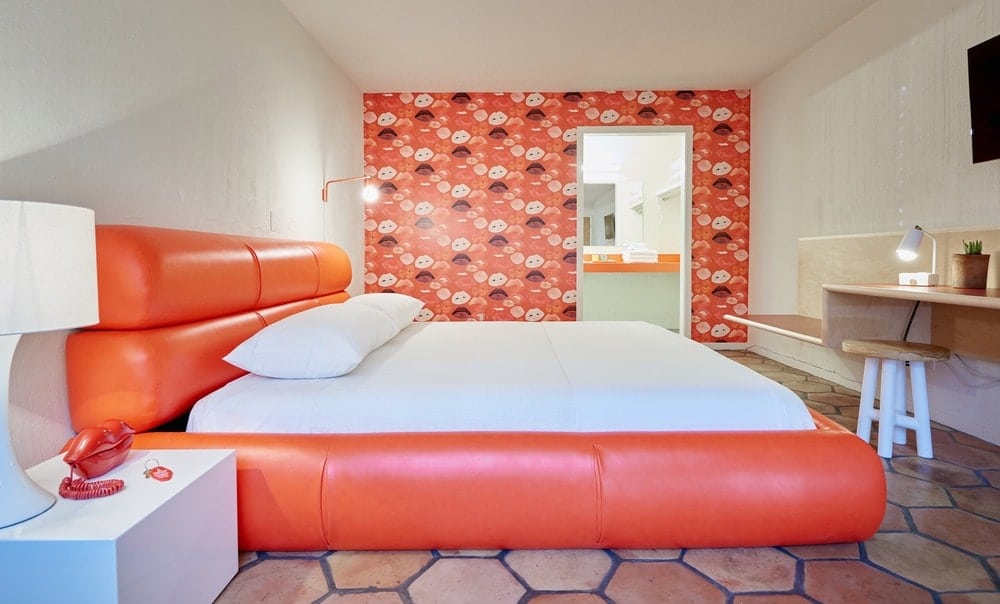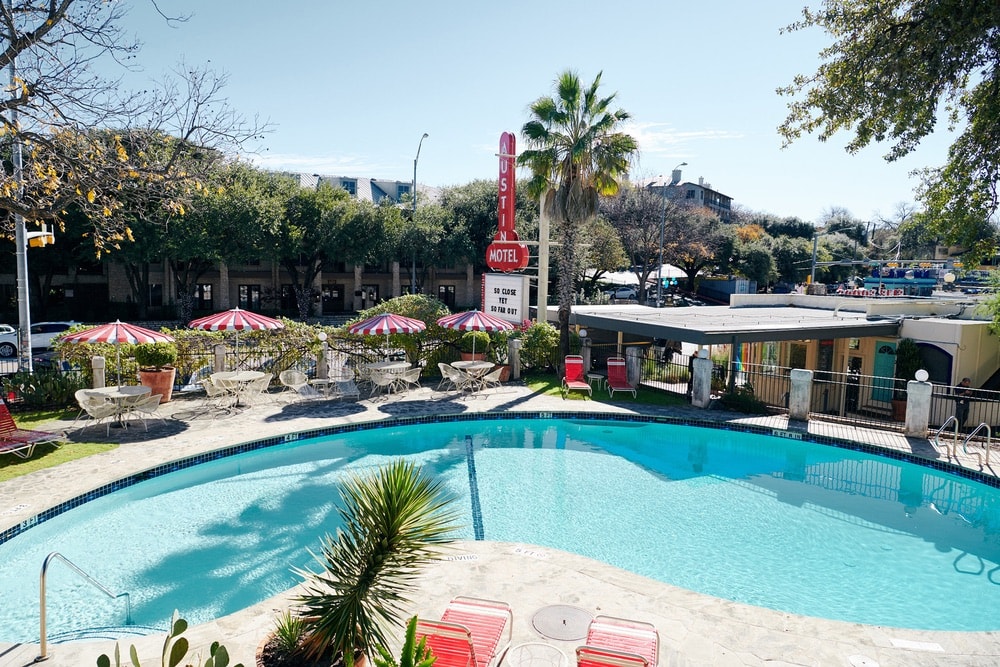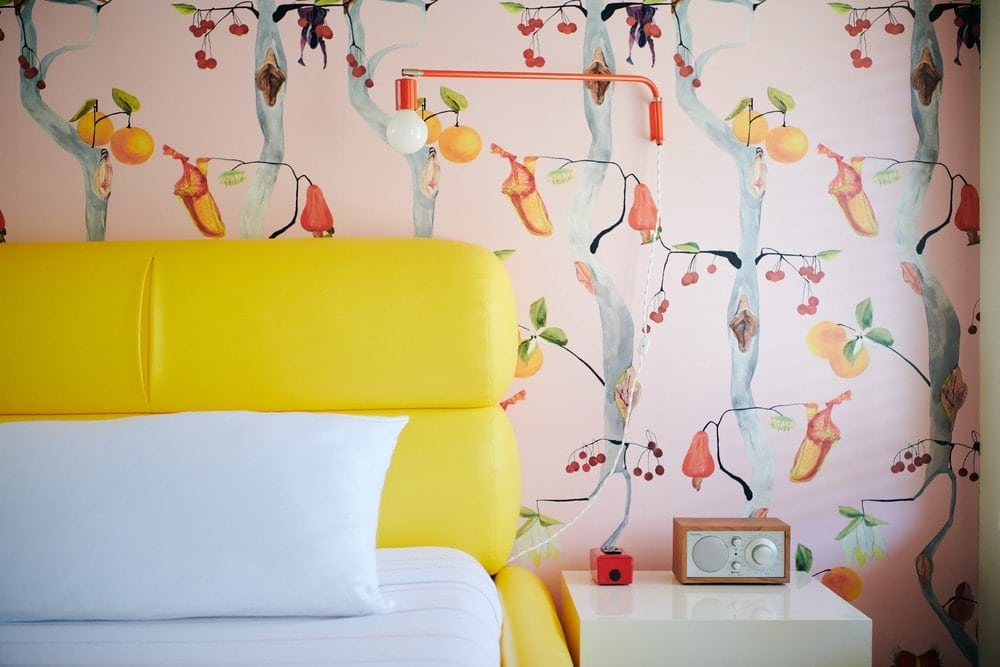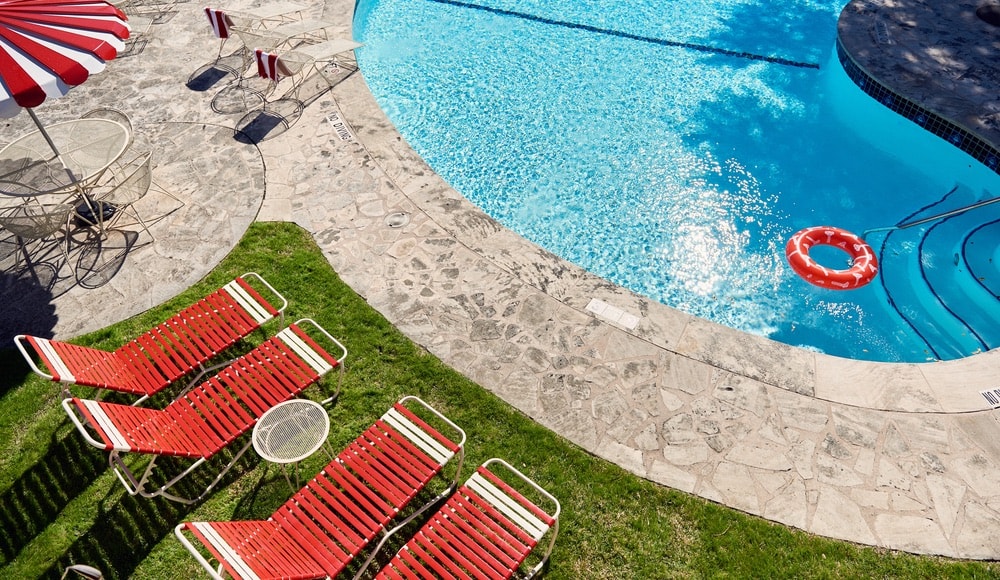 Austin Motel
This homegrown hideaway in one of Texas's most happening cities is a feast for the eyes and an enchantment for the soul. Its history, as colorful as its neon carport, began as early as 1888, when the Eck family bought the property in Austin's South Congress neighborhood. For decades, they owned and operated several businesses in the area and even installed the first telephone south of the Colorado River. Like any good Texas story, there was also a legendary outlaw—this one by the name of Ben Thompson—who spent time with the Ecks and could often be found gambling and gunslinging (and, strangely, sometimes enforcing the law as a marshal) around the area. Word has it that Thompson left a diamond ring at the Eck family's pawnshop before he headed off to gamble in San Antonio, where he was later found dead along with fellow outlaw John King Fisher. Descendants of the Eck family still own the ring.
The motel itself was established in 1938, when the great American road trip was becoming a popular pastime as more people began to buy automobiles. Jennie Eck Stewart and her husband, Earnest, saw the opportunity for a new business to accommodate those travelers, and the Austin Motel's neon sign lit up South Congress Avenue for the first time and has stood proudly ever since. (Speaking of the sign, the staff wants you to know that, yes, they see it too!) Today, the motel's pool and bar are open to the public (reservations required). Its forty-one retro-chic guest rooms and suites are open with COVID-19 safety regulations established. Visitors and locals alike love the motel's proximity to the river, downtown, the Texas State Capitol, shops, and restaurants. In turn, the motel loves its visitors and locals and often hosts community events, such as recent swimming lessons held with Tankproof, a local nonprofit that helps underserved youth.
Austin Motel is now open for guest room and pool reservations, so check AustinMotel.com and Instagram @austinmotel for more info!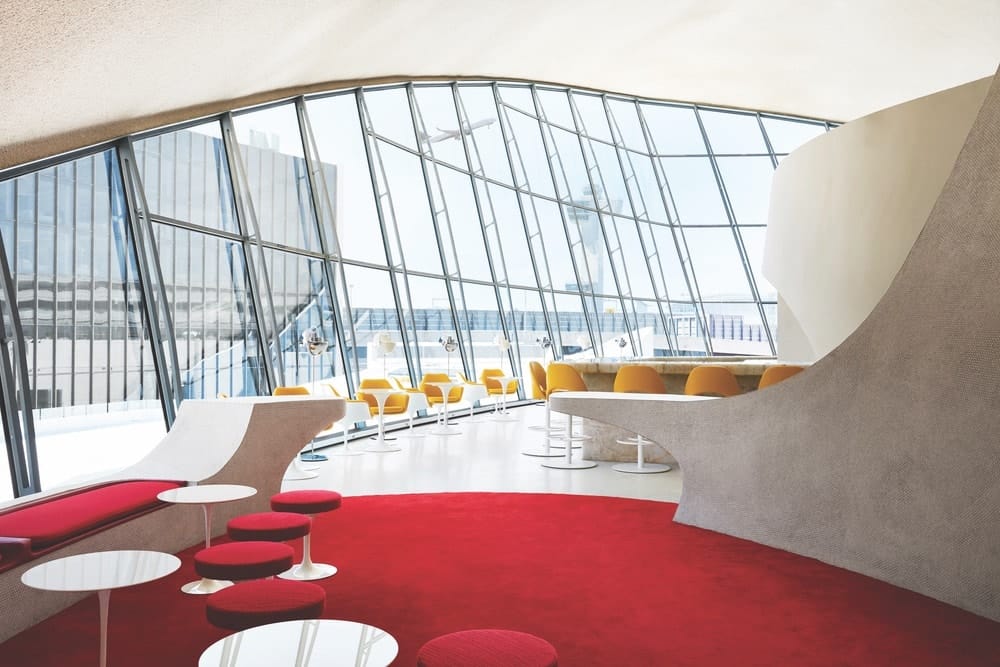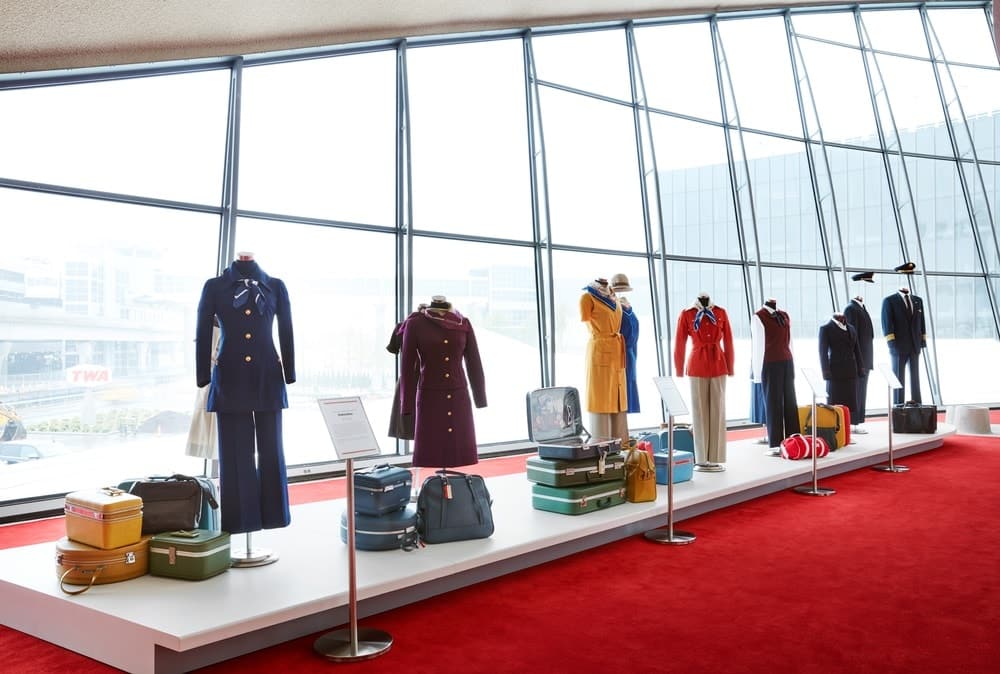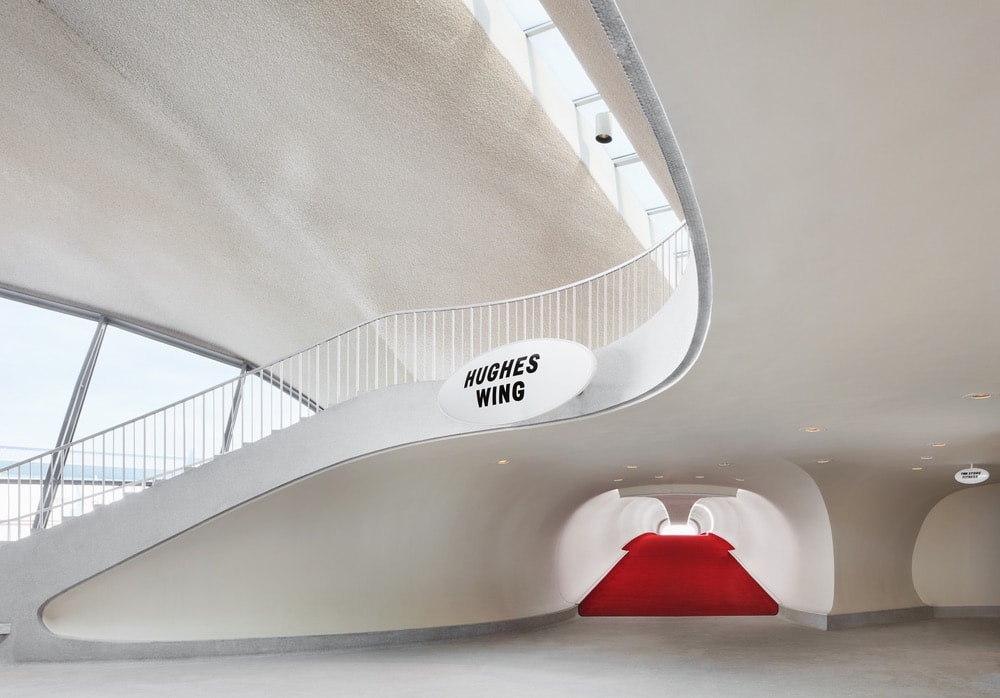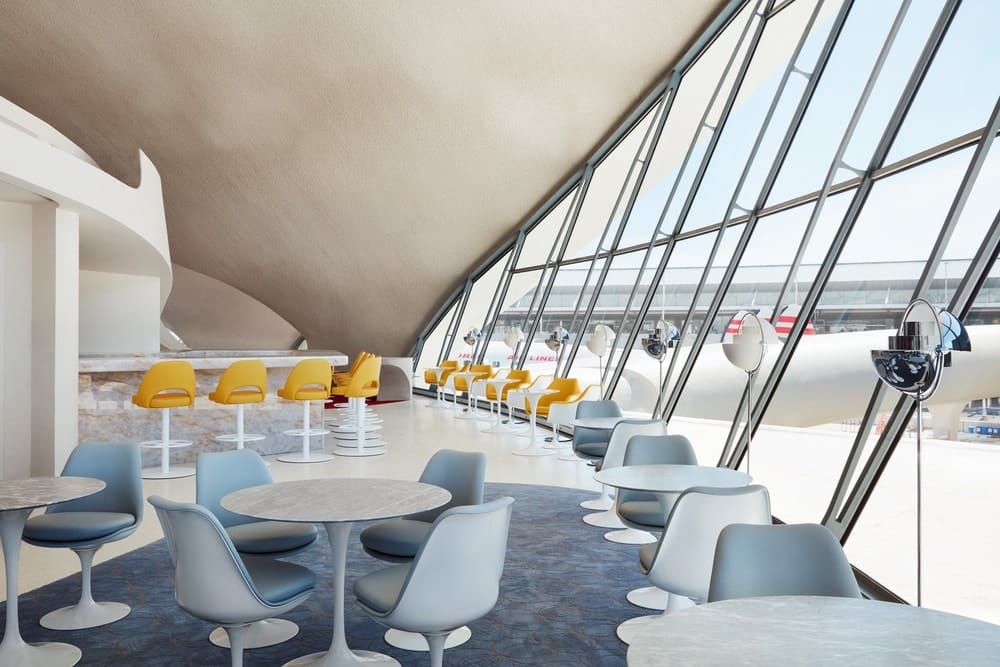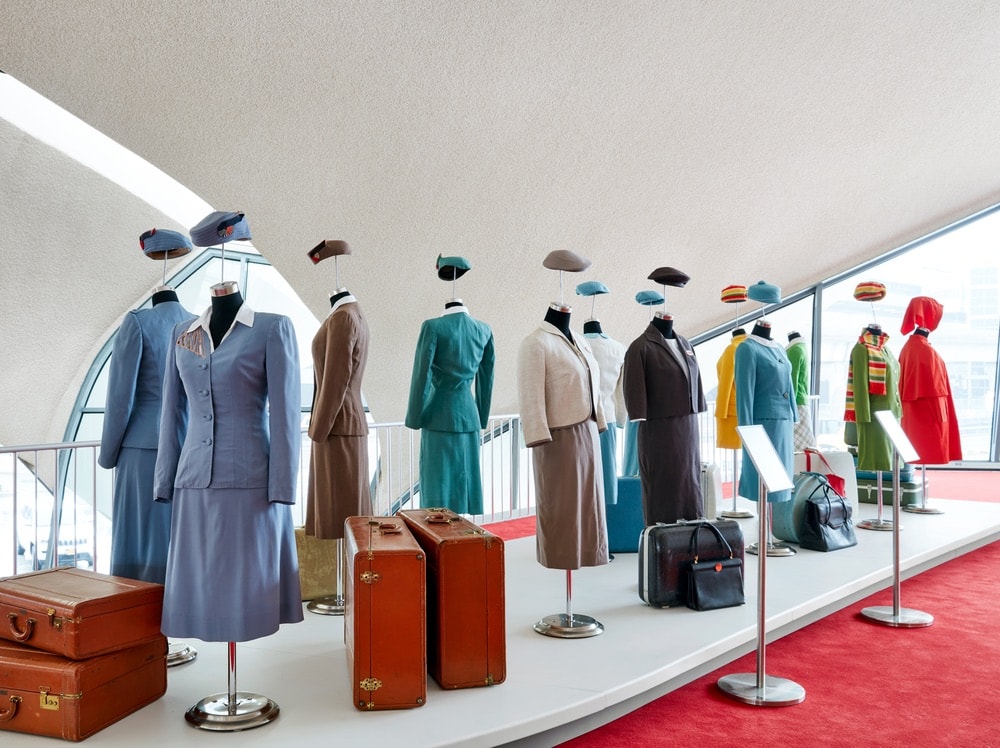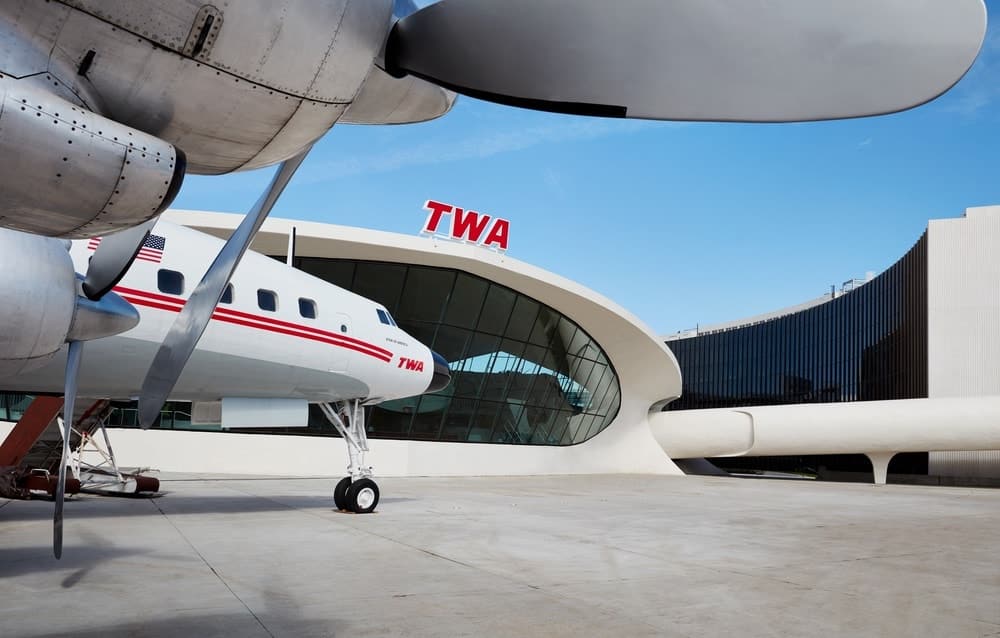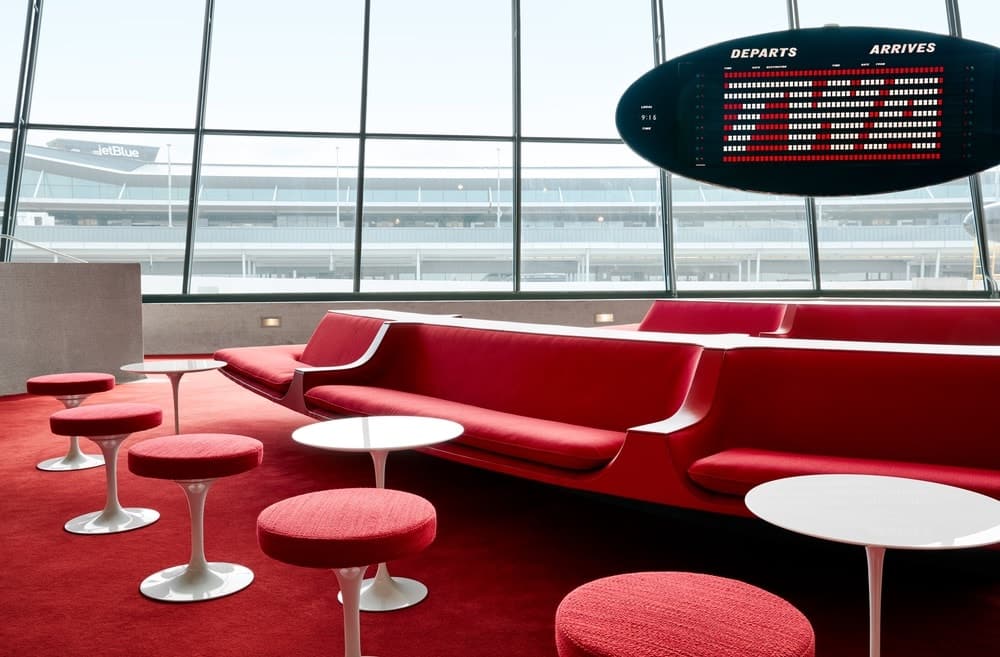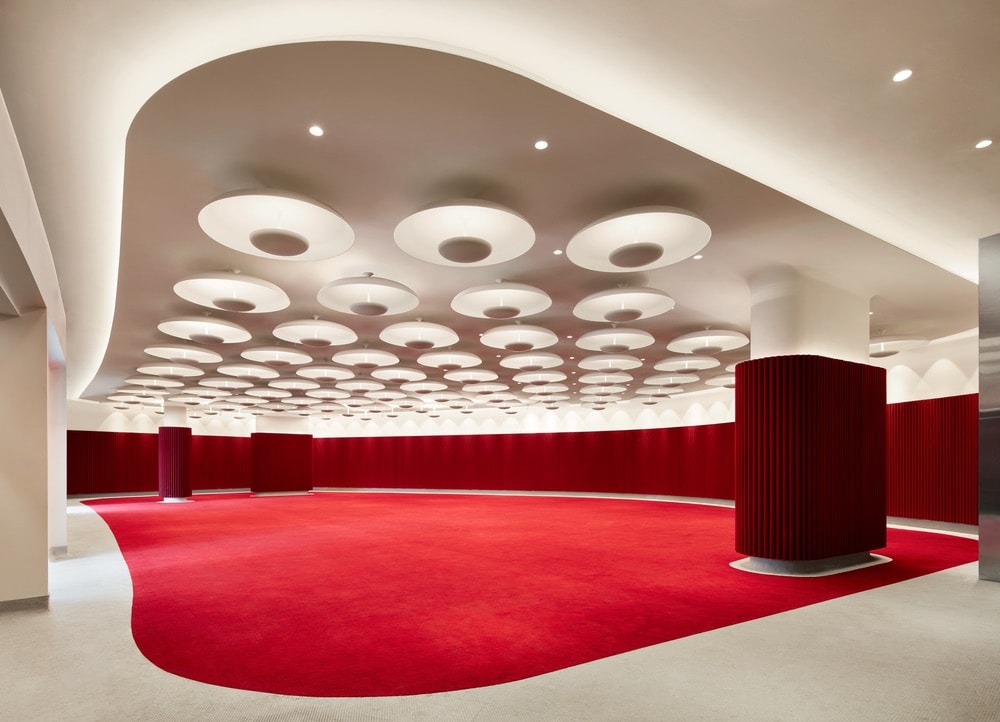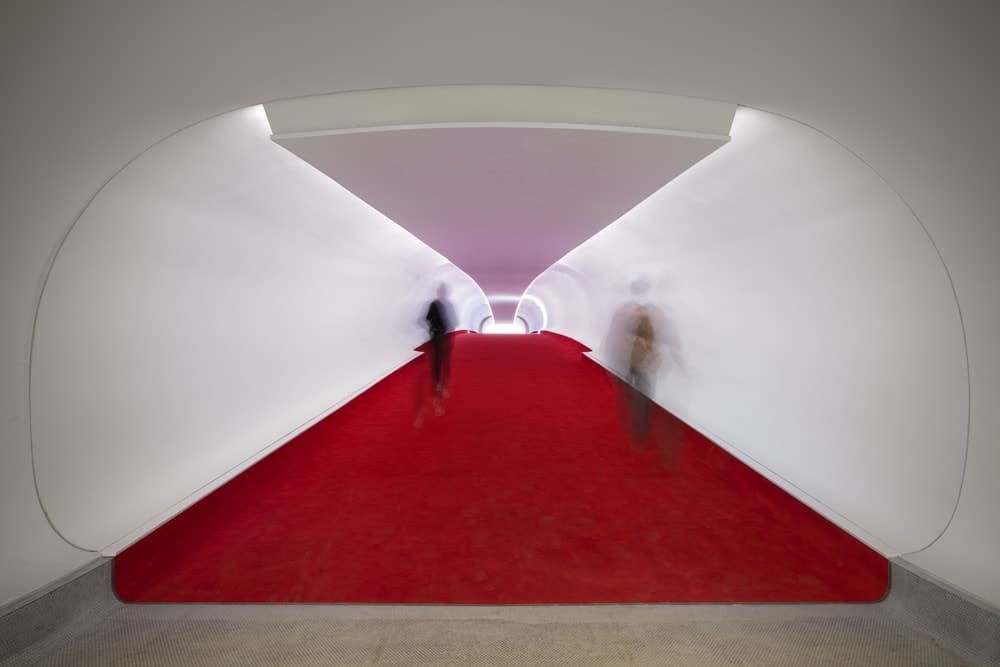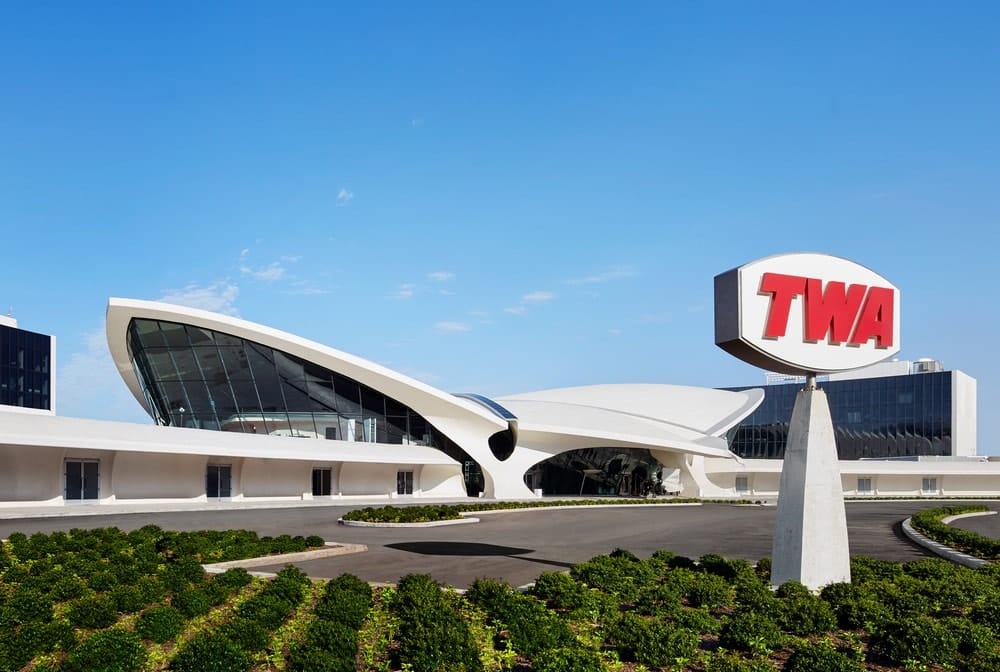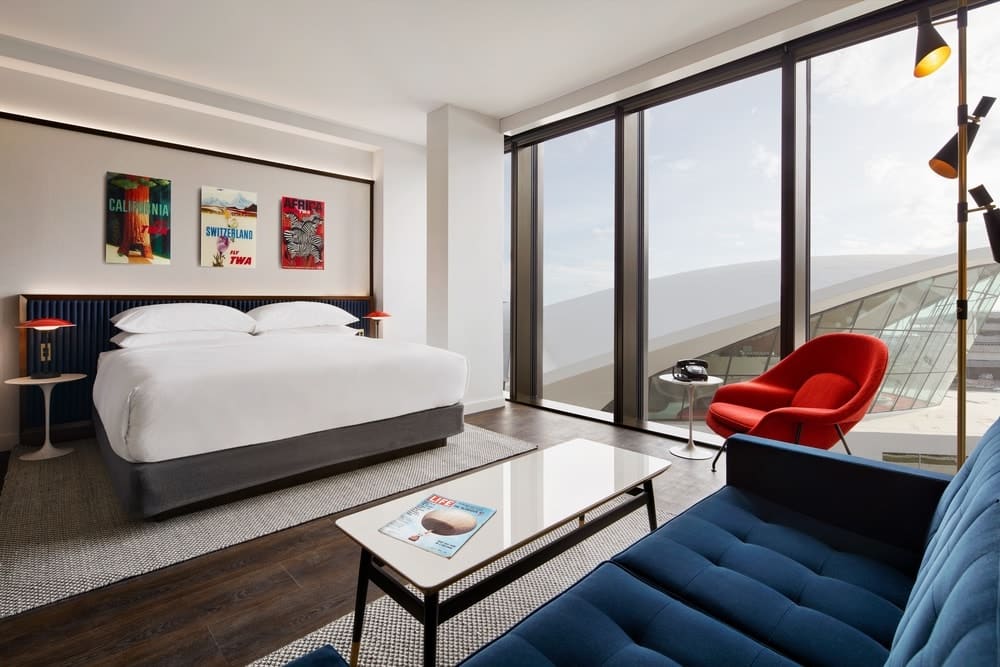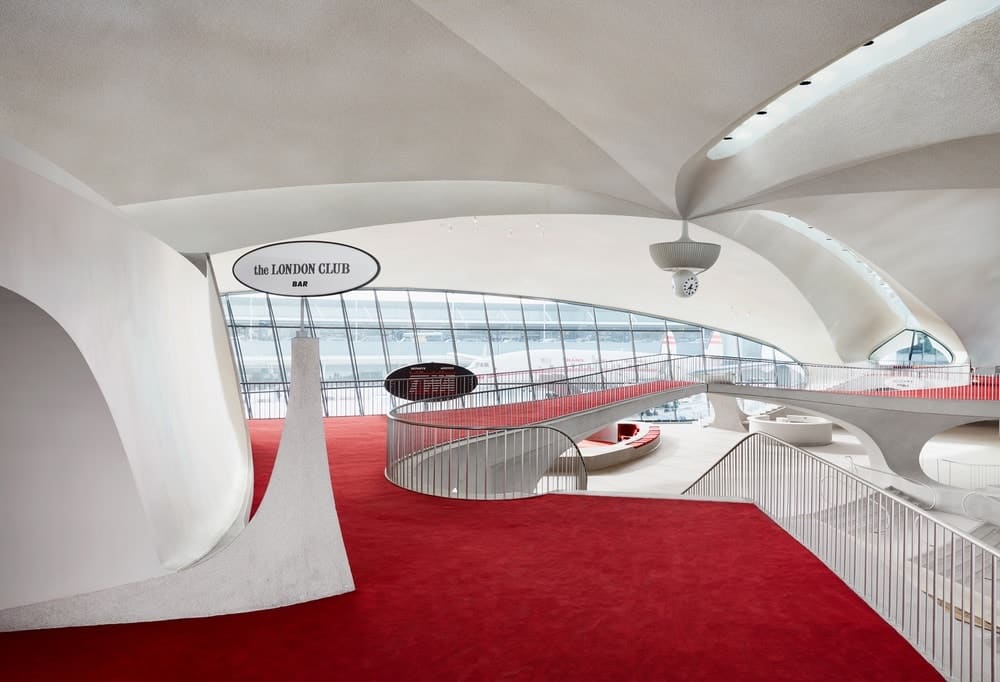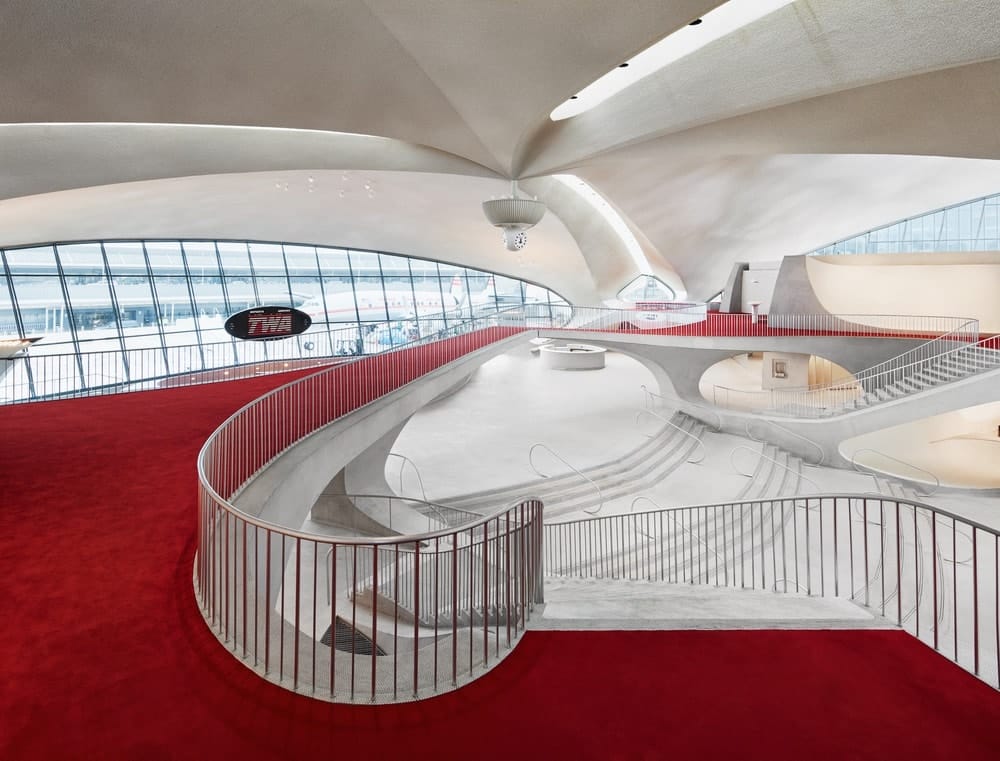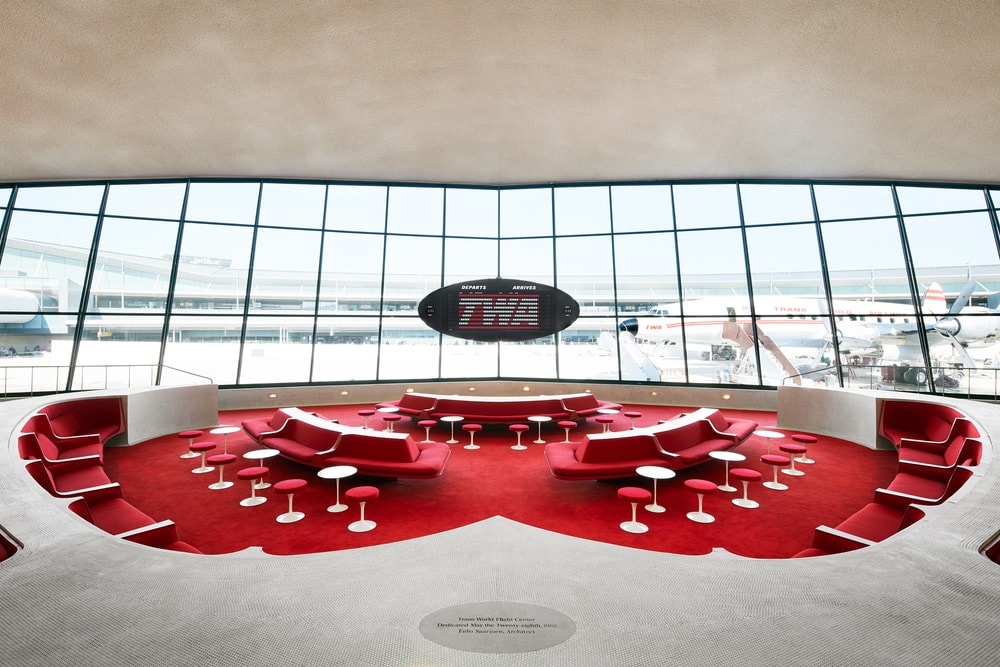 TWA Hotel
Catch me if you can! We'll be having a nice layover as soon as we get the chance to book our round-trip to the TWA Hotel at JFK International Airport in New York City. Architect Eero Saarinen's world-famous TWA Flight Center received a revamp in 2008. The hotel didn't come on the scene until 2019, when it gained interest among the architecture and hospitality industries alike with its masterpiece two-hundred-thousand-square-foot lobby housed in the main terminal area. Decor and furnishings reflect the original building's 1962 mod design sense. The lobby also includes museum exhibits, a bar and lounge, event spaces, and more surprises. Taking "window seat" to the next level are the swimming pool and many guest rooms with runway views.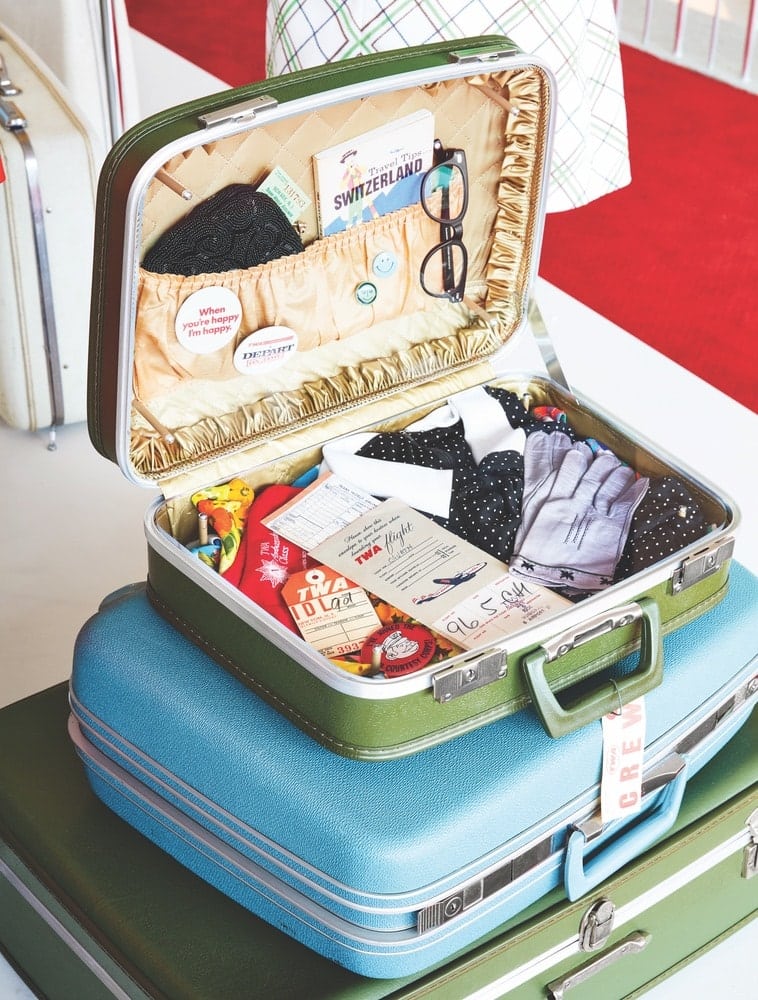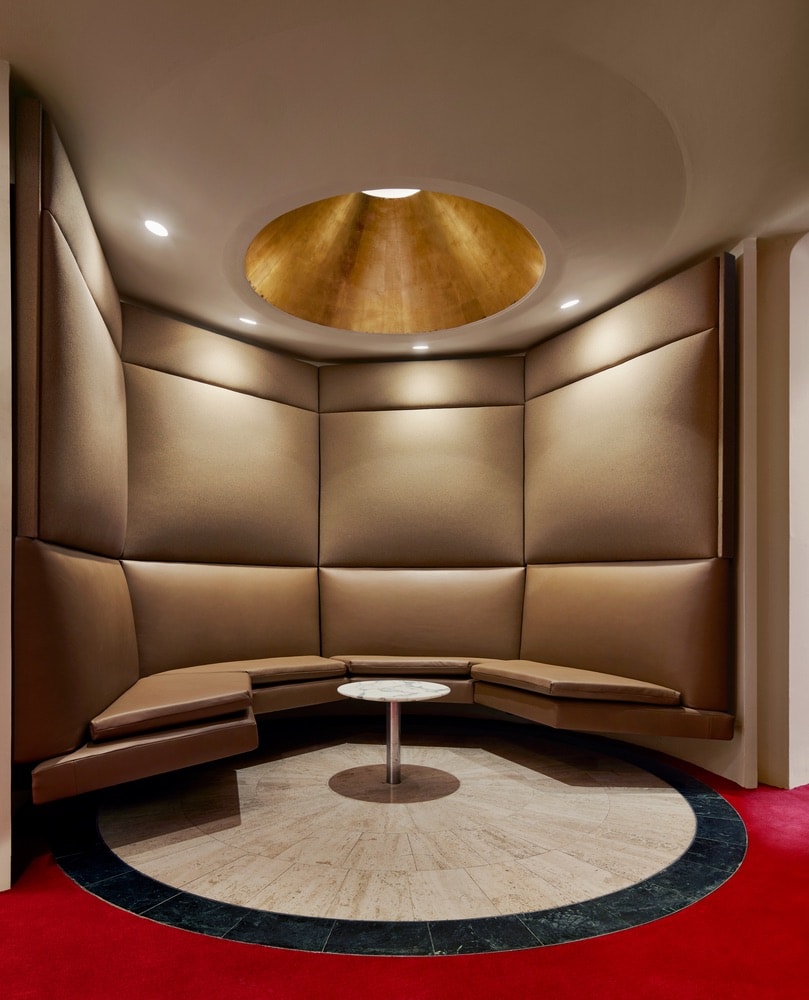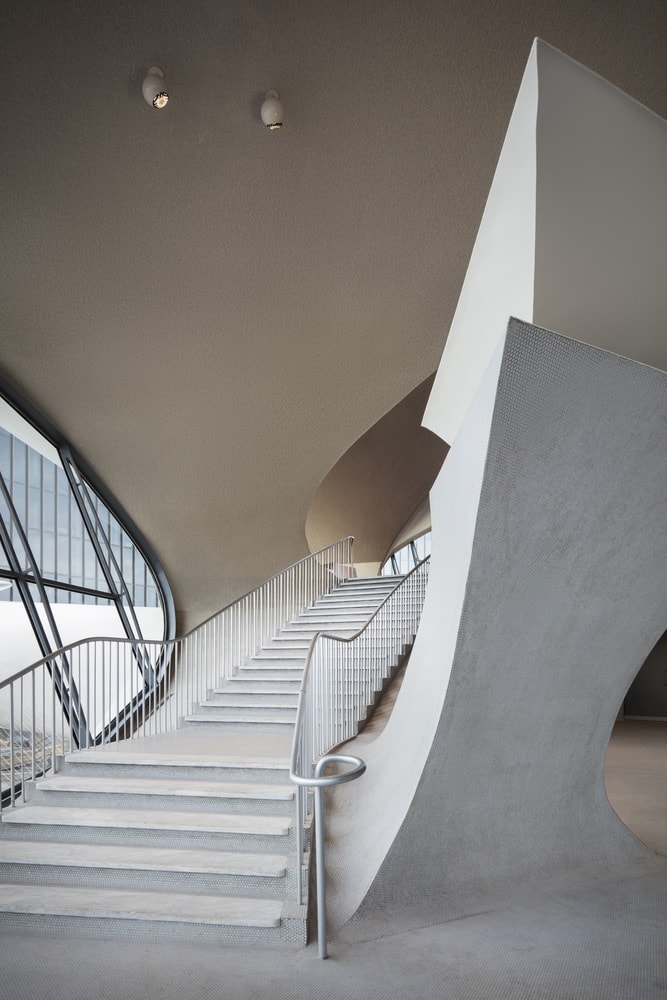 Of course, you have to meet Connie, the 1958 Constellation airplane-turned-cocktail lounge, "where the martinis and the atmosphere are first-class." If you're not staying long or are just in the mood to see the sites at Terminal 5, try a Daytripper pass. It allows you to stay in one of the immaculate guest rooms, make pool reservations, dine, exercise, or just relax with rentals available in stackable four-hour intervals. Whether you're at TWA for business or pleasure, it's sure to be a trip to remember!
Visit TWAHotel.com to book your flight—I mean, your stay—today.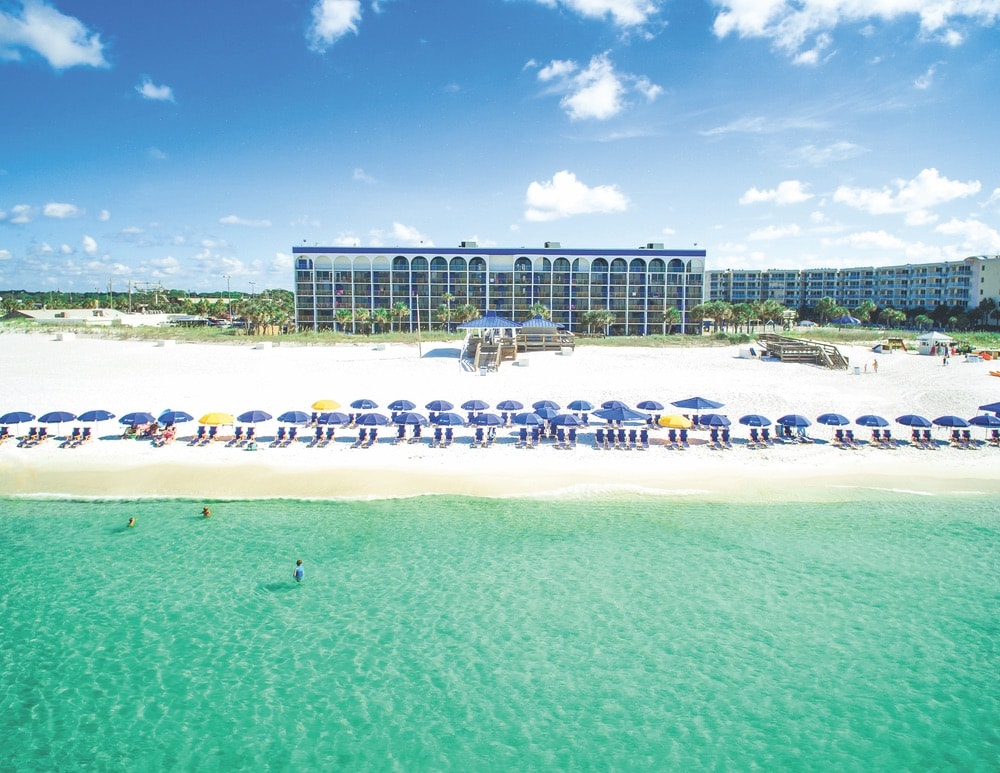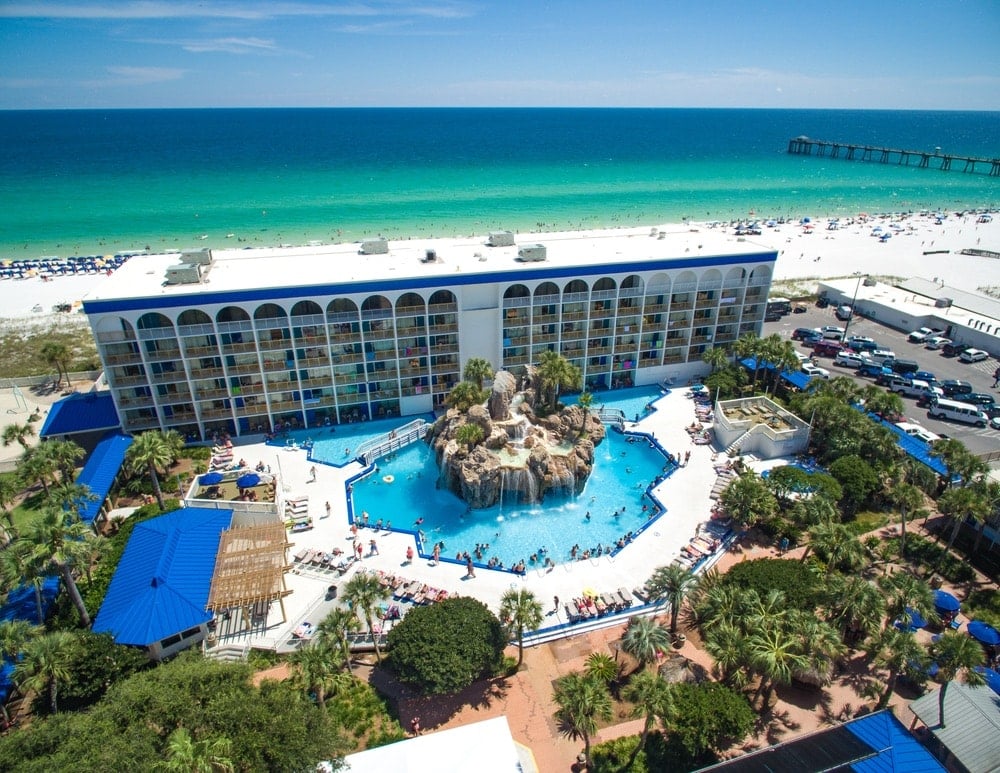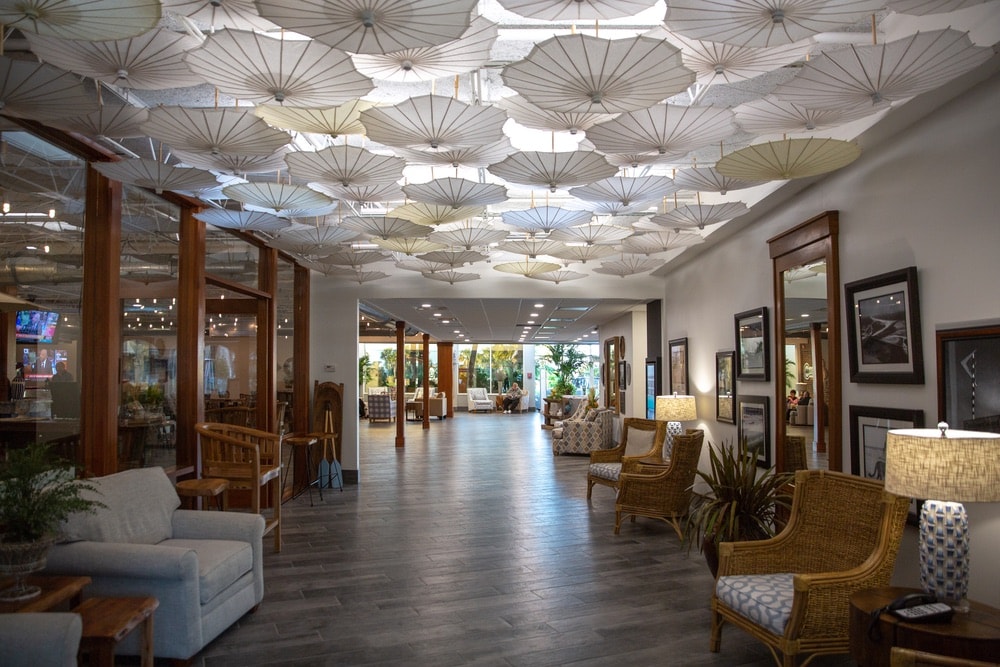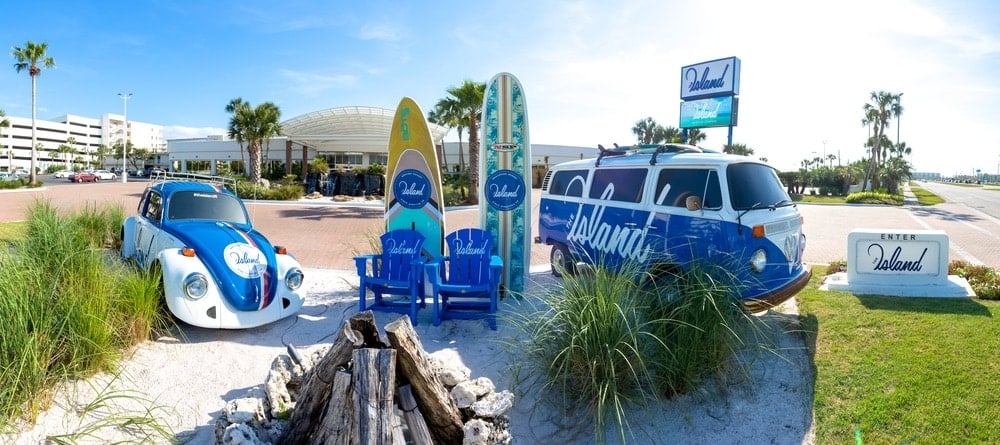 The Island
Another beachside getaway has gotten a recent makeover. The Island, located on Okaloosa Island in nostalgic Fort Walton Beach, Florida, takes on a new life by the Gulf of Mexico after a $15 million renovation was completed this year. The resort, built in 1966, saw many changes throughout the decades but was always a mecca of fun in the sun for all ages! Countless memorable moments were made in these beach towers and its first-class dining and entertainment spaces. Concerts featuring international superstar bands like Heart and the Beach Boys and visits from celebrities like Bob Hope and Joe Namath come to mind. This summer, The Island is ready for guests so it can show off its new digs!
Not to miss today are the lagoon pool—where you might even see the resident mermaid, Misty—the Island Fish House and the Island Grille for fresh Gulf seafood, Tripp Tide Beach Bar for those late nights, and the Grotto Bar for that magical under-the-sea feel by the pool. This destination makes a perfect day trip for those already on the Gulf Coast or an excellent venue for an elegant wedding overlooking sugar-white sands. The Island by Hotel RL has it all.
For reservations and more information, head to TheIslandFL.com or find it on Instagram @theislandfl and @theislandweddings.
— V —
ARTICLE CATEGORIES