Freshness Napa-Style
By Wendy O. Dixon |  
Photography by Romona Robbins
One thing folks expect when dining in restaurants along Highway 30A is good quality seafood. You can get that at several different places. But if you want the extra attention to detail—that little something special—book a reservation at Fire at Gulf Place.
The restaurant originally opened in a restored turn-of-the-century firehouse in New Orleans. Fire! A Restaurant, as it was called then, was a hit on the culinary scene until it took a devastating blow from Hurricane Katrina in 2005. When the restaurant reopened, owner Brenda Darr discovered dining out was not a big priority for New Orleans residents, whose main focus was trying to rebuild their lives. In the summer of 2007, she and the majority of her team decided to pack up and drive east to Grayton Beach, where they opened Fire in a new location.
Four years later, they had outgrown that space and relocated down the street in Gulf Place. Now perched at the end of Town Center Loop in Santa Rosa Beach, Fire is an easy walk for its neighbors but a bit difficult to find if you are using an electronic navigation device. My mother and I dined there on a Friday night and were thirty minutes late for our reservation, but no worries, said manager Mario McNally.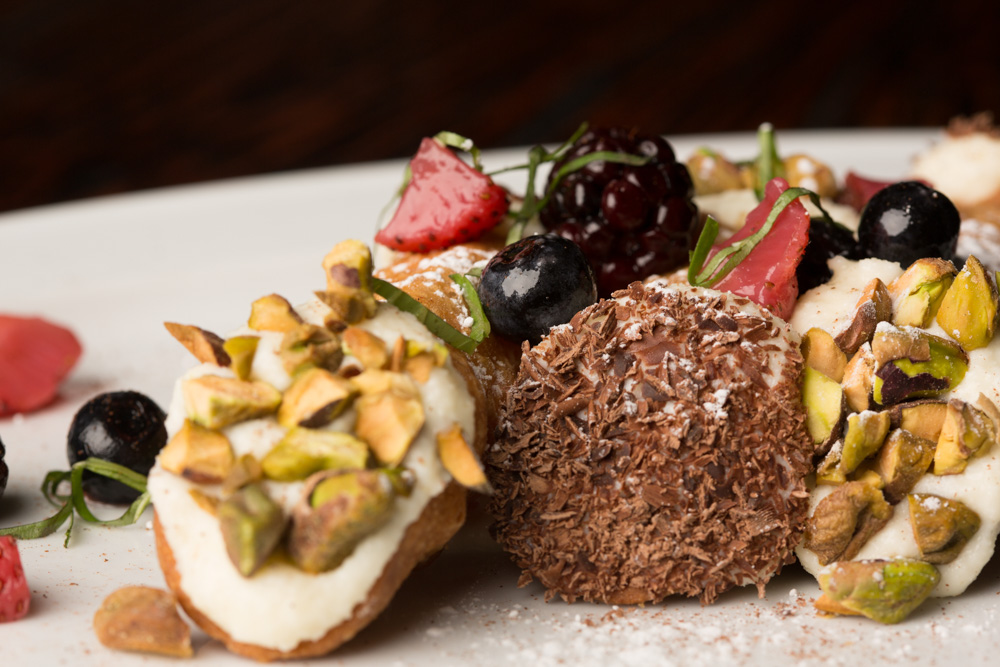 Named a Diners' Choice winner in 2012 by OpenTable.com, Fire now has a loyal following in the 30A community. The bar area welcomes patrons in, and tall windows provide views of the sidewalk patios. The dining area is sophisticated and comfortable, and the tables are set with meticulous attention to detail, with stemware and flatware in perfect alignment.
Before even tasting a bite, we were treated with exceptional service by the hospitable staff.  Karen Ellenberg, our server, provided the wine list, which contains only American wines. "They are mostly California wines," says Darr, "but we're working toward getting wines from every state that produces good quality wines. We've also got some from Oregon, Virginia, and New York that are really good."
The restaurant's approach emphasizes fresh, local, and organic. Darr, who visits California frequently, was inspired by trips to Napa, where she noticed the farm-to-table concept worked well; she decided she wanted to implement those practices here. "When you are there, you realize even the winemakers are just farmers trying to make a living," she says. "Here, we really want to support local farmers, and all the fish is straight from the Gulf." The restaurant gets most of its vegetables from Dragonfly Farms, which grows organic produce. "We make our own sauces, dressings, stocks, and ice cream." She adds, "We don't buy anything frozen. It's all fresh."
For executive chef Chris Mongogna, Jr., the goal is to make a great memory with each dish that comes out of his kitchen. "To me, food is a gathering point for your memories," he says. "And when all is said and done, your memories are the only things you take with you when you go."
Karen noted my mother's allergy to shellfish and then verbally informed the chef, just to be safe. We were served warm, homemade cornbread with butter while we decided what to order. Mom ordered the soup du jour, a minestrone created by sous chef Camille Withall.
A meal in itself, Fire's minestrone is a perfect blend of savory and spicy. The soup has a roasted tomato base with green and yellow summer squashes, mushrooms, peppers, tomato chunks, and fresh ricotta cheese.
The Southern mixed greens salad has the added treats of sweet corn, black-eyed peas, tasso, fried okra, and cheddar cheese—all topped with the house-made bourbon–Vidalia onion vinaigrette.
Tomato lovers will want to experience the heirloom tomato stack, made with fresh, regionally grown tomatoes stacked with herb-crusted house-made mozzarella and drizzled with tomato oil and a balsamic vinegar reduction.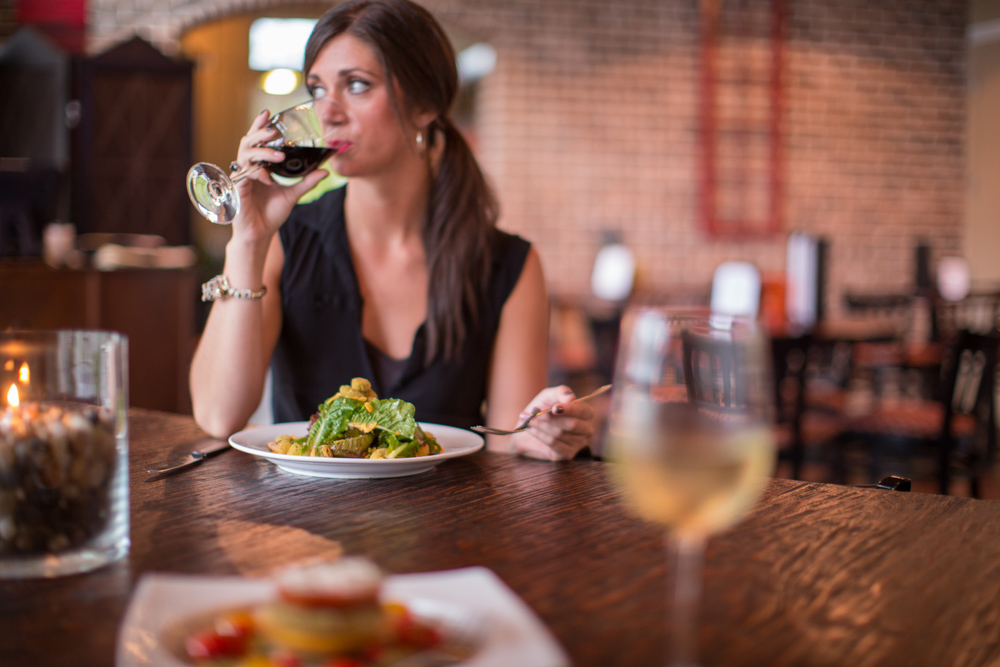 For the entrée, I ordered the chef's choice: a perfectly cooked mahi-mahi served with red potato Cajun mash, corn maque choux, and rémoulade sauce. Mom tried the grilled black grouper with white bean and okra succotash topped with Florida tomato butter.
Although we were stuffed, head chef Mongogna brought us a sampling of his desserts, all homemade, with a port wine to enhance the sweet treats. The white chocolate cannoli with champagne-macerated berries, Mongogna's grandmother's recipe, was divine. The organic blueberry sorbet was tangy and refreshing. And the sticky toffee cake topped with crème caramel and toasted pecans was a rich finish to the meal.
Elegant yet kid friendly, Fire is ideal for special occasions but great also for a weeknight. Sunday brunch offers endless champagne, as well as a wide selection of breakfast items.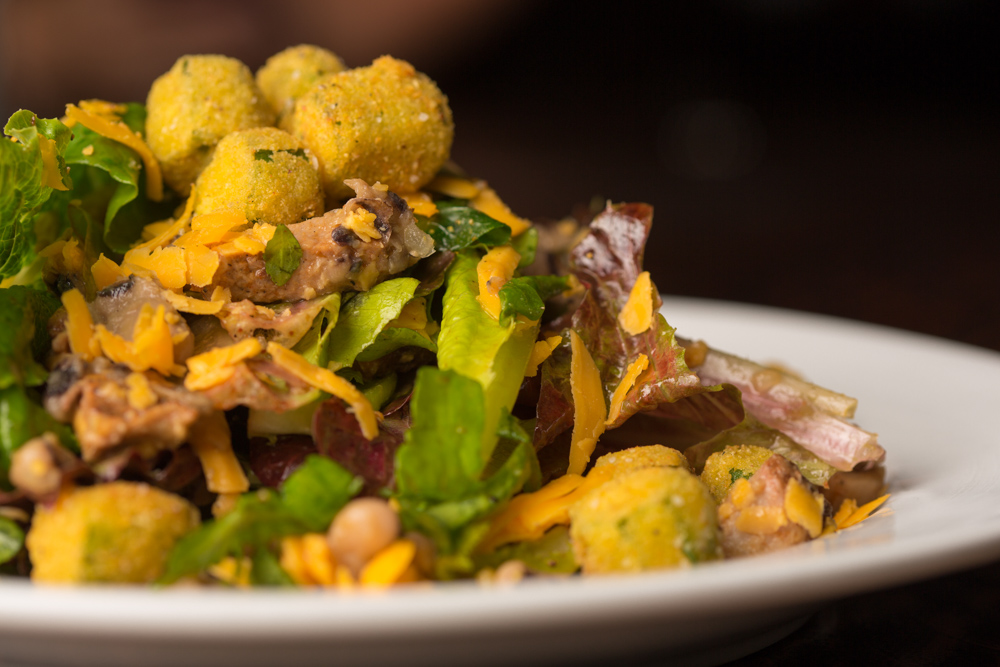 Fire's Minestrone Recipe
Serves 10 2 medium carrots, peeled 2 zucchini 2 yellow squashes 1 red bell pepper 1 yellow bell pepper 2 eggplants 2 cups button mushrooms 1/2 cup extra virgin olive oil 1 large can San Marzano tomatoes (about 3 quarts) 2 quarts chicken stock 3 cloves garlic, minced 1 yellow onion, chopped 1 tablespoon dried oregano 1 tablespoon dried basil 2 fresh sprigs thyme 1 bay leaf Salt and pepper to taste Ricotta cheese Basil leaves, torn or cut in small pieces (for garnish)
Slice each of the first six ingredients in half. Evenly arrange them on a sheet pan along with the mushrooms. Drizzle vegetables with olive oil; season with salt and pepper. Roast vegetables for about 10 minutes in a preheated 450-degree oven. Set aside.
In a large pot, sauté garlic and onion with a little olive oil. Add dried herbs. When onion is almost translucent, add canned tomatoes, chicken stock, thyme, and bay leaf. Season with salt and pepper. Simmer for about 20 minutes.
When the roasted vegetables are cool enough to handle, cut them up into half-inch cubes. Add vegetables to soup and let simmer for another 15 minutes. Season with salt and pepper again, if needed.
Serve soup in bowls, topping each serving with a tablespoon of ricotta cheese and some fresh basil.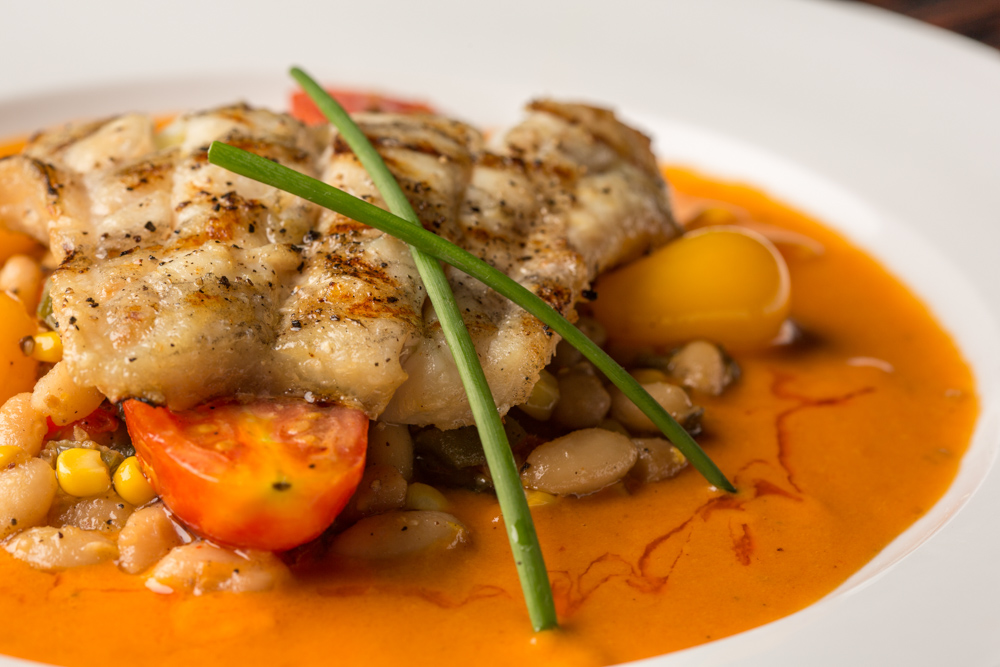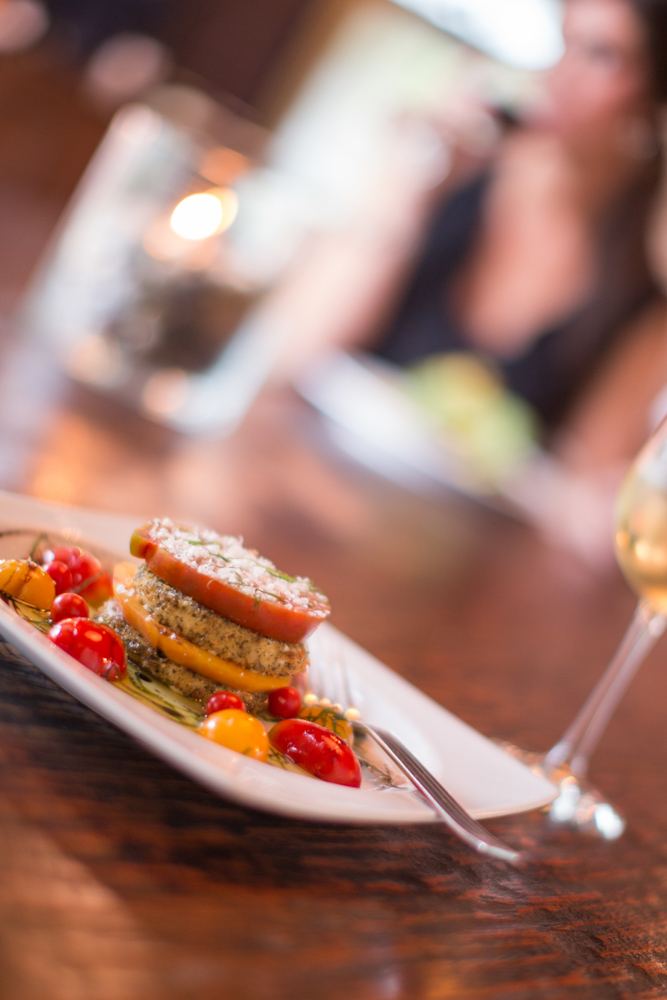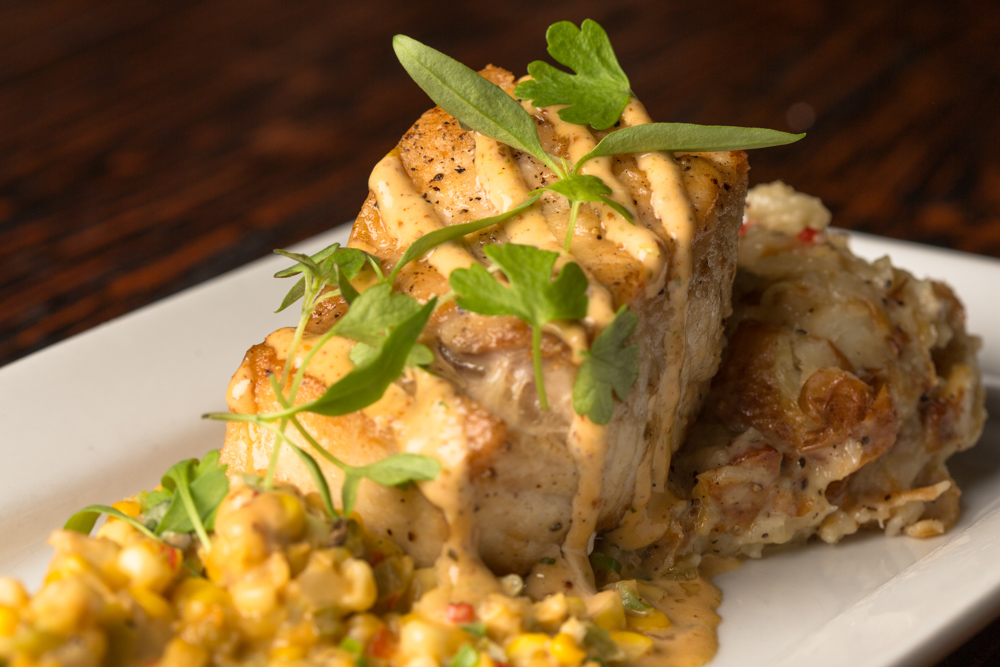 — V —
---
Restaurant Fire at Gulf Place 7 Town Center Loop, Unit C-11 Santa Rosa Beach, Florida Open for dinner Monday–Saturday 5–10 p.m. and for Sunday brunch 11 a.m.–2 p.m. (closed after 2 p.m.) Restaurantfire.com (850) 267-9020
ARTICLE CATEGORIES