By Jordan Staggs | 
Photography by Heather E. Adams
"I feel like there has never been a more fertile time for women creatives as there is now in our world. We are blossoming, and the light is bright!"
This is the hope-filled sentiment of artist Reese Forêt of Gulf Breeze, Florida. Her mixed-media artworks often contain words of encouragement and feeling—messages to her audience as reminders to appreciate life, love, and the simple pleasures in the world.
Always an artist at heart, Forêt says the part she loves most about creating things is the freedom of it. "I am free to put down one mark on paper or to fill the page with a million tiny stars if I want to," she says. "Ultimately, I love knowing that what I create can connect with someone else and inspire them in some positive way."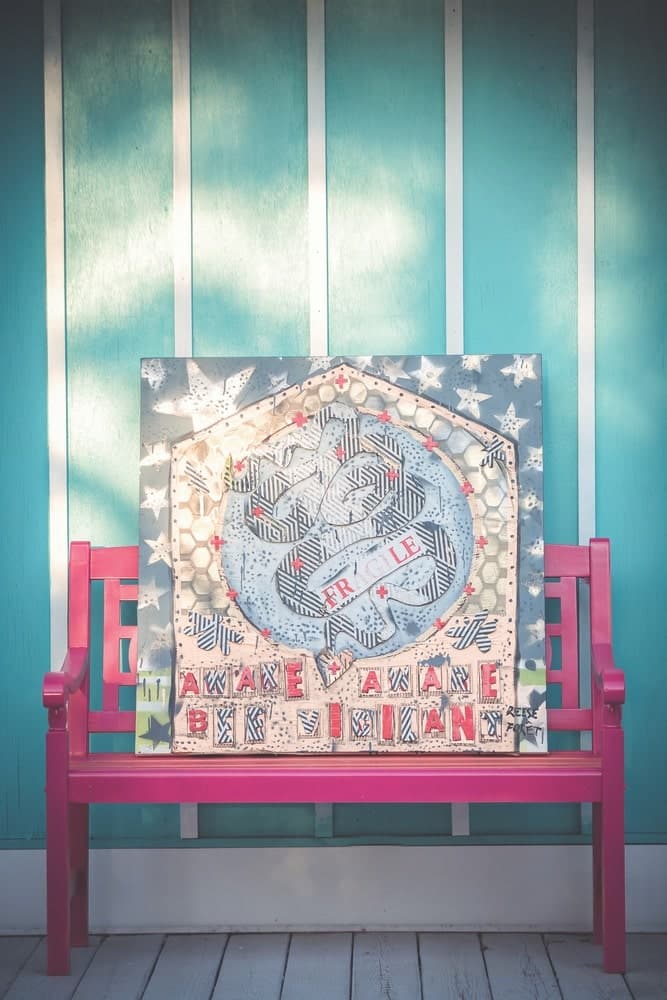 She earned her bachelor of fine arts degree from Auburn University in 1995, but after that, Forêt admits, pursuing her dreams took a backseat to life—marriage, children, and then, a few years ago, divorce. But through an unfortunate situation also blossomed the chance for a new life. "I found myself at a point where I finally gave myself permission to focus solely on my dreams of being a full-time artist," she says. That leap of faith has led to the creation of Forêt's many mixed-media paintings as well as commissions from customers around the Gulf Coast area. "I am most often commissioned to paint people's pets and places they love the most. I just finished a landscape for a very sweet couple that has a favorite spot to go camping in California. The wife commissioned it for her husband for his birthday, and when I delivered it, he was so touched that he started crying! That made the wife cry, and then, of course, I starting crying! All good tears, though. It makes what I do so gratifying—bringing so much joy to the world."
"Ultimately, I love knowing that what I create can connect with someone else and inspire them in some positive way."
The paintings from Forêt's imagination—those not commissioned by her clients—are often inspired by her life and the natural surroundings near her home, a charming cabin in Gulf Breeze near the water. "Most every morning, I ride my bike around the local park and then by the dock," she says. "I take the time to stop and observe what's going on around me. There is never a dull moment down by the dock! Also, I have a fire going any chance I get. It calms me down and helps me focus on new ideas. I work on most of my paintings outside by the fire, so I guess you can say the elements of the earth inspire me." Those elements have manifested in her works depicting the globe, stars, plant life, dragonflies, marine creatures, and even snakes—a motif that Forêt admits was born as a way to get over her fears of snakes and dating.
A nod to her use of found objects in her work, Forêt has coined her brand as ReeseCycledArt. "I find objects everywhere I go. Sometimes they find me," she says. One such object was a huge conch shell she literally stumbled upon half-buried on the beach in Aruba. It inspired a painting that now hangs in a friend's condo in Pensacola Beach, Florida. Other objects and materials, which Forêt says allow her to create a new environment from things that were once just old and forgotten, might include old keys, pieces from magazines or cardboard boxes, and more. She enjoys giving them new life and making something that her viewers can connect with in their own ways. "I also use items that are very sentimental to me" she continues. "I have a box of bleached crab shells that are from the last batch of crabs that my dad and I steamed up together. He was from New Orleans and loved steaming a fresh batch of crabs. I used one of those in a crown on a collage piece I call Zydeco King. It seemed appropriate to make a crown for that piece and place one of those crabs on there to honor our Cajun heritage. I also attached beer-bottle tops that my dad gave to me—he loved his beer—as jewels on the crown. My Southern roots run very deep, and I love to celebrate them in my work any chance I get."
"I find objects everywhere I go. Sometimes they find me."
The artist also celebrates the people she meets and those she has known, perhaps subconsciously creating art that will inspire them as much as it does her. "What I love the most about living along the Gulf Coast is the people," Forêt says. "We are the salt of the earth and full of true grit. We live in paradise, never taking for granted the calm, sunny days—always knowing in the back of our minds that a hurricane could take it all out in a matter of hours. It is our shelter, our home, and our heart."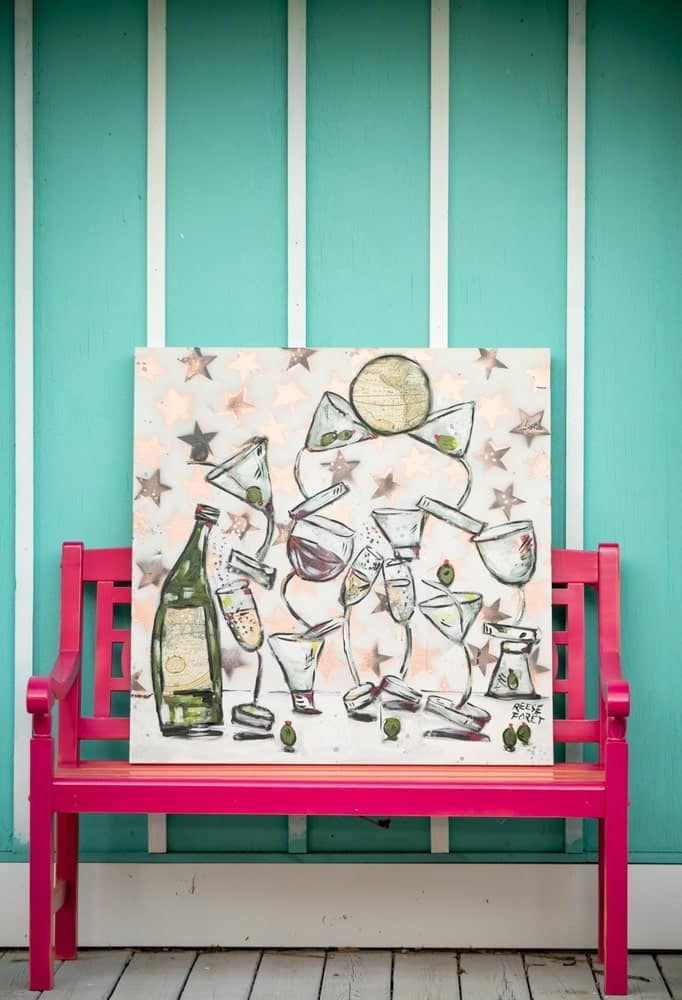 Forêt's appreciation for the colors and natural beauty of the Gulf Coast and her desire to enjoy it and all of life also inspire her more whimsical artwork. "I try to represent important messages with a fun and jovial twist," she explains. "I mean, life can be so serious. Sometimes you've got to lighten up, right?" This mission has shown itself even when she creates works that are meant to draw attention to certain matters, such as environmental conservation. "I did a large painting of the earth, and across the middle of it, it said, 'Love Your Momma.'" Another example is a recent piece about the urgency of saving the bee population: "I used the words 'awake + aware' and 'bee vigilant' made out of cardboard from liquor boxes from the local Winn Dixie." Her environmental conservation work was also featured at Downtown Pensacola's Earth Day–themed Gallery Night event on April 19.
The artist also celebrates the people she meets and those she has known, perhaps subconsciously creating art that will inspire them as much as it does her.
Aside from accepting commissions, Forêt also has a somewhat unusual service available to clients—live painting. She will join them for special events to document the day or evening with a one-of-a-kind painting. "The live paintings are so much fun!" she says. "That's the reason I was in Aruba—to paint the reception of a beautiful wedding under the stars. It was magical! The biggest challenge is completing the painting at the scene of the event. Everybody is having such a good time; all I want to do is hit the dance floor with them and join in on the celebration. I love a good party! It brings new meaning to the phrase 'work hard, play hard.'"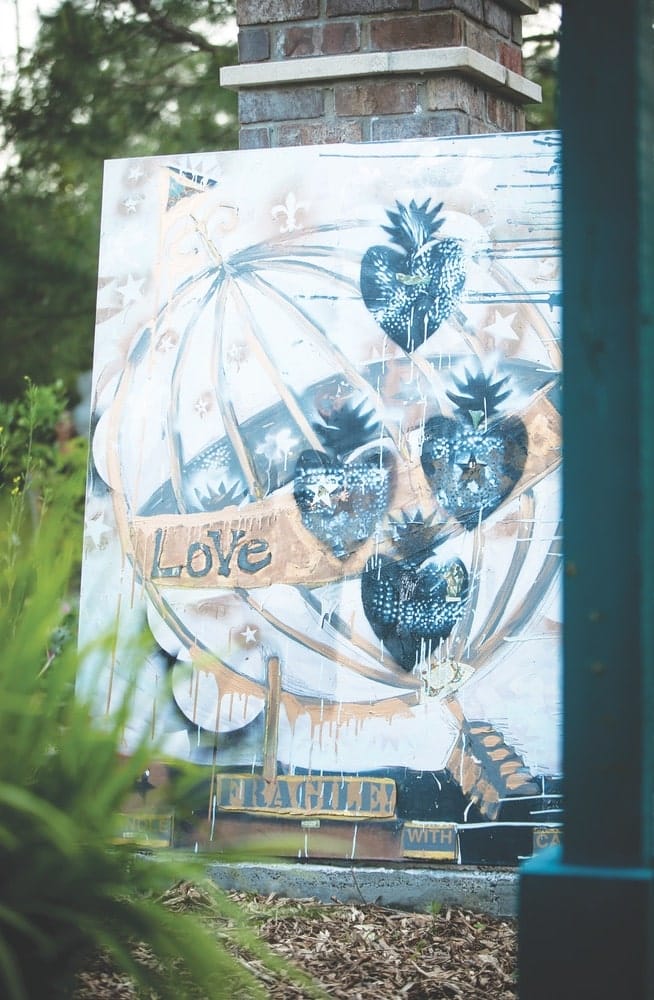 With a fresh batch of original art ready for purchase, Forêt says she is on the lookout for collaboration opportunities and possible gallery representation. In the meantime, her fans can view and purchase art from her website (although she says it's best to email her to see her most recent collections). They can also follow along on her Facebook and Instagram pages for news, such as details on an upcoming art show and fund-raiser she is planning with her brother, Ted, at his event space in Bruce, Florida. We can't wait to see what's coming up next in her new life as an artist!
— V —
---
Visit ReeseCycledArt.com to learn more or follow Forêt on social media at Facebook.com/ReeseForet and Instagram, @reeseforet.
ARTICLE CATEGORIES