By Matthew Christ | Photos Courtesy of Redfish Riviera
Paul Wohlford and Steve Bailey, avid fishermen and veterans of the Panama City Beach resort industry, had long searched for a nickname to replace the cutesy but not so flattering moniker associated with Northwest Florida—the Redneck Riviera— but never expected to find enlightenment while attending a local Tourist Development Council meeting in April of 2008. Wohlford recalls, "Steve and I were just sitting there listening to a presentation on the expanding sport of redfishing, and I turned to Steve and said, 'Hey, doesn't the Redfish Riviera sound better than the Redneck Riviera?'"
Wohlford and Bailey's Redfish Riviera, the name they trademarked shortly after that fateful TDC meeting last April, is a Florida where redfishing is not only the fastest growing segment in sportfishing but a reflection on the natural beauty of the Florida Panhandle. It's a beauty that can be found in the shallow waters surrounding the coastal hamlets of Pensacola, Santa Rosa Beach, Panama City Beach, Mexico Beach, Port St. Joe and Apalachicola, as well as in the brackish backwaters of East Bay and at the mouth of Black Creek. It's the beauty one discovers when catching sight of the slick, spotted dorsal fins breaking glassy morning waters. Nature's beautiful redfish is often distinguished by the multiple dots on its tail. A three-spotter is great, four is rare.
Don't expect any billboards too soon. Wohlford and Bailey aren't trying to rebrand the northern shores of Florida but are instead intent on sharing the legacy of Northwest Florida's natural beauty. It's a legacy of pristine waterways where schools of fish flicker; a place where the only sound heard is the water lapping gently against the mighty oaks that meet water's edge. It is, after all, a legacy best shared by fishermen.
And at the moment, the fishermen are searching for redfish. Bailey remembers a time when redfish were an abundant species. "They used to be everywhere. Drop a line, and you'd feel a tug. Then, in the early nineties, redfish became popular on restaurant menus, and nearly overnight they disappeared."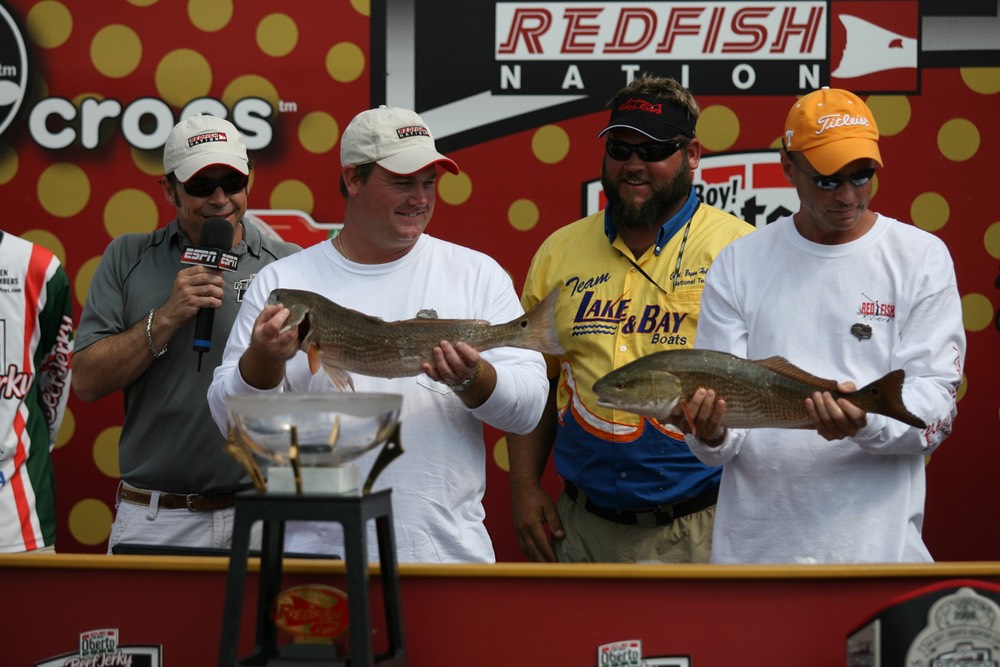 For years, redfish, or Micropterus punctulatus, which are found in waters hugging the coastlines of the Gulf and Mid-Atlantic States, were one of the most sought after species, and no tactics were off limits for catching the fish. Finally, after a ban on redfish netting went into effect a few years ago, the species' numbers began to increase. Today, only a limited number of redfish may be caught per day (namely, one fish per fisherman), and a keeper has to be 18-27 inches. All of these measures have made the redfish a dream for sportfishermen.
The Redfish Riviera lifestyle is a dream of Wohlford and Bailey—one that the enterprising duo wanted to share. "No one has catered to redfish and those who fish them," Bailey told me. "Orvis caters to fly-fishing and trout, Bass Pro Shops cater to, well, bass fishing among other things, and up along the Emerald Coast you have a whole mess of shops catering to dedicated offshore anglers. We want to cater to the expanding sport of redfishing."
So how exactly do two entrepreneurs cater to this expanding sport? For Bailey and Wohlford, the first step was creating www.redfishriviera.com. The website, which went live in July 2008, provides information about redfish tournaments across the coastal flats and education about the growing sport. As of now, Wohlford admits, the website serves "primarily as a retail component," offering apparel items ranging from hats to shirts for every age group, emphasizing that redfishing is perfect for youngsters as well as adults.
So far, the apparel line has been met with success. "We've had customers from as far away as Oregon," Wohlford says. "Our web presence has just started, so our customers in Kentucky or Virginia are typically people who heard of us while visiting the Panhandle, but it's those customers who will help spread the word around." Currently, the apparel line, built around quality brands such as Nike and Adidas, is available online at www.shopredfish.com and through a link at www.redfishriviera.com, but Bailey and Wohlford have larger plans for the future.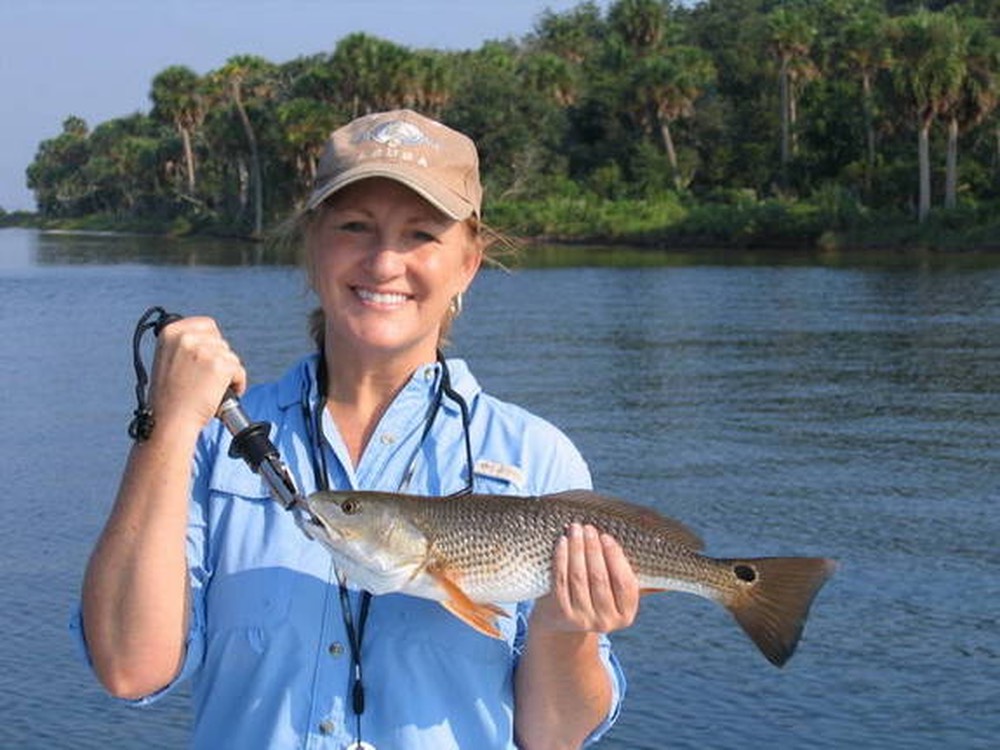 "Next year, Redfish Riviera will launch a wholesale catalog of our apparel line. Our goal is to sell the line to different retailers. So, for instance, perhaps one day you'll be able to find a Redfish Riviera T-shirt at a Bass Pro Shop or a Cabela store," Wohlford explains. Both men agree that the dissemination of the Redfish Riviera logo (designed by local artist Mark Caughlin of Art Gumbo) is currently the first priority of the burgeoning business. "We'd like to think of ourselves as another component, another piece of the retail/outfitter puzzle," says Wohlford.
Yet don't be too quick to believe that Wohlford and Bailey are focusing more on the commercial aspect of the "Riviera" rather than the redfish. Both men are dedicated to expanding the sport. As Bailey explains, "Redfishing is perhaps as green as you can get when it comes to fishing. You're not using a ton of gasoline to take a huge boat 30 or 50 miles out into the Gulf. In fact, you could even use a kayak. And, redfish are a very protected species, so there's a slim chance that they'll be fished out again anytime soon." Wohlford and Bailey may be ahead of the curve in spotting a growing trend. Last year, a redfish tournament in Mobile, Alabama, drew more than 150 participants captaining kayaks, not boats, to fish in Mobile Bay. Team Wohlford and Bailey participated in the Redfish Cup Pro-Am last year in Pensacola where they were featured on ESPN2 while stepping onto the winner's platform to receive their first-place trophy.
"Next year, Redfish Riviera will launch a wholesale catalog of our apparel line. Our goal is to sell the line to different retailers."
"Obviously, there is an inevitable commercial aspect of the Redfish Riviera, but championing this sport will go hand in hand with the business side of our company," Wohlford explains. This year the website will be expanded to serve visitors interested in guide services and educational information about redfish, conservation of the species, and fishing tips. The site already sports a blog with features as far-ranging as tips on winterizing a marine engine to the perfect redfish recipe. Wohlford says that the site will become an all-in-one stop for the sport's followers when he adds a section specializing in accommodations and dining in locales visited by members of the Inshore Fishing Association Redfish Tour.
Two avid fishermen with a business background? Check. A website that caters to sportfishermen, offering suggested guide services and the latest information about where the fish are biting? Check. A high-end but customized apparel line? Check.
The ambition to become the next great retailer/outfitter? Definitely.
— V —
ARTICLE CATEGORIES