Naomi Campbell's Fashion for Relief
By Jordan Staggs
Photography by Frazer Harrison / Getty Images for Fashion for Relief
It's been almost thirty years since a young Naomi Campbell was plucked from London's Covent Garden district and launched into stardom as one of the world's most recognizable faces. She appeared on the cover of Elle UK at just fifteen years old and joined the ranks of the original supermodels, along with Linda Evangelista and Christy Turlington—the three of them became known as the Trinity in the 1990s.
Since she first gained "It girl" status, Campbell has appeared in the pages and on the covers of the biggest fashion magazines in the world, including Vogue publications in the UK, France, Russia, and the United States; Vanity Fair; and Harper's Bazaar. In 1991, she also became the first black model to appear on the cover of Time magazine. Campbell has walked the runway for the most prominent fashion houses, including Dior, Chanel, Alaïa, and Versace; she has been photographed by the world's most notable fashion photographers: Annie Leibovitz, Peter Lindbergh, Patrick Demarchelier, and many more; and she has appeared in worldwide ad campaigns for iconic designer brands such as Yves Saint Laurent, Dolce and Gabbana, Burberry, Prada, and Marc Jacobs, to name just a few.
In 1990, Campbell was declared "the reigning megamodel of them all" in an exposé on the top models of her generation in Interview magazine—but her talents don't end with sashaying down the runway in high heels or posing flawlessly for photographs. Campbell's other creative ventures have included releasing an R & B album and a novel, appearing in various television shows and films throughout the years, and serving as executive producer, judge, and coach on Oxygen network's modeling competition series The Face.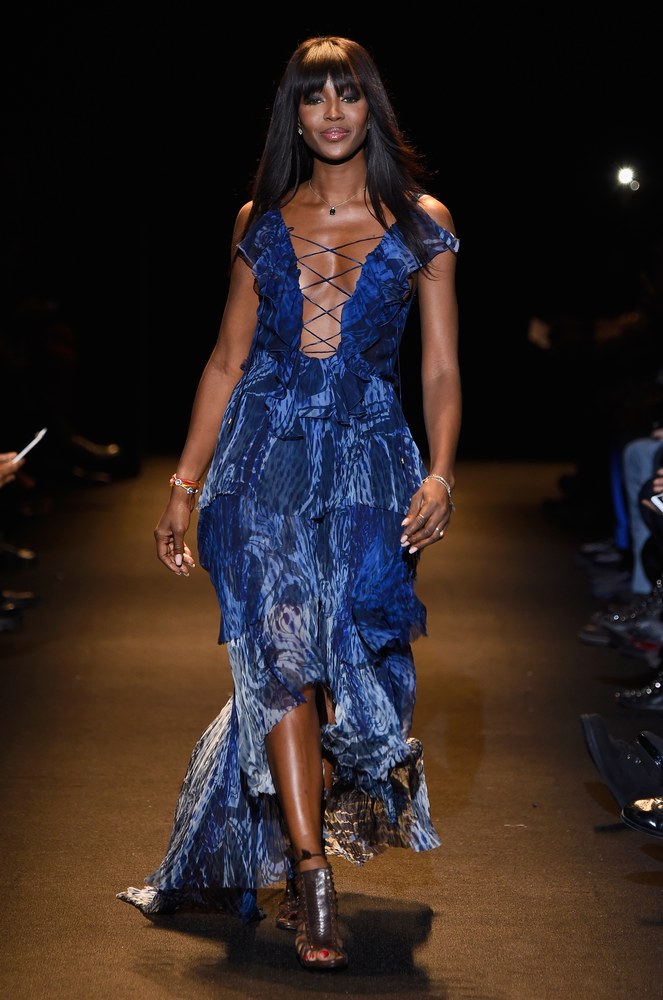 The era of supermodels may have ended, but Campbell still rocks the runway with style and grace—and all for a good cause. She founded Fashion for Relief in 2005, with the purpose of helping victims of Hurricane Katrina after it devastated the city of New Orleans and much of the southern Gulf Coast region. Since its inception, the organization has raised millions of dollars to aid victims of tragedies and natural disasters around the world.
On Valentine's Day 2015, Naomi Campbell's Fashion for Relief showed love to the world by hitting the runway at the Theatre at Lincoln Center during Mercedes-Benz Fashion Week New York. Campbell, along with friends, fellow models, and celebrities, pranced the catwalk and had fun wearing pieces created and donated by Diane von Furstenberg, Proenza Schouler, Marc Jacobs, Emilio Pucci, Givenchy, Roberto Cavalli, Calvin Klein, Thom Browne, and more. DJ Jeremy Healy curated the beats as a packed house, which included celebrities, media, and fans who had purchased exclusive tickets to the event, looked on. Proceeds supported the Ebola Survival Fund, a coalition of developmental organizations that works directly with communities in Liberia and Sierra Leone to help those affected by the Ebola virus.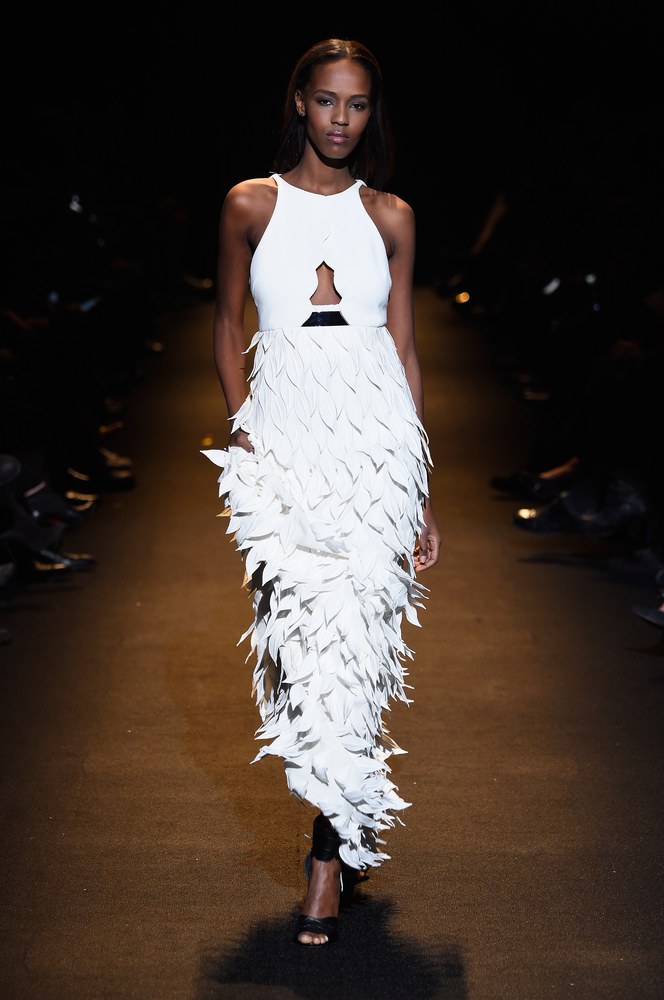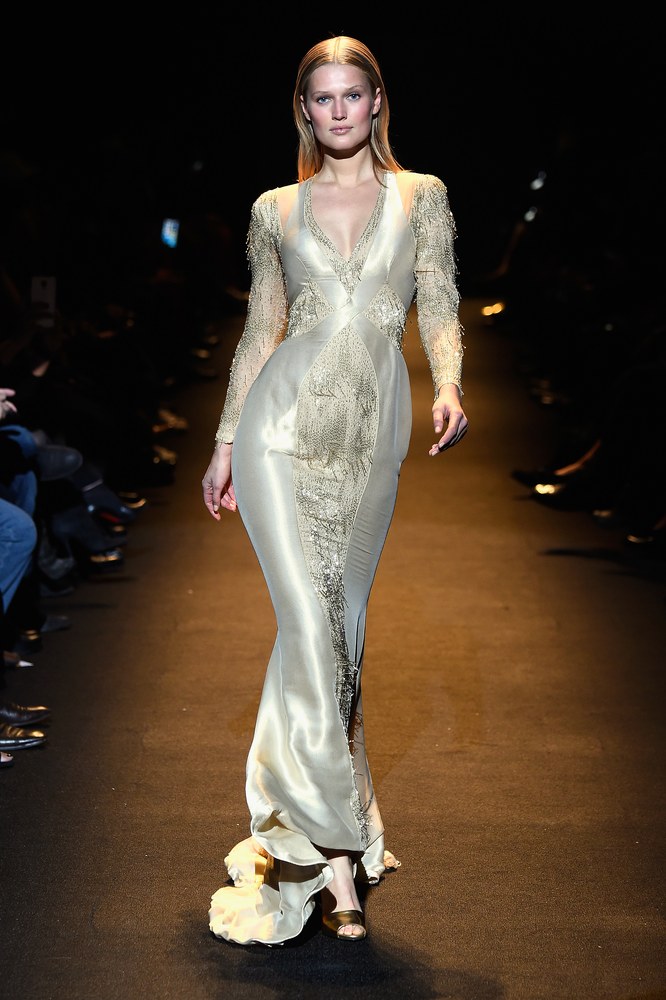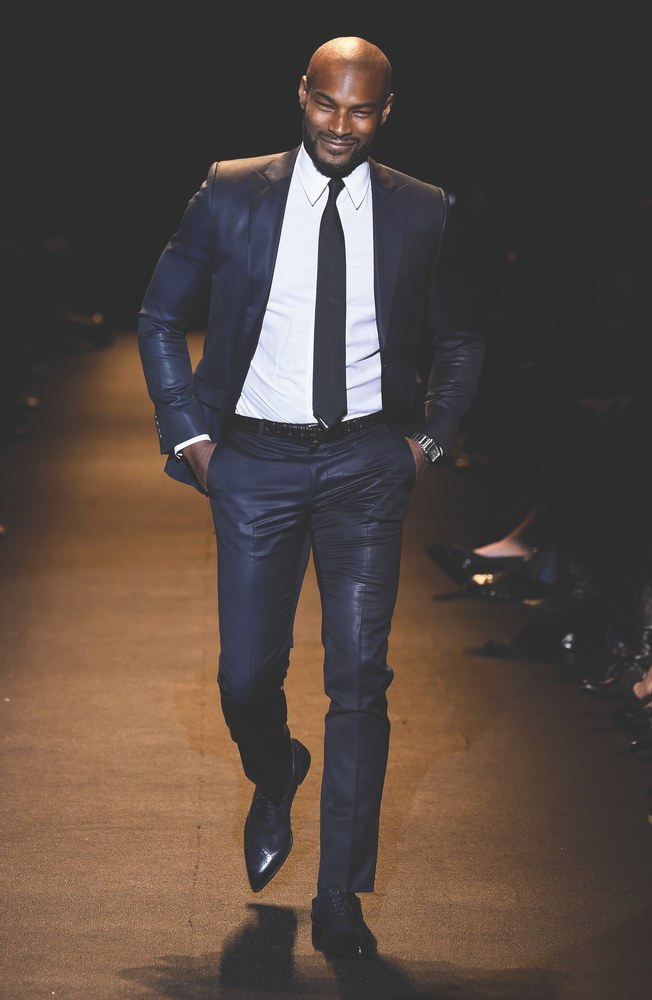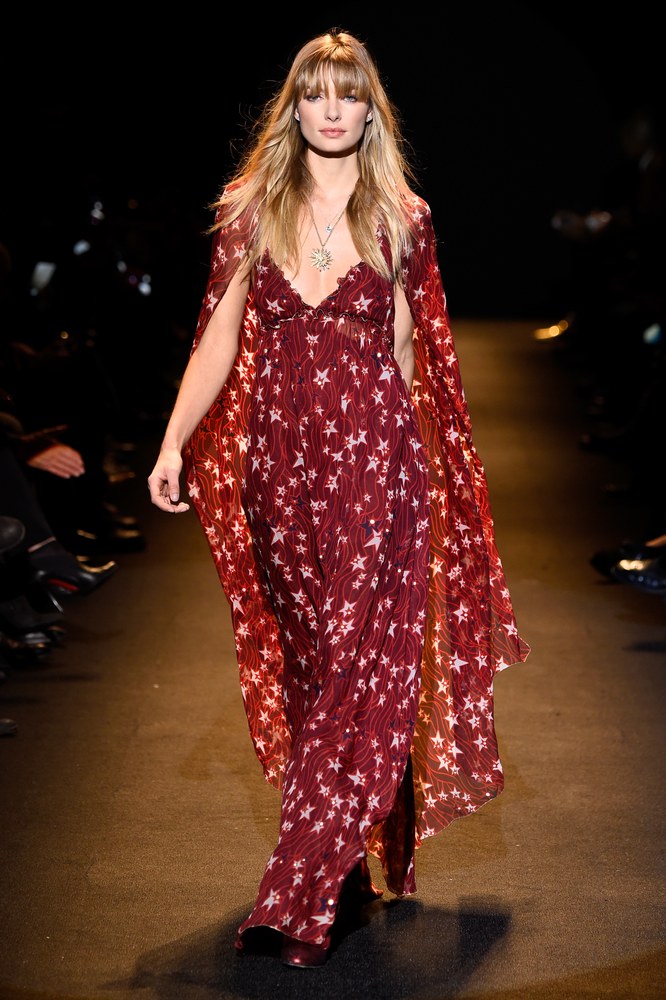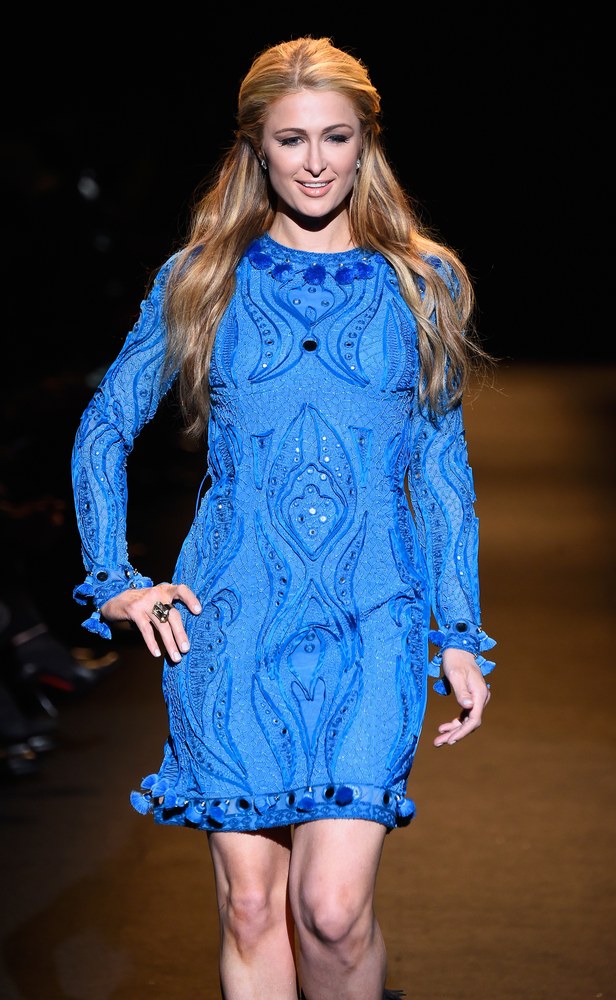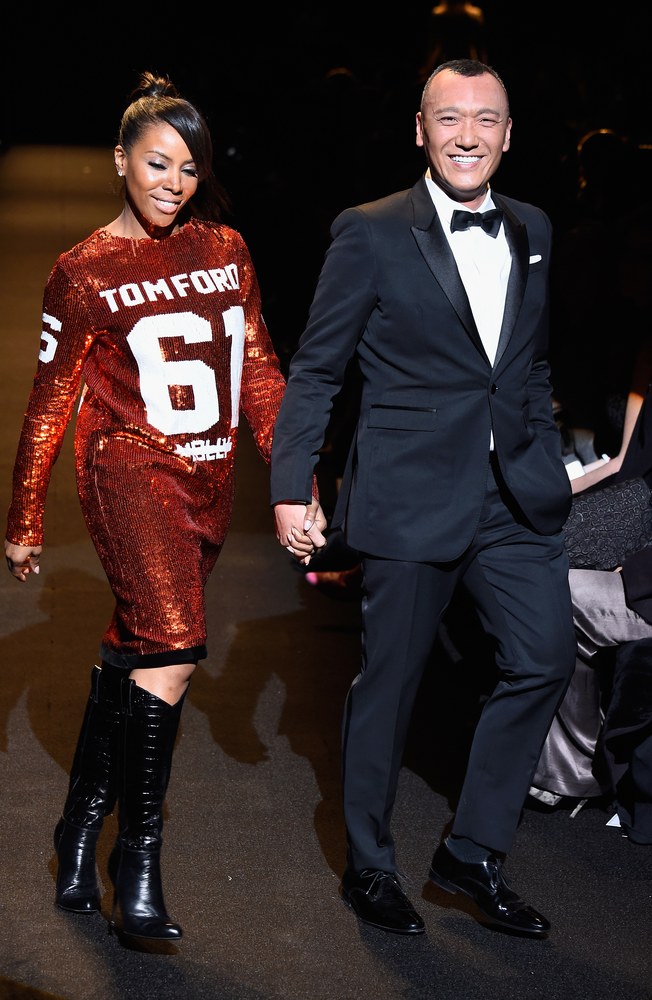 Highlights from the Fashion for Relief show in New York included Kelly Osbourne and Brad Goreski giggling their way down the runway hand in hand, Boardwalk Empire and Hunger Games actor Jeffrey Wright speaking about the perils of the Ebola outbreak, Campbell's Empire costar Bryshere Gray proving he's got the makings of a runway model himself, Paralympic athlete Blake Leeper dazzling the room with the biggest smile, Mary J. Blige looking absolutely stunning in a black sequined dress by Burberry and receiving grand applause from the crowd, and, of course, the Queen of the Runway herself.
Campbell once again showed her prowess on the catwalk, appearing first in a flowing blue high-low gown with laces crisscrossing the plunging neckline, a creation by Emilio Pucci that was set off by a pair of rock star–worthy silver booties. She later wowed onlookers in a flirty and fun black-and-white Givenchy dress adorned with silver studs and accessorized with black lace gloves and a dazzling choker necklace. Campbell's expert runway saunter, along with her fierce determination and undeniable beauty, mesmerized everyone in the room—she was a true showstopper.
The era of supermodels may have ended, but Campbell still rocks the runway with style and grace—and all for a good cause.
The show's grand finale featured Campbell and all of her fellow models and celebrities returning for a final walk wearing white T-shirts bearing a black zero, representing the goal to get to zero cases of the Ebola virus worldwide.
According to the World Health Organization and the Centers for Disease Control and Prevention, nearly twenty-seven thousand people have been infected and more than eleven thousand people have died of Ebola since the 2014 outbreak began in West Africa.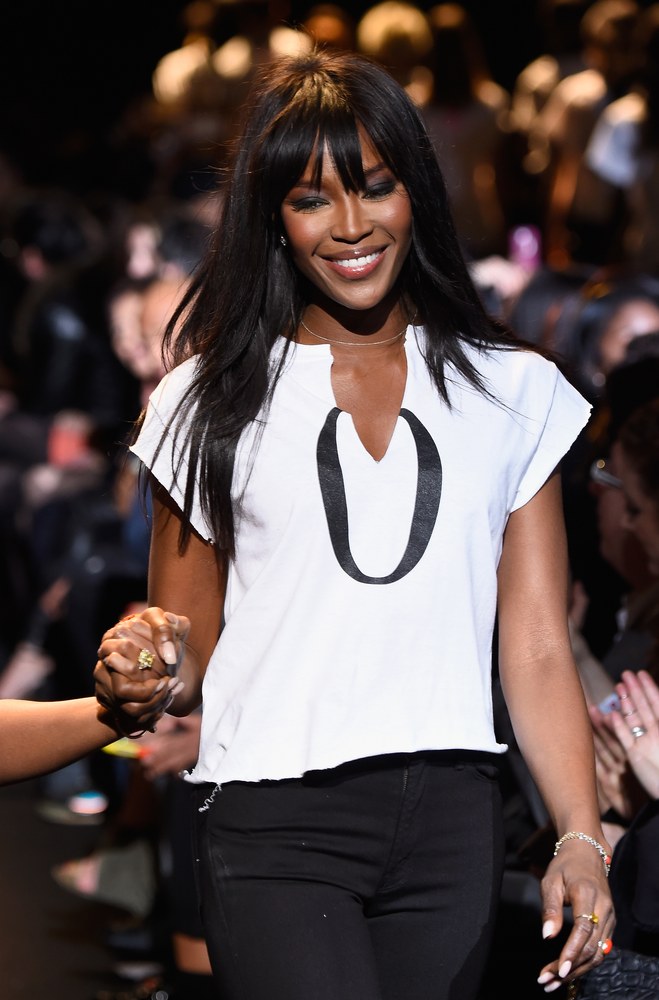 Jeffrey Wright, creator of the Ebola Survival Fund, helped Campbell recruit celebrities to support his cause and to remind the public that although the Ebola virus was shut down in the United States and Europe fairly quickly last year, it is still a major threat in other parts of the world. "The message that we'll try to send tonight is that the reason we shut it down in this country is because we have strong health insurance here; we have strong infrastructure; and, unfortunately, these countries don't," Wright explained. "So we can play a role to help them protect themselves now, but also going forward in the future, so we don't have to come back to this situation again."
Other celebrities walking the runway included Rosario Dawson, Paris Hilton, NeNe Leakes, Tyson Beckford, Michelle Rodriguez, Kelly Rutherford, Quincy, Cassie Ventura, and Joe Zee. VIP guests attending the show included Justin Bieber, Christina Milian, Vivica A. Fox, Russell Simmons, Estelle, Zac Posen, Adrienne Bailon, Frankie Grande, DJ Cassidy, Miss J Alexander, Bevy Smith, and Tamron Hall.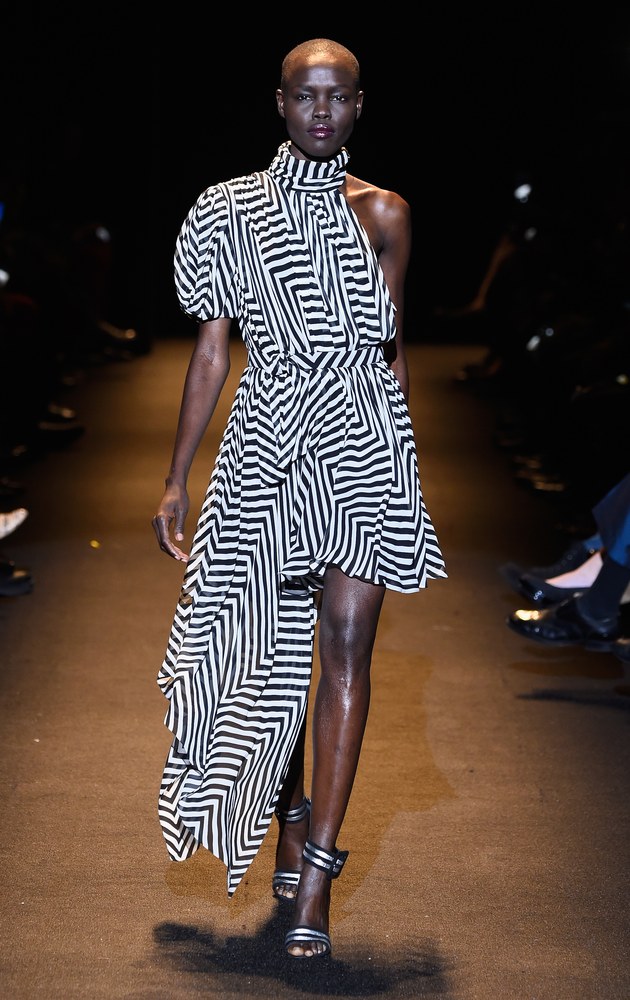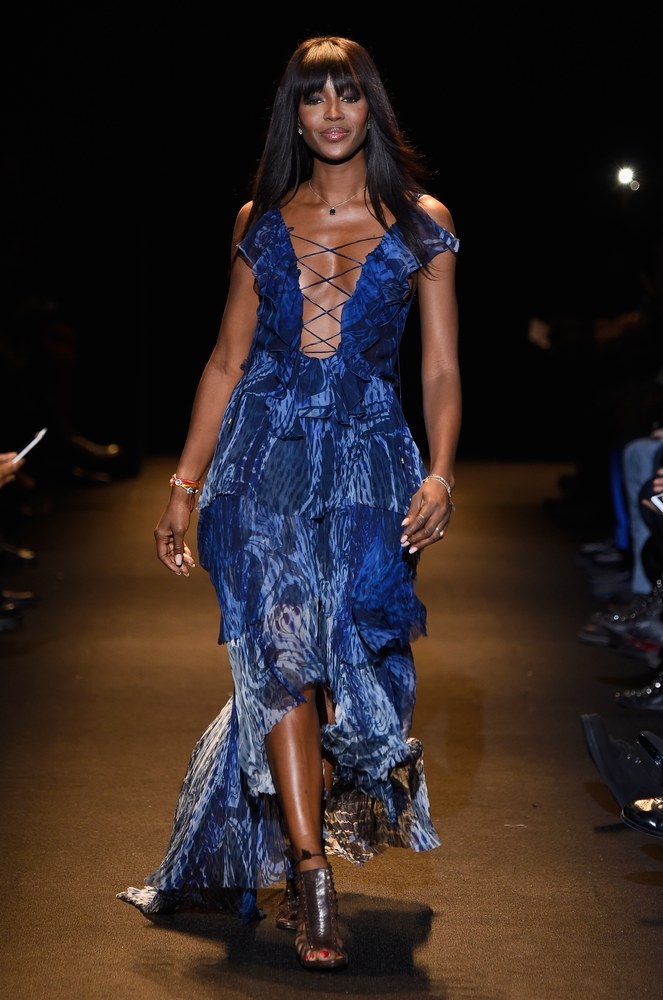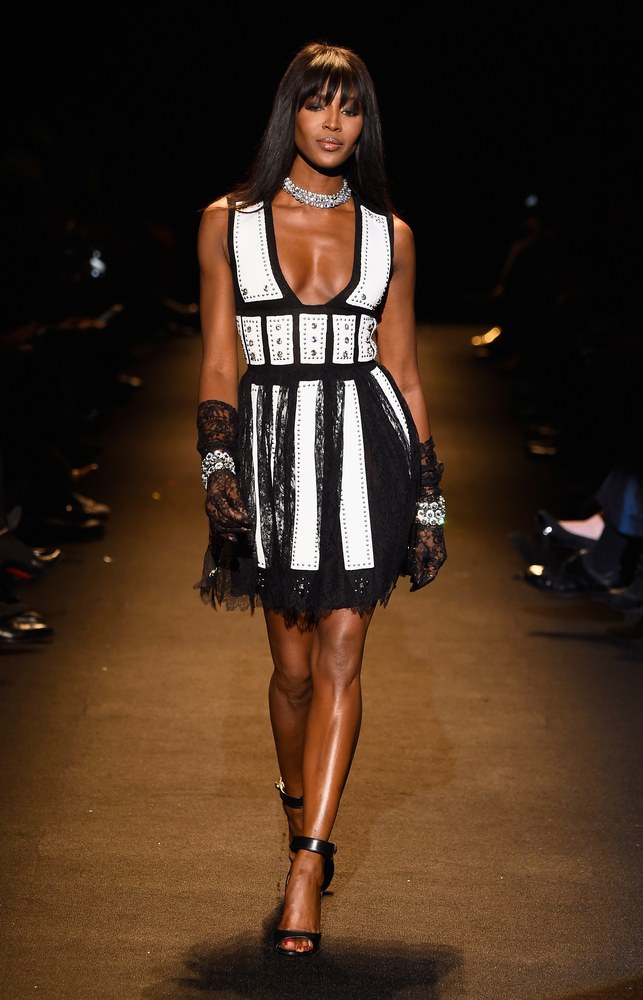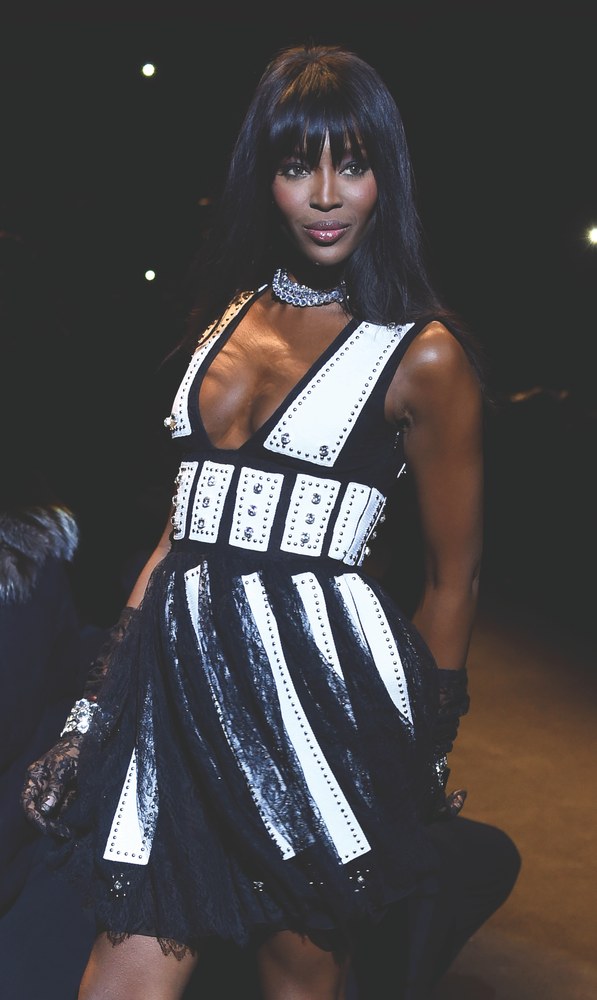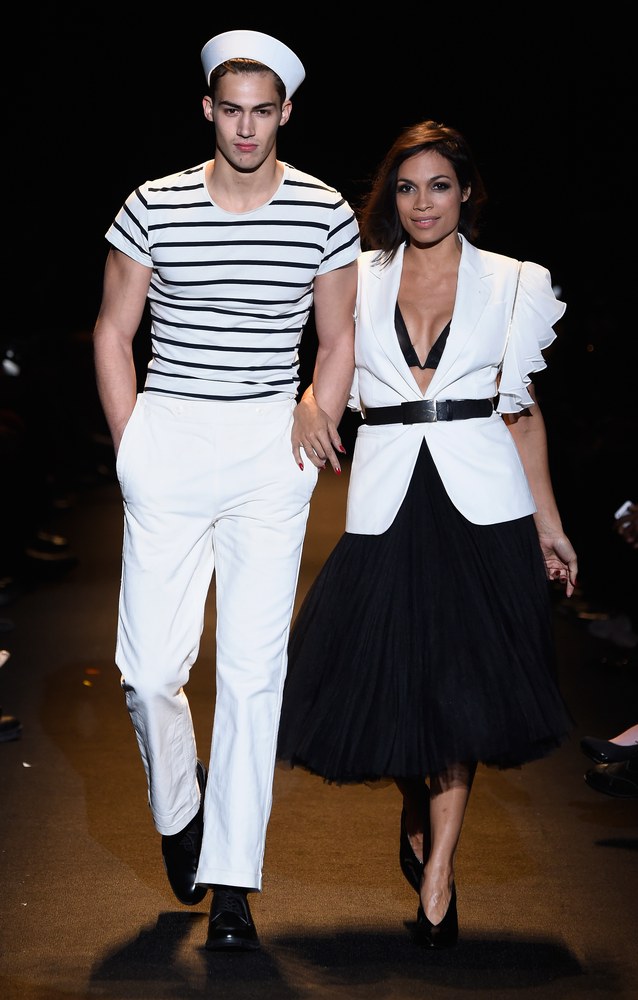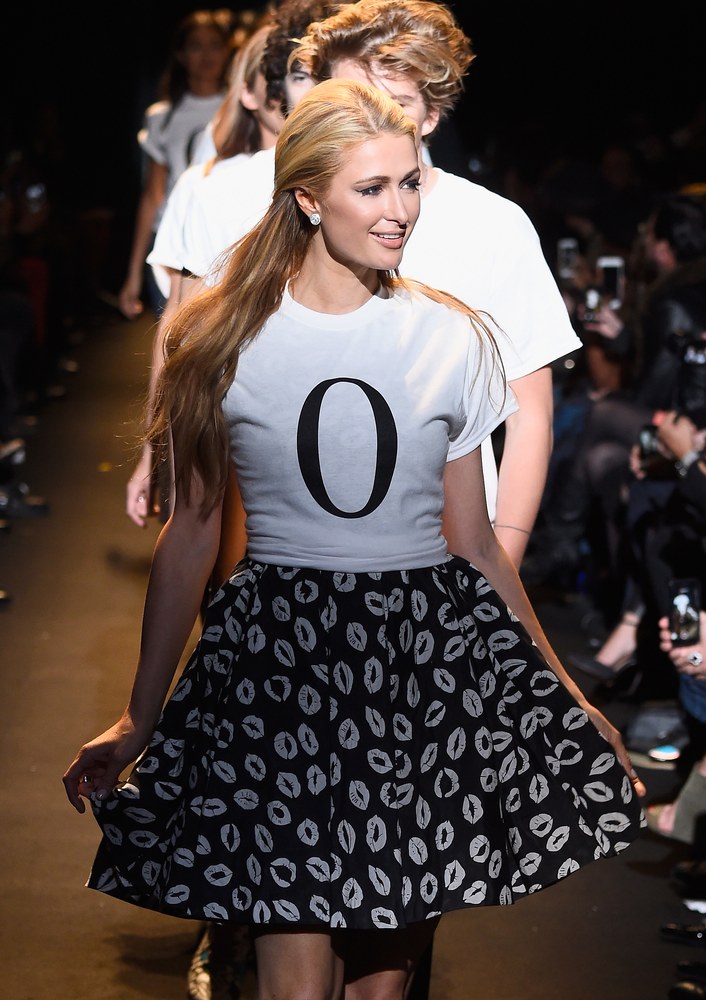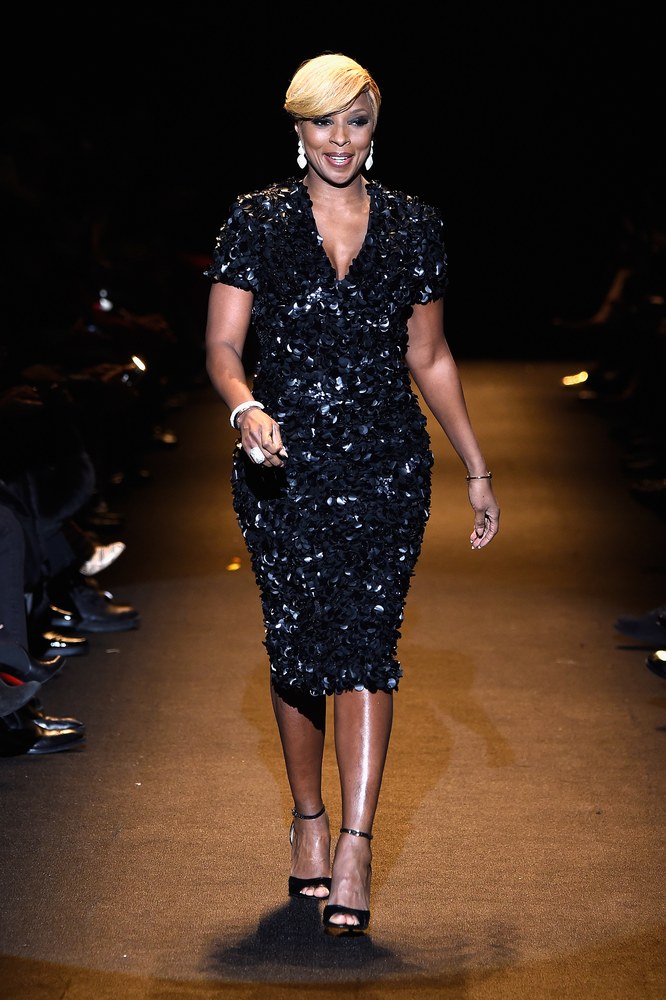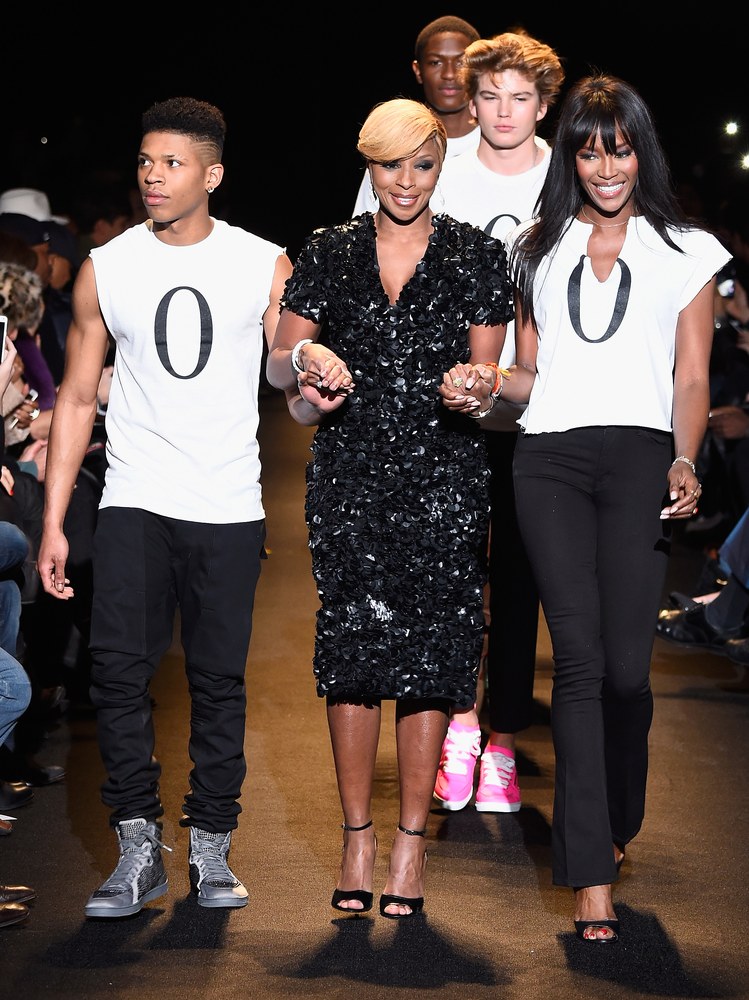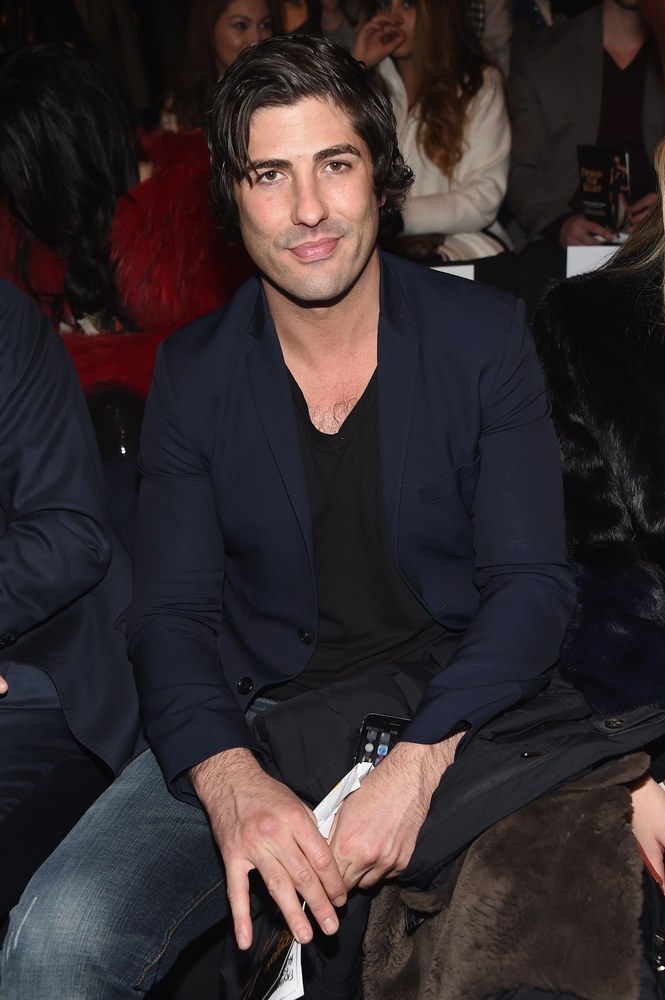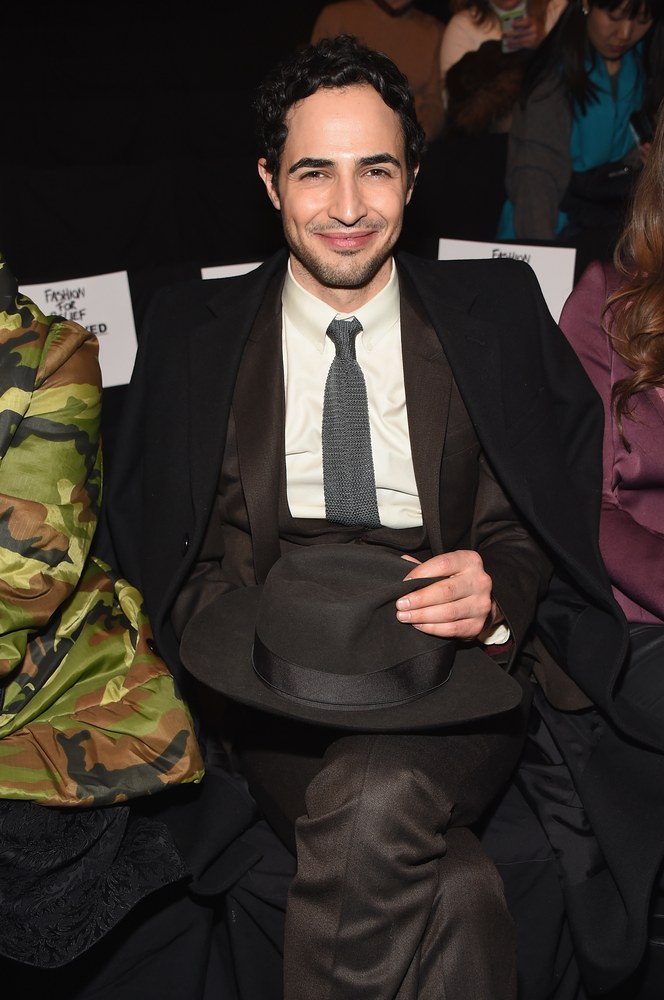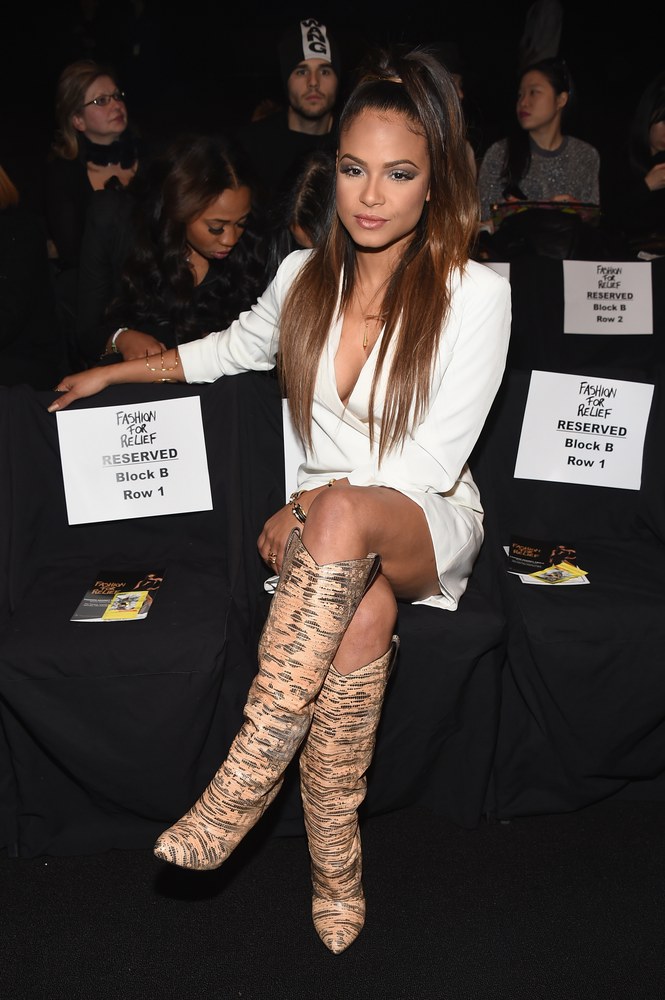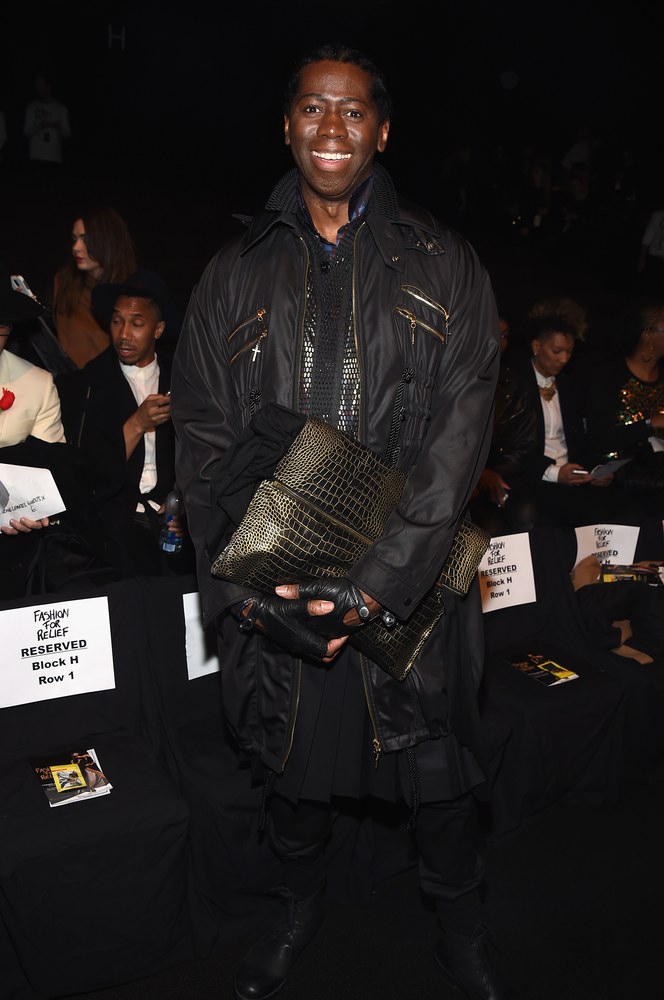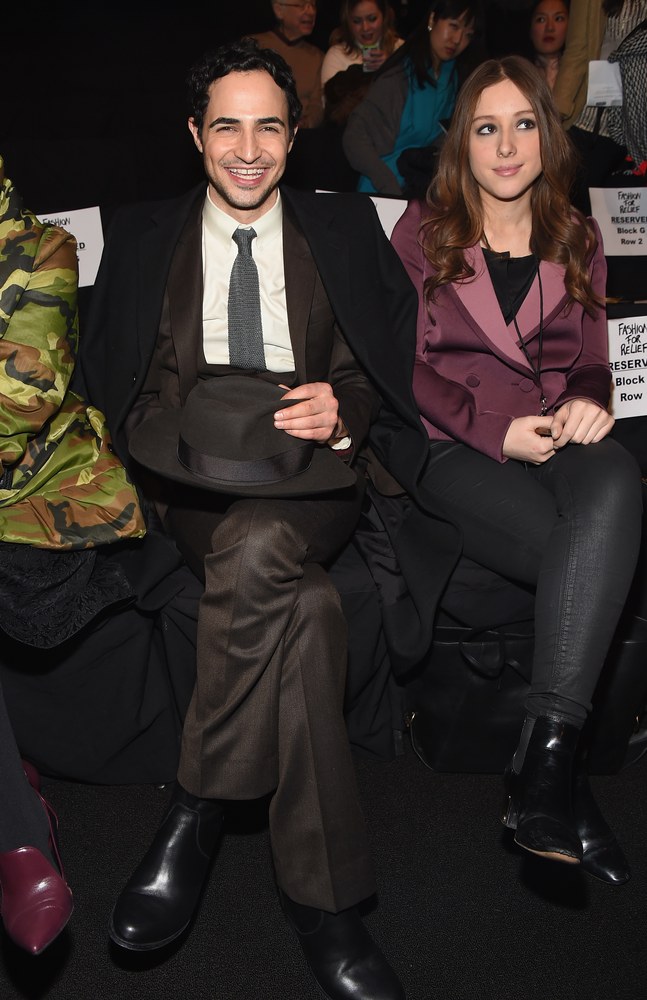 No matter whether they were sitting in the front row, the risers, or the media pit, or traipsing down the runway, all in attendance could appreciate the fun vibe of the Fashion for Relief show and were educated on the importance of its mission. "It's extremely important, and I believe this is why we've all been given something—a gift and a platform—not to just keep it to ourselves but to bless other people with it," Mary J. Blige said at the event.
Along with evoking visions of a goddess on the runway, Campbell continues to use her superstardom as a force for good by supporting charity and awareness groups fighting poverty, racism, and other global issues. In addition to Fashion for Relief, these groups include the Diversity Coalition, Balance Diversity, We Love Brazil, the Nelson Mandela Children's Fund, Made in Africa Foundation, amfAR– the Foundation for AIDS Research, Breakthrough Breast Cancer, Citizens for Justice and Peace, the White Ribbon Alliance for Safe Motherhood, and more.
— V —
---
To learn more, or to contribute to the Ebola Survival Fund, visit www.ebolasurvivalfund.org. For more information about Naomi Campbell's many charitable projects, visit www.naomicampbell.com.
ARTICLE CATEGORIES