Publisher's/Editor's Note: Summer 2010
by Lisa Burwell
VIE – People + Places® is dedicated to covering the people and places of the COLA 2 COLA® region with a focus on all things uplifting and positive. We would be remiss not to address an important issue such as the oil spill crisis threatening our region (and beyond) and the Hands Across The Sand movement founded by Highway 30A resident and business owner Dave Raushkolb. To stay silent would be on par with putting our heads in the sand. We've know Dave for sixteen years—he's a friend and colleague, and we could not be more proud of him. The passion, conviction, and dedication of creating Hands Across The Sand to educate and empower people in standing against drilling in the Gulf of Mexico off Florida's coast is both commendable and admirable. His greatest fears came to pass less than ten weeks after the inaugural Hands Across The Sand event on February 13 where thousands of people joined hands across the sands of Florida's beaches. The horrific Deepwater Horizon disaster appears to be eclipsed only by the fact that a plan B on how to solve this type of problem seems never to have been considered.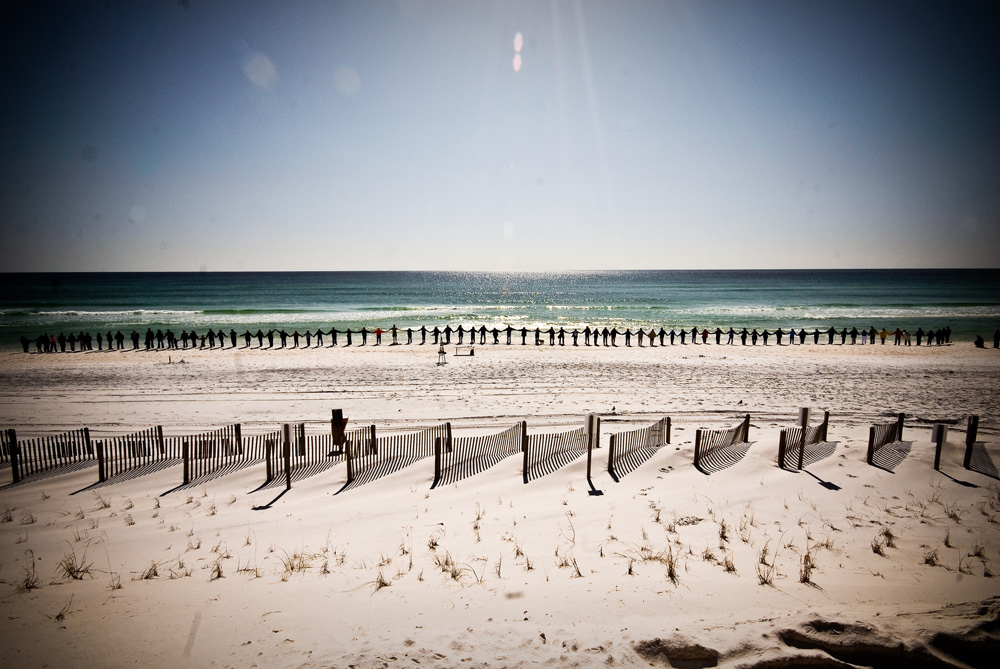 An environmental disaster of this magnitude brings tears to your eyes just thinking about the marred ecosystem and the world's most beautiful coastal environments have been put in jeopardy. Righteous anger from residents and businesses alike is brewing, and it's time for a collective voice to be heard. It's not complicated. It's simply time for big business to grow up and start living by the Golden Rule. Right is still right—and wrong is still very wrong.
At the time that this issue went to publication in early June, no oil from the spill had yet affected our beaches, and they're still as beautiful as ever. Help our region (and the world ecosystem for that matter) and support Hands Across The Sand by coming to visit us this summer. Many (if not all) vacation rental properties are offering a money-back guarantee if your vacation is ruined due to the oil spill. Our economy needs your support!
To Life!
—Lisa and Gerald Burwell Life is a gift. . .celebrate to the finish line.
ARTICLE CATEGORIES