By Lisa Burwell 
With contributions by Laurie Liles and Gerald Burwell | Photos by Gerald Burwell
Maslow's hierarchy explains that as humans we have a need to feel a sense of belonging and acceptance, whether it comes from our own immediate family or from a larger social group. Therefore, it is not surprising that the Muscogee Nation of Florida has worked tirelessly to acquire federal recognition from the Department of the Interior's Bureau of Indian Affairs. As Florida's first people, it is only natural that they want to have their heritage recognized.
This summer, Laurie Liles, a Chippewa Indian, arranged a special invitation for VIE to meet the members of the Muscogee Nation. Though Laurie is not a member of their tribe, she has long supported their efforts to gain official recognition and participates in many of their activities, ceremonies, and official functions. The tribe honored us by granting us the opportunity to gain some insight into the world of Florida's first inhabitants.
We felt anticipation on our ride to Bruce, the town in Walton County that has served as the Nation's governing center for more than 150 years. Their headquarters is located just off Highway 20 in the town's original schoolhouse, built in the late 1800s. We were greeted warmly with beaming smiles and open hearts. To say that they were gracious and friendly would be an understatement.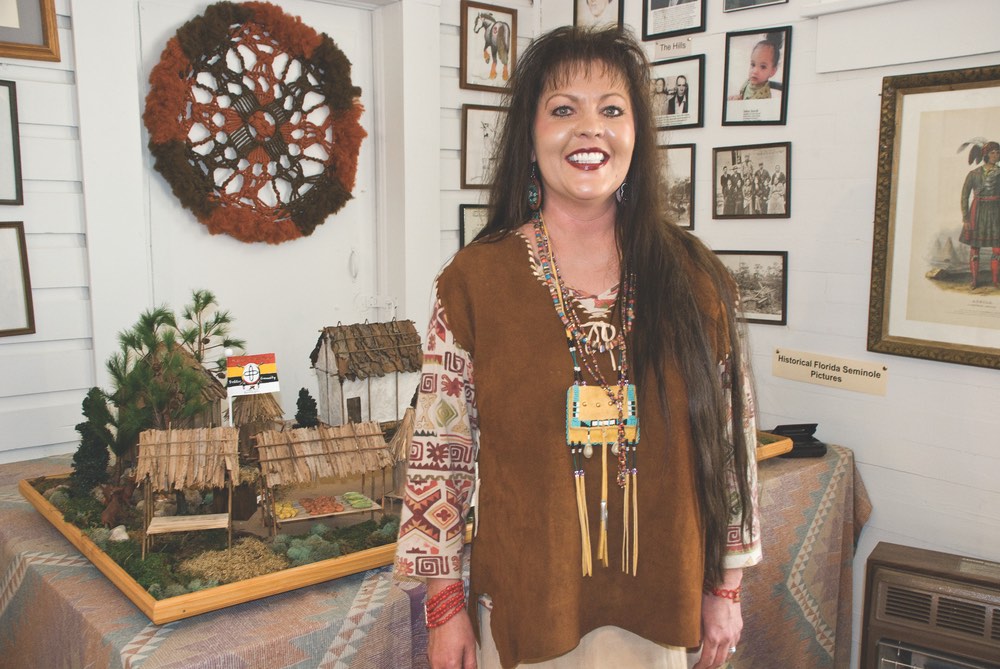 They immediately ushered us onto our tour of the museum. The interiors of the modest, 100-year-old building yielded nothing of the unexpected. On the other hand, our hosts displayed an overwhelming sense of pride. Rows of neatly placed cabinets containing documents, information, and photographs that tribal historians have carefully catalogued over the years lined the walls of two large rooms. Framed photographs, authentic clothing, and artwork graced every available wall space. They saved the best for last. In the final room, we saw case after case full of carved seashells, hand-worked jewelry, pottery, and much more. On one table stood a meticulously detailed scale model of an authentic Indian village, proudly crafted by Laurie and donated to the Muscogee museum.
We spent the next two hours talking with tribal members and learning about their heritage, mores, culture and goals. Each person we talked with gave us a history lesson while eagerly explaining his or her background, knowledge and talents. To know the modern Muscogee, you must know from whence they came.
We spent the next two hours talking with tribal members and learning about their heritage, mores, culture and goals.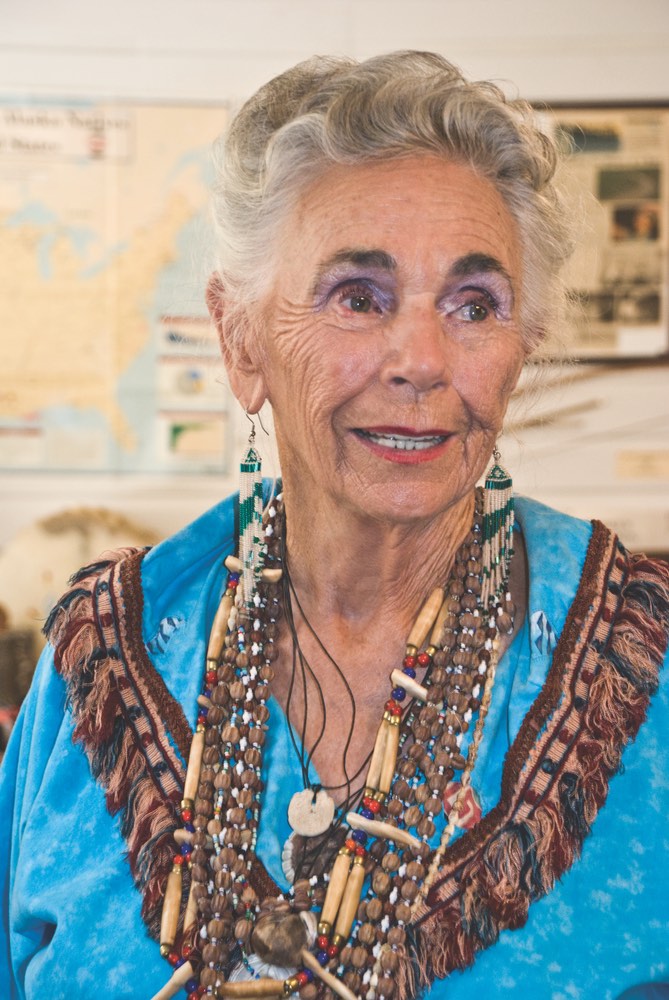 The Muscogee are direct descendants of the Creek Confederacy that once inhabited portions of the southeastern United States in the late eighteenth century. Between 1812 and 1887, the Creek relocated to Northwest Florida from the southern parts of Alabama and Georgia. They settled townships throughout the Panhandle and continued their historic lifestyle and traditions. The Creek Confederacy was dissolved with the signing of two treaties: the 1814 Treaty of Ft. Jackson and the Apalachicola Treaty of October 11, 1832.
The remaining Creek continued to coexist peacefully with others throughout our region, maintaining their ancestral traditions. In the 1900s, in response to the tribe's mounting cries for recognition, the state of Florida established the Northwest Florida Creek Indian Council. In 1978, the council established the Florida Tribe of Eastern Creek Indians, which is now the Muscogee Nation. Since then, members of the Nation have established an ancestral claim to land throughout Florida that Andrew Jackson took in the 1814 treaty. Townships are located in Escambia, Redground, Choctawhatchee, Apalachicola and Withlacoochee.
We did not get to speak with everyone personally, but those we did meet gave us a great appreciation for their way of life and their legacy. We met Muscogee Chairwoman Ann Tucker; Creek Indian storyteller and accomplished stomp dancer Margie Gatti; skilled and talented flutist Terrie Howze; shell carver Dan Townsend; artisan and great beauty Laurie Liles; and retired Tribal Chief Dr. Andrew Ramsay. Unfortunately, we were unable to meet the current Traditional Chief, Dan Penton, who resides in Tallahassee.
Leaders always bear the weight of responsibility, and it is evident that Chairwoman Ann Tucker is growing weary from the long battle she has waged to have her tribe officially recognized. It has been her calling for the last twenty-five years as she has tried to get a bill through Congress. If it passes, the official recognition would open opportunities for her tribe, which would otherwise not be available. Ann said, "The bill's being passed will validate our existence as well as boost the economy. Our tribe could create a Head Start Program, allowing future generations to learn our native language. We would be able to have our own fire and health departments, and we would get tax breaks to aid in reclaiming and preserving some of our local native lands."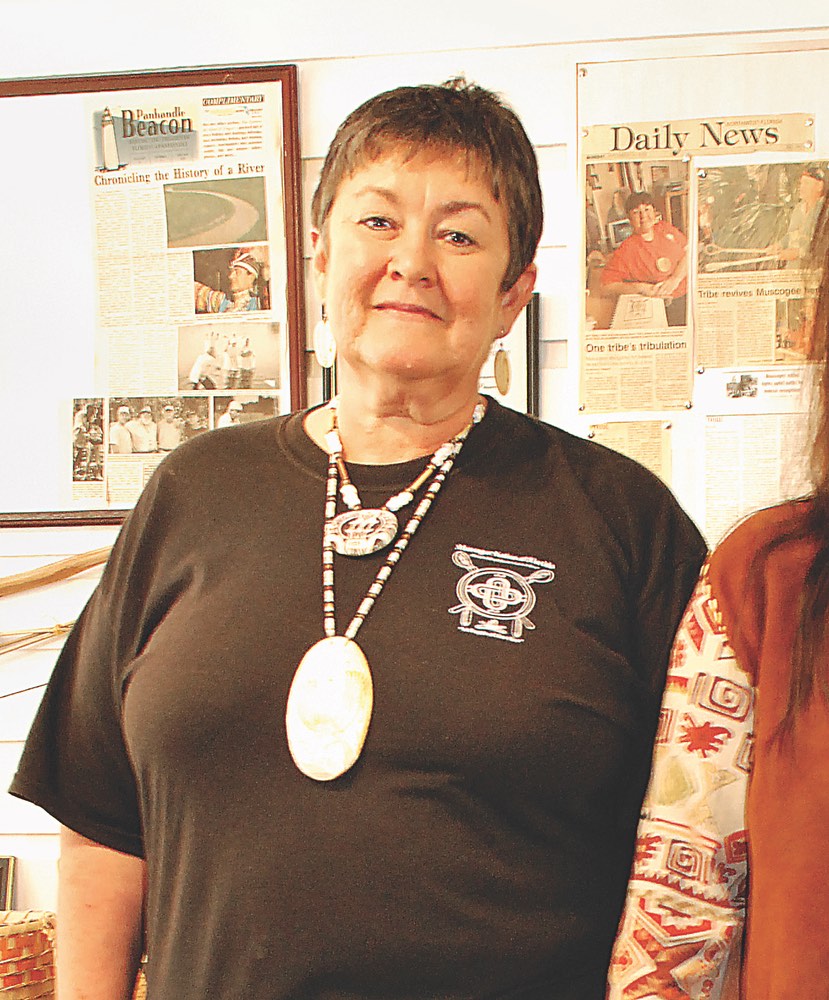 Retired Chief Ramsay, whose Indian name in Hichit (the Creek language) is "Tuskiemvhaya Haco" or Zealous Warrior, gave my husband and me a blessing in his native tongue that felt very powerful, even though we did not understand what he was saying. At the risk of sounding clichéd, our spirits connected despite the language barrier. I felt spiritually akin with this Creek Indian, and we thanked him for his prayer.
I then met flutist Terrie Howze who provided a welcome respite from the furious note taking I had been doing the first hour. She is not a Muscogee tribal member, but she is a Seminole/Creek Indian who, like Laurie Liles, sometimes participates in Muscogee tribal activities. Terry has an impressive collection of hand-carved wooden flutes, beautifully crafted works of art. She explained how each flute was played for different occasions because each has its own distinct sound that evokes different feelings. Her peaceful countenance as she serenely played three different flutes captivated me. It was a foreign sound to me, one I don't hear every day, but I wish I could. The notes that echoed in each melody caused me to pause and beckoned me to shed the cares of my mind. It is a spiritual instrument, and I heard it played by someone who understands this. Terry sometimes collaborates with local favorite Ted Shumate on jazz projects; she also performs at weddings, funerals and historical reenactments.
If you meet Margie Gatti, ask her to tell you the "Spider Story" about how Mother Earth gave birth to or created the human race. We were sorry to say good bye and leave the sparkle in Margie's eyes as she told us story after story. Just encountering her beauty and uplifting spirit would have been enough to make the visit worthwhile.
Dan Townsend is a tribal member who is skilled in the art of shell carving, and he teaches his craft to others. He uses conch shells as the medium for his handiwork, which is as beautiful and inspiring as that of his ancestors. Dan accepted an invitation to the opening of the Smithsonian National Museum of the American Indian where a plaque recognizing the Muscogee Tribe hangs on the Honor Wall.
As we were concluding our time with our hosts, I met Kenna Pate, tribal member and beekeeper with forty hives. He is a knowledgeable man, so I asked him about the bee epidemic known as Colony Collapse Disorder that seems to be responsible for the recent disappearance of millions of bees across the country. Kenna said that the disorder is due to parasitic mites and that if we don't find a solution soon, it will have a negative impact on our nation's food production. His tupelo honey is the best I have ever tasted. If you are interested, you can call to order some at (850) 835-2211.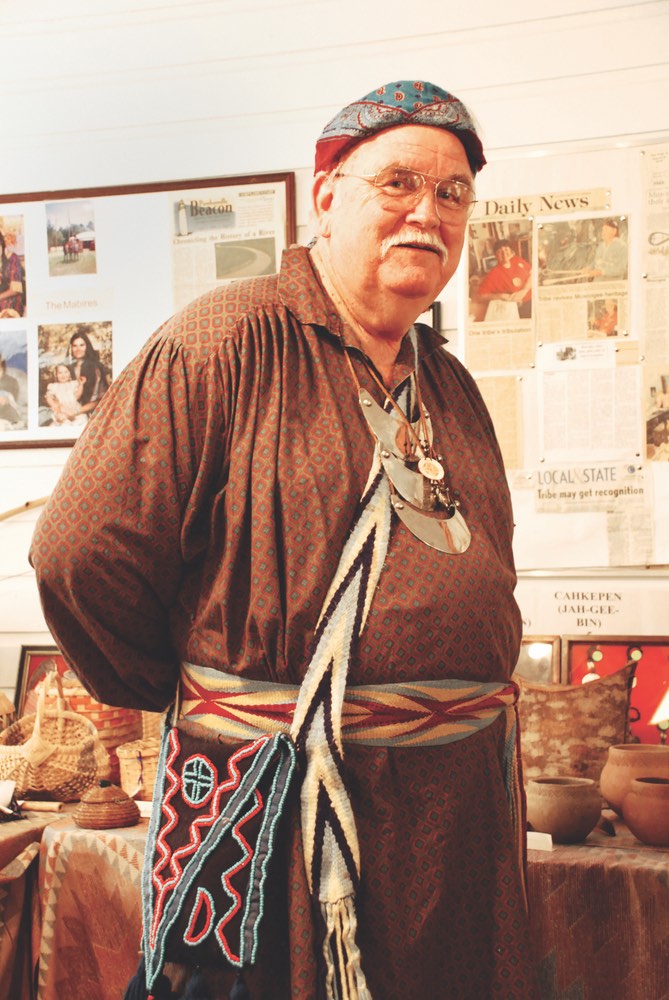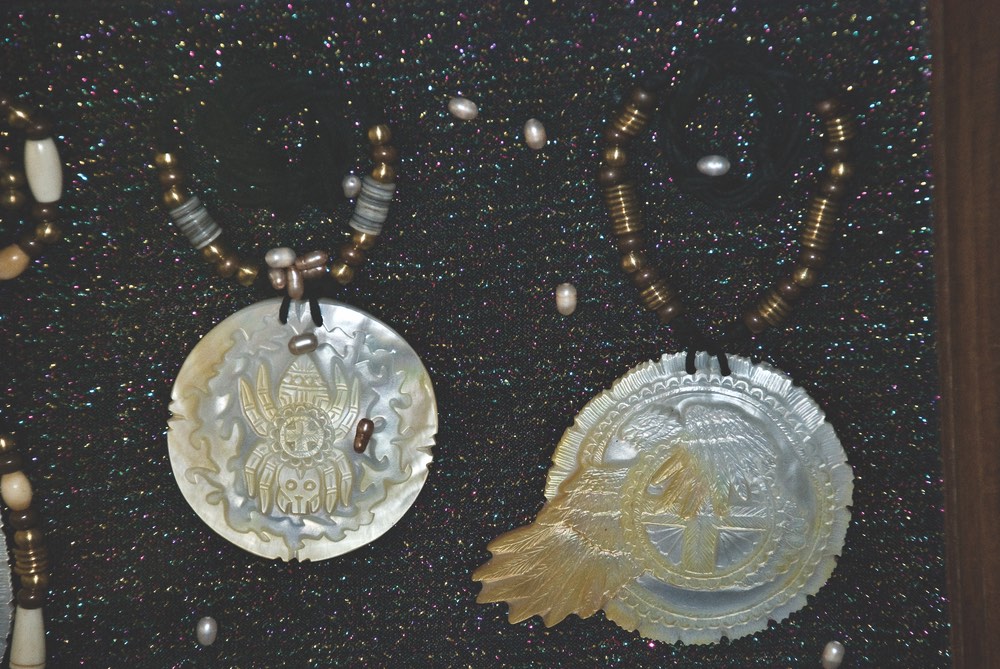 I did not know much about the plight of the Muscogee Nation before our visit, but I will say that I am thankful that I was able to meet and learn about this wonderful people who are rich in history, culture and soul. Chairwoman Ann Tucker is blessed with tenacity and perseverance, and these qualities will enable her to continue the fight to victory for her people. Everyone is entitled to preserve their legacy so that future generations will know where they came from. Though they have encountered many obstacles, they remain strong as a people of One Fire – meaning that they are committed to remain as one. They are family. It is our hope that they are able to preserve their history in order to create their future.
— V —
ARTICLE CATEGORIES