By Anne W. Schultz | Photography by Cheryl Casey
Exceptionally clear water splashing powdery-white sand beaches, a deepwater bay, luxurious forests, spring-fed rivers carving rugged bluffs, prairies of blooming wildflowers, and a mild, sunny climate: the same natural elements that lure visitors to the Pensacola, Florida, region today are what enticed Spanish settlers here in 1559.However, back then, choosing the right location meant more than fun and sun: it made the difference between life and death. Carrying few provisions, and without bottled water or supermarkets handy, these early settlers relied completely on the bounty of sea, rivers, and land for their very survival.
For the twenty-first-century traveler, a getaway to a slow-paced outdoor destination like Pensacola means survival of a different sort. Today's visitor flocks to these natural havens for relief from tech-driven, stress-filled days to kick back, relax, and take time out for emotional and spiritual replenishment. Pensacola's abundant natural assets, coupled with a richly layered history, make for a well-rounded vacation of recreational activities, urban pleasures, and historical and cultural enrichment.
Europeans come for this history, warm climate, and outdoor activities. They prefer staying here and making day trips to the beach.
Although Pensacola has been around for 450 years—longer than the United States has been a country— you'd never know it. The once slumbering downtown now pulsates with energy as the result of a recent revitalization movement. A few nips and tucks here and there, and in some cases major facelifts, have restored its youthful glow. Instead of demolishing old buildings like some cities do, Pensacola restores early nineteenth- and twentieth-century structures for new purposes to preserve historical integrity. An art gallery flourishes in a former jail and a historical museum takes up residence in what once was city hall. Traces of Spain still linger in lacy wrought-iron balconies and courtyards, street names like Palafox, and leafy plazas with splashing fountains. While tapas served at some area restaurants reflect Spanish cuisine, shiny beads flung on trees from a past Mardi Gras parade recall the Catholic heritage spread throughout the Gulf Coast by Spanish missions.
"Europeans come for this history, warm climate, and outdoor activities. They prefer staying here and making day trips to the beach," says Bonnie Robertson, who with her husband, Bob, owns and operates Noble Manor, a 1905 bed-and-breakfast located in the historic North Hill district. "They like coming back here after the beach. They swim in the outdoor pool in the summer and enjoy the hot tub in winter. They love walking downtown from here and sometimes I'll suggest they tote a bottle of wine and a picnic to the weekly concert at the park." Five high-ceiled, spacious rooms along with the pool and hot tub make Noble Manor the perfect retreat after a busy day.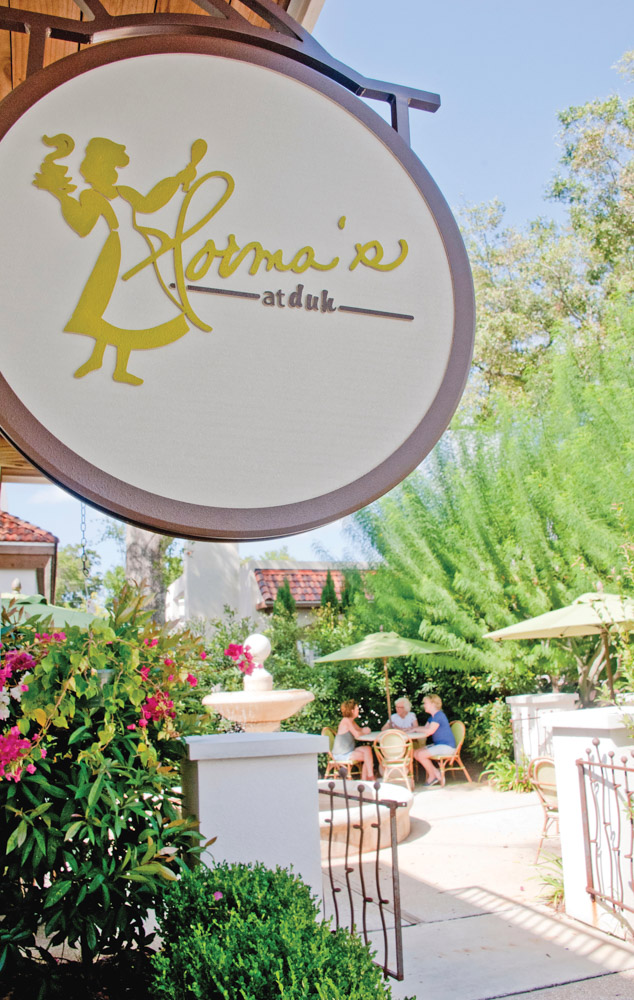 Sounds like a good strategy to follow. With its warm climate and plenty of sunshine, the area has always been fun by day, and now that nights twinkle brightly with downtown city lights, it's a joy to explore both day and night.
BY DAY 
Amble down Seville Square streets laid out by the British and renamed by the Spaniards to learn about the early Spanish colonial era at places like the T.T. Wentworth, Jr. Florida State Museum and the Historic Pensacola Village.
Reconstruct Pensacola's rich and tumultuous past from artifacts collected at the city's museums. Whether it's a rusty anchor recovered from a shipwreck or a fragment of armor retrieved from the sand, these found objects bring the past to life. They help you visualize Spanish galleons sailing to shore with massive sails billowing in the breeze and to imagine the terrified reactions of Native Americans as they gazed at strange-looking white men invading their lands, clad in metal armor and sporting beards and long hair. The natives called the gray moss trailing from live oak trees Spanish moss, as it resembled the gray beards of conquistadors.
Head to the Historic Pensacola Village to visit some of the twenty-seven buildings listed on the National Register of Historic Places. They border Seville Square, a spacious green used by the Spaniards for parade grounds, where their horses pranced beneath the shade of massive-limbed live oak trees. A walking tour led by a costumed docent takes you inside some of these homes dating from 1805 to the 1890s and representing styles from French-Creole to Victorian. End the tour at Old Christ Church, one of Florida's oldest surviving churches.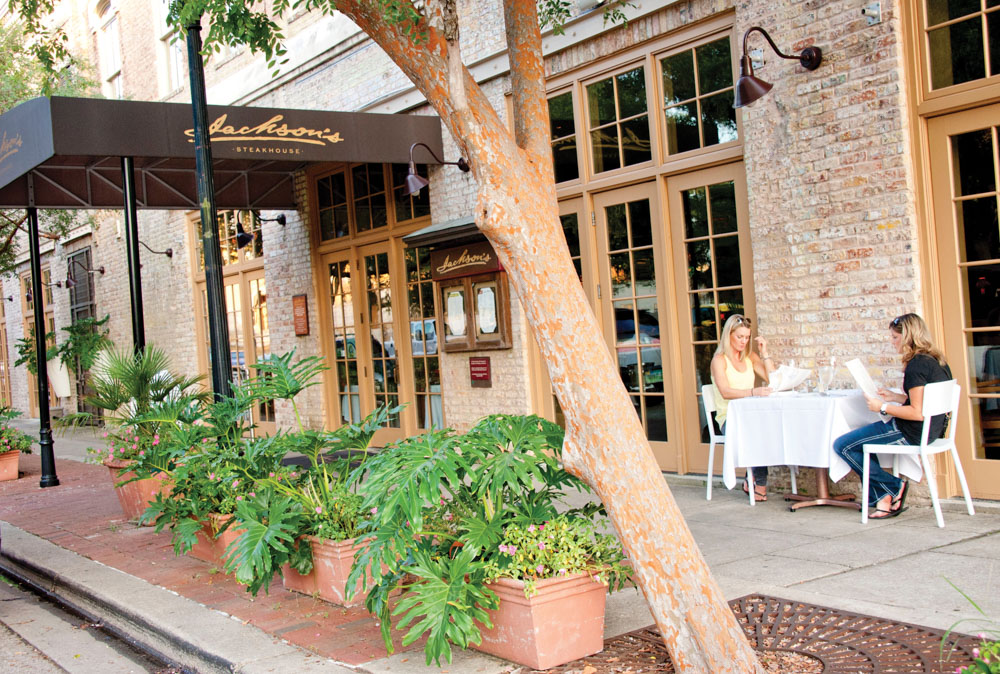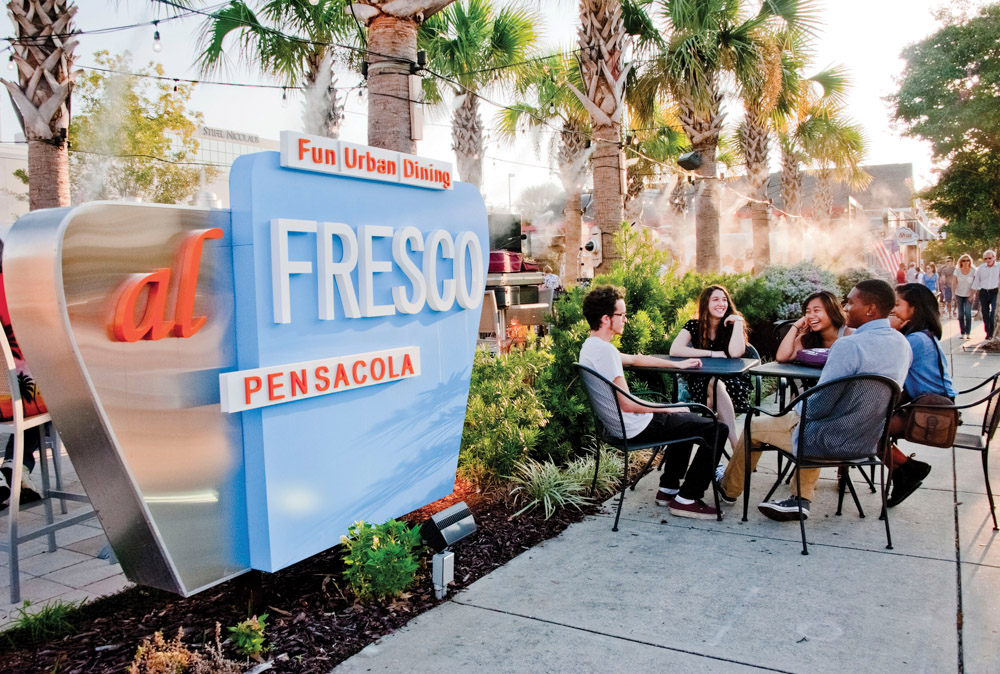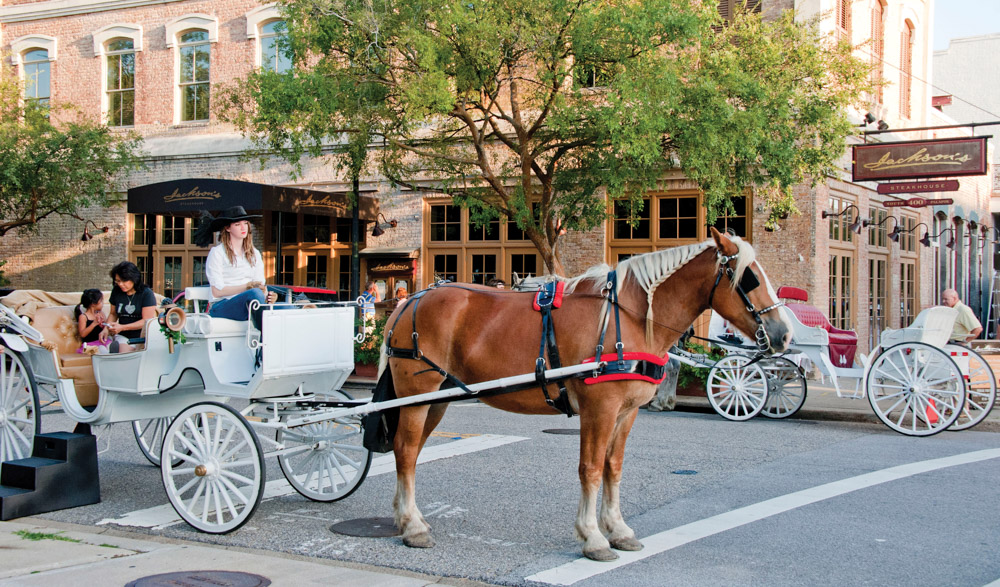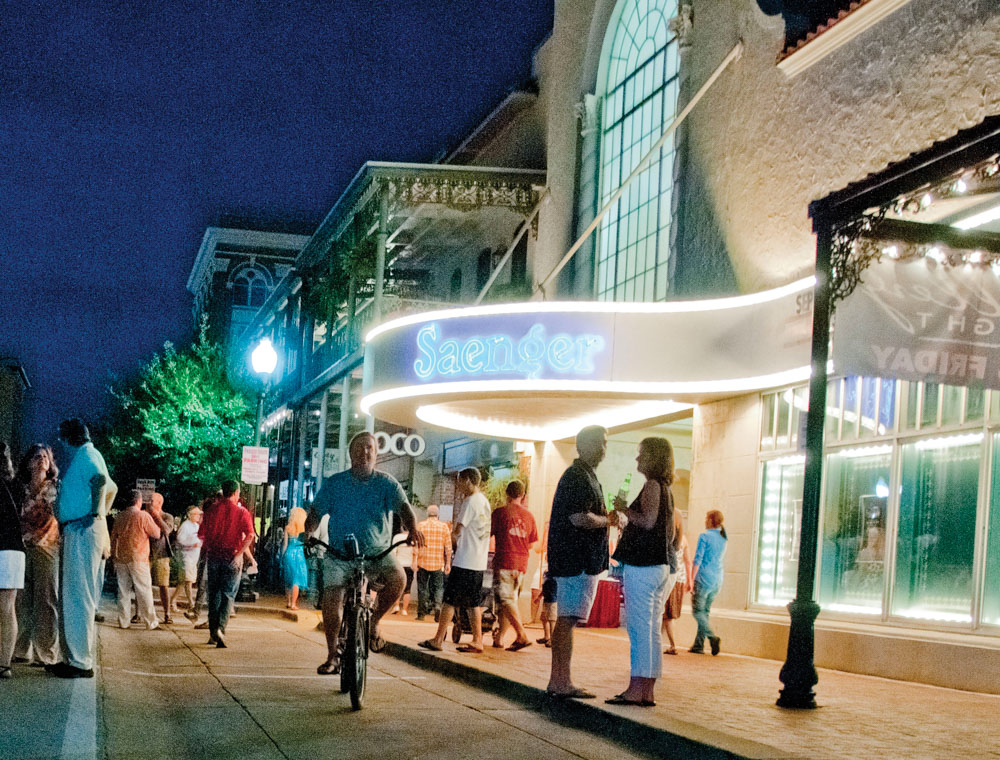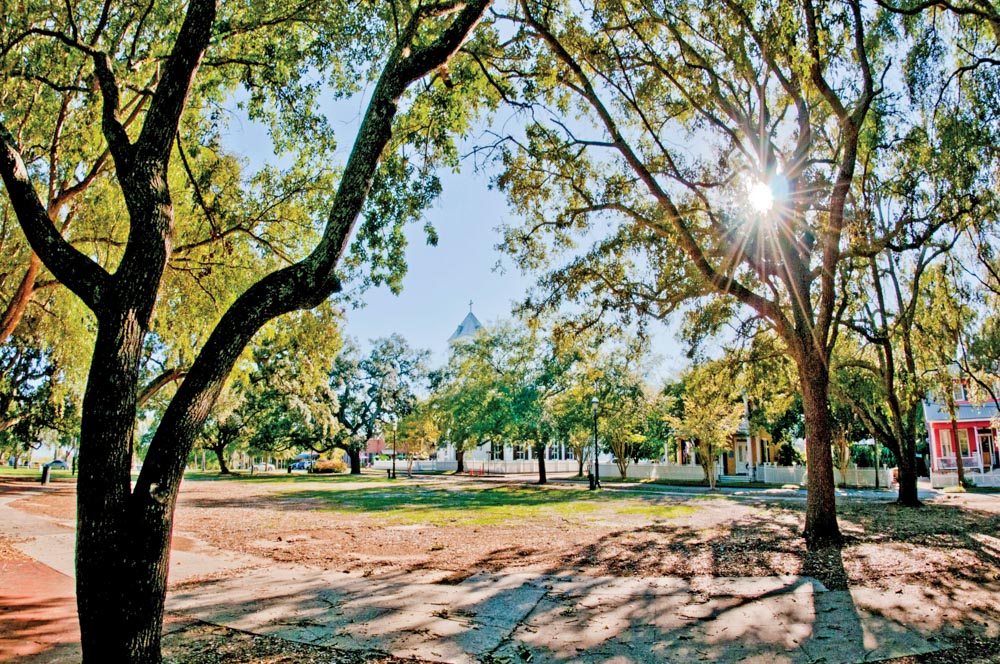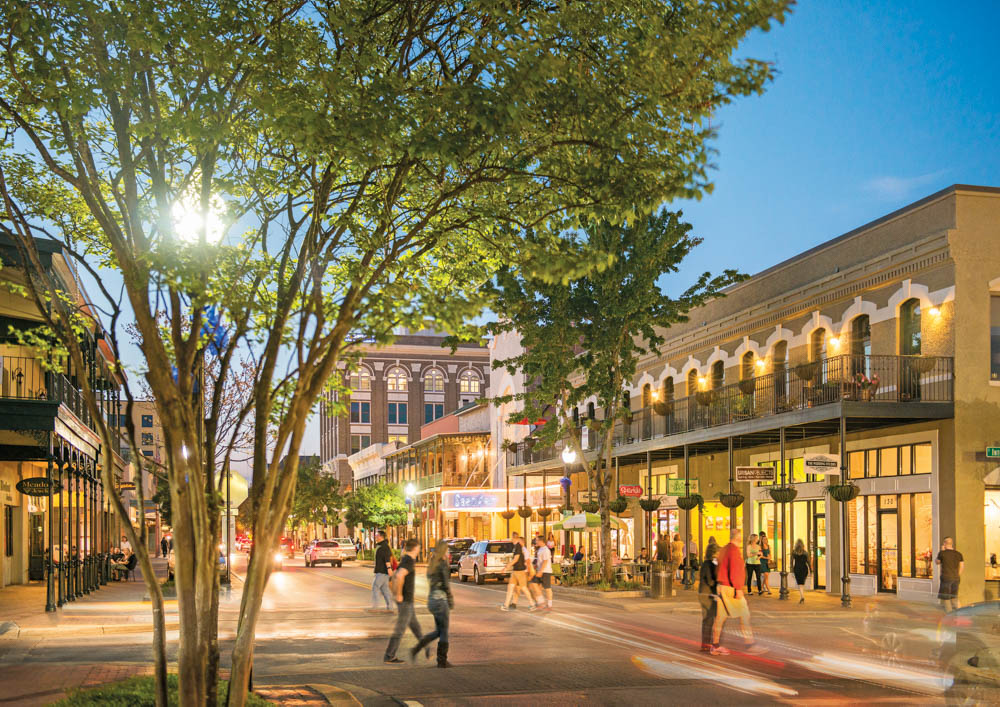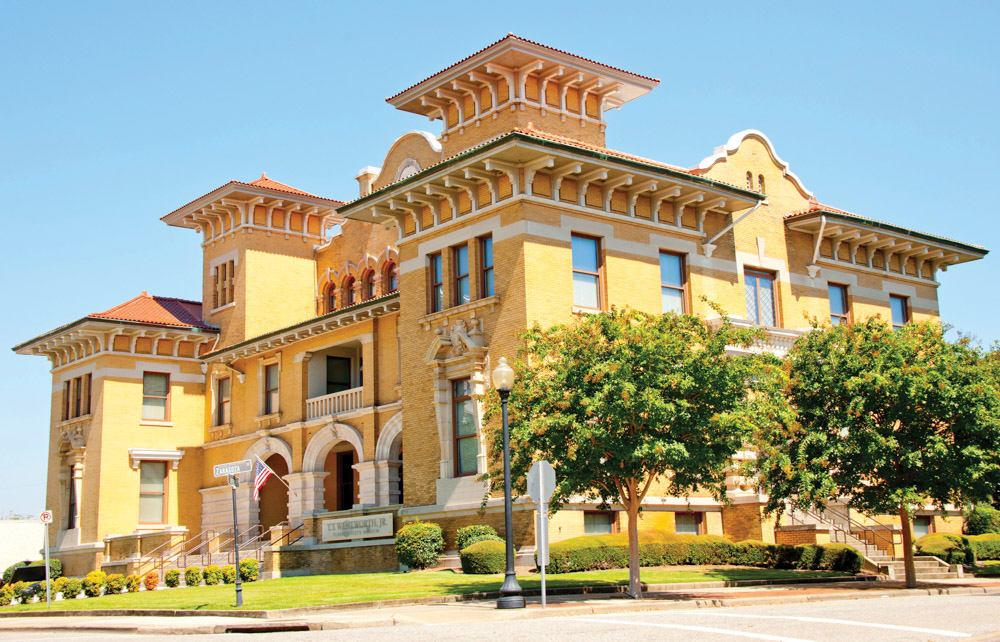 After the tour, eat lunch at Dharma Blue, located in a charming vernacular cottage across the square. Try one of their specialties, such as Dharma's Chef Salad loaded with goodies like grilled chicken, feta cheese, and crunchy almonds, or a Fried Green Tomato Club with applewood-smoked bacon and Creole honey mustard. At night they serve Gulf seafood and some of the finest quality sushi around.
Head downtown for more history at the T.T. Wentworth, Jr. Florida State Museum, housed in an imposing Spanish Revival building that once served as city hall. The Pensacola: City of Five Flags exhibit displays artifacts from a sixteenth-century shipwreck thought to be from the original colonizing expedition. Another exhibit explains how the little-known Battle of Pensacola contributed greatly to America winning its freedom, as it prevented the British from gaining control of the Gulf of Mexico.
The Quayside Art Gallery on Zaragoza Street showcases the artistic endeavors of over sixty local artists in one of the largest artist co-ops in the Southeast. Individualistic talents are expressed in everything from oil, acrylic, and watercolor paintings to photography and creations of glass, fiber, and wood. All are artfully displayed on walls of the old Germania Steam Fire Engine and Hose Company building.
Even though we have elegant, high-quality furnishings, we wanted to keep everything laid-back, so we came up with a playful, unpretentious name.
Since Pensacola is referred to as the Cradle of Naval Aviation, no visit would be complete without spending several hours at the National Naval Aviation Museum. Even the most earthbound will be impressed at what happens when the Navy takes to the skies in a museum that draws the largest attendance of any kind in Florida, according to the Lonely Planet Florida guidebook. At 300,000 square feet, it's the largest naval aviation museum anywhere, displaying over 140 restored aircraft from Navy, Marine, and Coast Guard aviation. Follow the evolution of flight from primitive cloth biplanes to streamlined fighter jets, and marvel at how such a boxy contraption as the NC-4 flying boat made it as the first to cross the Atlantic. To test your own wings, buckle up in a new 3D MaxFlight Simulator for a one-of-a-kind aerial adventure. Not to be missed is the Blue Angels Homecoming Air Show. In November, this precision flying team ends its tour with an acrobatic extravaganza in the skies above its Pensacola home base. On September 20, the museum hosted a gala to celebrate the centennial anniversary of the Naval Air Station and the fiftieth anniversary of the Naval Aviation Museum.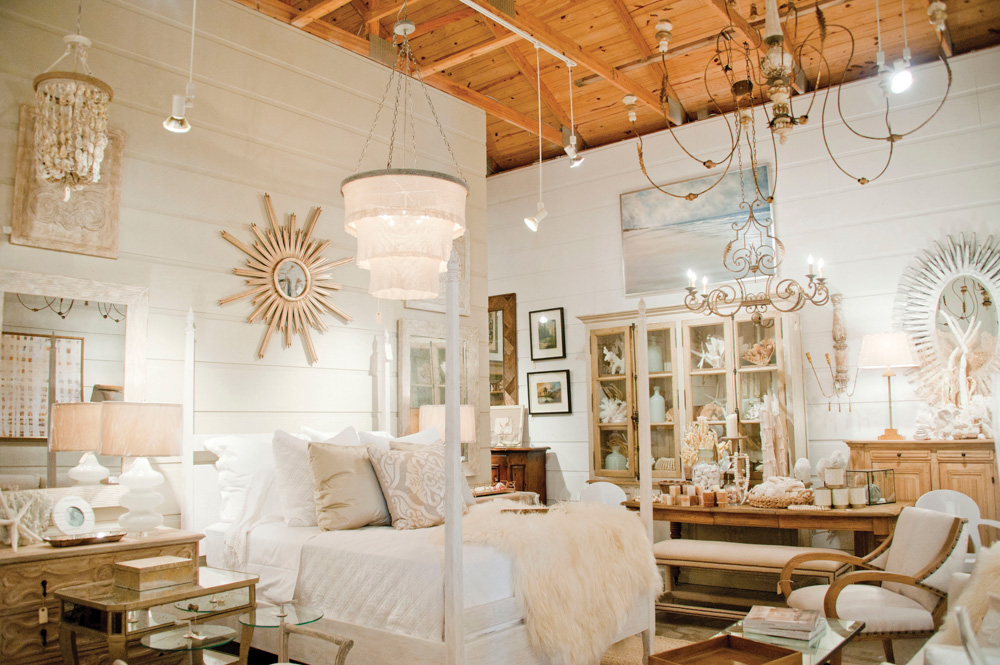 Wander the paths of what resembles a Spanish village of white stucco buildings with clay tile roofs and discover why Duh is a shopping experience unlike any other—anywhere! The Pensacola Digest describes it as a "lifestyle destination."
"People ask me all the time about the name," says Jim Rigsbee, who, along with partner Quinn Stinson, created Duh for Garden and Home on Ninth Avenue fourteen years ago. "Even though we have elegant, high-quality furnishings, we wanted to keep everything laid-back, so we came up with a playful, unpretentious name." The original store has transitioned to four separate buildings containing two clothing boutiques, a stationery shop, a floral design venue, and a dual restaurant, where, after longtime city favorite Norma's serves lunch, Chef Blake Rushing steps in and whips up dinner at Type.
It's a sensual experience walking through courtyards and arched doorways past lush landscapes of exotic flowering plants and greenery, where garden accessories spill out into the main courtyard with a circular fountain imported from France. Inside, senses are soothed by a sea of furniture and accessories, all in calming neutral colors that mimic a coastal seascape. Picture muted grays as clouds and beiges inspired by wet sand, all accessorized by natural materials like driftwood, shell, stone, and linens. "People stop by here often just to browse," says Rigsbee. In their store, the owners practice what they suggest customers do: they surround themselves with things they love.
BY NIGHT
Start with a handcrafted martini at Jackson's Steakhouse, located in a refurbished 1860s building that once housed a mercantile store. Considered Pensacola's finest, the nine-time consecutive recipient of Florida Trend's Golden Spoon award is also ranked as one of Florida's top twenty-five restaurants. With its impeccable service, elegant yet understated decor, and attention to detail both in presentation and quality ingredients, it's like dining in France, where cooking is considered an art form. Yet it's homegrown American, as its Chef Irv Miller, one of the pioneers of New Florida Cuisine, pays homage to Florida seafood and local produce year-round. He coaxes the maximum flavor from traditional Gulf Coast specialties by using innovative techniques and unique flavor combinations. He features the region's finest local seafood, like Apalachicola oysters and Destin red snapper, and also supports small local growers and producers of artisanal foods.
Patrons look through the original glass windows and see what inspired the restaurant at Plaza Ferdinand across the street. There, a bust of Andrew Jackson commemorates the site where Spain relinquished control of Florida to the United States in 1821, and the American flag first flew over Pensacola. The restaurant's founders named it in honor of Jackson and use his signature as a logo. Chandeliers bring the park inside with ironwork handcrafted to resemble the roots of live oak trees.
Another stellar restaurant is the Global Grill, which occupies a former downtown shoe store. This upscale bar and restaurant gives the city a taste of Spain with its selection of tapas along with main restaurant items. Two signature favorites are succulent lamb lollipops and the applewood-bacon-wrapped lobster tail. Chef Frank Taylor and his wife, Jane, have won numerous awards, including the Golden Spoon twice, since opening in 2003. He employs special French and Creole culinary skills that he perfected as a guest chef under Chef Jamie Shannon at Commander's Palace in New Orleans.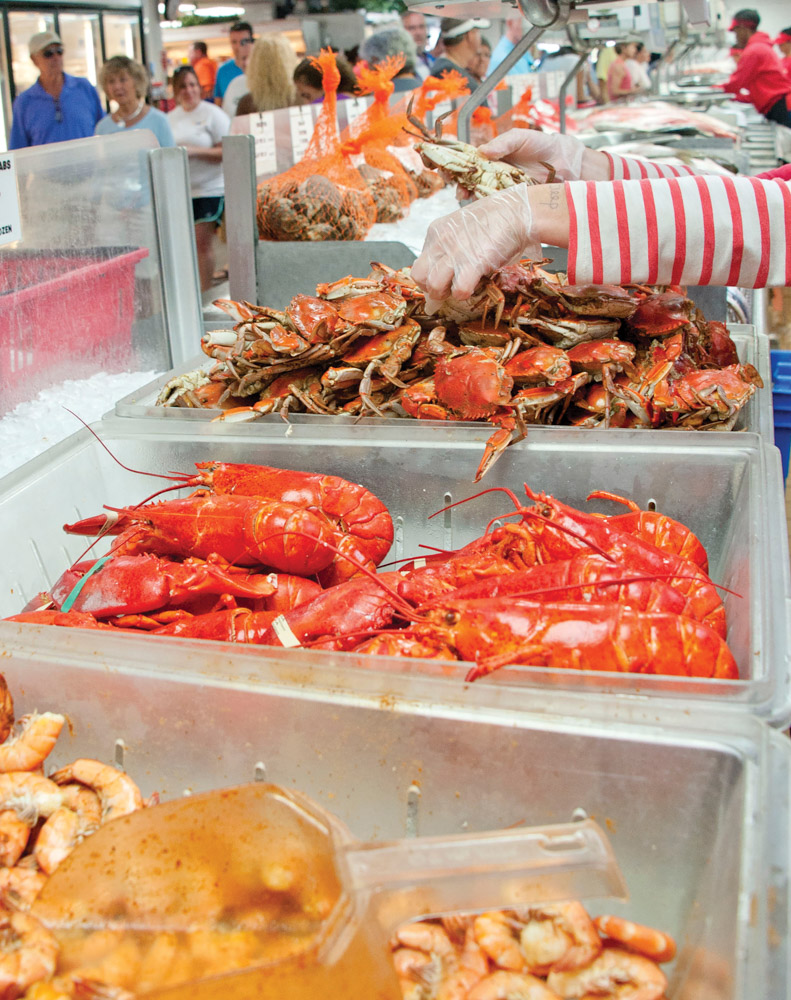 Seville Square hosts a free concert every week, where crowds gather and picnic.
For lighter fare in a casual atmosphere try Carmen's Lunch Bar, known for its creative soups, salads, and homemade sandwiches. Tapas are served in the evening, when cooler temperatures and coastal breezes invite sitting outdoors and mingling with locals and visitors. The weather is also ideal for outdoor casual fare at Al Fresco, where Airstream trailers offer a choice of diverse cuisines such as Mexican and Thai.
Cultural buffs applaud not only performances at the Saenger Theatre but also the building itself—a dazzling beauty after its recent $15 million renovation and expansion. The theatre has hosted ballet, opera, symphony, and stage productions since it opened in 1925.
Continue on late into the night as the city buzzes with sounds of conversation and the laughter of crowds hanging around the infusion of new wine bars, brew pubs, and music venues. An occasional melody floats up from one of the pianos placed around sidewalks for anyone to play.
Seville Square hosts a free concert every week, where crowds gather and picnic. On one Friday each month, Gallery Night draws from ten to fifteen thousand participants who crowd downtown sidewalks, sampling food, drink, and music as galleries open their doors to the public. And if that's not enough, there are ongoing special events, parades, and festivals scheduled every month.
Day or night, a visit to the recently opened Vince J. Whibbs, Sr. Community Maritime Park is sure to please. Sports fans cheer on the Pensacola Blue Wahoos baseball team at the multipurpose stadium. This waterfront complex includes the stadium, an amphitheater, and multiuse park festival grounds offering thousands of square feet for accommodating large-scale events. And don't drive away without an ice-packed cooler brimming with local seafood from Joe Patti's Seafood Market. A tradition since 1931, they sell only the freshest, most reasonably priced seafood in the Florida Panhandle.
Having evolved over centuries, Pensacola anchors the Gulf Coast region, lending a depth, authenticity, and character often lacking in the tourist-obsessed resort communities that seem to spring up overnight. All of these attributes keep people coming back, and many choose to stay. "I moved here from upstate New York to be with my daughter, who is an Air Force pilot, and I love it," shares Joanne Bobb, a server at Carmen's Lunch Bar. "I feel safe and the people are so friendly. It's easy to get around as so much is in walking distance." Bobb makes a great case for settling down here. After all, Pensacola is like a fine vintage wine: it only gets better with age.
— V —
---
Log on to www.visitpensacola.com and www.downtownpensacola.com for updates and more details.
ARTICLE CATEGORIES