Paula Deen Shares Her Retreat
By Anthea Gerrie | 
Photography courtesy of Paula Deen
Considering how much she loves to cook and entertain, the room in which well-known Southern foodie Paula Deen chooses to spend most of her time at Riverbend, her stunning estate near Savannah, Georgia, is surprising.
It's not her elegant main kitchen, awash with commercial-grade appliances. Nor is it the fabulous outdoor kitchen pavilion with three grills, four refrigerators, and a smoker (which her husband has commandeered). And it's not even the formal dining room where she loves to serve feasts to her large family.
"It's my bathroom," laughs the television food show presenter and owner of Savannah's celebrated Southern restaurant The Lady and Sons. "It's actually a bathroom-cum-living room, so spacious I have managed to fit three sofas in there along with the tub."
Nearly every aspect of Deen's life is conducted in this sanctuary. She goes through paperwork with her assistant while overlooking the greenery of the English-style garden to which the bathroom opens up. Hair and makeup for her public appearances are done at the dressing-room-style vanity along one wall, and deep relaxation occurs in the bathtub in the middle of the superspacious room.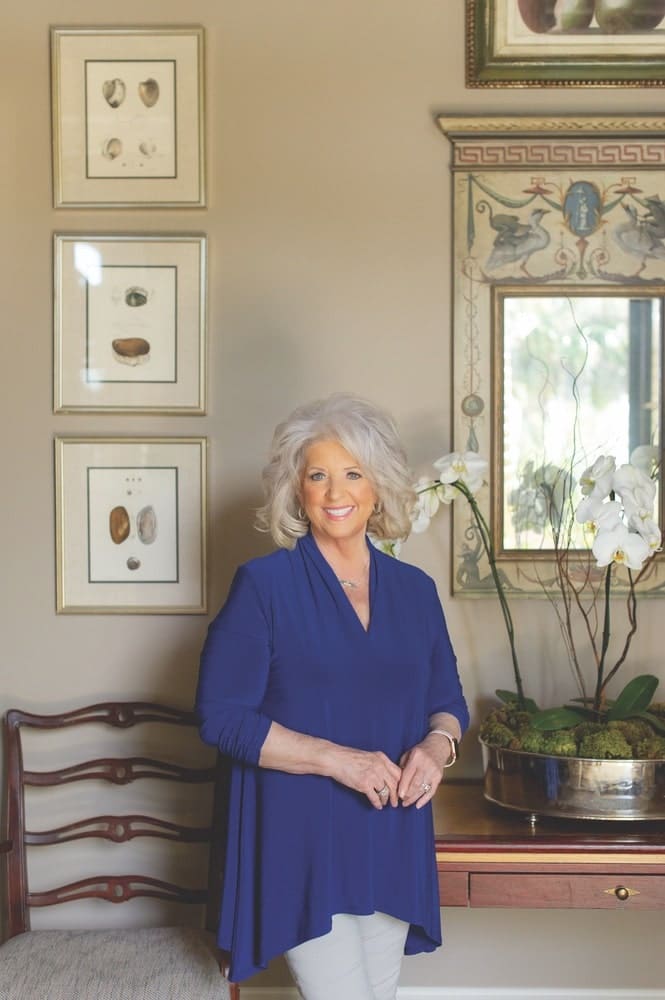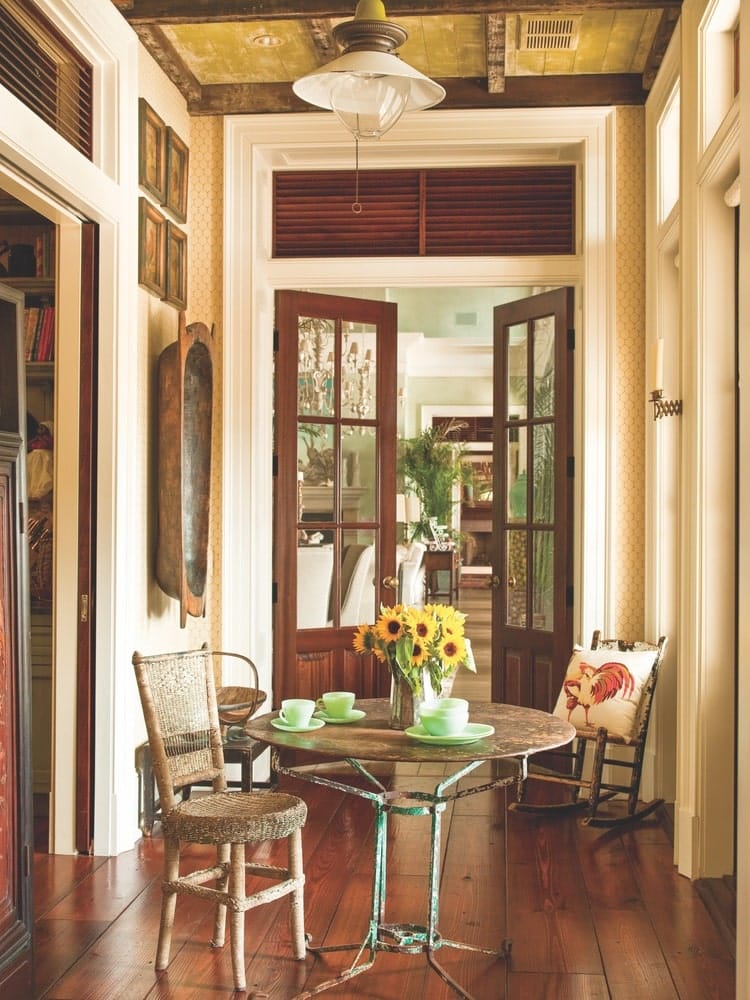 The lavish master suite, which also includes a huge walk-in closet, occupies one wing of the romantic 14,500-square-foot French Caribbean–style house. Deen confesses it is "of a size I never thought I'd own, growing up in a modest three-bedroom, one-bath house when I was a child." The house itself has only two bedrooms, but the estate can accommodate a crowd. "Really, it's a compound," she says. "There are so many cottages we can sleep a lot of people here." Two guest cottages lie within the grounds along with a three-bedroom apartment on the second floor of a ten-thousand-square-foot barn that has been converted to an eight-car garage. There is also a dock house beside the property's deepwater mooring.
But it was less the size of the plot than the location—on a river bend reminiscent of the one in Albany, Georgia, where Paula spent her formative years on her grandparents' estate—which drew her to the home she has named Riverbend in tribute. It enjoys an enviable three-hundred-foot frontage on the Wilmington River, and from the water, the house indeed resembles the kind of island-style colonial architecture that caught Deen's eye on trips to the Bahamas and influenced her brief to the architects.
Deen, who cherishes beautiful old things, also bought wood from a two-hundred-year-old Savannah restaurant to reuse for flooring in all the interconnecting hallways of the house.
She explains that a complete rebuild proved inevitable when the property came up for grabs ten years ago. "We saw we couldn't do what we wanted there with renovations, so we bought it as a teardown and started again," says the restaurateur, who lives in the house with her husband, Michael, who pilots large ships in and out of Savannah's busy port. As Deen's life has changed, so have her priorities. At the peak of her career, which included entertaining 250 people at a time, broadcasting on the Food Network, and giving cooking demonstrations in her kitchen, she designed the house to help fulfill her commercial obligations. "But now I've found it works perfectly for my large family," she says of her two sons, two stepsons, their spouses, and her nine grandchildren—including triplets.
Never happier than when she's cooking, Deen made sure the open kitchen was the heart of her main house. The vast room has a high vaulted ceiling—inspired by her trips to the Caribbean—a wooden table and chairs for intimate meals, a formal dining area on one side, a beautiful living room on the other, and two fireplaces. Adjoining is Deen's second-favorite room—a butler's pantry reminiscent of those found in stately English homes, fitted with antique dressers and shelves to hold everything from china and silver to her armory of cookware. "I swore I'd never again have to get on my knees to pull a pot out of the cupboard," she laughs. Her prized possessions in this room are a silver cupboard and a shelving unit in the center, both antiques. Deen, who cherishes beautiful old things, also bought wood from a two-hundred-year-old Savannah restaurant to reuse for flooring in all the interconnecting hallways of the house.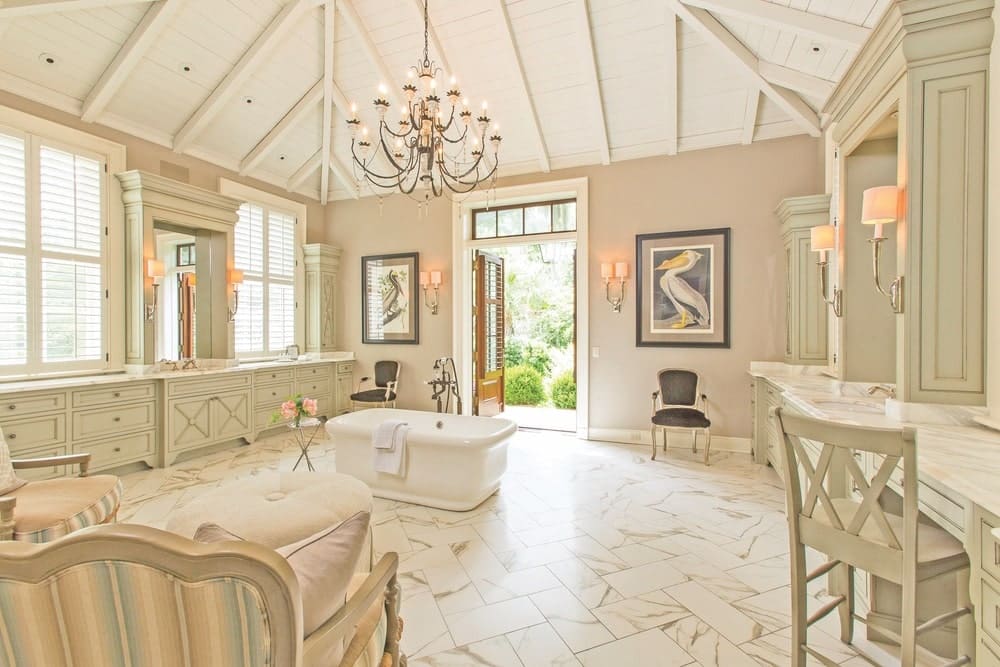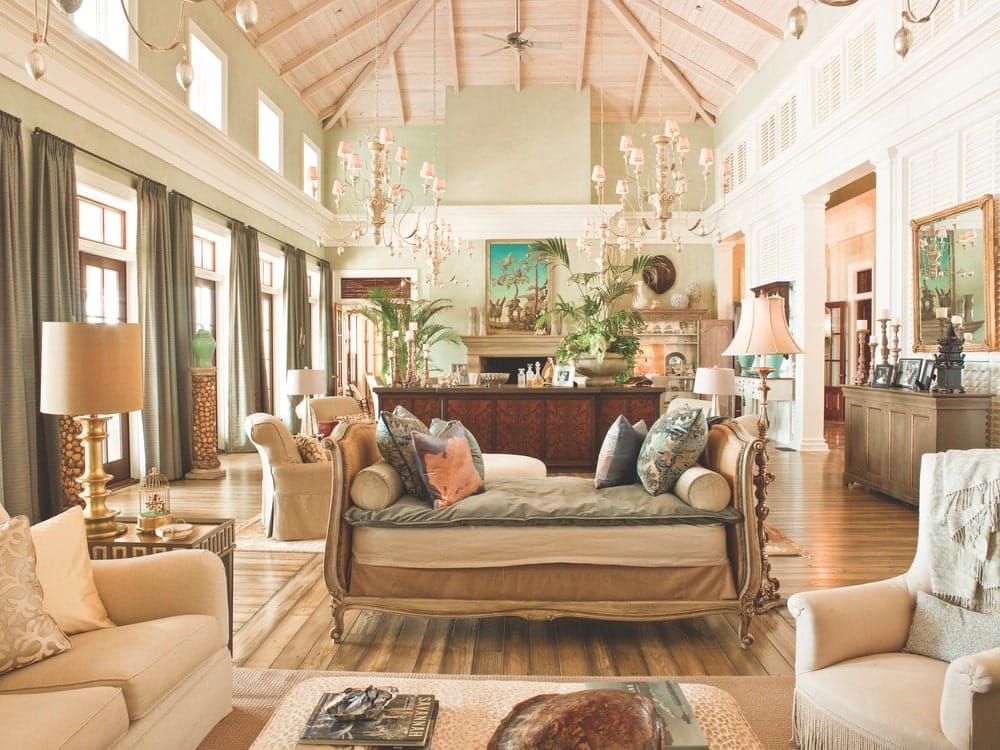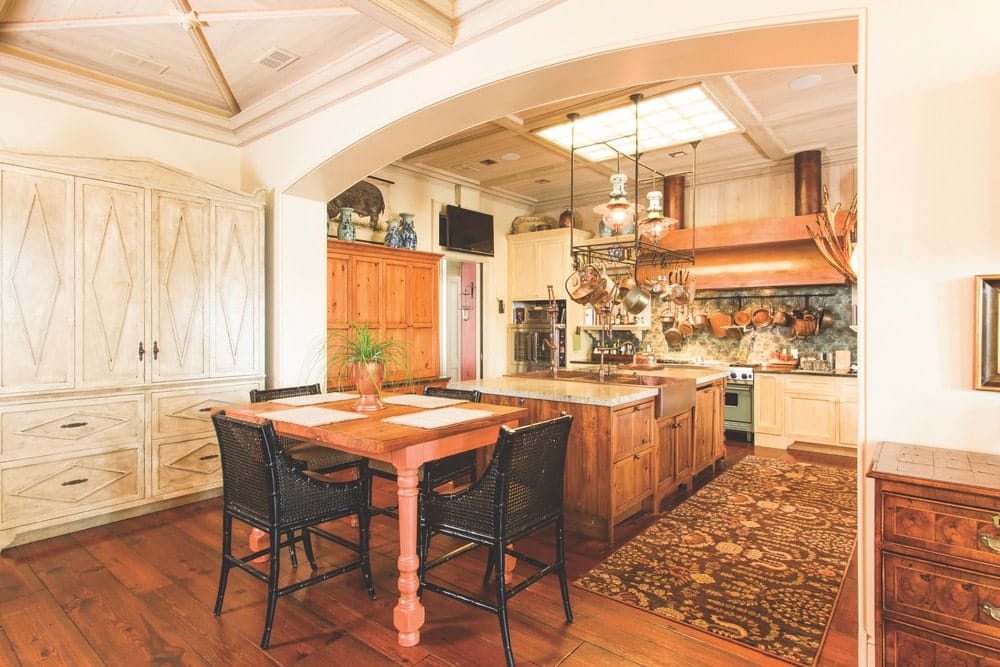 In addition to accommodating guest quarters in its second wing, the main building leads out to that fabulous outdoor kitchen that Michael regards as his territory. "I prefer to cook inside and keep cool, and he likes it out here," laughs Deen, pointing out her farmhouse dining table, which can seat twelve, in addition to the eight barstools where guests can perch and converse with the cook. Beyond the outdoor kitchen is a pool boasting a dive-in theater with pop-up screen for bathers who feel like watching a movie while keeping cool. "It's fun, but really only comes into its own when it gets dark enough outside," Deen admits. Always keen to make sure she is catering to her guests' every whim, she also installed a soda fountain with an ice-maker in the outdoor entertainment area.
If the property feels more like a private resort than a family home, with its croquet court and a well-stocked pond, as well as the pool and its alfresco theater, that's intentional. "The original Riverbend on the Flint River was my grandparents' hotel, restaurant, and pool, where everyone came back in the day," remembers Deen of that other resort in Albany, Georgia. "It's where I spent the first ten years of my life before moving to Savannah, and I was so, so happy there. I've aimed to re-create that feeling of a place you come to have fun here, and I like to think we've succeeded."
— V —
---
Visit PaulaDeen.com to learn all about the chef, find recipes, and more.
Anthea Gerrie is based in the UK but travels the world in search of stories. Her special interests are architecture and design, culture, food, and drink, as well as the best places to visit in the world's great playgrounds. She is a regular contributor to the Daily Mail, the Independent, and Blueprint.
ARTICLE CATEGORIES