By Kevin Revolinski
Photography courtesy of The Racha
I stepped through sliding glass doors and onto my patio, an infinity edge pool between me and a view of undulating turquoise lapping at a crescent of white and a verdant hill rising across a small bay below me. The sounds of the waves and rustling palm fronds rose up the hill to me on a breath from the ocean, and I felt the tension release one feels from a good massage. My wife and I had sought an island escape, and several friends had already assured us the answer was The Racha.
This five-star luxury hotel takes its name from its island: Koh Racha Yai (koh means "island" and yai means "big" in Thai). Situated a half-hour boat ride from Phuket, Thailand's most famous island destination, The Racha Resort is a retreat from overdevelopment tucked away along Batok Bay on a modest stretch of sand as soft and white as flour. Here, elegance and comfort blend with unspoiled natural beauty.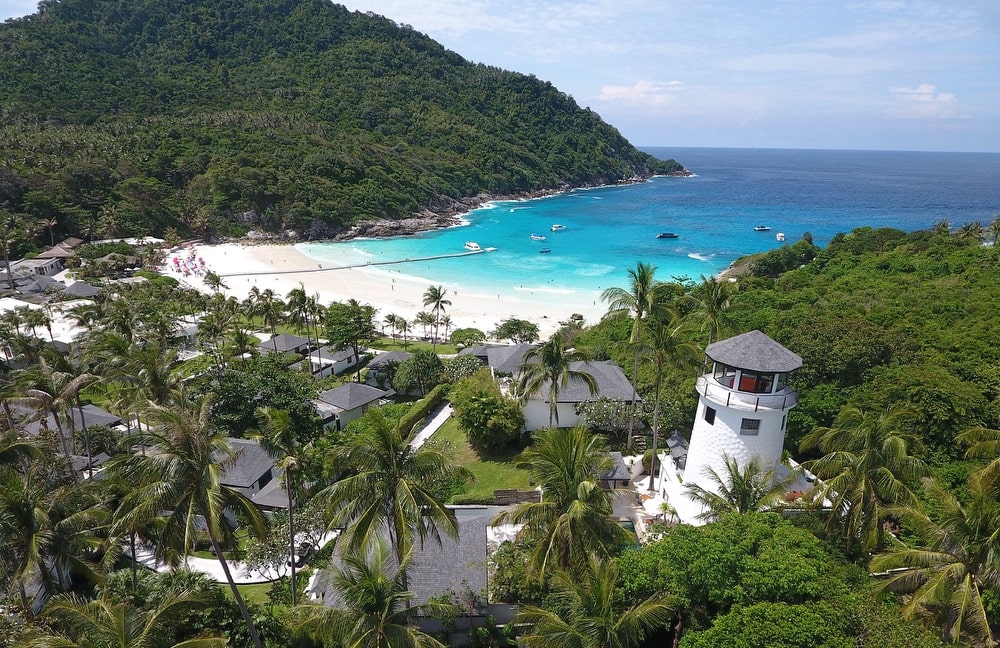 The collection of eighty-five villas occupies twenty acres. The resort grounds and the designs of the villas themselves follow the contours of the land, rising from the seaside into broad-leafed and blossoming greenery—coconut palms, frangipani, ferns, banana trees—granting all accommodations privacy and a hidden garden atmosphere. The paved lanes and stepping stone paths meander through the property, past a central pond, where one might see an egret or hear frogs at night, down to the common areas—the restaurant, reception area, library, gift shop, and main pool—and then the row of palms backing up the beach.
The villas range in size from spacious garden suites to airy multiroom affairs with beach views, many of which feature private pools, outdoor rain showers, and shaded day beds.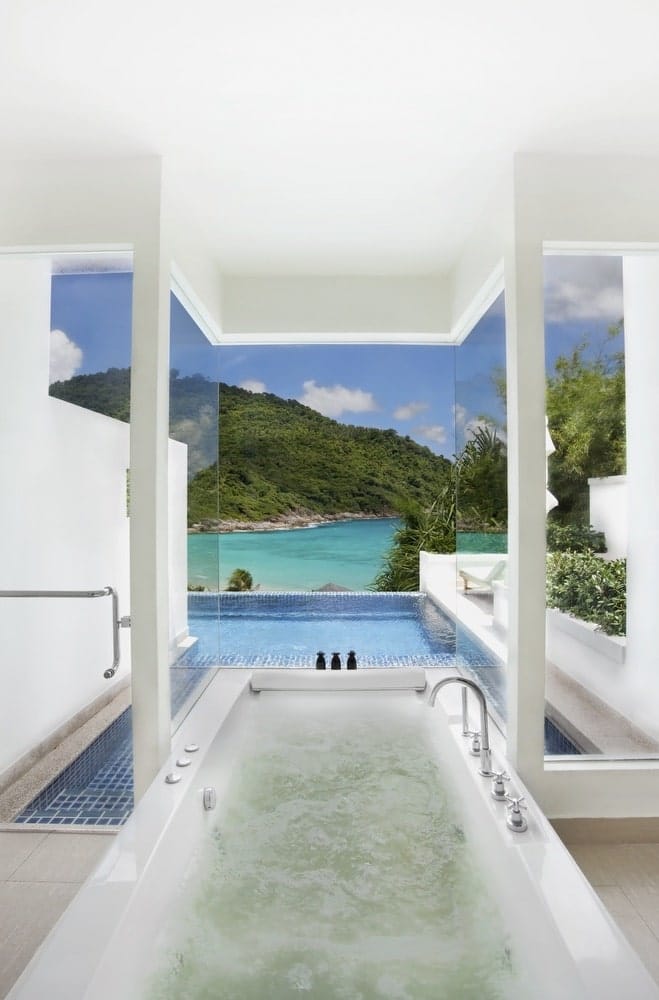 Our unit perched above the next one down the hill, but whitewashed walls and abundant foliage maintained privacy. Within, we had a king-size bed on a platform that overlooked a lounge area and the pool, a full sitting room with a mounted flat-screen TV and minibar, and an expansive dressing area with double basins, two showers, and a two-person bathtub with floor-to-ceiling windows for that same view of the sea. A Bose sound system allowed me to broadcast my playlist to the living area, the daybed shelter on the patio, and even into the pool itself through underwater speakers. Only that picturesque sea could tempt us to leave this space.
The Lighthouse, an intriguing five-story structure just up the hill from our villa, offers two master bedrooms, a 360-degree view, an even larger pool, and the most exclusive experience in the resort. But even the standard villas seem nestled in their own little worlds.
Residents on the island total ten—and most of those are landowners who return only briefly each year, if at all. The island has but a handful of businesses to serve day-trippers and the guests that come for a mere four hotel properties. While tourism has developed Phuket into a bustling island destination, Koh Racha Yai recalls the low-key, laid-back feel of the late 1990s with an unstrained, natural appeal. Think of the Phi Phi Islands before its thick cluster of hotels along the beach.
"About 30 percent of our clients are returning," said Devan Bhaskaran, general manager, "and not for two or three days, but fourteen days to a month." While the resort accommodates families—see the Lighthouse for lodging—The Racha enjoys great popularity among honeymooners, he added. Wedding packages are prominent on their website.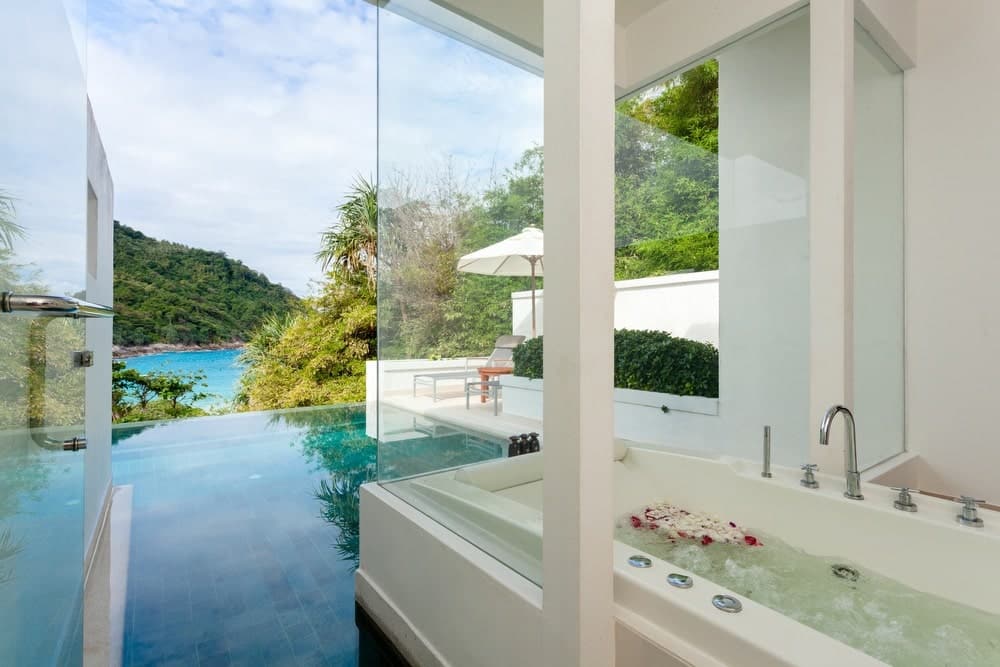 Nature Outside Your Door
In the morning, a brahminy kite—a large brown eagle-like bird of prey with a white head—soared just above the palm trees, circling for a meal from the sea. We saw it daily where it took up a regular perch on a bare tree branch at the edge of the bay. On our way to breakfast, we watched black reef herons find theirs along the water's edge. Bird life is abundant, and egrets and pond herons poke through some wet areas along the island's interior, but the only large animals are a few domesticated water buffalo and the occasional monitor lizard. In May, hundreds of zebra-striped butterflies and a black species with iridescent blue patches descend like fluttering haloes above the flowering trees, and it's absolutely dreamlike.
Island of Eating
The Racha features three restaurants: a Thai-style grill along the beach, an international dining room, and, unsurprisingly, a Thai-focused restaurant. One night we dined on Phuket lobster and Australian beef with lobster bisque; the next night, we chose green papaya salad and the recommended northern-style curry. The local fare is nothing short of amazing—with traditional dishes from all regions of the country—khao soi curry from the north, larb ground pork salad from the northeast, and southern beef curry with noodles. Spice fans, be warned: chefs tend to add a few more peppers to most dishes here in the south, though nearly all of them can be made mild on request.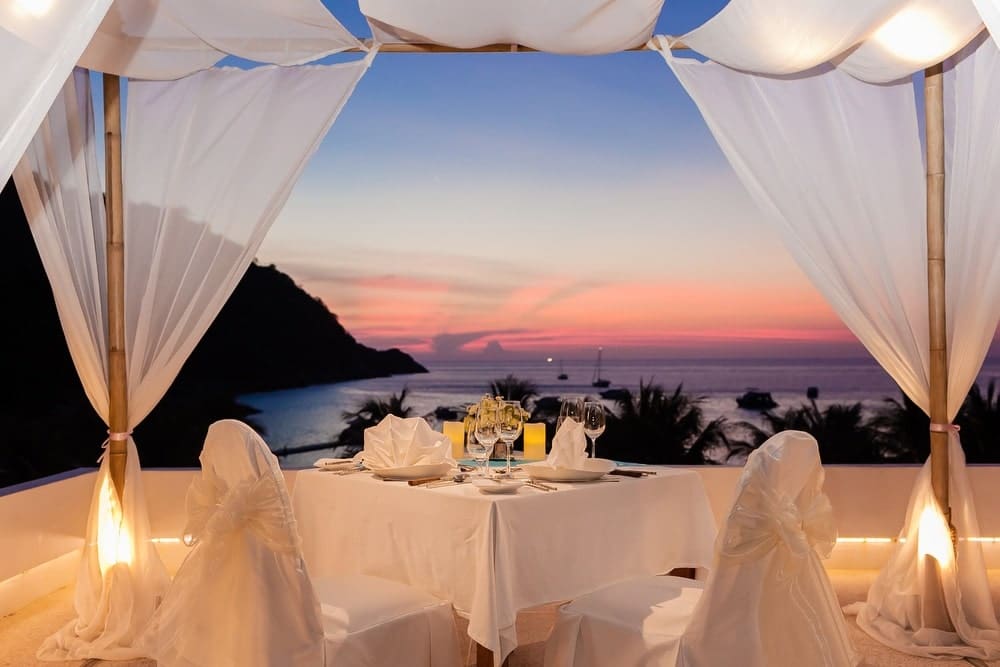 Breakfast in bed? Of course. And make a reservation for In-Villa Barbecue. A chef grills your meal on your villa's patio—or you can go it alone and show off your grilling skills. With a day's notice, guests can reserve the Ultimate Dining experience, a private dinner on the resort's Timber Deck overlooking Batok Bay or at the elevated Star Deck. The chef consults with you to customize a leisurely paced multicourse dinner paired with select wines, beers, or craft cocktails.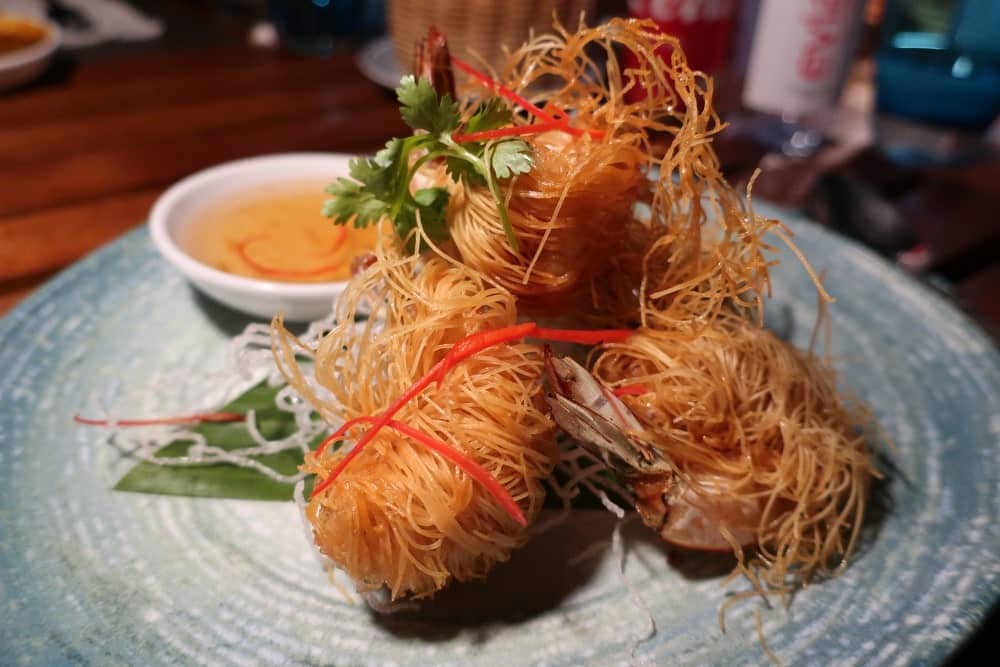 Stay Active
There are always options to get out of the villa, whether you're up for a round of tennis or prefer a couple's massage and body scrub at Anumba Spa, voted the top island resort spa in Asia in the 2017 World Luxury Spa Awards. A water sports center loans bodyboards, snorkeling gear, and kayaks for independent exploration and fun. In the off-season, a change of weather patterns brings nice rolling waves into Batok Bay, and the gradual slope of the sea bottom makes it great for beginners on bodyboards. Nine named reefs—two in the bay alone—encircle the island and give variety for snorkelers.
A dive center on-site has a special training pool. Dive here or along the island's east coast, or take a boat excursion to Koh Racha Noi (Little Racha Island) another half hour to the south. This smaller undeveloped island is surrounded by emerald waters rich with sea life. Deeper dives here provide the chance to see manta rays or even a whale shark.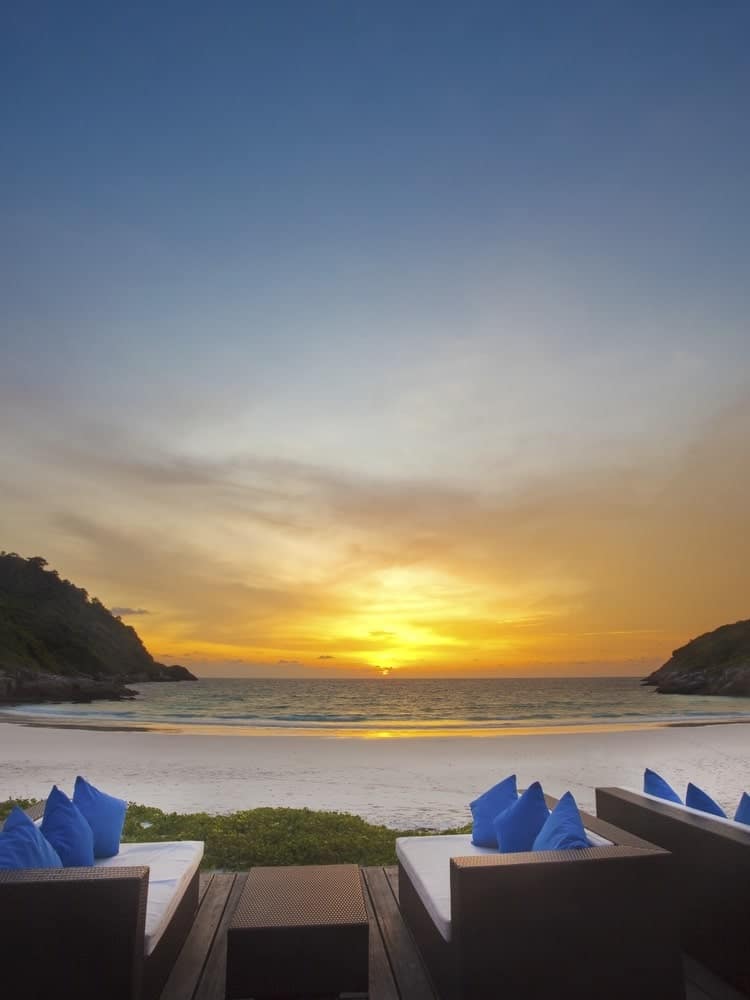 Three pools present options: one has a waterfall and abundant shade and greenery; another is near a beachside bar; and the adults-only main pool is a sprawling affair with a water jet area and an infinity edge looking out to the bay a stone's throw away.
A day trip by speedboat can put you among the exotic towering rock islands of Phang Nga Bay to the north. Among them is the famous James Bond Island, so called for its appearance in The Man with the Golden Gun.
As the sun sank toward the sea to the west, we took a short hike along a path just above the rocky shoreline on the north side of the bay. A gentle climb brought us to a scenic overlook of the bay and The Racha. We watched the day end in glorious colors and then began down the trail to go back and change for a starlit dinner.
— V —
---
Visit TheRacha.com to learn more or book your stay.
Kevin Revolinski is the author of several books, including
The Yogurt Man Cometh
:
Tales of an American Teacher in Turkey
and
Stealing Away
. He also writes online at
TheMadTraveler.com
.
ARTICLE CATEGORIES