Culinary Prowess on the Redneck Riviera
By T.S. Strickland | Photography by Greg Riegler
Irv Miller crouched in the underbrush at Green Cedars Farm and stared into the eyes of a particularly friendly—if terribly naive—Hereford hog.
We'd come to the farm, nestled on thirty acres in rural Molino, Florida, in pursuit of what Miller has termed "the last great, secret, culinary region in the state."
Miller, executive chef at Jackson's Steakhouse in Pensacola, Florida, hopes to unravel that secret in his book, Panhandle to Pan: Recipes and Stories from Florida's New Redneck Riviera.
On a particularly sweltering afternoon in August, Miller was still putting the finishing touches on his manuscript when he took a break from editing to visit with Roger Elliott. (The book, published by Globe Pequot, hit store shelves this past November.)
Elliott, a retired helicopter pilot and agricultural extension agent, started Green Cedars Farm about eight years ago. He is one of about a dozen producers profiled in Miller's book. With the help of his wife, daughter, and son-in-law, Elliott raises a variety of livestock and fruit on the farm. "We have apples, persimmons, pears, plums, pomegranates, quinces, figs, and blueberries," he explains while mopping beads of sweat from his brow. "We have the honey bees primarily for pollination, but you also get the honey from that, so that's a good deal. We have the sheep, which mesh really well with the chickens and cattle for the dairy. We try to be as sustainable as possible."
Elliott's chickens and turkeys, which he raises for the eggs as well as the meat, roam freely and fertilize the orchards and pasture. He feeds the surplus milk from his cows to his hogs, which are on a separate portion of the farm. This last measure is good for the taste buds as well as the earth. "Pigs harvested having eaten whey or whole milk or any other milk product have a very delicate, flavorful meat that's in high demand by a lot of chefs," Elliott says.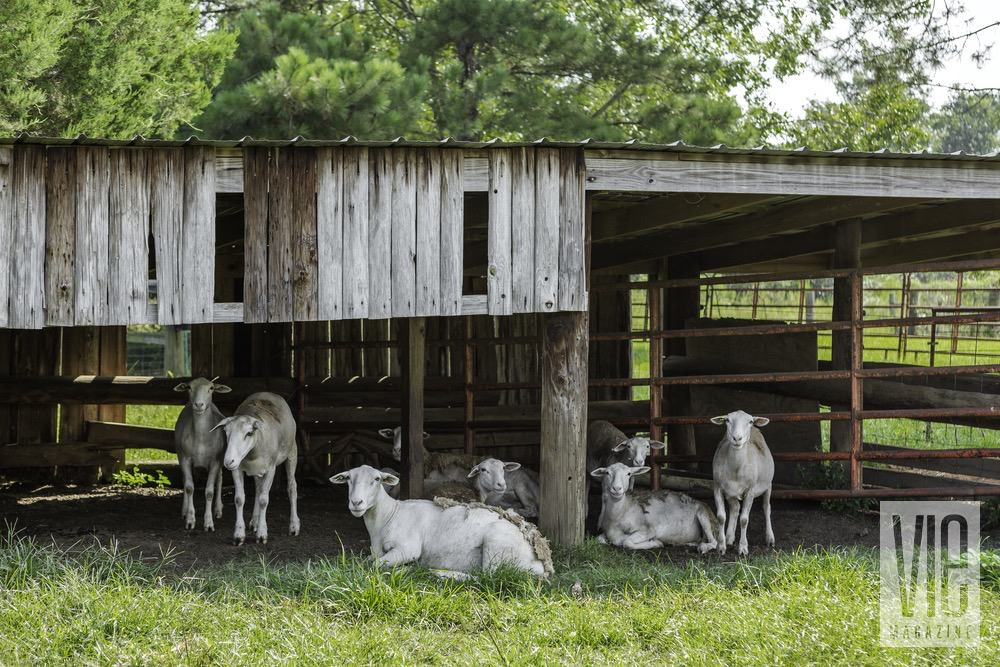 The family sells its meat, milk, eggs, and fruit at area farmers' markets. Their mutton and pork can also be found on the menu at Jackson's.
Mutton, of course, comes from sheep, just like pork comes from hogs—a fact that seems to have been lost on the friendly four-legged gent staring into Miller's eyes.
Elliott turns to the pair, "Irv, I don't know if you're listening to this, but the next group of hogs you'll be getting those pork butts from will have been fed a lot of milk, so I'm really optimistic about the kind of taste you'll get."
The chef doesn't respond, as he's too busy talking to the pig. He smiles at the animal. "You're going to taste delicious," he says. The pig grunts approvingly and wags its tail like a terrier—poor, dumb beast.
The Redneck Riviera
Most would not think of Northwest Florida as a destination for foodies. In fairness to the critics, one of the region's most well known culinary traditions, the annual Interstate Mullet Toss, does involve hurling a dead fish (or several thousand) across the Alabama–Florida state line.
While the nickname is endearing to some, most consider it an insult—a mullet slap across the collective cheek of a city that is as proud as it is old.
Miller has spent the better part of three decades along Florida's Gulf Coast, working as a chef in some of the region's most celebrated kitchens and exploring the traditional foodways of this often overlooked—and sometimes maligned—region of the Sunshine State. He has spent sixteen of those years at Jackson's, building the restaurant's reputation as one of the finest in the state. Under his tutelage, Jackson's has won more awards than you can toss a mullet at. The chef has also been invited to cook at the prestigious James Beard House in New York City six times—a rare honor.
Today, Jackson's is rated among the top 2 percent of fine-dining establishments in the country by the Distinguished Restaurants of North America and one of the top twenty-five restaurants in the state by Florida Trend magazine. The restaurant's location in downtown Pensacola reflects the city's rich history. The dining room, housed in an 1860s-era building, overlooks Plaza Ferdinand VII, where, in July of 1821, General Andrew Jackson accepted the transfer of Florida from Spain to the United States and hoisted the Stars and Stripes above the colonial city for the first time in its two-hundred-fifty-year history.
Despite such proud accomplishments, the "Redneck Riviera" moniker lingers across the Northwest Florida coast, casting a shadow over Pensacola and its culinary reputation. While the nickname is endearing to some, most consider it an insult—a mullet slap across the collective cheek of a city that is as proud as it is old.
To Miller, though, the nickname—and even, perhaps, the tossing of fish—embodies a lifestyle and culture worth celebrating.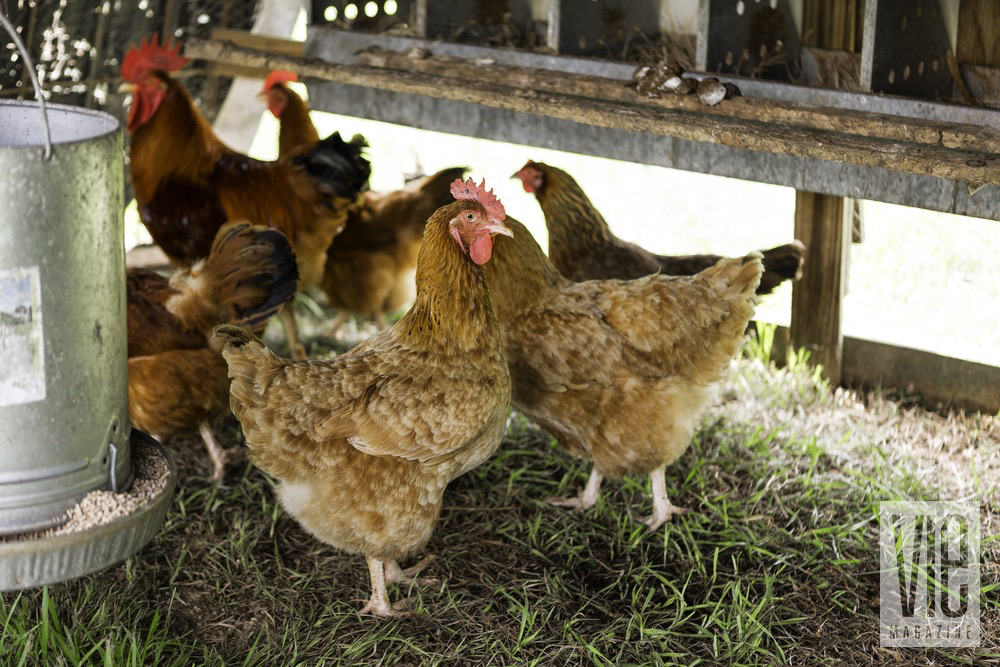 "More Than Hush Puppies and Catfish"
"I don't think anybody has looked at the new Redneck Riviera as a food destination," Miller says on the drive back from Elliott's farm, "but it is more than hush puppies and catfish. There is a food culture here."
The Riviera, as defined by Miller, stretches from the spring break capital of Panama City Beach to the sleepy coastal village of Perdido Key (the somewhat reluctant host of the annual fish toss). The region, writ large, is renowned for its sugar-white beaches and turquoise water—a mecca for tourists from throughout the Southeast and the Midwest. Still, most visitors don't think of the area as a culinary destination.
Miller wants to change that.
His book is a paean to the iconic ingredients, both natural and human, that have made the area's food culture what it is. There is, of course, the humble mullet, which, when not being tossed by drunken revelers, is quite delicious. Miller likes it fried with dill tartar sauce and homemade hush puppies. That recipe, along with several dozen others, is in the book, but the chef wanted to do more than simply compile recipes.
"I don't think anybody has looked at the new Redneck Riviera as a food destination, but it is more than hush puppies and catfish. There is a food culture here."
"I knew I didn't want to write the 'Irv Miller cookbook,'" he says. "I wasn't looking to be on the front cover. I wanted something that celebrated the region." To that end, the book is also filled with stories.
Readers will learn about the history of the red snapper industry in Pensacola, which gave the city its erstwhile title of Red Snapper Capital of the World. They will learn about the rich, multicultural heritage of the city, which, throughout its four-hundred-fifty-year history, has come under the sway of five different flags and welcomed wave after wave of immigrants to its sandy shores.
Many of those cultures are represented in Miller's recipes. His Panhandle phyllo pie pays homage to the Greek fishermen who settled in the area in the nineteenth century. Meanwhile, his eggplant Creole with crab meunière and béarnaise sauce honors the city's historic Creole population, and his Thai-style jasmine rice cakes and shrimp bites recognize the more recent waves of South Asian immigrants who have made the city their own.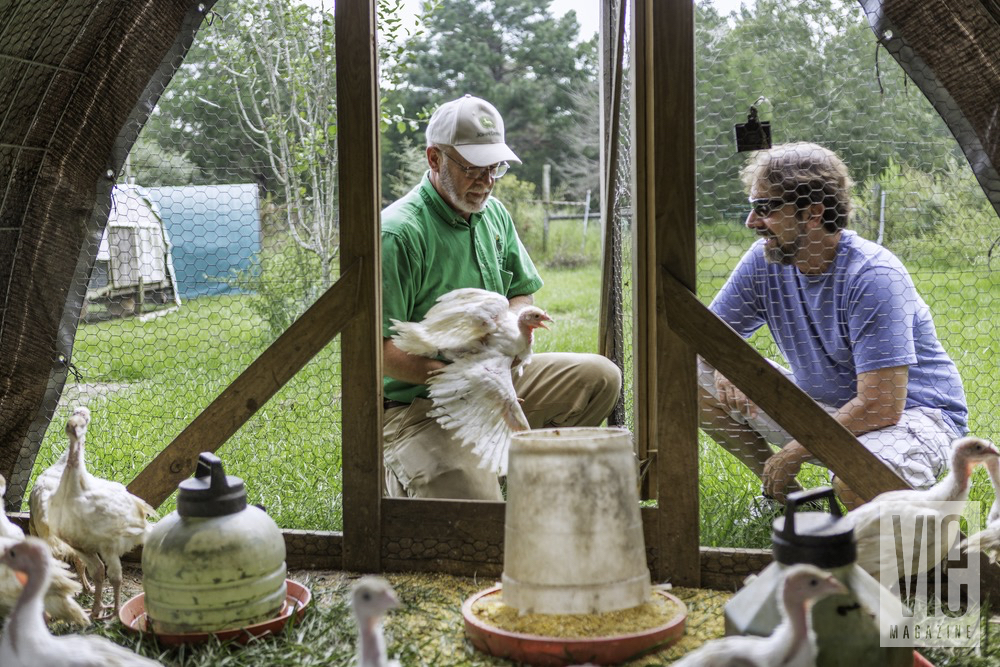 Smoked Mullet and Dying Breeds
The book also touches on the stories of individual farmers and fisherfolk whose livelihoods depend upon the soil and the sea—and whose hard work our taste buds rely on.
Readers will meet Tommy Ward, whose multigenerational seafood business in Apalachicola, Florida, has been threatened by plummeting oyster harvests, and Roger Cleckler, one of the few remaining mullet fishermen in the area who still smokes his catch the old-fashioned way—over logs of pecan wood.
Miller served Ward's oysters in his restaurant until recently, when an apocalyptic confluence of drought, interstate water conflicts, and overharvesting related to the BP oil spill forced the Ward family to scale back its wholesale business. Today, Apalachicola oysters are hard to find anywhere, even in Apalachicola.
Cleckler has fared better than the Wards, but even he is among the last of his breed, selling smoked mullet out the back of his welding shop in old Warrington, just west of downtown Pensacola.
"He was born and raised here," Miller says of Cleckler. "He has a couple of guys who fish and catch the mullet, and then he smokes them. There's hardly anyone who does that anymore." Miller uses Cleckler's product to make the smoked mullet dip at Jackson's.
Readers will learn about the history of the red snapper industry in Pensacola, which gave the city its erstwhile title of Red Snapper Capital of the World.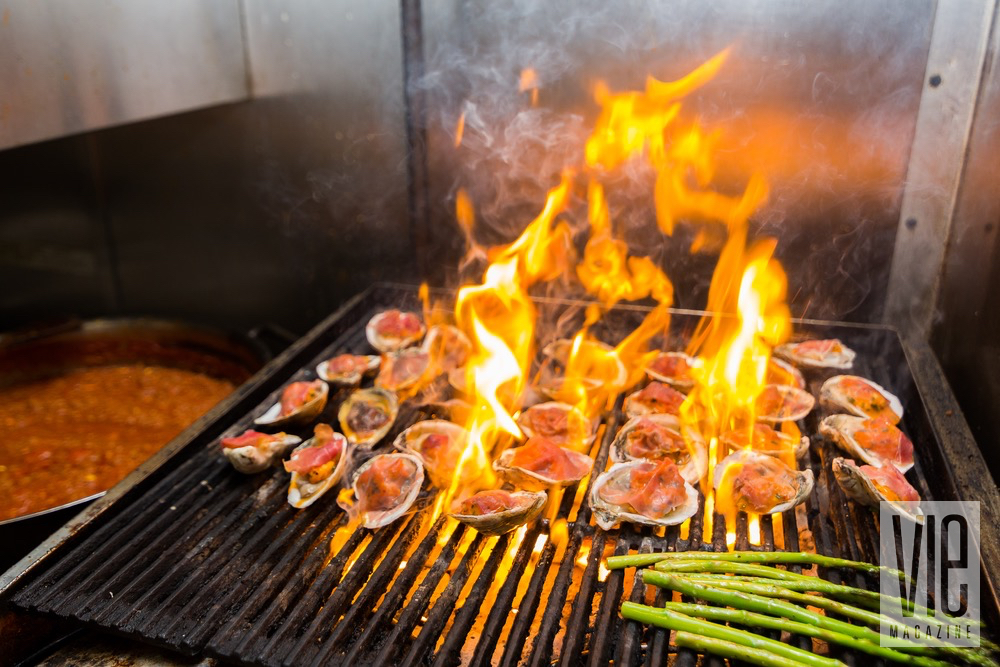 These stories and others are reminders that the foods we cherish depend on intricate, interlocking, and often-fragile webs of resources, people, and meaning. If we don't recognize and protect them, they might wind up as little more than stories on a page. No matter how delicious the recipe, ink and paper don't taste nearly as good as the real thing.
This realization and the farm-to-table ethos it inspires are very much at the heart of Miller's book and kitchen. "Besides the fact that Roger's mullet is absolutely smoky and delicious, I want to support him in his efforts to keep that tradition alive," the chef says.
An Unexpected Reunion
In October, Jackson's played host to the first-ever installment of the 50-Mile Meal, a farm-to-table event celebrating the contributions of people like Cleckler, Ward, and Elliott to the region's foodways. All the key ingredients were culled from within about fifty miles of the restaurant, and the table of honor was populated with cheese makers, farmers, and seafood harvesters who spoke to the dinner guests about their traditions and trades.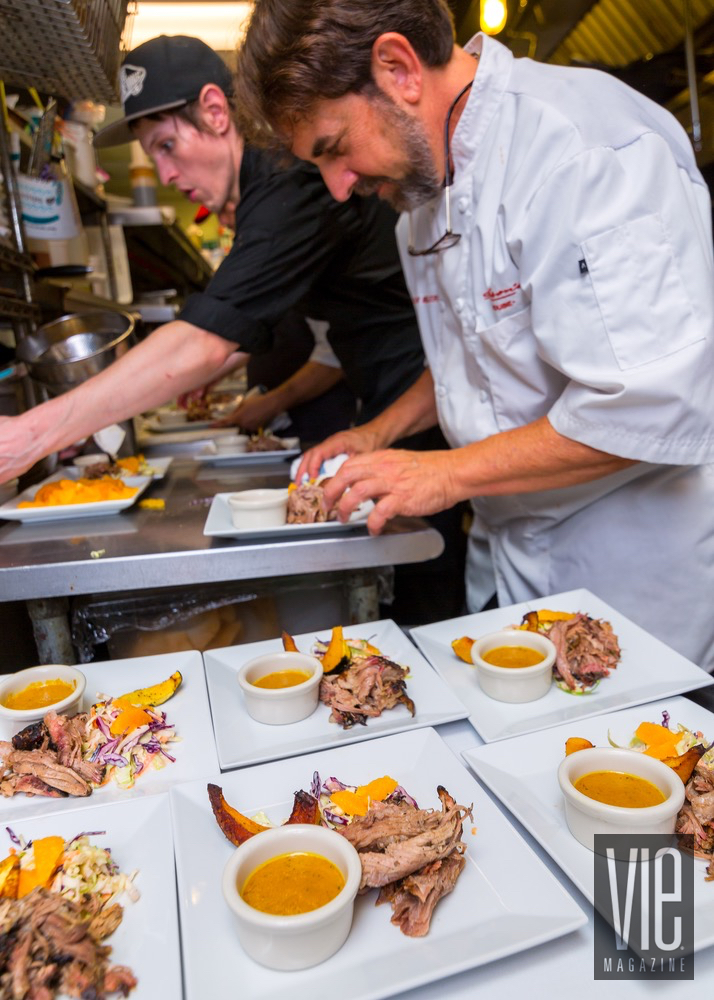 The five-course affair featured farm-raised boutique oysters ("Oysters worth killing for") from Murder Point Oyster Co. in Irvington, Alabama; a salad made with hydroponically grown lettuce from Craine Creek Farm in Loxley, Alabama, and topped with a creamy bacon dressing and Perdido cheese from nearby Sweet Home Farm; roasted garlic and rosemary gnocchi served with spiced mutton (courtesy of Green Cedars Farm), red gravy, and Montabella cheese; and the most supernatural-tasting brownie I've ever encountered, whose secret ingredient was something called "cheese fudge" from Sweet Home Farm. I have no concept of how it was made, but it had me speaking in tongues. (I cleaned my plate and asked for seconds. The waiter, who apparently wasn't Pentecostal, refilled my water instead.)
It was during the third course, though, that I became reacquainted with Miller's old friend, the Hereford hog—or at least one of his siblings. He was somewhat changed since we had last met, having been smoked with pecan wood like one of Cleckler's mullets, slathered with sweet mustard barbecue sauce, and served with sides of gourmet kale slaw and roasted pumpkin.
I was ambivalent about meeting him this way, unaccustomed as I was to eating old friends. Then again, Elliott sat across the table from me. Miller stood nearby, talking and gesticulating with his hands. Everyone seemed so happy. I didn't want to spoil the mood.
What does one say under such circumstances? How do you greet someone before you eat them? I looked around and took a sip of water—then another. I asked the waiter—still speaking in tongues—to refill my glass. He brought me another brownie.
My eyes fell upon Miller, and it dawned on me. I looked back to my plate.
"You're going to taste delicious," I said, smiling. I took a bite.
My, was Miller right. That hog was delicious.
— V —
---
Panhandle to Pan: Recipes and Stories from Florida's New Redneck Riviera by Chef Irv Miller is available on Amazon.com.
ARTICLE CATEGORIES