A Culinary Conversation
By Colleen Sachs | 
Photography by Romona Robbins
For years I have been enthralled by photos of long, beautiful dining tables in dramatic settings. Surrounding the tables are happy people enjoying meals of locally sourced foods prepared with care by local chefs. On a warmer than usual winter day in the Florida Panhandle, one of these photos came to life for me. I was invited to the table.
The specific location was the future site of the Kaiya Beach Resort on Florida's Scenic Highway 30-A. When completed, the Kaiya community will include homes, an inn, and a club. Planned venues focus on the natural beauty of the Grove (a beautifully landscaped green space) and the beach. Kaiya will also offer wellness through a spa and fitness center, adventures along the Gulf Coast, and farm-to-table dining. It will be a place of relaxation and rejuvenation nestled in the heart of the South Walton beaches.
The Kaiya philosophy of blending the inside with the outside and appreciating the natural beauty of the area makes it a perfect choice for an Outstanding in the Field event. This mobile celebration is the labor of love of Jim Denevan, an artist from Santa Cruz, California. Twenty years ago, he became disenchanted with the mundane state of so much fine dining. Where style over substance was the norm, Denevan's focus was on the substance. Looking for a way to honor the ingredients in meals, he designed the ultimate farm-to-table pop-up restaurant by bringing the table to the source. After two decades, he has brought this concept to at least fifteen countries and every state, including Florida.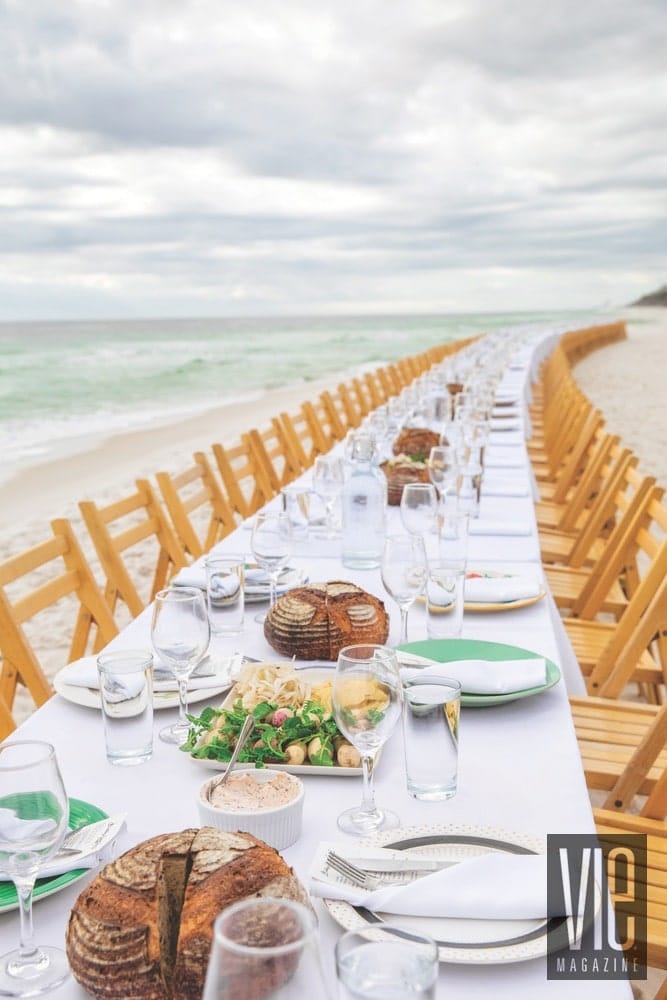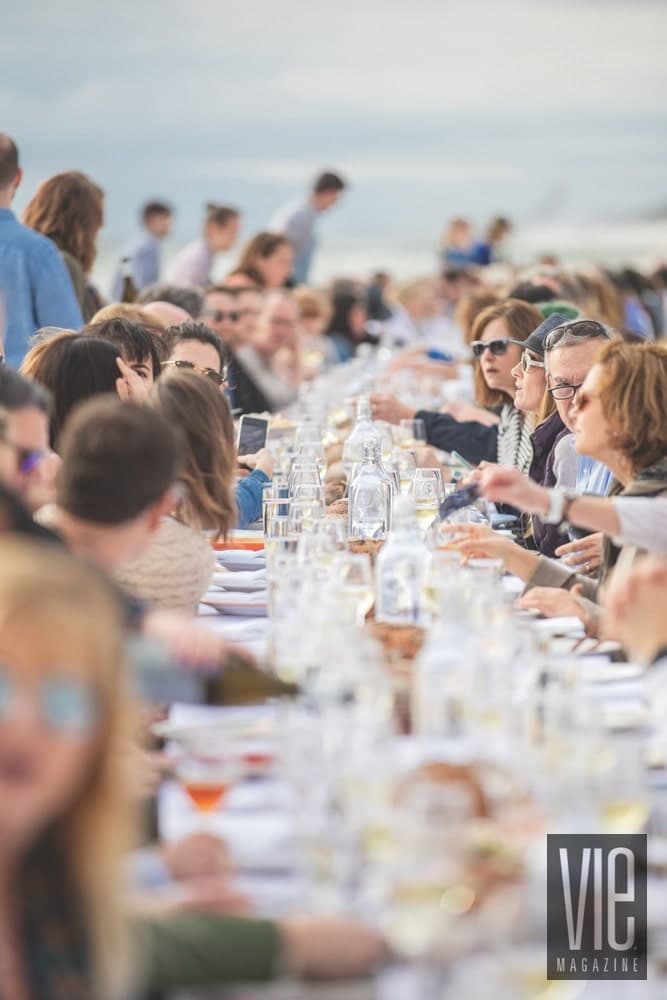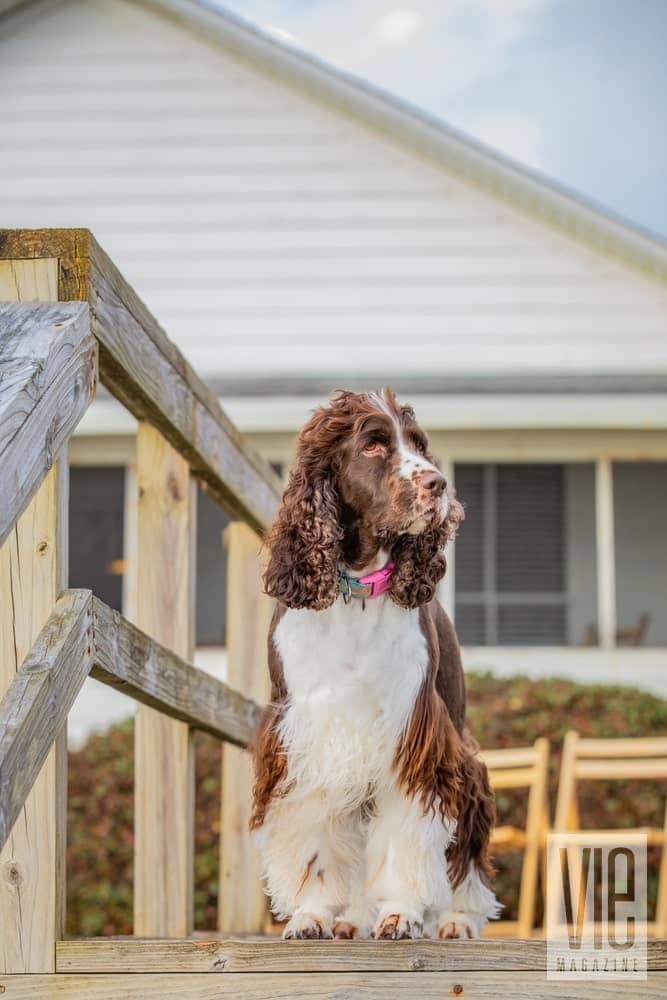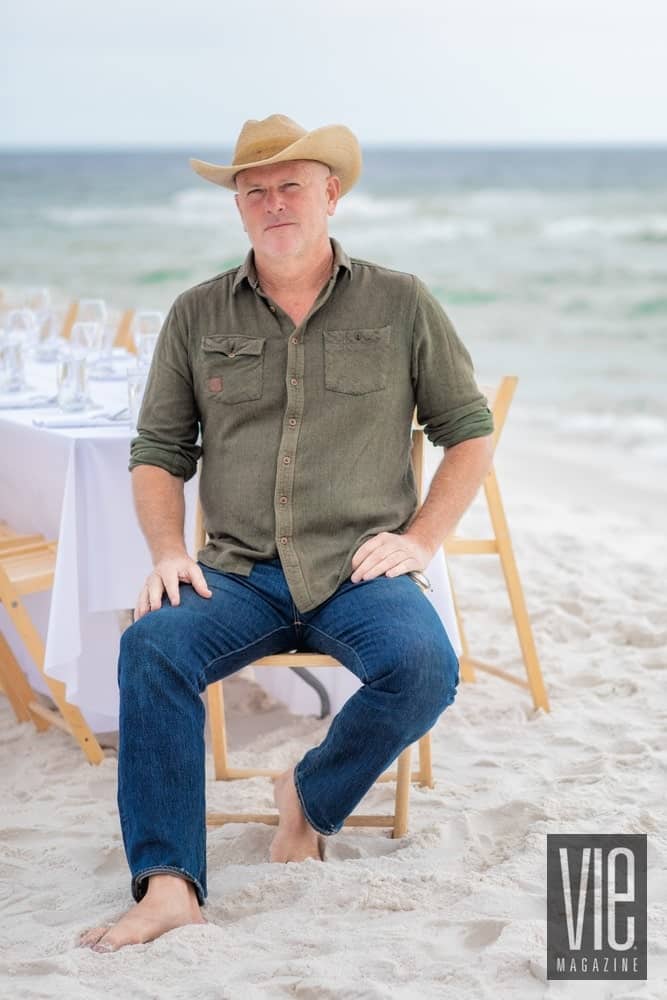 When I arrived at the resort, I visited with Kaiya cofounder Jason Romair and learned about the Outstanding in the Field event he had attended at Bloomsbury Farm outside of Nashville. The organic farm, owned and operated by his friends Teresa and Myron Palmer and their daughter Lauren, has hosted this celebration three times. Romair credits the Palmers with the inspiration for a meal at Kaiya, as well as the food and drink vision at Kaiya. And because sense of place is so important to both Kaiya and Outstanding in the Field, an important element of the dinner was its designation as a benefit for those impacted by Hurricane Michael.
Not surprisingly, host Jim Denevan, an artist who creates large-scale drawings in sand, dirt, and ice around the world (see images on jimdenevan.com), leaves no detail to chance. At the beginning of the day the dining location is a clean slate, and taking a leave-no-trace approach, a clean slate is what is left after the event ends. What happens in between is art and magic and something that will only exist at that place and time.
A week or so before the event I received an email with details on how long the event would last (five hours), what to wear (anything comfortable from jeans to dressier attire), and what to bring. The most interesting thing on the list of what to bring was a plate.
A week or so before the event I received an email with details on how long the event would last (five hours), what to wear (anything comfortable from jeans to dressier attire), and what to bring. The most interesting thing on the list of what to bring was a plate. While you can opt for a plate from the eclectic collection Outstanding in the Field has available, choosing a plate to bring made the fun start even earlier. Some guests buy a plate specifically for the meal, and others bring one that has special significance. Departing from my usual preference for beautiful food on white plates, I went for a plate from my Bois d'Arc dinnerware collection that provided rich hues of purple in the form of a polka-dot border and root vegetables in the center. The variety of plates creates a one-of-a-kind table filled with color and interest.
As I arrived at the event, Hannah with Outstanding in the Field greeted me and took my plate, adding it to a growing collection. She directed me around the corner of the house down a short path that opened to a lawn on a bluff overlooking the beach. A single 160-foot table was set just a few steps from where the waves were breaking on the shore. Three firepits were impeccably arranged with equal spacing between the table and the steps of the beach walkover. But the afternoon started on the lawn with a reception. Wine, beer, and hors d'oeuvres were served.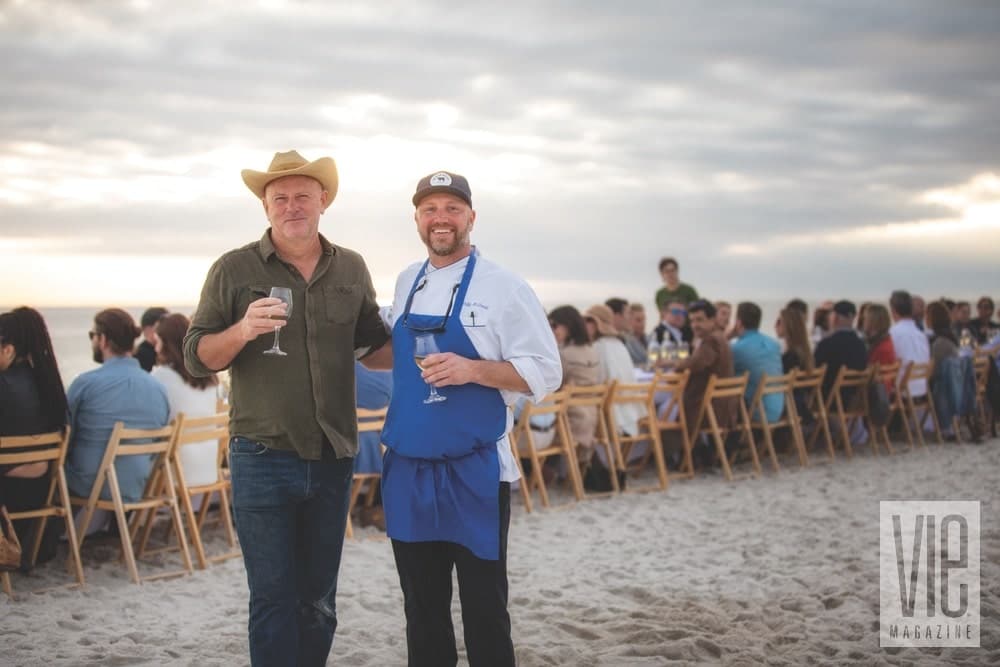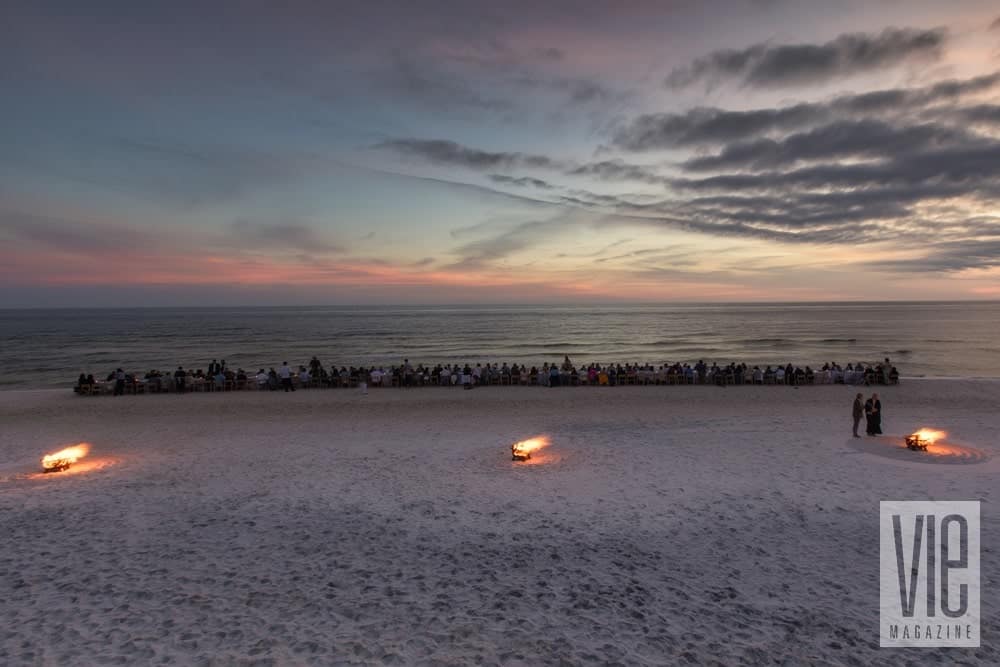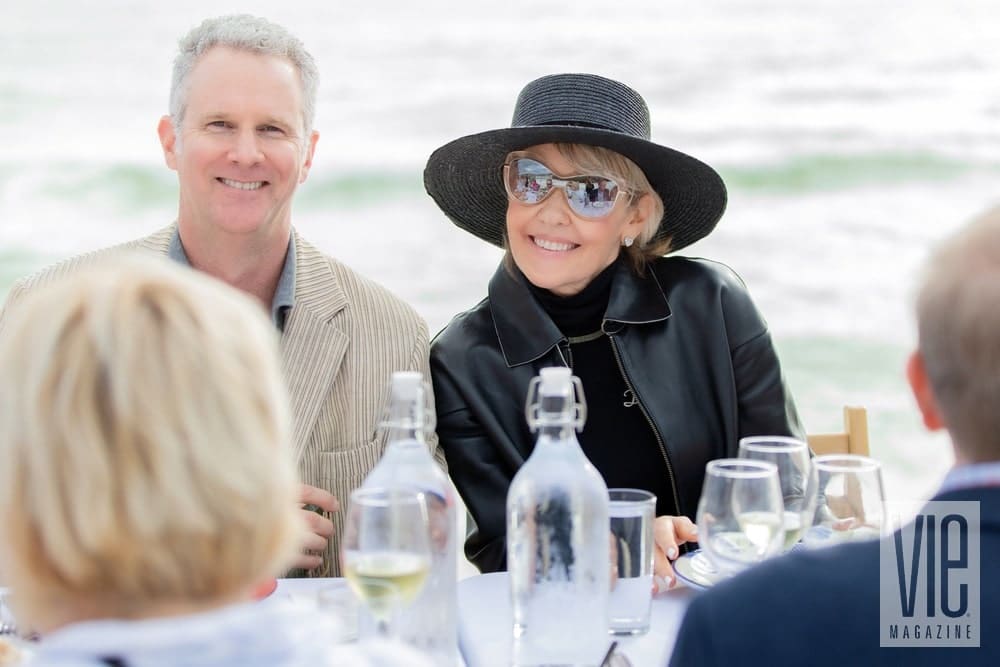 When Denevan realized the one o'clock start would not allow us to enjoy the sunset to its fullest, the reception was moved to two. There was a chance of rain, but that wouldn't stop the meal. The only time an event has been canceled for weather was when evacuation orders were in effect for an approaching hurricane.
As luck would have it, the afternoon was comfortably warm with a light breeze and blue sky peeking through the clouds. Pelicans flew in a low undulating line overhead. An enticing scent of smoke from the kitchen tents settled over the heady aroma of the sea.
Beer was provided by local favorite Grayton Beer Company, and their Salt of the Gulf Gose provided the perfect pairing for the location. Locally harvested salt teamed with coriander results in a beer that tastes as if you sprinkled some good sea salt on a piece of fruit to bring out the sweetness.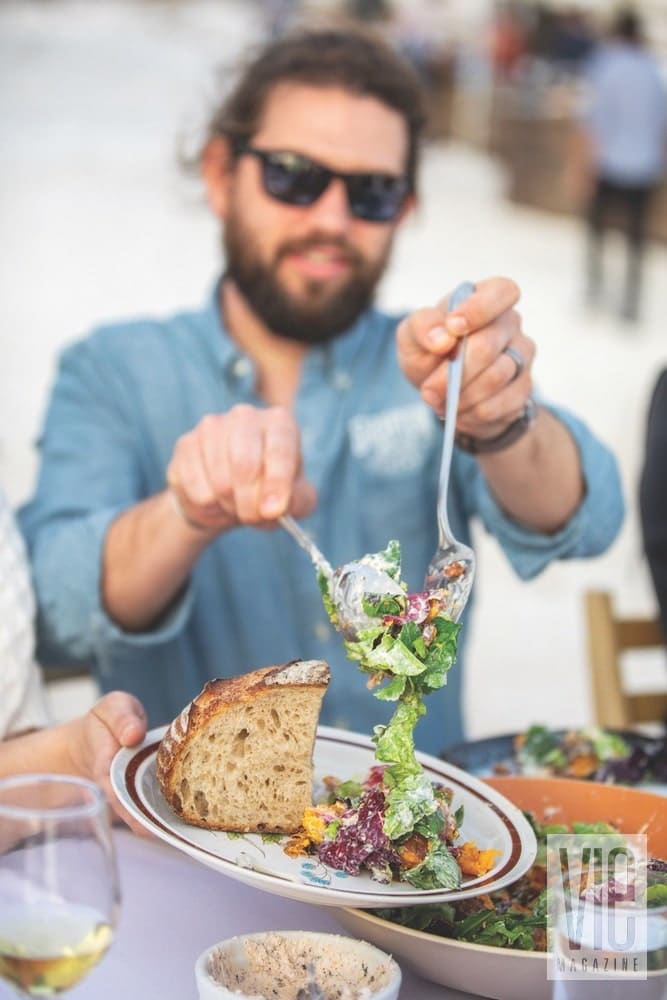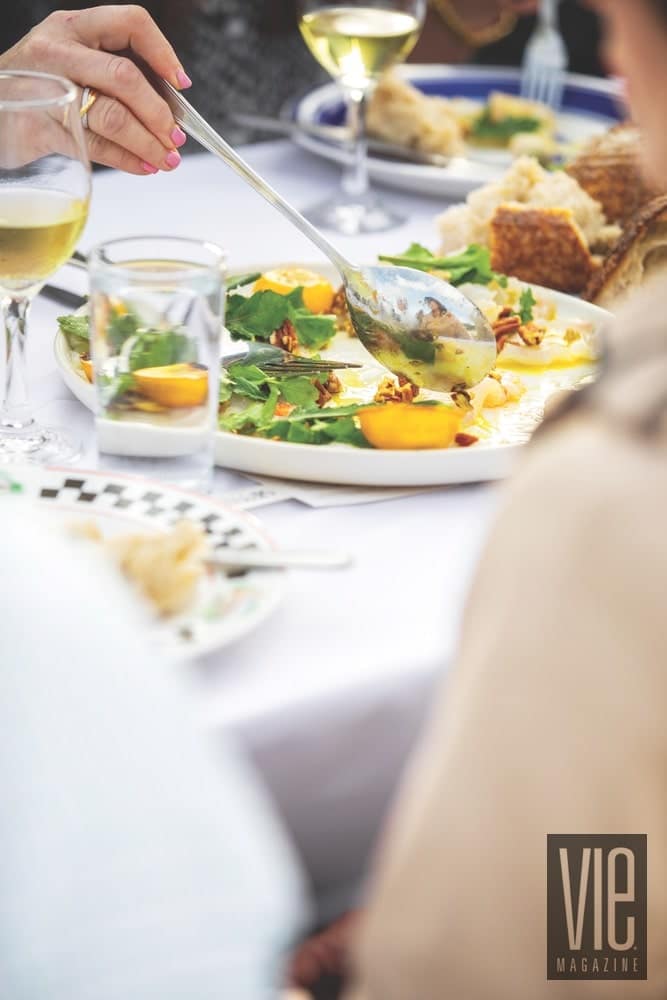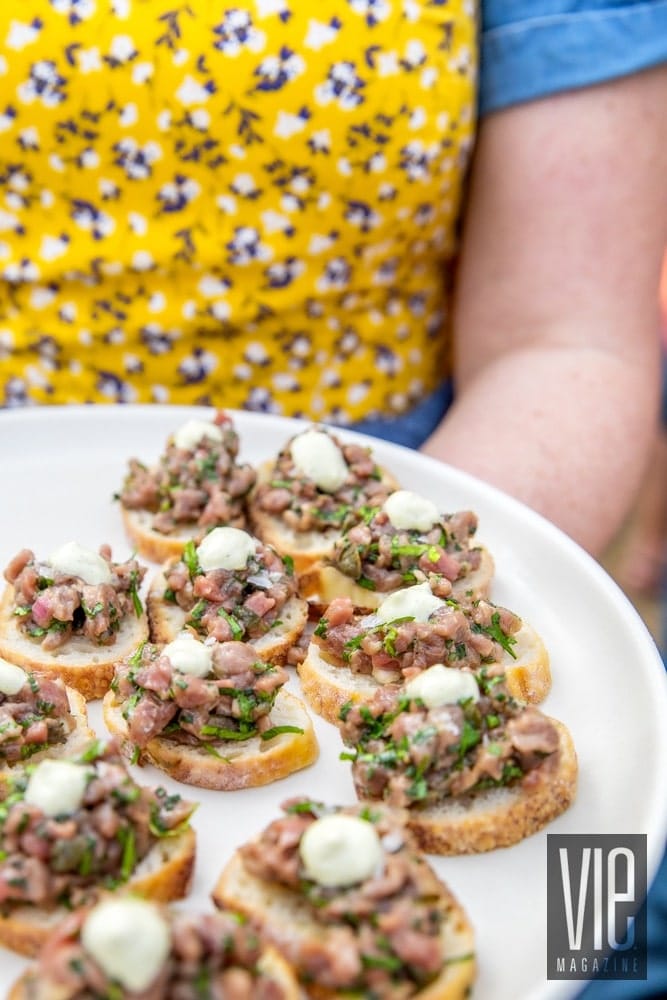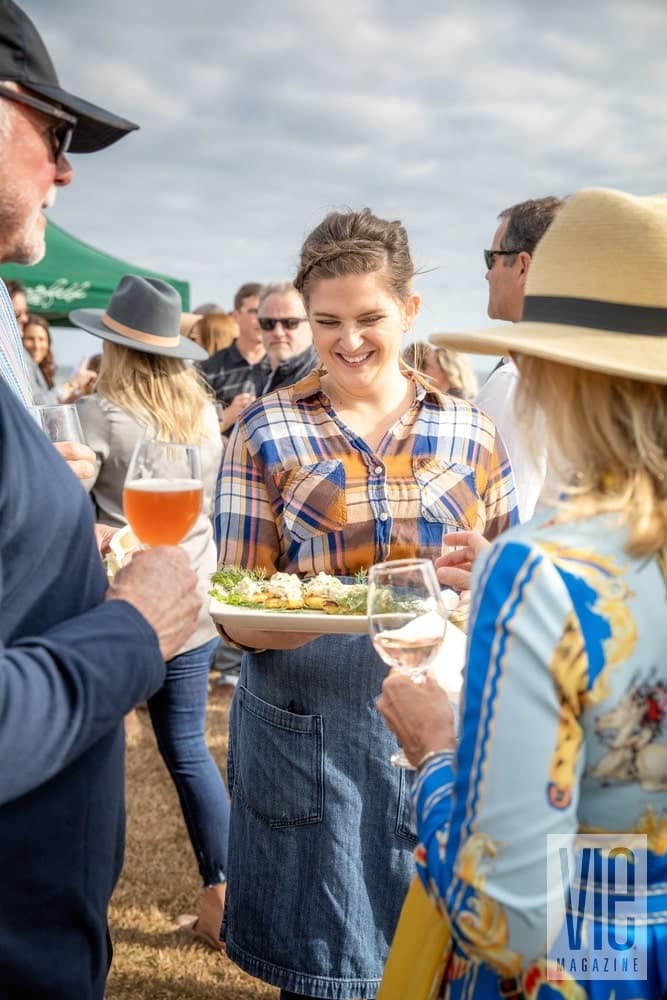 Just as welcome was The Country Wife, the San Lucas Vineyard Rosé of Cinsault 2018, produced by Ernest Vineyards for their Eugenia label. Made from cinsault grapes grown on California's Central Coast, The Country Wife's pale pink color belies the lively freshness of this wine with notes of deep citrus and bright tropical fruit. Wine pairings with the dinner were also from Ernest Vineyards.
Each Outstanding in the Field event features a local farmer. Being located on the Gulf of Mexico, the "farmer" for this event was Captain Mike Eller of the Lady Em charter boat. Captain Mike has been a Destin, Florida, fisherman for over thirty-five years. He provided red snapper, grouper, and amberjack, all of which had been swimming in the waters we sat beside only a matter of hours before.
Other ingredients came from local purveyors: Water Street Seafood in Apalachicola (the site of an earlier Outstanding in the Field), the Honey Hutch in Seagrove Beach, the GreenMans Garden and Dragonfly Fields in DeFuniak Springs, Arrowhead Beef in Chipley, Mac Farms in Santa Rosa Beach, and C & D Mill in Pensacola.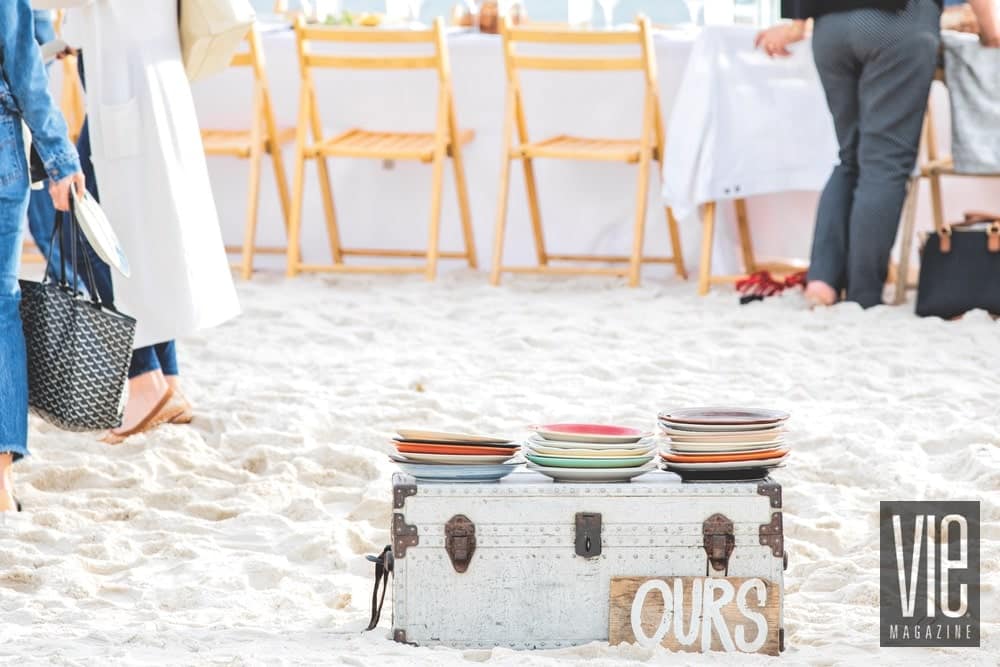 And all of that local food called for a chef who would treat the food with enough respect to let the ingredients shine. Chef Phillip McDonald of Black Bear Bread Co. in Grayton Beach was an ideal choice. His food philosophy is to buy local and eat local. One of Chef Phil's most impressive feats was creating our meal in early February in the Florida Panhandle using only local produce a week after a freeze.
The first tastes were a quartet of one- and two-bite finger foods passed during the reception. Tiny Alligator Harbor clams were steamed and chilled in the shell and topped with a vivid green parsley and olive oil–based chermoula (think Moroccan pesto). These clams from Franklin County had the wonderful fresh taste of the sea.
Smoked snapper salad with hints of lemon and onion was served atop little potato latkes. The combination of flavors and textures was so addicting it was hard to resist taking one each time the tray came by.
Two crostini diverged from the seafood focus but stayed local. Grass-fed beef from Arrowhead Beef became a rosemary-aioli-laced tartare, while sweet potatoes from Dragonfly Fields were pureed and topped with parsley-pecan pesto.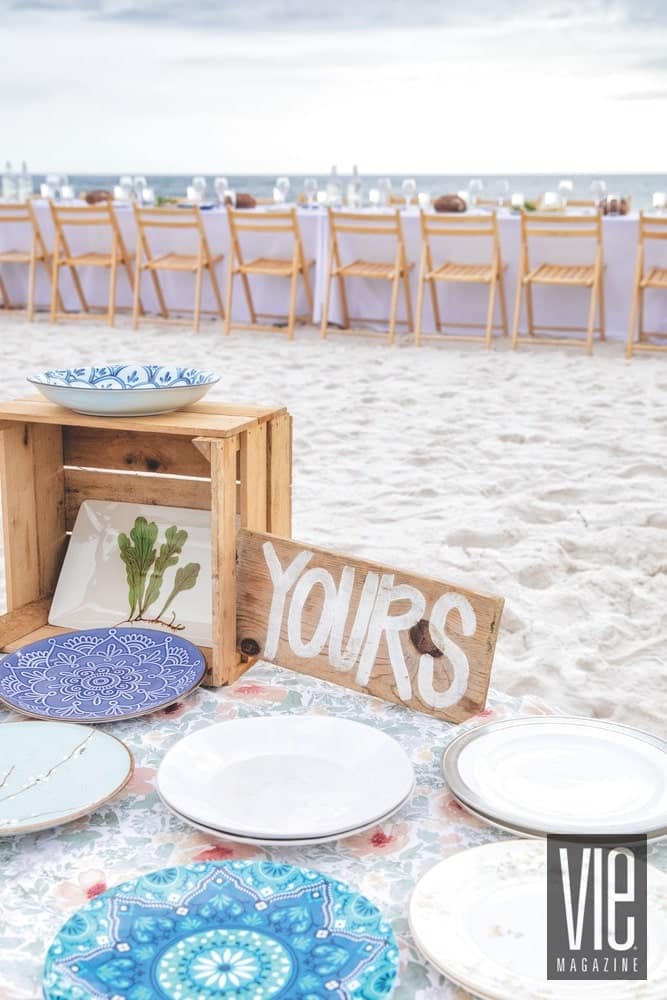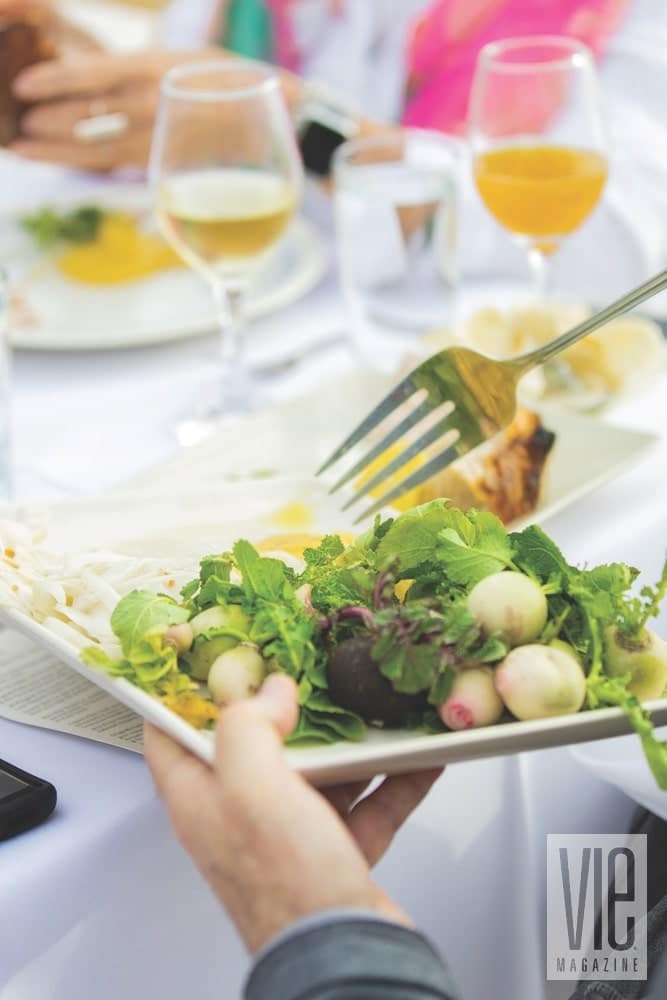 After time to greet old friends and meet new ones, the festivities moved to the beach. I left my shoes at the bottom of the stairs and stepped onto the cool soft sand, enjoying another sensory pleasure. With everyone gathered on the beach, we heard from Denevan and gained an understanding of what Outstanding in the Field means to him. We also heard from the family who had homesteaded this site, known as Emerald Crest, in 1925. It was clear that our table was set in a very special place.
It was now time for dinner, served family style, lending a friendly communal feel. A large steamer trunk topped with stacks of colorful plates marked "Ours" was placed next to two benches filled with equally colorful plates marked "Yours." I found my plate right away and took a seat at the table.
I hadn't yet met my dining companions seated across from me, but by the end of the meal they were no longer strangers. A man sitting near me discovered that a friend he hadn't seen since they lived in New Jersey in 1975 was sitting just a few seats away. They reconnected through sharing childhood memories. The meal progressed with passed platters and lively conversation.
Waiting for us on the table when we sat down were round loaves of crusty sourdough from Black Bear Co. Black Bear's baker, Debbie Swenerton, was recently named a James Beard Award semifinalist for Outstanding Baker.
Waiting for us on the table when we sat down were round loaves of crusty sourdough from Black Bear Co. Black Bear's baker, Debbie Swenerton, was recently named a James Beard Award semifinalist for Outstanding Baker. One taste of this chewy, tangy loaf made the reason clear. The bread was served with a platter of seasonal pickles, including golden beets, and fresh radishes topped with their peppery greens. Fragrant za'atar butter was wonderful slathered on the bread and on the radishes. As I bit into one of the radishes and saw the deep purple interior, I had to smile—I had chosen a plate that coordinated with my food.
The next course was Captain Mike's Gulf grouper crudo. Thin slices of perfectly fresh fish were layered on a platter. Smoked pecan pieces and arugula were scattered on top. The fish was drizzled with olive oil and fermented hot sauce, and diners could add as much sweet-tart juice from charred Meyer lemon halves as they liked. The crudo was paired with Ernest Vineyards' The Jester, the 2016 Fallenleaf Vineyard Chardonnay from the Sonoma Coast. The Jester is a crisp wine with green apple, mineral, and Meyer lemon notes that complemented the dish perfectly.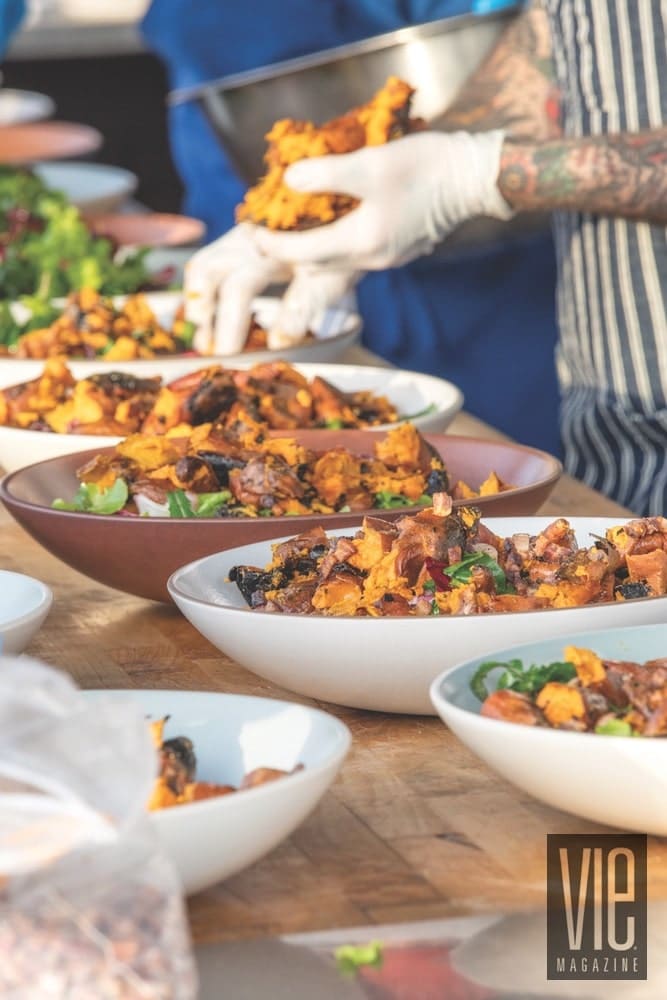 In warmer months when vegetables such as tomatoes, cucumbers, and corn are abundant, salads are easy. Midwinter in the Florida Panhandle is more of a challenge. Our salad course was a pile of charred sweet potato flesh mixed with a jumble of bitter greens from Mac Farms. Arrowhead Beef's house-cured pancetta, spoonfuls of grain mustard crème fraîche, and the Honey Hutch honey-sherry vinaigrette made for a dish that could make you yearn for winter salads this summer. Ernest Vineyards' The Farmer, their 2015 Green Valley Ranch Chardonnay (Sonoma Coast), was more floral and had more oak character than The Jester, making it a good match for this hearty salad.
For the main course, which took me right back to my childhood, Captain Mike provided meaty amberjack. This is the fish I ate as a sandwich over and over again up and down the beach. And here it was elevated by Chef Phil with green olive salsa verde and preserved lemon. Yet it was that unmistakable flavor of the Panhandle that I have known for decades. It was a bold choice. Many chefs would have chosen to feature a fish that might be considered more elegant. But as Chef Phil greeted diners, he told them that amberjack was what he grew up with, and he wanted to showcase it. This meal was most certainly a meal of this place.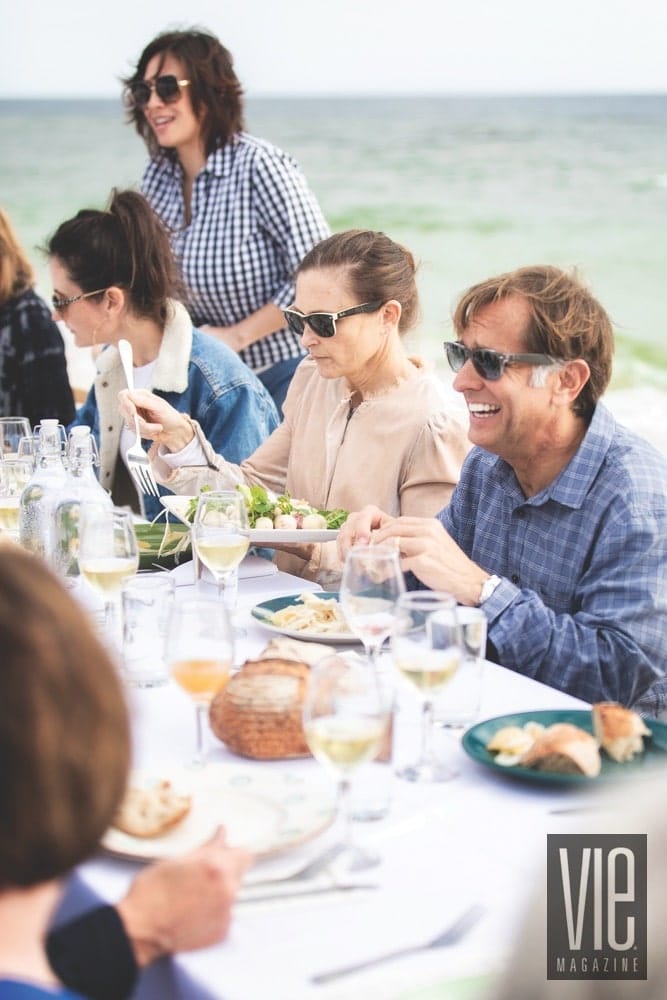 Served alongside the amberjack was a side dish of grits that could have been a meal unto itself. Anyone who says they don't like grits has not had these grits: creamy with the distinct taste of corn accented by the tangy bite of pickled peppers. Herbaceous flavor came from fresh oregano. Large dollops of roasted garlic butter melted into the grits. Paired with this course was another Ernest Vineyards selection—this time, The Artist, the 2015 Upp Road Vineyard Pinot Noir. It had enough acidity to work with the richness of the grits, and its bright red fruit was lovely with the meatiness of the amberjack.
As we lingered during the main course, we were treated to a stunning sunset thanks to Denevan's foresight in changing the event's start time. With the setting sun the temperature dropped, and the firepits were lit. Not leaving anything to chance, the excellent service staff offered blankets to anyone who was chilly.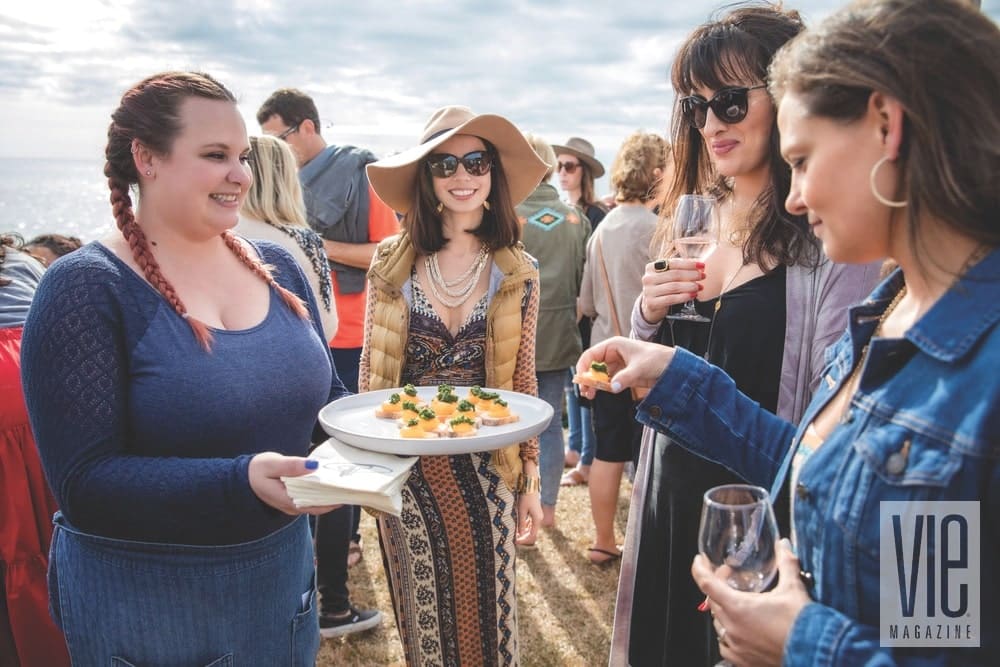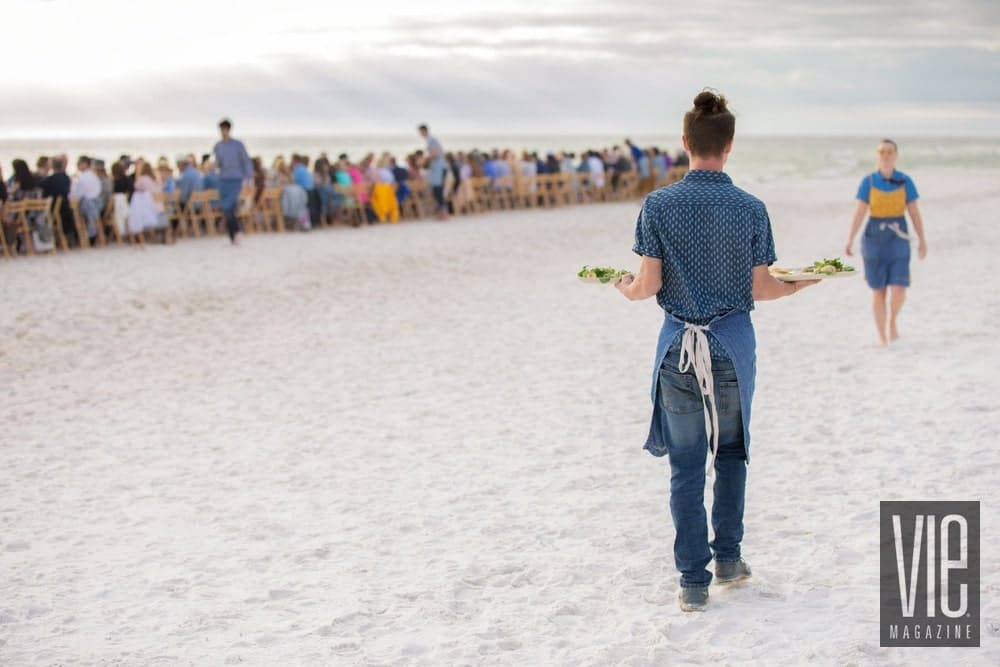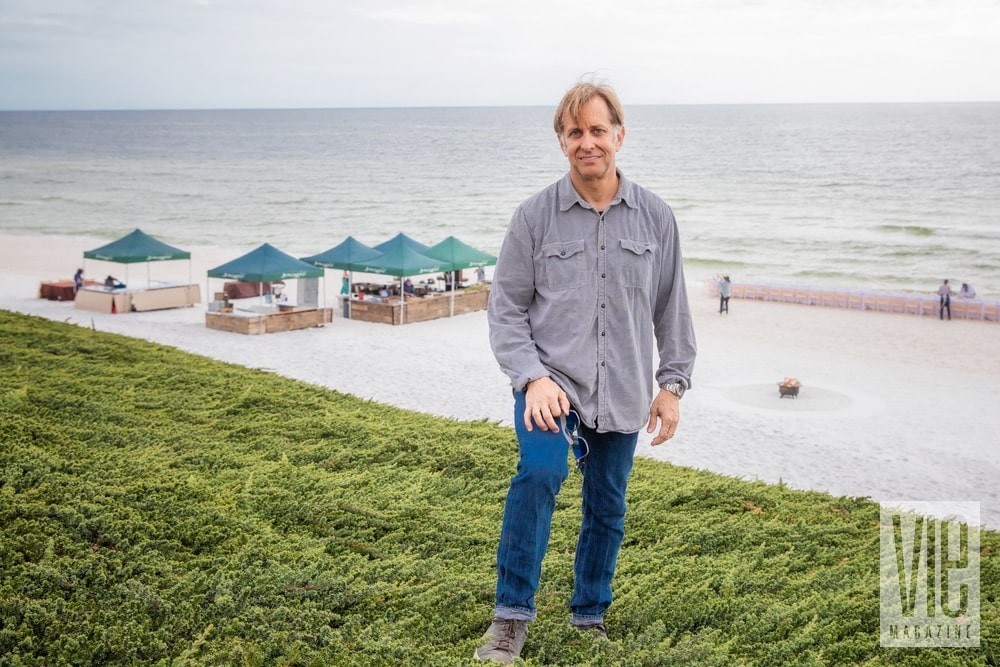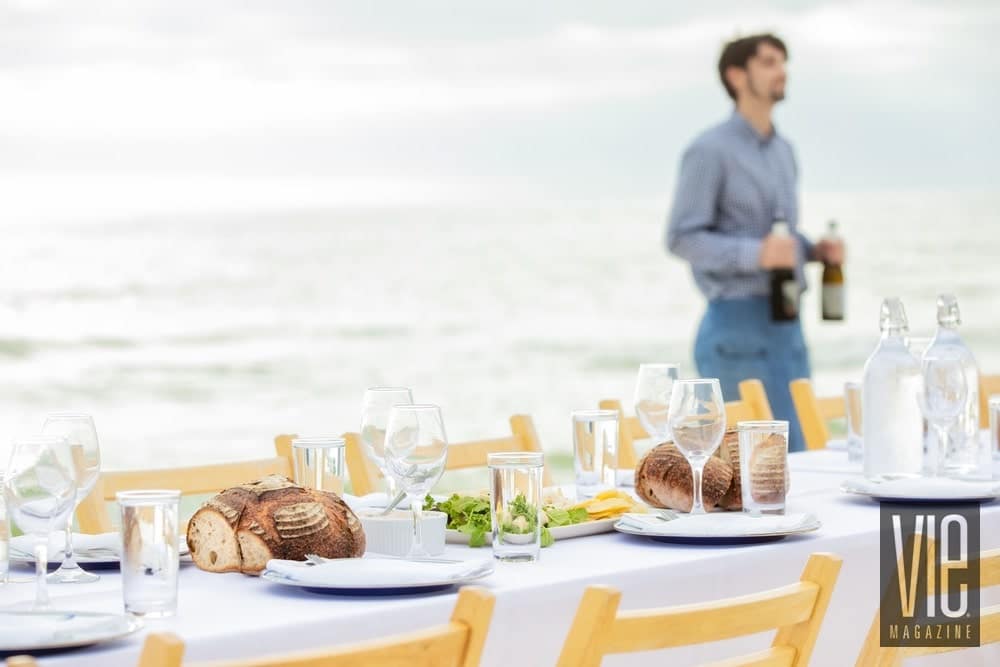 As the glow of candlelight gently illuminated the table, dessert was served. A platter of buttermilk biscuits became tender shortcakes with the addition of a topping of mixed-berry compote, a scatter of fresh mint leaves, and a pile of soft whipped cream.
With dinner winding down and no announcement that the event was over, diners left the table and wandered off a few at a time, while others stayed to finish quiet conversations. Our plates had been cleared before dessert, and the newly cleaned plates were waiting at the base of the steps.
Not in a rush to have such a special evening come to an end, I moved to one of the firepits to warm my hands. Wanting to take in everything, I breathed in the sea air and noticed the breeze on my skin. Above me the sky had cleared, opening up to twinkling stars and just a sliver of a moon. It was one of those moments when you just want to make time stop for a bit—an unparalleled experience that can be approximated but never duplicated. It was the quintessence of Outstanding in the Field.
— V —
---
Visit OutstandingintheField.com, BlackBearBreadCo.com, and KaiyaBeachResort.com to learn more about some of the players in this distinctive culinary event.
Colleen Sachs loves food and traveling around the world and has been writing about both for twenty-five years. She lives with her spouse and a multitude of pets in Santa Rosa Beach and Pensacola, Florida.
ARTICLE CATEGORIES