Stories with Heart & Soul
Pop Art's Rebel Queen
Larger-than-life pop artist Ashley Longshore is known for her tongue-in-cheek commentary on modern fashion, pop culture, and society. She's also a purveyor of all things beautiful, colorful, and fun. We were honored to photograph her at the illustrious Bergdorf Goodman department store in New York City, where she held a solo art showcase from January 11 through February 25, 2018. As Bergdorf's first solo artist in residence, Longshore filled the retailer's hallowed seventh-floor interiors section with her irreverent and colorful paintings, sculptures, and furniture. VIE joined her to celebrate at the celebrity-studded grand opening the night before the early-morning private shoot. Bergdorf's later partnered with the artist to create a prismatic new in-store restaurant, Palette. See the full shoot in our May 2018 issue!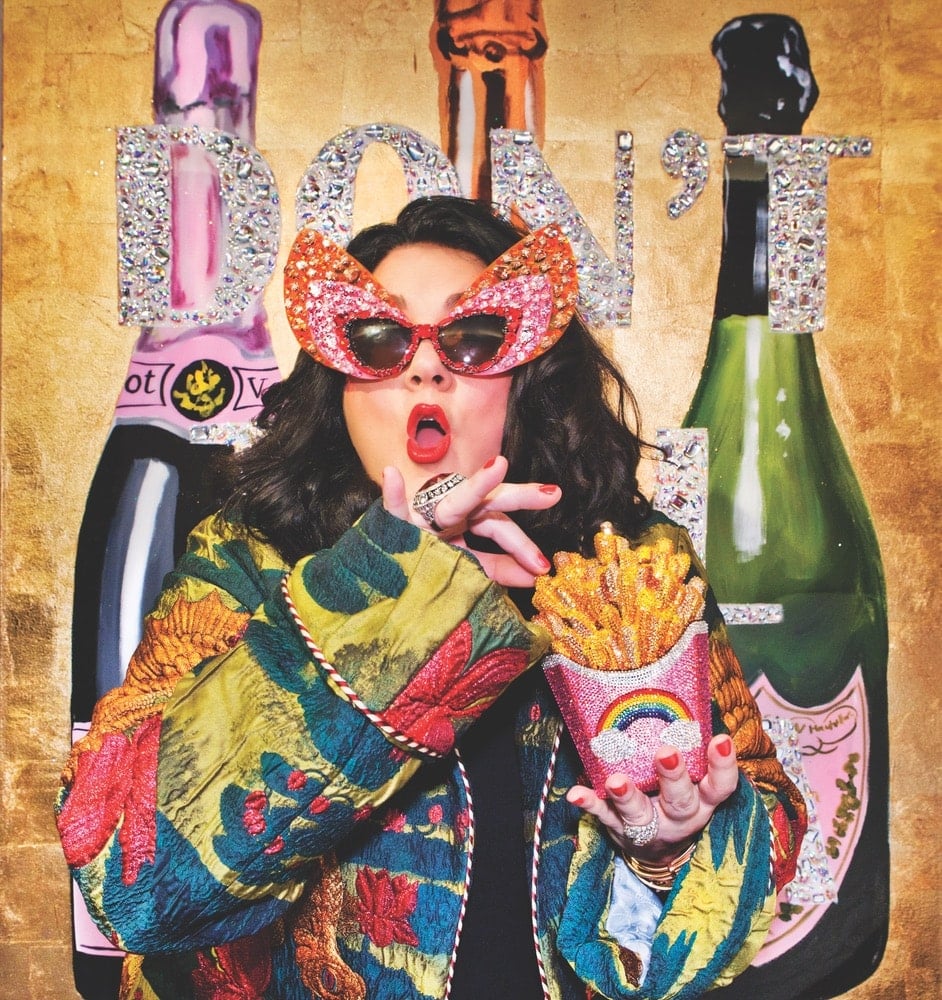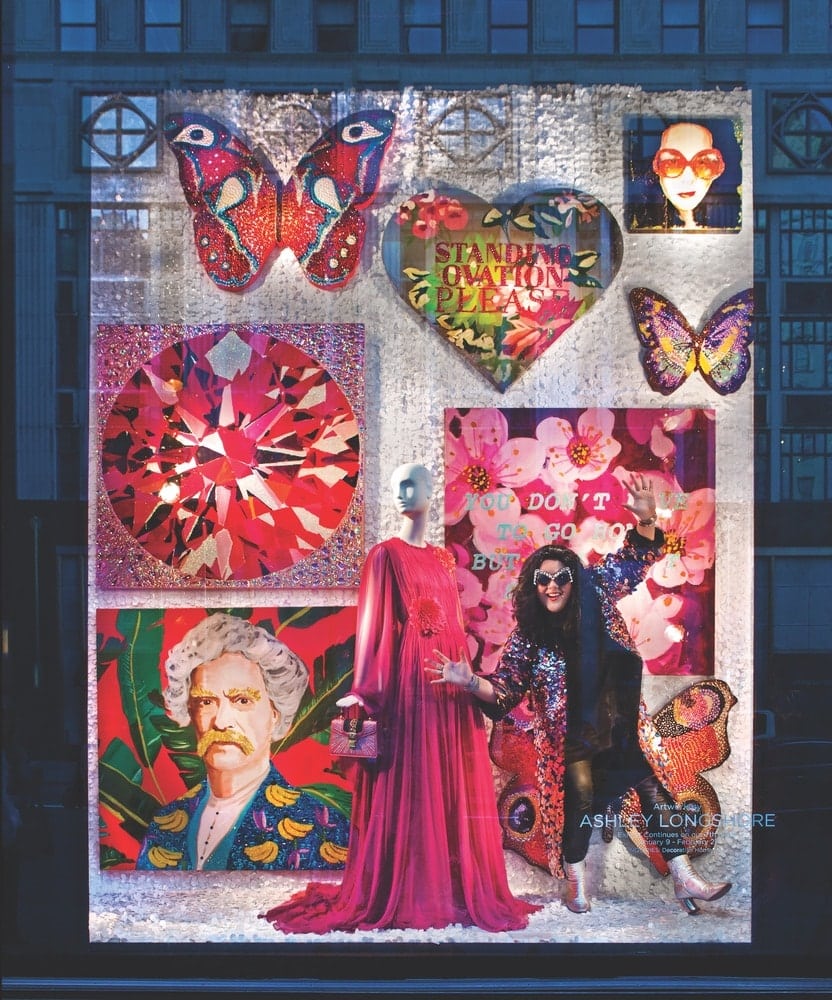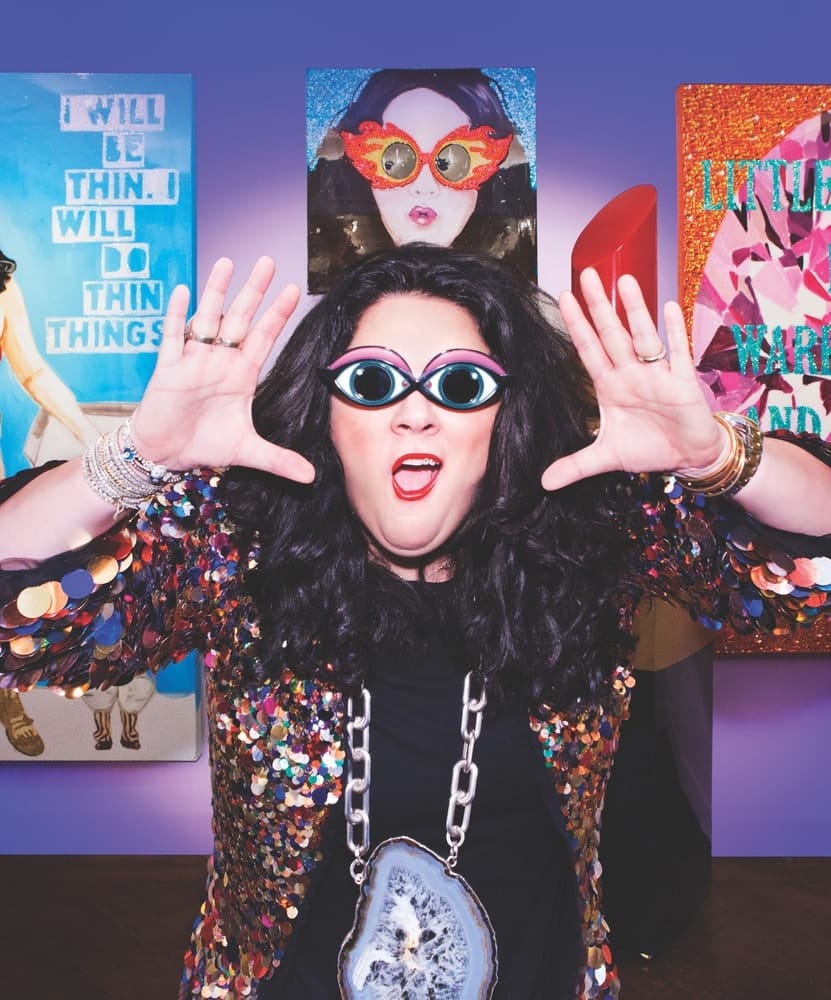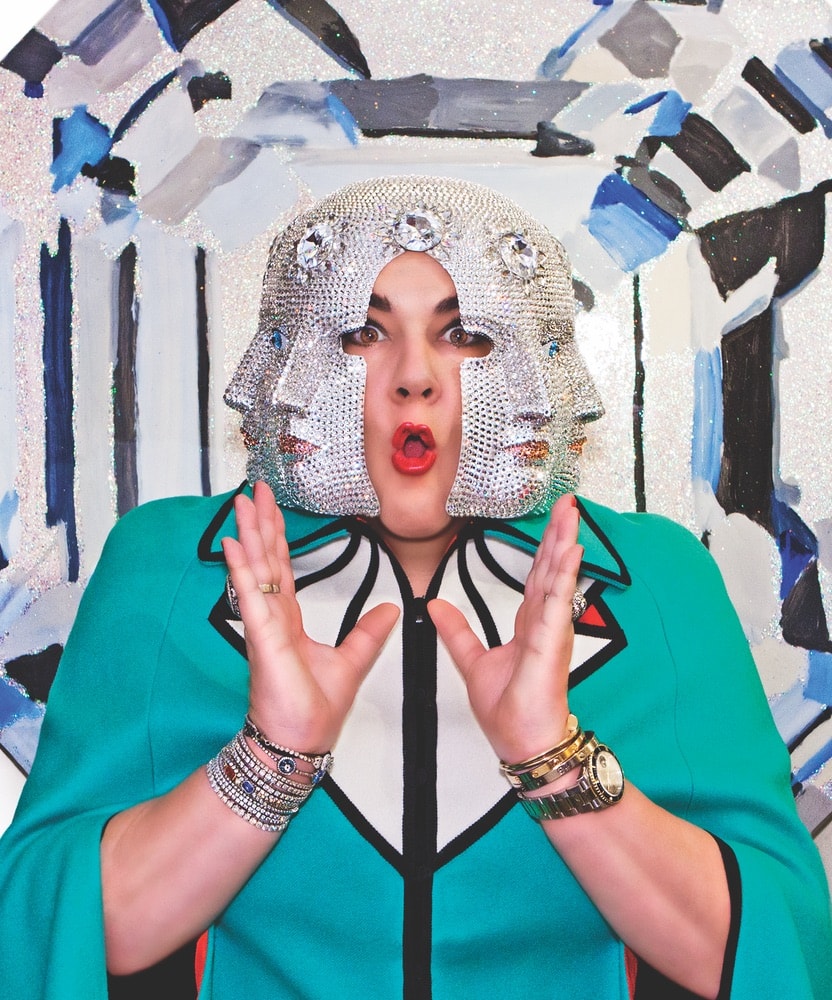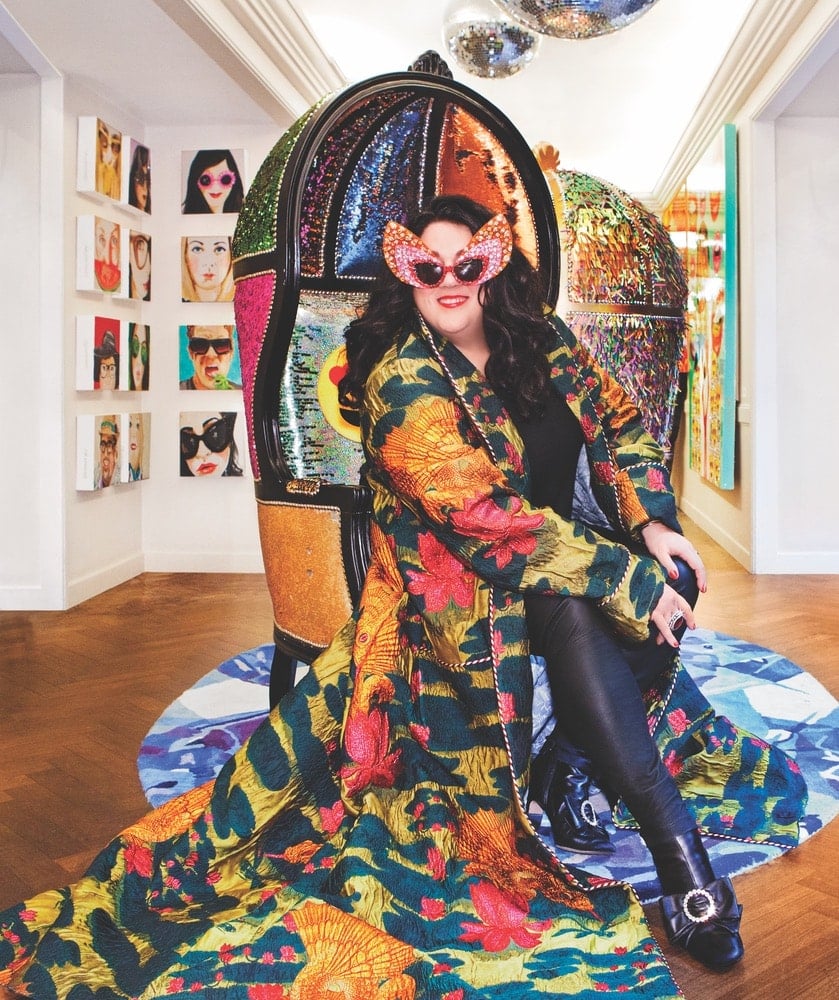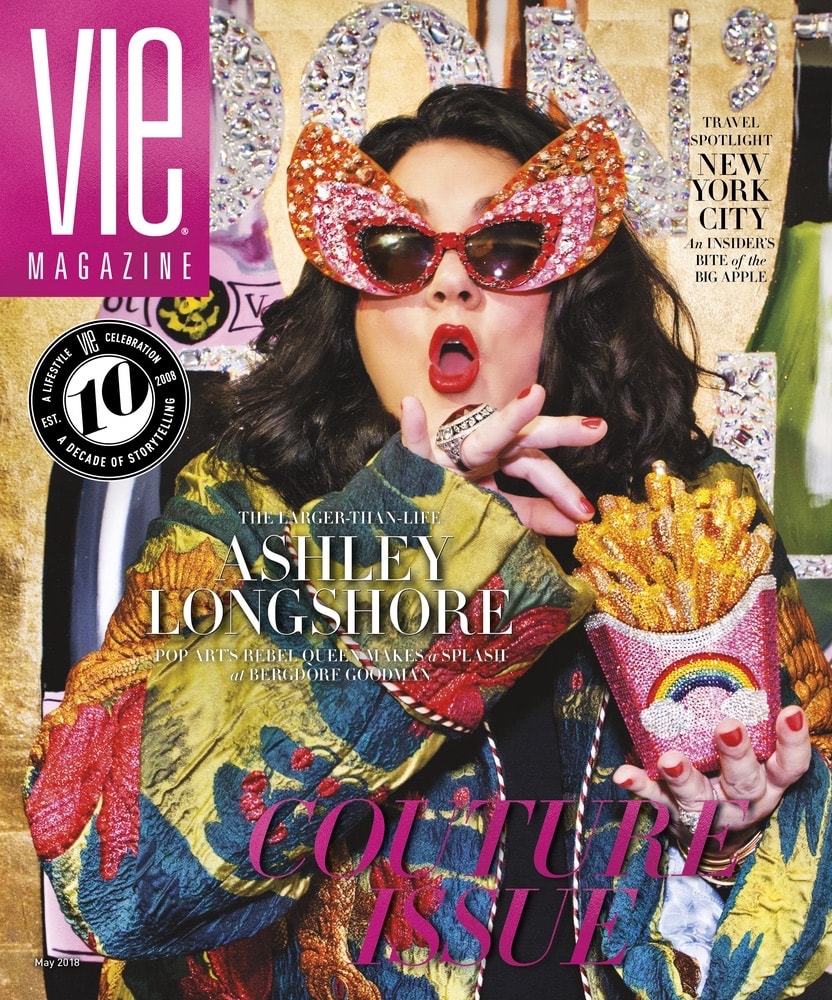 Photography by Carlo Pieroni
Makeup by Keyerra Laylock, Blushington
Cape by Gucci
Ring by Ashley Longshore
Sunglasses by A-Morir
Rainbow French Fries Novelty Bag by Judith Leiber
---
The Feminine Hunter
She is a mystery and a dream wrapped into one. The enchanting grounds of Ballynahinch Castle Hotel in Recess, Connemara, Ireland, and the fairy tale–worthy designs of Christian Siriano inspire the woman who enjoys skeet shooting in the morning followed by high tea and petit fours in the afternoon. She is the huntress that lives in every woman, and the princess that lives in every girl. The VIE team was thrilled to produce this dreamy cover shoot across the pond. Find her story in our feature article, "An Enchantment," in the November/December 2016 issue and see more of western Ireland in our special Voyager section with stories from our sister magazine, Connemara Life, also published by The Idea Boutique ®.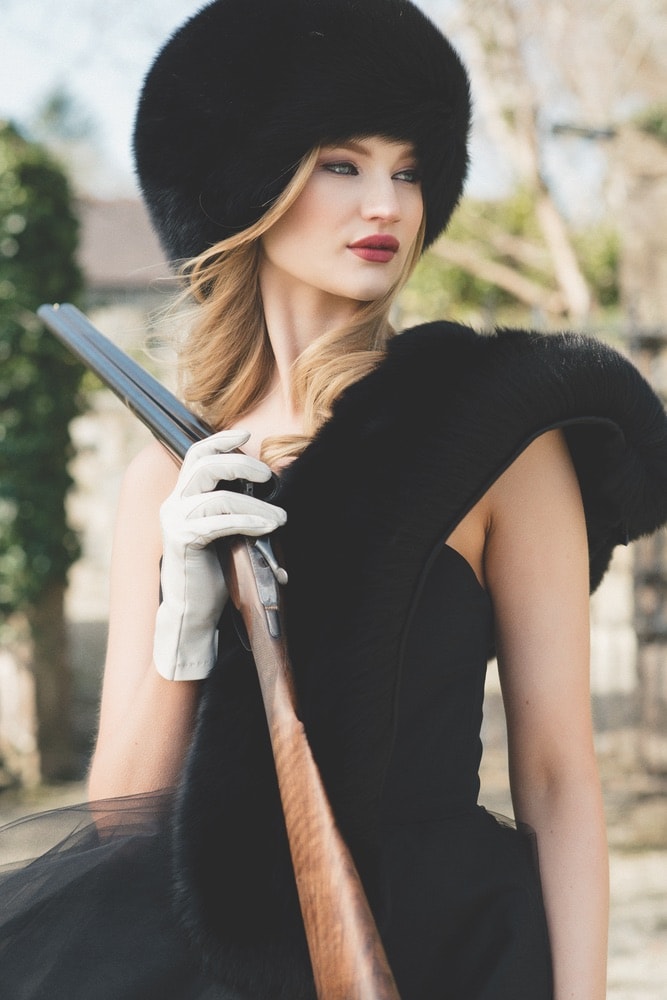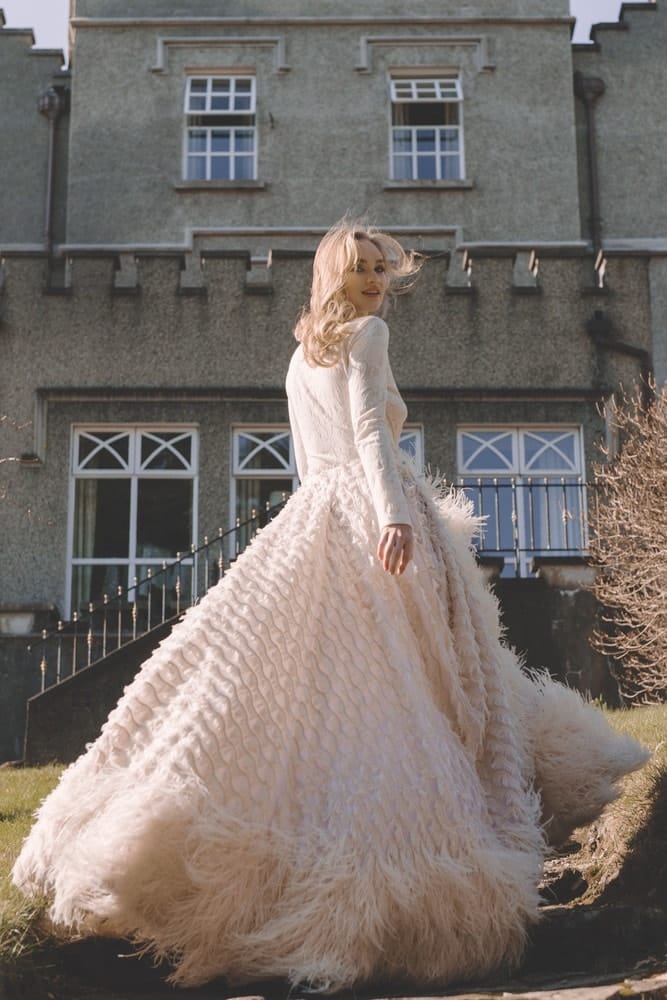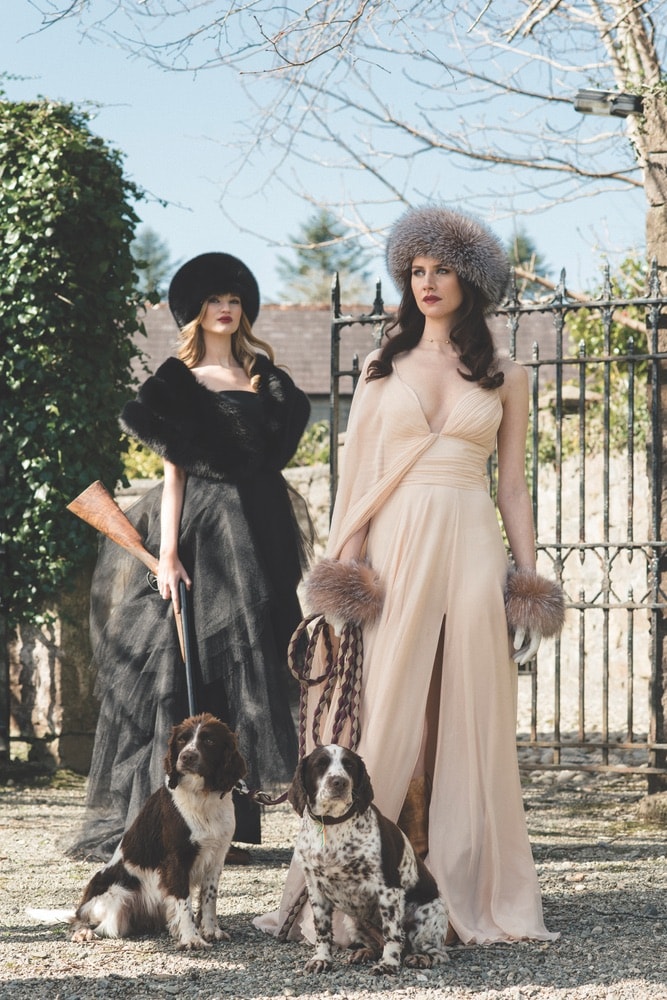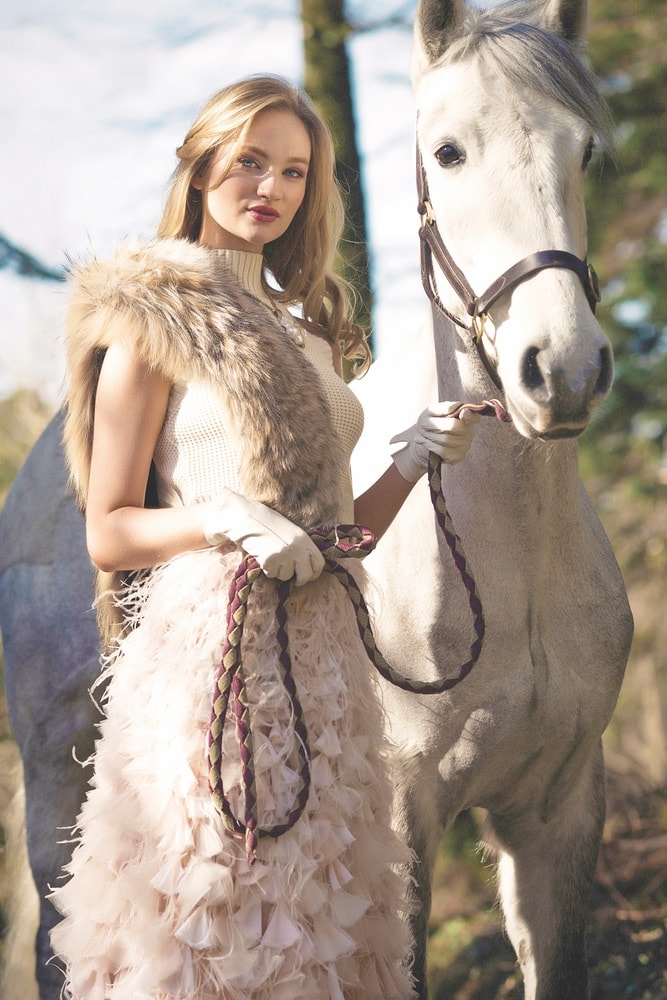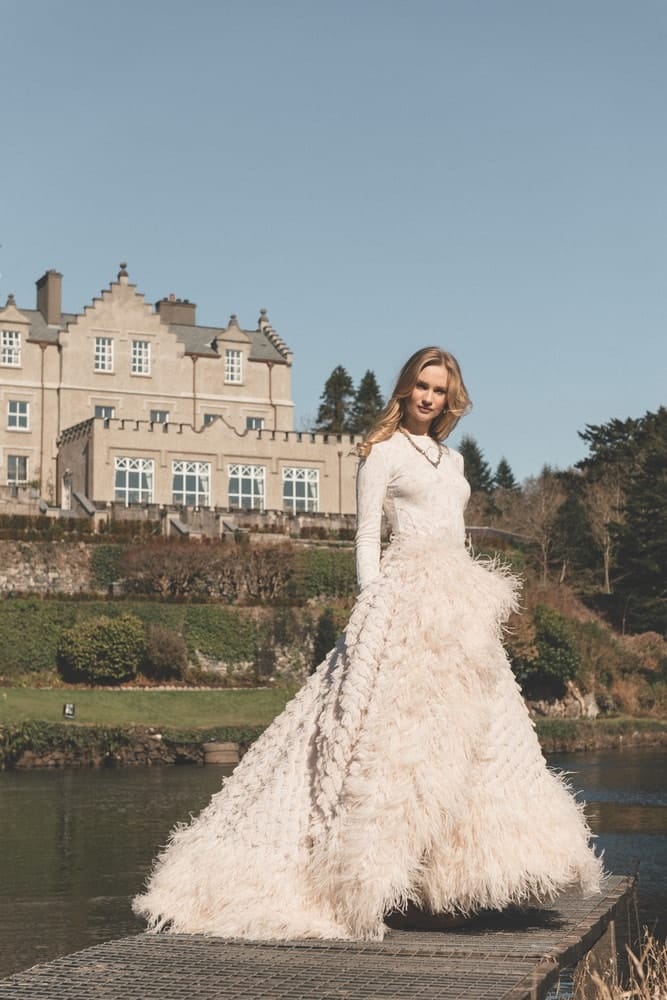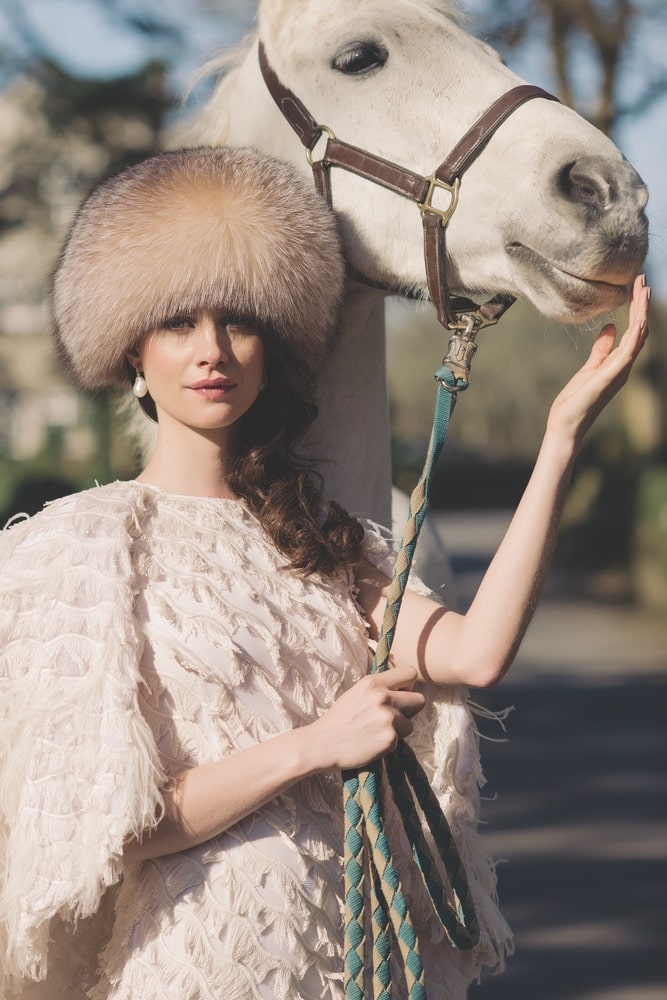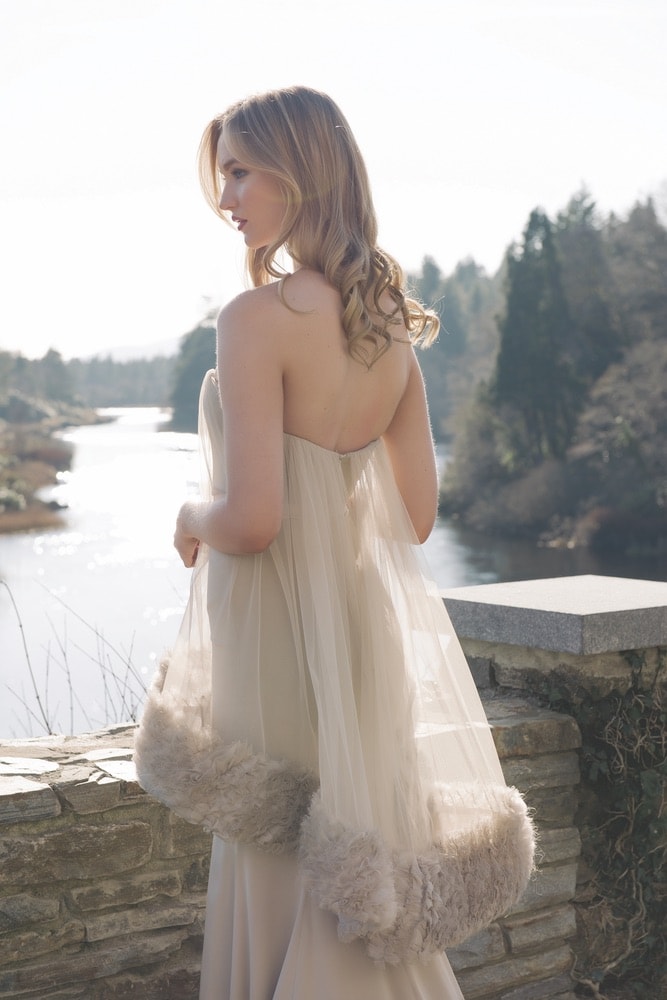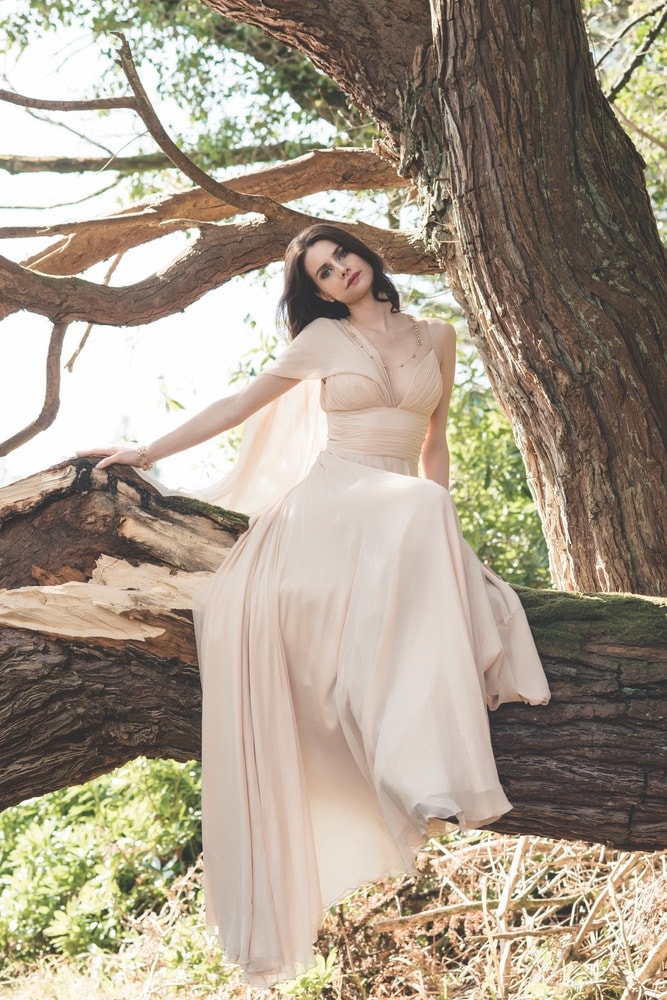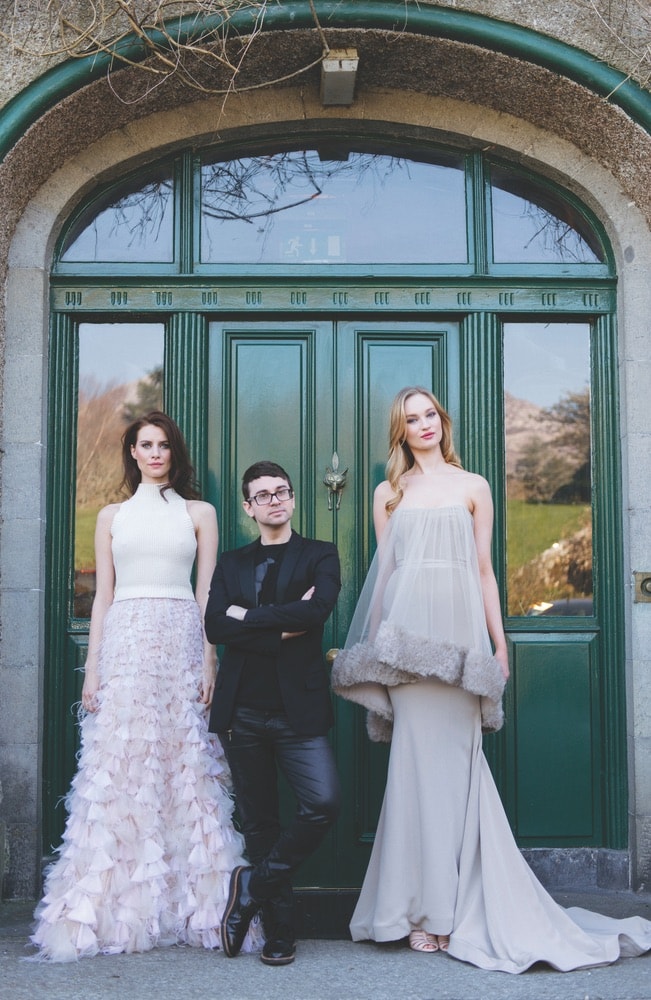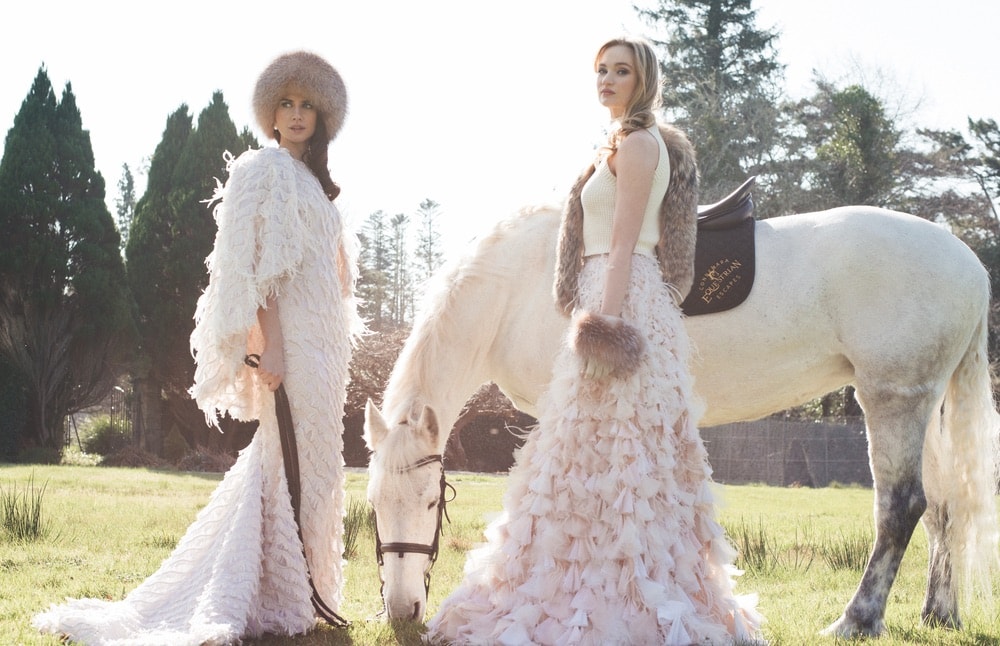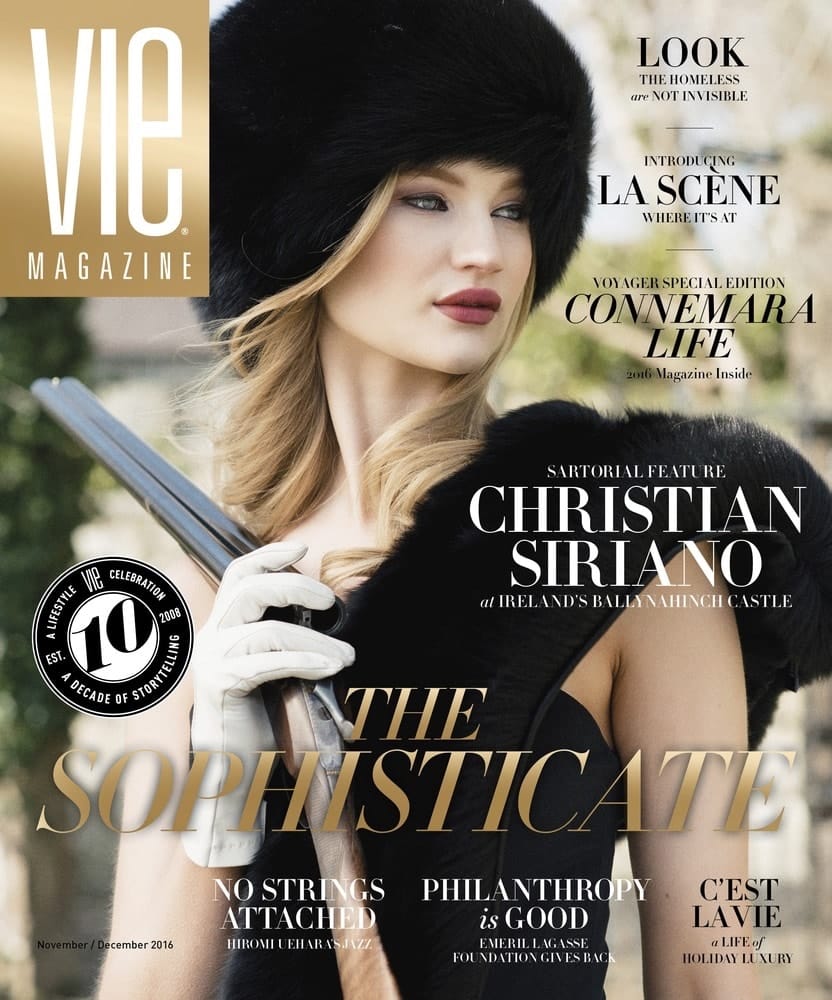 Photography by Alex Hutchinson
Hair and makeup by Bellissimo Galway
Models Clara McSweeney and Faye Dinsmore, Andrea Roche Agency
Wardrobe by Christian Siriano
Accessories by Surell
Jewelry by The Jewel, Grand Boulevard at Sandestin
---
Dystopia Meets Utopia
The year is 1955. The citizens of Florala, Alabama, start another small-town day. The birds chirp happily, and a cool breeze makes ripples flutter across Lake Jackson . . . South Walton Fashion Week 2016 winning female model Bella DeLeón, photographed by the incomparable Carlo Pieroni, is the picture-perfect example of retro chic while male winner Jordan Canamar is her mysterious love interest from the future. (Pieroni and his wife, Carol Wilson, were also judges for the SWFW 2016 model competition.) VIE was proud to sponsor SWFW 2016, presented by the Cultural Arts Alliance of Walton County at 30Avenue and Grand Boulevard Town Center in South Walton, Florida. Since the inception of SWFW in 2013, VIE offered its winning Emerging Designer and Sheila Goode Models of the Year a fashion spread in the annual Culinary and Couture Issue (formerly Food and Fashion). Read the not-so-classic love story in "Dystopia Meets Utopia" in our March/April 2017 issue.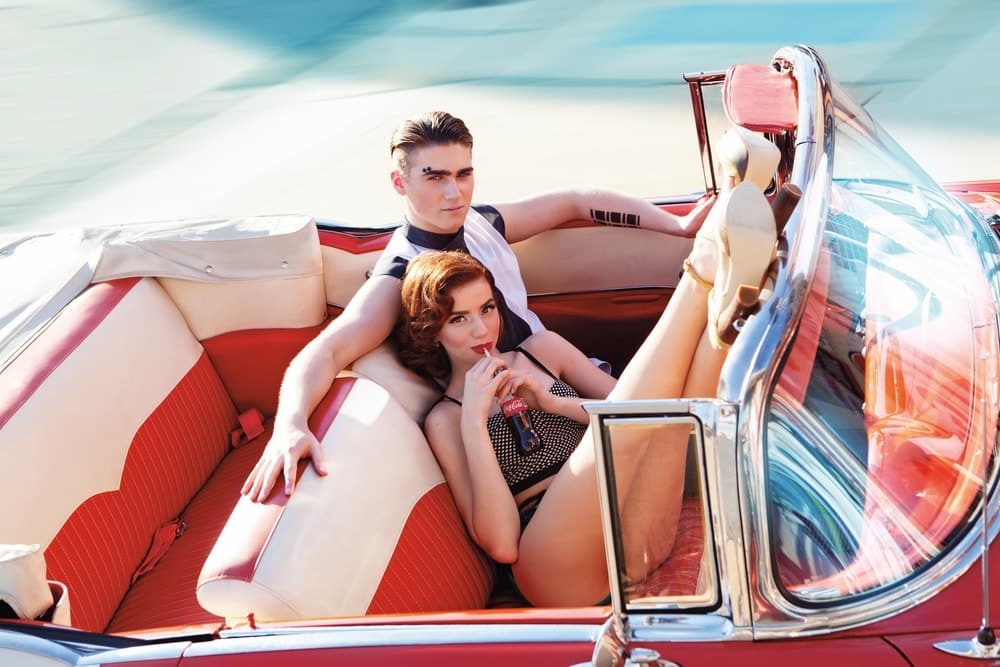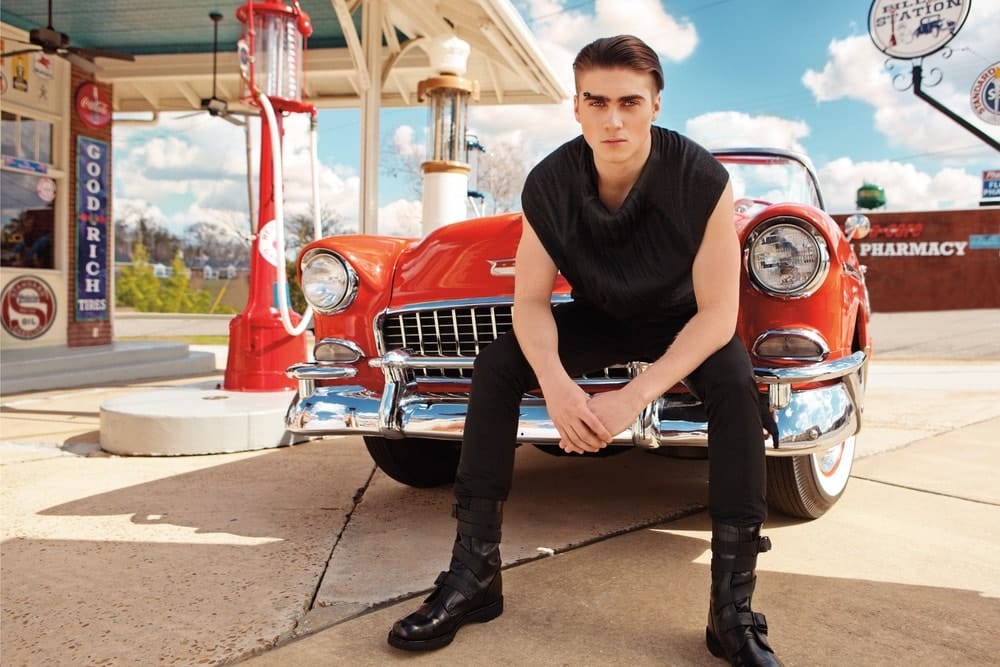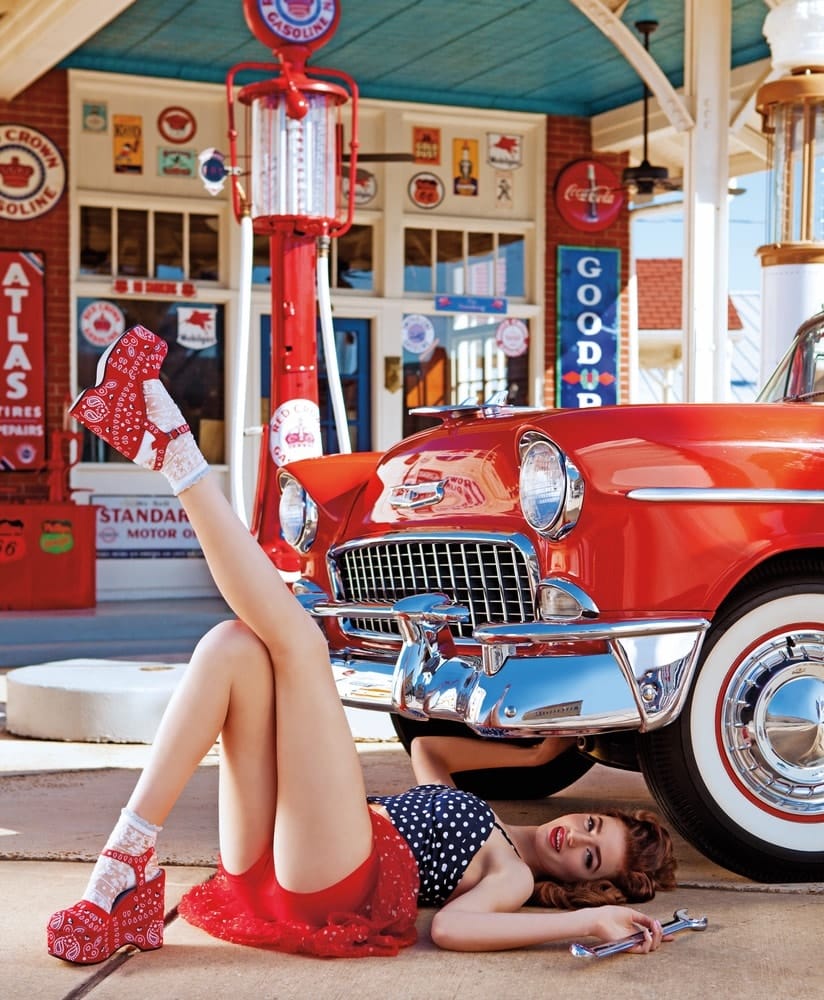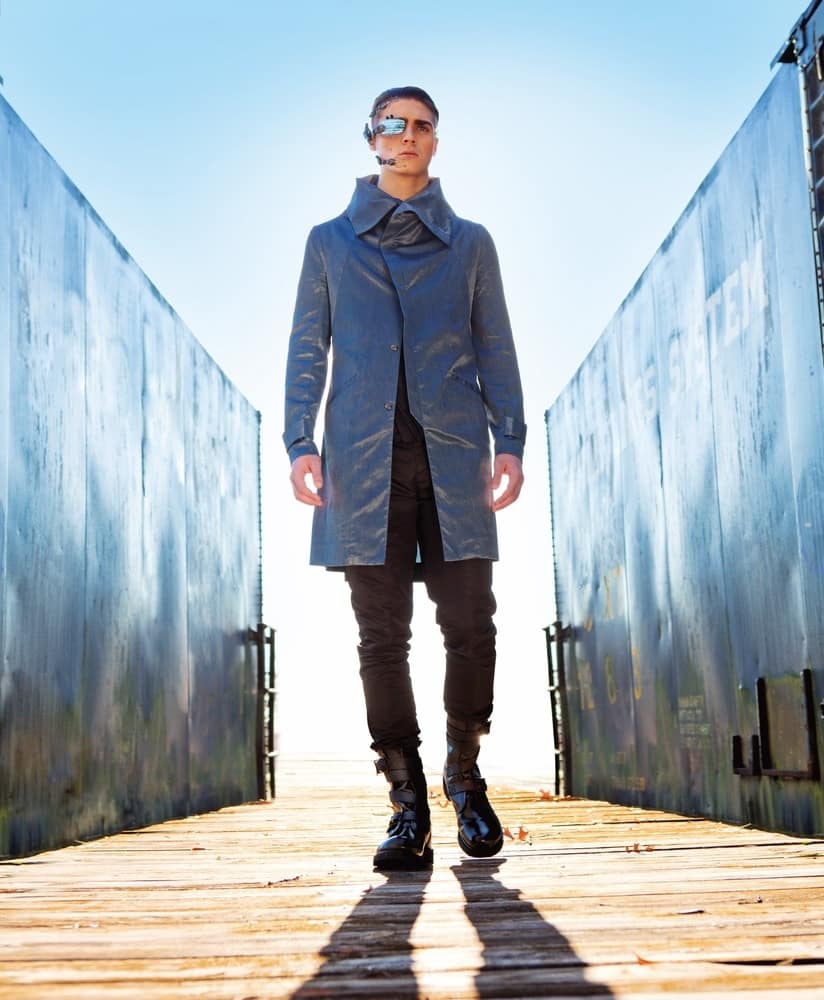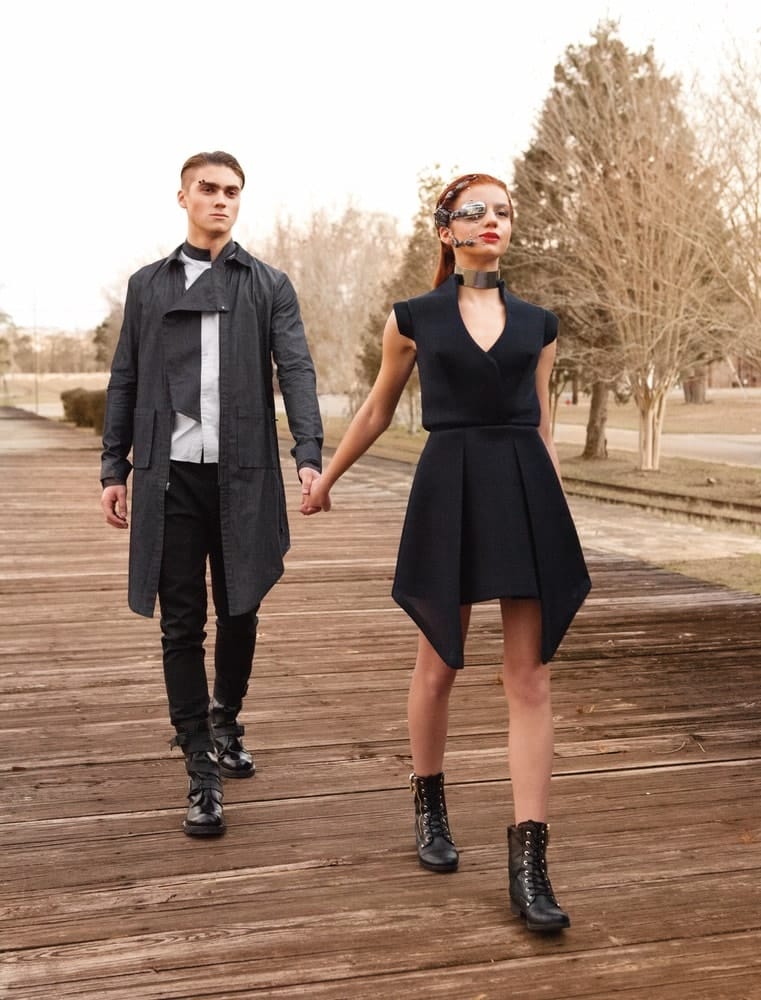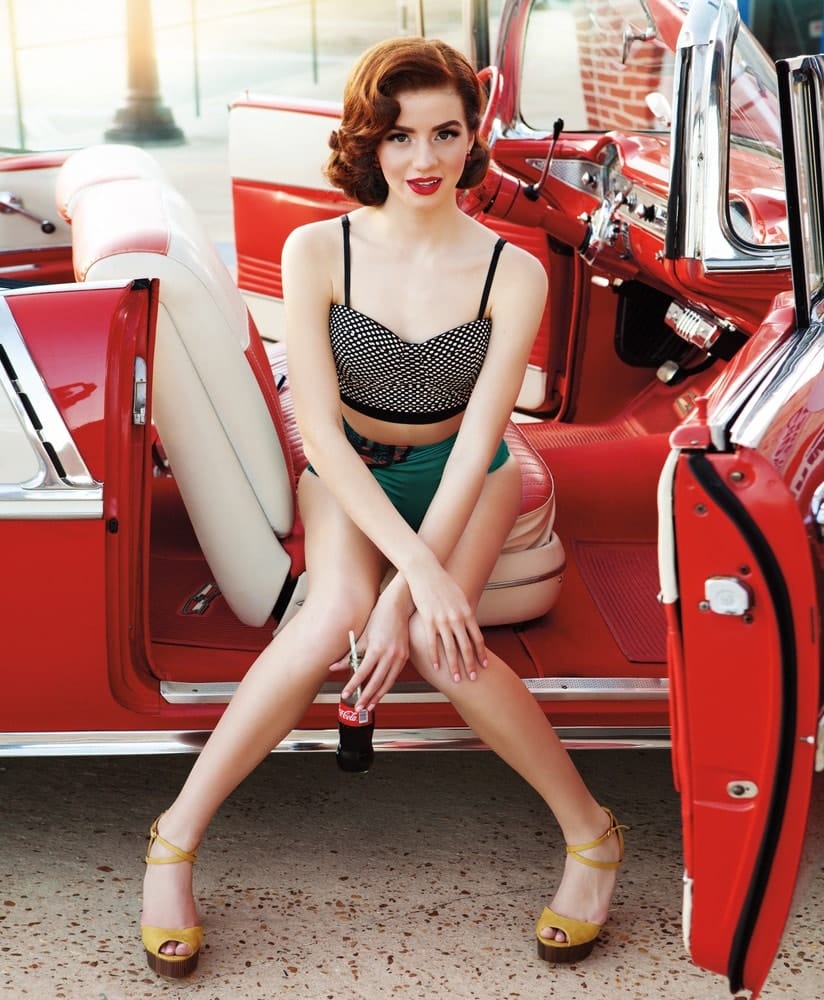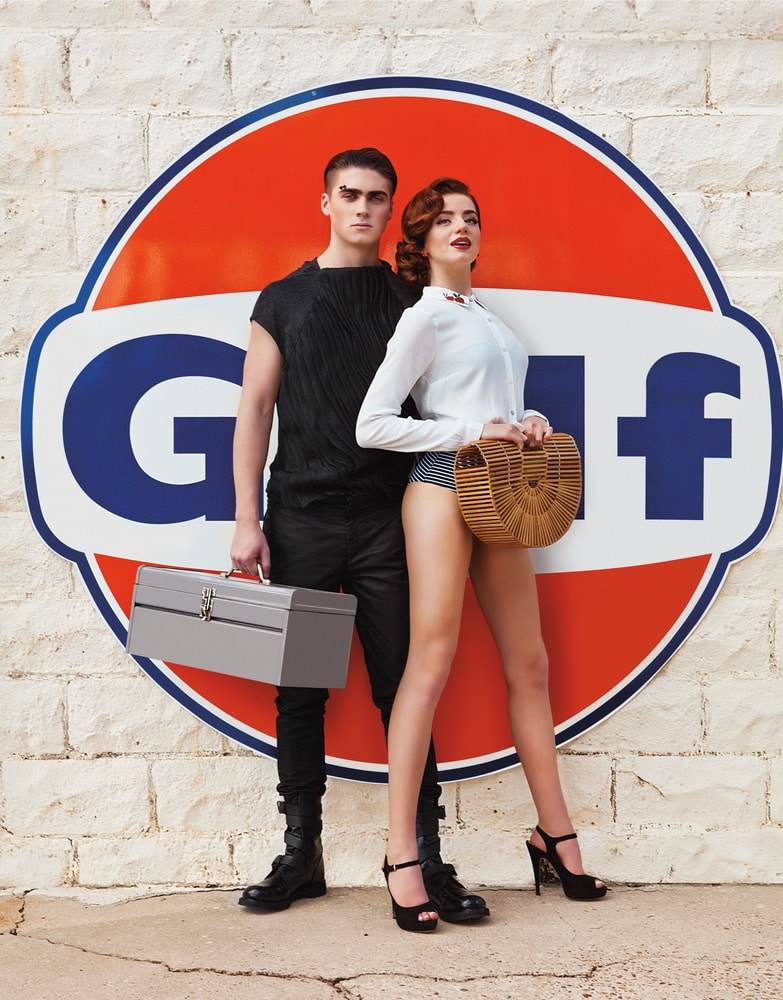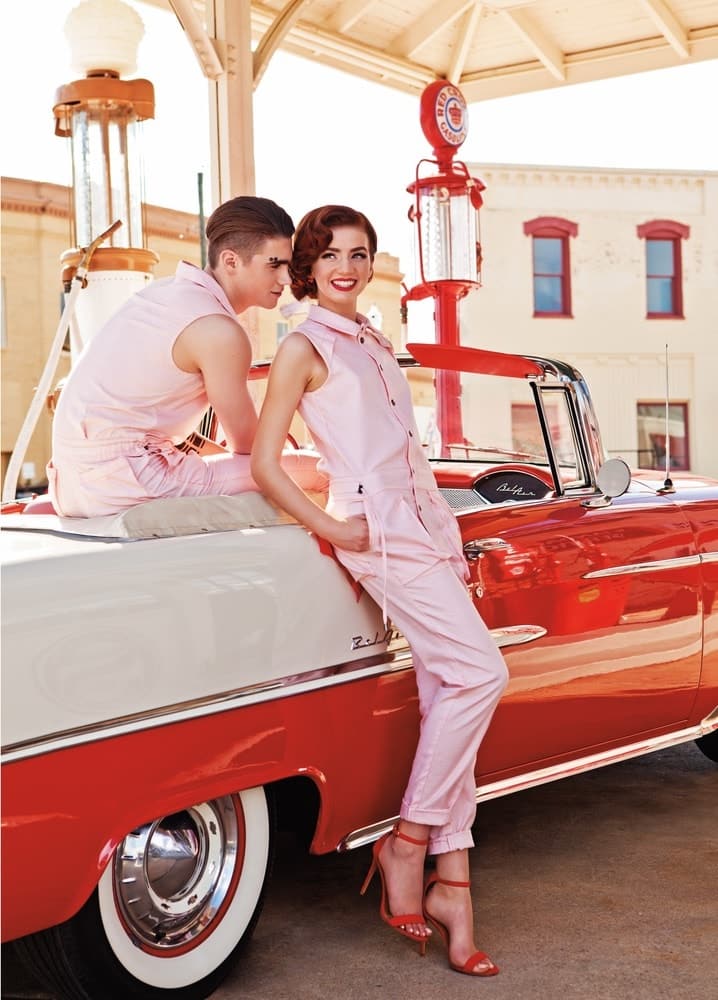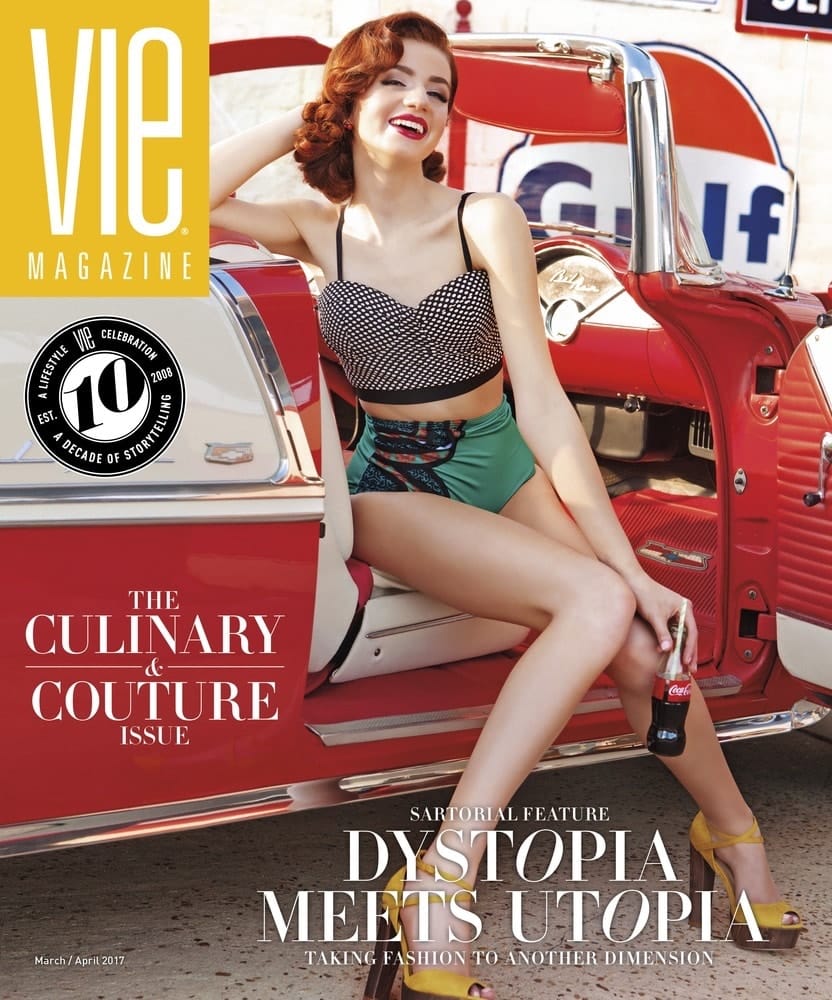 Photography by Carlo Pieroni
Jordan's wardrobe, pink jumpsuits, and custom dress by Richelle Valenzuela, Pasaporte Company
Models Jordan Canamar and Bella DeLeón
Hairstyling by Brooke Miller
Makeup by Yvette Nation
Special thanks: Charles T. Smith, Smith's Fillin' Station and Florala Pharmacy; Sonny Helms and Ronnie Kilgore, Andalusia Classics & Streetrods
---
A Gatsby Summer Soiree
In 2013, VIE christened its first show home, a custom residence in the rustic yet refined community of WaterColor on Scenic Highway 30-A. The home, named Maison de VIE, boasts Swarovski crystal chandeliers, dazzling tile mosaics, pecky cypress ceilings, fluttering window treatments, ample natural light, and much more. The creative collaboration between VIE, Coastal Elements Construction, Q Tile + Design Studio, and architect Tammy Massey was brought to life in conjunction with a robust list of local interior designers, artists, and other vendors. We celebrated the home on a sultry summer evening by hosting a Great Gatsby–themed open-house party catered by Roux 30a for all those involved. A cover shoot and fashion spread followed the next day, with cover girl Lauren Spring portraying the spellbinding Daisy Buchanan while models Beau Vermillion, Jared Kane, Caroline Watts, Connor Flanagan, Sasha Churinov, and Jordan Staggs made up the rest of the Gatsby cast. Tour the home in our September/October 2013 issue.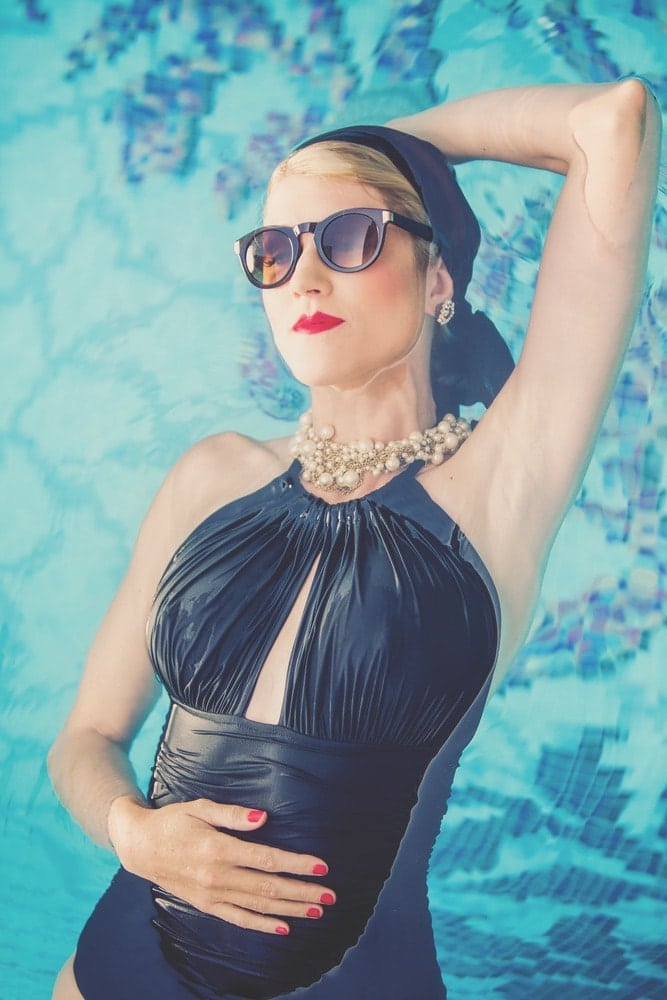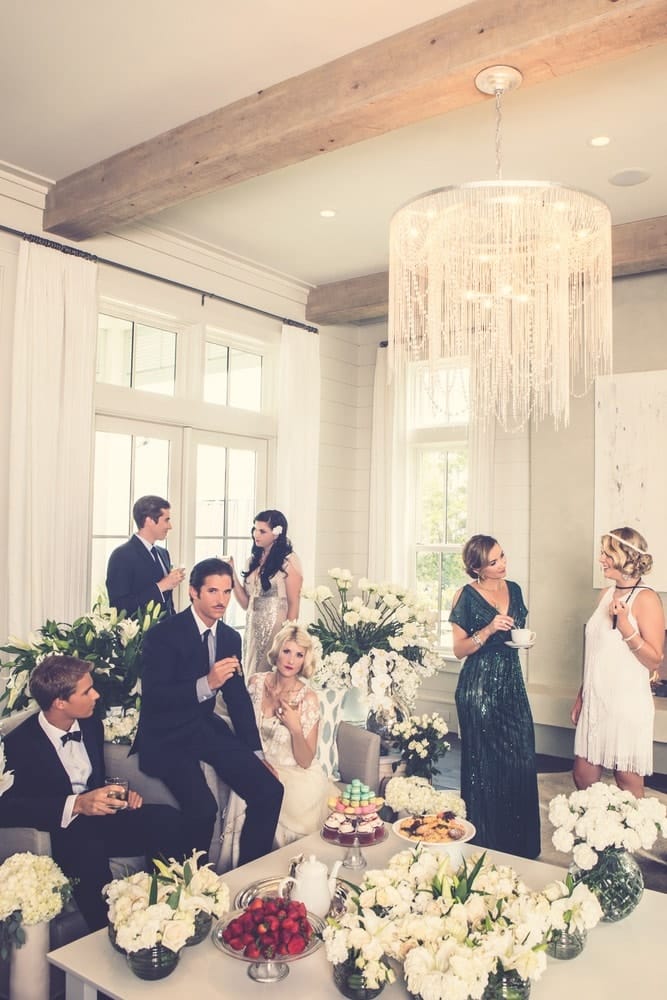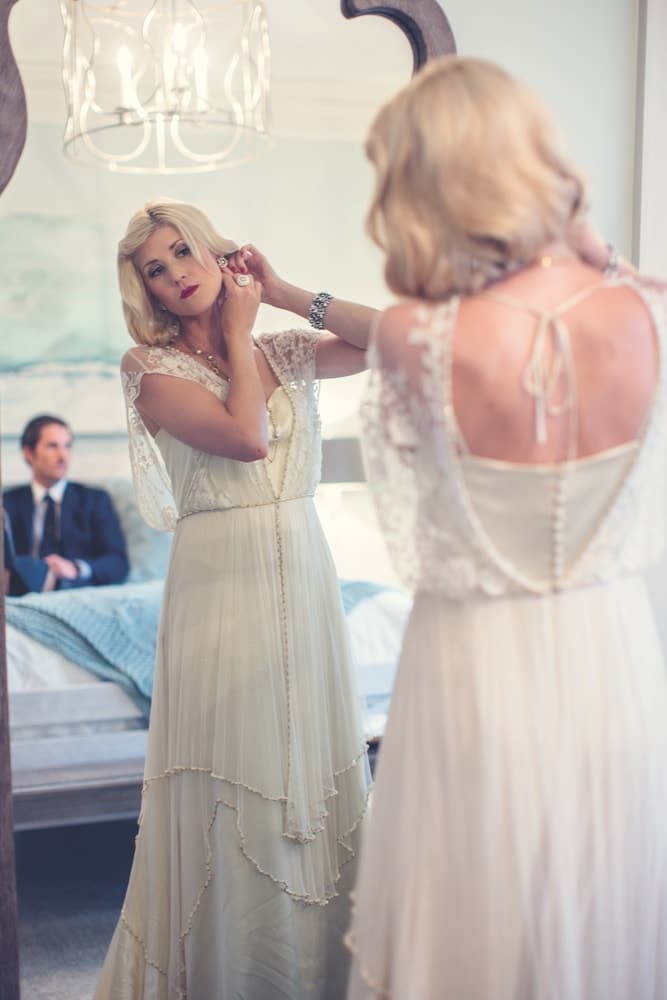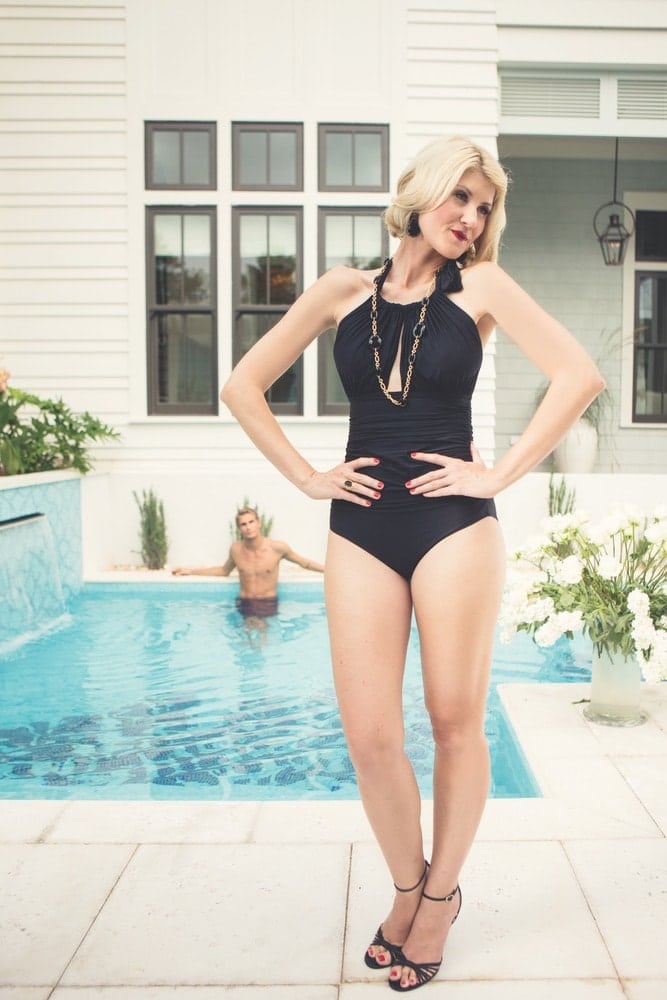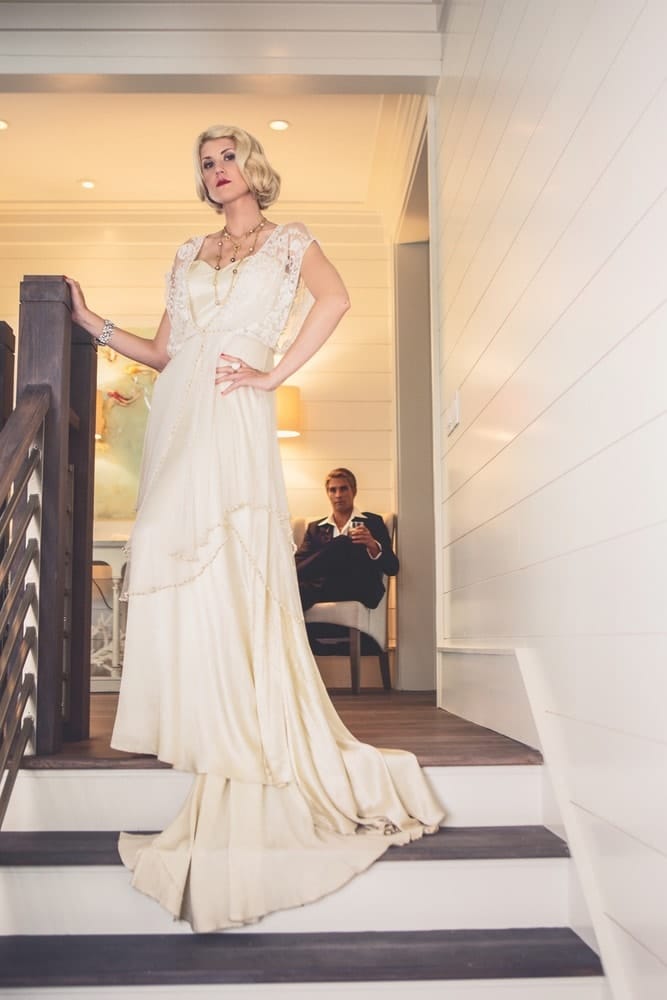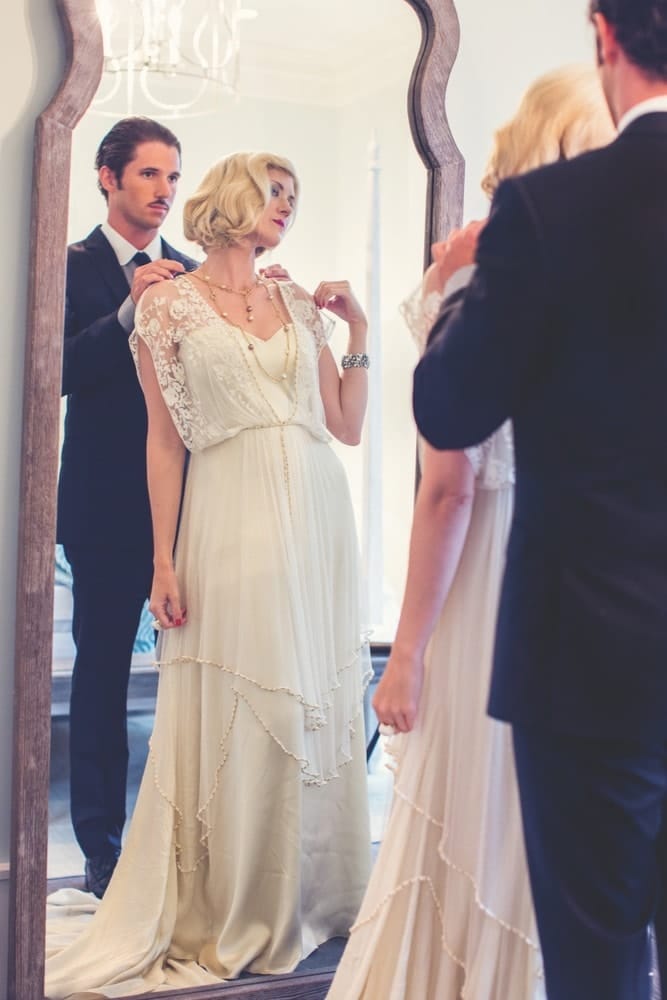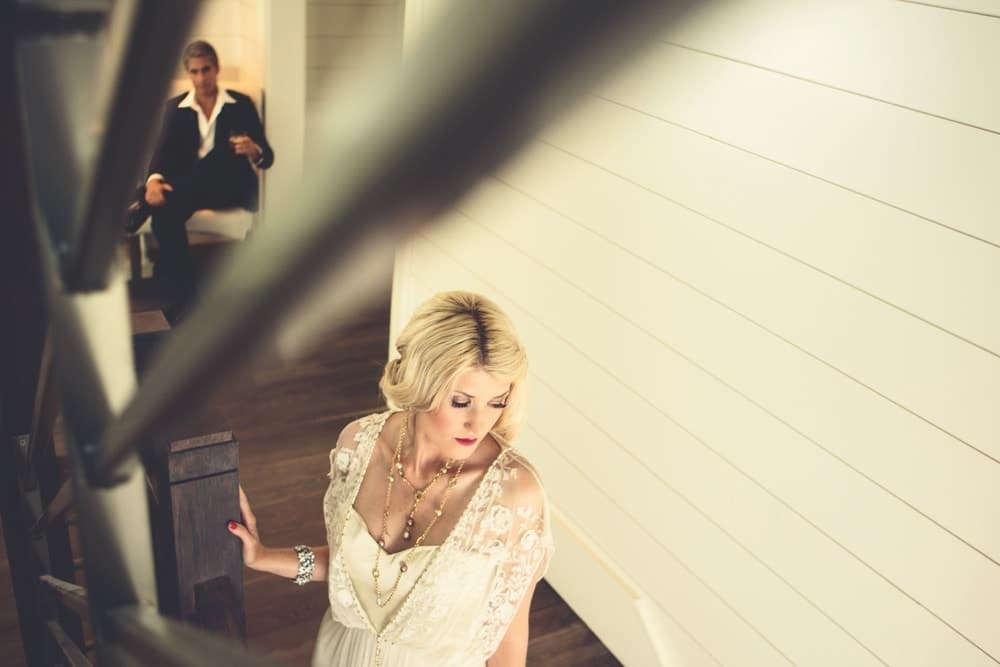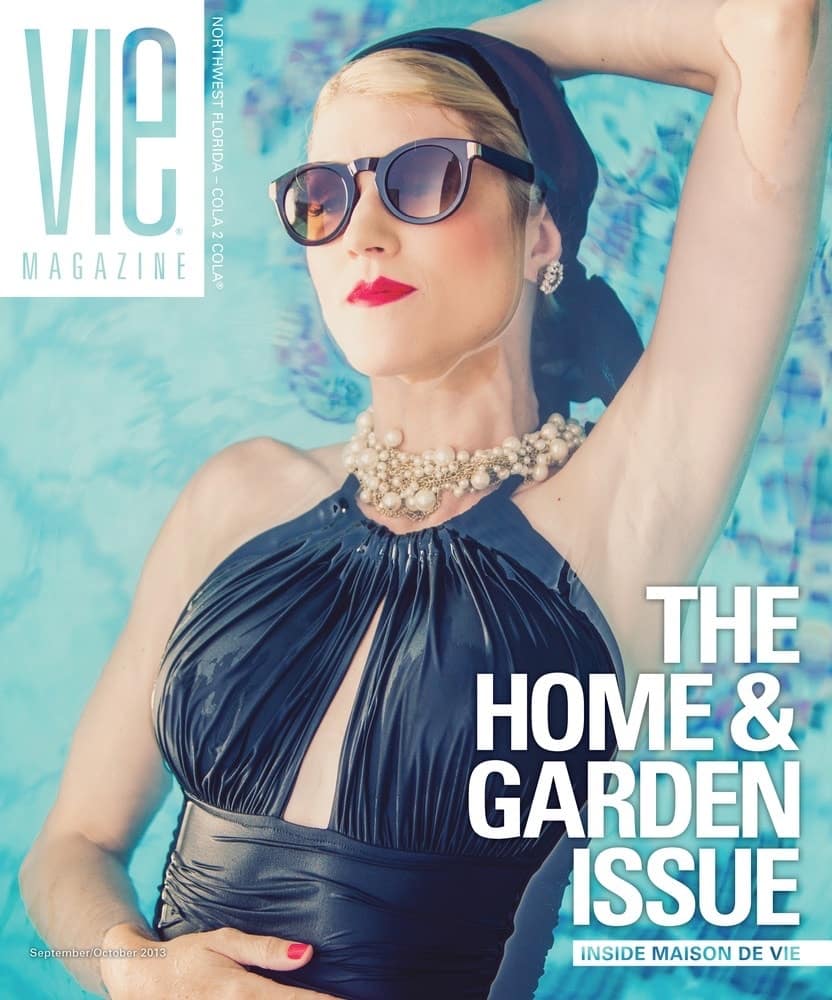 Photography by Romona Robbins
Hairstyling by Brooke Miller
Makeup by Natasha Vaughan
Wardrobe by BHLDN, Anthropologie, Beachfolly, and Girl On A Vine
Jewelry by The Jewel, Grand Boulevard at Sandestin
---
Changing Tastes in the New South
Brooke Parkhurst and James Briscione have authored three cookbooks, hosted shows on the Food Network, and traveled the world. Briscione also served as director of culinary research at the Institute of Culinary Education. In November of 2017, the Pensacola, Florida, natives became the celebrity guests at the city's Peat & Pearls, a celebration of Scotch and oysters. Shortly after this cover shoot, Parkhurst and Briscione partnered with Great Southern Restaurants, Studer Properties, and Jean Pierre N'Dione to open Angelena's Italian restaurant in downtown Pensacola. See more in our April 2018 issue.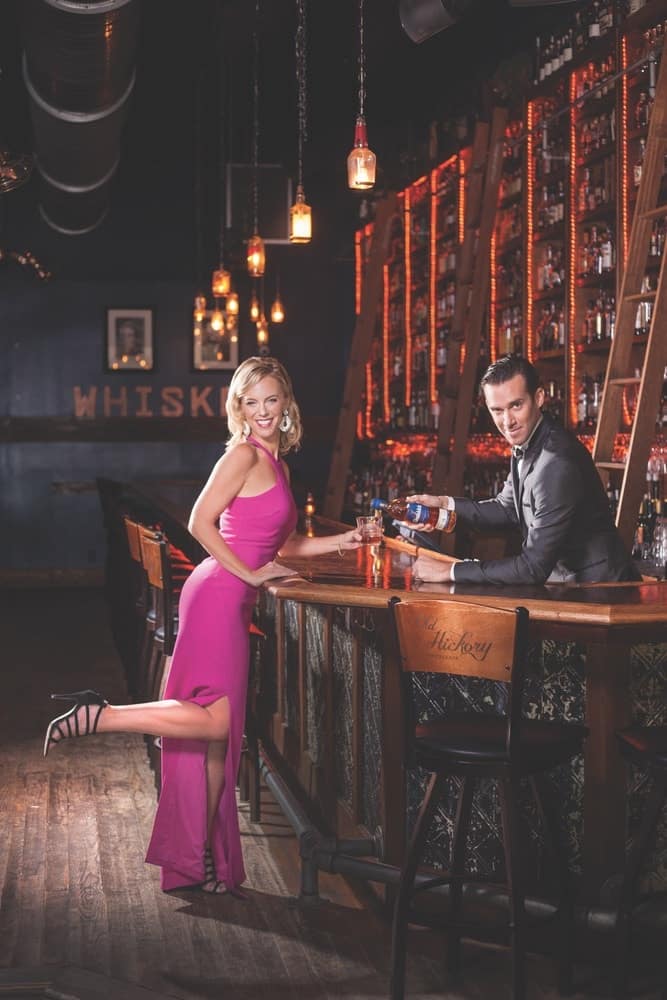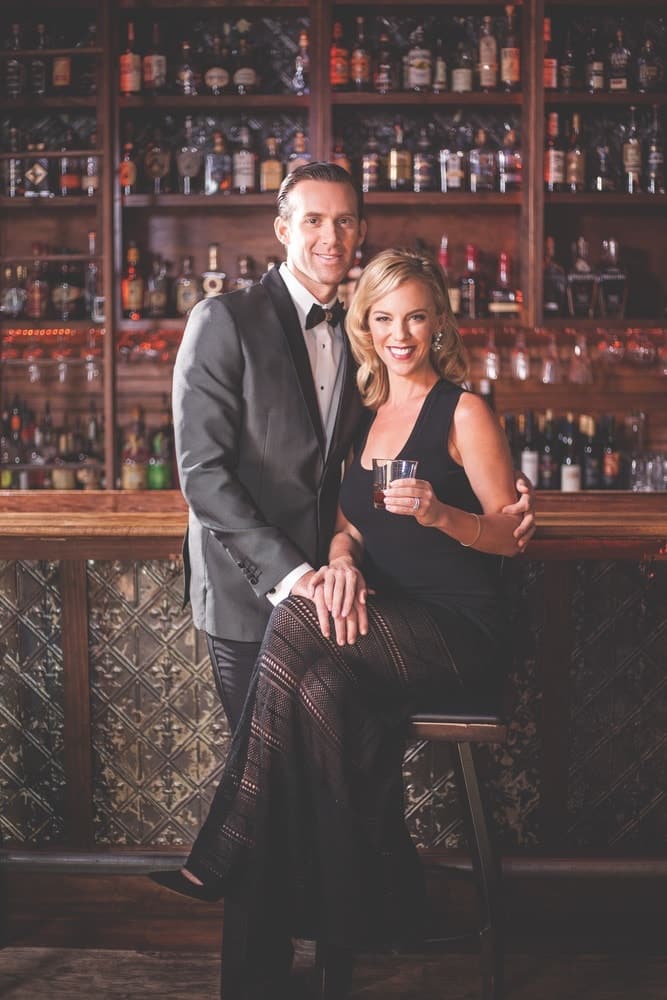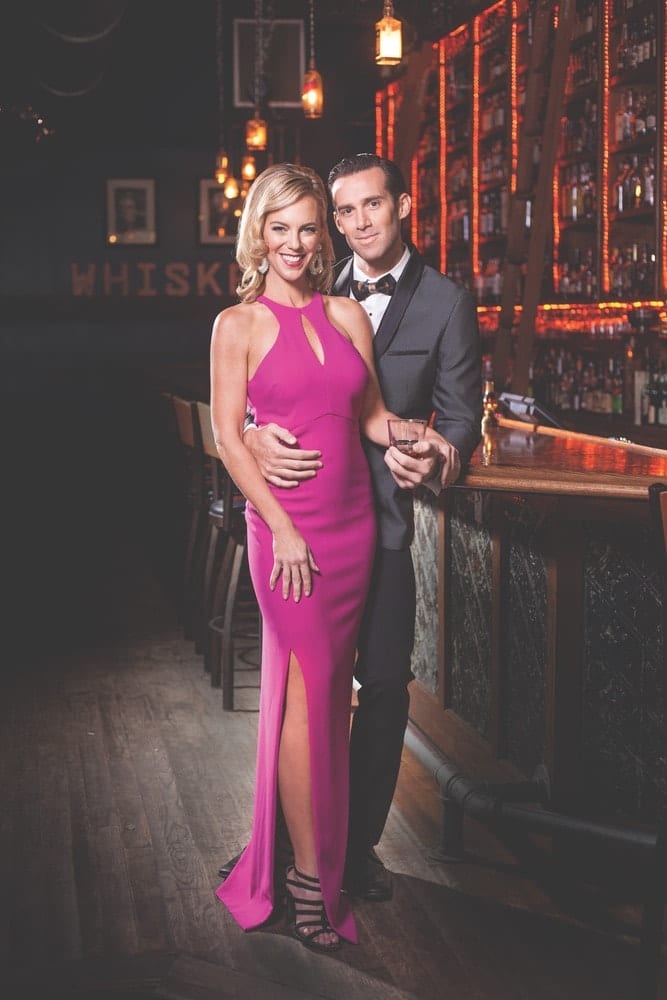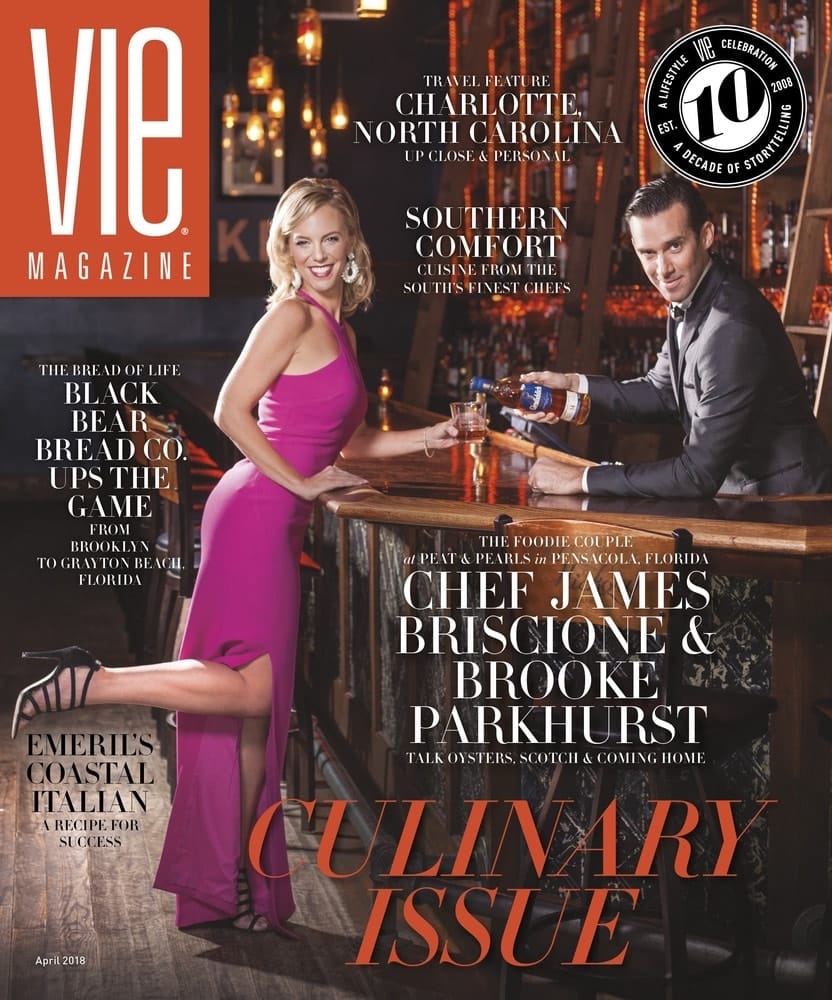 Photography by Steven Gray
Venue: Old Hickory Whiskey Bar
Hairstyling by Dawn Hamil
Makeup by Yvette Nation
Wardrobe by of Kiki Risa (dress), BHLDN (jewelry), and Gent's Formal Wear (tuxedo)
Flowers by Fiore
---
Tenth Anniversary Cover: Old Hollywood Glam
Stage and screen star Kristin Chenoweth looks every bit the bombshell in a stunning red silk faille gown during our special photo shoot celebrating the both VIE's tenth year and the tenth-anniversary season of Sinfonia Gulf Coast. Photographer Carlo Pieroni captures the magic as Chenoweth leads an ensemble cast of some of Broadway's and classical music's bright stars at the United Palace Theatre in New York City. Looking regal are Kate Kelley, Jamie Bernstein, Demetrius Fuller, Julia Bullock, Chris Brubeck, and Morgan James.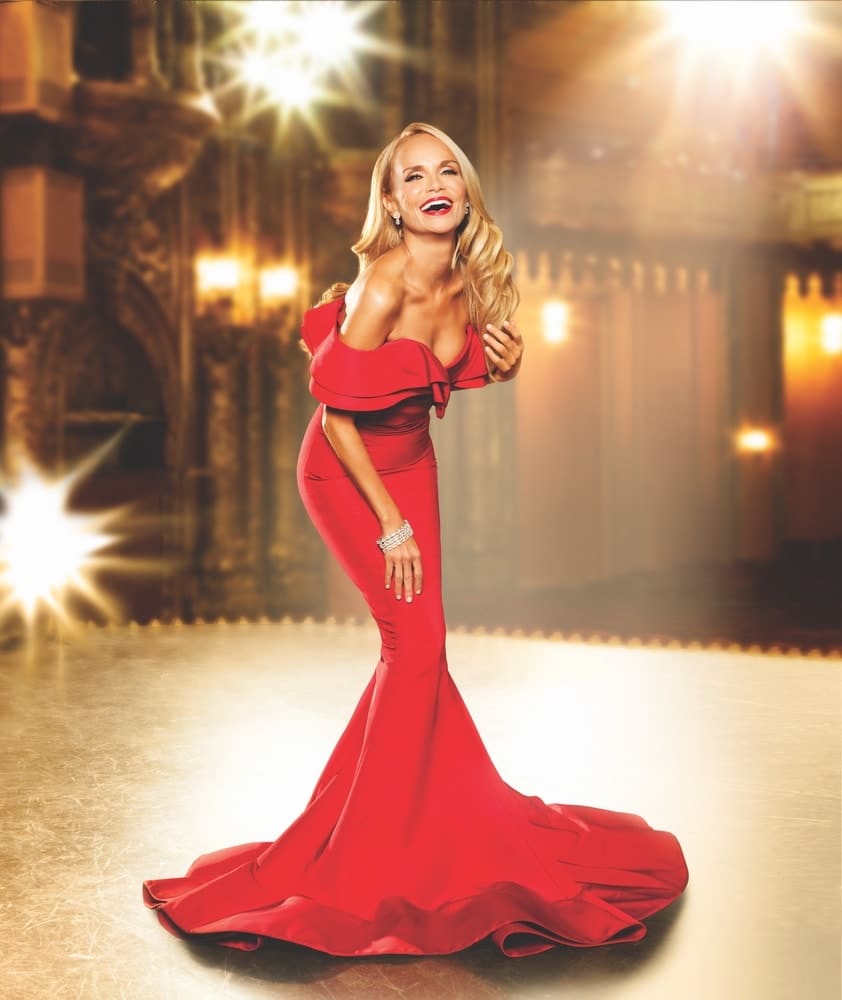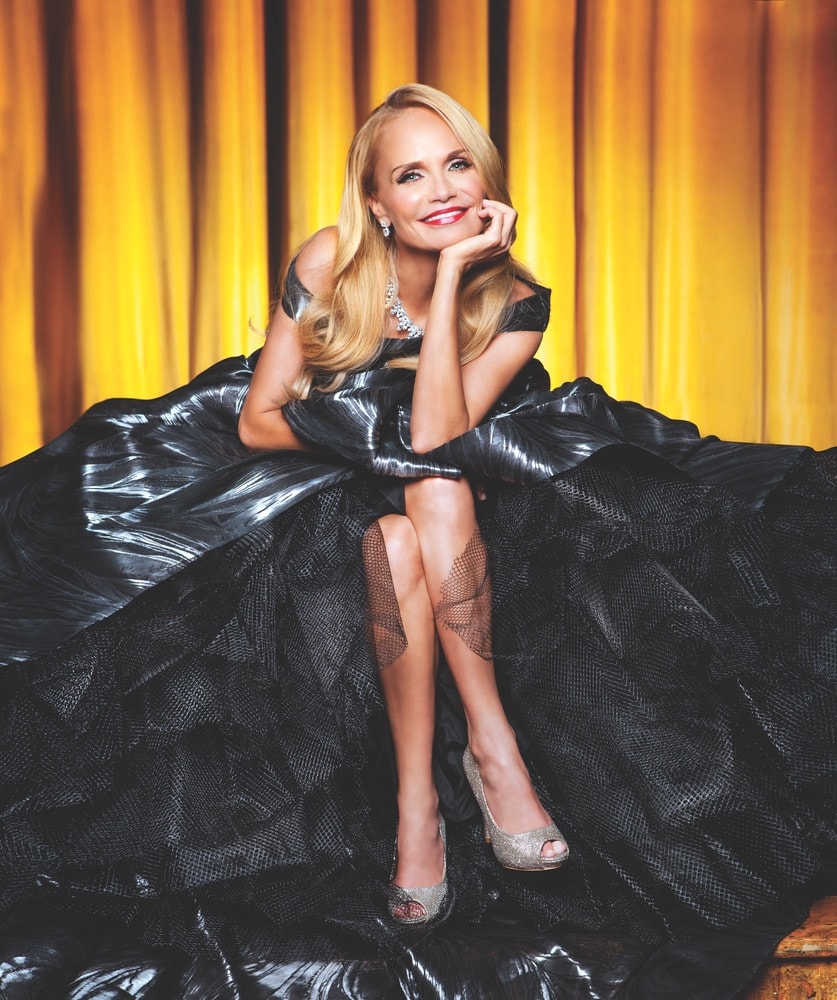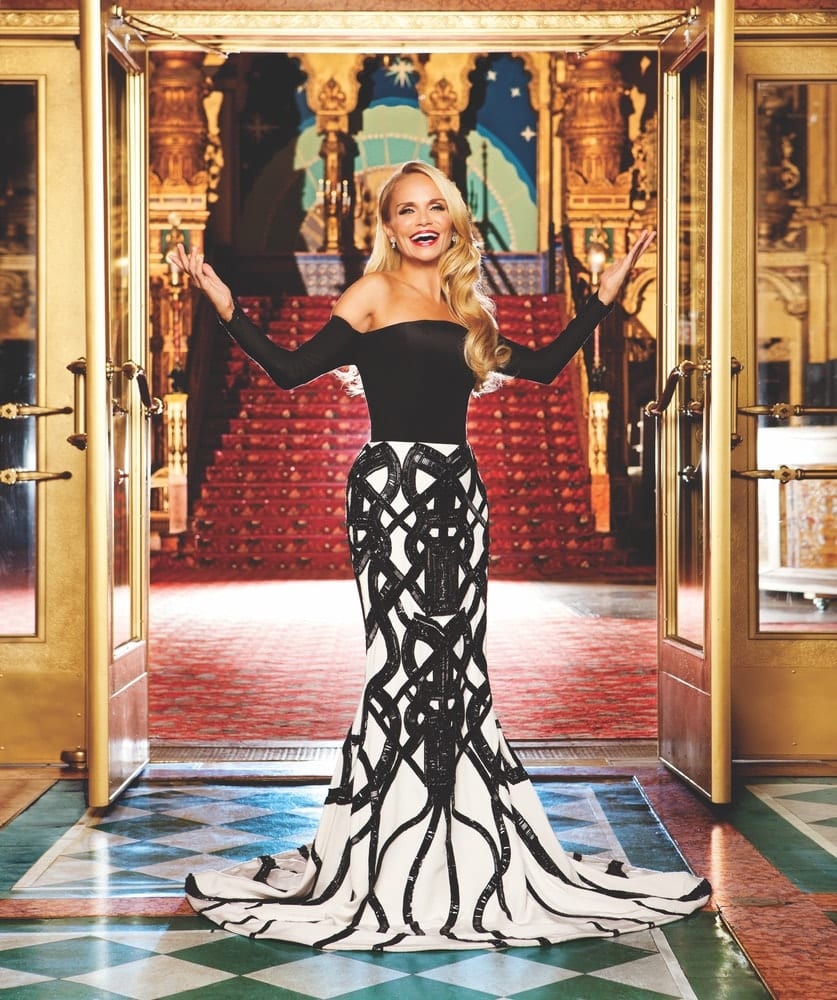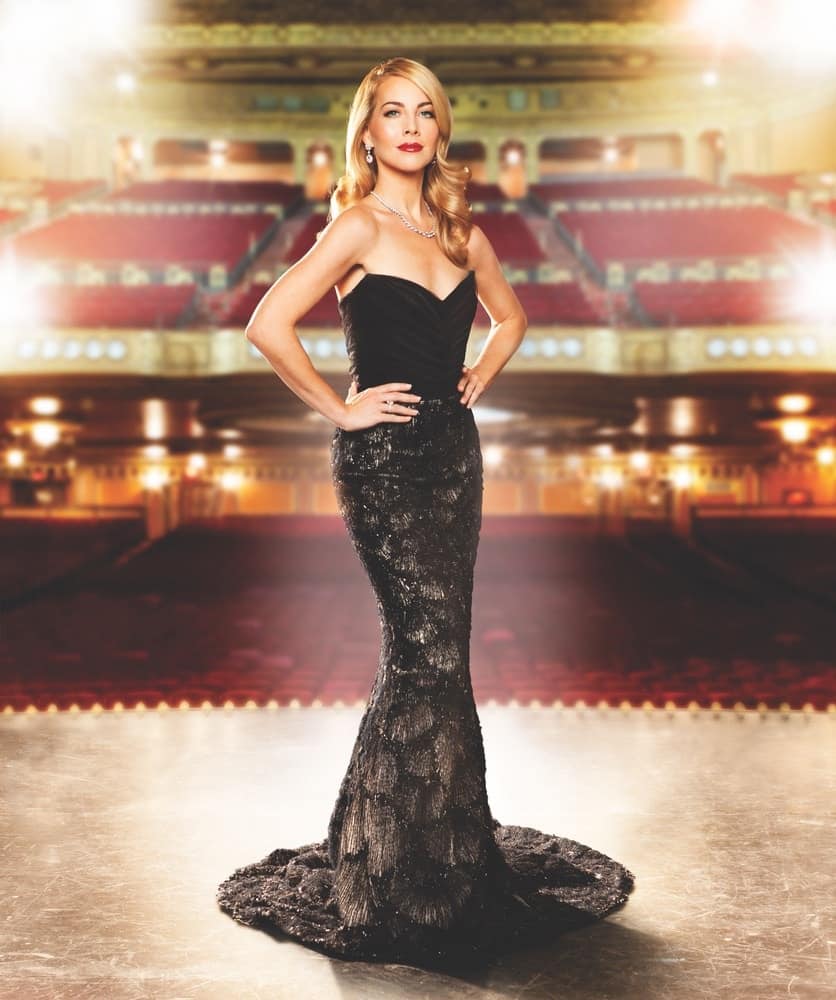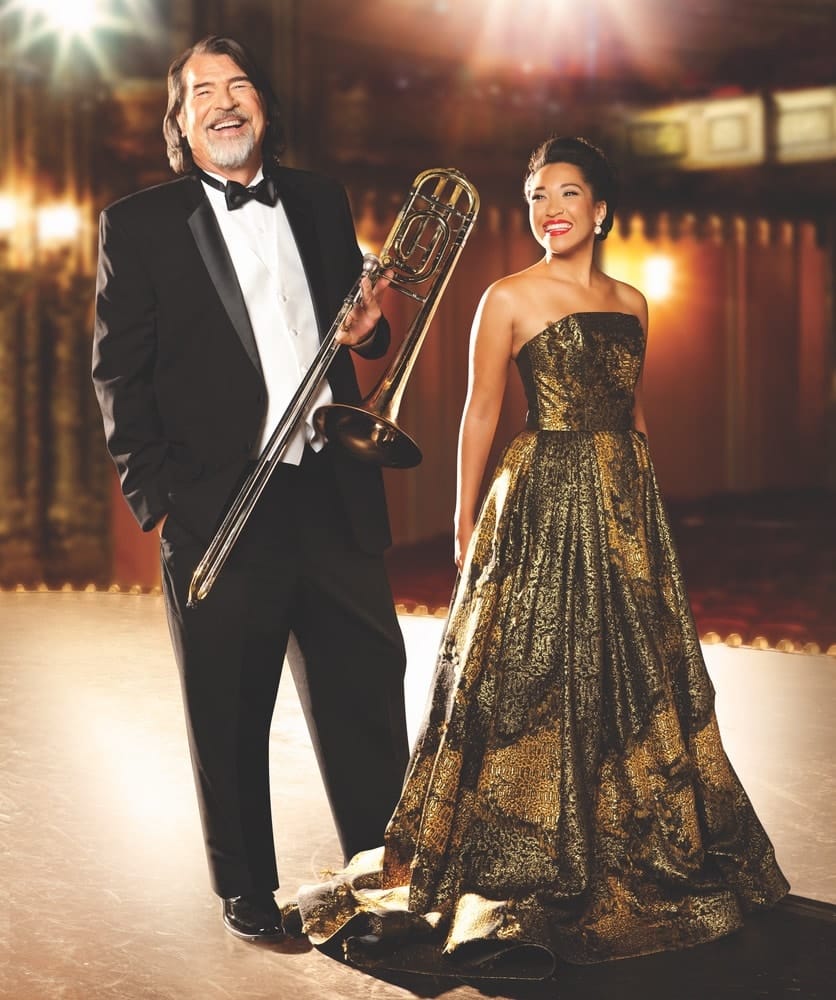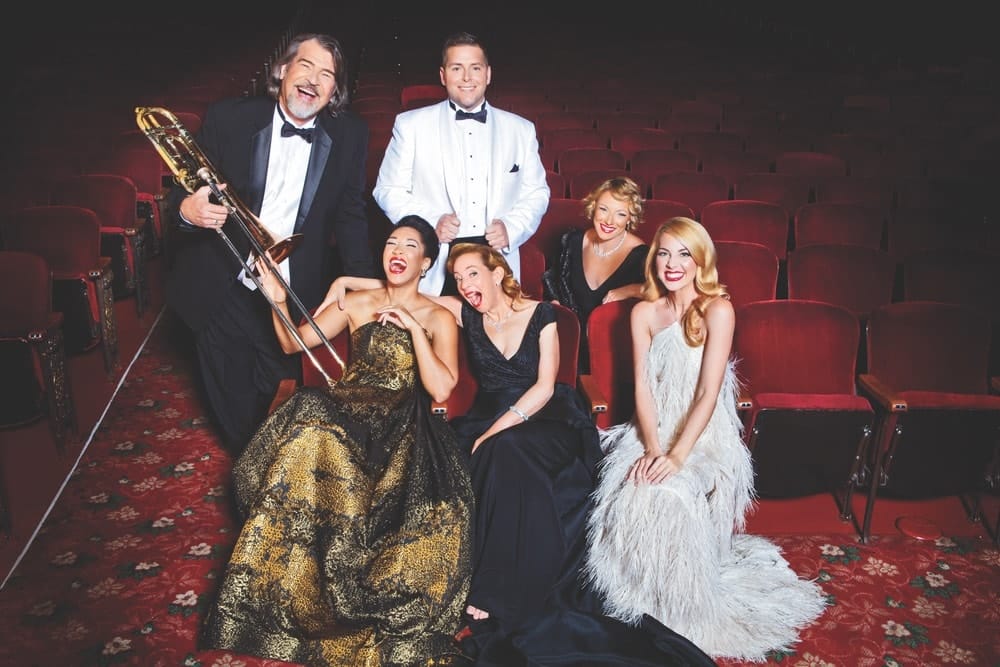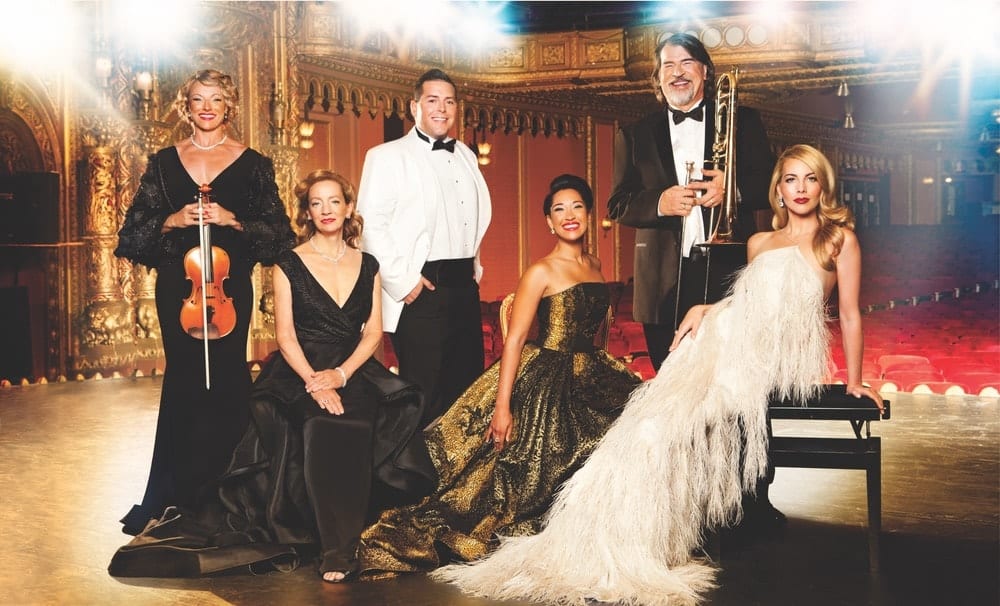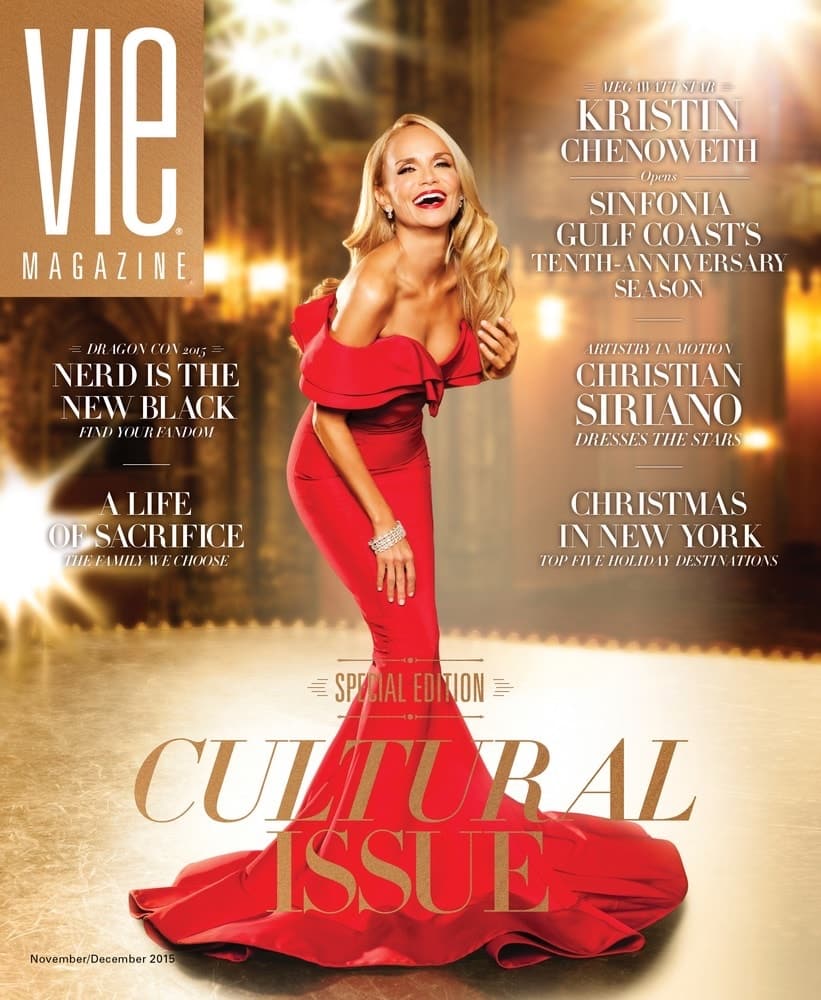 Photography by Carlo Pieroni
Wardrobe by Christian Siriano (gowns) and Simply Elegant Bridal (suits)
Jewelry by DANI by Daniel K, provided by McCaskill and Company
Hair and makeup for Kristin Chenoweth by Bruce Wayne
Hair and makeup for Morgan James by Jessica Hoffman
Hair and makeup for ensemble by Irene O'Brien, Theodora Fiotodimitraki, and T. Cooper
---
An Animal Advocate
Laurie Hood, the founder of Alaqua Animal Refuge in Freeport, Florida, became an animal advocate at a young age. Now a two-time VIE cover girl (see her other feature in our September/October 2014 issue), Hood embodies the determination and tireless effort that animal welfare advocates across the country put forth every day to help four-legged, furry, and feathered friends of all species. We were proud to share her journey and the expansion plan for Alaqua. The story "Big Dreams Require Big Vision" was beautifully and boldly told by a fellow advocate, former CEO of The Humane Society of the United States Wayne Pacelle. Hood is pictured with Mocha, a stunning Alaskan malamute/Siberian husky mix who was available for adoption at the refuge. See more in the August 2018 issue.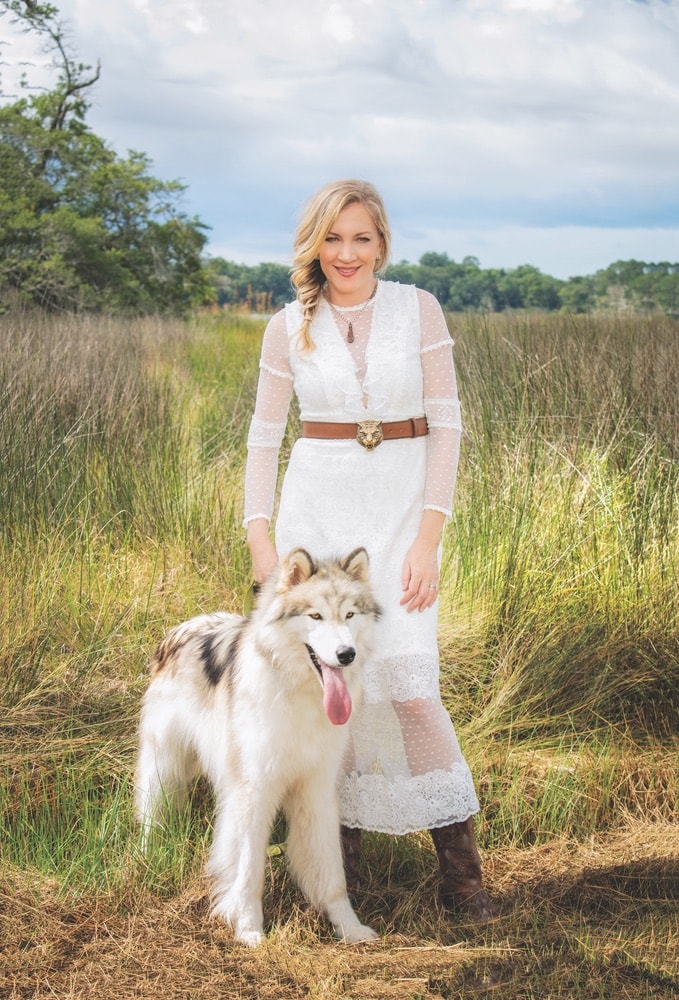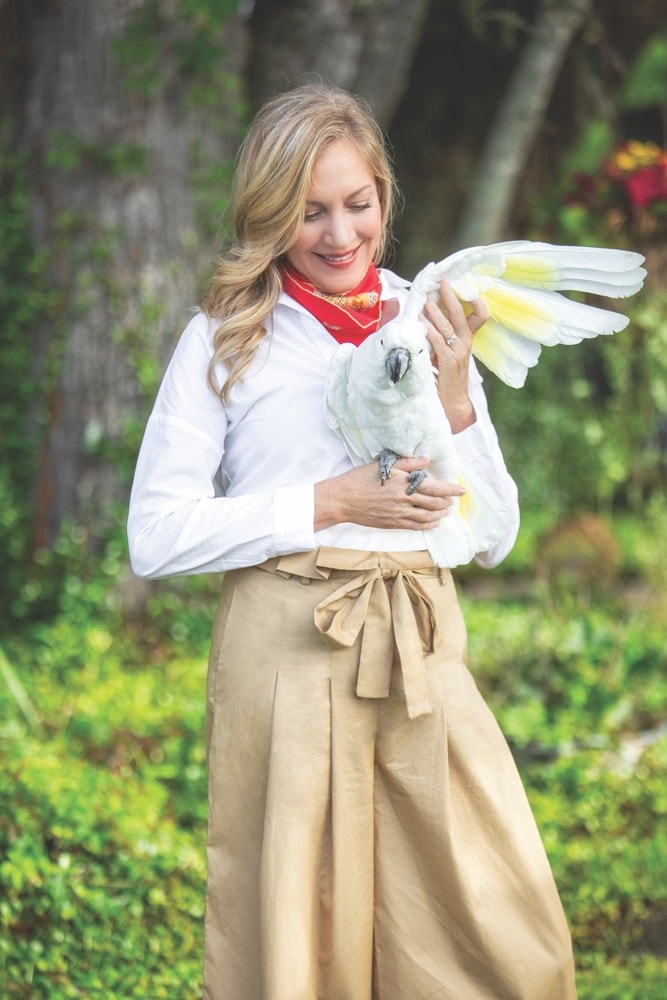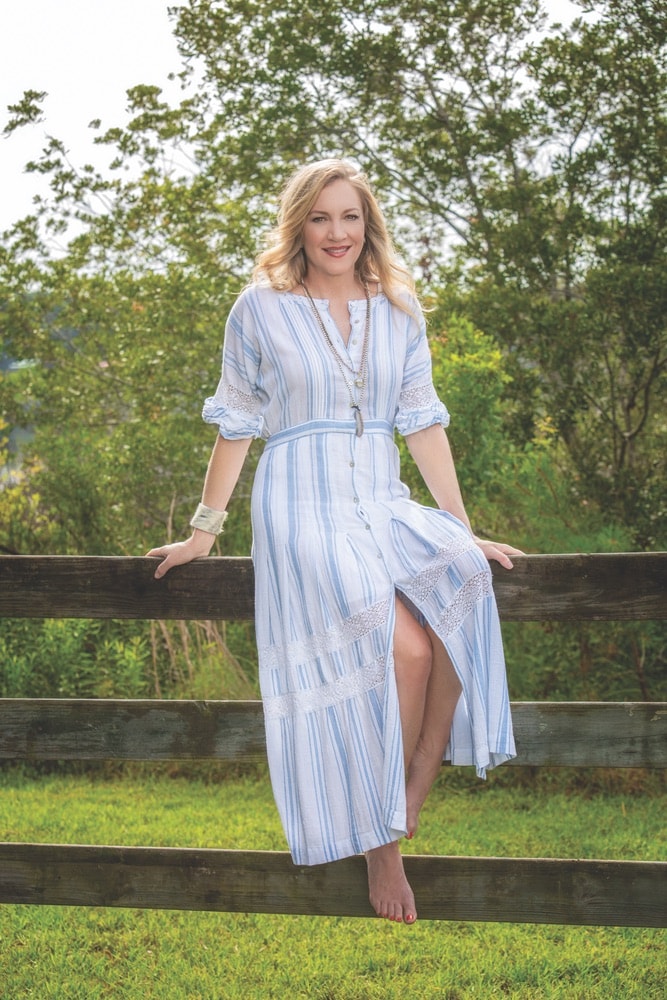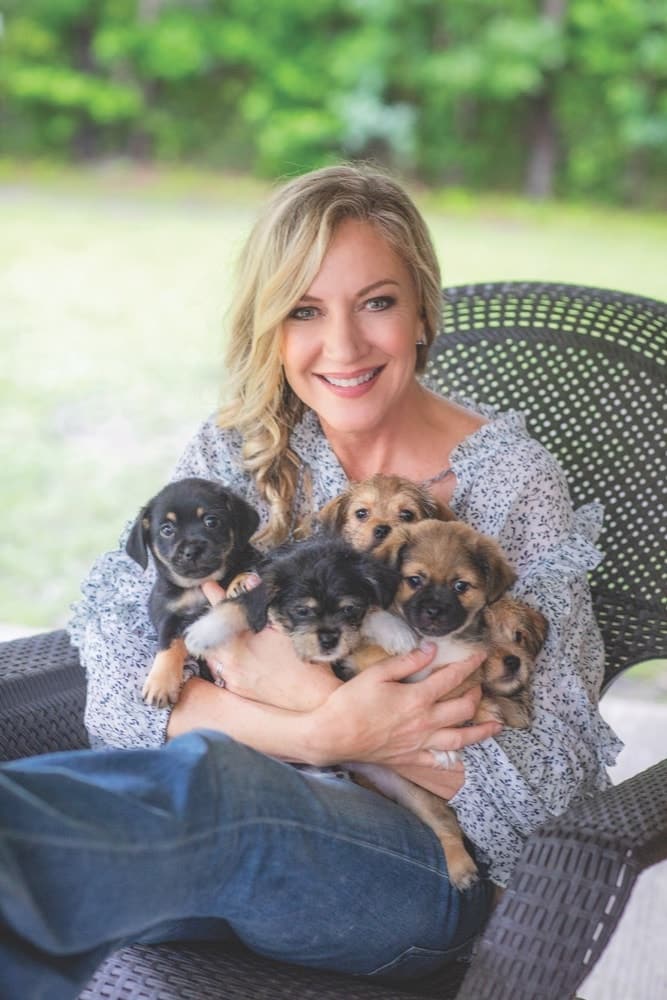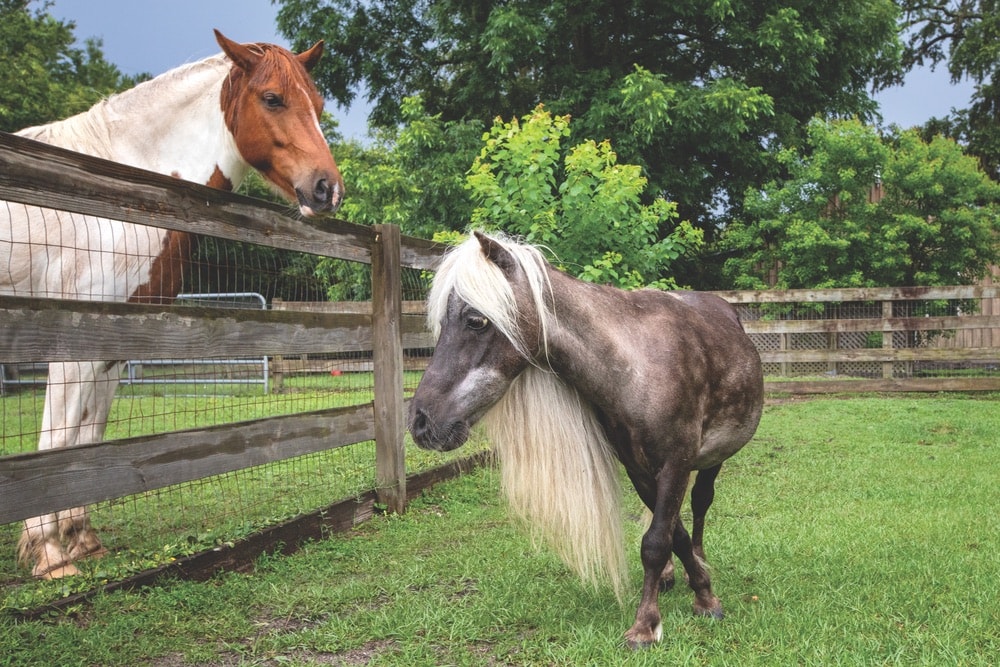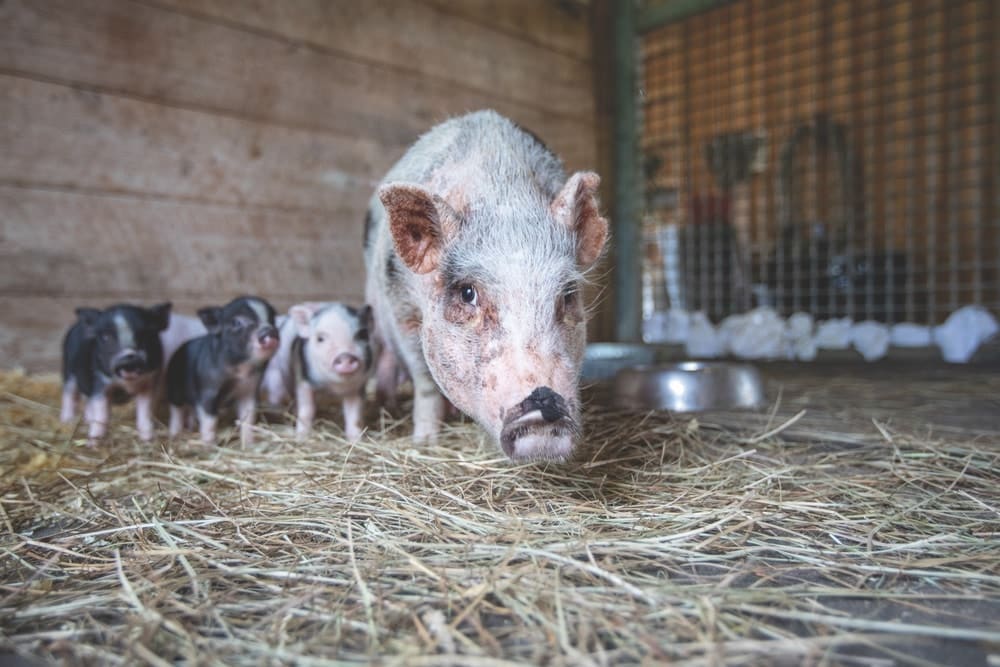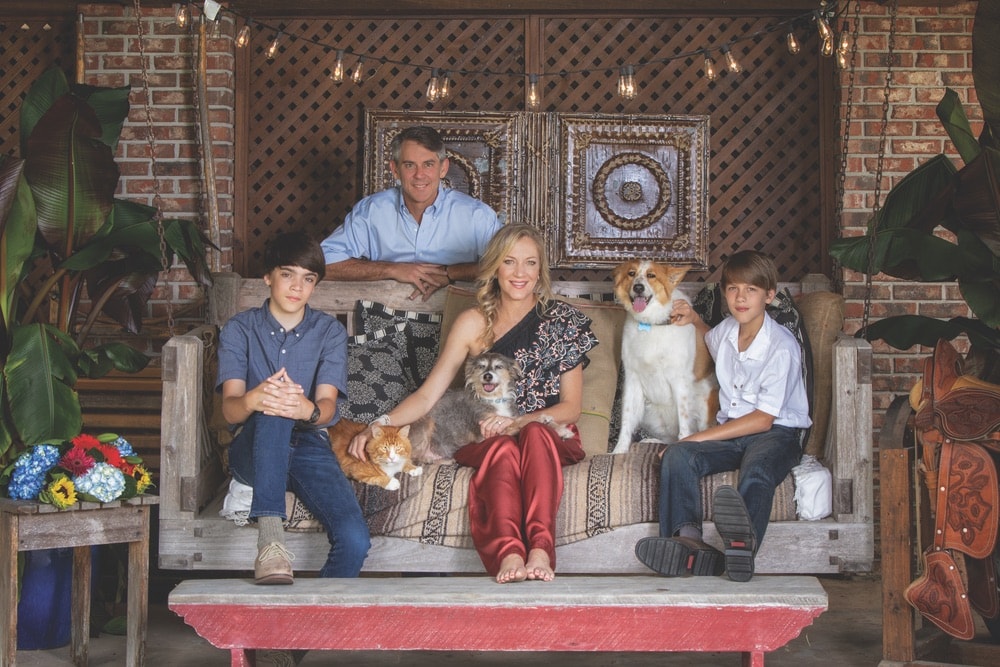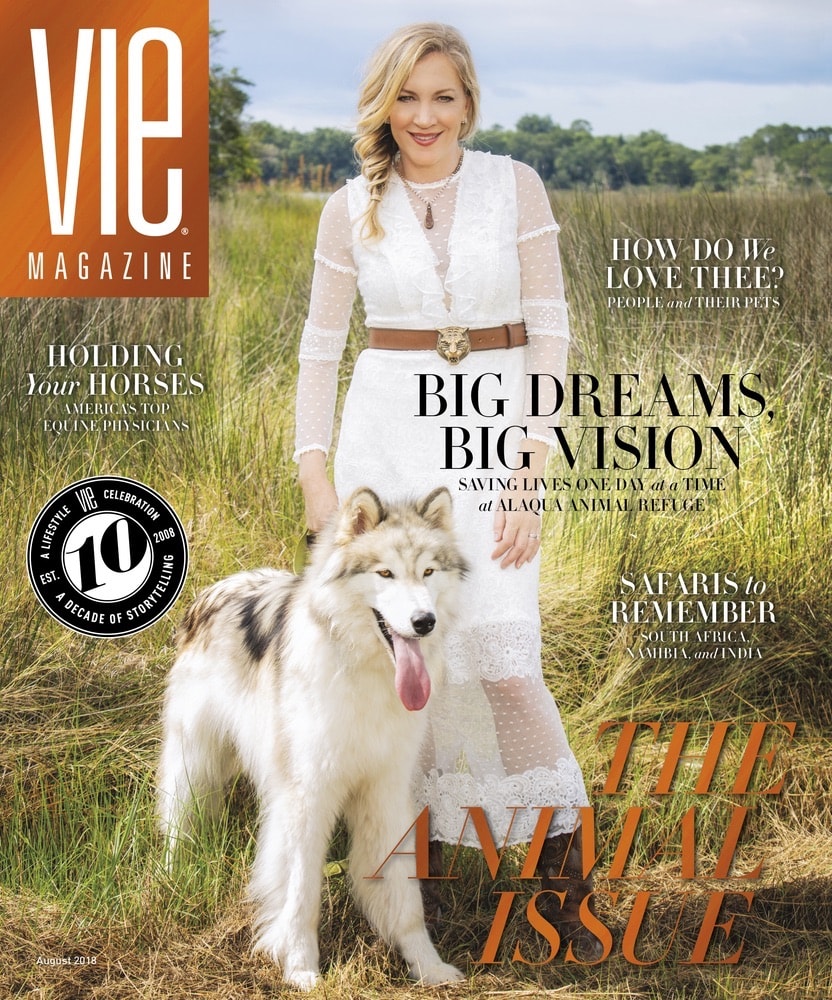 Photography by Romona Robbins
Hairstyling by Adrianne Brackett, Pure & Couture Salon
Makeup by Tania Crawford, Pure & Couture Salon
Jewelry by Carrie Rhea Designs
---
A Publishing Legend
Tina Brown, former editor-in-chief of Tatler, Vanity Fair, and The New Yorker, founder of The Daily Beast, and author of The Diana Chronicles and The Vanity Fair Diaries, needs little introduction. On a mild October day, members of the VIE team met the illustrious Tina at her charming New York City apartment for a photo shoot for our first Women's Issue. She is responsible for some of the most celebrated covers in magazine history—such as the groundbreaking and provocative Vanity Fair cover featuring then-pregnant Demi Moore in her birthday suit, which was orchestrated by photographer Annie Leibovitz. We were honored to feature this icon of global media and journalism and to promote her latest venture, Women in the World—a live media platform and annual summit dedicated to telling stories through the voices of women everywhere. See the December 2019 issue for the full story.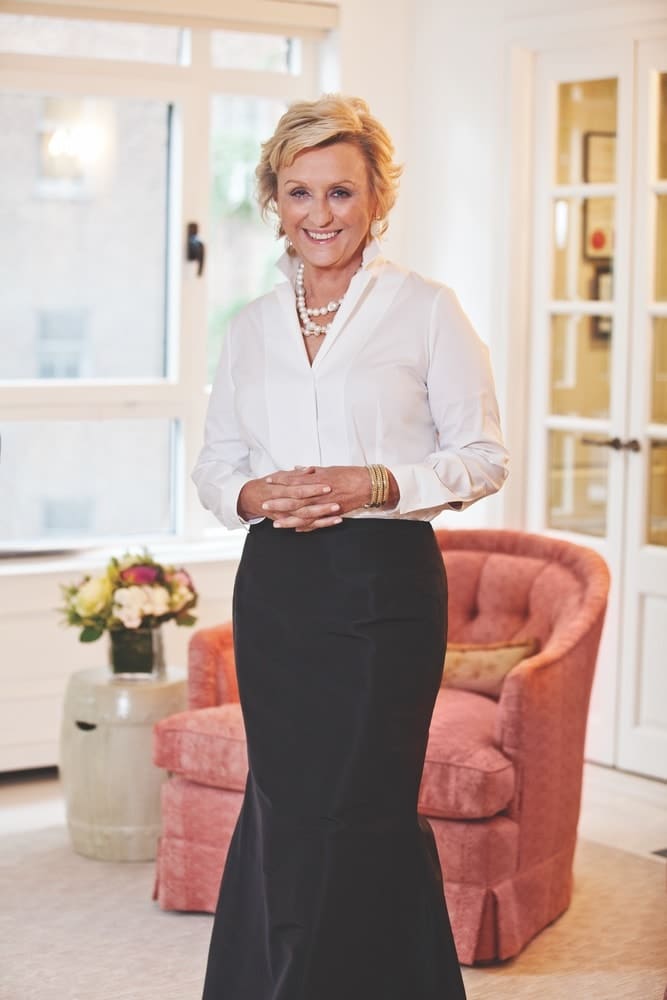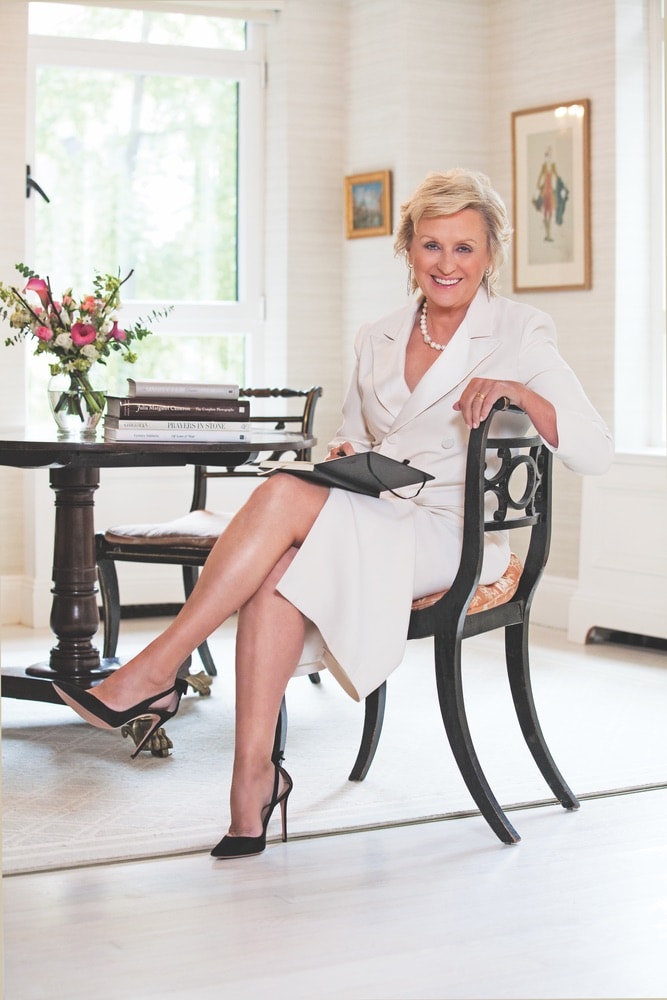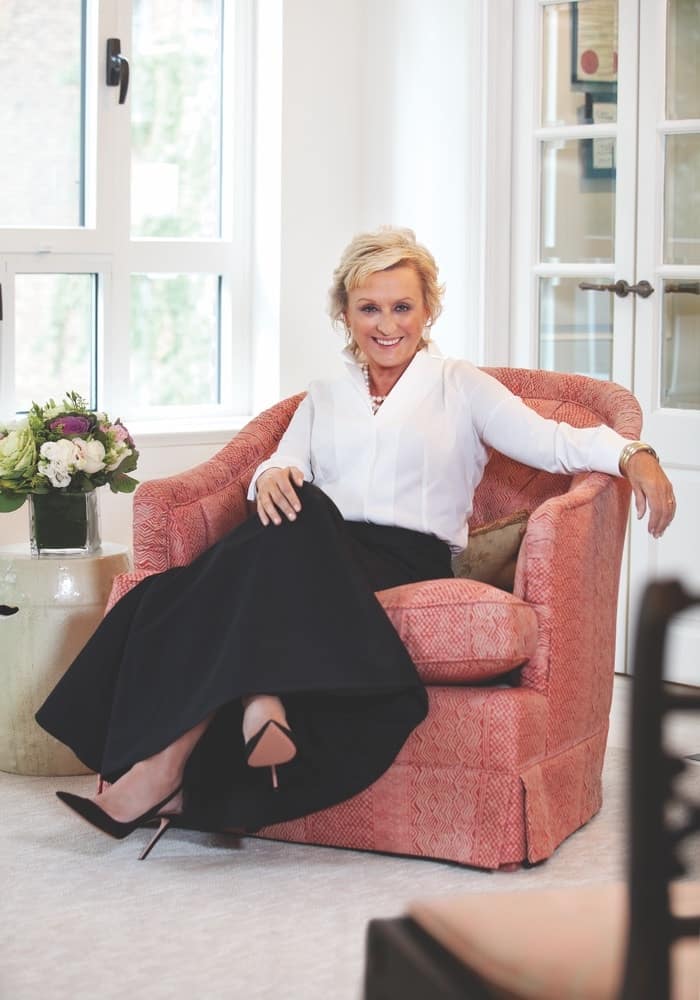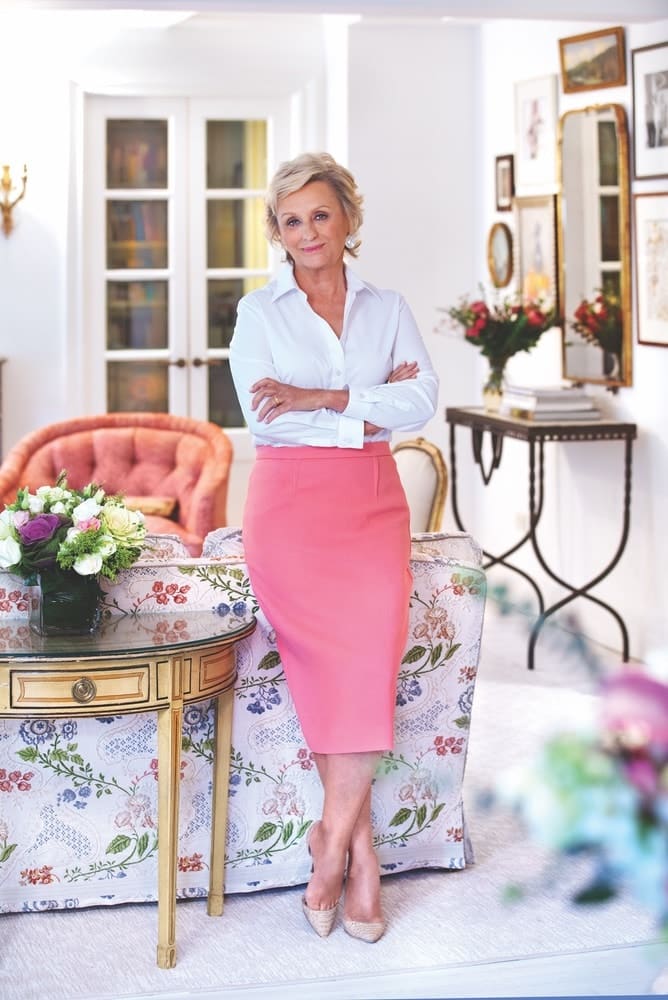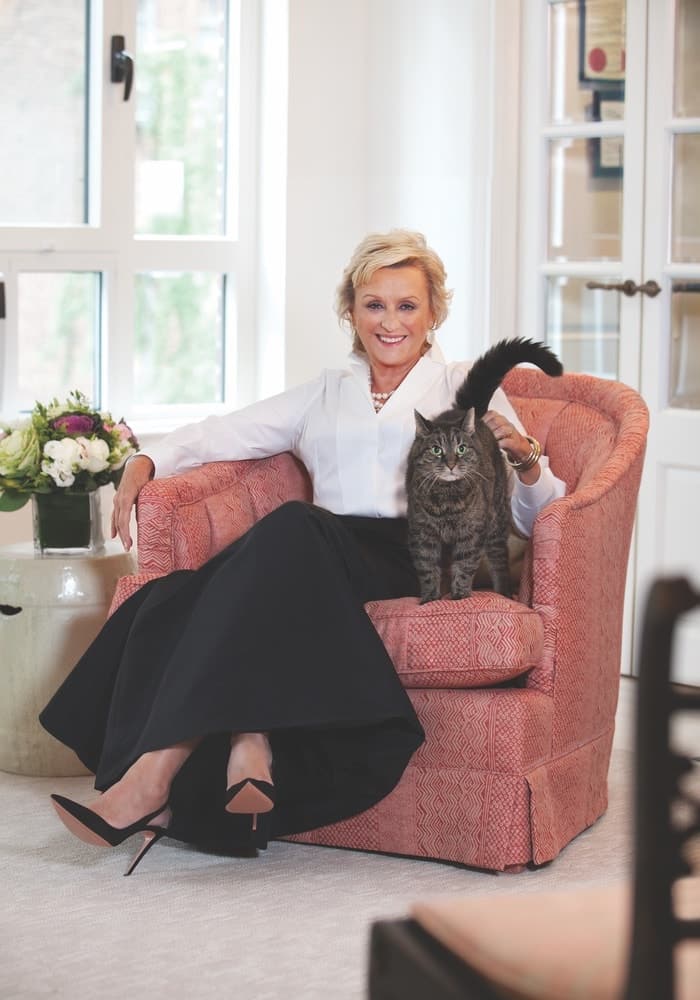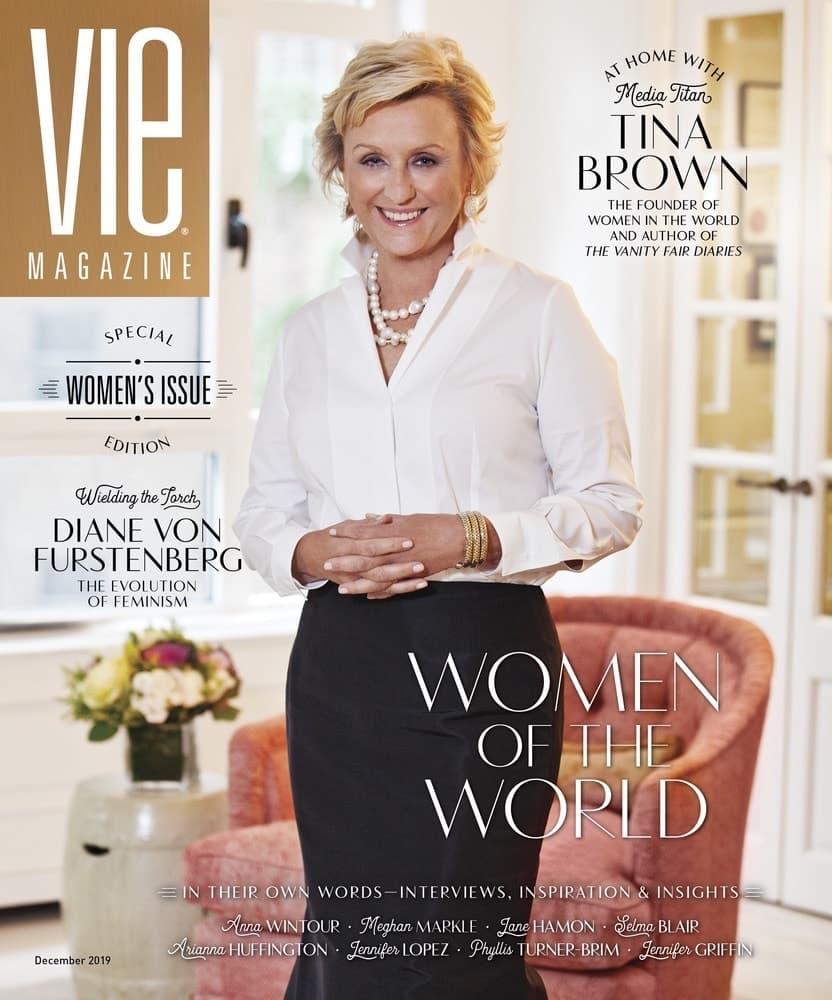 Photography by Carlo Pieroni
Styling by Christine Hahn
Hairstyling by Serena Lo
Makeup by Gary Greco
---
Finding Your Tribe
There isn't one way to dress to be "in style" anymore—it's all about finding what you like and going for it! Our cover girl, Brittney Cole Kelley, thoroughly embodies that philosophy. She began creating and altering clothing and accessories in high school and college, and she ran an Etsy shop online as her first business. After she met Brian Kelley of Florida Georgia Line and the two got hitched, they realized their shared desire to support sustainable fashion made in the US was the perfect basis for a new business. Tribe Kelley, their lifestyle and clothing brand, now has store locations in Nashville and Grayton Beach, Florida, with the potential to spread across the country—or the globe—and build a tribe of like-minded fans and friends through fashion! Read more in our June 2019 issue.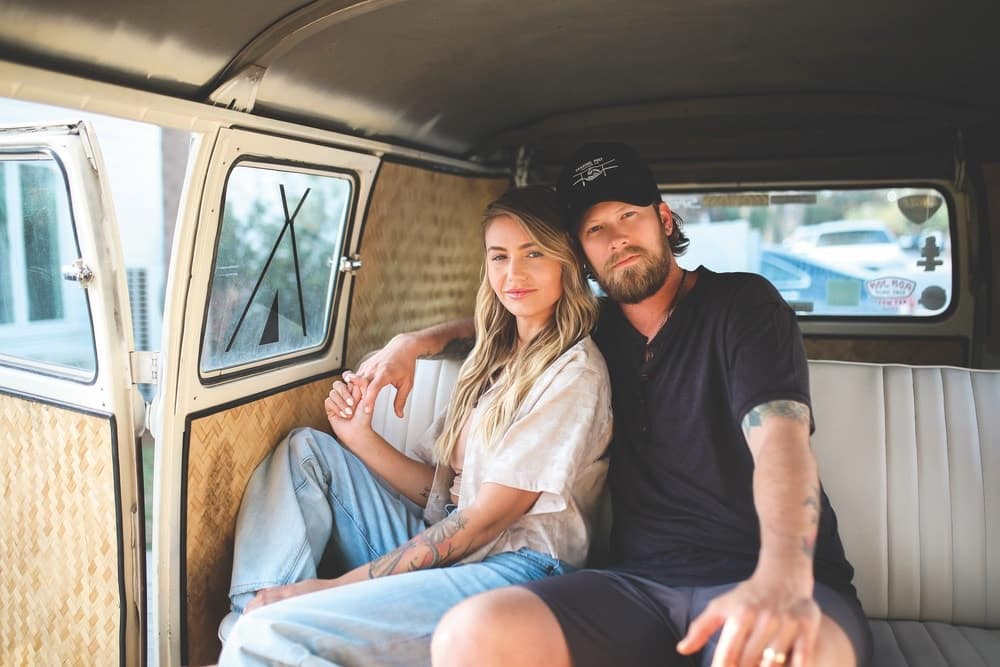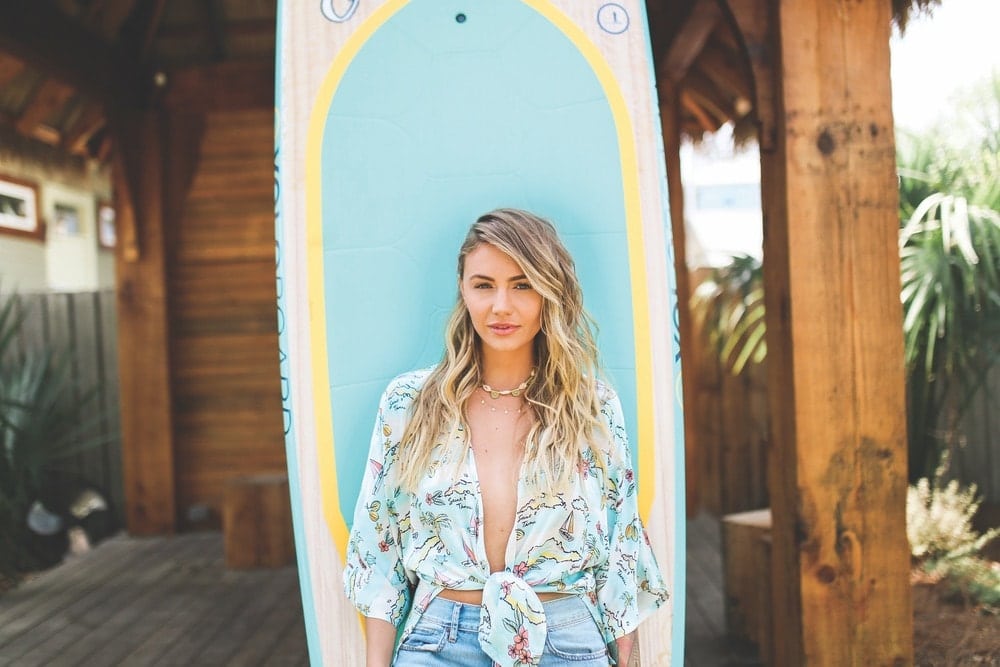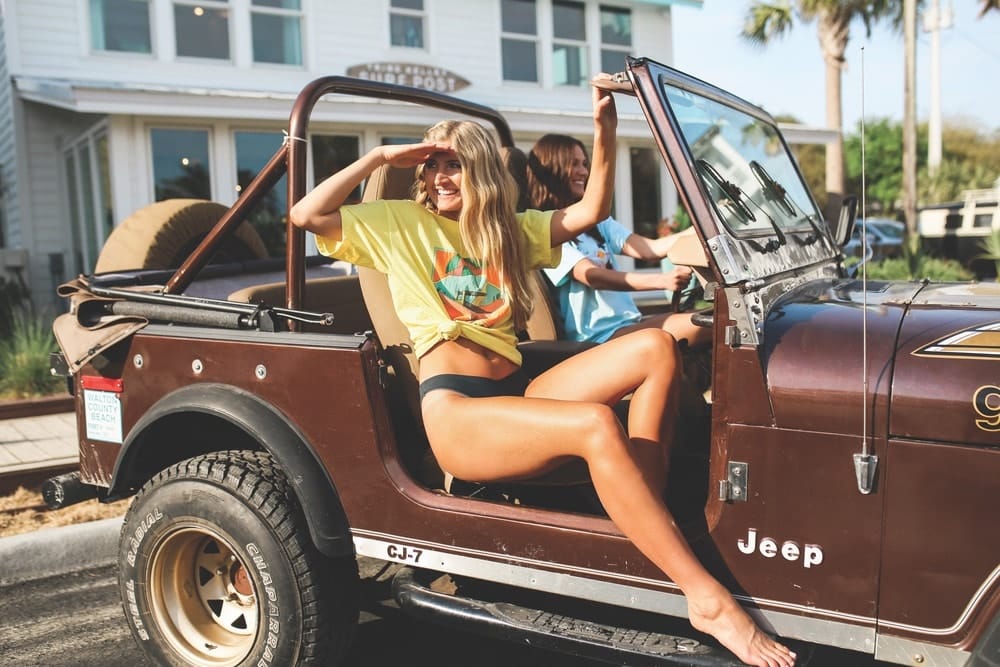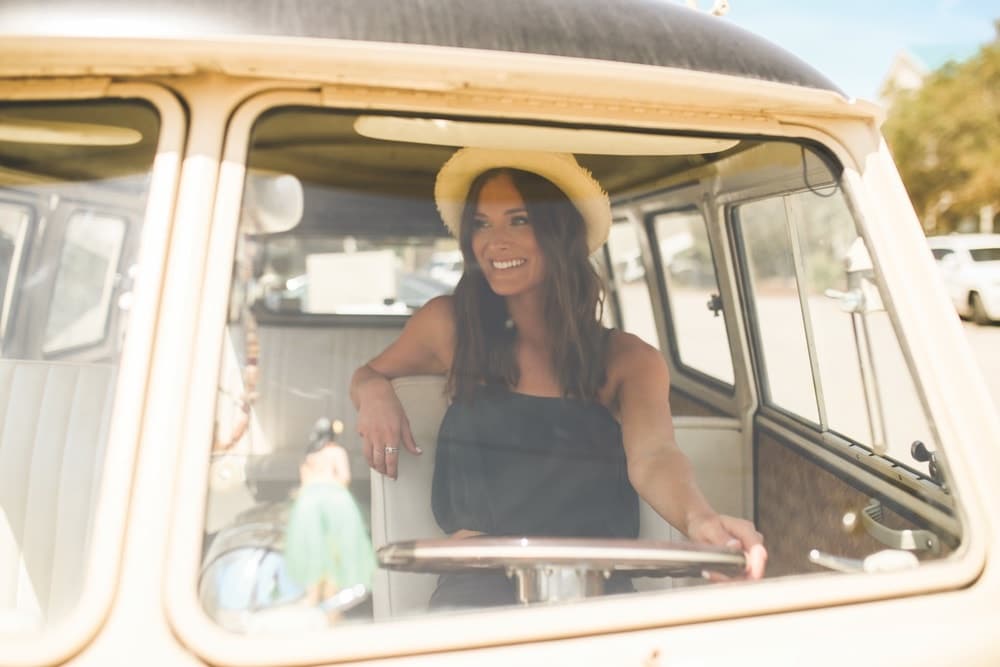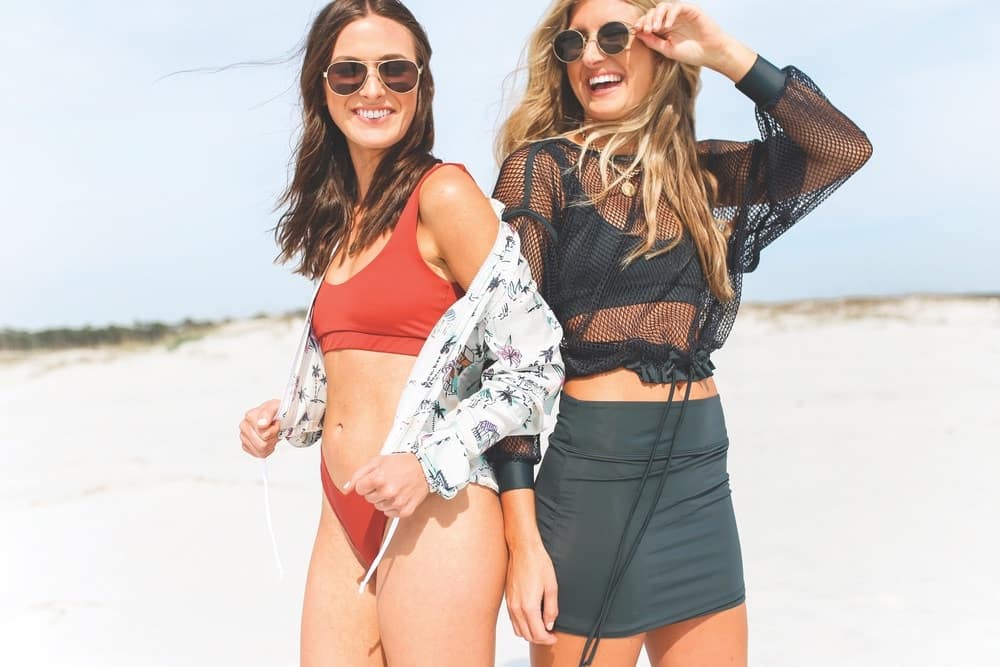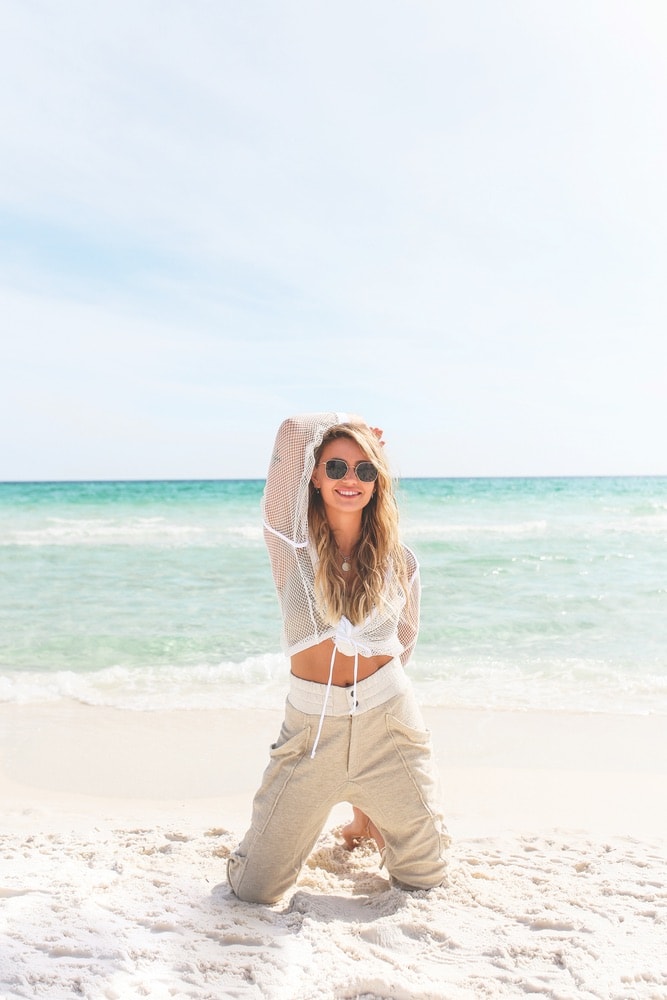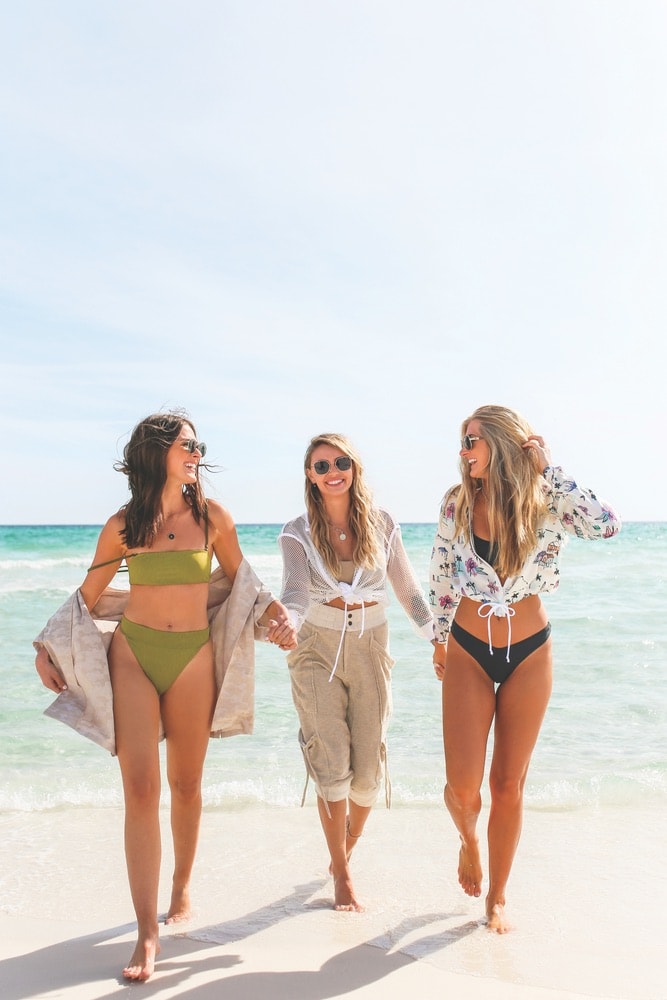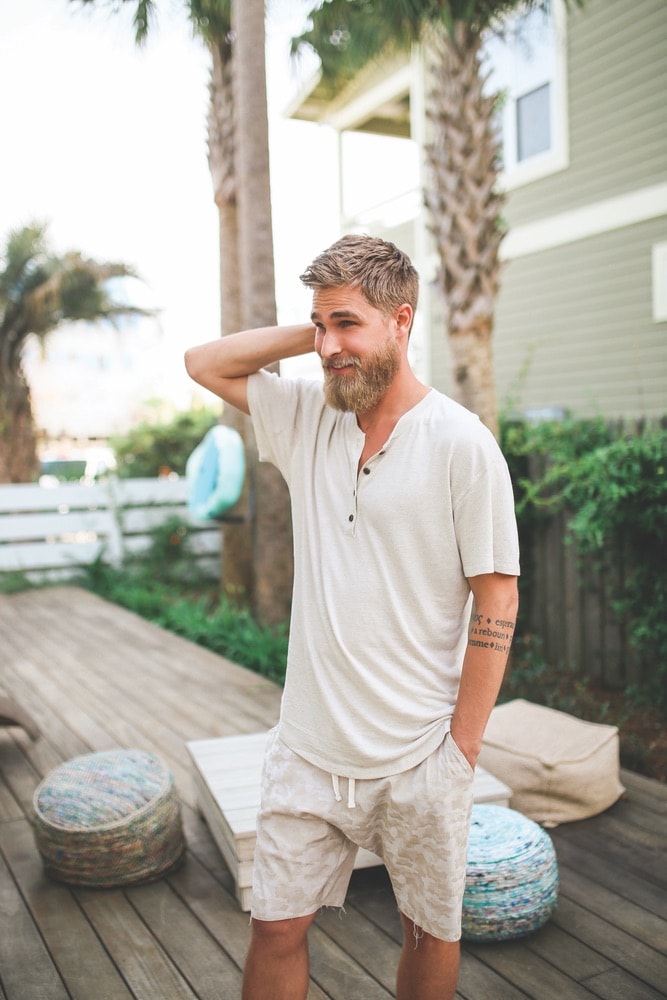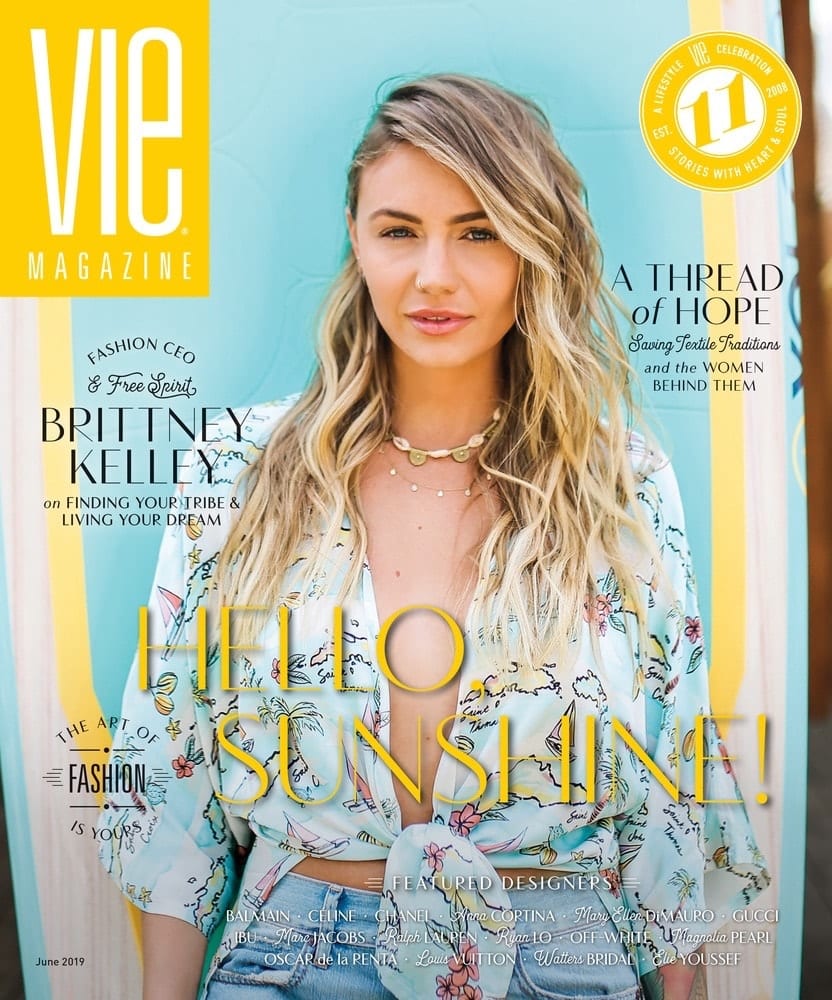 Photography by Brenna Kneiss
Models: Brittney Kelley, Brian Kelley, Alden Easter, Kylie Scott, Beau Vermillion
Hair and makeup by Kaitlyn Brown
Wardrobe by Tribe Kelley
— V —
ARTICLE CATEGORIES