A Story of Good Food
By Jordan Staggs
Trudging through the grocery store and trying to discern which "healthy" foods are actually good for you is an experience many of us face today. It can be especially difficult when choosing foods for children, as even those products labeled "all natural" can sometimes be deceiving. That's where brands like Once Upon a Farm come in. This cold-pressed organic food company is raising the bar on freshness, taste, and transparency about where their ingredients come from. We caught up with the brand's marketing communications manager, Jane Ablaza, to get the scoop:
VIE: How did the idea for Once Upon a Farm originate, and how did your founding partners get connected?
Jane Ablaza: Once Upon a Farm was started by entrepreneurs Cassandra Curtis and Ari Raz, who created the first cold-pressed, organic pouched baby food in 2015. In 2017, industry veteran and former Annie's CEO John Foraker joined the brand as cofounder and CEO, while award-winning actress Jennifer Garner also joined as cofounder and chief brand officer with the goal of providing as many children as possible with the best-tasting, most nutritious, and highest quality foods created using sustainable methods. 
Once Upon a Farm is a mission-driven company that is refreshing the baby and kid food categories by offering the first organic, cold-pressed baby food, applesauces, and smoothies—our cold-pressed blends are as fresh as they get without making them yourself! We are committed to nurturing children, each other, and the earth to pass along a healthier and happier world to the next generation. 
More about our cofounders:
Cofounder and CEO of Once Upon a Farm John Foraker has spent more than thirty years in the natural and organic food industry running businesses with a sharp focus on sustainability and social responsibility. John is an organic industry pioneer and former longtime president and CEO of Annie's.

In September of 2017, actress and mom Jennifer Garner joined Once Upon a Farm as the chief brand officer to lead the company's strategy and vision.

Cassandra Curtis, Once Upon a Farm's cofounder and chief innovation officer, is helping change the landscape of childhood nutrition by creating high-quality, fresh recipes on the market for kids of all ages.

Ari Raz, Once Upon a Farm's cofounder and president, is leading the charge to resurrect Jen Garner's Locust Grove family farm to become a working organic farm, which we'll start sourcing from in the spring of 2019.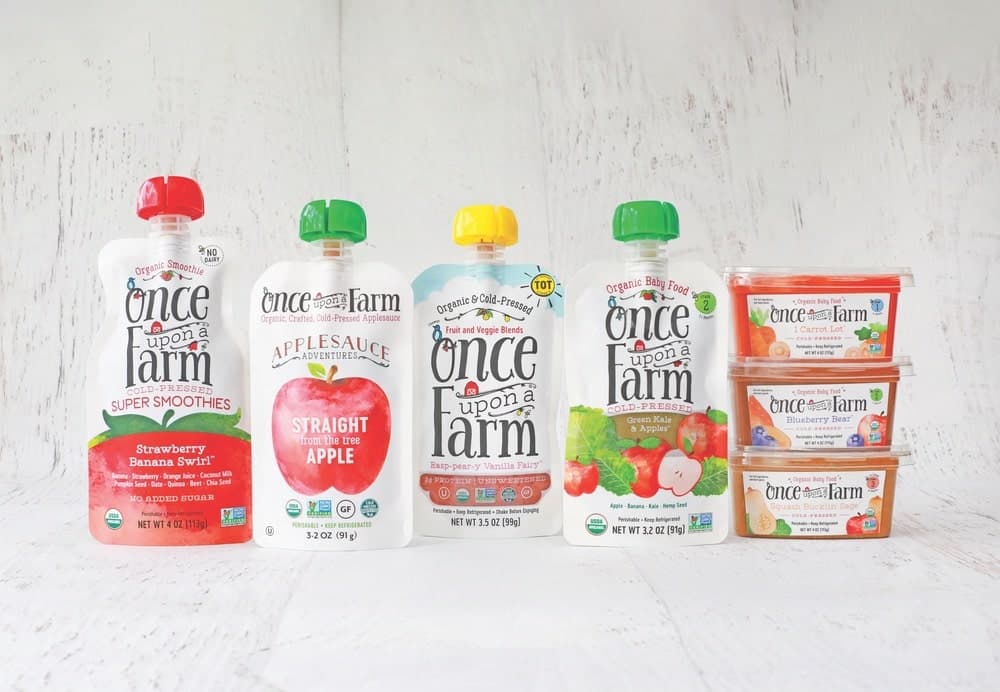 VIE: What are some of your best-selling products?
Jane: There is something for everyone! Currently, we offer eleven organic, cold-pressed, ready-to-eat baby food pouches, three toddler blends, two applesauce varieties, and three smoothies for kids.
We recently launched our new line of baby food cups, which provide a wonderful bonding moment for parents and babies who are being spoon-fed. They are available now at select retailers (check our store locator for a store near you) or online through our website or Amazon starting March 1. They will be available at retailers nationwide in the summer!
VIE: What is the best thing about Once upon a Farm for children and parents?
Jane: The best thing about Once Upon a Farm is the way we make our blends—we are as close to homemade as you can get without making it yourself! Unlike shelf-stable brands—which use heat—Once Upon a Farm foods are cold-pressed, using high-pressure processing (HPP) to better lock in the nutrients, taste, texture, and aroma of the ingredients we use in each of our blends. Our products can be found in the refrigerated section—not on the shelf—or in coolers in the baby aisle at select retailers. 
VIE: We love that you show your customers exactly where you source your produce. How do you select the farms that work with you?
Jane: We are growing some of our organic fruits and vegetables on the century-old family farm of our cofounder Jennifer Garner and sourcing all of our other produce from passionate farmers we know and trust. We do source high-quality, certified organic ingredients from all over to ensure our family-to-family blends are the best for your little ones.
We're continually innovating with new recipes and products that kids will love. Stay tuned for what's in store this year!
— V —
---
Visit OnceUponAFarmOrganics.com to learn more or order products.
ARTICLE CATEGORIES