One Woman's Vision
By Chad Thurman | 
Photography courtesy of Ohana Institute and Ohana Records
Ohana means family. Family means nobody gets left behind or forgotten.―Walt Disney Pictures' Lilo & Stitch
Take a tour of Ohana Institute's classrooms on any given day, and aside from quickly realizing the esoteric nature of this school (there are no desks—only comfortable chairs and even comfier couches), you are sure to find unique, hands-on projects in action, each based on real-world life skills. This year, the school celebrates a decade of one-of-a-kind educational leadership, changing the way educators do what they love to do—teach.
Ohana Institute is a fully accredited, independent, exploratory, and innovative private school located in Inlet Beach, Florida. It serves students in grades K–12, operating on a flexible calendar that emphasizes project-based learning and combines theoretical and real-world experiences for students through an engaging curriculum. Ohana teaches students within age-appropriate focus groups known as "Elements" for kindergarten through fourth grades, "Foundations" comprising fifth and sixth grades, "Middle Years" including seventh and eighth grades, and high school as the traditional ninth through twelfth grades.
However, the latter is the only "traditional" you will find at Ohana Institute.
As a snapshot picture of what a day at Ohana Institute looks like, the following scenes were recently experienced by a team of education professionals visiting the school for ideas: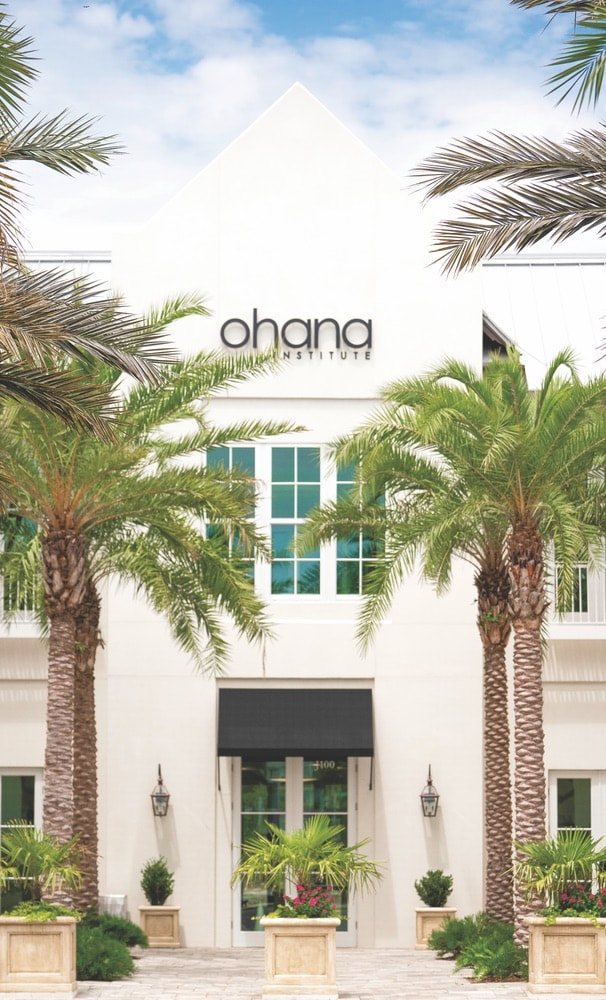 Science students in Middle Years classes stretch a sheet of intricately sewn spandex material over a circular PVC frame ten feet in diameter. Using various spheres and masses to investigate Newtonian and Einsteinian concepts of gravity and orbital mechanics, the students use their homemade device—dubbed the Fourth-Dimensional Gravitational Simulator—to "see" gravity through the fabric of spacetime.
Technology students within their Elements use laptop computers to learn advanced safe and best-practice research techniques, including basic coding skills crucial to further developing society's use of the electronic devices we all use daily.
Engineering students in Foundations employ microprocessors, microcontrollers, computers, and JavaScript coding to program LEGO robots they have made. In doing so, they identify and attempt to solve real-world problems in a four-foot-by-eight-foot arena by manipulating complex and simple machines with their programmed robots.
Art students of all ages write and perform music in School of Rock–style bands, while visual artists create sculptures for public display in Rosemary Beach to raise awareness of environmental stewardship. Others create paintings to participate in the Rosemary Beach Foundation's Music in Pictures events, where they are annually awarded accolades for creativity, English, foreign language, and social studies. Performing arts students create costumes for a production of Shakespeare's A Midsummer Night's Dream they will produce, direct, and perform at the E.O. Wilson Biophilia Center. (The students donated all proceeds from their ticket sales to Nokuse Plantation nature preserve.) Other students learn to grow and prepare food from the school garden and then cook a meal during culinary arts instruction at Ohana's state-of-the-art kitchen.
"Ohana Institute educates students as individuals through a personalized learning environment."
Mathematics students in high school use duct tape, foam pipe insulation, leveling lasers, and marbles to formulate and then demonstrate equations using calculus and physics through the makeshift roller coaster they designed and built along the walls of the classroom.
The five subject areas of science, technology, engineering, arts, and mathematics (STEAM) are the pedagogical cornerstones of the Ohana Institute approach to learning. Ohana students and educators are at the forefront of this new educational philosophy and direction with a "lead learner" framework. Students learn from their teachers and vice versa. This unique and creative approach to education places an early emphasis on developing a student's lifelong passion for pursuits that intrigue and excite them as they grow. Teachers perform more as coaches, encouraging standards-based learning while following students as they, their interests, and their passions for creative learning develop over time.
Chris Latvala, who is currently serving in the Florida House of Representatives, believes the way Ohana teachers focus on STEAM can be replicated at other schools. "What they do here is fascinating and can certainly be used in other education settings around the state of Florida," he says.
Ohana Institute was founded in 2011 by Elizabeth "Lettye" Burgtorf after she spent several years leading a community homeschool group for her children and other families who desired holistic-based learning through virtual classes and teacher support. Ohana was rooted in the premise that students should be loved and encouraged as they seek to discover their passions, while also growing in their educational journey through experiential learning. ​Ohana's staff is a blend of highly qualified certified teachers and local professionals with strong expertise in their respective fields. Delivery of instruction occurs through a range of engaging experiential curricula augmented by hands-on, face-to-face instruction and discussion.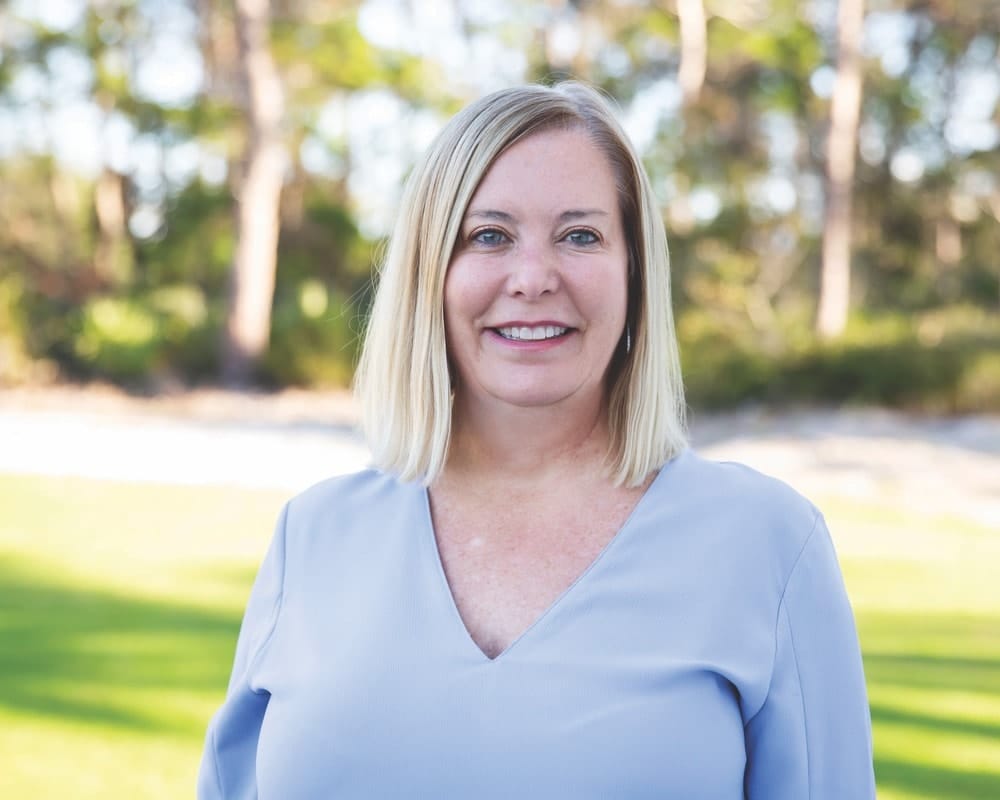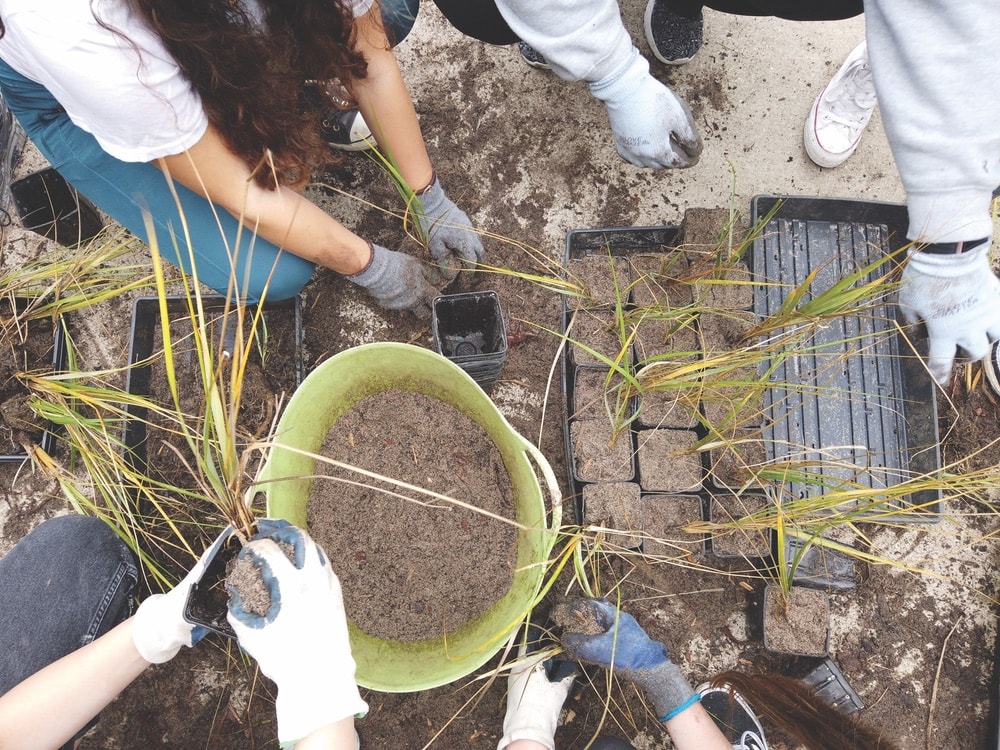 Burgtorf says, "Ohana Institute educates students as individuals through a personalized learning environment. This type of educational experience empowers each child to know who they are, how they learn, and what their passion is in life. Through innovation and purpose, Ohana students create a meaningful educational path with the future in mind."
The vision of Ohana Institute is to provide a personalized learning path for each student. Ohana recognizes the individuality of each child and that all children are creative and need to succeed. Burgtorf and the staff at Ohana believe that learning paths include social, emotional, physical, and intellectual development, which invite the passionate pursuits of each individual.
Former U.S. Secretary of Education Dr. William Bennett says, "Because of Ohana's vision and mission, on which they have built a strong foundation, students will walk out into the world as global citizens, possessing the traits of character we most admire and hope for in regard to building the future of America and our educational system."
​Ohana Institute has achieved full accreditation status as an outstanding academic institution by the Association of Independent Schools of Florida (AISF) and Southern Association of Colleges and Schools Council on Accreditation and School Improvement (SACS CASI). The NCAA has also approved Ohana Institute's core courses. The school offers dual enrollment choices for high school students through Florida International University, Northwest Florida State College, Florida State University, Gulf Coast State College, and Auburn University.
Ohana Records
One of the most important and unique aspects of Ohana Institute is Ohana Records. Founded by teacher Jonathan Mitchell at the inception of the school, Ohana Records is a program whereby students are grouped into bands each semester. They learn voice and harmony, electric and acoustic guitar, bass guitar, piano, ukulele, drums, and hand percussion instruments. (Most of the students entering the program have never played an instrument before, but within months they are ready to perform original and cover songs at a concert each semester, which is free and open to the public.)
"Through music, changes happen in the brain that allow students to ultimately find success in life through various challenges."
Many students learn music theory and how to read and play music through the string family instruments of violin, viola, cello, and bass in an after-school club called Ohana Strings.
Founder Burgtorf says, "Ohana Institute's in-house music program, Ohana Records, is focused around supporting students to build self-confidence, learn to work together, and create unique ways to problem-solve as a team. Through music, changes happen in the brain that allow students to ultimately find success in life through various challenges."
According to Mitchell, "Ohana Records began with twenty-one students in 2011; there are at present 170 students enrolled for the 2021 school year." He continues, "I've always approached Ohana Records bands as a way for students to learn how to be a team player in life. Everyone in the band has a role, and if one person doesn't perform their role, it affects the band or team as a whole. The kids eventually figure out how to work together and accomplish a specific set of goals. This is a great approach to teaching valuable life lessons about teamwork while having fun playing music."
Perhaps the most notable aspect of Ohana Records is the high school program known as Rock on the Road, an integral part of music education at Ohana Institute. Founded by Mitchell, the program is built upon the idea of experiential student-led learning. The music business is a unique and ever-changing industry where experience is vital. Students are not only encouraged but also expected to take the initiative and dive into the music business, exploring many outlets that the industry has to offer. Rock on the Road provides students with everything they need to explore the music industry and get a taste of what it is like to be a professional musician. Each year, students write and record at least one song for a nonprofit organization, and during a ten-day multistate tour, perform at several schools across the South to share Ohana's passion for music and education while giving back to the community.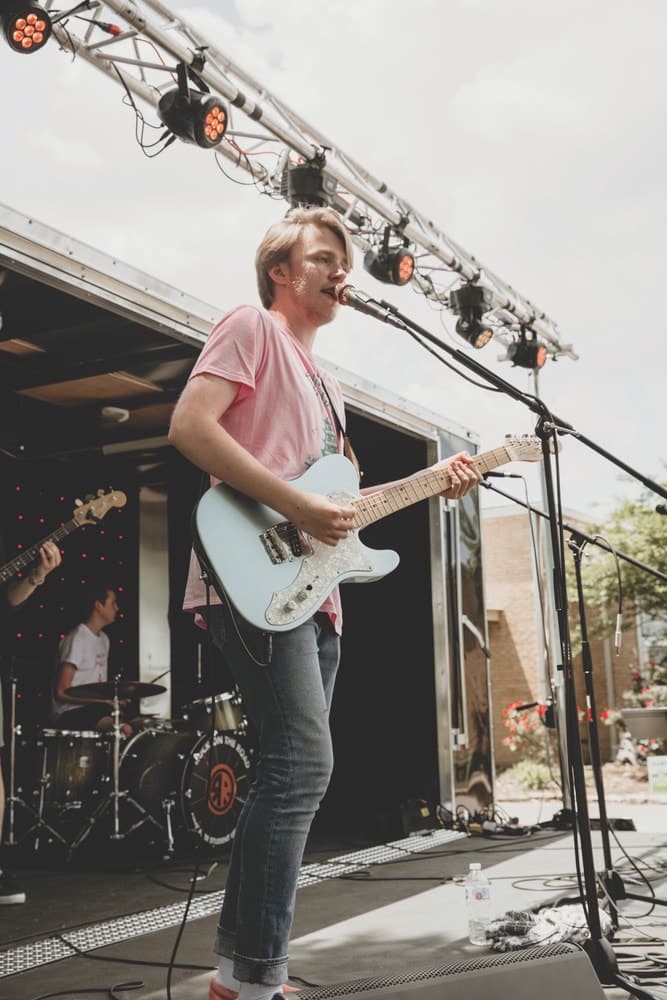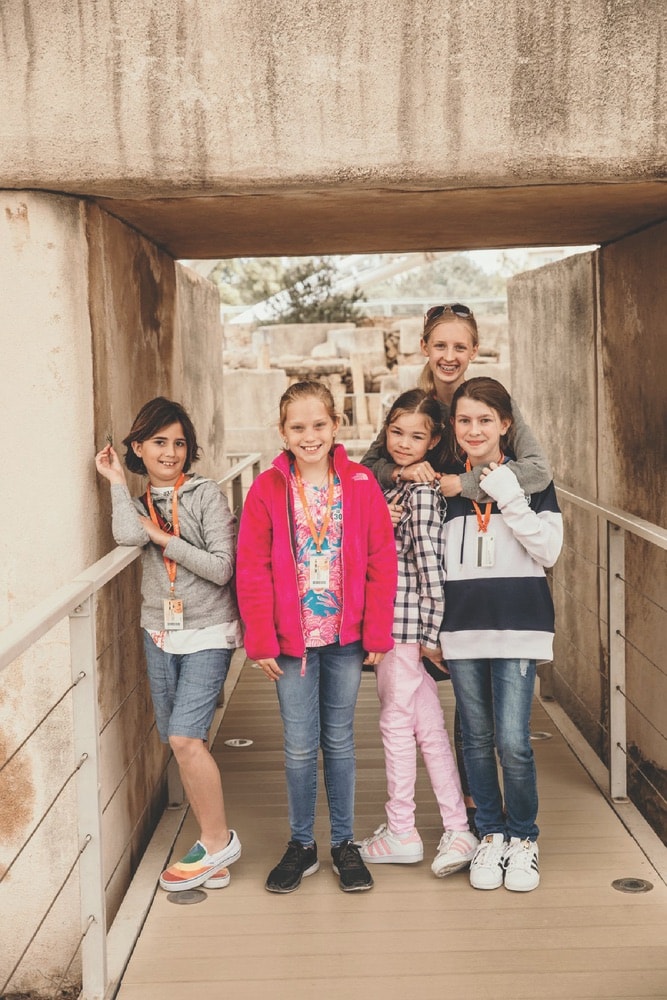 "When students join the Rock on the Road program, they are given nine months to organize a fully funded ten-day tour," Mitchell explains. "During these nine months, they play gigs at festivals, clubs, and schools in preparation for the tour. The goal of this unique curriculum is to ensure that each student can explore many aspects of the music industry, from songwriting and performing concerts to booking gigs, managing artists, stage design, music production, and coordinating full-on music tours down to every small detail."
Mitchell relates that he and Rock on the Road students are very fortunate to have the opportunity to work with and learn from two Ohana teachers who happen to be giants of the music industry: Dan Herrington and Johnny Colt.
Herrington spent twenty years in various sales, marketing, and executive roles for RCA and Arista Records in Texas, Seattle, and Nashville. He also ran an artist management and consulting company and is the cofounder and former copresident of the independent recording and publishing company Dualtone Music Group in Nashville, best known as the label for the Lumineers. Herrington was awarded three Grammys with Dualtone and had four additional Grammy nominations.
"I was able to sell Dualtone and move to Florida, where I subsequently met the Burgtorfs and fell in love with Ohana," Herrington shares. "I admire the unique education opportunities Ohana offers students. That, plus the great group of teachers, drew me to the school. I'm able to share my years of firsthand experience with our students and connect them with professionals in the music industry to help them in discovering their futures."
Johnny Colt is an original member of the band the Black Crowes. As the band's bassist, Colt played on four full-length albums and toured extensively. Among other prominent roles within Americana music, Colt also served as bassist for the legendary Southern rock band Lynyrd Skynyrd from 2012 to 2017. He will lead the art department at Ohana this year and continue to impart his love of music and vast knowledge and experience of the music industry to students for Rock on the Road.
Ohana Institute's Global Education Conference began nearly ten years ago to give students a say in how the future of education looks.
Colt says, "The Ohana learning culture is unique. A child-led, project-based learning environment creates a space where a student's strengths and weaknesses can be identified, explored, and supported. Basically, Ohana is the school I wish I had gone to as a young student. I can only imagine how much further I would have progressed, not just academically but socially and emotionally as well."
Ohana Marine Science
During the summer of 2019, two Ohana Institute science teachers trained and certified at Florida International University's Aquarius Academy and earned open-water scuba diving certifications. These two teachers went on to train and certify twenty-four students in sixth through twelfth grades, along with their parents and other Ohana teachers. The dive-certified teachers now teach students about marine science, including fish and coral survey techniques. Ohana students, families, and teachers give back to the community with their dive club by gathering valuable scientific data for South Walton Artificial Reef Association's (SWARA's) near-shore installations.
Ohana divers "go to the local reefs, dive, explore, and identify fish," says Burgtorf, "and they begin to see what it's like to be underwater. Our goal is to work with the county to study the reefs and help them be healthy. And so we'll take data and all the information needed to be able to do that as time goes by."
Ohana students and teachers will also give back to the community this year by working with students from South Walton High School to teach them what they have learned about scuba diving and marine science.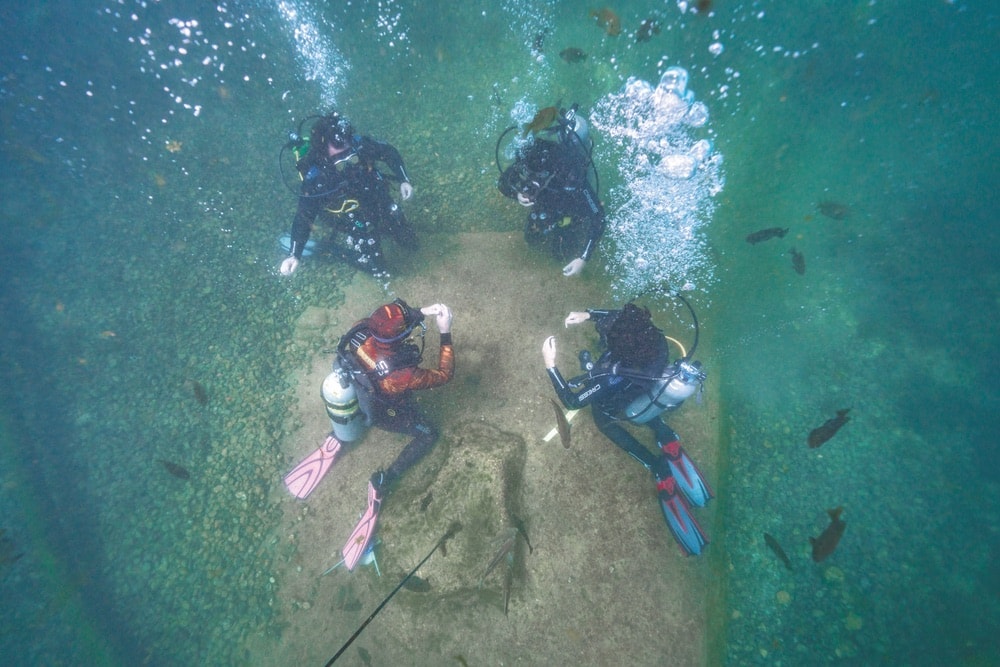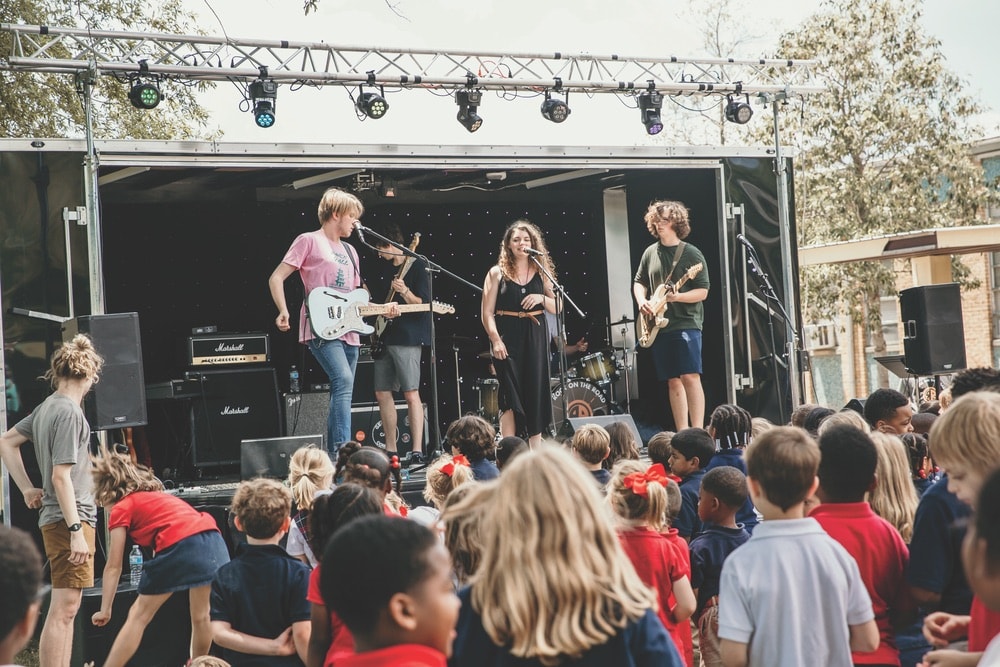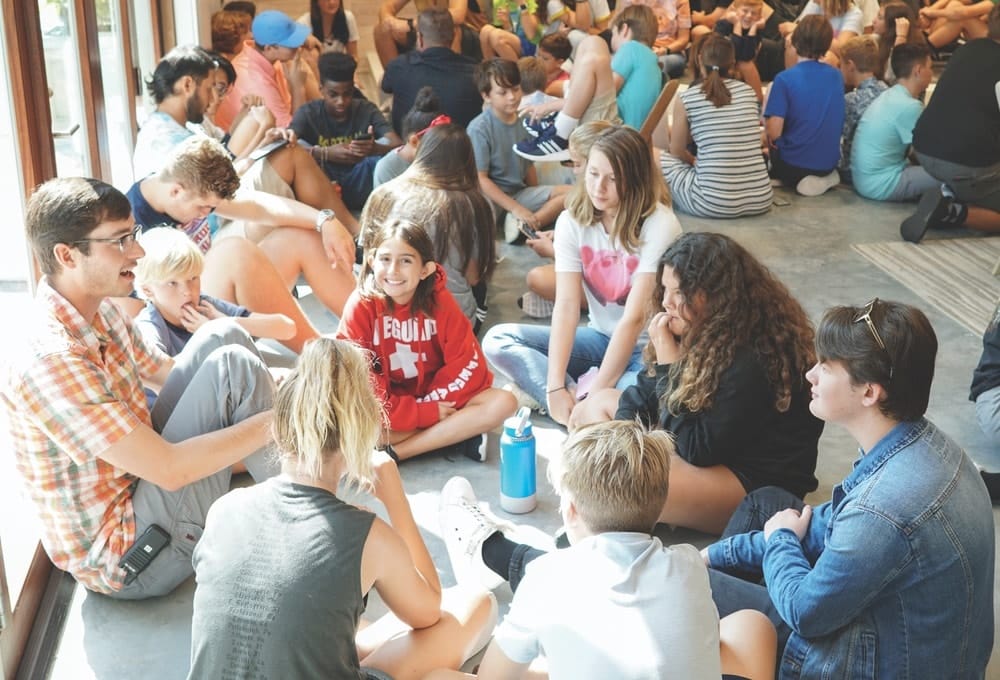 SWARA president Walt Hartley says, "We at SWARA understand, appreciate, and strongly support Ohana's plans to enhance monitoring and research efforts for these artificial reef environments. SWARA will benefit greatly not only from the expanded research data provided by Ohana but also from their active participation in sustainability and stewardship practices. In addition to informing future habitat development work, these activities align perfectly with our broader mission to create living reefs for future generations. The passion and sense of responsibility fostered through working with and experiencing these reefs firsthand, especially for our youth, is invaluable to the continuation of SWARA's mission. We applaud Ohana for pursuing this endeavor."
Global Education Conference
Ohana Institute's Global Education Conference began nearly ten years ago to give students a say in how the future of education looks. As Allen and Lettye Burgtorf's visionary school grew, so did the interest in state-of-the-art educational materials and how to incorporate Ohana's core values into school systems around the world. The Burgtorfs also recognized a need for a conference that is run by the students themselves. The conference's collective goal is to ignite the exchange of perspectives and solutions on topics of interest by showcasing students' voices and leadership to some of the nation's most-recognized leaders in education and government. The itinerary includes student-moderated panel discussions, engaging roundtable conversations, interactive workshops, student presentations, and a host of relaxing evening activities.
The information shared is sure to provide participants with new and innovative approaches for successful educational outcomes in the coming months and years.
Recent graduate Carson Gaffrey-Kruse says of his experience at Ohana, "The potential that any student has at Ohana Institute is remarkable. I never realized this until I became a student at Ohana, where I was educated beyond the boundaries. Ohana instilled in me the confidence, perseverance, and humility needed to succeed as a college student pursuing my passion."
At Ohana Institute, students like Gaffrey-Kruse and hundreds of others experience the difference!
— V —
---
To learn more, visit OhanaInstitute.org, RockontheRoad.org, and SWARAreefs.org.
ARTICLE CATEGORIES