By Anthea Gerrie | 
Photography courtesy of Nicholas Kontaxis
What Krisann and Euthym Kontaxis always wished for their three boys was a full life that would see them making a contribution to the world and supporting themselves while doing something they loved. Their faith and hopes were borne out: Michael, the eldest, became a filmmaker; and Christian, the youngest, is a medical student attracting attention for his research into COVID-19. But for years, the notion of fulfillment, let alone fame and fortune, seemed an impossible dream for the couple's middle son, who, at the pivotal time he was starting to walk and talk, was diagnosed with an inoperable brain tumor causing severe developmental damage.
However, at age twenty-four, it is Nicholas Kontaxis who has a higher profile than either of his brothers, wowing the world with paintings and making a living through his art against all the odds. Despite suffering fifty thousand seizures to date, Nicholas has emerged as an internationally collected young artist whose paintings command up to five figures and hang on the walls of celebrities at home in the US and abroad, including those of tennis ace Roger Federer. On the one hand, it seems astonishing for a young man who cannot communicate with his clients through conventional language; on the other, it's not surprising given the immediate appeal of his dramatic, vibrant canvases, which show a real love of color and an absolute joy in the process of spreading paint.
Nicholas alone is the artist, making it clear what colors he wants to work with on any given day and suggesting to his mother, who says "absolutely, he can communicate" what his finished canvas will represent, giving rise to titles like Hear the Rain and Sandwich Please. But the Kontaxis success story is very much a family affair. Krisann is the ever-present mom charged with everything from nurturing her son's art to keeping him away from the sugar and carbs that could cause a seizure. Euthym tucks him into bed and rises to give him medication throughout the night. Twenty-seven-year-old Michael and twenty-year-old Christian have become fiercely protective of their brother, who, despite his condition, "really loves all the male energy" when hanging out with them, according to their mom.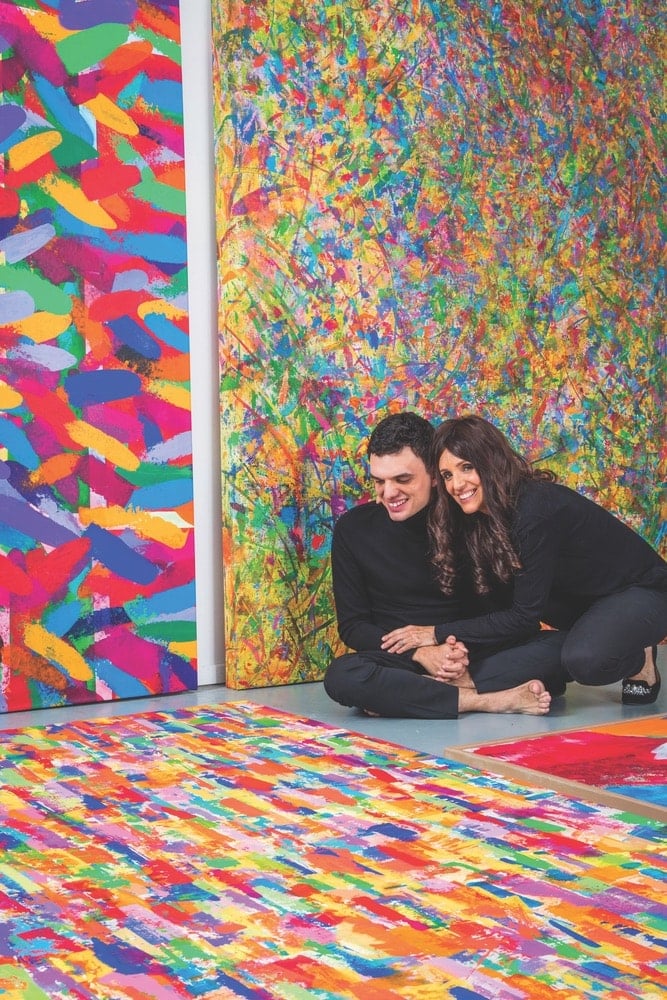 None of the lifelong challenges this family was destined to face were evident when Nicholas was born, a sweet baby who did all the expected things at the right time. "He was right on track—he crawled, walked, and at fourteen months was just starting to talk," says Krisann. But at fifteen months, he had his first seizure. "It was subtle at first, but when it became obvious something wasn't right, we took him to Boston Children's Hospital," says Krisann. Two weeks of tests revealed a tumor so deep in the brain that a biopsy could not be performed. It turned out to be stable and slow growing, albeit highly disruptive.
Since then, Krisann and Euthym have battled to control their son's seizures—up to thirty a day—against the odds (all the more difficult because Nicholas proved allergic to prescribed medications). His epilepsy, which provokes falls and could cause sudden death, has never been fully controlled, "although the ketogenic diet we put him on immediately helped," says Krisann.
In 1999, the family moved from the East Coast to California, where Euthym is now the director of the emergency room at Eisenhower Medical Center, in order to be close to a big city for hospital appointments. They frequently make the two-hundred-mile round-trip from their desert home to Los Angeles.
After spending his preschool years in mainstream schools with the support of teaching aides, Nicholas moved to a school with special education classes, "although he was always able to access some mainstream classes, primarily art and the occasional science class in high school, which he seemed to enjoy," says Krisann. Later, doubts arose about Nicholas's suitability for a job-share program organized to help prepare students for work. "Because of his seizures, it was clear he could not safely do any of the jobs suggested."
"His joy in creating and success in making art are a true miracle and a gift from God; we are so grateful."
A solution surfaced at Opportunity Village in Las Vegas, a facility dedicated to the vocational assessment of young people with special needs. "They have an art lab, and we saw that painting, which Nicholas had been doing in school for ten years, might be something he could do as an adult," says Krisann. "He had loved color from a young age, so it reinforced a path we were already on."
To qualify for art-based training, however, Nicholas had to show he could make an income from painting. It was his aunt, Jenni Pulos (Krisann's sister), who provided the vital validation. "An interior designer, she knew and loved his work and used some of his pieces to decorate a client's home, which prompted his school to graciously allow him the time and space to pursue his art," says Krisann.
A home studio was established where Nicholas would continue to paint after the hours he put in at school. He now works there full-time. Krisann furnished the space with plenty of paints and palette knives, which the young artist prefers to brushes. She says, "Now we have a much larger variety of knives, and he also uses hoes and rakes for his large-scale works."
In 2015, Jenni, an Emmy-nominated producer, organized his first exhibition in LA, which was attended by several of her celebrity connections. Since then, Nicholas has sold more than three hundred canvases, ranging in price from $1,200 to $35,000.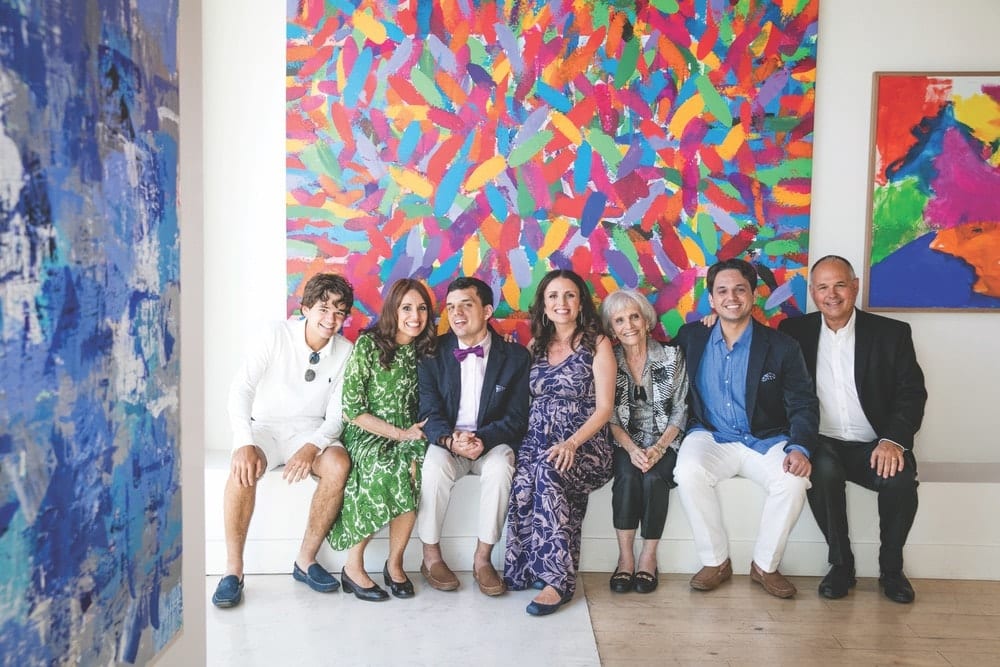 He is also getting commissions. The first was from Kaiser Permanente hospitals in California; a buyer for the organization saw his work at an LA show to which he had submitted forty paintings and sold all but four—the first of nine straight near sell-out exhibitions across the US and another in London. The Kaiser commission is a commanding seven-foot-by-three-foot canvas; another giant mural was commissioned for the Desert Jet Center terminal at Jacqueline Cochran Regional Airport in Coachella Valley. Nicholas's other corporate patrons have included Adidas and the Los Angeles Chargers.
While Nicholas clearly considers big to be beautiful, many of his most charming canvases are small but perfectly formed. "He often makes eight-by-ten-inch 'experiments' from which he pulls the colors for larger works," says Krisann, who invests the proceeds of his sales into new paints and tools as well as the considerable level of ongoing care he requires.
She says parental hopes for Nicholas's future at birth were not diminished by his devastating diagnosis. "Our goals for all three boys were essentially the same—to have high morals, be good people who are kind and giving, have a good work ethic, enjoy what they choose to do, and support themselves.
"We always treated Nicholas the same, even when his ability to accomplish the latter seemed a reach." She seems to exude gratitude from every pore when she adds, "His joy in creating and success in making art are a true miracle and a gift from God; we are so grateful."
— V —
---
Learn more about Nicholas's work at NicholasKontaxis.com.
Anthea Gerrie is based in the UK but travels the world in search of stories. Her special interests are architecture and design, culture, food, and drink, as well as the best places to visit in the world's great playgrounds. She is a regular contributor to the Daily Mail, the Independent, and Blueprint.
ARTICLE CATEGORIES