By Suzanne Pollak | 
Photography courtesy of New York Botanical Garden
The brilliant, bold, and beautiful CEO of the New York Botanical Garden, Carrie Barratt, says she had been wondering if the plants there miss the visitors now that no one is coming to see them. But when she visited her essential gardeners at NYBG in early April, she caught a glimpse of magnificent fields of plants and trees in bloom, growing in harmony at the otherwise empty garden. As always, Mother Nature knows her business, and the plants are thriving even while we are all at home.
One of NYBG's recent shows, which had to close after just three weeks, was the Orchid Show: Jeff Leatham's Kaleidoscope. Celebrity floral designer Jeff Leatham has been the florist for two Four Seasons hotels: the George V in Paris and the Four Seasons in Philadelphia. Sadly, the public show had to be cut short due to the gardens' closing amid COVID-19 concerns. When Carrie told Jeff they would have to close the Orchid Show early, she says he shed some tears but said he understood and loved working with NYBG. (They are both hoping to do it again as soon as possible.) Somehow his gracious and emotional response seems just what one might expect from a man who has arranged flowers for both Dolly Parton and the Dalai Lama.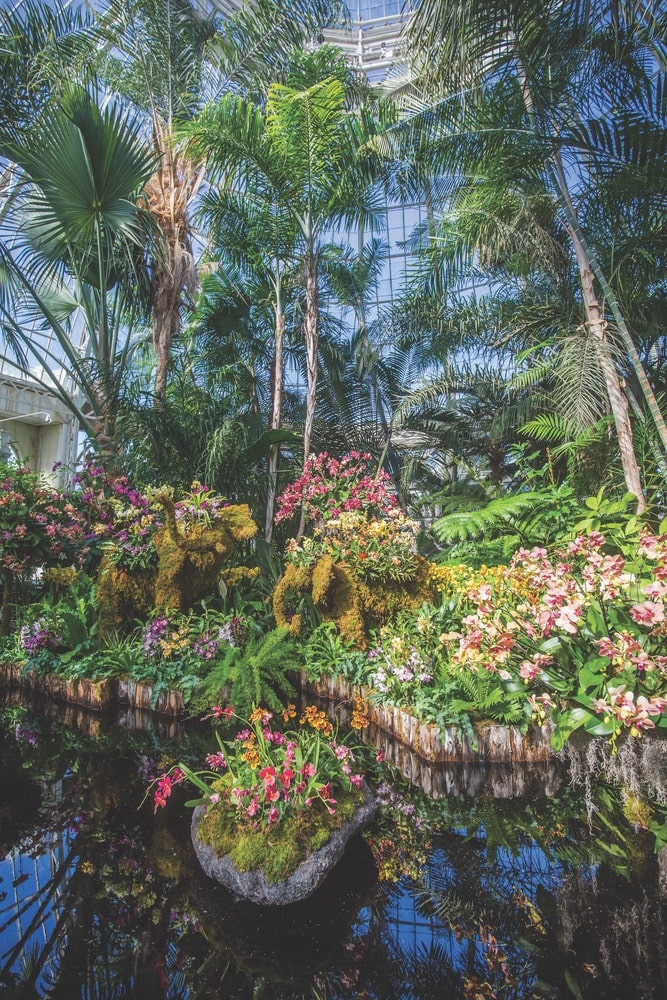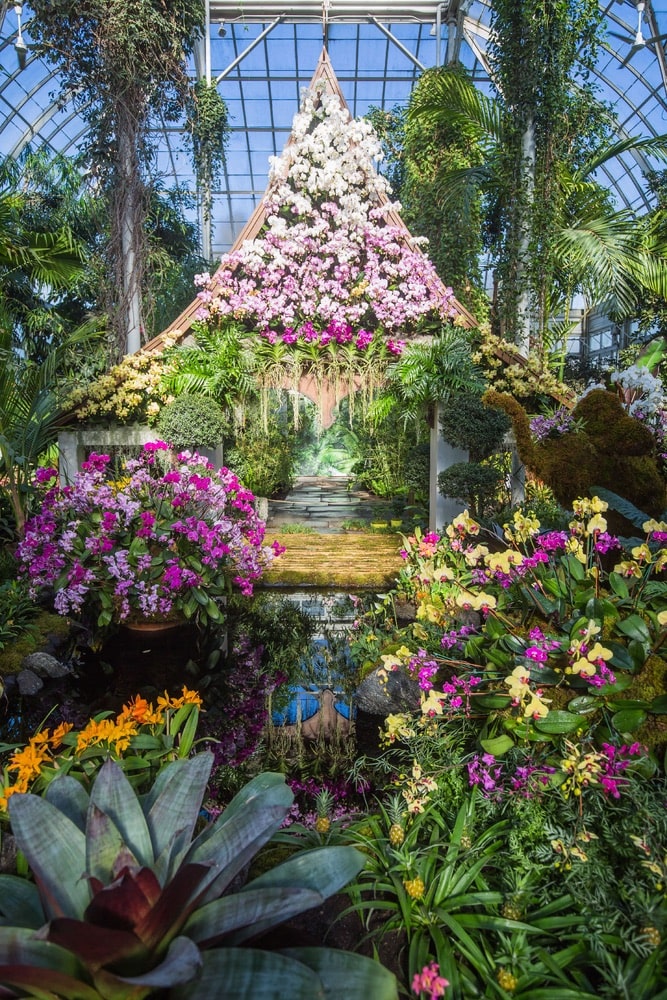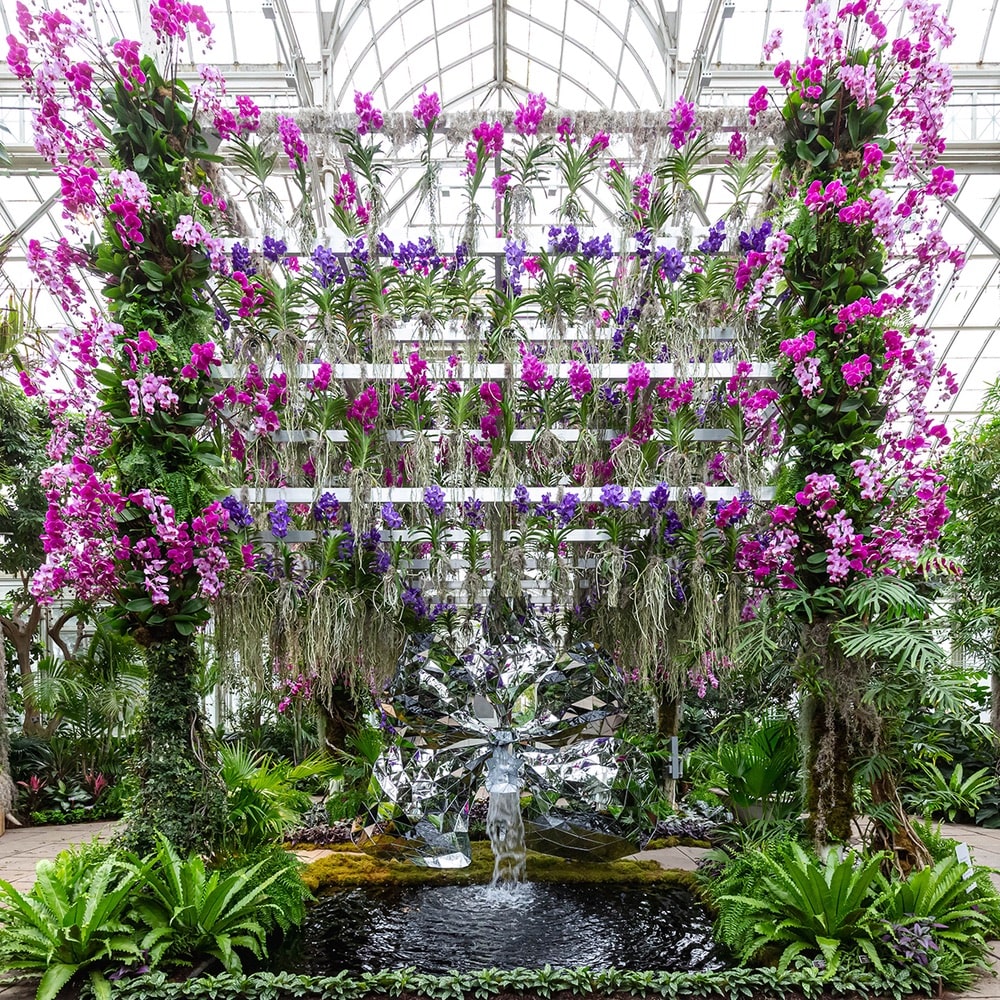 We can't sneak in the gardens like the CEO can, but we can still take a virtual tour! And we should. Communing virtually with nature may help our souls. The cherry trees are blossoming, the daffodils and magnolias are flowering, and the NYBG website highlights the whole blooming show.
The gardeners organized incredibly compelling tours! Some are arranged like a couture fashion show using a gallery of photos, each plant more beautiful than the last. Other tours invite the viewer to take a walk with an expert. From where I sat (at home), it was a pleasant walk indeed. I might have missed the smells and breezes of the NYBG, but I didn't have to bat bugs away or get covered with pollen.
My favorite was the bizarre butterfly orchid from northern South America, which started the Victorian-era mania of collecting, displaying, and building enormous glasshouses for orchids.
Marc Hachadourian, NYBG's director of glasshouse collections and senior orchid curator, walked us through Jeff Leatham's Orchid Show like a kindly uncle. By the end of the tour, I felt I had a new friend. Marc pointed out highlights of unique varieties; my favorite was the bizarre butterfly orchid from northern South America, which started the Victorian-era mania of collecting, displaying, and building enormous glasshouses for orchids. We walked through the LED tunnel (by then I felt like Marc and I were in this together) and we strolled into the rain forest to see thousands of orchids attached to the trees.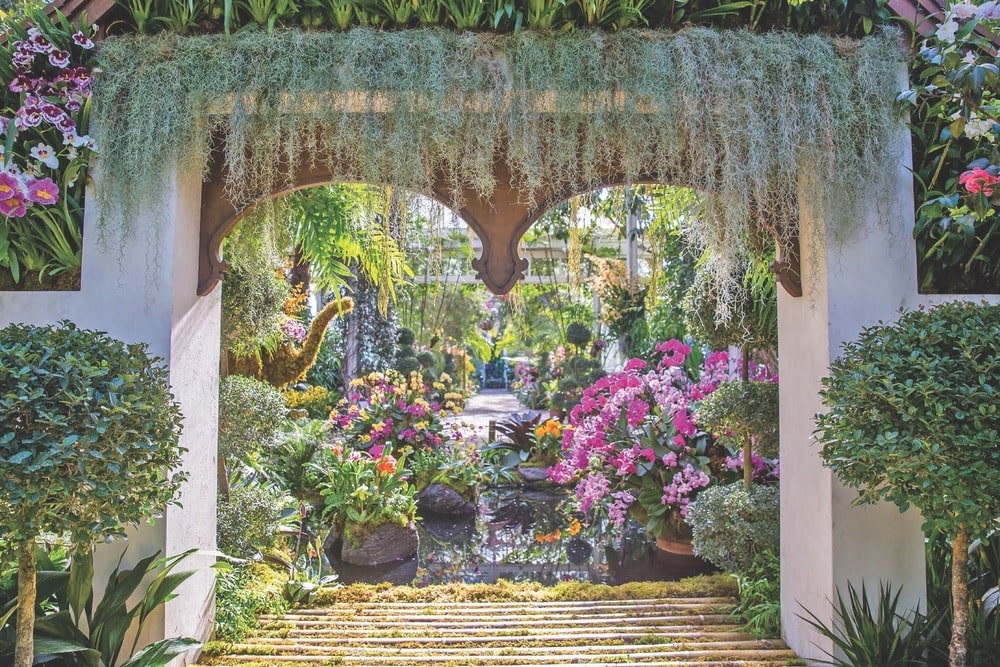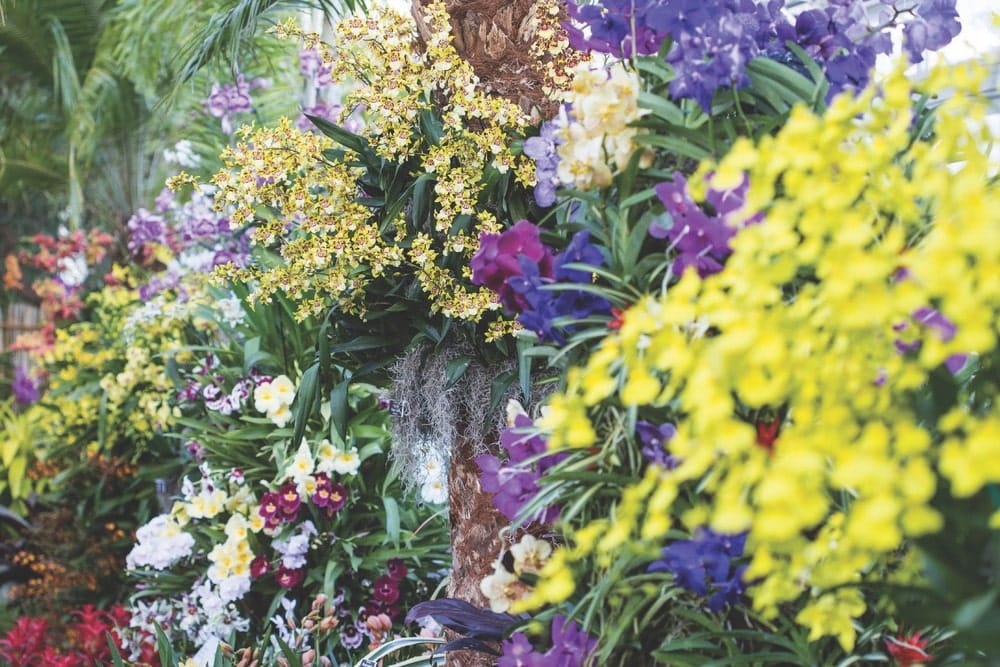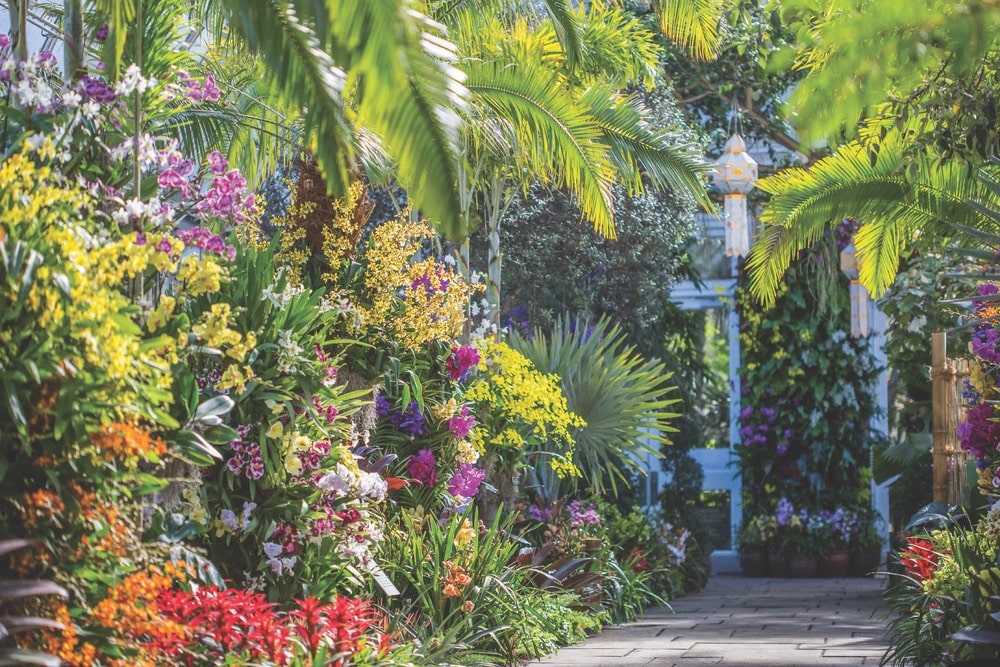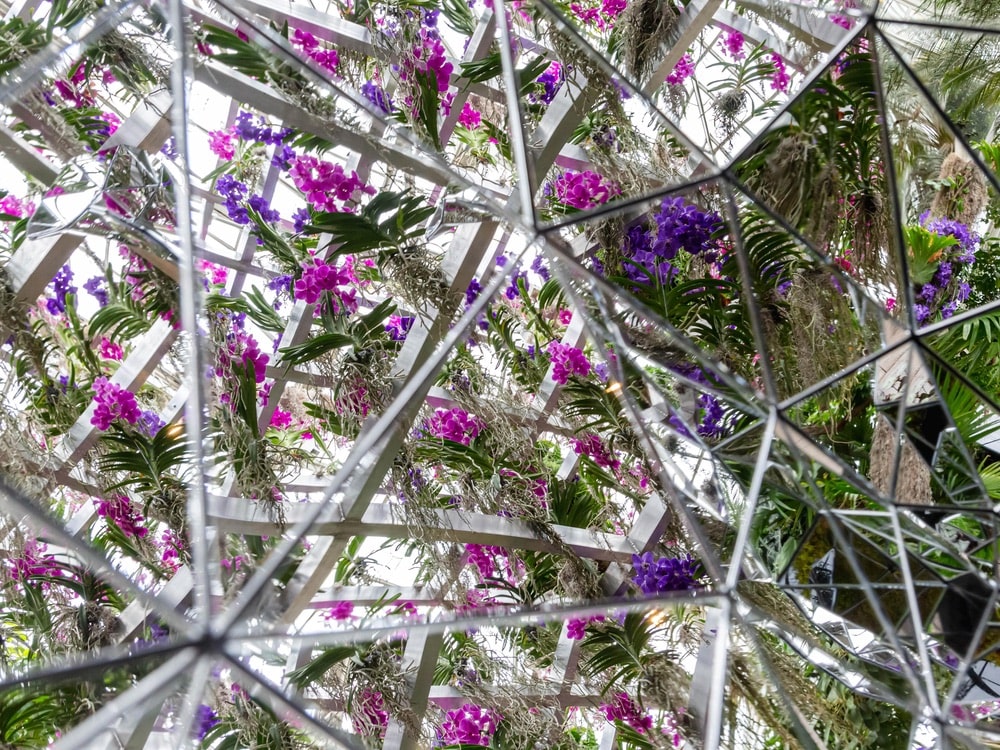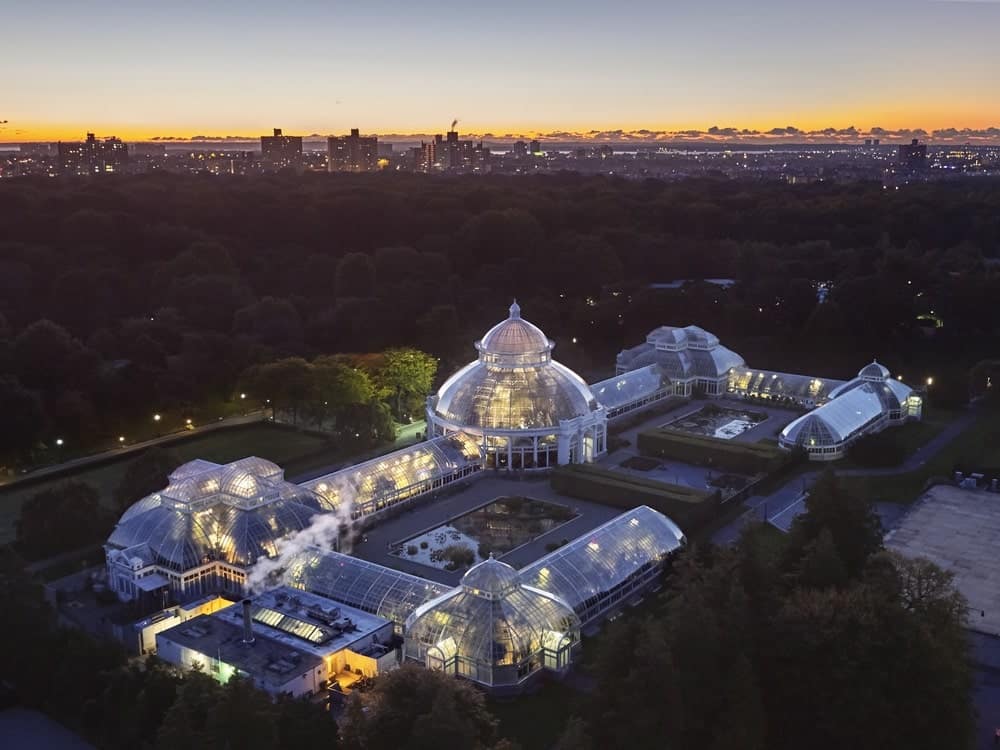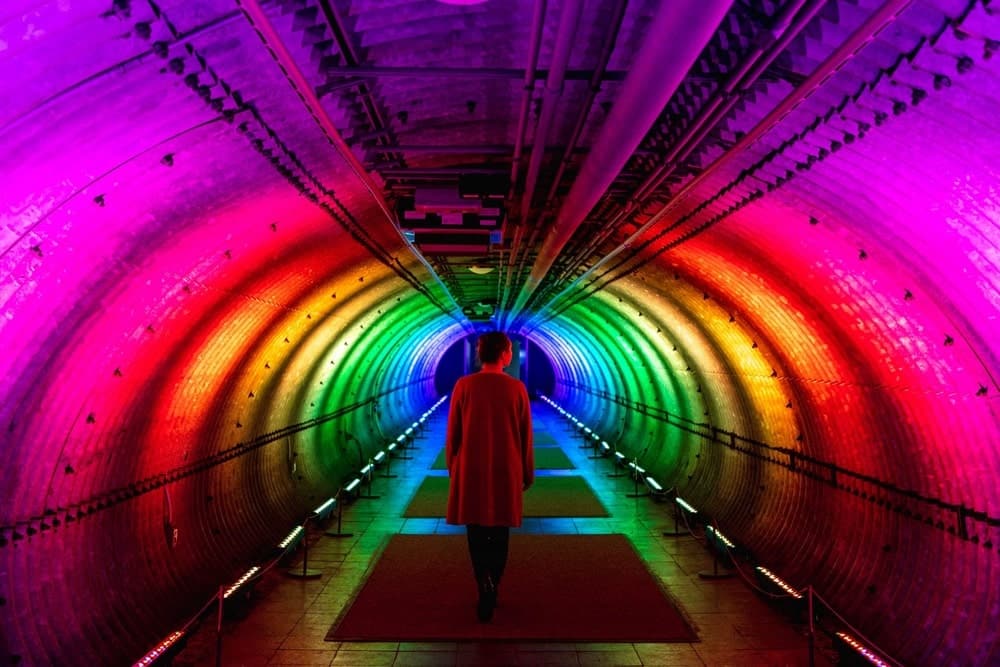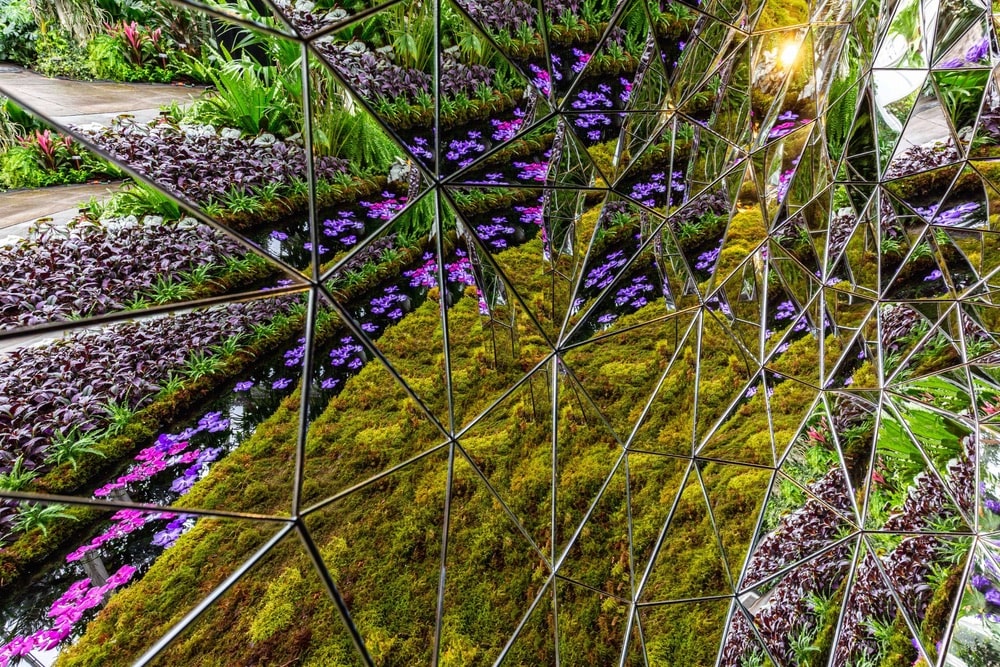 Did you know the NYBG has a rescue center for plants smuggled into the country? Instead of destroying the seized plants, they are brought to the gardens to be bred, propagated, and shared. Marc imparts many little throwaway but useful facts, which I love collecting. Did you know that a vanilla bean is really the seedpod of an orchid? And that there are only six flowers in the world that have the same remarkable color as the jade vine, a thirty-six-inch cluster of turquoise green. For the finale, we arrived at the garden's huge arches blanketed with orchids. Perhaps it was better to experience this first online, because if I had walked under the orchid arches and around the reflecting pool in person, I might have fainted, fallen into the pool, or become teary like Jeff Leatham.
After the tour, and even the following day, I found myself dreaming of the gardens I want to design one day. Maybe I will have the opportunity or maybe not, but for those twenty minutes virtually touring the Orchid Show: Jeff Leatham's Kaleidoscope, my imagination soared and expanded. I think I'll hang some store-bought orchids on my walnut tree and order LED lights to create a little NYBG magic of my own.
— V —
---
Visit NYBG.org to learn more and see more from the New York Botanical Garden.
Suzanne Pollak, a mentor and lecturer in the fields of home, hearth, and hospitality, is the founder and dean of the Charleston Academy of Domestic Pursuits. She is the coauthor of Entertaining for Dummies, The Pat Conroy Cookbook, and The Charleston Academy of Domestic Pursuits: A Handbook of Etiquette with Recipes. Born into a diplomatic family, Pollak was raised in Africa, where her parents hosted multiple parties every week. Her South Carolina homes have been featured in the Wall Street Journal Mansion section and Town & Country magazine. Visit CharlestonAcademy.com or contact her at Suzanne@CharlestonAcademy.com to learn more.
ARTICLE CATEGORIES