Still Rockin' In the Free World
By Harley Benner | Photography by Jessie Shepard
So, I'm in biology class in high school, dissecting frogs or looking at paramecia under the microscope, or maybe I was "making eyes" at Cheryl Magnon. It really doesn't matter. What does matter is the song playing on the radio. Hey, it was 1970. They let us play the radio in class back then. Anyway, I started to sing along, "Keep me searchin' for a pot of gold ... I been a miner for a pot of gold!"
Obviously, I did not get the words right, and my friends teased me mercilessly about this until my senior year. This is how I was introduced to the music of Neil Young—his solo music, anyway.
The truth is that, thanks to my brother Jeff, I was already a huge Neil Young fan—and I didn't even know it. That's because Jeff (the original hippie and only real musical talent in our family) was a huge fan of Buffalo Springfield. He introduced me to the band's psychedelic, folk-country stylings. I loved it! And why wouldn't I? The lead vocals of Mr. Young were easily mimicked by a thirteen-year-old rock star wannabe like me.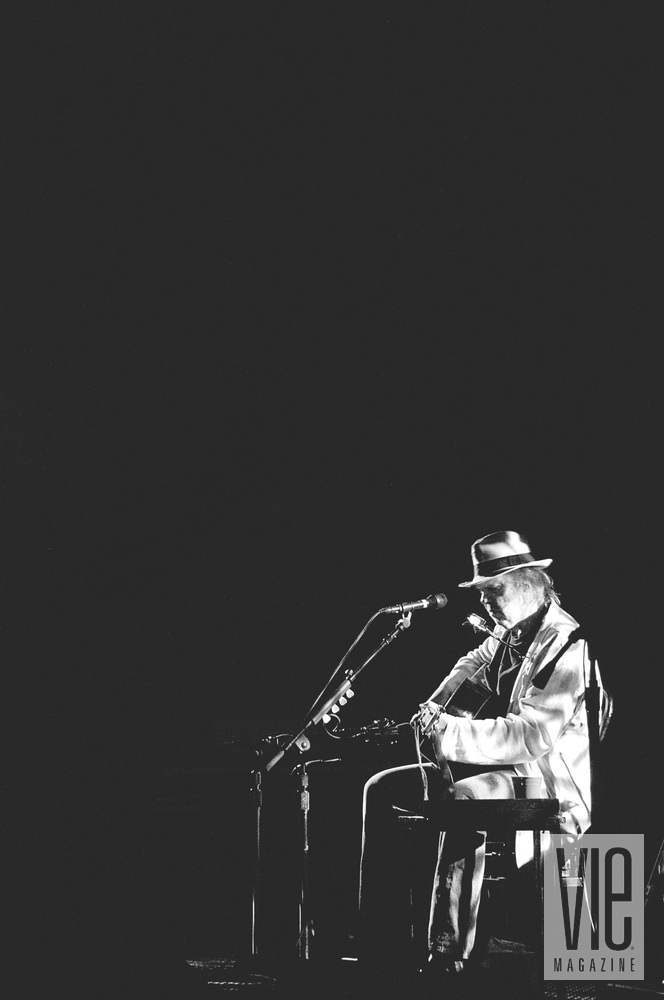 One way or another, I have followed Neil Young's music (or perhaps it has followed me) for the better part of the last half-century. So, when I heard that his latest tour had booked dates in Panama City and Pensacola, I took a keen interest.
In the world of rock stardom, Neil Young occupies a place that few ever glimpse. Not because of his instrumental prowess, which is, in a word, adequate. And it's certainly not his vocal talents (do I call his range "sopralto"?) that lift him into the rarefied air of rock superstardom.
No, it's his songwriting.
Neil Young has elevated songwriting to a level where he is the only musician I can think of who is mentioned in the same breath as Bob Dylan. There's even a debate among music scholars as to which of the two is the best or the most influential ... Young or Dylan.
When you examine the early career of Neil Young, the adage "It's not what you know, but who you know" pops to mind immediately. To be fair, the "who's" that Young knew were just getting started, too. But how many of us cross paths with the likes of Rick James, Joni Mitchell, and Stephen Stills when we're just getting started? That's like an actor doing summer stock with Jack Nicholson and Meryl Streep.
It was with Stephen Stills that Young would form his most lasting musical bond. As new arrivals on the L.A. music scene, Neil Young and Stephen Stills got together with Richie Furay, Bruce Palmer, and Dewey Martin to form Buffalo Springfield. In just three albums, the band created such classics as "For What It's Worth," "Mr. Soul," "Broken Arrow," and "I Am a Child." Together for barely two years, the band's influence was so profound that they were inducted into the Rock and Roll Hall of Fame in 1997.
Young did not appear at the ceremony, but his absence at such an austere occasion was not out of character. In fact, it's difficult at times to determine exactly what is in character for Young. An icon of the hippie culture of the late '60s, Young surprised everyone with an endorsement of Ronald Reagan (although, in retrospect, Young qualifies his support for the fortieth President). He's a successful musician-songwriter who still won't allow his work to be utilized where they could make the most profit ... in commercials. "This Note's For You" is a musical rebuke of those that would allow their work to be utilized to hawk goods and services. Some of his achievements are as contradictory as the artist himself. For instance, MTV banned the playing of "This Note's For You" and then named it "Best Video of the Year" in 1989.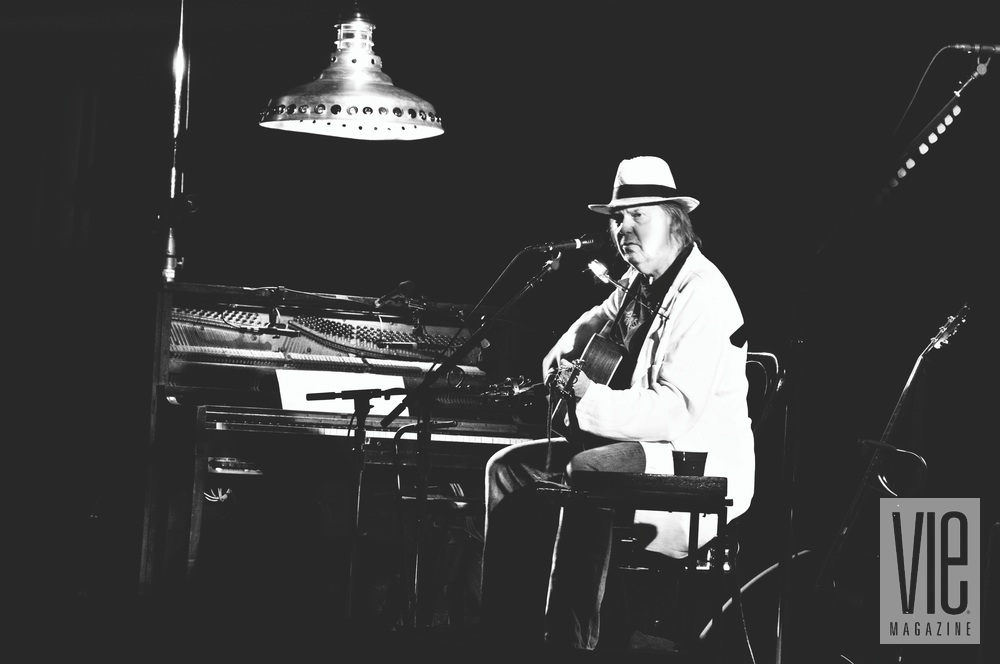 Regardless of which Neil Young you prefer—folky, country, rockin' acoustic or electric—his greatest fame came as the suffix to Crosby, Stills and Nash. If his achievements with Buffalo Springfield were particularly notable, what he accomplished with CSNY was legendary. It brought him fame and an artistic power that the then-twenty-five-year-old was ill-prepared to handle. Additionally, while still recording (and battling with) Crosby, Stills and Nash, Young recorded a solo effort that would launch him to individual fame. Harvest put Young squarely in the spotlight ... and that illumination proved uncomfortable. The single "Heart of Gold" became his first and only number one tune. But rather than embrace the song's popularity, he resented it. He said that he felt the song "put him in the middle of the road." He went on to say, "So, I headed for the ditch. A rougher ride, but I saw more interesting people there."
The '80s and '90s saw Young reinvent himself numerous times. Through differing musical genres (country, folk, rock, jazz, and rockabilly at varying turns), assorted backup groups (Crazy Horse, The Bluenotes, Ten Men Working), and association with a huge assortment of other artists (James Taylor, Linda Ronstadt, Sonic Youth, and Phish), Young seemed to spend the better part of three decades on a journey of musical self-discovery. If nothing else, it was interesting. You never knew what to expect from one album to the next.
Young's recent passions have leaned toward the environmental and philanthropic rather than musical. A huge fan of green technology, his car is as paradoxical as the man himself. He converted a 1959 Lincoln Mark IV, one of the most inefficient vehicles to roll off a Detroit assembly line, to electric and bio-diesel. The "Linc-Volt," as Young has dubbed it, gets one hundred miles per gallon.
Then there's his true love, The Bridge School. Founded by Young in 1986, The Bridge School helps children with severe verbal and physical disabilities. The project is near and dear to him because two of his children suffer from cerebral palsy and a third from epilepsy. The school is supported by Young's annual benefit concerts. In fact, the concert this year featured a reunion of the surviving members of Buffalo Springfield—a first since their breakup in 1968!
Fast-forward to September 28 at a sold-out Saenger Theatre in Pensacola. Many in the predominantly middle-aged crowd most likely harbored the same question: "Which Neil Young will we hear tonight?"
After an energetic set from the opening act, New Orleans' own Allen Toussaint, they were about to find out.
With the lights dimmed to an almost eerie level, a lone figure strode onto the stage. With a floppy fedora pulled low over his eyes, you almost had to wonder. This didn't look like a rock star but rather a weather-beaten troubadour, ready to set up on a street corner to sing for the pleasure and generosity of passersby. Was this really the man who played the electric set with Crosby, Stills and Nash at Woodstock? Was this really one of the chosen few who graced the stage at The Band's "Last Waltz"? Could this craggy face really belong to the person who has witnessed (and created) more musical history than we could ever imagine?
Then, out of the dark came the familiar falsetto-tenor singing "My My, Hey Hey."
Oh, yeah, that's him. Still rockin'.
— V —
---
Harley Benner is a radio personality and freelance writer. He can be heard 8 a.m. to noon weekdays playing an eclectic mix of jazz, AAA, and R&B on The Morning Vibe. He's also the host of My Generation, a weekly show that examines the history and social impact of rock music from the late '60s through the early '70s. It airs Saturdays at 3 p.m. Both shows can be heard on WKGC 90.7 FM in Panama City or online at www.wkgc.org.
ARTICLE CATEGORIES