By Robyn
Roehm
Cannon
Every once in a while, life gives you a perfect moment to reflect upon. One of my favorite memories, which I regularly dust off and review, is of something that happened one sunny autumn morning a dozen years ago. It was just after my husband and I had finished a Napa Valley winery tour and we were laying out the makings of an impromptu picnic in the middle of the estate's garden. We had chosen a beautiful spot under the shade of a massive weeping willow, near a pond with a fountain rising from its center. A family of ducks swam leisurely on the water, and, just then, a giant monarch butterfly fluttered into the picture and perched on the rim of my wine glass. The vineyards surrounding us were covered with orderly rows of plump grapevines turning various shades of crimson and gold—it was just days from harvest, and the warm air was heavy with their scent. In the distance, the mountains looked liked cardboard cutouts, set off by a perfectly clear blue and cloudless sky.
"This," Don said matter-of-factly, as he swirled and sniffed his inky cabernet sauvignon, "is just like Disneyland…for adults." We looked at each other and nodded because, even if we had hired Central Casting and the guy who won "Best Set Design" at the Academy Awards to pull this scene together, it could not have been more exquisitely staged.
Anyone interested in enjoying the best food, wine, art and architecture in the middle of breathtaking scenery and superb weather should put a trip to the California Wine Country at the top of his or her "Bucket List," and make plans to go as soon as possible. Because it is certain that, once you've visited, you'll want to return again and again, as we have—every year—since 1997.
In the dozen years that have passed, the area has experienced some great expansion, so it helps to understand the geography as well as some of the protocols for visiting wineries. A little preplanning can help you to make the most enjoyable use of your time, ensure that you are warmly welcomed, and keep you from being overwhelmed by the many available choices.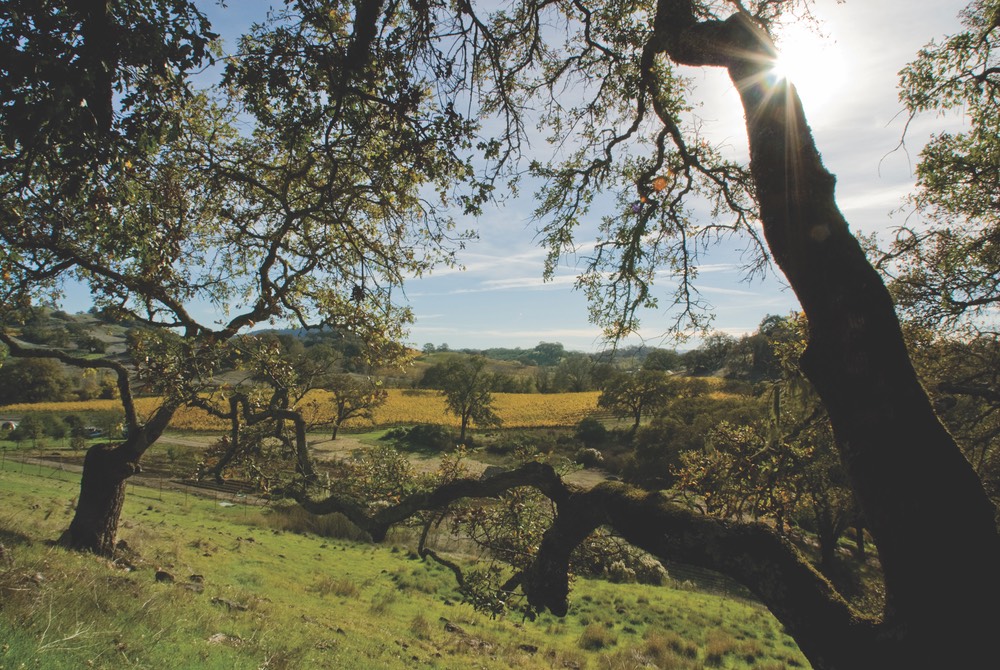 Napa and Sonoma are two separate valleys, each just thirty miles long, linked in the center by the Mayacamas Mountain Range. The area is relatively compact, and each valley is made up of a string of towns that have their own unique personalities, with wineries, small inns, tony hotels and luxurious spas, interesting small shops, and intimate restaurants, all within easy distance of one another.
I recommend that you plan no less than a week's stay in the area, dividing your time between the two valleys. To help keep driving to a minimum, try to select a town that is near several wineries that you'd like to visit, and arrange for a couple nights' lodging there before moving on. Plan to visit no more than three to four wineries in a day to leave time to picnic, shop, and just relax and explore the charming towns of Healdsburg, Glen Ellen, and Sonoma on the Sonoma side, and Calistoga, St. Helena, Yountville, and Napa in Napa Valley.
Between them, there are no fewer than four hundred wineries, ranging from small production houses that make award-winning wines (available only at their estates) to more well-known wineries which distribute internationally and whose vintages you are probably already buying at your local wine shop or grocery store.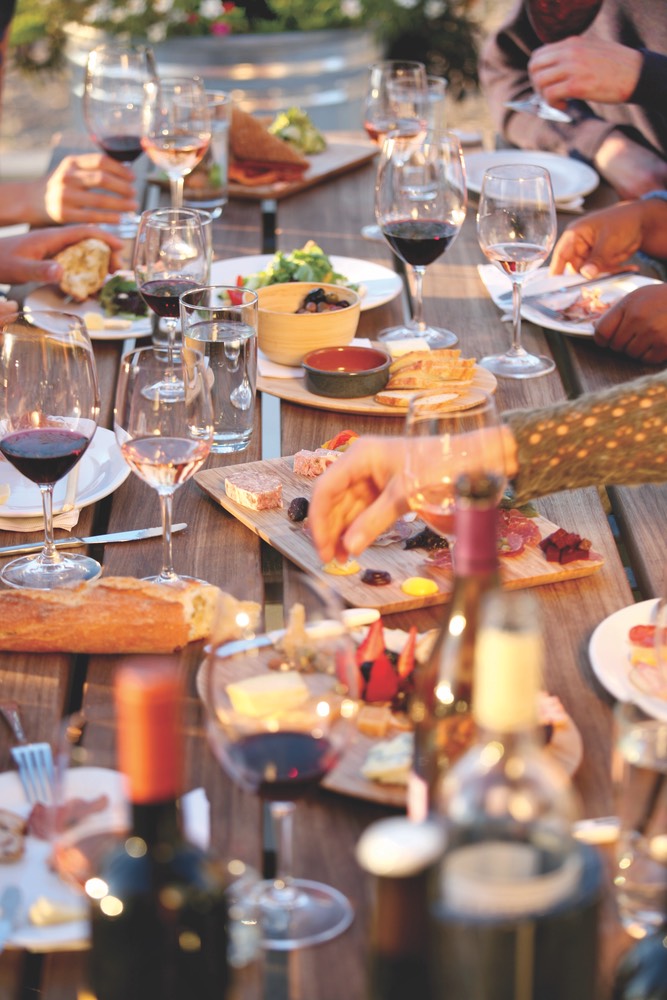 By far, my favorite tasting experiences are at the few wineries which have taken tasting to a new level by serving everything from caviar to small, coursed plates prepared by their estate chefs, who may have just plucked that day's offering from the organic garden.
While you can certainly stop by many tasting rooms on an impromptu basis, it's becoming more common for estates to reserve tastings by appointment only. There are two major advantages to this: you can be sure that the staff will be preparing something quite special for your tour and a seated, hosted tasting allows you to learn about and fully appreciate the vintages you are sampling. The wines are generally presented with a variety of carefully chosen imported and locally produced cheeses, savory bites, and sweets to illustrate the idea of how best to pair them with food.
By far, my favorite tasting experiences are at the few wineries which have taken tasting to a new level by serving everything from caviar to small, coursed plates prepared by their estate chefs, who may have just plucked that day's offering from the organic garden.
The late Pulitzer Prize-winning San Francisco Chronicle columnist Herb Caen had great affection for the California wine country. "Heaven," he once wrote," is a place that is said to resemble Sonoma in the spring." I couldn't agree more—except I'd change that to "Sonoma and Napa Valleys… every day of the year."
---
Although there are a number of guidebooks covering the California Wine Country, I have one particular favorite: the Fourth Edition of The California Directory of Fine Wineries (Wine House Press). It provides detailed descriptions of sixty-two of the most unique Napa and Sonoma wineries. Features of special note, such as picnic areas, barrel tastings, art collections, cooking classes and wine seminars, gift shops, and more, are all noted, along with an excellent narrative on each estate. This bestselling hardcover guide is widely available at Borders Book Stores, Barnes & Noble, and Amazon.com. The cost is $19.95.
Here's just a glimmer of some of my favorite wining, dining, and snoozing spots not to miss when you visit:
---
Sonoma
From San Francisco, you're only forty-five minutes from Sonoma once you cross the Golden Gate Bridge. A great first stop is Viansa Winery and Marketplace, well respected for Italian varietals. You'll find an extensive deli with items and tableware to build your wine country picnic basket. They also offer a tempting selection of cookbooks and Italian ceramics. www.viansa.com
If you don't dine under the grape trellis at Viansa, head down the road and tote your picnic up to the Vista Terrace at Gloria Ferrer Caves & Vineyards, owned by the same Spanish family that produces Freixenet cava. The estate is perched on a hillside overlooking magnificent pinot noir vineyards, and you can sip a full selection of icy cold reserve sparklers by the glass. No appointment is needed. www.gloriaferrer.com
The highly sought-after Culinary Tour at the magnificent Chalk Hill Estate Winery is a life-changing experience in wine and food pairing. It's formal and very elegant yet relaxed. You'll tour the 1,477-acre estate and you may taste as many as twenty types of tomatoes off the vine. Then, at the Pavilion, a hilltop conservatory that overlooks the Furth family's equestrian arena, Estate Executive Chef Didier Ageorges will serve a beautiful small plate tasting luncheon paired with the winery's award-winning vintages. A sampling of handmade truffles and Estate Cabernet completes your experience. For groups of four or more, you can reserve a private dining event. www.chalkhill.com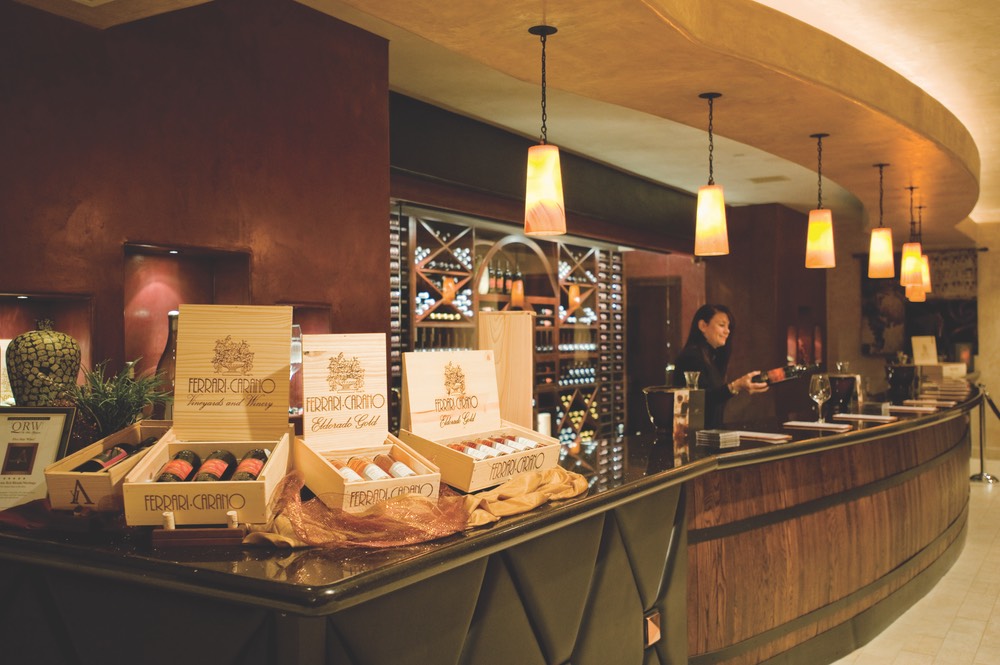 Just outside of Glen Ellen, B.R. Cohn Winery is a great place to stop, not only for their ultra premium Olive Hill Wines, but also for the array of specialty olive oils produced from the estate's 140-year-old picholine olive trees and for vinegars made in traditional casks. Owner Bruce Cohn, who's managed the legendary Doobie Brothers band since 1969, puts on a fabulous weekend Fall Music Festival each year during which the Doobies perform. This year's event, along with a charity golf tournament, is scheduled for October 3–5, with funds benefiting area youth organizations. www.brcohn.com
Be sure to stop in the town of Sonoma, where you'll find a plaza that looks much as it did one hundred years ago, but is now lively with unique shops, several fun dining options, and the luxurious Ledson Hotel. Its European-inspired Harmony Lounge is a great place for a snack and a glass of wine to watch the action on the square. www.ledsonhotel.com
The town of Healdsburg is another wonderful spot to explore, with myriad shopping, dining, and luxury lodging choices.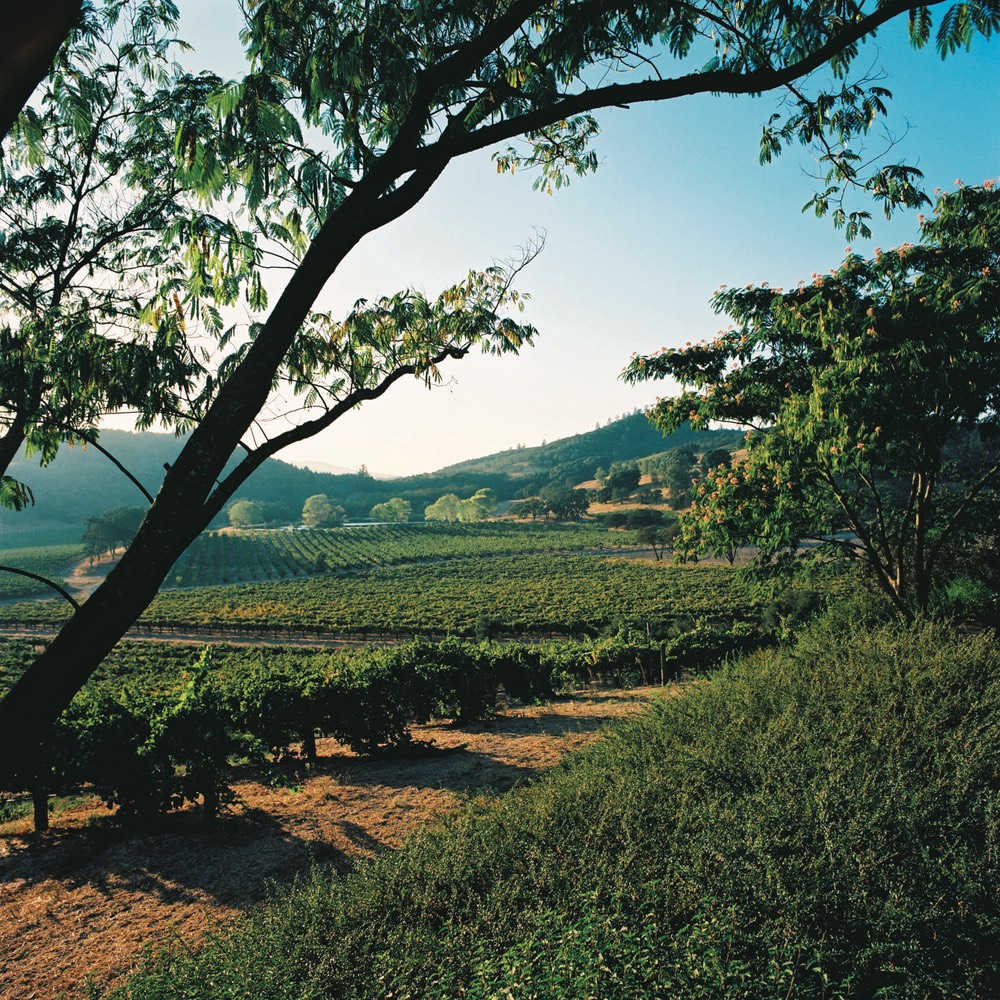 An excellent cocktail and meal are guaranteed at the other end of the plaza at the Meritage Martini Oyster Bar & Grill, with its superb Southern French and Northern Italian cuisine. Our favorite server, Nima, is a delightful Sherpa who has climbed Mount Everest thirteen times and he has some amazing stories to tell, so be sure to ask for his section. 
Some other luxurious Sonoma overnights can be had at the MacArthur Place Inn & Spa. Originally a prestigious 300-acre working ranch with prized trotters, the property now has sixty-four suites surrounded by beautiful private gardens, just a few blocks off the plaza. www.macarthurplace.com
A bit up valley, in Santa Rosa, you'll find the forty-four-room Vintners Inn, voted one of the top hotels in the world by Condé Nast Traveler and Travel + Leisure magazines. It's owned by the prestigious Ferrari-Carano Winery, which sits in the middle of five acres of magnificent formal gardens and which makes excellent wines. Don't forget to save one night for dinner at the legendary John Ash & Co. on the premises of Vintners Inn. This is farm-fresh wine country cuisine at its finest, served in a gorgeous dining room. www.vintnersinn.com www.ferraricarano.com
The town of Healdsburg is another wonderful spot to explore, with myriad shopping, dining, and luxury lodging choices. Two standouts include the Hotel Healdsburg, one of the hippest and most tranquil places with its outstanding pool, herb gardens, spa, and in-suite soaking tubs to die for. For dinner, just head across the lawn to Charlie Palmer's Dry Creek Kitchen for his inventive fare, with an all-Sonoma wine list. www.hotelhealdsburg.com, www.charliepalmer.com
At the top of the "sumptuous and romantic lodging" list is Les Mars Hotel, Healdsburg's newest boutique property that is Relais & Chateaux designated. It's nothing short of opulent in a quiet, service-oriented, gracious setting. www.lesmarshotel.com
---
Napa Valley
From Healdsburg, you'll first encounter the quaint town of Calistoga, long known for its mud bath and spa tradition. Favorite Calistoga winery stops include: Chateau Montelena with a rich history dating back to the 1800s; Clos Pegase, with a fabulous art-filled cave tour; and Sterling, with stunning architecture and an aerial tramway that takes you to the top of its hillside estate. www.montelena.com, www.clospegase.com www.sterlingvineyards.com
Dining in Calistoga can be an adventure—try the outdoor patio at Wappo, where you may just be seated at a table next to Robert Redford. (He eats there often and sat next to me once!) www.wappobar.com
Brannan's is another great option for a well-mixed martini, an outstanding wine list, and excellently prepared traditional fare, and barVino offers delicious small plates in a casual and fun setting.
You'll be pampered in a warm, stylish suite at the Chanric Inn—a relaxing overnight retreat. But the best part may be the morning, when Chef Ric Pielstick serves you a divine three-course brunch upon arising. His inventive menus change daily. www.chanricinn.com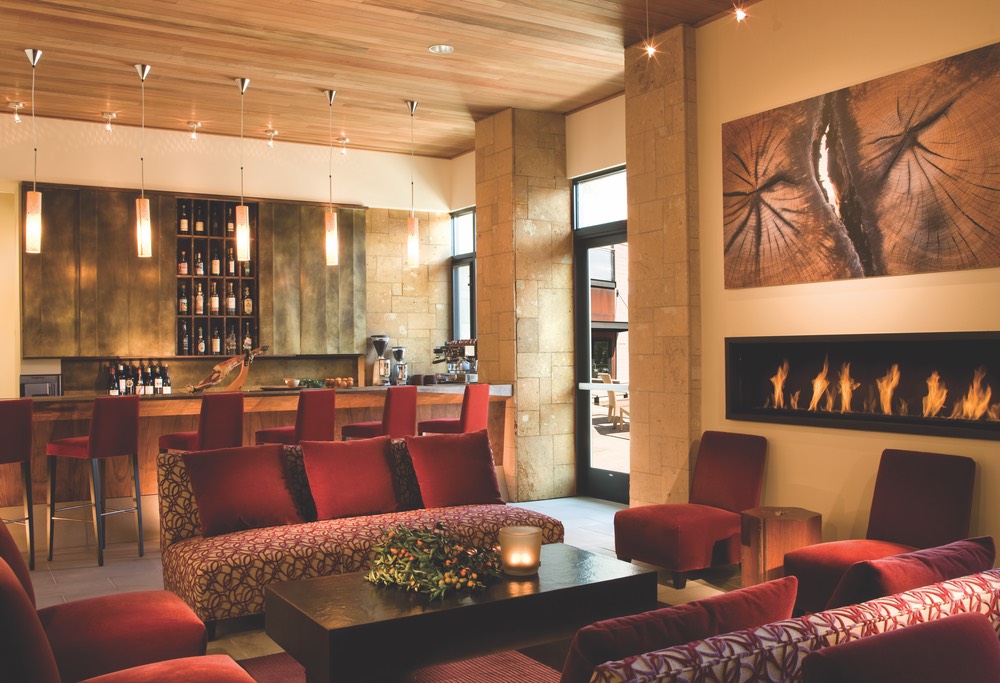 Further down valley, you'll encounter the towns of St. Helena, Rutherford, Oakville, and Yountville, where a high concentration of Napa wineries exist as close neighbors.
All of my favorite stops are too many to mention, but don't miss an opportunity to tour the Far Niente winery, which sits on the National Register of Historic Places and, after twenty-five years of trade-only appointments, is finally open to the public. This world-class estate has not only a rich history and a magnificent setting, but also some of the best cabernet sauvignon and chardonnay vintages you'll ever taste. Its beautiful single-vintage late harvest wine called "Dolce" tastes like pure honey on the tongue and is dubbed "Liquid Gold" by the winemaker, a description with which I concur! The estate boasts one of the finest Southern-style gardens in the nation, with over 8,000 azaleas in bloom in late spring, and a fine vintage car collection including rare racing and antique autos. This is one estate that has it all. www.farniente.com
A visit to Joseph Phelps is another unique experience; you may have an opportunity during a tasting to mix your own meritage (wine blend) with the single vintage wines of this well-respected estate. At a minimum, just sitting on the terrace, a glass of "Insignia" in hand, is a lovely way to pass the afternoon. www.jpvwines.com
The family that brought us the Swanson frozen dinner in the 1950s is the same family that today owns one of Napa's premier vineyard estates. A visit to the Swanson Tasting Salon is a memorable occasion—a fantasy within its rich coral walls and intense décor, with a stone fireplace, imported from France, set with a roaring fire. Here, your "Salonnier" will lead your group through an elaborate tasting—and leave you feeling as though you have attended a private cocktail party in your honor. You'll sample estate caviar on potato chips, lovely cheese selections, and bonbons made especially for Swanson to complement its small lot vintages. www.swansonvineyards.com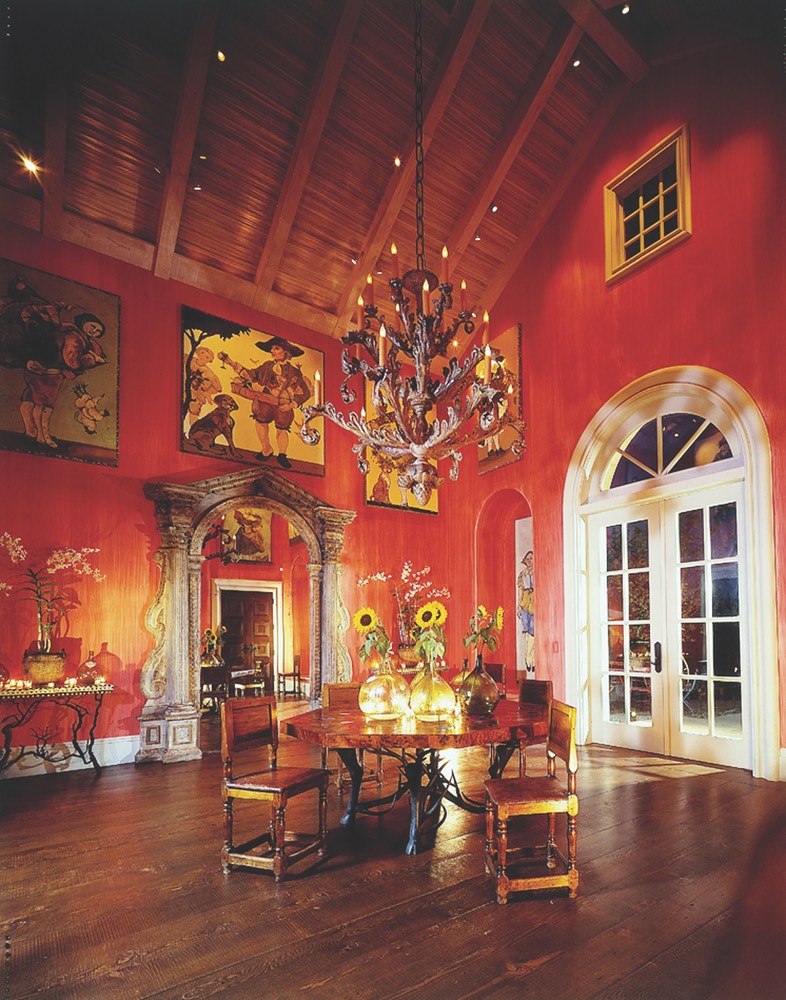 The family that brought us the Swanson frozen dinner in the 1950s is the same family that today owns one of Napa's premier vineyard estates.
When you're ready for sleep, there are many fine options in Napa Valley, from bed and breakfast inns to luxurious small hotels. One of the best, the Bardessono, is newly opened and operated in Yountville by MTM Luxury Lodging and combines a low carbon footprint with the most pampering surroundings possible. All suites are set up for spa services, so you and your loved one can roll from the massage table into your private outdoor shower and soaking tub and then nap on organic linens that are laundered with ionization to remove all traces of soap. This elegant, contemporary, holistic approach to hospitality is totally green, at the LEED Platinum level. www.bardessono.com
I had been traveling to Napa Valley for years, and recently discovered the town for which the area is named—the town of Napa. The revitalization of the Napa River spawned a new face for this old town, and it is well worth a visit. Of particular note is the Oxbow Public Market, a wonderful collection of restaurants, unique shops, and food purveyors under one roof. You'll find a warm, welcoming, and delicious experience there. www.oxbowmarket.com
The Napa River Inn is perfect for those who love a historic property decorated in romantic period detail—including claw-footed tubs—and you won't find better authentic French cuisine than at Angèle Restaurant and Bar right next door. www.napariverinn.com, www.angelerestaurant.com
If you desire a more contemporary take on luxury, the new Westin Verasa Napa has plush condo-like suites with fully equipped kitchens. But who wants to cook when you can dine at Ken Frank's legendary La Toque? It's right on the grounds of the resort, and a fabulous dinner can be had there. www.westin.com/verasanapa
— V —
ARTICLE CATEGORIES