Central America's Secret Gem
Story and Photography by Kim Duke-Layden
Unbeknownst to many mainstream travelers, in-the-know adventurers have been enjoying Guatemala's diverse pleasures for decades, including its affordable prices and friendly locals. Last February (during "dry season"), I joined a dozen like-minded "gringos" from around the globe for a sixteen-day guided tour of Guatemala's prime destinations and lesser-known hideaways. Below are some of the highlights.
In awe, I peered down as we flew over Belize's magnificent Great Blue Hole, part of the world's second largest coral reef system. Ahead, protruding above the cloud cover, two chain-smoking volcanic peaks wowed me as we began our descent into Guatemala City's new state-of-the-art airport. While I claimed my bags, a quintet with a large marimba (wooden xylophone-like instrument) performed mariachi-style music.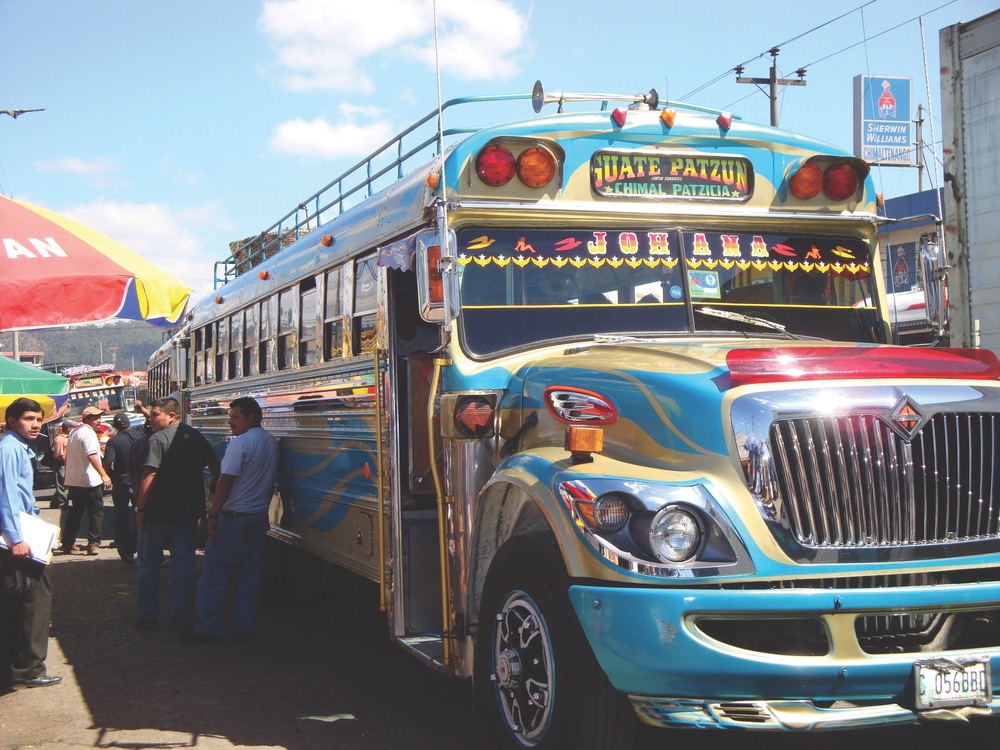 Antigua
Twenty-five scenic miles southwest of Guatemala City is Antigua—often considered the most charming colonial city between Mexico and Panama—which is where my tour began and ended. Nestled amidst lush mountains dominated by a handful of dormant and active volcanoes, Antigua is a photographer's paradise. The city, designated a UNESCO World Heritage site for its cultural importance, is a maze of brightly colored Spanish-style buildings with wrought-iron accents and wavy, terra-cotta tile roofs. Antigua also offers Guatemala's finest collection of hotels, restaurants, bars, and shops.
Antigua's compact colonial center was easy to explore on foot, though some locals appeared to prefer traveling along the cobblestone calles (streets) by bicycle or rickety tut tut (small three-wheeled taxi). Each time I approached the courtyard of the Iglesia de Nuestra Señora de La Merced (Church of Our Lady of Mercy), the smell of corn tortillas cooking wafted through the air while señoras sold them hot off the griddle, slathered with guacamole. La Merced's yellow stucco façade with white-icing trim and tall bell towers often served as my compass needle while I explored the surrounding neighborhoods.
Across from the Plaza Mayor (aka Parque Central), which features Antigua's main commercial hub, central park and the city's only ATMs, I stocked up on enough quetzals (Guatemalan currency) to last several days. ATMs aren't readily available in Guatemala's remote regions. I stopped off at nearby Cafe Condesa Express for a delicious café con leche, which rivaled any coffee I had tasted in Costa Rica. Robust, dark roast aromas swirled about, prompting me to buy several bags of the café's private label brew, Las Tres Condesas (The Three Witches). The café's restaurant (next door) serves up tasty meals, and the trendy gift shops are also worth visiting. Several blocks away stood my favorite indoor market, Nim Po't, where I bought handmade pottery, worry dolls, and colorful tins filled with coaster-sized disks of Guatemalan chocolate seasoned with cinnamon.
Only in Guatemala have I seen such a broad spectrum of colorful gemstones. Of particular note is the Guatemalan jadeite, which is a harder, more brilliant, and scarcer jade than the more common and less valuable nephrite variety. Antigua is home to Guatemala's most reputable stores for buying high-quality, authentic jadeite. At El Reino del Jade, I took a brief tour of their on-site workshop, which included cutting and polishing demonstrations. In the adjacent showroom, I bought a lovely pair of earrings with handcrafted lavender jadeite set in sterling silver. Accompanied by a certificate of authenticity, my $45 purchase was a memorable keepsake—and a deal!
Exploring the Sites
Antigua makes an excellent base for activities that explore the surrounding countryside, such as taking coffee plantation tours, mountain biking, horseback riding, and hiking. One morning at dawn, a handful of us took a guided hike up Volcán Pacaya, Guatemala's most popular—and highly active—volcano destination; the 8,340-foot peak is visible from Antigua. We trudged single file along the often steep, narrow and powdery trail that wound its way through ash-laden woods, across barren hillsides, and over lava-rock-strewn land that resembled a Lord of the Rings landscape.
Throughout our one-and-a-half-hour ascent, the smoky air grew cooler and windier. Sunken practically to my thighs in a dry quicksand of gray rubble, I scaled the last few vertical feet to a rocky ridge where our agile guide awaited us. The frigid wind whipped about like a Category 1 hurricane, numbing my hands and face. High above, ruby-red embers sporadically tumbled down Pacaya's rugged summit walls while our cameras clicked away like castanets. To emphasize how closely we stood to hot lava, our non-English-speaking guide poked a thick, long stick down into a rocky crevice. Astonishingly, within seconds, the tip ignited.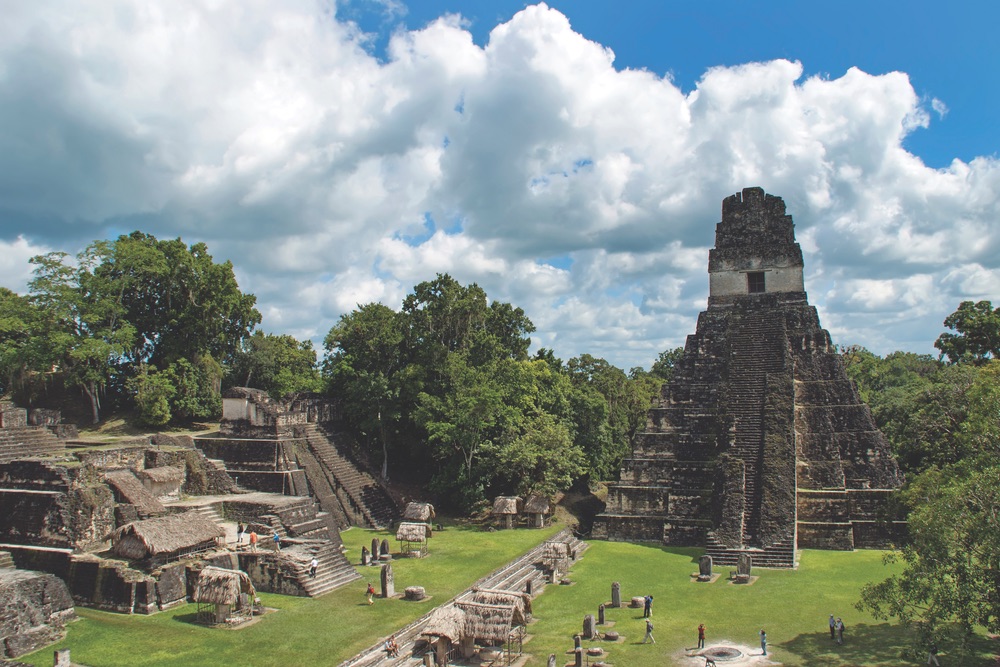 Near the tiny, remote village of Lanquín in Río Cahabón's lush valley, I experienced the biggest thrill of the trip—a guided tour of the Kan' Ba river caves, which we climbed, crawled, waded and swam our way through—all while gripping a lit candle! At times, when I needed two free hands, I held my burning candle precariously between my teeth while trying not to singe my nose. When our young guide gave me the opportunity to plunge off a limestone ledge in near darkness, I seized the moment. He crouched nearby, shining his flashlight down into the silty, green water. On the count of tres, I leapt feet first towards the illuminated liquid target. Terrrrrrrrrrrr-iffico!
Outdoor enthusiasts also flock to this pristine wilderness to visit Semuc Champey, a series of stunning cascading waterfalls and emerald-colored pools fed by rushing underground tributaries of the Río Cahabón. Equally memorable was the ride back to our rustic yet comfortable ecolodge, El Recreo. Like locals, we piled into the bed of a pickup truck and grabbed hold of its overhead rails. As we drove up the muddy, pothole-riddled mountain road, I had flashbacks of the time I rode a mechanical bull. At least this time I didn't get bucked off!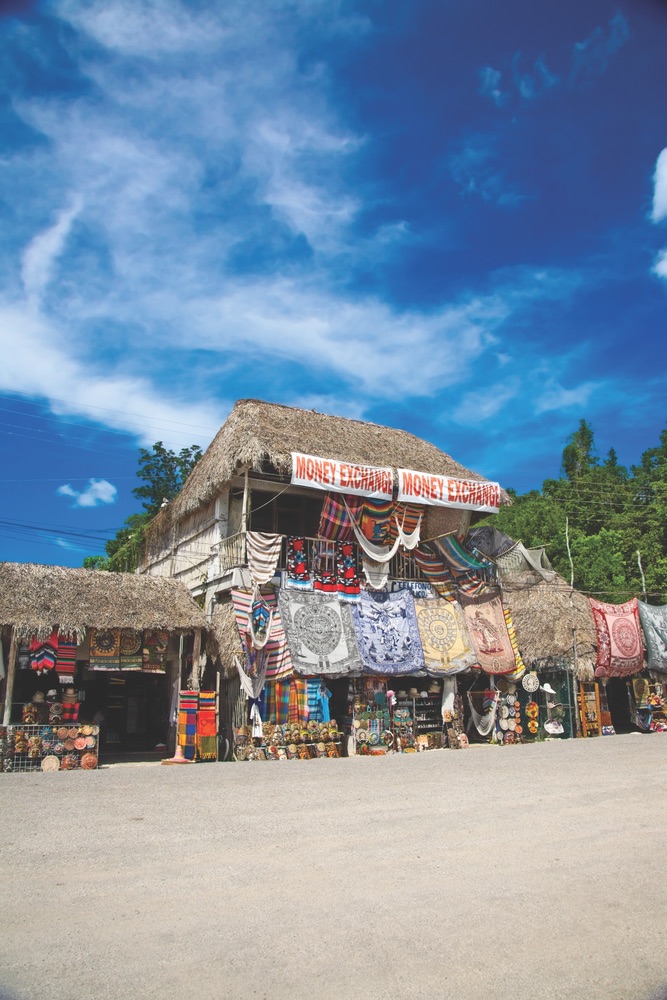 Guatemala occupies the heart of the ancient Mayan world, and the cultural influence is still prevalent. Situated in Guatemala's extreme northwest corner is Tikal, the greatest surviving Mayan city, which dates to 200 B.C.  Amid humid rain forests and dense jungles were miles of ceremonial temples and excavated ruins. Our guide was one of many archaeologists who continue to unearth additional Tikal ruins. During our tour, several of us climbed Pyramid V, one of Tikal's highest temples. At the top, spectacular vistas spanned endlessly across the lush treetops. To my surprise, several nearby pyramids protruded above the tree canopy that had been undetectable from our vantage point below.
As I inched my way along the narrow ledge that ran across the front of the pyramid, I couldn't help but wonder if I was standing on an ancient sacrificial altar. The cool breezes felt refreshing, but the absence of any guardrail or safety feature whatsoever completely unnerved me. From my bird's-eye perch, I kept my back glued to the stone wall behind me—never separating from it even for a second—until I made the steep backwards climb down. Zip-lining afterwards paled in comparison (www.canopytikal.com).
About an hour's drive northwest of Antigua, nestled in Guatemala's Western Highlands, is the centuries-old market town of Chichicastenango. On Thursdays and Sundays, "Chichi" pulsates with endless blocks of open-air stalls chock-full of colorful textiles, including huipiles (traditional thick, woven blouses worn by Mayan women and specific to each region), carved wooden masks and figurines, leather goods, fresh produce, and flea market finds. Explosions of loud, smoky firecrackers are also a common occurrence on market days. A procession of traditionally dressed Mayans carrying a colorful, feathered shrine and igniting bombas (firecrackers) startled me as they passed by. Afterwards, I had my own celebration and enjoyed an ice-cold Gallo, Guatemala's most popular cerveza.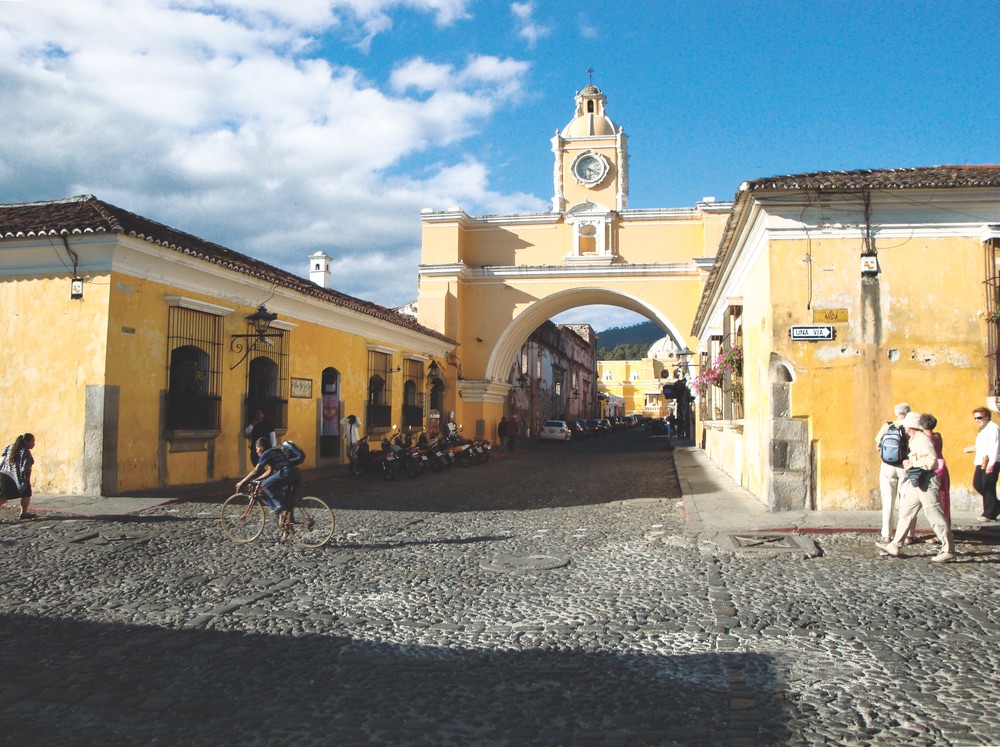 Of all the places we visited, stunningly beautiful Río Dulce ("Sweet River") ranks as my favorite Guatemalan destination. The Río Dulce is tucked between Belize and Honduras in Guatemala's easternmost corner, and flows from Lago de Izabal to the Caribbean Sea. One afternoon we swam in a secluded natural spring located at the foot of a gushing hot waterfall and later settled into our comfy cabins at Hacienda Tijax (www.tijax.com), nestled in a lush cove along the Río Dulce. Early the next morning, under the moonlight, we paddled kayaks downriver into dense mangroves and listened for wild monkey calls as a spectacular sunrise edged above the marshes.
After breakfast, an all-day sightseeing tour along the Río Dulce delighted me with surprises around every bend. Our lancha (a small, covered wooden boat with open sides) glided across the water into lily-pad-littered coves, where wooden houses stood on stilts and smiling children in dugout canoes paddled alongside us selling photo ops with turtles and flowers. We motored down a small tributary and visited an artisan cooperative, where indigenous Mayan women earned money by selling souvenirs handcrafted from banana leaves and corn husks.
In the unique port village of Livingston, where the river empties into the Caribbean Sea and pelicans stand guard on weathered boats bobbing in the channel, I enjoyed the best lunch of the trip. At Restaurante Margoth, we feasted on mouthwatering tapado, a Caribbean version of bouillabaisse prepared with assorted seafood—including an entire fish from head to tail—plantains, coconut milk, and spiced with coriander. We drank Coco Locos, which are green coconuts filled with coconut milk and healthy doses of Guatemalan rum. While we ate, a local Garifuna band—comprised of Black Carib adults and children playing drums, maracas, and conch and tortoise shells—entertained us with traditional songs and dances that reflect Arawak, West African, and French influences.
My list of "Guate" highlights could go on and on—boating across breathtaking Lake Atitlán, riding on "chicken buses," and paying homage to a cigar-puffing, wooden deity named Maximón—but I encourage you to visit Guatemala and discover your own Mayan treasures.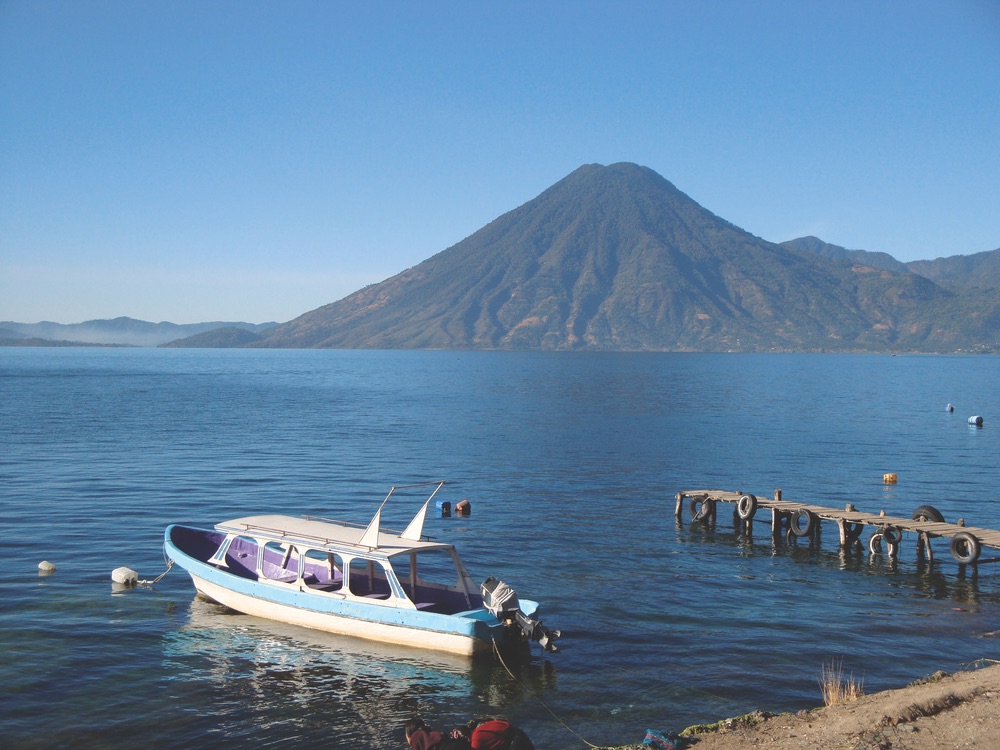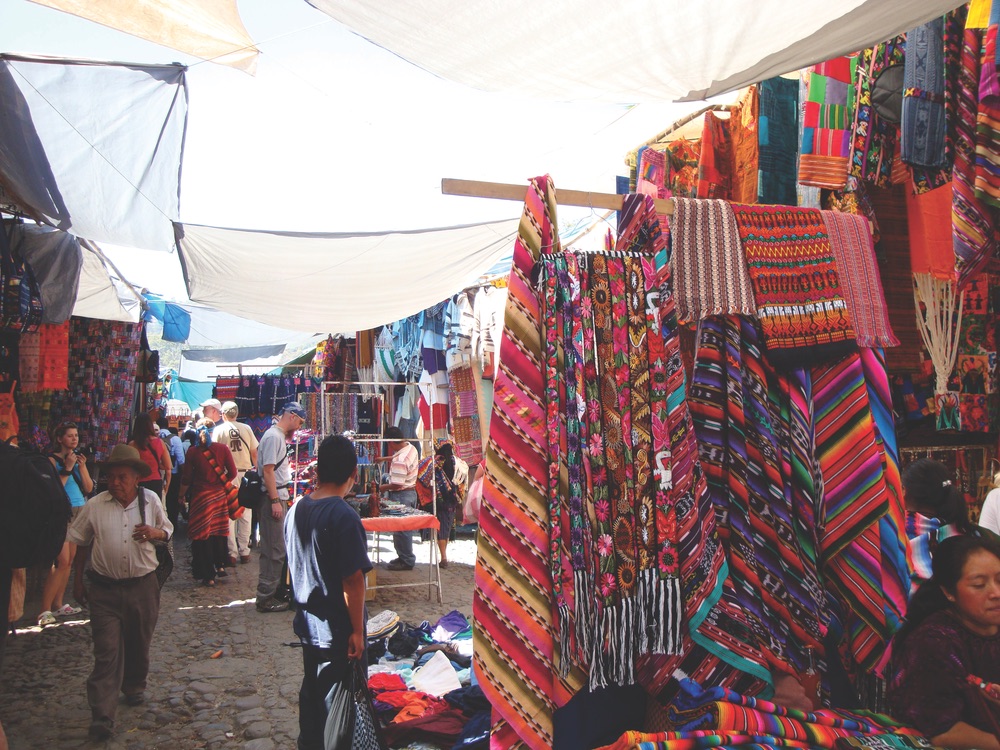 Since Guatemala is a developing country, I recommend—especially for first-time visitors—taking a guided tour with an established outfitter, like Canadian-based Gap Adventures (www.gapadventures.com). If you're as lucky as I was, you'll be traveling with an amazing group of fun, well-traveled adventurers who will enhance your experience even more.
— V —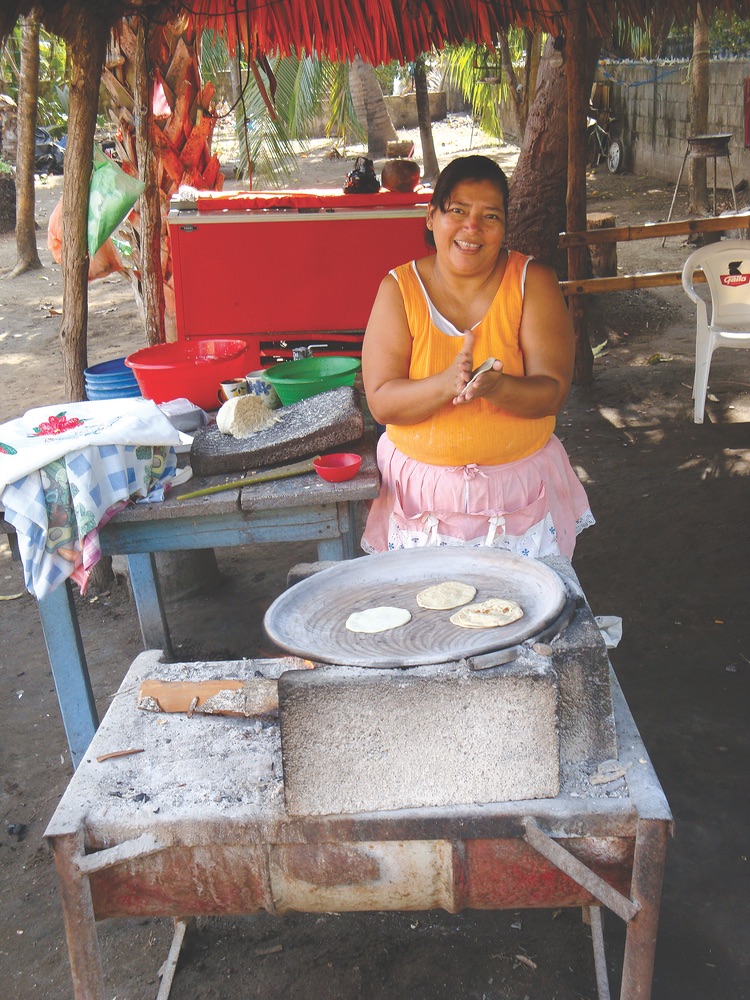 ARTICLE CATEGORIES