A Wedding for the Ages
Photography by Ollie Alexander, Love Is Rad
When Nikhil Alexander Abuvala and Hannah Grace Alford met in 2018, it was not love at first sight. Hannah had moved temporarily from New Orleans to the coastal area of Scenic Highway 30-A in Northwest Florida to help open a new boutique in Alys Beach, just a few miles from where Nikhil, a chef, owns two successful restaurants in Grayton Beach. "During that time, Hannah met my sister through mutual friends, and they became close," Nikhil recalls. "My sister told me about her, that she was really cool and had amazing style, but then Hannah went back to New Orleans before I got to meet her." However, fate would intervene, making sure the pair crossed paths again—enough times that they finally realized they were meant to be.
Their beautiful wedding in Italy last year is a testament to this couple's individuality and style, and the groom shares the whole story with VIE here so we may get a glimpse of the magic.
Our Love Story
About a year after Hannah had left to go back to New Orleans, I was invited to a Korean barbecue with a couple of chefs and a Korean man showing us how his culture traditionally cooked food. Lo and behold, Hannah was there. I wasn't quite smart enough yet to figure out that when my sister informed me that Hannah was going to be there and that I needed to meet her, she meant a little more than just saying, "Hi, nice to meet you, bye," which is what I ended up doing. As a chef, I was just super excited about the food! Hannah was super not excited about the way I had introduced myself. So she moved on, and I stayed clueless.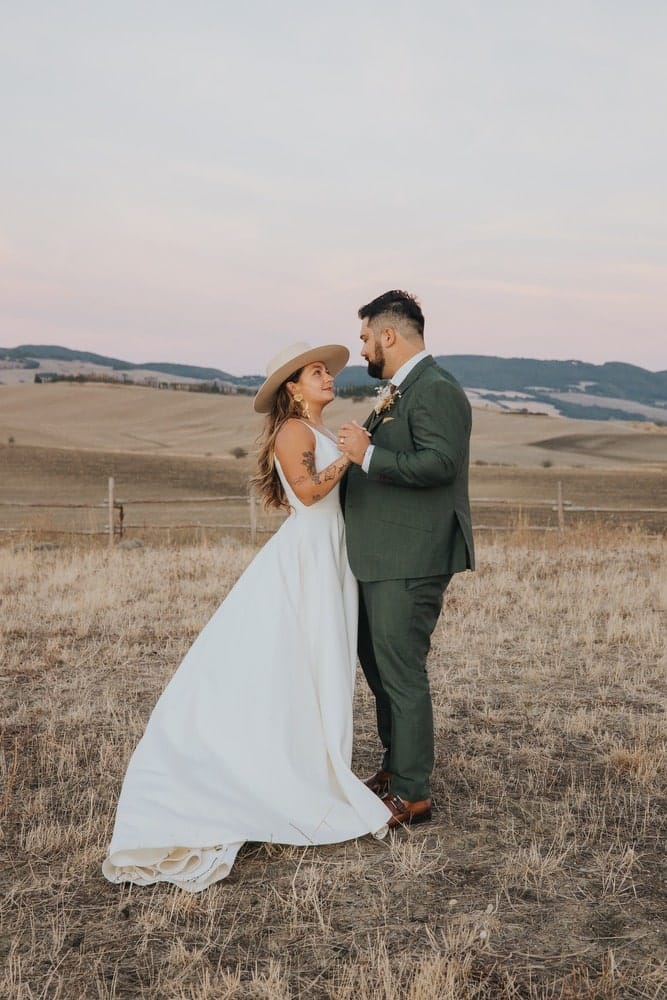 Finally, another year rolled around, and Hannah and I had run into each other at a couple of other events and were at least a little friendly by that point. However, an awful accident pulled us together, with a little help. Hannah had gone to the springs north of here with friends and used a rope swing to jump off a tree into the water. To her misfortune, the rope wrapped around her arm and hung her just above the water, tearing some tendons in her arm! She needed to go to the hospital, and no one was sober enough to drive, so my sister called me. One bouquet of flowers, two Reese's cups, her entire medical history, and a few homemade dumplings later, we started to fall in love.
I proposed pretty casually during the first week after Hannah and I moved in together. She had a rule that she would never move in with someone until she was engaged. And then COVID-19 came, and that craziness really put the pedal to the metal because Hannah was still living in New Orleans. In March of 2020, New Orleans was becoming an epicenter for COVID, and Florida was closing its borders to Louisiana. So when that announcement was made, Hannah dropped everything, packed only one bag, and crossed the state line just before the police barricades went up. It was hectic and almost like the Wild West, but she made it.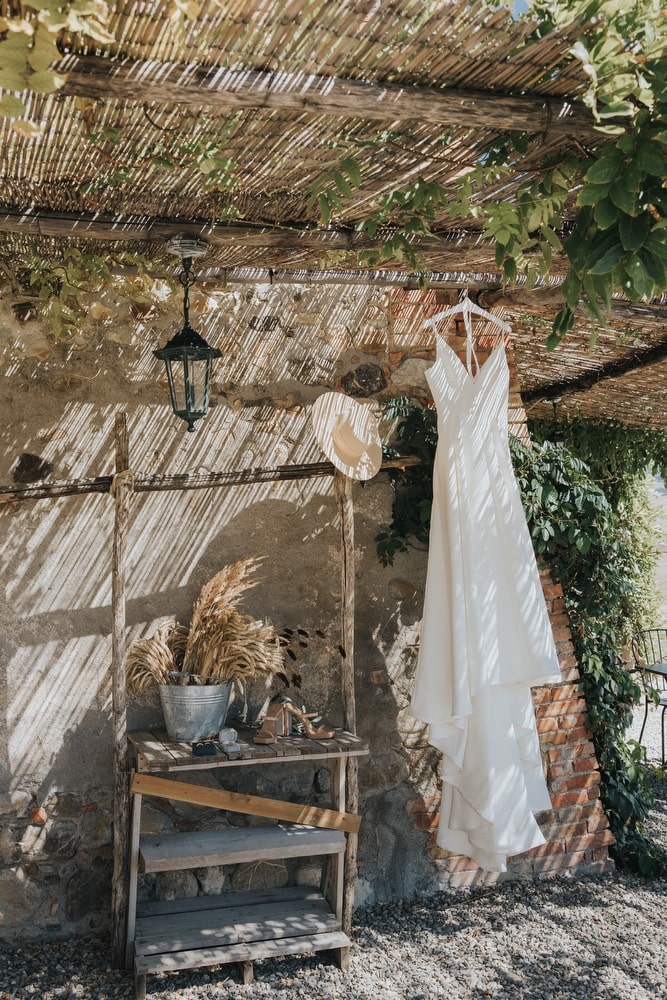 The next day was the total opposite, with the most beautiful weather I felt like we had ever had on 30-A. We went for a beach walk and had rosé with the sunset, and then I cooked the first dinner in our home. I asked Hannah if she thought it was a perfect day. She said yes, and I said, "Let me make it even better," and I proposed.
Her reply was, "F***ing finally!"
I asked Hannah if she thought it was a perfect day. She said yes, and I said, "Let me make it even better," and I proposed.
Our Venue
Ceremony: Chiesa di Santa Caterina – Santa Caterina Church, Pienza SI, Italy
Reception: Locanda – Bagno Vignoni SI, Tuscany, Italy
We spent quite a while looking for a wedding destination. Hannah loves the mountains, and I want to be by water, so we started looking for places that met both criteria. We ended up choosing Lake Como, Italy, and went ahead and hired wedding planners based there that we found on the Green Wedding Shoes website. Then COVID pushed everything back. The venues were no longer available, so our wedding planners went on a road trip through the rest of Italy to find us a place.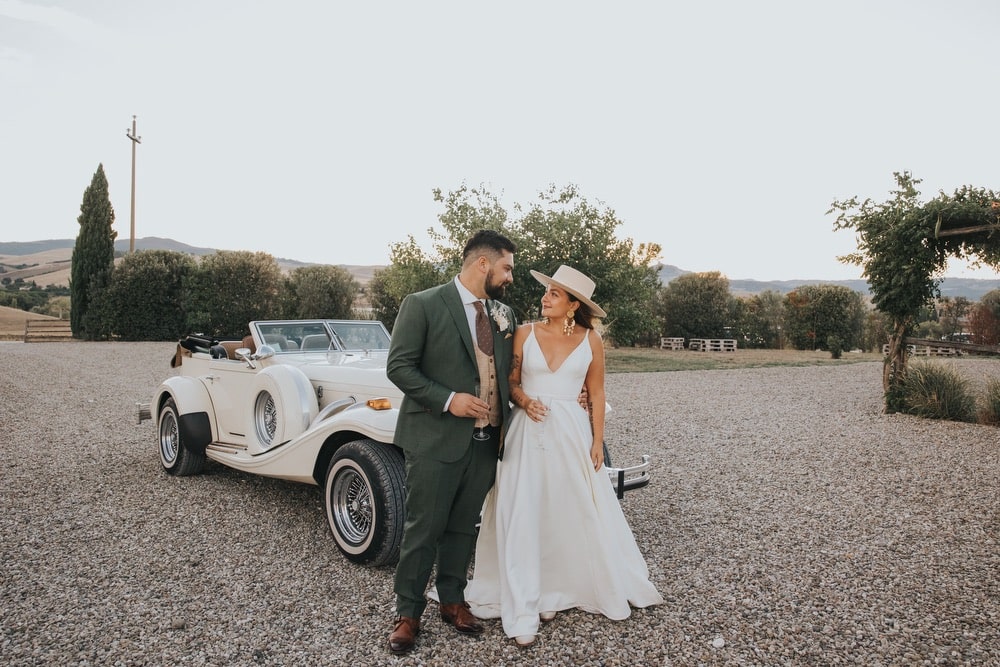 It was crazy, as they were sending us all of these great options, but ultimately, a beautiful bed-and-breakfast in the middle of Tuscany stood out to us. We decided to book Locanda and put down a deposit. The next night we went to a dinner party and ran into some old family friends who, when we were telling them about deciding on Italy for our wedding, interrupted us to tell us we had to stay at a bed-and-breakfast in Tuscany called Locanda! It felt like it was meant to be.
Our Wedding Plans
Honestly, putting on an international destination wedding in the middle of COVID was pretty stressful. It felt like every decision we were making was just a possibility and not finite. With the constantly changing rules and regulations for travel, we weren't sure if the wedding would happen until just a few weeks before! Some of our family members were being rerouted on their way to Italy, and we weren't even sure they were going to make it. We had to rely heavily on our wedding planners because we couldn't travel there before the wedding at all, so they mediated every decision.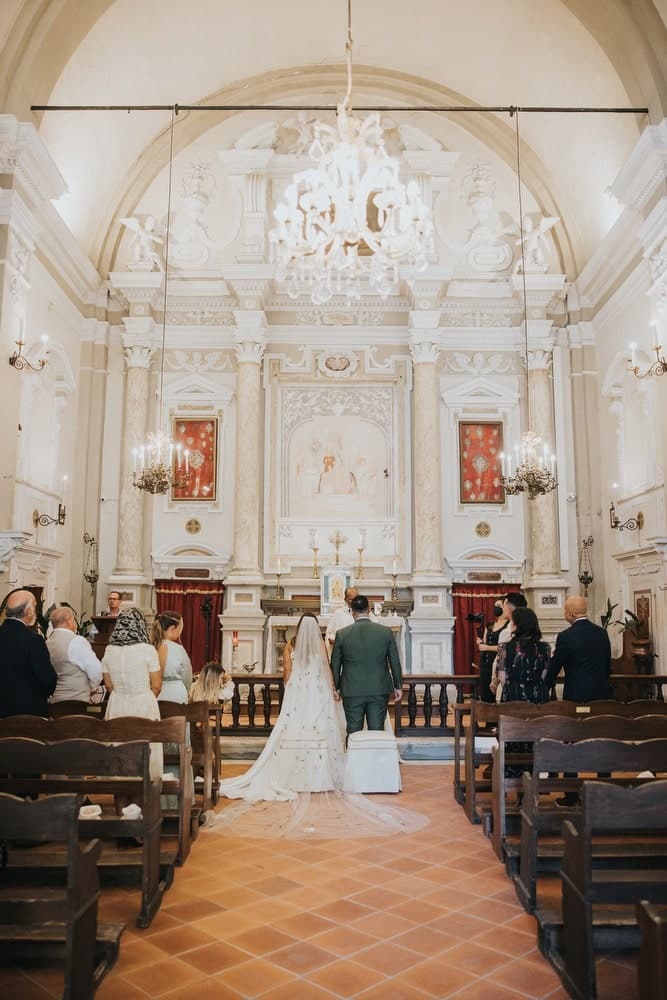 For the decor, we knew we wanted to keep it simple, with lots of neutrals and colors in the flowers and grasses that would complement the landscape while staying true to the colors we surround ourselves with back home—terra-cotta, ivory, and blue. My suit was a vibrant green with soft whites and gold, while Hannah's dress was ivory, and she carried a dried-and-fresh flower bouquet, which matched the massive arrangement at the front door of the church.
Our Wedding Day
September 22, 2021
Sticking to tradition, we were in separate rooms leading up to the wedding day, so when we woke up in the morning, we met in a private room and had a quiet espresso together. With all the craziness of the wedding and the challenges of juggling family and vendors, this was the first time alone we had together since we had arrived in Italy the week prior. This peaceful moment before the beginning of the big day was really special, and the sunrise over the Tuscan hills and the serenity of the farmland made it perfect. We gave each other a small kiss and then separated. We had decided that instead of doing a first look, we would write letters to each other and exchange little gifts right before we walked down the aisle.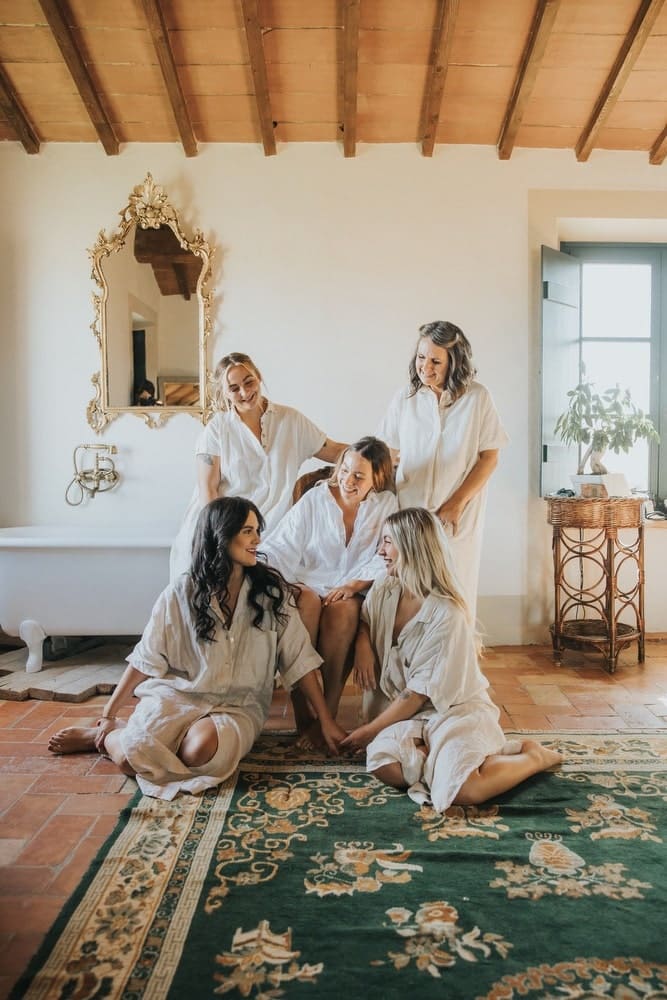 Hannah and the ladies grazed on the most beautiful Italian aperitifs and sipped on rosé while getting ready. One of the highlights of Hannah's time getting ready with the girls was when her mom gave her a butterfly brooch and pearl hairpin to add to her bouquet (from her grandmother, who passed away the year before) along with a childhood drawing that she had sent to her grandmother of her future self in a wedding gown. It was very on point, emotional, and so sweet.
My brother and I took a short trip to a nearby winery and purchased a few bottles to commemorate the day, including a few twelve-liter bottles to save for a later anniversary. We then met up with the other men and had a few beers. I got to FaceTime with my ninety-five-year-old grandmother, who was in India, and was able to get her blessing just before we walked down the aisle.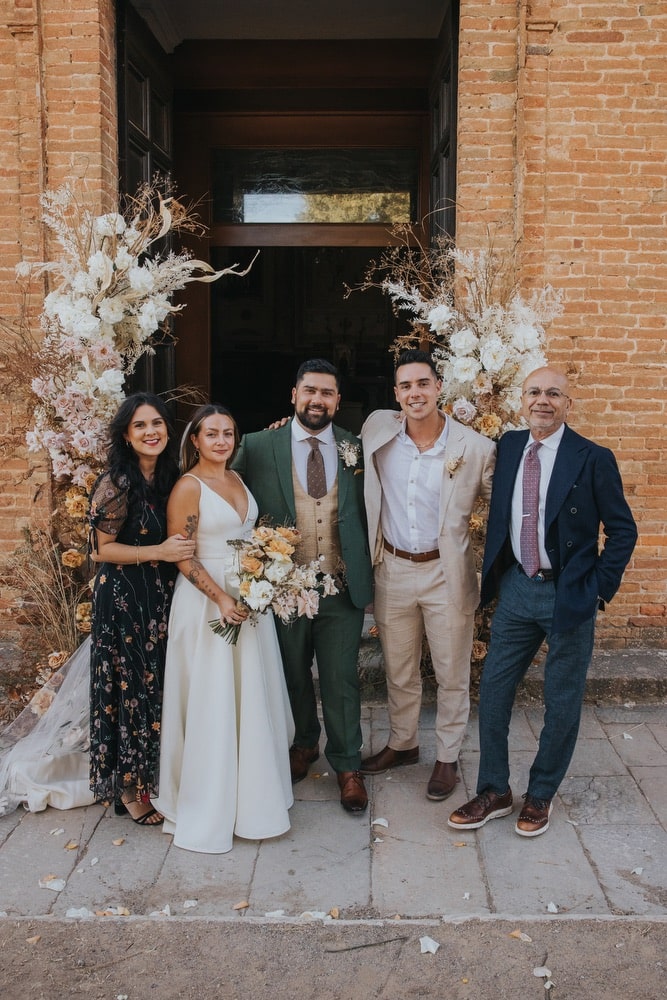 We had a few snafus getting to the church. A family of fifteen baby piglets and three mother pigs blocked the road as the wedding guests and I ventured to the church. It took almost fifteen minutes to gently persuade them to move along—it was truly the Italian countryside! Meanwhile, the bride, maid of honor, and photographer, following us in an Excalibur, took a wrong turn in town and got a little lost navigating without phones with a non-English-speaking driver. Finally, we all arrived and rushed into the church. After that, it felt like everything moved in slow motion, with just the two of us. Bride and groom. "I do, I do."
After the ceremony, our dozen family members headed back to Locanda while we finished taking photos. We arrived later in the Excalibur and were greeted by our guests with champagne and shots of Don Julio. Dinner was prepared by a Michelin-trained chef from the heart of Tuscany, and a string duet played traditional Italian music, with an "Uptown Funk" harp remix and other contemporary songs thrown in.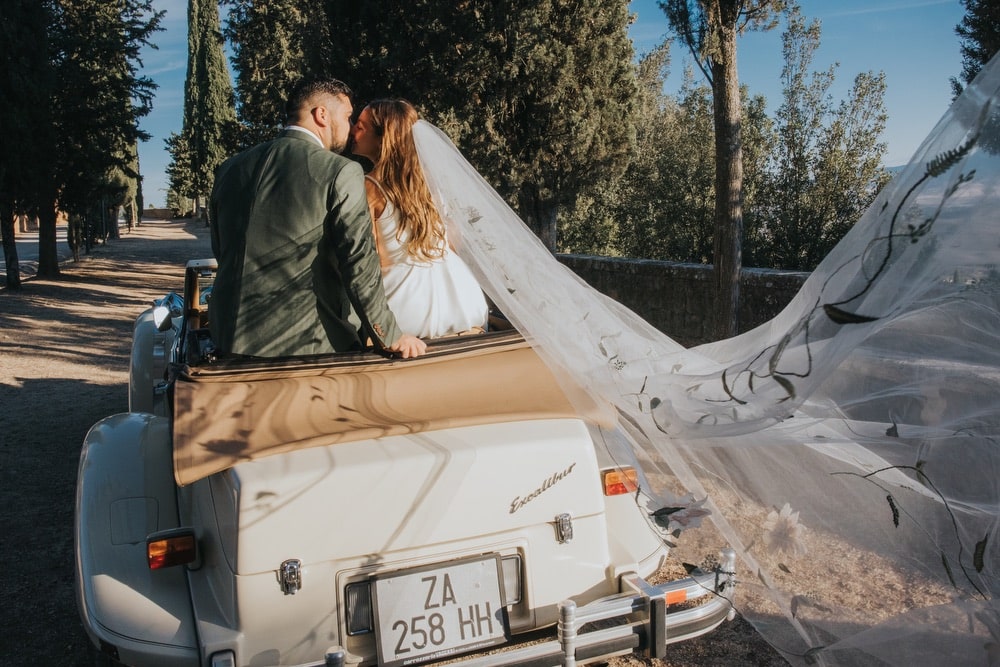 We ate outside under a pergola with custom-made chandeliers, Italian linen that matched our tablecloth, porcelain dinnerware, matching floral arrangements, and a perfect view of the Tuscan hills on all sides. As we reminisced with our siblings and family about the magical day, we were delighted to have a full moon rise over the hills, as dramatic as sunrise, to brighten our evening. It was such a beautiful sight to experience. Dinner was followed by dancing under the stars and cutting a traditional Italian cake, millefoglie, which the chef prepared before our eyes.
Dinner was followed by dancing under the stars and cutting a traditional Italian cake, millefoglie, which the chef prepared before our eyes.
Our Honeymoon
Our first night was spent at Borgo Santo Pietro in Tuscany. It is a five-star resort set in a beautiful garden estate where we filled the day with couples massages, painting lessons, and a six-course dinner paired with local wine. It was the perfect setting, in the most perfect place, and by far, the only regret we had the whole trip was not staying longer. We even found an in-ground trampoline hidden between an old cypress and a sunflower garden, where Hannah relived her childhood, if only for a moment.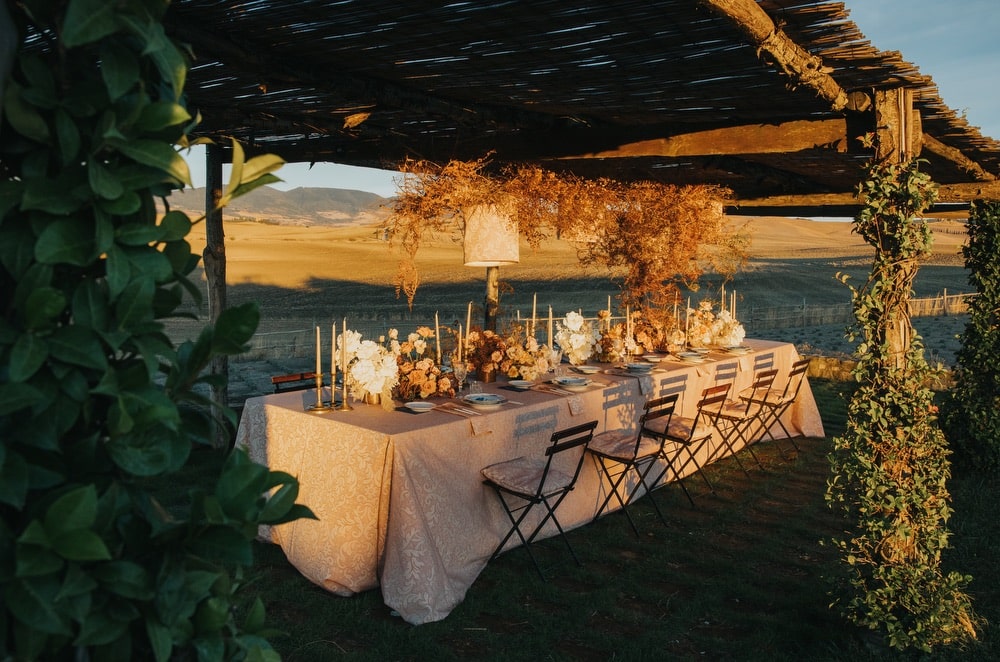 Still wanting what we had initially hoped for in Lake Como—surrounding ourselves with water and mountains—we drove south to spend the rest of our honeymoon in Positano at Le Sirenuse. Set in a ceremony of stairs, Le Sirenuse was charming, with beautiful views from its perch grasping at the side of a cliff to the water several stories below, with the most adorable streets in between. We set up home base there and traveled to all the fantastic nooks and crannies along the Amalfi coast, climbing the Path of Gods trail through the mountains, cruising in old wooden boats, zipping between rock islands, and sipping on Aperol spritz.
Set in a ceremony of stairs, Le Sirenuse was charming, with beautiful views from its perch grasping at the side of a cliff to the water several stories below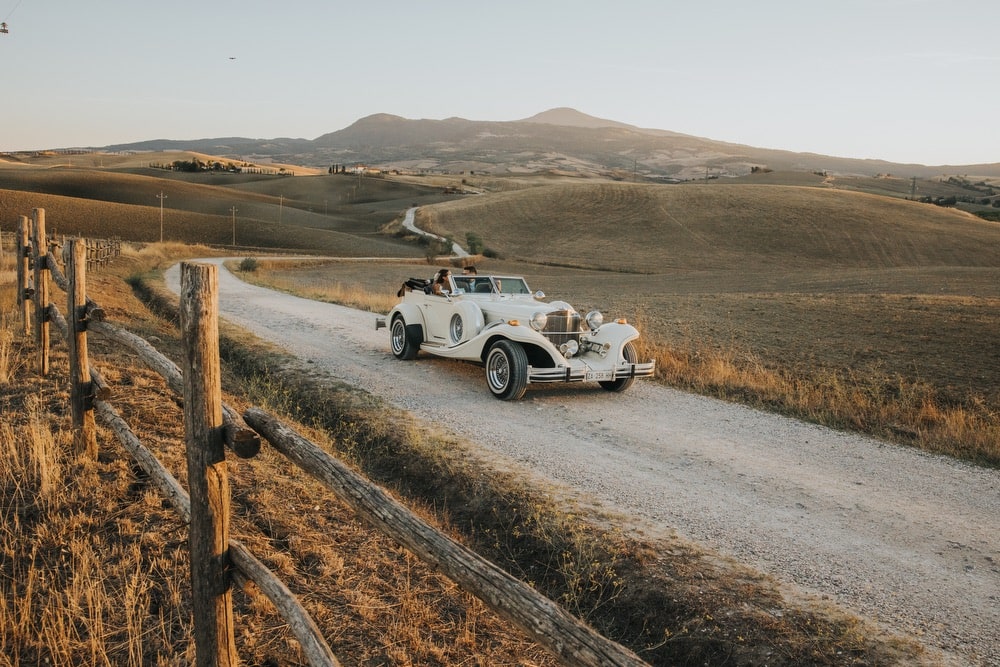 A huge thanks to our families who came across the globe to celebrate with us: sisters Ahna, Gabrielle, and Ivey; brother Ravi; parents Jairaj, Bill, Jim, and Becki. And thank you to Nikhil's assistant, Sash, who was the glue holding everything together back home.
— V —
---
Special Thanks
Locanda in Tuscany
Elvis from Tuscany Drivers
Borgo Santo Pietro
Le Sirenuse
Wedding planners: Benevent Planner
Catering: Il Silene
Florals: Evelina Florence
Videography: Gilda Fontana
Photography: Ollie Alexander of Love Is Rad
ARTICLE CATEGORIES