A Trip to Coastal California
Story and photography by
Elizabeth Gledhill
Central California is truly a nature lover's paradise. In all my previous visits to Central and Southern California, I had never taken the time to appreciate the true beauty of the area's natural resources and wildlife as I did the last time I traveled there, which was this past April. I went to explore the awesome diversity of marine life and the incredible natural scenery that abound around the Monterey Bay area, and the California coast did not disappoint.
I rented a house there for four days and joyfully pretended in my childlike mind that I lived full-time on the sinuous mile-and-a-half road dense with redwoods. I made believe I was a bona fide California hippie chick for those four days, and my experience of the natural wonders around Monterey Bay exceeded my expectations.
Point Lobos State Natural Reserve
The best of my discoveries had to be Point Lobos State Natural Reserve, located just south of Monterey Bay. Frequently called "the greatest meeting of land and water in the world," it is near the northernmost starting point of the world-famous Big Sur scenic coastal drive. You have very likely seen or heard of Big Sur; it is a place of unimaginable beauty. I almost passed up Point Lobos, but something pulled on my newly California blonde (ish) hair and told me to stop.
Point Lobos is so scenic and full of animals and birds just hanging around undisturbed that you can tell humans have hardly touched it. It is protected and maintained by the state of California, but even more so by the Point Lobos Foundation, a nonprofit group. The foundation provides funding for many integral programs that help to preserve it and to educate the public about this natural resource, long considered the crown jewel of the California State Park System. They have done a wonderful job. I feel a pull to go back very soon to spend a few days exploring and admiring, as opposed to the few short hours that I was able to spend there on my recent trip.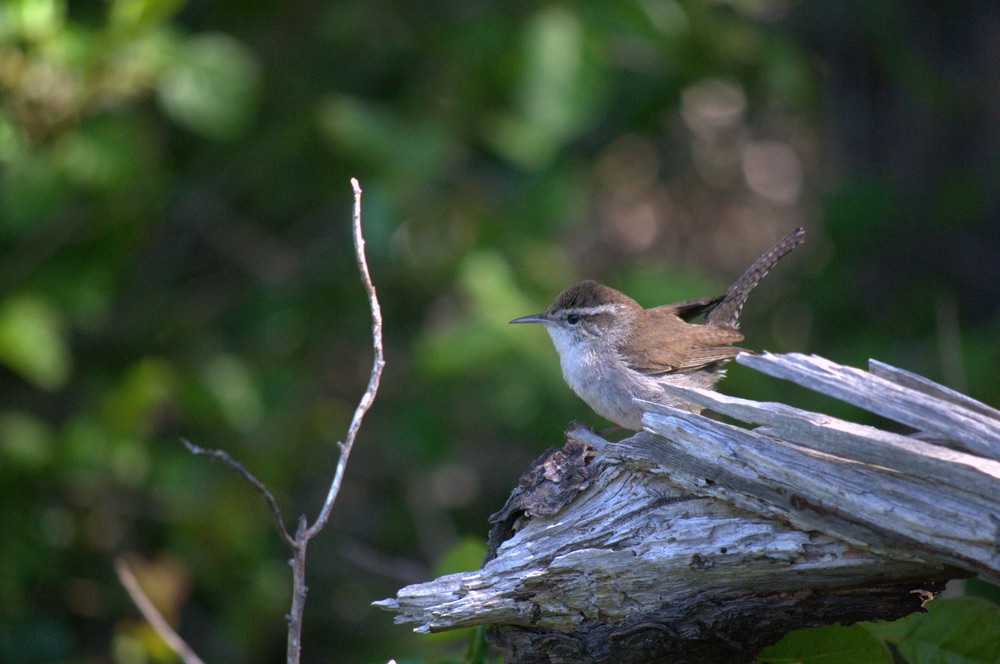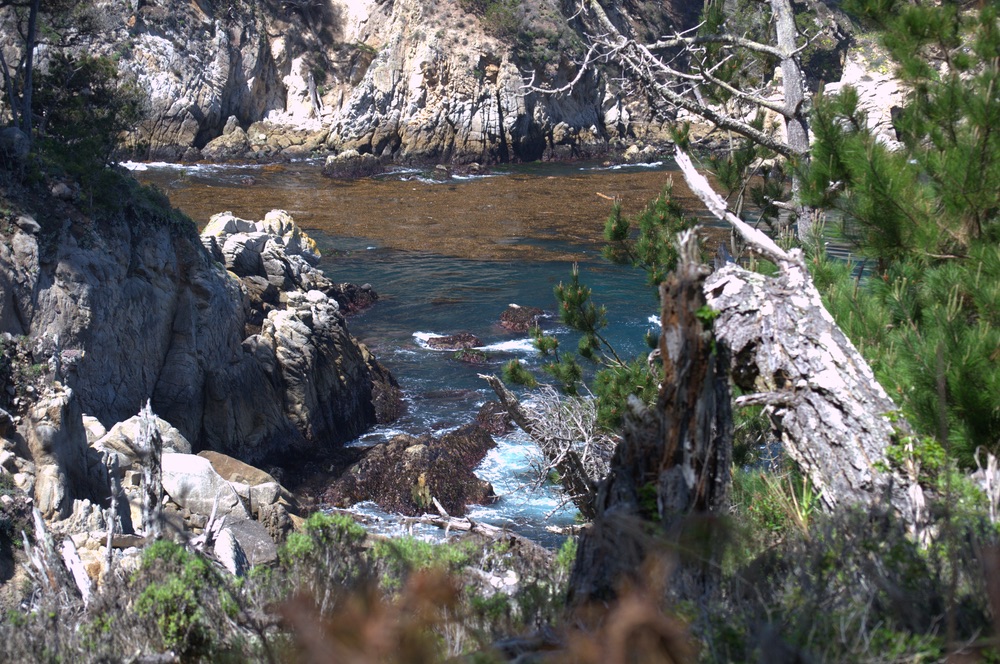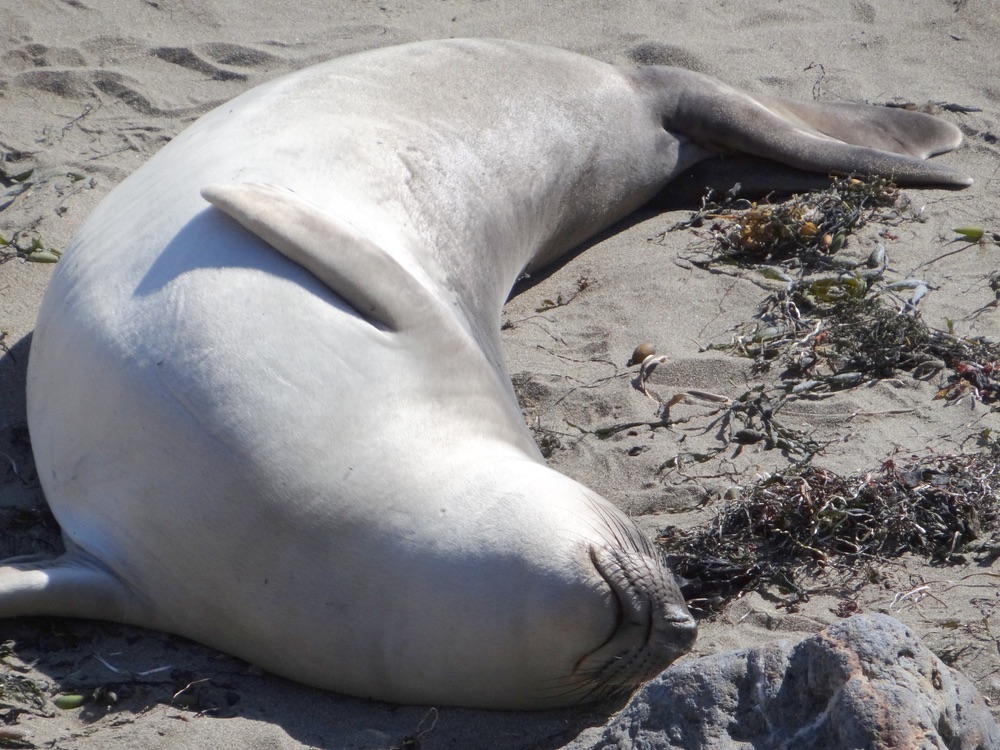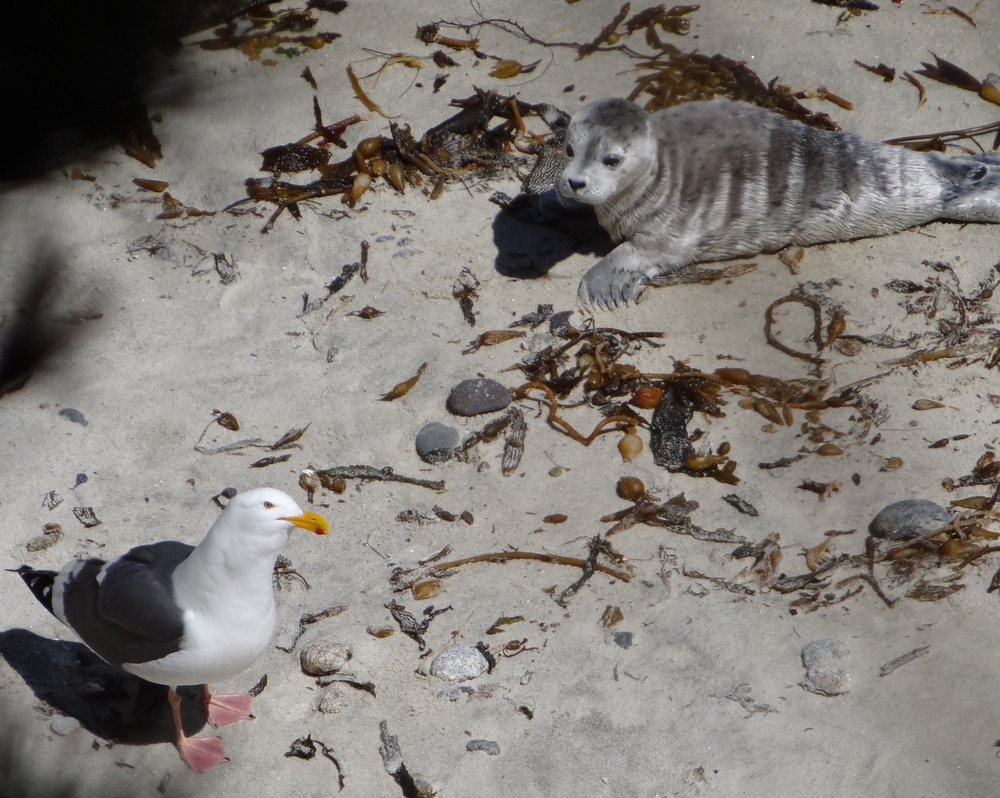 Truly chock-full of wildlife, Point Lobos is a spectacular place to view Mother Nature's coastal inhabitants without disturbing them. Over two hundred fifty different animals, including marine mammals and bird species, and over three hundred fifty plant species have been identified at the reserve. They must like it there too!
Apart from the trails and roads to get to Point Lobos, the land is relatively untouched and extraordinarily beautiful. Even the entrance area seems to be intact and unaltered. You could drive right by it on State Route 1 and not have a clue of the grandeur lying on the other side of the giant evergreen trees that line the road. There is barely a landmark for the entrance except for the cars parked on the side of the road, left there by those who prefer to walk in. Seeing all the cars is really what caused me to stop. I thought there must be something pretty great if there were that many cars outside the place.
There are twelve trails to explore with ten coves scattered about for your discovery. The marine sanctuary around it is protected and it's a prime spot for scuba diving and snorkeling. Jagged cliffs stand up to the pounding waves, creating a fabulous palette of complementary colors, from the bright white sea spray against the emerald-green and blue hues of the Pacific, down to the dark brown and black of the rocks that they collide with on shore. Travelers come from all over the world to take in the beauty and artistry that overflows from my new favorite place.
Sea Lions
These playful dudes practically own Monterey Bay! They lounge about everywhere, covering rocks, jetties, and docks, and they even get on top of handrails somehow—I still don't understand how they manage that. Their whiskered faces pop up out of the water, keeping an eye on the scene, and then disappear back down into their submarine world. I have fallen in love with their big brown eyes, their playful and curious nature, and the fluidity of their movements in the sea.
My first meeting with a sea lion was the highlight of my day and possibly of my entire trip. Early in the morning, I crawled over some jetty rocks to get to the waterside to photograph the birds and sea lions. When I finally found my spot, I turned to the water, and right in front of me was a gorgeous sea lion! He was so close to me, I could have almost touched him. He was absolutely glorious to look at, with his round nostrils flared, whiskers forward, and a curious gleam in his eyes. I felt an instant connection to this wild creature who had ventured so close to inspect me. Eye to eye, there seemed to be a silent communication between us that I cannot find the right words to explain.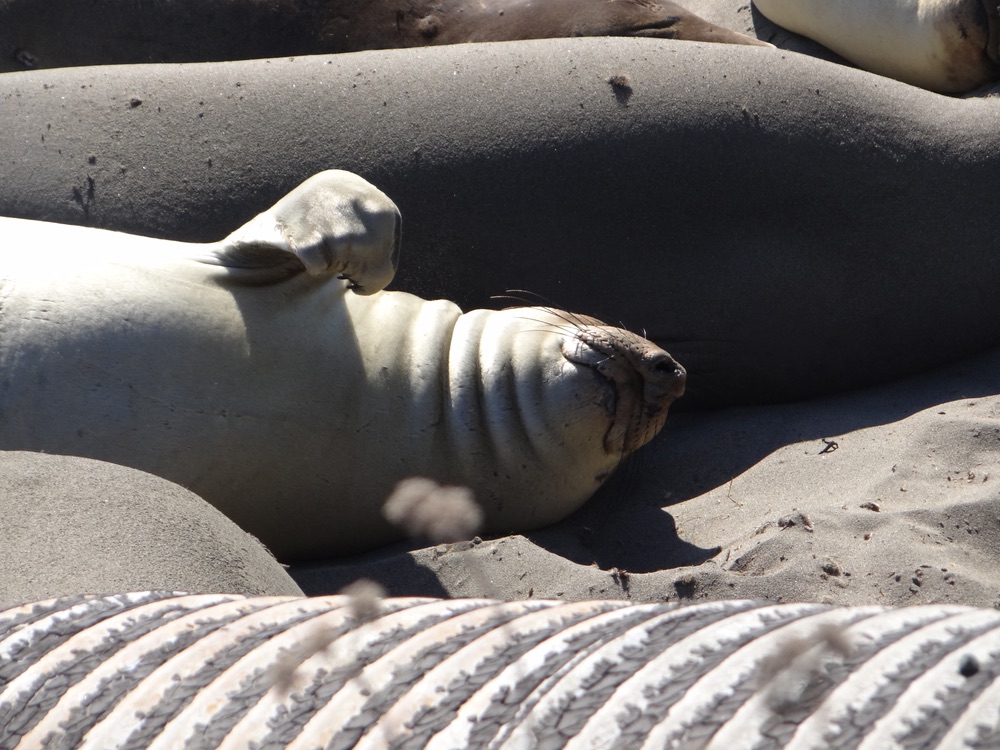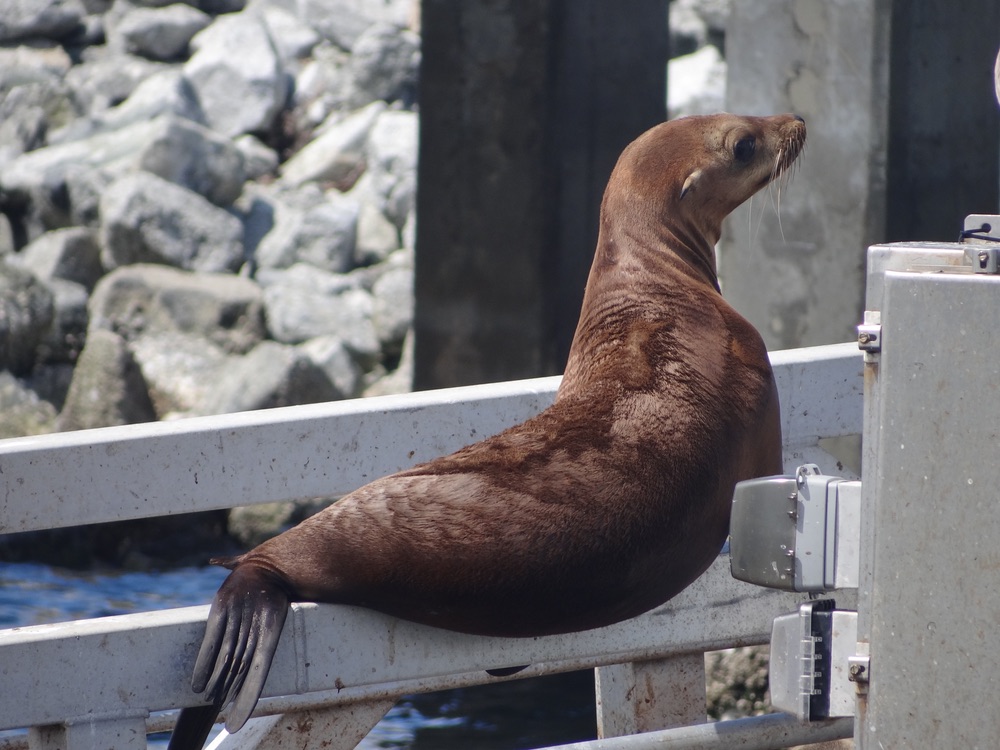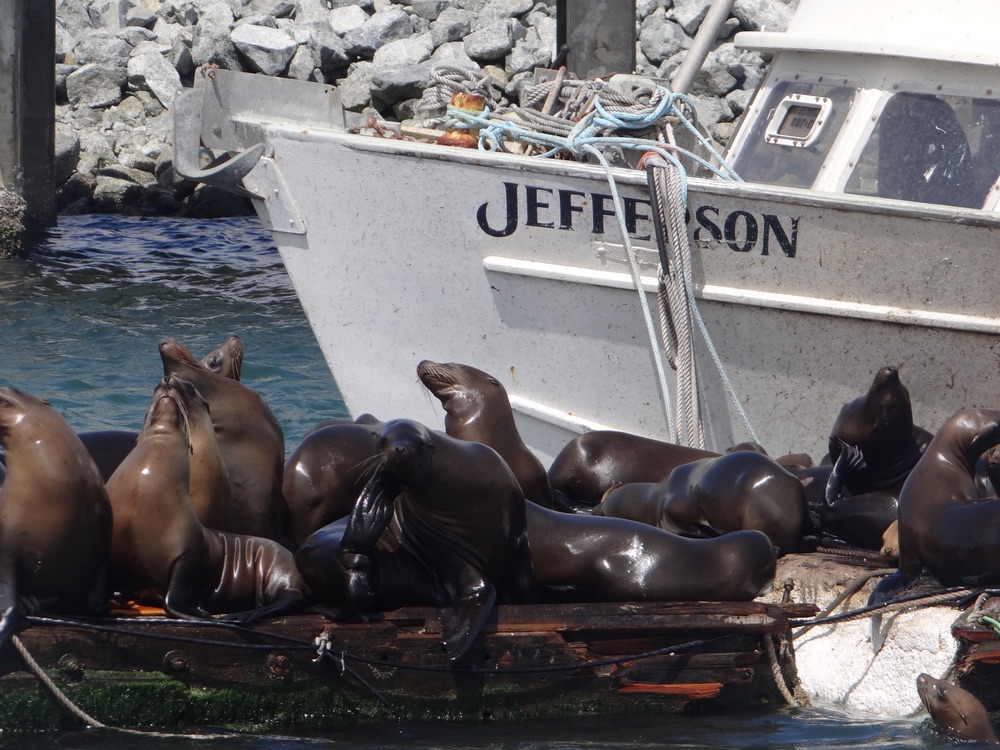 Then, frantically but quietly, I struggled to get my camera ready, and he watched as I tried to keep my balance and set up for the shot. Of course, just as I was about to take the picture, he disappeared into the murky water. It was as if he disapproved of having his photo taken, thank you very much. For a moment, I was bummed, but then I smiled, feeling good about my choice to go to the jetties to shoot. I thought I would be so close to the sea lions and that they would all be extremely curious and come right up to check me out, just like the first one did. I was sadly mistaken.
I still got some good shots and simply enjoyed watching the curious divers carry on in the pass. That first sea lion was magnificent and I will never forget our special moment of connection.
Harbor Seals
Luckily for me, I visited Point Lobos just in time for the birthing season of the harbor seals. Wandering up a path with perfect scenery everywhere, I came upon a photographer shooting with a lens so large that it would qualify as separate luggage on any flight. She was in a cul-de-sac near a viewing area with her lens supported by a fence rail. She was dressed like a nature photographer, and as it turned out, she was a regular volunteer at the reserve. I took a spot to her left and took some shots of the nesting Brandt's cormorants on the cliff across the way. She was speaking with a gentleman that I presumed was her husband, and I noticed a tinge of concern in their voices as they spoke.
My curiosity piqued, I eventually asked her what was going on, and she told me that she was shooting a female seal in labor on the far rocks. The seal had been in labor for much longer than usual, and they were worried. My lens veered in the same direction as hers and it landed on the target—a harbor seal, lying on her side and looking uncomfortable from the contractions that would occasionally rack her whole body. She was small and gray, with little spots all over her skin. The volunteers educated me about newborn seals. The new pups have a characteristic wrinkled look when they are less than a day old. We chatted about it for a bit, and I took some shots that were weak since she was a good distance away. Then I finally went on my way, hopeful that mother and baby would have a happy ending.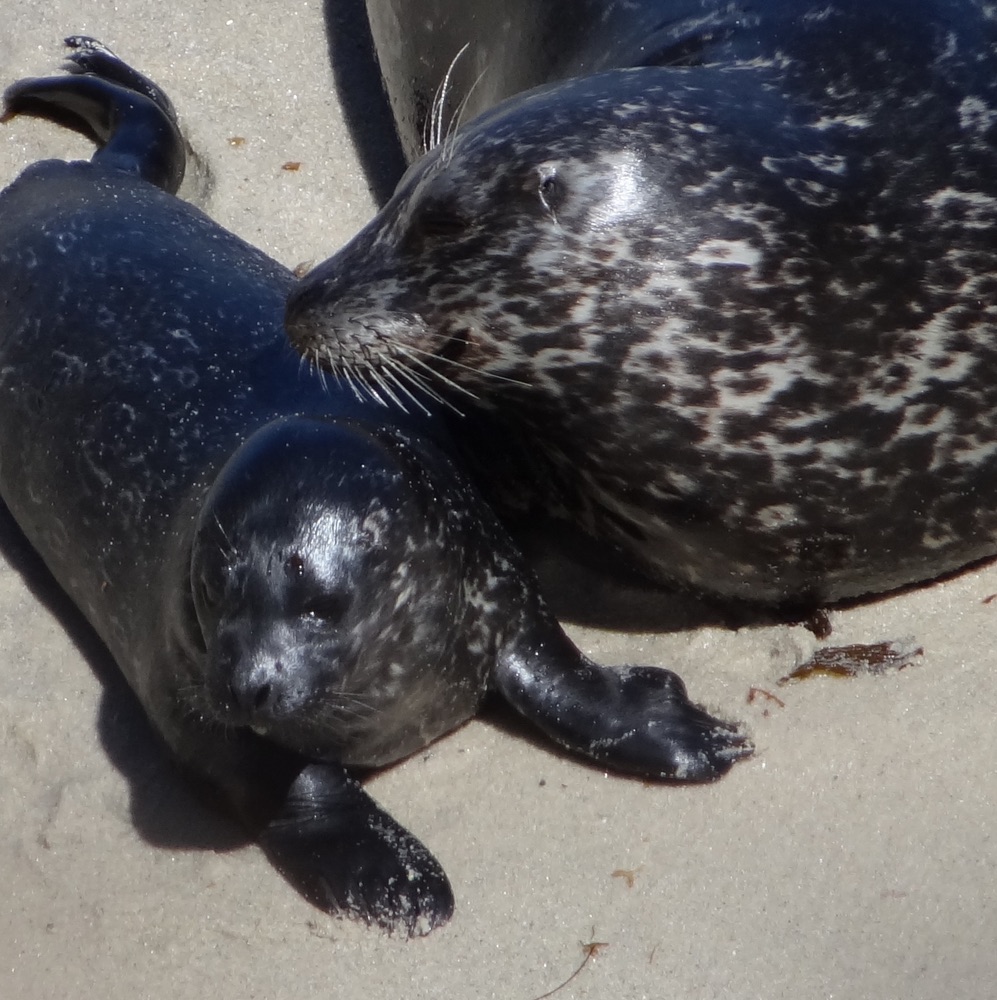 Moving on to another cove, I came to a bluff right above a tiny sand beach with many new little seals and mothers. Seal pups are the epitome of cute! One little gray seal pup was fresh out of the womb, umbilical cord still attached.
These seals have their camouflage down pat—you can easily mistake a seal for a stone on the beach. I observed them here for just under two hours, hoping to witness and photograph a birth, as there was another mother in labor there. No luck, and I didn't want to stay so long that I would miss out on other scenery.
It is illegal to disturb the seals in the reserve. The seals themselves schooled me as to just how sensitive and wild they truly are. At one point, I reached to move some dry grass from in front of my camera to get a better shot, and incredibly, they heard me touch the grass from way above and they all scurried into the water. (Oops!)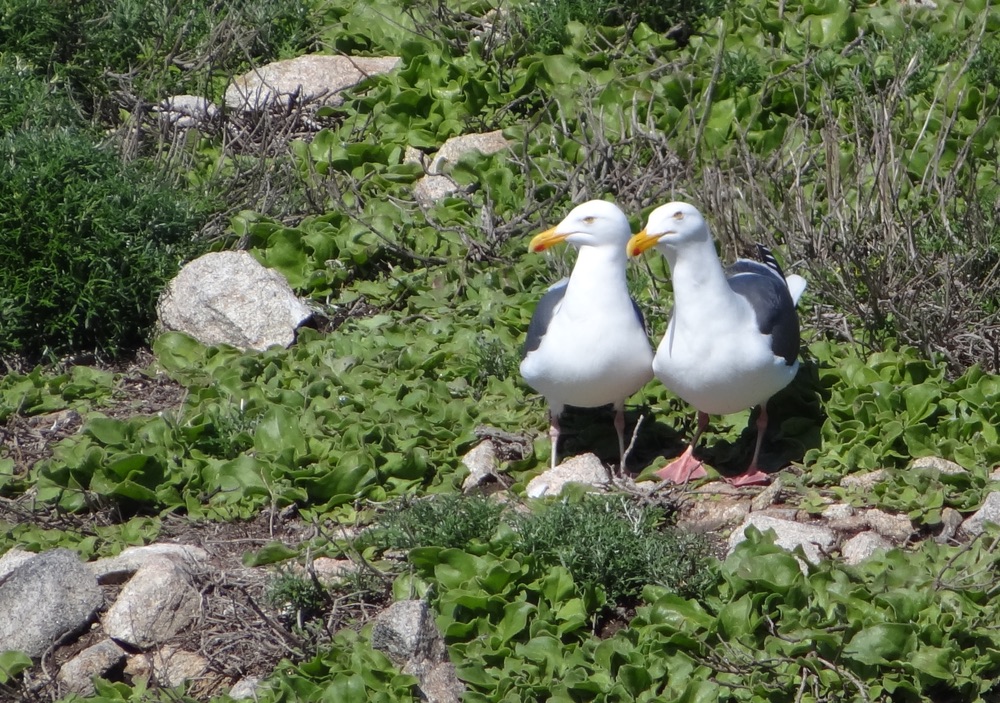 Elephant Seal Beach
Just a bit further down State Route 1 is the Piedras Blancas Rookery, which hosts around seventeen thousand northern elephant seals on its beach. It is seven miles north of San Simeon and eighty-nine miles south of Monterey at the southern end of Big Sur. The colony started with just under two dozen seals back in 1990. Hunted for their blubber for nearly two hundred years, the elephant seals were very close to extinction. Today, the Marine Mammal Protection Act of 1972 protects them from hunting and harassment.
The rookery is a must-see along the Big Sur coastal drive; the admission is free and it's open every day of the year. When I arrived, the beach was so covered there was not much sand in sight due to wall-to-wall elephant seals. The number of elephant seals on the beach varies depending on the time of year, and the squirrels that live in the brush behind the fence are very friendly, but we're not to feed them. (Somebody must be doing so, however, as they are porky little guys!)
The Friends of the Elephant Seal organization has set up a webcam to view the elephant seals as well, but it's a narrow shot of the beach. (When I wrote this, there were only about four or five seals in view—it's much better appreciated live.) You can view the webcam feed at www.elephantseal.org.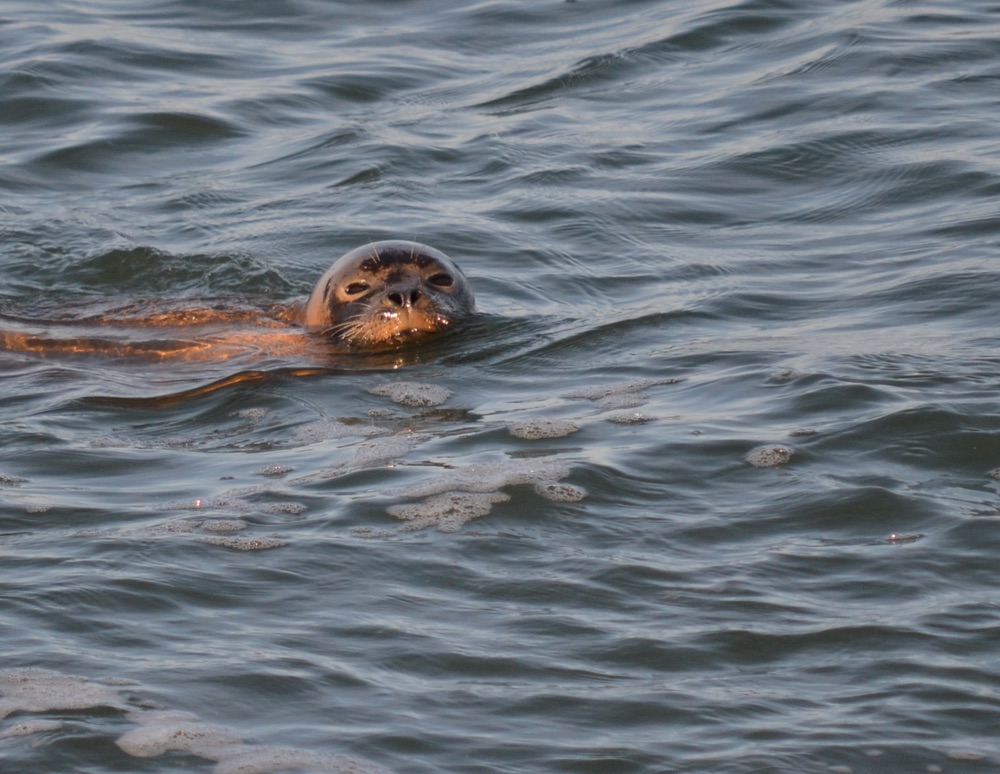 Birds
The birds around Monterey Bay are plentiful and quite large. The array of species is startling; pelicans, seagulls, terns, cormorants, herons, pigeons, egrets, and ibises are just a few of the coastal inhabitants. They are easy to view because they are everywhere in the thriving ecosystem of the California coastline.
I was able to view the Brandt's cormorants on the cliff from where I had seen the harbor seal in labor. They are comical little guys with tons of character. They were breeding, so the males had a bright blue gular pouch when I saw them. This fades quickly after the breeding season. The males do a dance to show off for the females, which reminds me of the elaborate dances of the birds of paradise of New Guinea. These cormorants turn their heads up to the sky, almost upside down—presumably to expose the gular pouch—and flutter their wings out by their sides. They were serious about their dances. The males will also carry "prizes" of seaweed and other sea vegetation to the females to try to win them over. It's very entertaining to watch.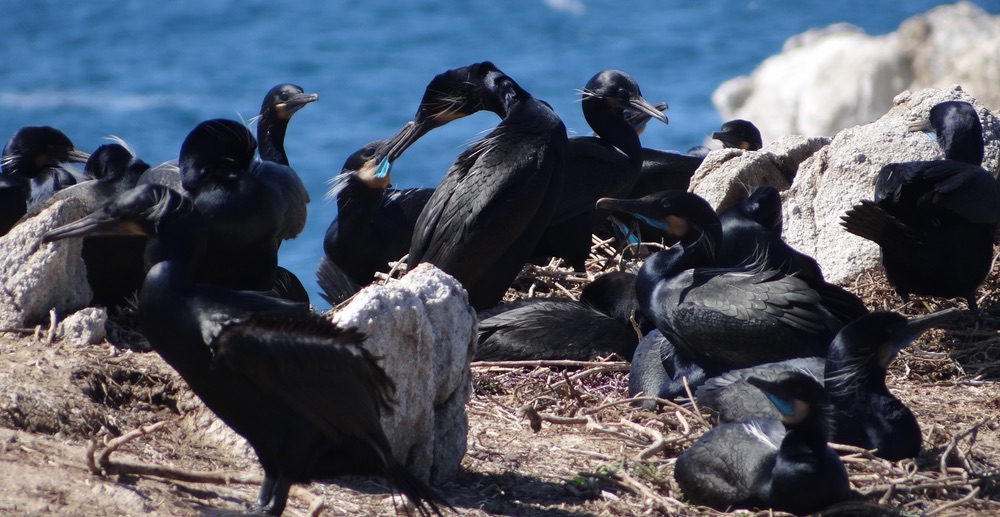 Their nests are very close together, only as far as a neck's reach from nest to nest, and the result is what looks like a honeycomb pattern of nests on the bluff. The winds are constantly destroying these nests, so the cormorants stay hard at work rebuilding. I admired their persistence.
Redwoods
If you head to Central or Northern California, you will miss out if you don't visit a redwood forest. The trees are more monstrous the farther north you go, but at least as far south as Monterey Bay, they are giants! You will also see smaller things like lichens,  patches of wild mushrooms, and infamous banana slugs. Redwood forests seem to have it all as far as nature goes, but I missed out on seeing any wildlife there aside from a squirrel—oh, and one wild turkey that had no agenda, it seemed, as he lingered on the road slowing the cars trying to pass. But the big attraction is really the trees.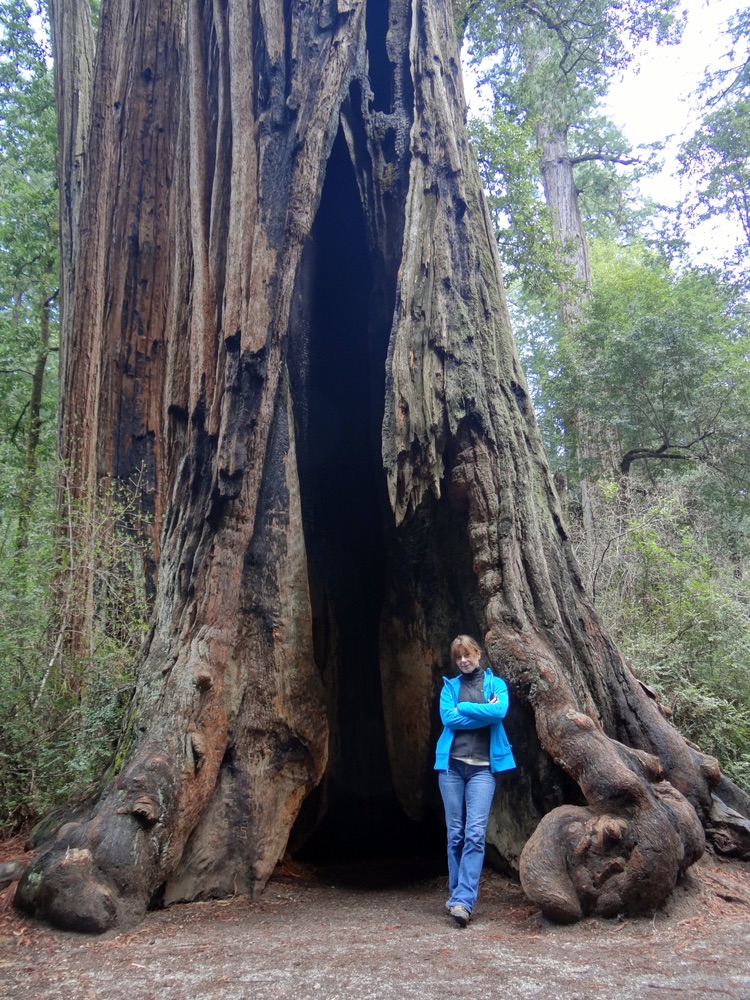 I also visited Big Basin Redwoods State Park, just northwest of Santa Cruz, which is the home of California's largest stand of redwood trees, boasting some of the tallest and oldest trees on earth. Some of these giants measure close to three hundred feet in height and fifty feet in circumference, and some trees are ancient, ranging from a thousand to two thousand years old. The park offers an array of trails to explore the impossibly tall trees, along with streams, cliffs, and waterfalls. The Redwood Loop Trail is wheelchair and stroller accessible and displays the Mother and the Father of the Forest, the two tallest trees in the park today.
Even the drive to the park was beautiful and fun; the curves were endless. The road was controlled by the monstrous trees, daring you to drive even a tad outside the lines. Misjudge, and a tree might happily remodel the side of your vehicle. The canopy above usually blocked the sun. It would be like heaven to live near this place!
Whales
I also took a whale watching tour from Moss Landing Harbor, hoping to view and get good shots of the sea giants. There is no freer feeling than being out on the water. The rhythmic splash of waves coming from under the hull, combined with the rocking movement of the boat, is hypnotizing to me.
About a mile out, I got my hopes up for good photo opportunities as a pod of Risso's dolphins bobbed in and out of the water next to our boat. One in particular kept popping his body up in a vertical fashion seemingly to observe what we were all about. I got a few good shots of this, but once it came to the whales, there weren't as many close-ups. The combination of the distance, the bouncing boat, and the hazy day didn't bode well for great whale breaching shots. Even so, there were blue whales and humpbacks showing off all around us. We witnessed a few breaches and even some of the circling behavior where they team up to corral their prey with bubble nets, making it easier for them to scoop up the fish.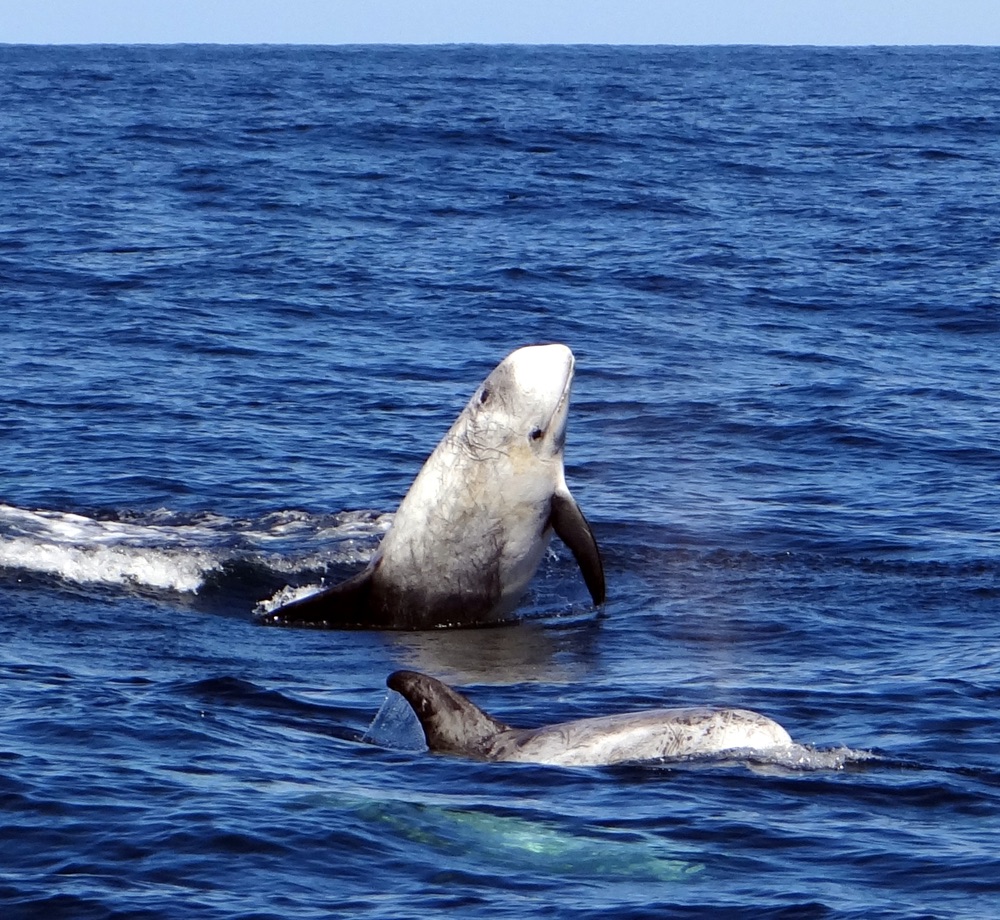 Awesome photos aside, watching these monstrous mammals breach the surface and then dive down filled my mind and my spirit with their grace and their quiet, commanding presence. All I wanted to do was jump in and swim beside them, if only to connect with them for one breathless moment.
If there were a contest for the best place to view coastal wildlife, this area would definitely be the running. If you love the ocean and have not visited this area, do yourself a favor and put Monterey Bay and Point Lobos on your bucket list.
— V — 
ARTICLE CATEGORIES