Creating and Celebrating Joy
By Sallie W. Boyles | Photography courtesy of Stephen Wilson
Having mastered the fine arts of drawing and painting through years of formal training, the revolutionary Pablo Picasso is often quoted for his sage advice: "Learn the rules like a pro, so you can break them like an artist." Indeed, some of the most admired art emerges from individuals who spend years honing a professional skill until something shifts, permitting the soul to take control.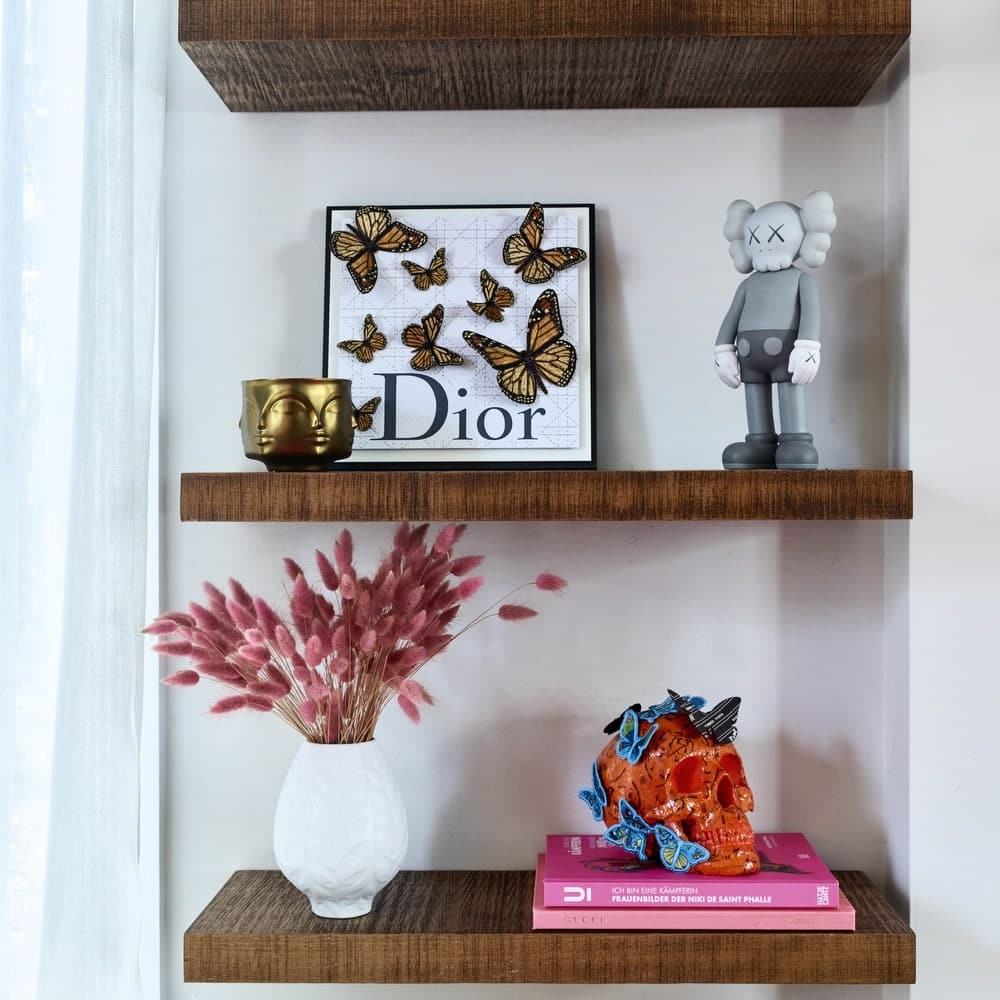 A shake-up in the embroidery design and manufacturing industry nudged Stephen Wilson, a master of digitized embroidery, to pursue his calling as a mixed-media artist.
Relaying the history, he says, "Union City, New Jersey, close to where I grew up, was the embroidery capital of the world." The designation dates to the nineteenth-century boom of the Garment (or Fashion) District, just across the Hudson River in New York City. "It was where we worked after school," says Wilson. "My whole family on both sides were immigrants from Italy who worked in the garment industry and the lace factories." He further recalls going to his grandmother's house as a child and learning to use her old-fashioned treadle sewing machine. "The trade was passed down. It's in the blood."
From gaining hands-on experience and meeting the right people through his relatives, Wilson started his own embroidery company to serve the fashion industry. His portfolio includes recognizable designs, such as the embroidered emblems for Hard Rock Cafe's iconic jackets. When international trade agreements sent the bulk of his clientele to low-cost, offshore manufacturers, Wilson turned to the home decor segment. He stayed in business by providing crafting and quilting samples and designs. Acknowledging that he had a good run, Wilson, now in his early fifties, says, "Up until my forties, I employed fifty to sixty people."
About eight years ago, after receiving rave reviews for some artwork he'd created solely as gifts, he transitioned. "We started making one-of-a-kind pieces instead of our mass-produced items," Wilson says. "We" is important here. "It's not like creating a painting," he shares. "This work requires a team of people and a lot of time." That's why his setup resembles that of a design studio.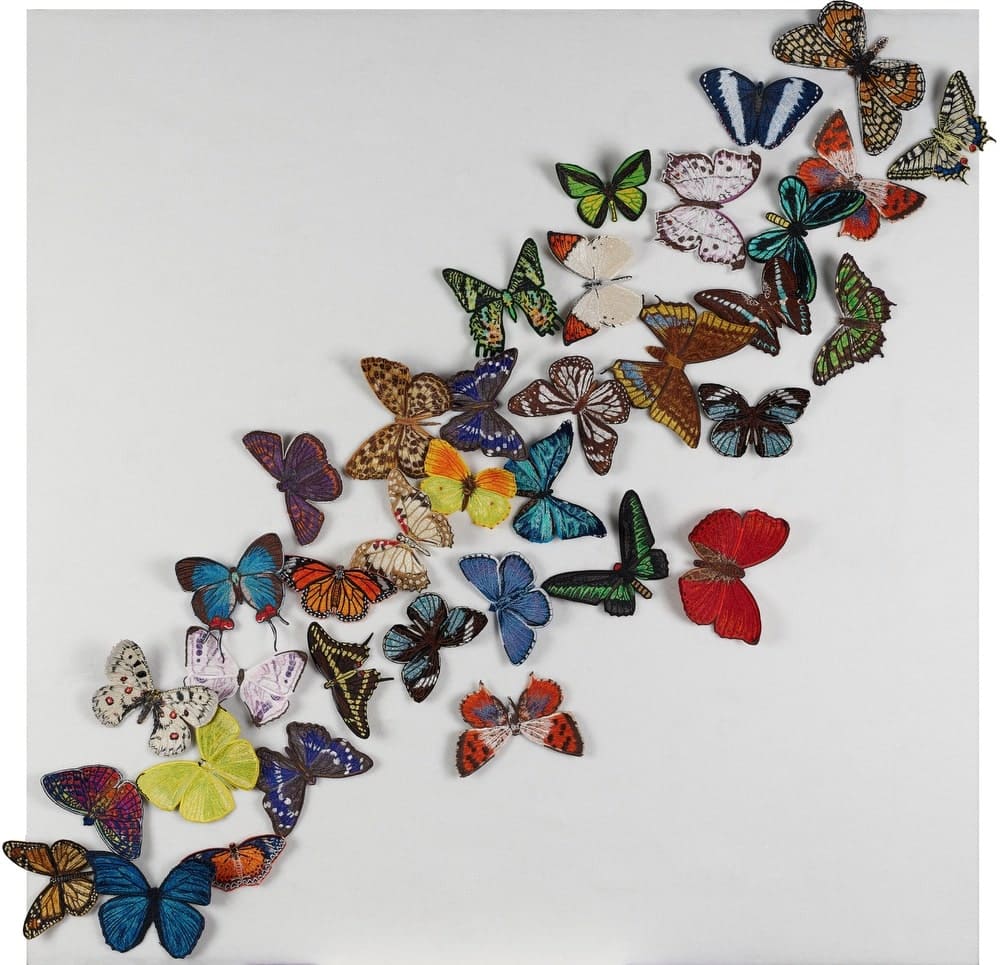 In addition to his sales and marketing team, Wilson employs three machine operators to fabricate components, including his lifelike, embroidered butterflies. They appear throughout his collection, and unmounted butterflies come in groupings for customers to purchase and display as they wish. Three-dimensional flowers, formed with a 3D printer and painted by hand, are another hallmark of his work. To replenish the inventory, Wilson says, "Flowers and butterflies are made every day."
As he points out, "Without the industrial machines," some of which have been retooled for specific jobs, "the designs would be impossible to make." Wilson also divulges that the equipment, which can be finicky and locks up at times, requires expert operators. After loading the thread, he says, "someone has to stand there to fix thread breaks and needle breaks." Other delicate tasks entail finishing work, like trimming excess threads and cutting raw materials to size.
Wilson conceives the design for each piece of art created, beginning with his sketch, and personally executes the assembly. "A lot of pieces don't have a plan," he confides. "I design in stages, thinking,
What does it need?
I know exactly what some pieces are going to look like, but at the end of the day, it's always a surprise.
The piece definitely tells me when it's done. Some may sit for three months while I'm waiting for the aha moment."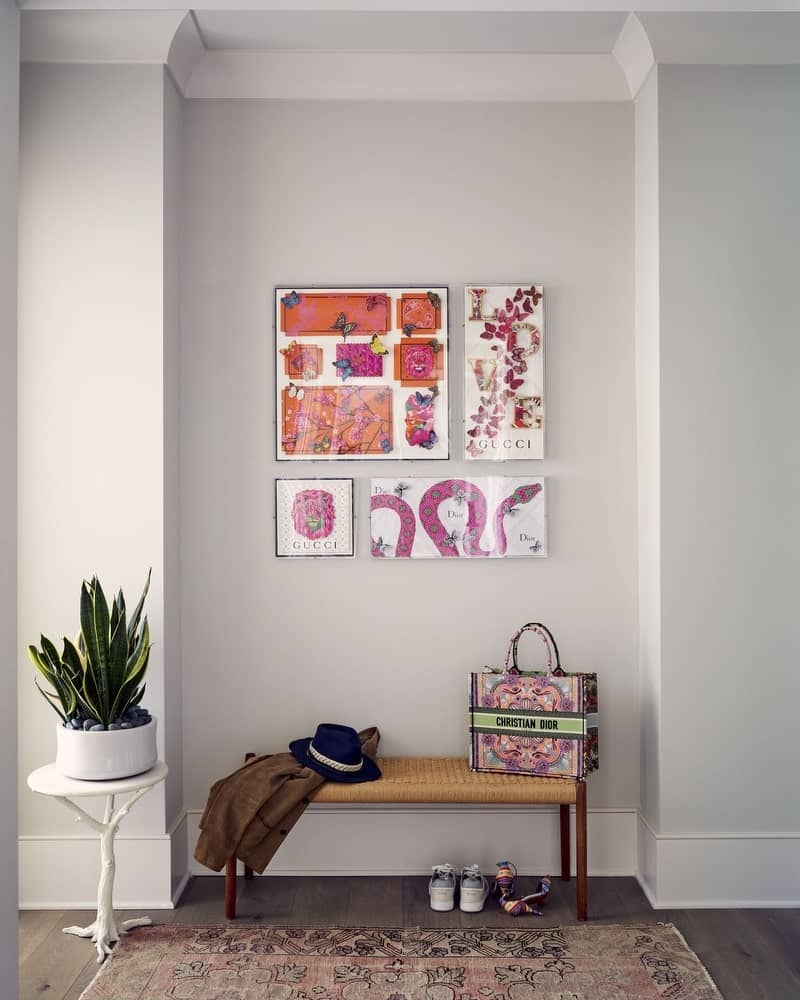 He did not wait long for art galleries to express their enthusiasm. "My first gallery exhibition was in Charlotte," says Wilson, who is based in Charlotte, North Carolina, "then, immediately after, in the Bahamas, Connecticut, and Palm Beach. People had never seen it. We weren't mainstream." His unconventional approach has been widely appealing—visually and thematically—to patrons across the United States and abroad.
Much of his collection is an ode to glamorous fashion. With an eye for design, Wilson understands the admiration, particularly for the artistry and skill associated with brands like Chanel, Dior, Gucci, Hermès, and Valentino. Adeptly incorporating their "artifacts," such as silks, leathers, hardware, and even packaging, he makes each piece of artwork an "homage to their craftsmanship."
The idea to stitch on their signature boxes came when he had a stack from some vintage Hermès scarves he'd used in his compositions. Experimenting, Wilson designed a thread pattern with a "French toile vibe" and "framed them in a shadowbox with an embroidered butterfly." Never intending to develop a series, he shipped the few creations he'd made to gallerist friends for their Christmas presents. Upon following up, he found they all had unwittingly sold the gifts in their galleries, thinking that was Wilson's intent, and they wanted to know when he could send more.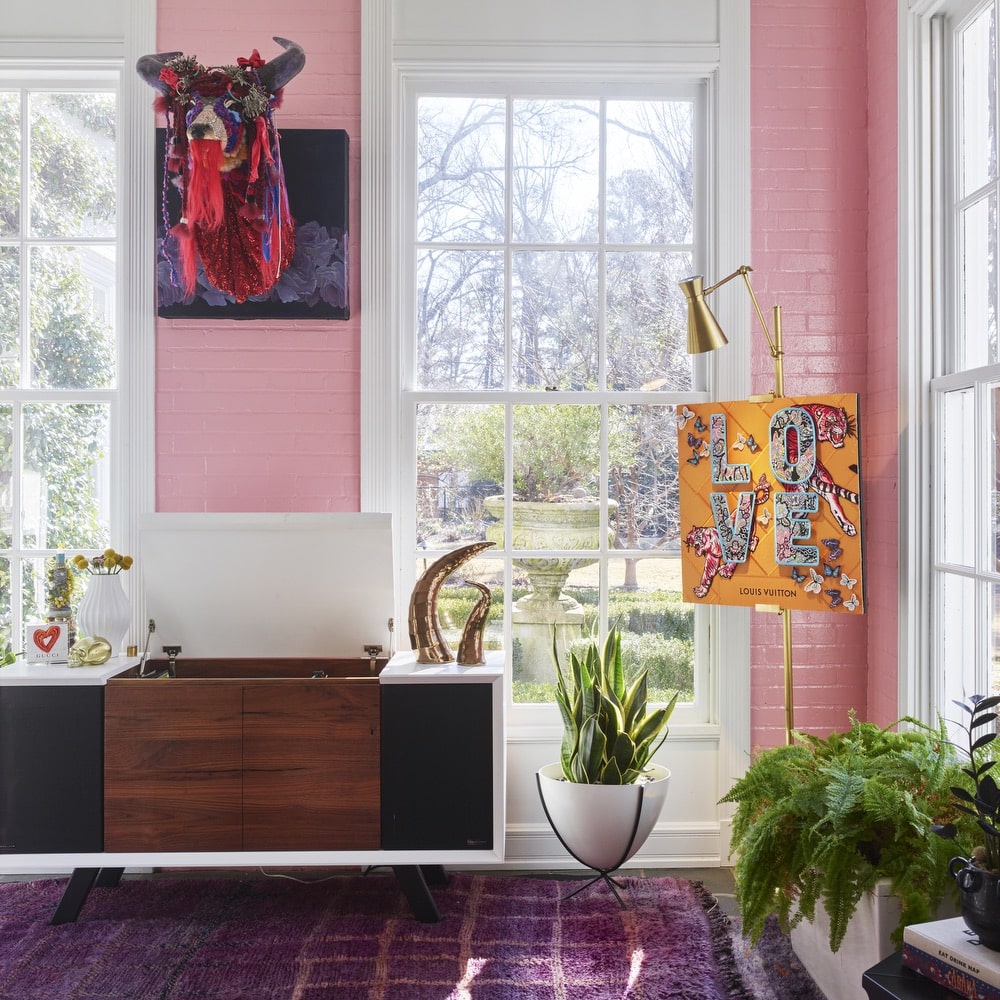 "Luxury goods are aspirational," he asserts, noting that many owners are so attached to the prized designer items that they can't even part with the boxes and tissue—although such trappings often end up in the back of a closet. One way of preserving the memory of buying a Chanel handbag in Paris and later unwrapping it, suggests Wilson, is to commission him to create a work of art from a remnant of the original packaging.
Having an elegant, reimagined relic to admire ultimately grants peace of mind to recycle the rest without regret.
Inspired by his teen years of performing in a band, Wilson's album series—an extraordinary tribute to rock music from the 1970s and '80s—resonates with lovers of music from that era. "It started with an art installation for Art Basel," says Wilson, referring to the international art fair. Showcasing fifty albums with an array of stitching techniques, he says, "I wanted to do a cool wall with a Studio 54 feel."
His technique of using album and CD covers and sleeves as his physical canvases resulted from trial and error. Embroidering over the imagery, he replicates the artwork, photography, and lettering in thread. Wilson draws every stitch, and the work is painstaking. "One in five albums gets torn," he says. He takes no shortcuts. The seemingly plain backgrounds of certain covers are often actually mosaics of one-inch, embroidered squares or patch-like shapes. Each "tile" displays a pattern or image that relays the band or album's story.
Wilson's works are all originals, and no two are identical. "I sign on the back," he says, "and mount a certificate to the piece that describes the techniques used."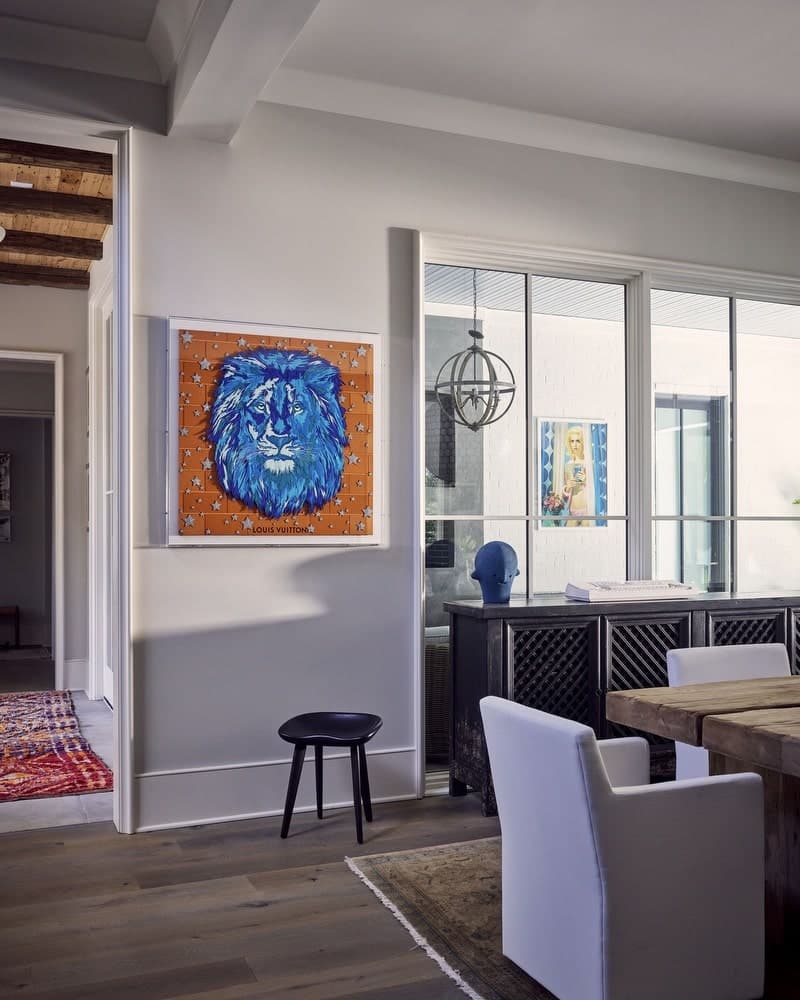 Offering a glimpse of what's to come, Wilson references a past series in which he had "released butterflies" on a textured canvas, achieved with oil paint, fabric, and thread. "It was the most fun I ever had," he says. "I'm going back to painting canvases and doing textural work with thread."
Wilson's website presents more of his collection and provides links to his social media, a gallery list, and contact information. He also welcomes visitors to his showroom in Charlotte, and guests may schedule a private tour of the studio, open Monday through Friday from 9:00 a.m. to 5:30 p.m. The studio's email is studio@stephenwilsonstudio.com.
"There's no 'behind the curtain' here," says Wilson, who enjoys explaining his craft and encouraging people to work with their hands and experience the joy of creating.
— V —
---
Visit StephenWilsonStudio.com to learn more or shop now.
ARTICLE CATEGORIES