Feel the Rhythm. Feel the Beat.
By Sara Liss
A city brimming with optimism, bronzed bodies, and mojitos. Home to Art Basel, a celeb-chef-studded food festival, and countless DJ-fueled parties. An international city of the fabulous and the almost fabulous, Miami continues to seduce with its sultry mix of Latin culture, its newfound food fame, and a healthy dose of art.
But beyond the glitz and glamour, there's more to our humid slice of paradise than what those hip-hop videos would have you believe. First things first. There are two parts of Miami: the mainland, which doesn't border the ocean but does border Biscayne Bay; and Miami Beach, that swath of barrier island that faces the Atlantic and is what most visitors consider the destination. Both are equally enticing and both beg to be explored and experienced.
There is Vegas-like excess here, and it would be easy to dismiss this city as the place where billionaires go to retire with their trophy wives and sports cars. But that would be missing the Miami for the vice. The beach remains as pristine as ever, with great public parks providing tots a window into the gin-colored waves. And the atmosphere is undeniably pleasant. A typical weekend could include a morning swim in the Atlantic, a lunch of stone crabs and key lime pie, and a day spent browsing local art galleries. And in the span of twenty-four hours, all that's wonderful about South Florida can be had. Nestled between the Florida Keys and Fort Lauderdale, Miami is part laid-back coastal village, part opulent jet-setting destination. If visitors are lucky, they'll get to experience both.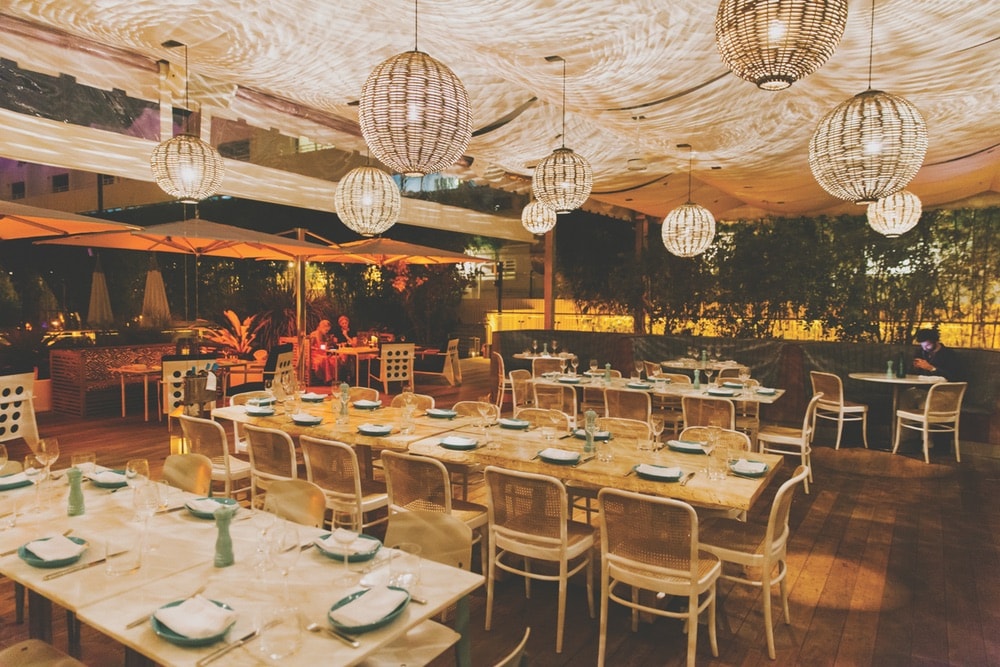 Downtown
What was formerly a deserted urban landscape when the suits went home for the night is now a sophisticated backdrop to swanky new hotels and chef-focused restaurants. Centered on the busy thoroughfare of Brickell Avenue, the dream of a bustling, cosmopolitan Miami is slowly coming to fruition with newcomers like the sleek Brickell City Centre. This mixed-use high-rise, designed by local firm Arquitectonica, features an innovative and environmentally friendly Climate Ribbon, which acts as a temperature regulator. The complex includes an open-air mall with retailers like Saks Fifth Avenue and Intermix and an enviable lineup of restaurants that are already proving a hit with the well-heeled downtown crowds. One of three towers sprouting from the massive BCC development, the posh EAST, Miami hotel boasts a buzzing fortieth-floor rooftop bar called Sugar, where Blade Runner-esque views provide a backdrop to cocktails such as the Smoked Apple Ol' Fashioned, made with Fuji apple bitters and rum, and Asian small plates like kinilaw, a Filipino-style ceviche made with coconut milk, calamansi, and chili.

The cloud-grazing condo buildings are slowly filling up with young professionals who populate alfresco happy hours, including the sixteenth-floor shindig at Area 31 that lasts from five until midnight on Friday nights. Stiletto-heeled revelers sip five-dollar glasses of prosecco and nibble on pork belly steamed buns as they plot their evening adventures.
What was formerly a deserted urban landscape when the suits went home for the night is now a sophisticated backdrop to swanky new hotels and chef-focused restaurants.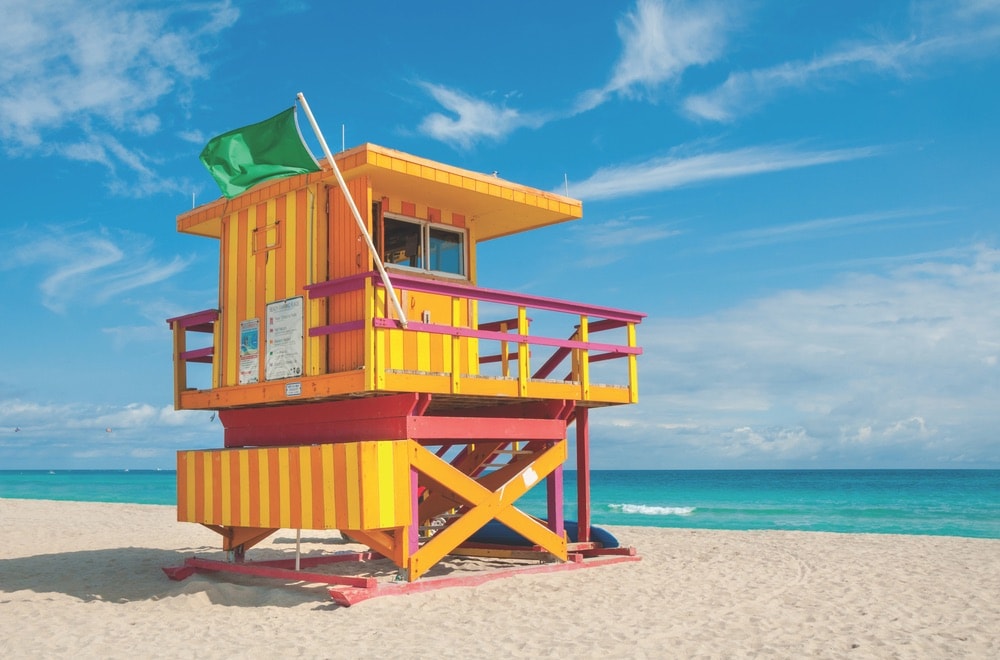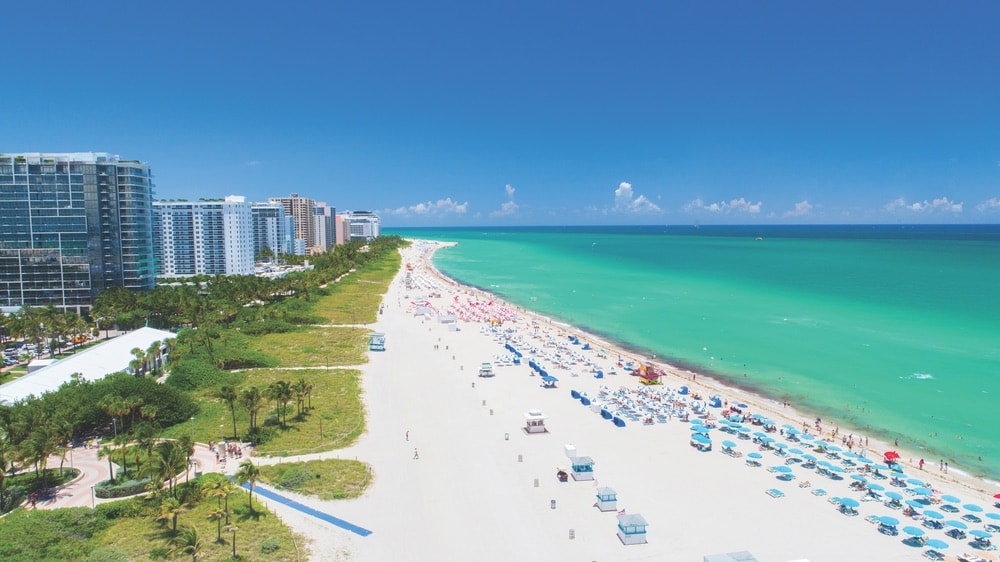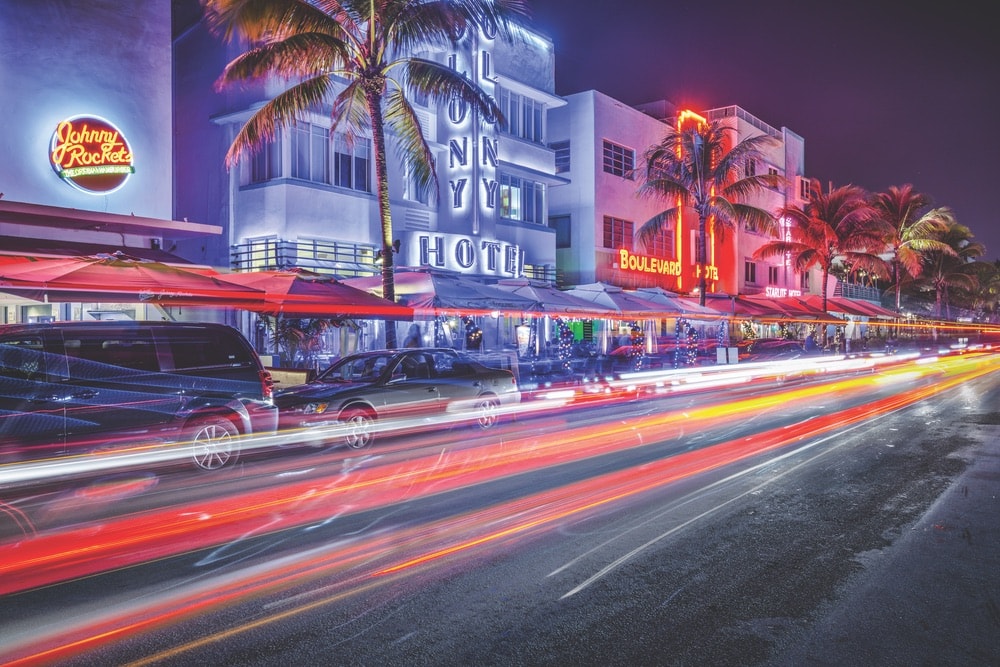 Wynwood
Just north of downtown lies Wynwood, also known as the gritty gallery district. This chunk of land in between downtown and the Design District is now home to the city's most exciting neighborhood, with bustling restaurants and a diverse shopping scene. On the second Saturday of each month, the area's galleries are open to the public and the streets are busy with roving art enthusiasts, food truck meet-ups, and the occasional outdoor concert. Young artists get their start at Butter Gallery, while thought-provoking works can be seen at the Rubell Family Collection.
Since the day it opened seven years ago, Wynwood Kitchen and Bar has been packed with a cross section of the city's art-world elite: graying collectors, scruffy painters, and socialites. Dine on Latin-influenced dishes on the outdoor patio, outfitted in yellow and green plastic chairs and overlooking a garden that features massive murals by artist Shepard Fairey (he's the one who designed the Obama "Hope" poster).  Afterwards, stroll through Wynwood Walls, known as Miami's most Instagrammed place; the outdoor "gallery" is a profusion of artwork by graffiti artists and muralists. During the day, peruse boutiques like Style Mafia, showcasing local fashions, or the designcentric Elemental, where you'll likely find funky umbrella lamps and unicorn-shaped stools. A hearty lunch can be had at the Israeli-inspired Dizengoff, opened by Philadelphia-based chef and James Beard–award winner Michael Solomonov, where delectable bowls of hummus and seasonal toppings are paired with made-from-scratch pita bread. For dessert head to local boy Zak the Baker for European-style pastries and irresistible slices of chocolate-laced babka bread.
This chunk of land in between downtown and the Design District is now home to the city's most exciting neighborhood, with bustling restaurants and a diverse shopping scene.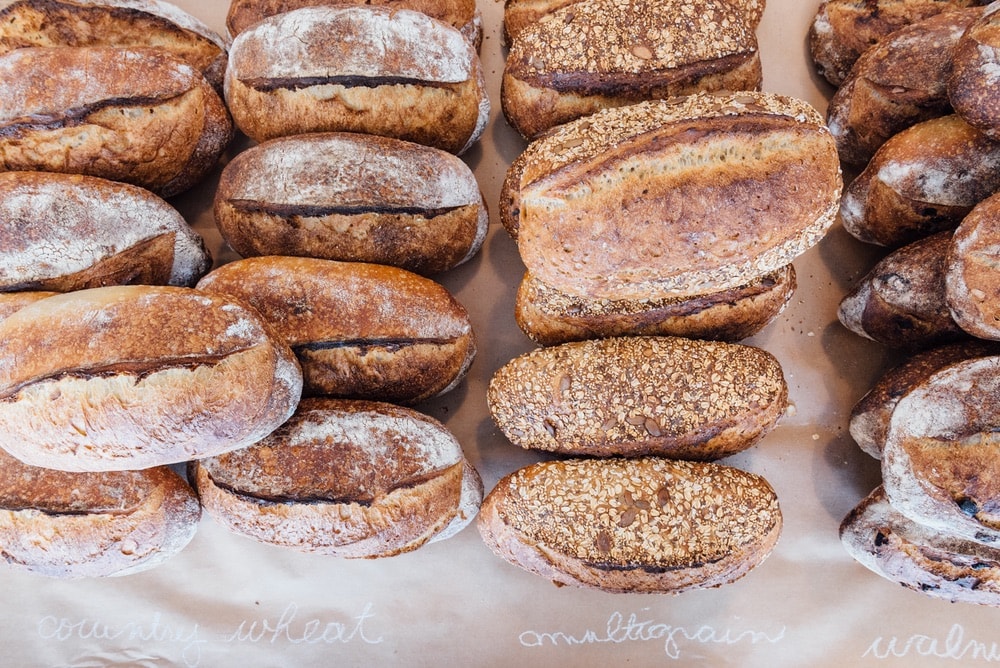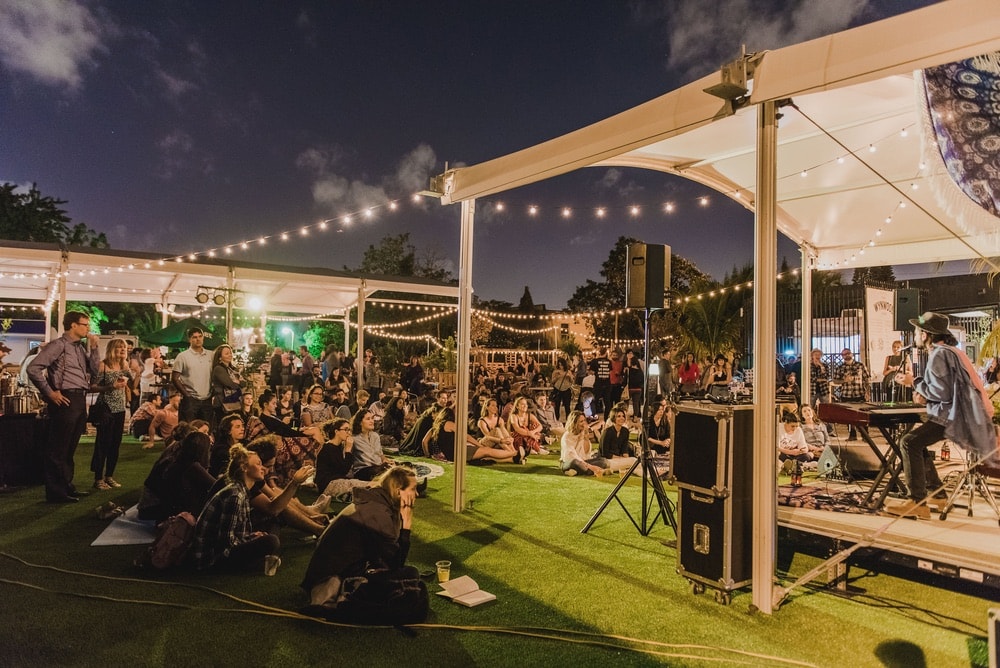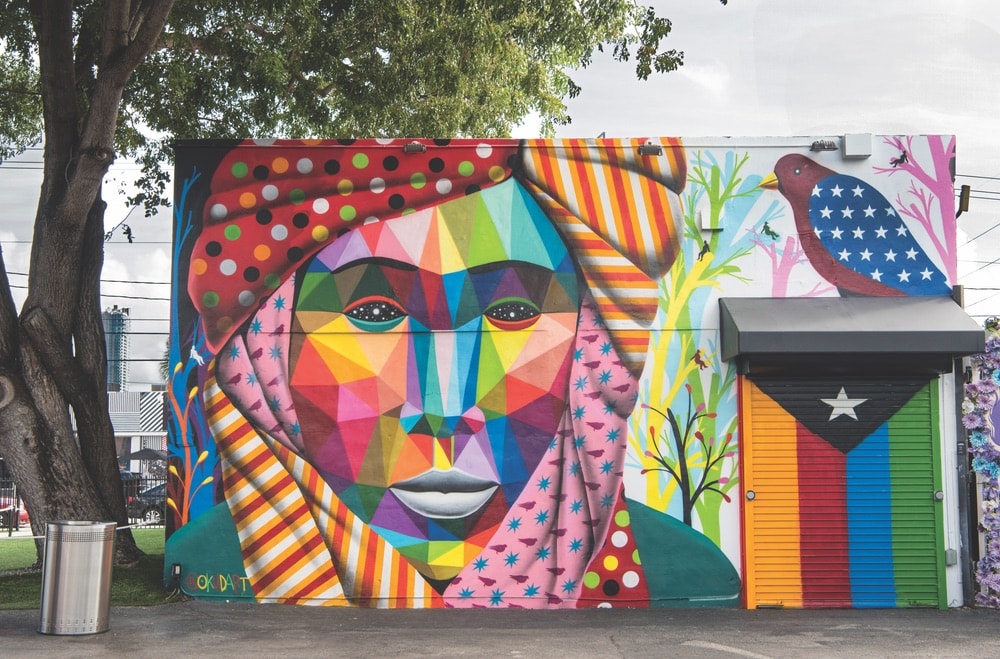 Live music and eclectic eats can be found at the Wynwood Yard, an all-day outdoor hangout spot that acts as a culinary incubator for food entrepreneurs (the Della Test Kitchen food truck is wildly popular for their vegan menu) and a cultural hub with a rotating lineup of musical performers, free yoga, crafting workshops, and talks. There are shows weekly (check out the venue's Facebook page to stay updated) that range from reggae to folk to Latin. Shakira even stopped by for a surprise show one time.
The Art Scene
Art Basel barreled into Miami Beach fifteen years ago and forever changed the cultural landscape with its mix of high-end art dealing, nonstop parties, and a slew of satellite art fairs and events that have turned the city into an art-making and buying mecca. The annual affair occurs during the first week of December every year and if you manage to snag a hotel room (or Airbnb) during the packed-to-capacity week, you'll be privy to a dizzying variety of artwork, from a million-dollar Basquiat to a not-yet-dried painting by an up-and-coming Miami artist. Going to the main convention center is equivalent to experiencing the best contemporary museum in the world, with hundreds of galleries from around the world represented. It's family friendly, too, with plenty for the little ones to gawk at and observe. After a day at Art Basel, take time to check out satellite fairs like PULSE, SCOPE Miami Beach, and NADA, which feature emerging artists.
The rest of the year, Miami's cultural happenings are centered on local institutions, which have undergone impressive expansions and revitalizations in the last few years. The Pérez Art Museum Miami (also known as the PAMM) opened in 2013 and quickly established itself as the city's go-to for contemporary art and stunning architecture. The Herzog & de Meuron–designed building features expansive galleries that display a variety of Latin American works (collector and Miami developer Jorge Pérez donated a portion of his personal collection valued at an estimated $20 million), as well as a massive outdoor veranda that houses the restaurant Verde and is host to many weddings and musical performances. Every second Saturday the museum is free for visitors; every Thursday night the museum is open until nine and presents a robust schedule of talks, performances, and screenings.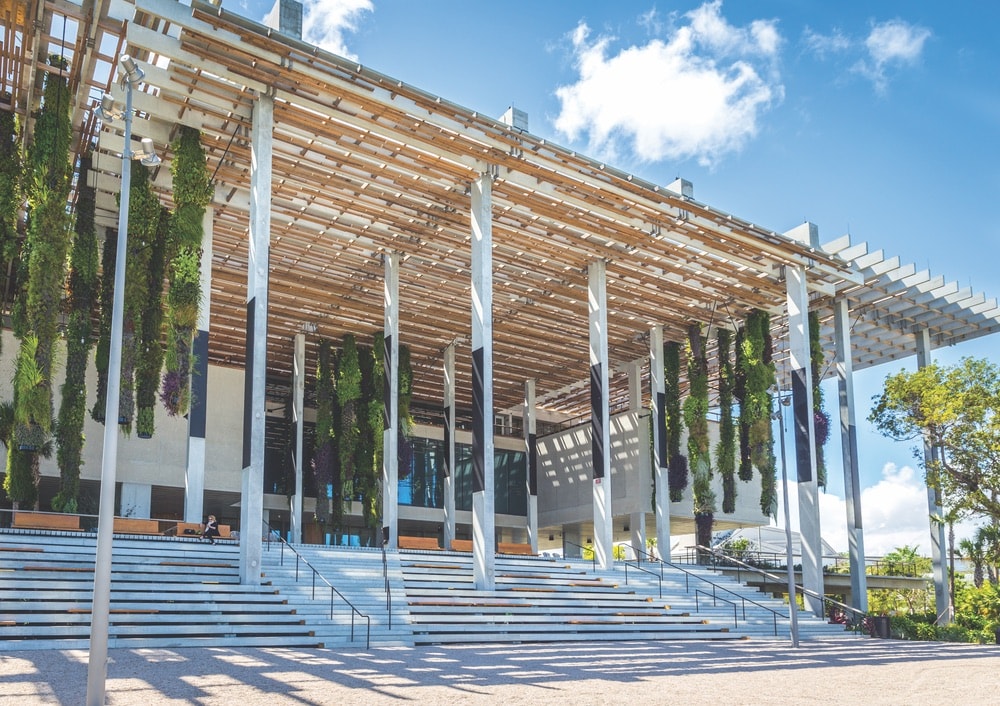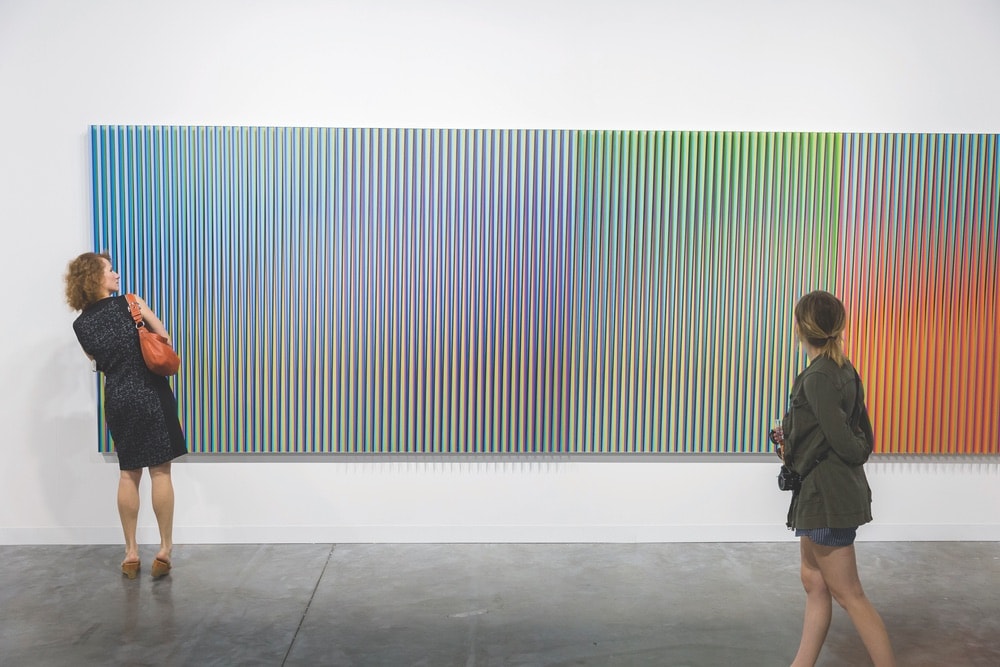 Across the plaza from the PAMM is the new Phillip and Patricia Frost Museum of Science, with its dazzling planetarium, aquarium, and exhibit halls that have something for everyone. Rising three stories, the aquarium features a thirty-one-foot-wide oculus lens, a unique viewing portal into the Gulf Stream Aquarium habitat for hammerhead sharks and other deep-sea denizens. Kids love the stingray touch tank, while adults appreciate the 3-D planetarium shows that concentrate on space exploration and climate change. Permanent exhibits focus on the solar system and known universe, the physics of flight, light, and lasers, and the biology of the human body and mind.
Art Basel barreled into Miami Beach fifteen years ago and forever changed the cultural landscape with its mix of high-end art dealing, nonstop parties, and a slew of satellite art fairs and events.
Over on Miami Beach, the Wolfsonian-FIU manages to attract both serious thinkers and casual art lovers. Located in the heart of the Art Deco District of South Beach, the museum's exhibits showcase industrial design with an emphasis on American and European decorative and fine arts produced between 1885 and 1945. The free Friday night admission and happy hour—from six to nine—make it a popular predinner activity and a nice way to usher in the weekend. Farther up Collins Avenue is the stately Bass Museum of Art, Miami Beach's museum of contemporary works. The Bass recently underwent an expansion, giving it twice as much exhibit space and allowing more of-the-moment exhibits and family-friendly art activities in the bright and airy Creativity Center.
More Creative Diversions on Miami Beach
If outdoor concerts and picnics are your thing, then bookmark a date for one of the New World Symphony's Wallcasts, where orchestral performances are projected on the facade of the Frank Gehry–designed New World Center and are free to the public. Performances begin at 7 p.m. and patrons are encouraged to bring snacks and blankets. Sunday afternoons are reserved for Lazy Sunday barbecues at André Balazs's Standard Spa Miami Beach, where live DJs set the tone for cocktails and grilled bites.
Dining in the Magic City
Stubborn Seed
At his new solo project, Top Chef–winner Jeremy Ford has pulled out all the stops with some of the most imaginative food in the city. The eight-course tasting menu includes hollow potato bites topped with caviar, paprika crème fraîche, and salmon roe; Hawaiian kajiki fish served with a spicy buttermilk dressing, sea grapes, and Asian pear; and smoked foie gras.
101 Washington Avenue, Miami Beach
At his new solo project,

Top Chef

–winner Jeremy Ford has pulled out all the stops with some of the most imaginative food in the city.
Kiki on the River
A posh taverna serving grilled fish and classic mezes, this spot has already generated celebrity sightings from local basketball stars to pop music moguls. The lush waterfront hideaway features an inviting outdoor patio overlooking the Miami River and is outfitted with blooming bougainvillea, whitewashed walls, secluded "cabana" tables, and navy-cushioned seating. Chef Steven Rhee sources ingredients like olive oil, honey, and spices from Greece while also maintaining a local and seasonal menu.
450 NW North River Drive, Miami
Makoto
From prolific restaurateur Stephen Starr comes this Asian beauty: the secluded, wood-paneled eatery features communal tables topped with marble, a twelve-seat sushi bar overlooking the glass-enclosed open kitchen, and cushy booths covered in throw pillows. Bartenders dispense sake cocktails made with lychee and lemongrass from a whitewashed bar in the outdoor courtyard. The namesake chef worked with Morimoto in Philly before branching off to hone modern Japanese cooking in dishes such as robata-grilled short ribs, spicy tuna crispy rice, and pristine sushi.
9700 Collins Avenue, Miami Beach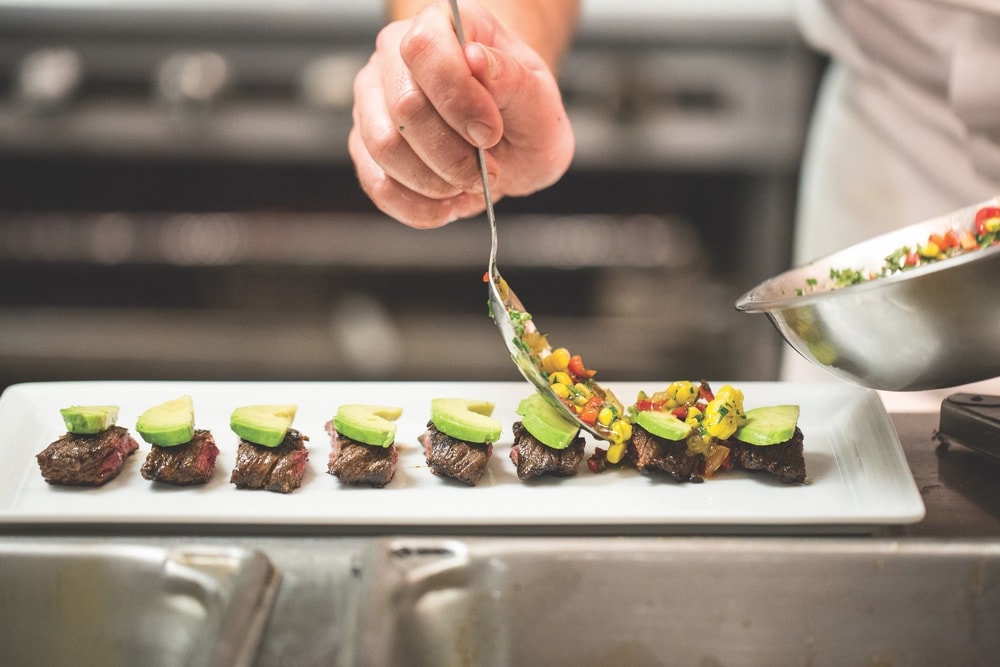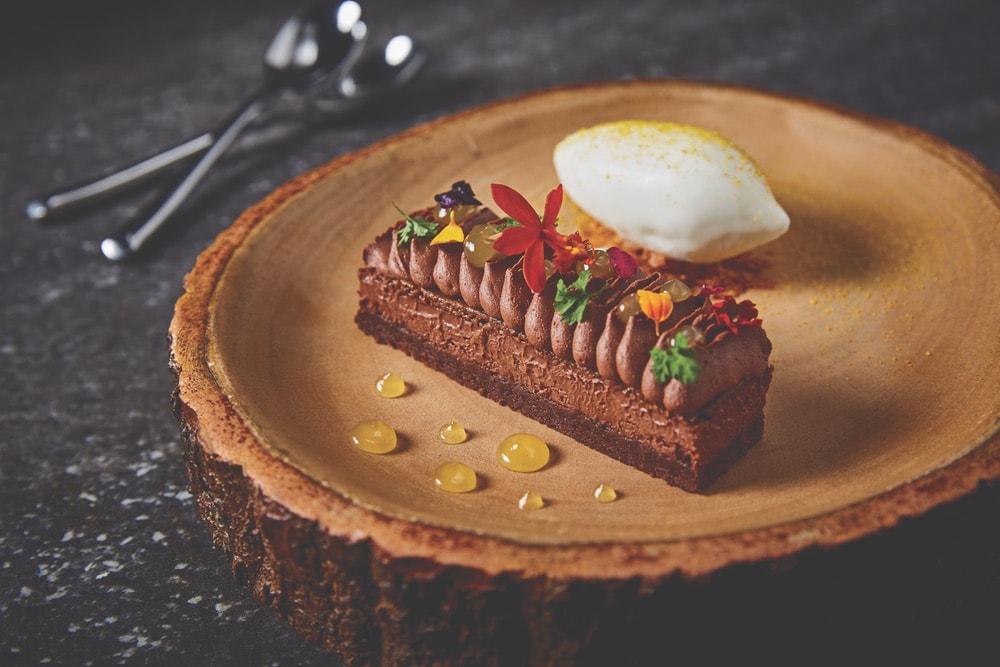 EDGE, Steak and Bar
Yes, it's a handsome beef temple on Brickell, but the creativity of chef Aaron Brooks keeps it from being a ho-hum steak house. The dining room feels cozy and urbane with a large rectangular-shaped marble bar lit by exposed hanging light bulbs and white oak tables flanked by cream leather booths. The kitchen focuses on locally sourced ingredients that work their way into shellfish starters, hefty slabs of beef, and creative mains, like the basil-crusted corvina with piquillo peppers. A gorgeous outdoor terrace offers downtown skyline views.
1435 Brickell Avenue, Miami
The Bazaar by José Andrés
Prepare for sensory overload at this clubby outpost of global tapas and exotic cocktails. Like its LA counterpart, there are two dining rooms: the "Rojo," a red-and-black-accented spot in the hotel's lobby with black leather couches and a bull's head clad in a lucha libre mask; and the "Blanca," a quieter option adorned with a massive seashell-clad chandelier. The epic menu contains anywhere from sixty to eighty items that change daily but can include bacalao fritters served in a clear plastic sneaker and a scallop risotto presented in a coconut shell.
1701 Collins Avenue, Miami Beach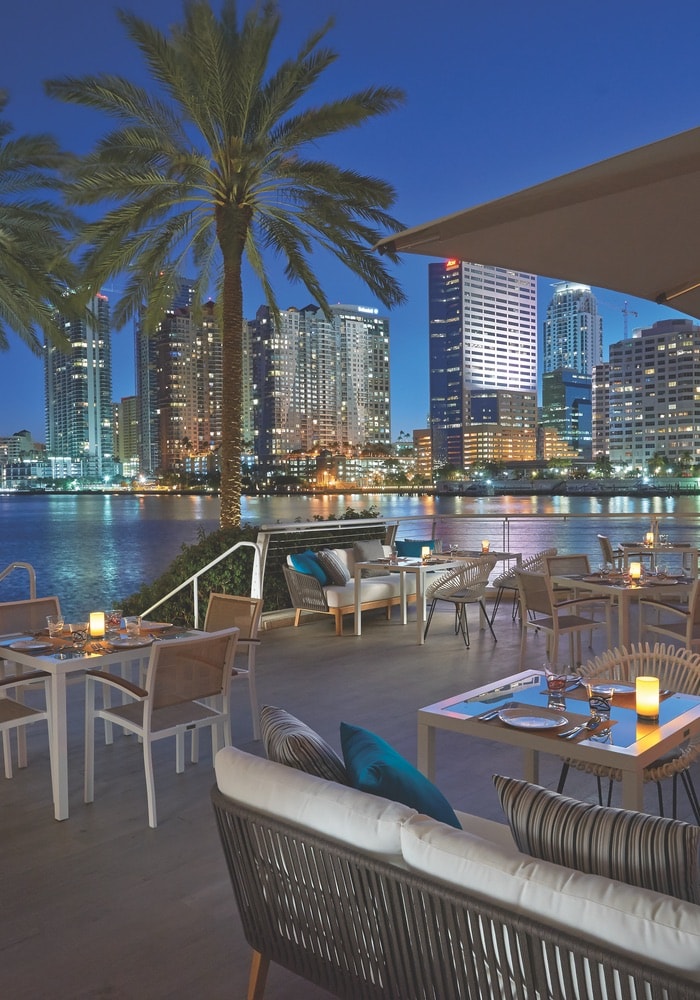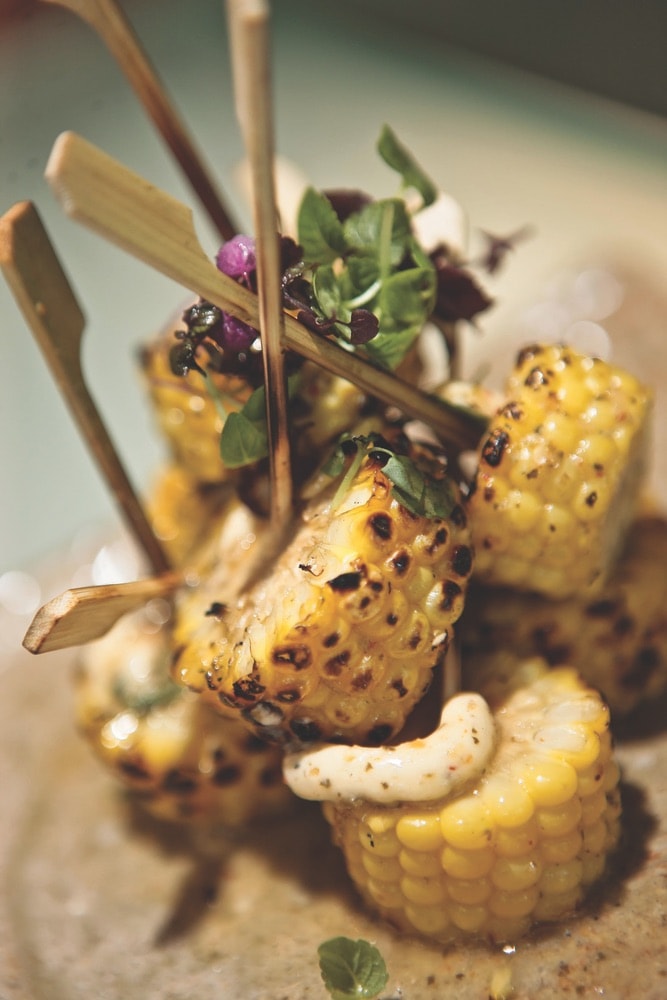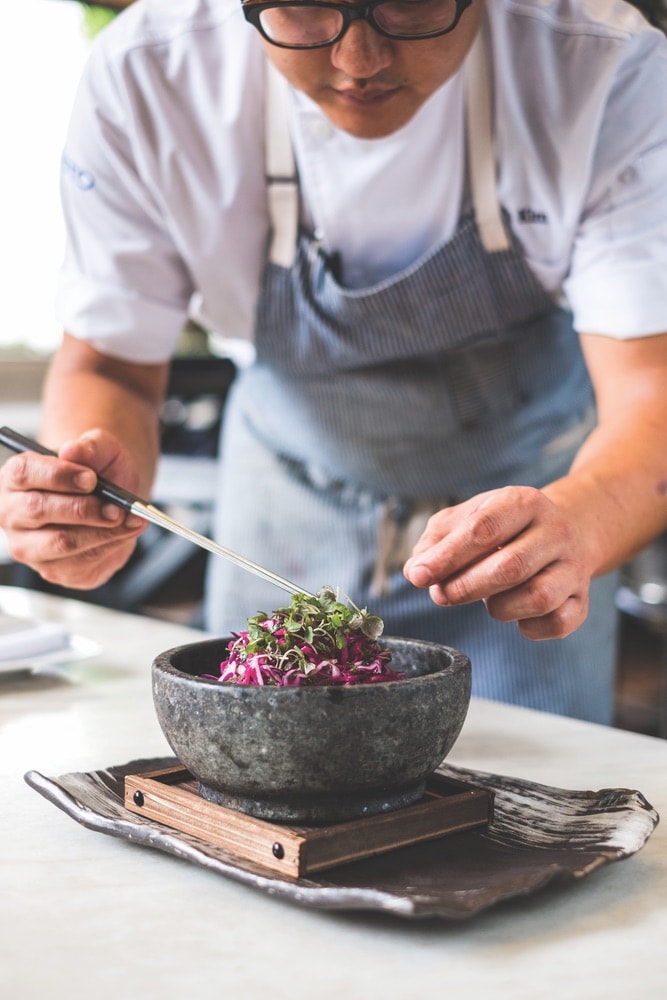 La Mar
Peruvian chef Gastón Acurio's downtown Miami restaurant occupies a gleaming waterfront spot at Brickell Key's Mandarin Oriental. The main dining room is awash in shades of watery greens, sandy grays, and beiges, but it's the enticing outdoor terrace that offers views of downtown and is the perfect backdrop for chef Diego Oka's contemporary Peruvian dishes with colorful tweaks.
500 Brickell Key Drive, Miami
Zuma
Upscale Asian dishes complement a dock crowded with million-dollar yachts. If you're looking to indulge, reserve a spot during their weekend brunch, when the restaurant rolls out almost the entire menu: endless buffets of fresh sushi, skewers of marinated beef and vegetables from the robata grill, and prepared salads. Then there's the bottomless glass of Louis Roederer champagne, not to mention the Bloody Marys made with robata-grilled tomatoes. And it all goes perfectly with the waterfront views of downtown. 
270 Biscayne Boulevard Way, Miami
— V —
---
Plan your trip at MiamiandBeaches.com.
Sara Liss is a Miami travel and food writer who has worked with newspapers, magazines, and websites including the Miami Herald, Departures, Modern Luxury, Florida Travel + Life, Miami.com, Onboard Media, and more.
ARTICLE CATEGORIES