Edit by Emme Martin and Jordan Staggs
With the runways of Paris, Milan, and more beginning to show trends for spring 2024 and beyond, it seems the future is here with a nostalgic twist. Metallic fabrics and accents, bold accessories, solid primary colors, and space-age presentations are very in, according to some of the world's biggest fashion houses. Let's levitate into next season!
Beam Me Up
"How does the past influence the future?" This was the ethos of creative director Kim Jones's exceptional Dior Men's Summer 2024 collection. The house looked back at tweed, an integral fabric for Dior since the 1950s, but wanted to present it with new, ultra-tailored silhouettes, colors, and jeweled embellishments. "Dotted throughout the collection, we see these really intense, sparkling cabochon embroideries," Jones also shares. "Something about Mr. Dior's process, he was often inspired by the jewelry pieces." Bespoke headwear, neon hues, and mirrored sunglasses added more futuristic touches, as did the presentation itself, during which the models appeared from beneath the silver grid-like floor by way of fifty-one motorized elevators. "I wanted it to be a clean box and almost like an art installation," Jones says. "Art was an important part of Christian Dior's life; he was a gallerist before he was a couturier."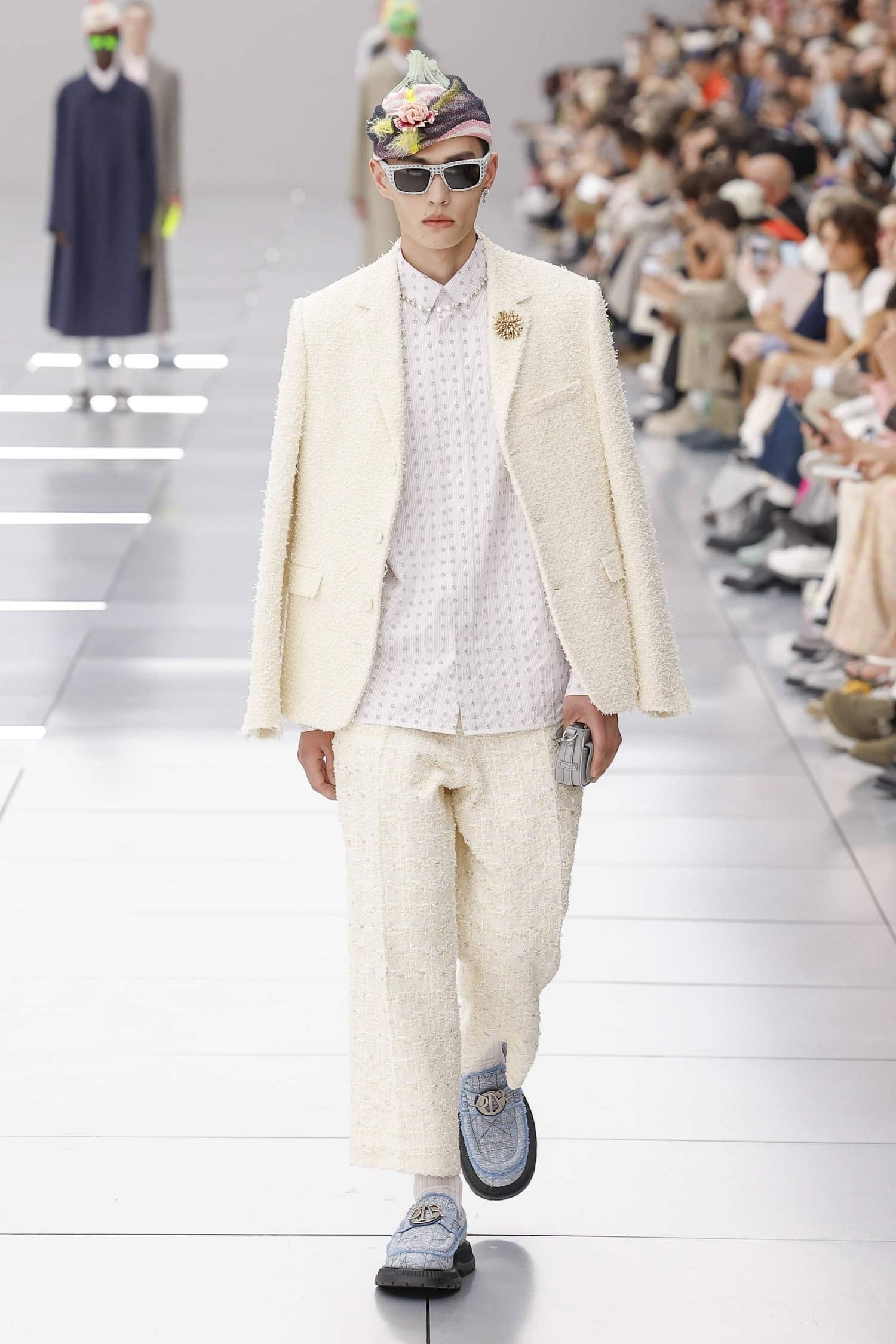 Miuccia Prada and Raf Simons went similarly architectural with their Prada Men's Spring/Summer 2024 presentation. According to the fashion house, the robust collection proposes "an absolute freedom of the body, expressed through the foundations of the garments that clothe it." Suits, raincoats, active sportswear, reporter jackets, and accessories paraded through an all-chrome set in Deposito of the Fondazione Prada art center in Milan. It evoked part spaceship, part retro-wave film locale. In addition to the futuristic notions of structure, function, and fluidity, evolution was a central theme. "These clothes are ultimately reflective of our natural state—the dynamic movement and constant transformation inherent to humanity."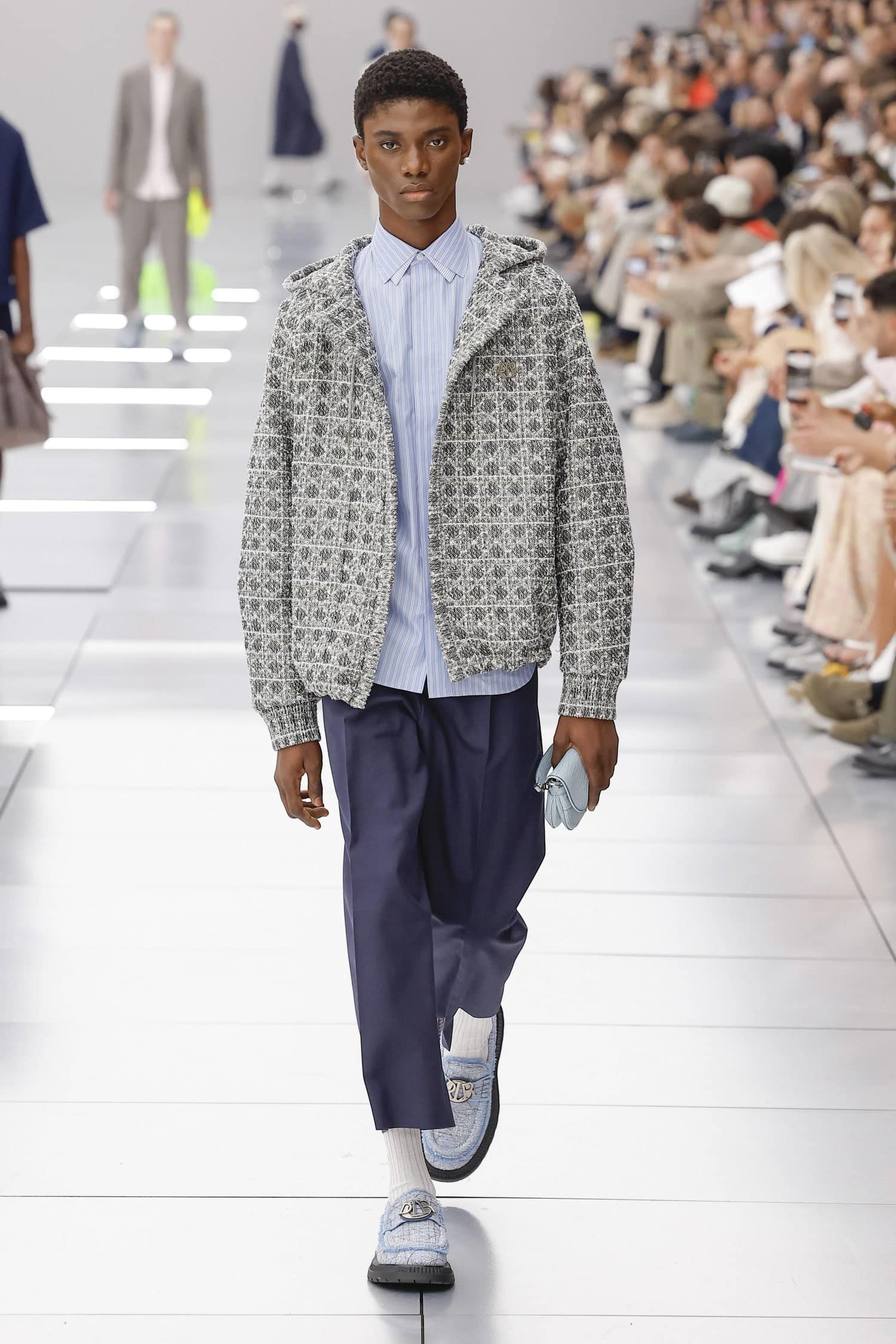 Once and Future Queens
The ladies wearing haute couture are also looking at what's ahead—and aiming to rule it all. Valentino recently presented "Un Château" at the breathtaking Château de Chantilly just north of Paris. Creative director Pierpaolo Piccioli's haute couture collection explored "a place as an idea—a representation, a metaphor. Not the château, but "Un Château"—a locale unanchored to geographies or eras, but expressive of an idea of life, a symbol to be analyzed, questioned, then redefined."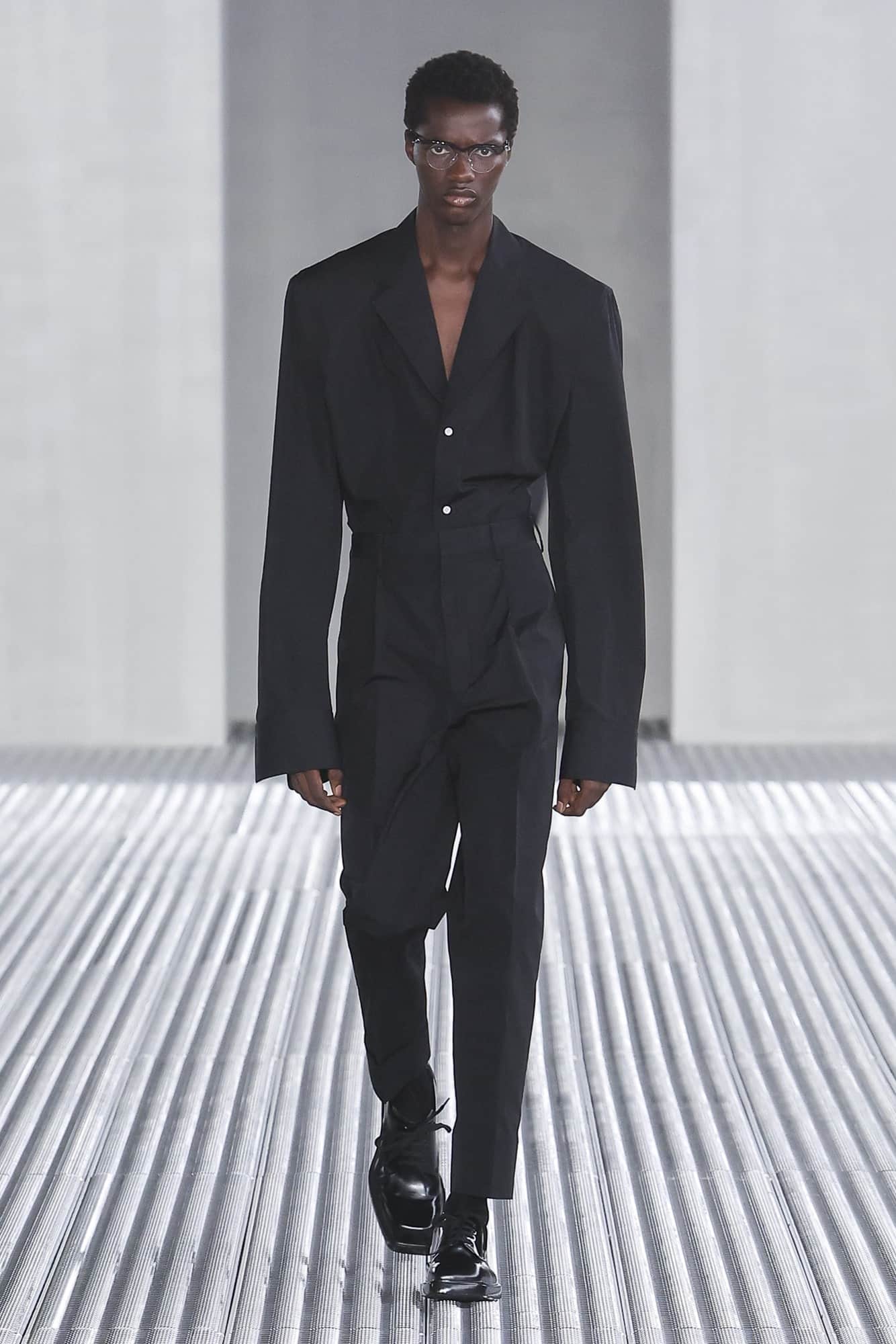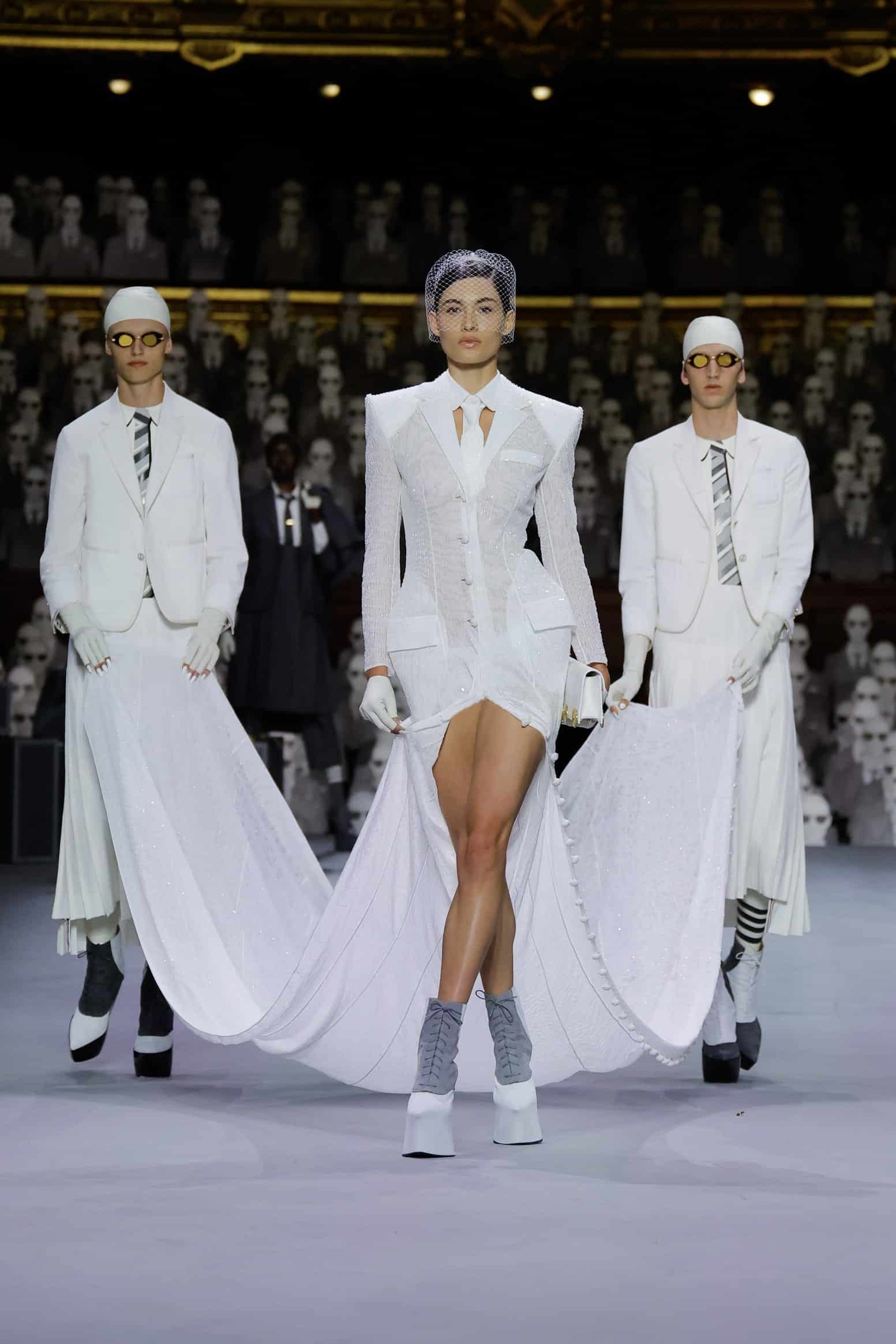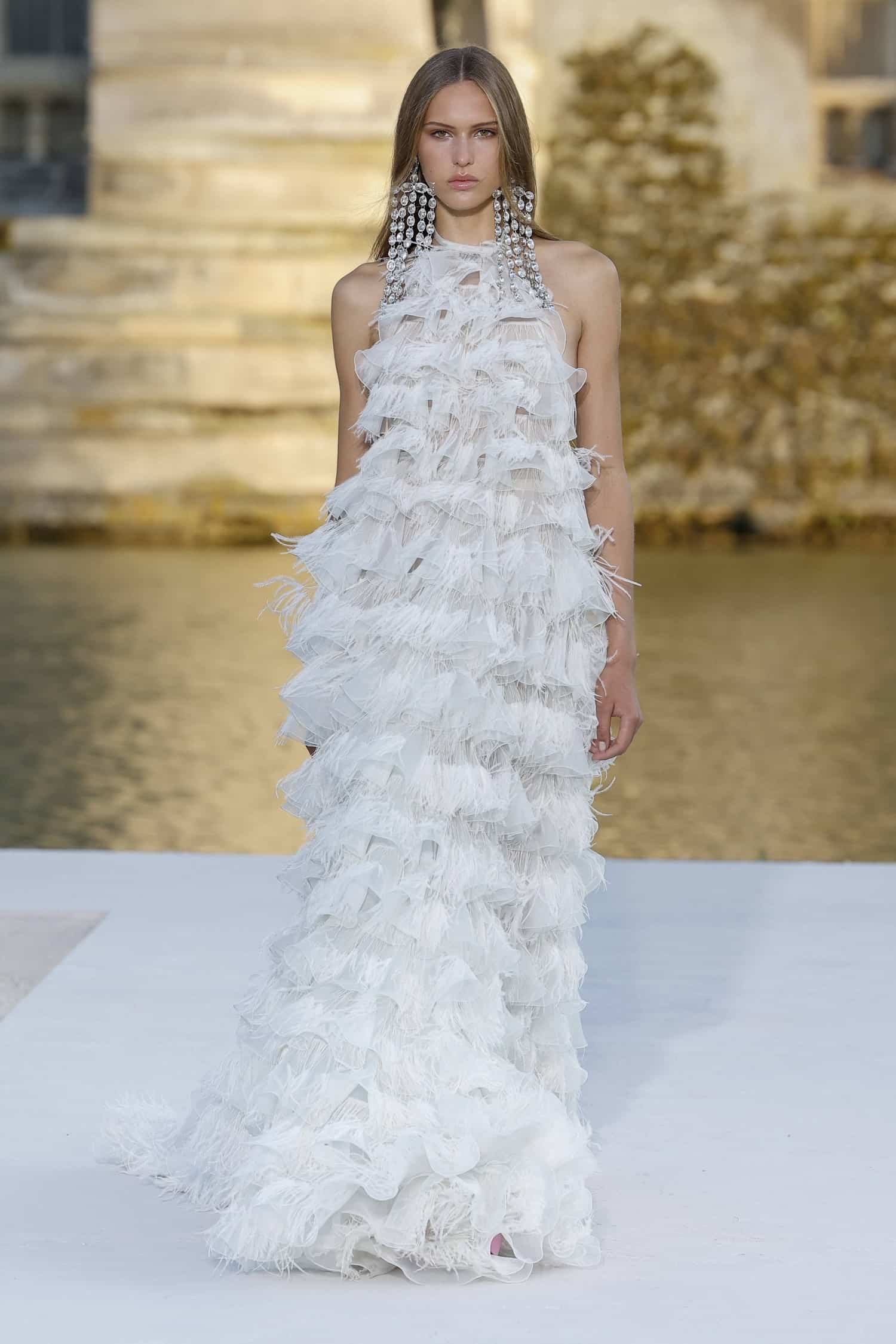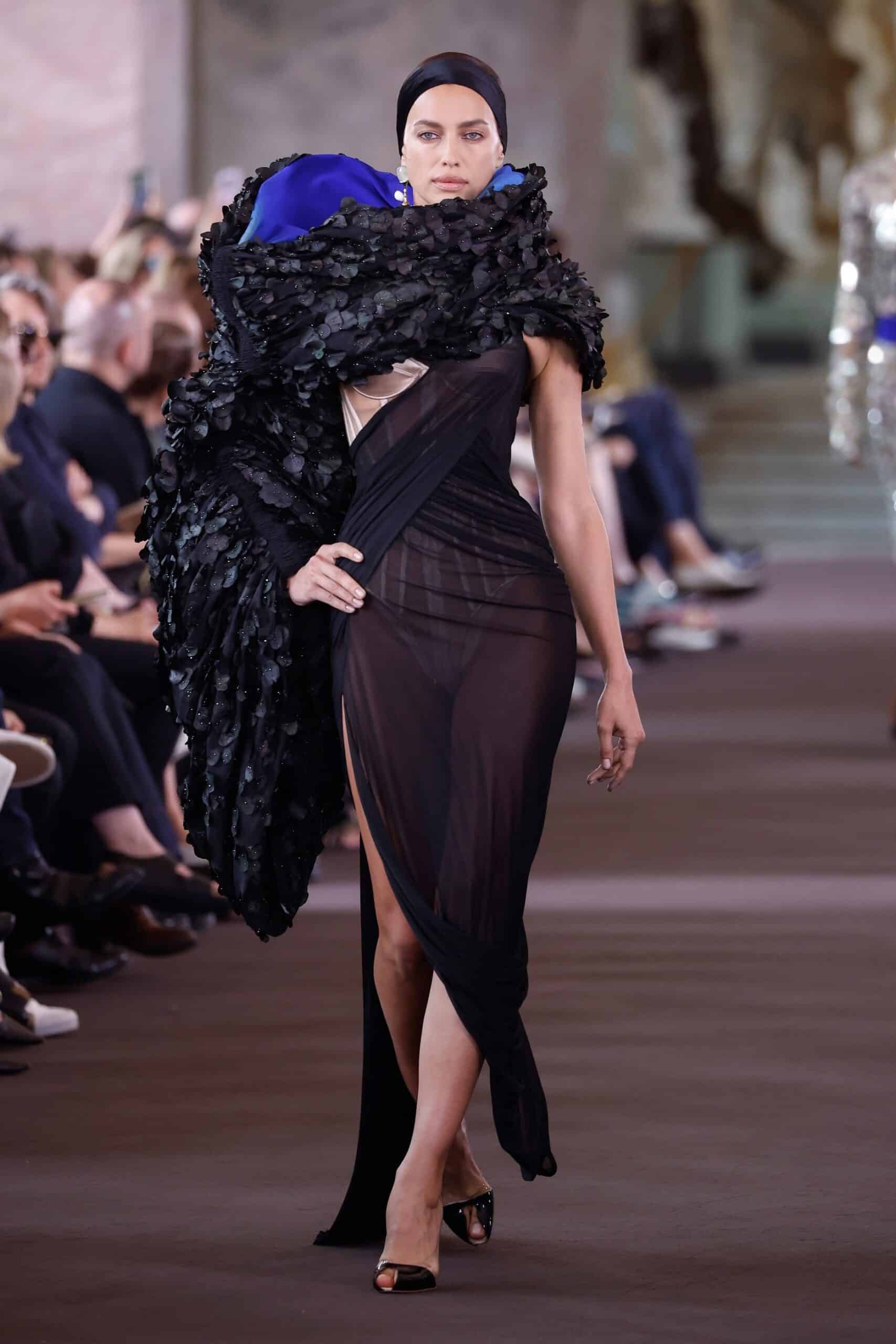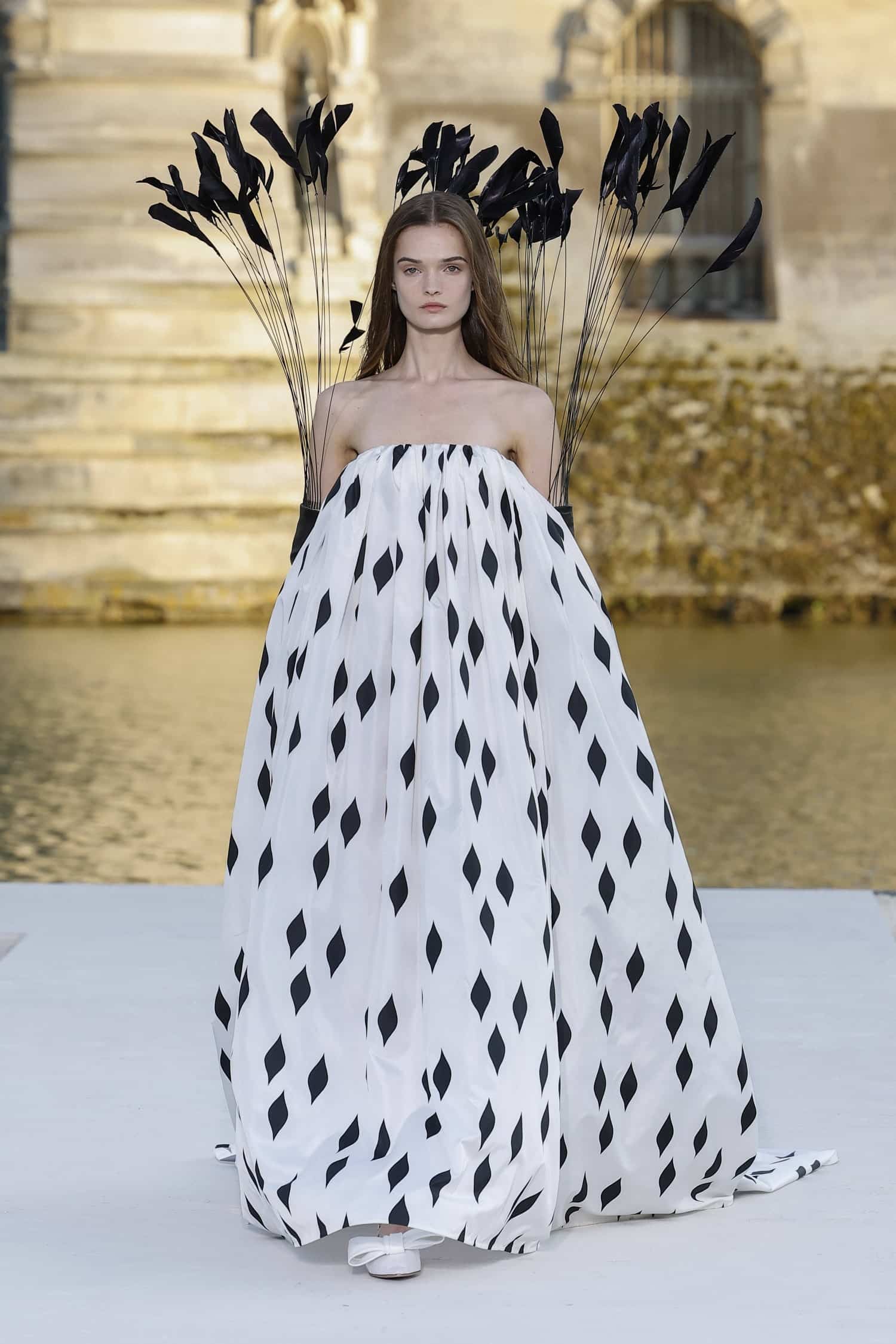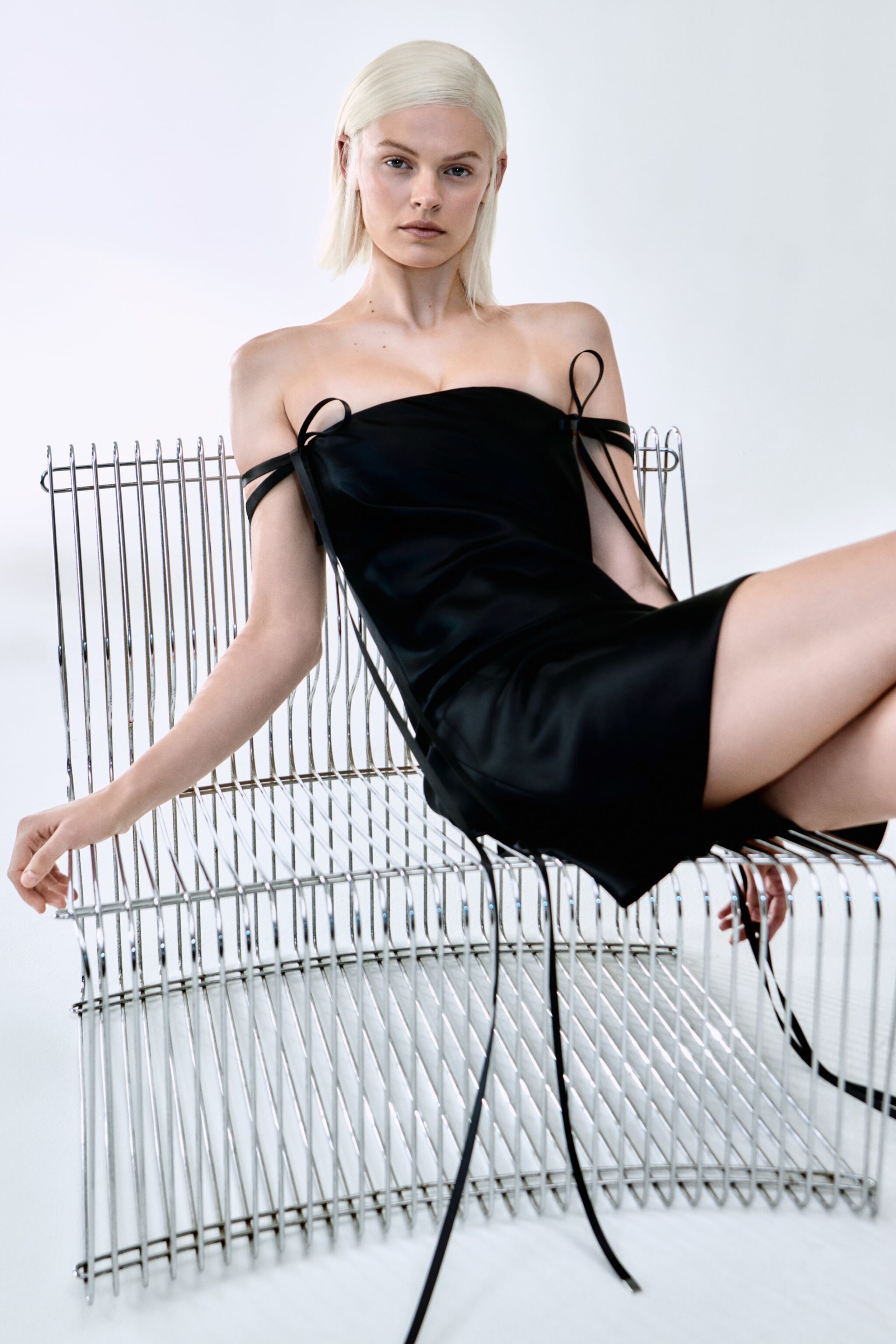 Meanwhile, the royalty in visions of the future by Schiaparelli is a little more dystopian but no less jaw-dropping. Mirrored mosaics on a skirt and jacket, a cowl that could be made of scales, petals, or feathers, and painted-on textures sauntered down the runway alongside dramatic earrings and accessories. The looks, which creative director Daniel Roseberry says are an homage to artists, including Yves Klein, Giacometti, Matisse, Lucian Freud, and others, also look like they could be right at home in the Capitol from The Hunger Games or a Star Wars throne room.
Jacquemus took to the Palace of Versailles for its fall/winter haute couture presentation, and the star power was present on the runway with fashion royals Kendall Jenner, Gigi Hadid, and Deva Cassel on the catwalk for "Le Chouchou" collection by Simon Porte Jacquemus. Guests watched from boats on the reflection pool as the models traipsed along the lawn in ballet-inspired lace, tulle, veils, and puffed silhouettes.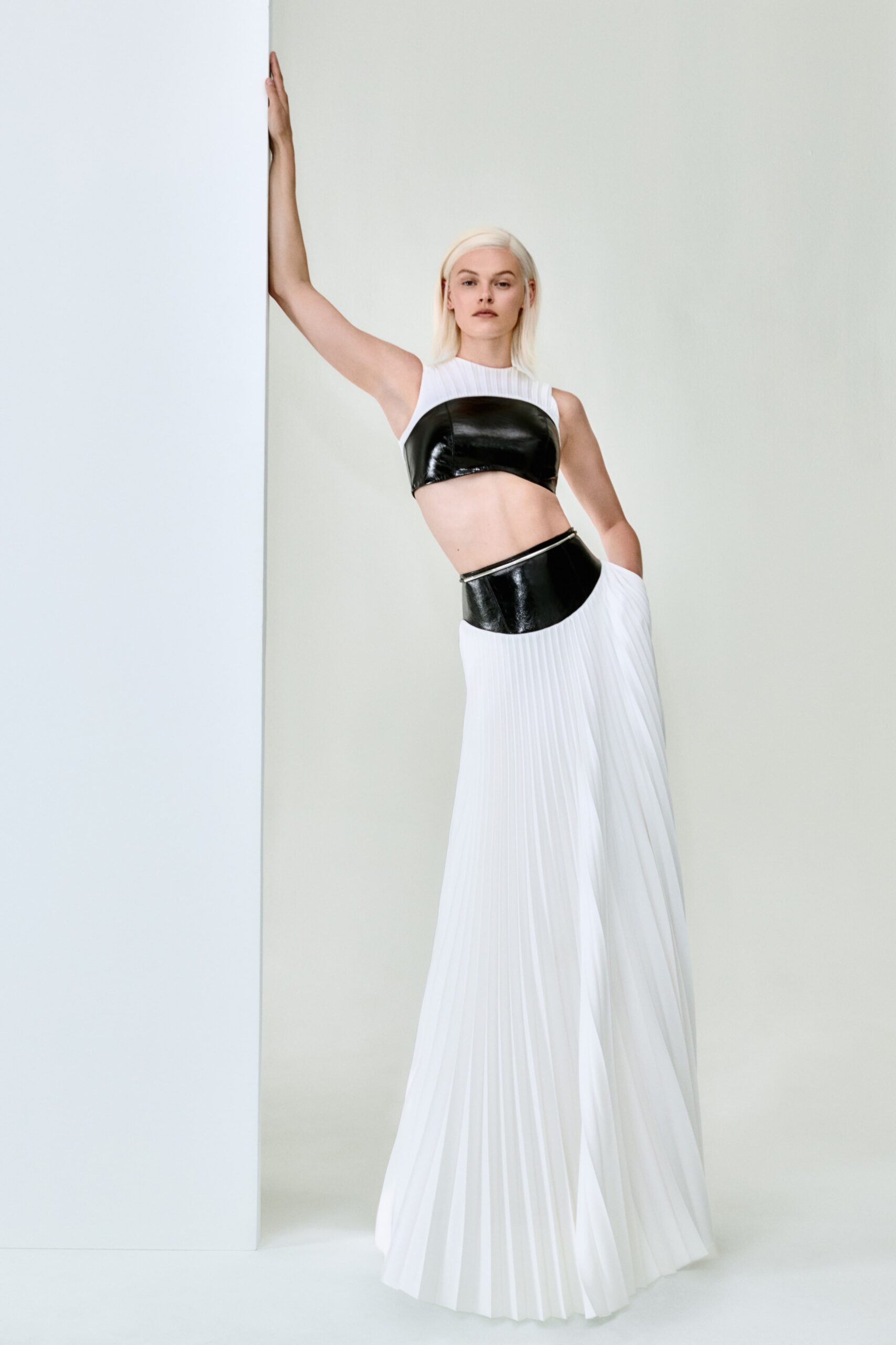 Synth Wave
Brandon Maxwell Resort 2024 celebrates another futuristic trend: minimalism. This ready-to-wear collection is ruled by simplicity, clean lines, black and white, and solid primary hues. A few glazed leather accent pieces round out a curation of looks that could fit on the streets of any Blade Runner cityscape or a casino in a galaxy far, far away.
Brandon Maxwell Resort 2024 celebrates another futuristic trend: minimalism. This ready-to-wear collection is ruled by simplicity, clean lines, black and white, and solid primary hues.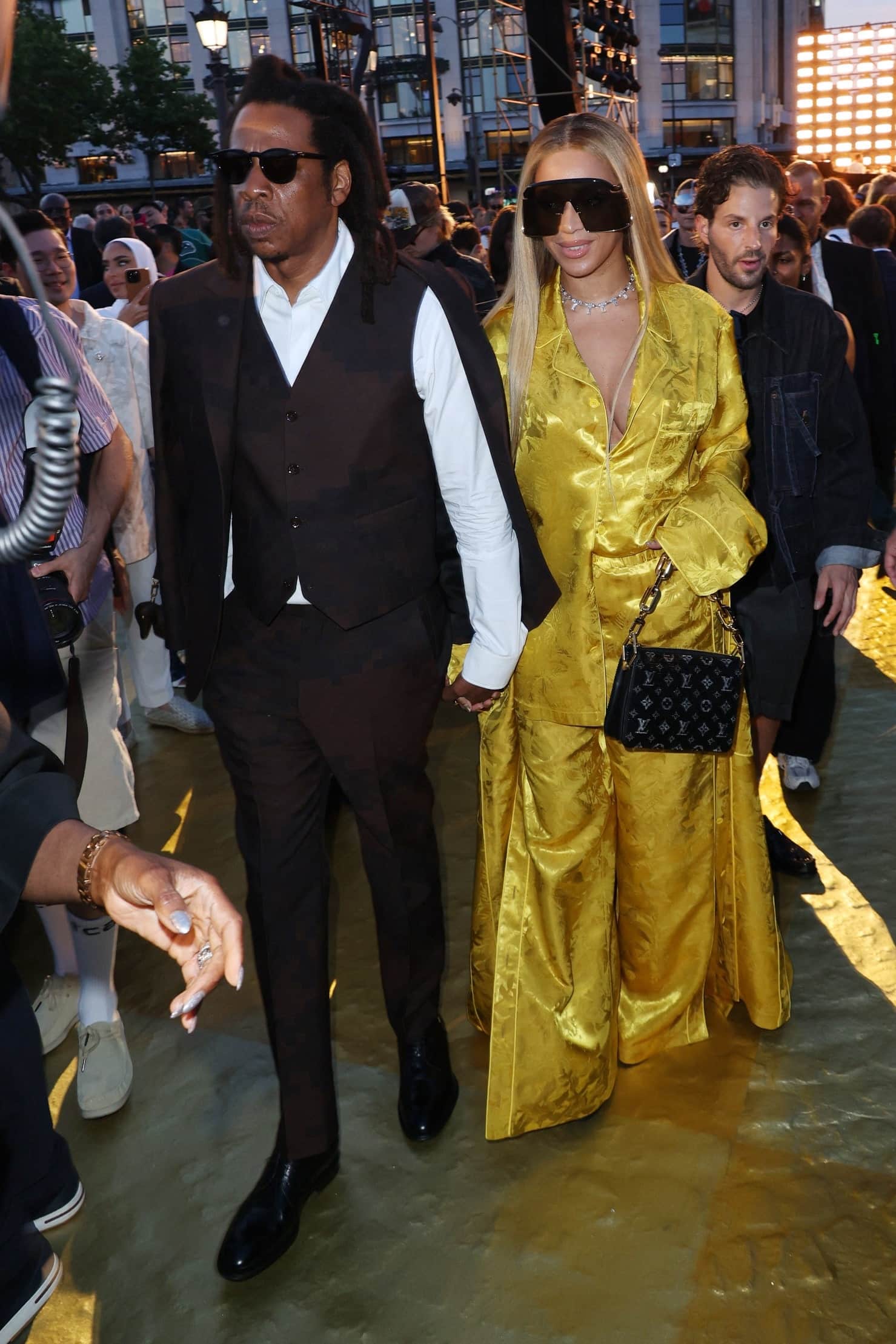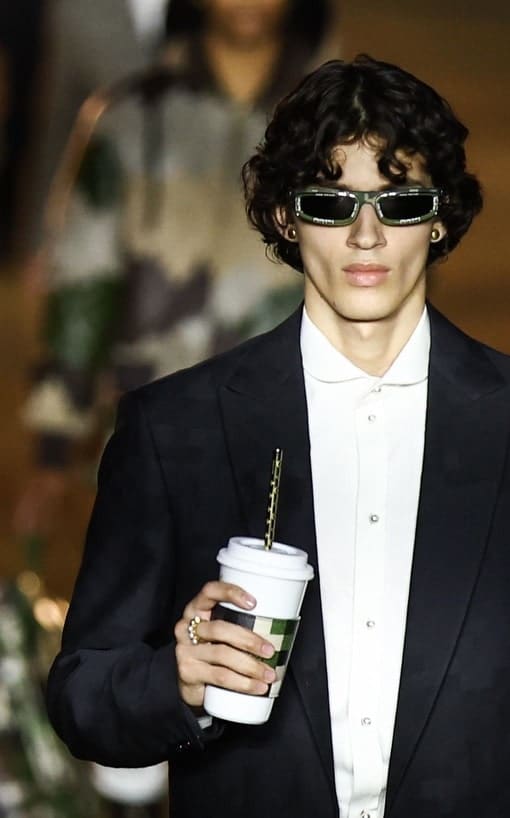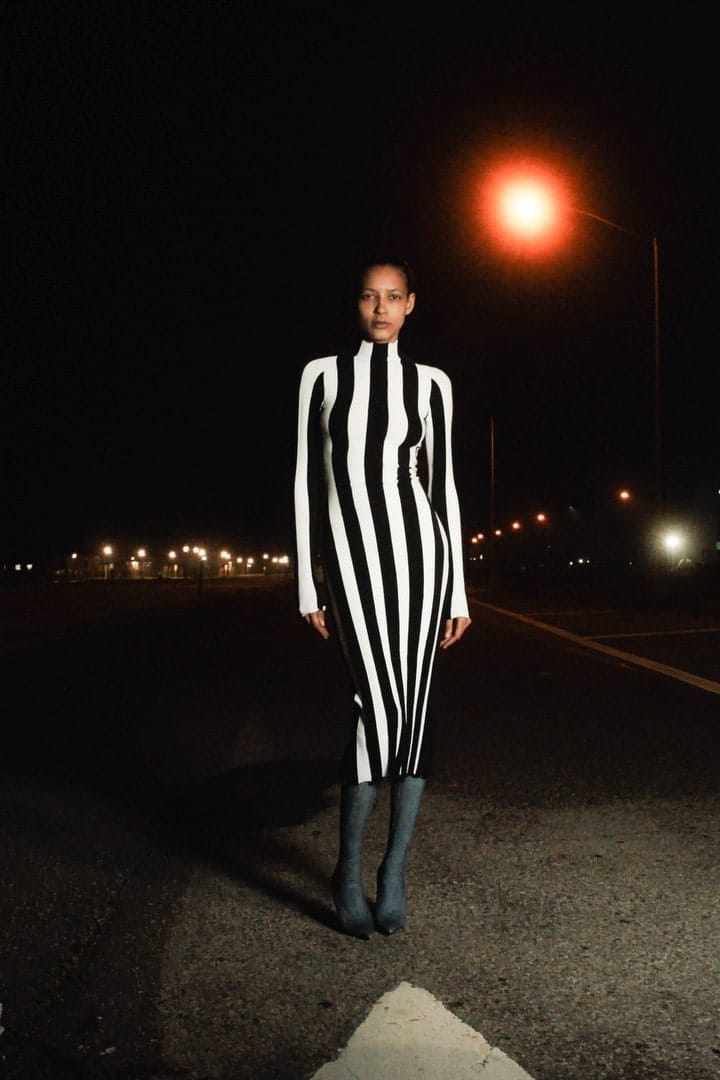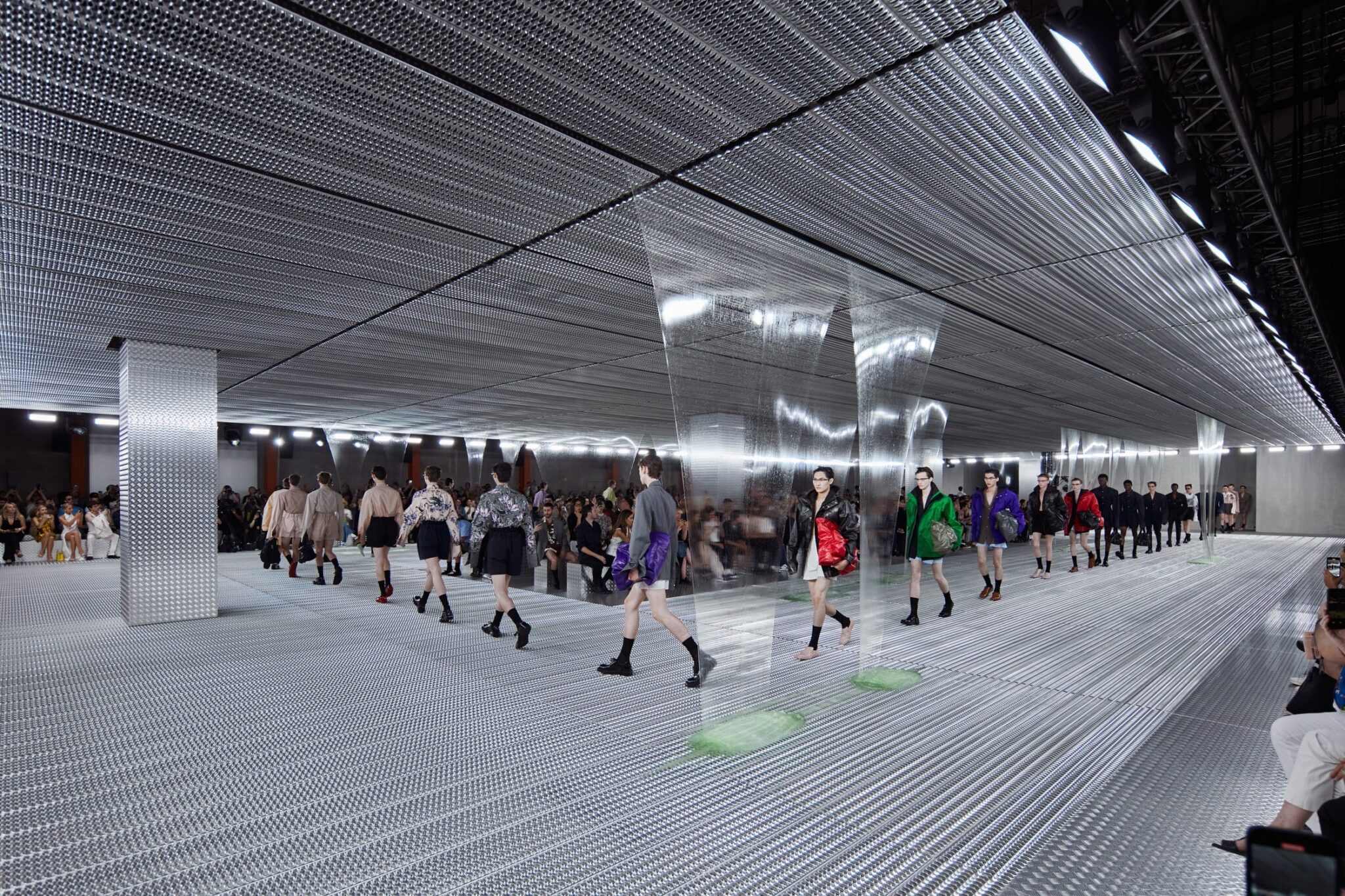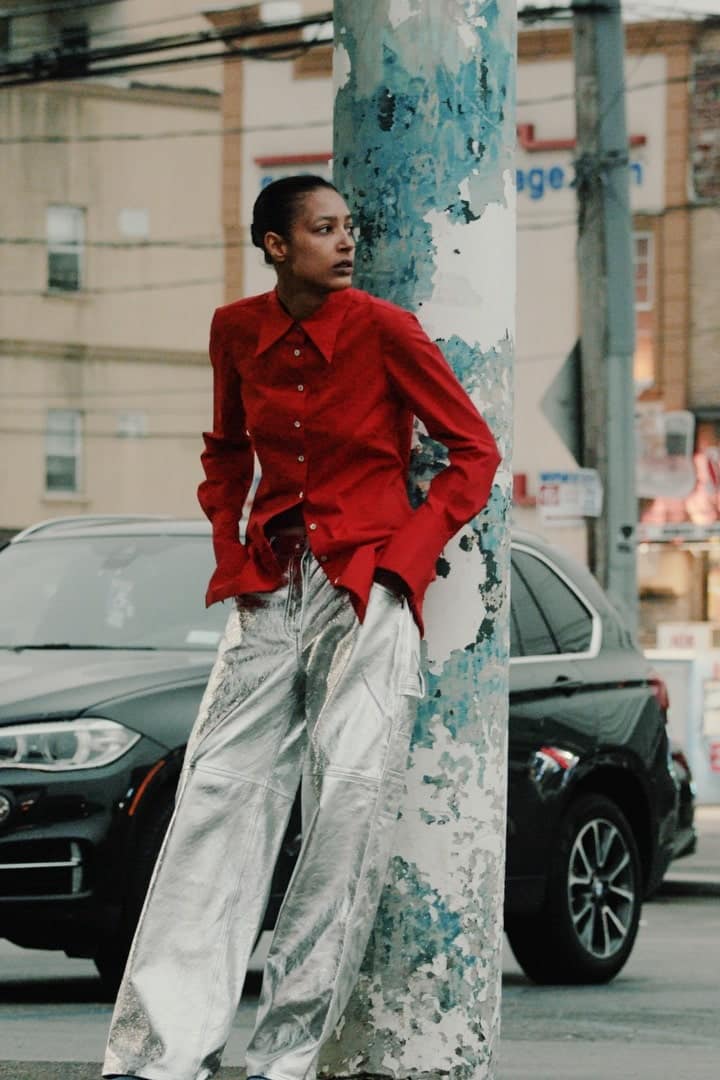 Also embracing the synth-wave aesthetic is Interior, a New York-based fashion collection boasting "a unique mix of hard-to-find wardrobe staples and pieces that feel more like heirlooms than they do the fleeting styles of the moment." Interior's mission is "to be worn wherever and forever." This Resort 2024 includes a mix of oversized suits, blouses, and sweaters alongside chrome leather and strategically distressed cotton pieces.
The Simulation
Call it the matrix or whatever you like, but Thom Browne might be living in it—or are we all? The designer's haute couture show was packed, but most of the 2,300 guests were cardboard cutouts seated in Paris's grand Palais Garnier opera house. The three hundred human audience members sat on stage, the runway before them, up close and personal. Browne says he wanted to "turn the tables" and ensure the audience felt like part of the spectacle. The collection itself was inspired by travel, with train station sounds and luggage being rolled and carted by while models wore utilitarian looks with otherworldly touches.
Browne says he wanted to "turn the tables" and ensure the audience felt like part of the spectacle.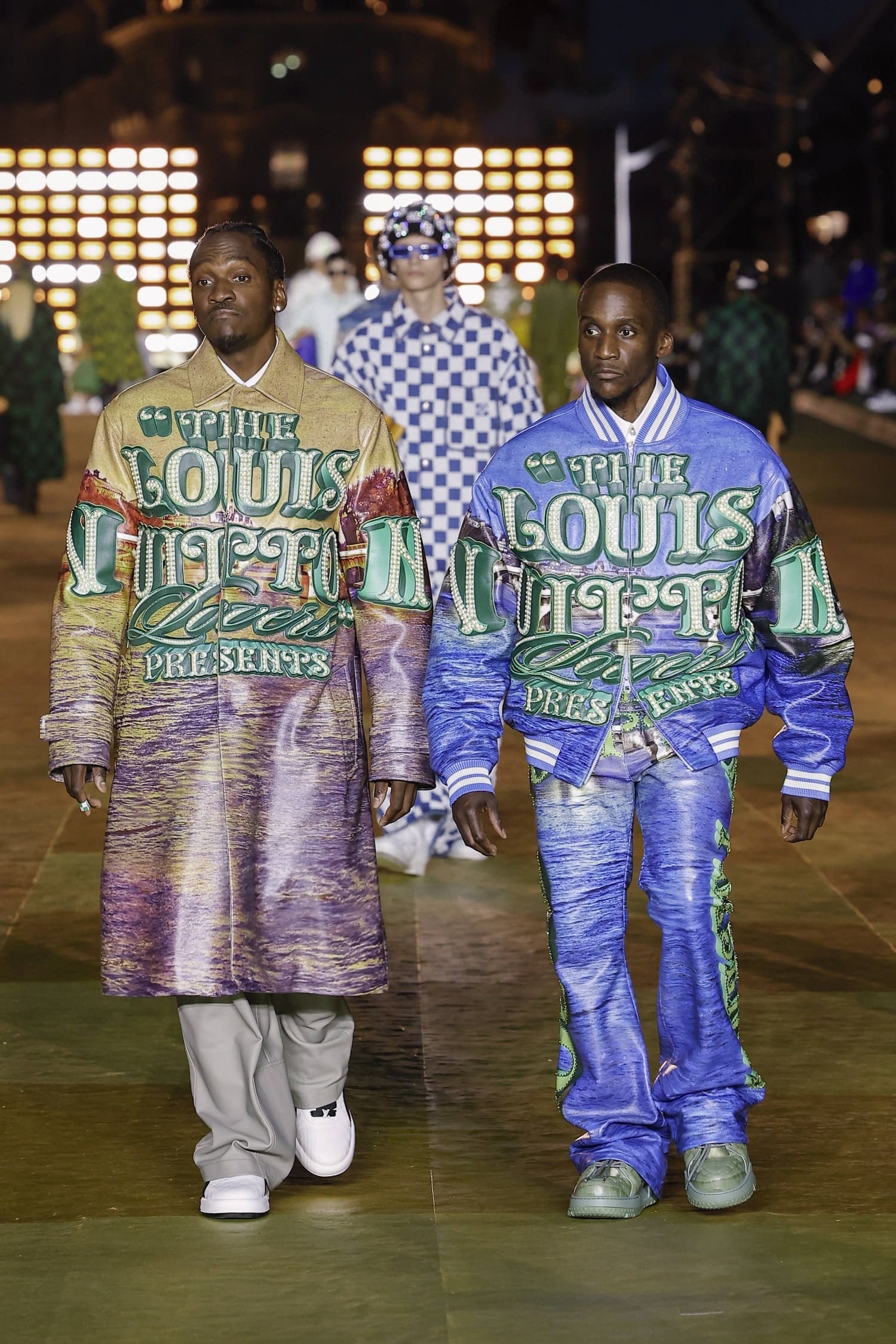 Pharrell's first menswear collection for Louis Vuitton also brought uniform vibes, along with pixelated fabrics, checkerboards, and—a small utility vehicle delivering suitcases? The iconic fashion house has always been held in high esteem, but critics believe this event may have launched LV into the stratosphere as the music star gilded the Pont Neuf in Paris and shut it down for the evening's celebrity-studded presentation. Something about it all seems like audiences were living in a metaverse where Pharrell was the king.
— V —
---
ARTICLE CATEGORIES