By Melanie Cissone |
Photography by Tommy Crow
The coast—any coast, really—has been and will likely always be a source of inspiration for artists. Whether it's the fishing village of Port Lligat along northeastern Spain's jagged Costa Brava where Salvador Dalí and his wife, Gala, lived; the lavender-scented Côte d'Azur perch of Pablo Picasso's home in Vallauris and later in Mougins; Marc Chagall's Saint-Paul-de-Vence; the hills above the Tiber River where Frank Stella did a residency from 1982 to 1983 at the American Academy in Rome; or the misty shores of Andy Warhol's Montauk compound, the sight, scent, and sound of water are incomparable in rousing creative thoughts, emotions, and mindful quietude.
In the spirit of coastal artistic respites, a special art collection, Masters: Modern to Contemporary, made the seaside village of Rosemary Beach its home for ten days in July. Area residents and vacationers together received it warmly and excitedly. The reaction to the show was astounding; other gallery owners, designers, and art consultants also flocked to July's exhibit of works by Marc Chagall, Salvador Dalí, Sam Francis, Roy Lichtenstein, Joan Miró, Manuel Marin, Pablo Picasso, and Andy Warhol.
The exhibition is the second collaboration between commercial and fine photographer Tommy Crow, of Tommy Crow Studios in Rosemary Beach, and Lisa Burgess, owner of New River Fine Art in Fort Lauderdale. New River Fine Art is one of South Florida's oldest and most prestigious fine art galleries and a premier source for masterworks and fine contemporary paintings, sculpture, and glass art. The two gallery owners anticipate mounting similar special exhibits annually for the foreseeable future.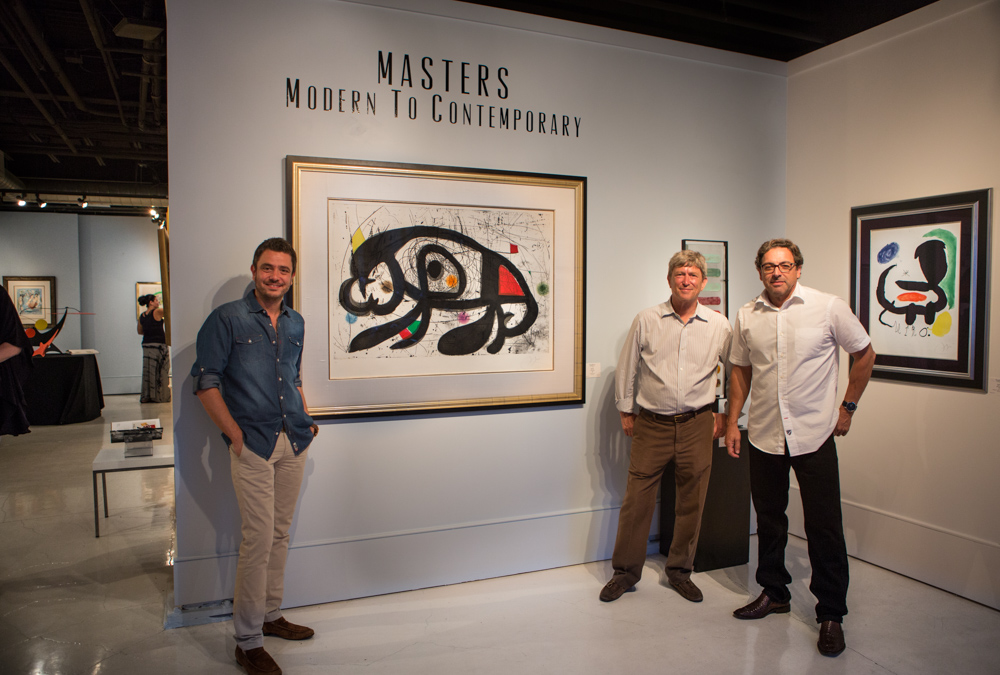 Crow, who hosted Dalí: Sublime to Surreal in conjunction with New River in 2014, said, "I didn't realize how impactful bringing a fine art collection to our area would be for me personally or to the exhibit's visitors until after last year's show closed."
He continues, "Over and over during the Dalí show and during this year's Masters exhibit, I heard people say, 'Oh my gosh, I can't believe these are here.'" Pointing to the spot where his favorite Dalí hung in July, Crow said, "Last year, I couldn't put art on the walls for about two and a half weeks after New River's collection had been taken down." There was something so powerful and compelling about the Spanish surrealist's work that it left a sort of virtual shadow in his mind's eye, a friendly phantom image, and he waited for it to fade before rehanging his own work.
Atlanta resident Heidi Graf, an artist whose recent work was just acquired by the High Museum for Sprawl! Drawing Outside the Lines (July 18–October 4), has been visiting the 30-A area since she was three years old. On a date-night stroll through Rosemary Beach in July, the Boston native and her boyfriend wandered around town when, she recalls, "My boyfriend said, 'Hey look, contemporary art.'" She recounts her astonishment when she peered into the window at Tommy Crow Studios and said, "That looks like a Warhol."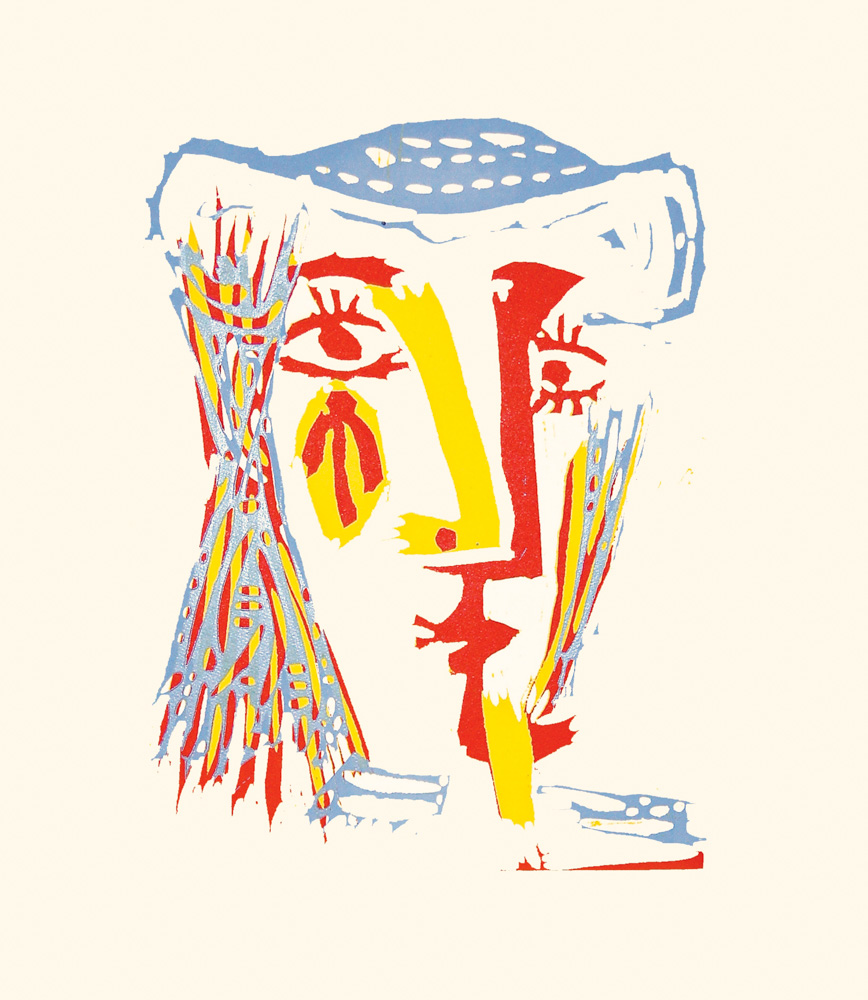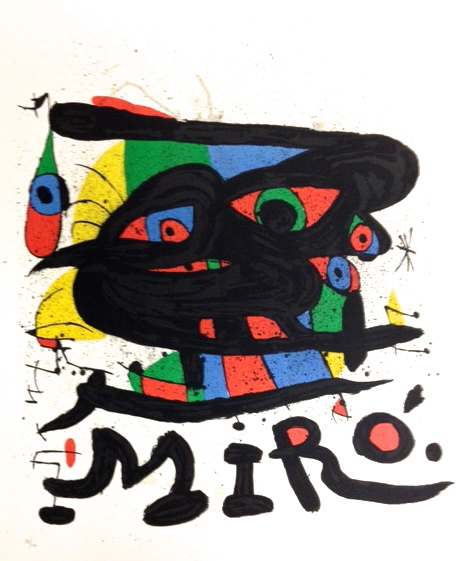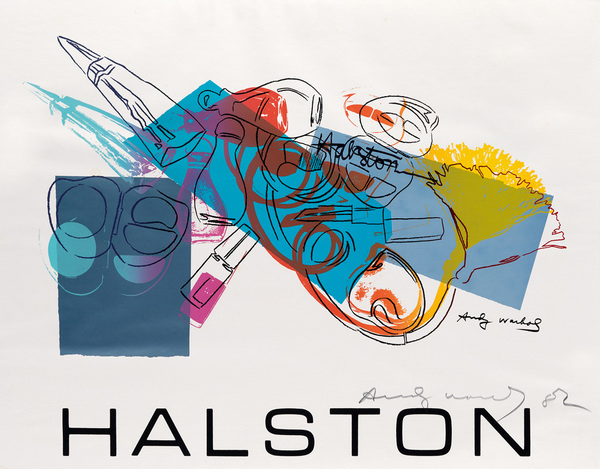 "I was blown away," said Graf, who has an MFA in drawing and painting from Georgia State University. Moved by the experience and contrasting the difference between a more austere museum experience and that of an intimate gallery exhibit, she said, "It's one thing to go to the Dalí Museum. That night had a completely different feeling; nothing can compare to seeing modern and contemporary art in a relaxed beach setting while being served chocolate chip cookies. It was so beautiful, so astounding and wonderful to me. It was a complete transcendence of art and place."
Like a vernissage—a private, invitation-only preview—it felt almost as though Andy Warhol or Salvador Dalí might turn the corner, smile, and offer a glass of wine at the Main Street exhibit. Graf concludes, "I enjoyed the beauty and surprise factor; it felt so completely deconstructed," which is probably how most of these artists would have wanted their work displayed.
Crow calls attention to Argus in Color (1963) and says, "That's going to be mine." The large hand-colored etching was part of Dalí's Mythologie series and carries the imprimatur of longtime friend and publisher Pierre Argillet. Drawing on the symbolism of ancient Greek myth and legend, Dalí depicts Argus as a peacock. A servant of Hera, Zeus's wife, the "all-seeing" Argus had a hundred eyes. Trouble started when Zeus bedded the nymph Io, whom he later transformed into a white heifer to conceal her identity from Hera. Not fooled, Hera insisted on having the heifer as her own and charged Argus with watching and keeping the cow away from Zeus. Despite being able to sleep with some of his eyes closed while other eyes kept watch, Hermes, on Zeus's dispatch, used his storytelling talent to lull Argus to sleep so that he could slay him. Hera later rewarded Argus's service by placing his many eyes onto the plumage of her sacred bird, the peacock.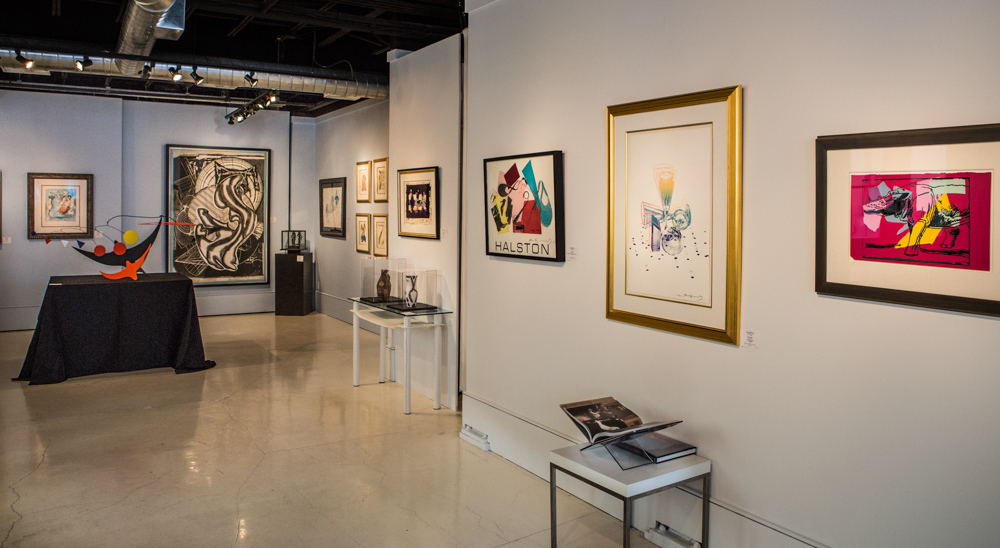 Dalí's Argus in Color is one of sixteen mixed media prints in a portfolio he created from 1963 to 1965. Pegasus (1963) is another in New River Fine Art's collection from the Mythologie suite. Both Argus and Pegasus demonstrate Dalí's use of a technique he developed called hasard objectif (loosely translated as "objective chance encounters"), which was derived from André Breton's Surrealist Manifesto. In other words, from an abstract paint or ink smudge, the overlying theme of Dalí's work would present itself and he would develop it from there into a work of art.
During the Masters: Modern to Contemporary show, longtime Santa Rosa Beach residents (who wish to remain anonymous) acquired an original drawing by Pablo Picasso that they describe as "something that we saw in the exhibit that just made us happy." Similar in style to the famous colored-pencil line drawing La Colombe (The Dove), the smiling, rouge-faced blue-and-red character was an illustration he made when signing the inside front page of photojournalist David Douglas Duncan's 1961 Picasso's Picassos. Through the imagery, it's as if Picasso was saying about his good friend and biographer's book, "Enjoy."
Through the imagery, it's as if Picasso was saying about his good friend and biographer's book, "Enjoy."
Especially exciting during the summer exhibition was the sale of Frank Stella's 1991 Stubb and Flask Kill a Right Whale from an edition of twenty-seven. A departure from the colorful geometric works for which he is best known, the large 76 1/4-inch by 53 3/4-inch etching is the work of the 79-year-old American painter, printmaker, and sculptor who is being honored with Frank Stella: A Retrospective at the Whitney Museum of American Art (October 30, 2015–February 7, 2016) in New York.
Stubb and Flask Kill a Right Whale is a print from a series of 266 painted reliefs and sculptures inspired by and named for the 135 chapters in Herman Melville's 1851 classic, Moby Dick. Stella considers the series central to his career. In chapter 73 of the book about Captain Ahab's elusive quest to find Moby Dick, the sperm whale that caused him to lose his leg, the Pequod's second and third mates spot and kill a less valuable right whale.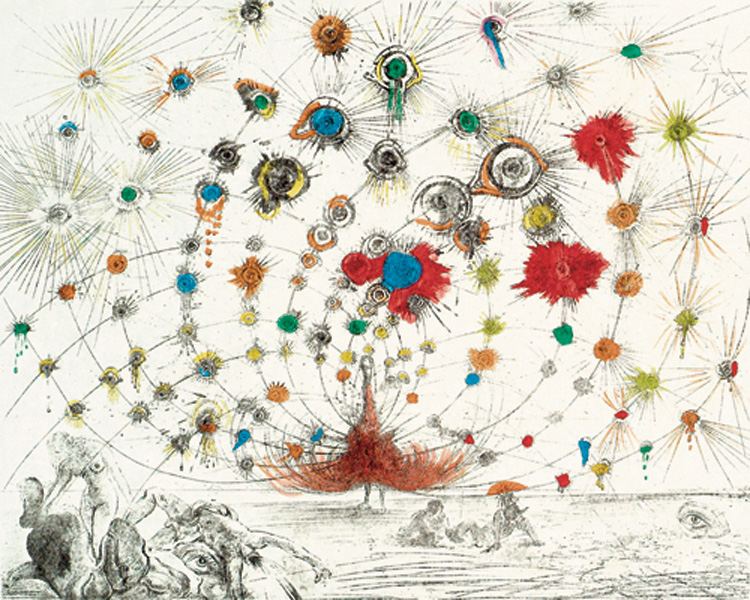 In its description of the forthcoming show, the Whitney writes that Stella is "one of the most important living American artists." Stubb and Flask is in the permanent collections of the Metropolitan Museum of Art in New York and the Walker Art Center in Minneapolis. Stella himself will be at the opening of the Whitney's special exhibition as the museum enjoys its inaugural year in its new Renzo Piano building.
Other noted modern and contemporary artists whose works graced the walls of Tommy Crow Studios in July were American abstract painter and printmaker Sam Francis; famed graphic artist turned pop-art legend Andy Warhol; Spanish sculptor and mobile artist Manuel Marin; and Catalan painter, sculptor, and ceramicist Joan Miró.
At the Rosemary Beach exhibit, the breadth of Picasso's range was evident; on display were an original drawing; two ceramic vessels (Petit oiseau avec visage bleue [1951] and Young Wood Owl [1952]); linocut block prints (Man's Face [1966] and Little Sun [1968]); and a linocut poster advertising the Exposition Vallauris of 1957.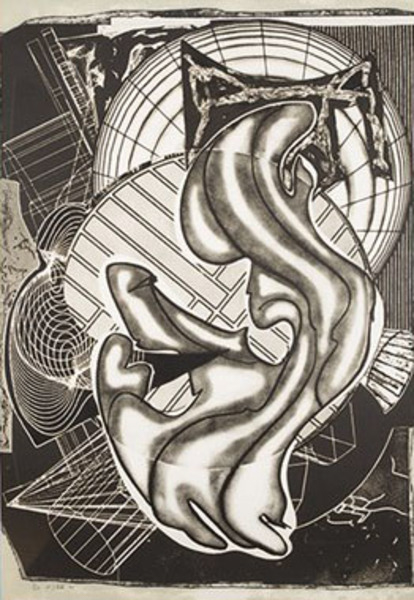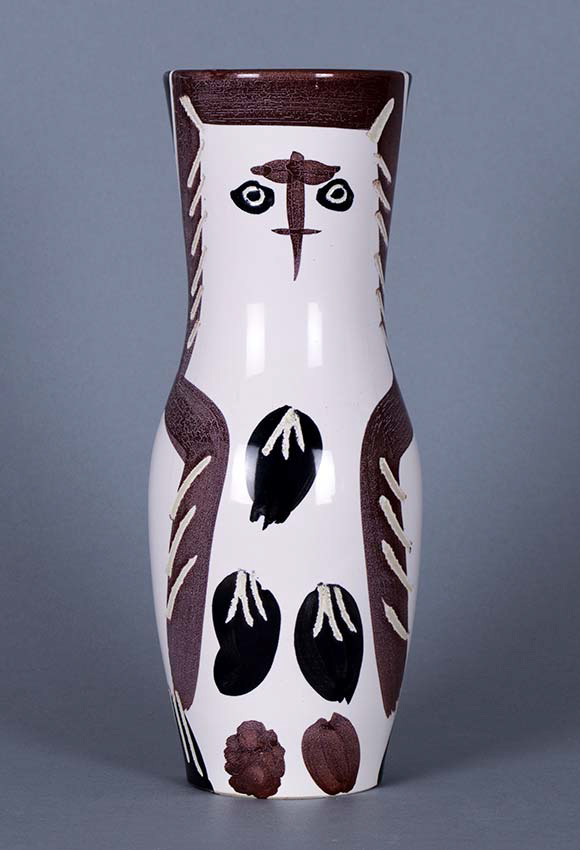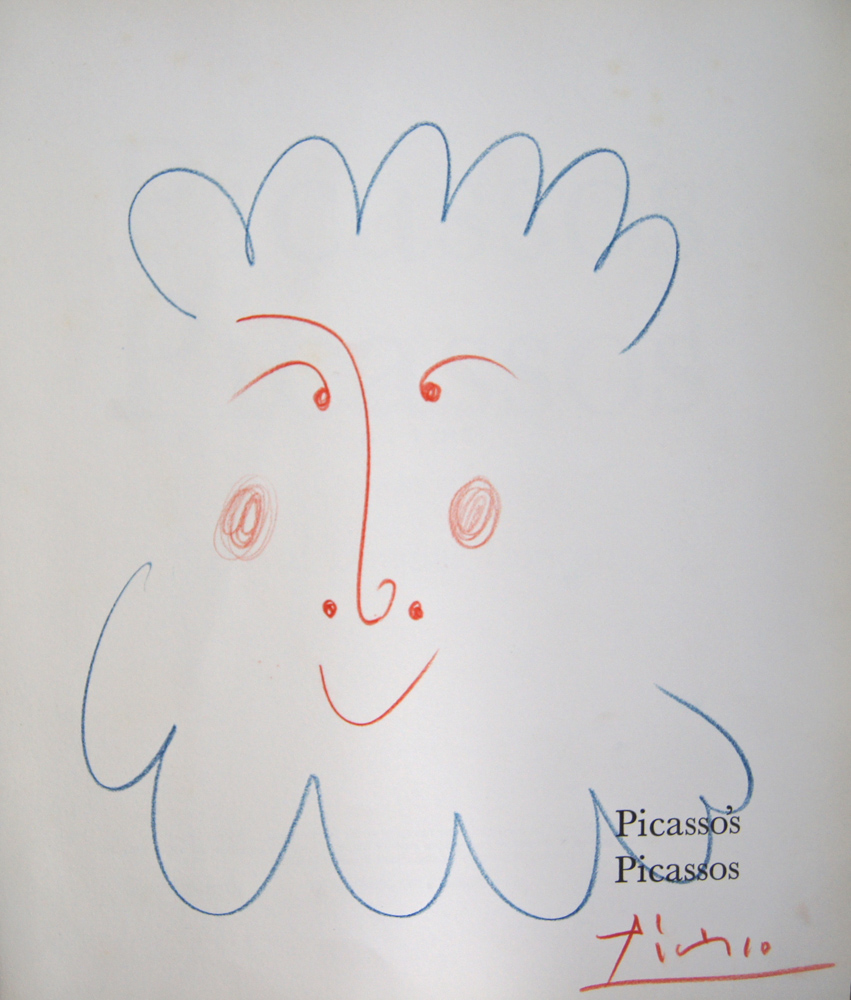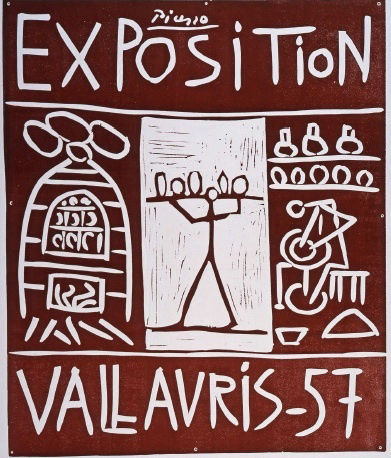 Vallauris is a small town in the south of France where, in 1946, Picasso met Suzanne and Georges Ramié, owners of the Madoura Pottery studio. Due to their mutual fascination with postwar experimentation in other media, namely ceramics, a love affair was born. Picasso moved to Vallauris and lived there from 1948 to 1955, delighting in the prolific creation of ceramics and linocuts. Exposition Vallauris is an ongoing ceramics fair for which Picasso created the posters during several years of his residency and beyond; one such poster, Exposition Vallauris-57 (1957), was on view at Masters: Modern to Contemporary.
Thinking at first that the central image was a server carrying a tray filled with cups and glasses, the new owner of Exposition Vallauris-57 is Ed Reese, executive chef and owner of Edward's in Rosemary Beach. "I never thought that I'd own a Picasso, but when I went to visit Tommy's studio, there it was and I loved it," Reese says.
He continues, "There was a lot of artwork at that show that I had never seen in my life. Now, my Picasso hangs in the restaurant and I'm going to have to visit Vallauris to see where Picasso worked on his ceramics." No doubt Reese, who supplied the delicious saffron shrimp hors d'oeuvres for the exhibit's closing reception, will feel inclined to explore the cafés, bistros, and auberges that the south of France has to offer while he's there.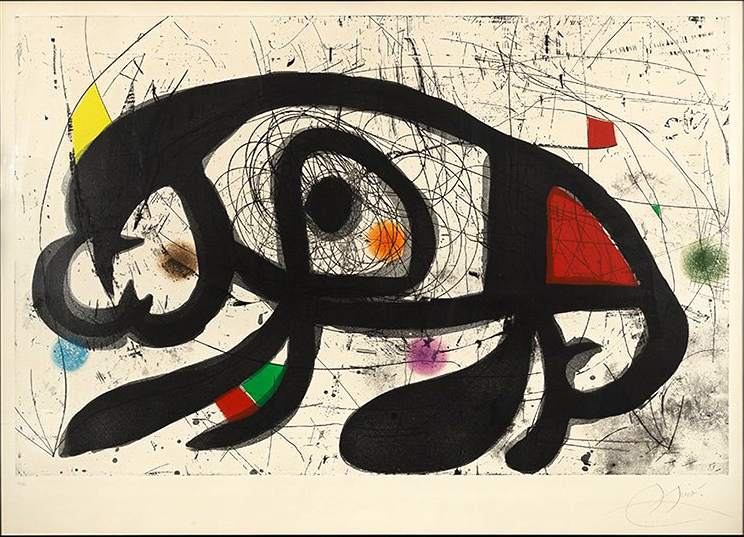 Every work of art in New River Fine Art's modern and contemporary collection has a storied provenance, often one that was supported, at least in part, by art patrons. Although the word benefactor usually calls to mind a moneyed social class, supporters of modern masters and contemporary artists of the various art movements of the mid- and late nineteenth and early to mid-twentieth centuries also included gallery owners, publishers, barbers, local restaurateurs, innkeepers, landlords, and friends. There were also the European and American landed gentry and prescient, wealthy bohemians who were truly interested in and compelled to own works from a new era of art that theretofore hadn't existed and that represented an about-face from the classical and Renaissance art on which they were raised. Think never-before-seen impressionist, avant-garde, surrealist, abstract, cubist, and pop art oeuvres as presented to the attentive and ravenous eyes of French art dealer Paul Durand-Ruel; American heiress Peggy Guggenheim; French nobles Charles and Marie-Laure de Noailles; physician, chemist, and art collector Dr. Albert Barnes; collectors John and Dominique de Menil; and emerging blue-blooded social elites and celebrities of Manhattan and Hollywood.
Every work of art in New River Fine Art's modern and contemporary collection has a storied provenance, often one that was supported, at least in part, by art patrons.
New River Fine Art's director of masterworks and overall tour guide for July's special exhibit, Larry White, said about one of his show favorites, Joan Miró's La taupe hilare (1975), "I used to think it [modern art] was the silliest thing in the 1970s. But I kept looking at it and a lightbulb went off, and I started reading voraciously about these artists and their work." In the case of La taupe hilare, Miró himself, according to White, "found it as amusing and delightful as I do." He continues, "Art has so much to do with a feeling that's personal. Now, when a client falls in love with a piece, it affects me too."
Mentorship, tutelage, and art patronage are as important today as ever. The fascinating masterworks of New River Fine Art, which recall a seemingly bygone era of art benefaction, command a visit to see what Lisa Burgess and Tommy Crow have in store for next year in the intimate gallery setting that Crow's studio affords. Taking a piece home, on the other hand, is like writing a new chapter in the story of the work itself. Ownership of original art brings with it a certain responsibility to its creator; its new owner becomes its custodian, the keeper of the story, the motivation or inspiration behind its very existence. To become an actual character in the story, support an artist by commissioning a piece; sponsor an expert gallery talk; provide an artist residency in a place that inspires and provokes; get to know an artist whose work interests you; and buy works that are meaningful to you. Moreover, fall in love with art that moves you and then just enjoy the ride.
— V —
---
Visit tommycrow.com for more information on the studio and www.newriverfineart.com to see more from the gallery.
Reproduction, including downloading of Pablo Picasso works is prohibited by copyright laws and international conventions without the express written permission of Artists Rights Society (ARS), New York.
ARTICLE CATEGORIES