By Sallie W. Boyles | 
Photography by Jonah Allen
Mary Ellen DiMauro was only ten years old when the instrument of her life's calling, a gift from her grandmother, appeared in a box beneath the Christmas tree: it was a sewing machine. "It lit a creative fire for me," she says. She recalls how working with squares of fabric and their varied textures presented endless possibilities to her. "The feeling of making something with my own two hands and giving it to someone was pure joy for me."
She made "little purses" and eagerly gifted them to her family and friends. The lucky recipients responded with gratitude and praise, and from the encouragement of those around her, she boldly entered the world of commerce. "I would go door-to-door in the neighborhood and sell the purses I made," she says.
By the time she was fifteen, DiMauro, with her mother's help, had a booth at the local market and craft fairs. "I just put myself out there," she reveals. "I started thriving off the customer interactions, talking with people, hearing their stories, and seeing them get excited over what I created." Her next step—majoring in fashion merchandising at the University of Georgia in Athens, Georgia—allowed DiMauro to "learn through doing the process." While taking classes in studio art and retail entrepreneurship, she found a home for her designs in shops around Athens, a college town that has embraced local artists.
Although she was selling accessories like tote bags and headbands, DiMauro had long been making clothing. "I grew up shopping at thrift stores," she says. "I'd take down a garment to see how it was made—reverse engineering—and add ruffles or lace. I would start by doing simple things like that." Her alterations, sometimes based on a designer tee or other item she liked, provided practice for DiMauro to develop her patterns from scratch.
Still a college student at the time, DiMauro applied and was selected to show her work as an emerging designer at South Walton Fashion Week in the fall of 2016. Her preparation for Northwest Florida's celebration of high fashion entailed sketching and making ten different outfits. "The experience grew me and challenged me outside my comfort zone," she says. "It was inspiring and motivational. That collection made me realize I can do this."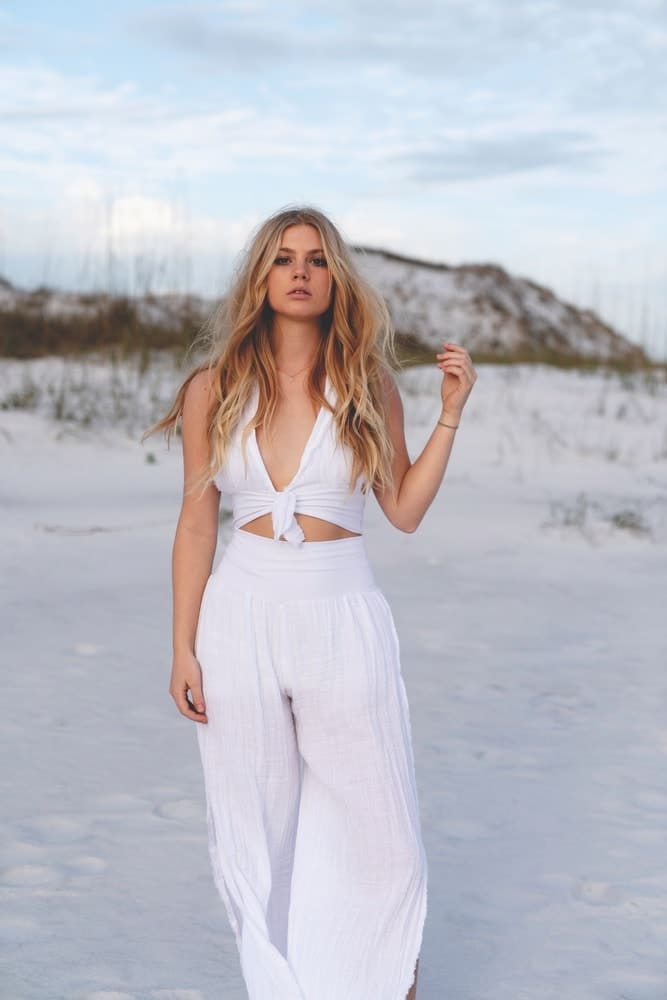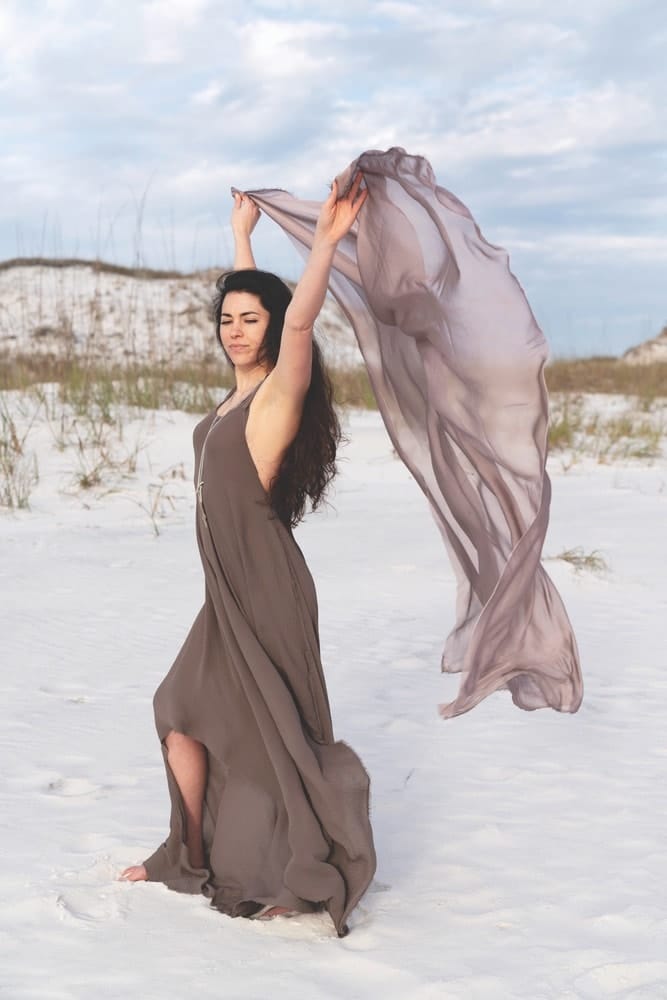 She'd first visited the Florida Panhandle with her boyfriend on a spring break trip. After driving about six hours from Athens and finding scenery that resembled the Caribbean, DiMauro couldn't believe she hadn't previously traveled to the region. Captivated by the snow-white coastal dunes of Deer Lake (a rare ecosystem of coastal lakes), she says, "I named the collection Coastal Dunes. Everything was all white, simple, and timeless, inspired by the white-sand dunes." Her resort wear incorporates a mix of fabrics and features soft and fluid silhouettes.
With a sense of purpose, DiMauro graduated in December of 2016 and moved to Northwest Florida the next spring. "I would just love to live in an endless summer," she says. Without question, the coastal environment feeds her mind and soul, but so does travel. She particularly loves Italy, where the nuances in fashion grant pleasant surprises yet honor the elegance and beauty of timeless style.
Similarly, DiMauro's aesthetic is fresh but straightforward and enduring. Such qualities speak to the versatility and wearability of her garments, and her styles flatter a vast range of women. "Flowy silhouettes are flattering to all sizes, especially with layering," she says, insisting, "I want to help women feel beautiful and comfortable at any age."
"I named the collection Coastal Dunes. Everything was all white, simple, and timeless, inspired by the white-sand dunes."
When asked to name her go-to pick from the collection, she immediately responds, "The jumpsuit—it's so comfortable, it feels like you're wearing pajamas. And it ties on the shoulder, so it's adjustable. It's easy and looks cute!" If she needs to cover up for any reason, DiMauro adds layers. "I'll typically throw on one of my cropped shirts," she says.
Currently, DiMauro runs a one-woman operation as the sole designer and fabricator of her fashions. Intentional in her methodology, she speaks about "the lost art of slow, creative processes," and chooses, for now, to limit how many pieces she'll reproduce of a collection. "I make small batches," she affirms, ensuring each garment is exceptional.
When procuring her fabrics, DiMauro tends to purchase only enough of any particular material to make four to six articles of clothing. She equates her production to an artist's release of a limited edition of prints. "Every two to three months," she shares, "fabrics and styles change, but there are similarities—a common thread of soft and comfortable, like you're wearing a hug. The clothing is consciously crafted and made with love." Drawn to linen and other sustainable materials, she insists on keeping everything soft and breathable.
Considering DiMauro's artisanal approach, many would be surprised to learn how quickly one of her new designs—perfectly ready to wear—might materialize. "If it's from concept to completed style, I would say it takes a whole day," she reveals. "It always takes the longest the first time around, from the sketch to choosing the fabric to the completed garment. When I feel the inspiration, I have to carry it out and make the whole thing!"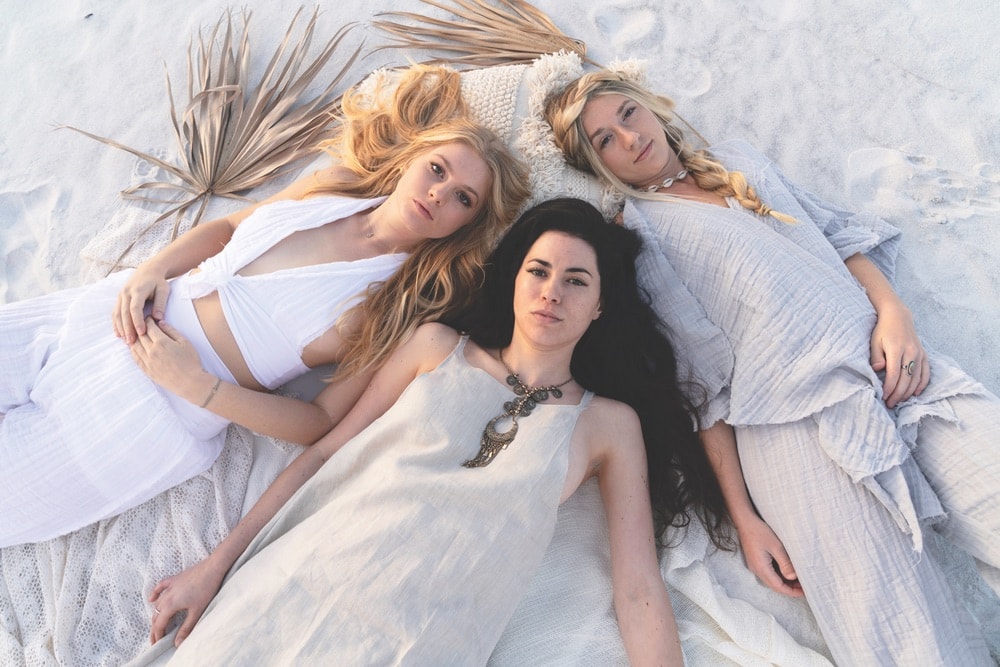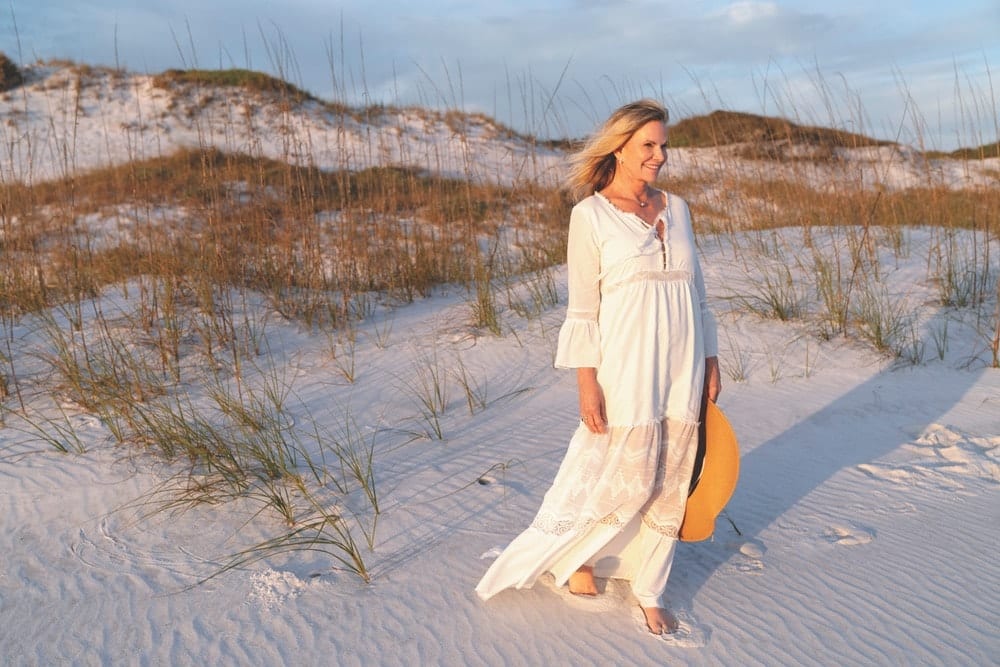 At times, DiMauro will begin with a sketch, but the garment will nudge her to detour from the plan. "That happened in a dress I was making for a special occasion," she informs. "Once the fabric was draped on the mannequin, it directed me, so I let the flow of the process take over."
She welcomes custom orders. "I just finished a custom goddess dress for a party in beautiful chiffon fabric, and I have a mother-of-the-bride dress coming up."
Looking back and ahead, DiMauro says, "I always knew that I wanted to create with my hands, sell my work, and run my own business." It won't be long before she assembles a team to assist her. A brick-and-mortar store of her own is also part of her long-term plan. Part of that space would be used "to host different classes—like painting, drawing, and weaving workshops—to get the community together, creating." Valuing all the support she receives from fellow artists and designers, DiMauro says she would invite them to gather there to work, encourage one another, and collaborate.
— V —
---
Reach Mary Ellen DiMauro directly, see her designs, order online, or check her schedule for upcoming arts and craft shows through her website, MaryEllenDiMauro.com, and on Instagram @maryellendimauro.
Sallie W. Boyles works as a freelance journalist, ghostwriter, copywriter, and editor through Write Lady Inc., her Atlanta-based company. With an MBA in marketing, she marvels at the power of words, particularly in business and politics, but loves nothing more than relaying extraordinary personal stories that are believable only because they are true.
ARTICLE CATEGORIES