A Toast to the Roaring Twenties February 14, 2014
By Marta Rose Thorpe | Photography by Kevin K Cannon Photographics
Jimy says it was love at first sight. He spotted me at the Panama City Beach Seafood and Music Festival in 2012, and then didn't see me again until the Beach Chamber of Commerce's Christmas party at the Breakers two months later. Skip Alford, director of membership development at the chamber, introduced me to this handsome, friendly chamber member with the huge smile and warm hug.
JA couple of weeks later, we arranged to meet with our kids at Pier Park for New Year's Eve. We watched our (very energetic) kids play in the bouncy house and slides and over casual conversation, I was struck by how much I liked this guy. Jimy's sons, Mako and Cruz, are 12 and 8; my son, Leo, is also 8, and it was fun to see them all having so much fun together.
We followed up that outing with trail hiking, pizza dinners, trips to Frank Brown Park and, later, a day jaunt out to Cape San Blas. Jimy and I were both active with the chamber, and numerous committee meetings, lunches, and gym workouts transpired. By Valentine's Day, I knew this guy was special. That evening, after dinner at Carrabba's, he took me to the Saltwater Grill for a nightcap and I surprised him by singing "The Look of Love" at the piano with Michael Rorah. That was it. We enjoyed an enchanted first kiss, and from that night on we've been pretty inseparable.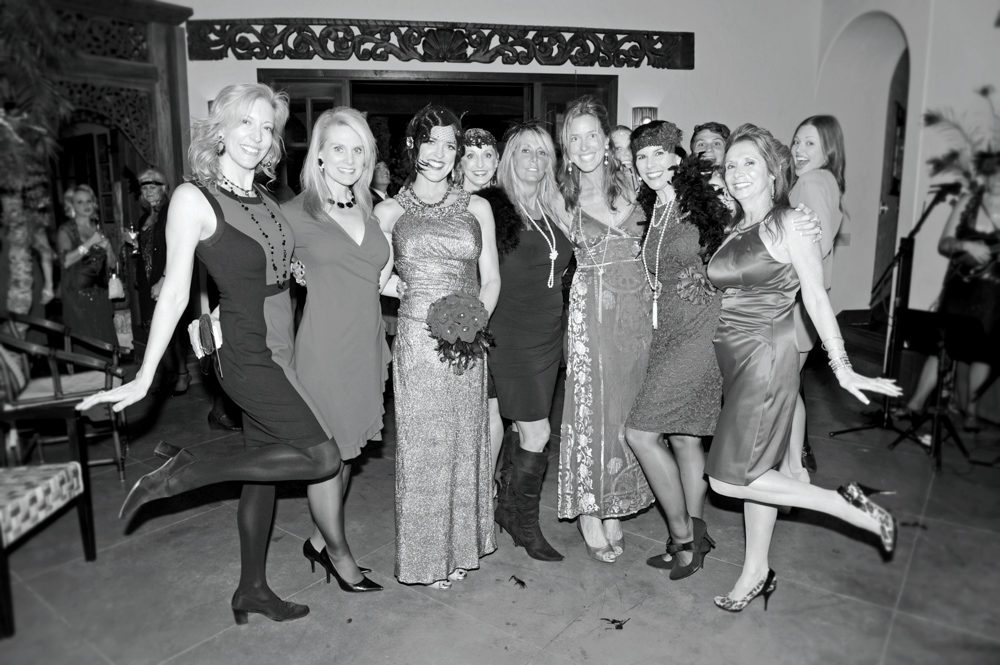 In August, Jimy took me to Buenos Aires in Argentina—the neighboring country of his own native one, Bolivia—a destination on both of our bucket lists. He proposed to me the first night of our trip, which, of course, made the whole magical adventure even sweeter. We weren't in any big race to the altar at first and thought we'd be leisurely and plan to tie the knot "in a year or two … probably."
In late November, we strolled through Eden Gardens State Park in Santa Rosa Beach, Florida, with Leo, the three of us just enjoying the gorgeous nature, and from afar we spotted a couple, with their young son, getting married in the Rose Garden. We were so overcome with the beauty of it that we decided that day to get married on Valentine's Day 2014. We thought the number of the date was cool: 2/14/14, but more important, since we both love romance and the Roaring Twenties era, we decided to weave those elements into our wedding theme. My sister Liz offered her home to us and she was my inspiration, my motivation, my wedding co-planner and decision-maker. Our friend Sonny lent us his 1929 Model A Ford (red, no less) to arrive in, and in mid-December we arranged a gorgeous '20s-era engagement shoot at Eden Gardens with our photographer, Kevin Cannon.
The Reverend Billy Fox married us, and Jimy and I recited a short but poignant vow together. Liz and Mike's Finisterre home had been transformed by Kirby Holt into a Roaring Twenties Gatsby mansion with beads dripping from chandeliers, huge red roses and rose petals strewn all over, and an awesome Twenties-style jazz quartet, the Blue Ribbon Healers. With roses everywhere and candlelight, it was truly a love fest!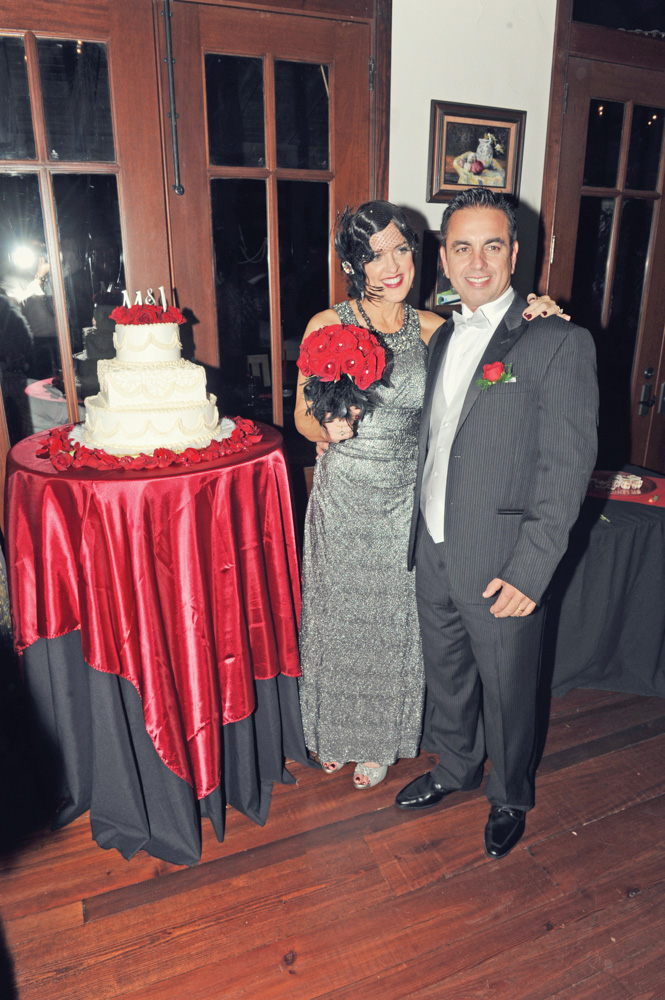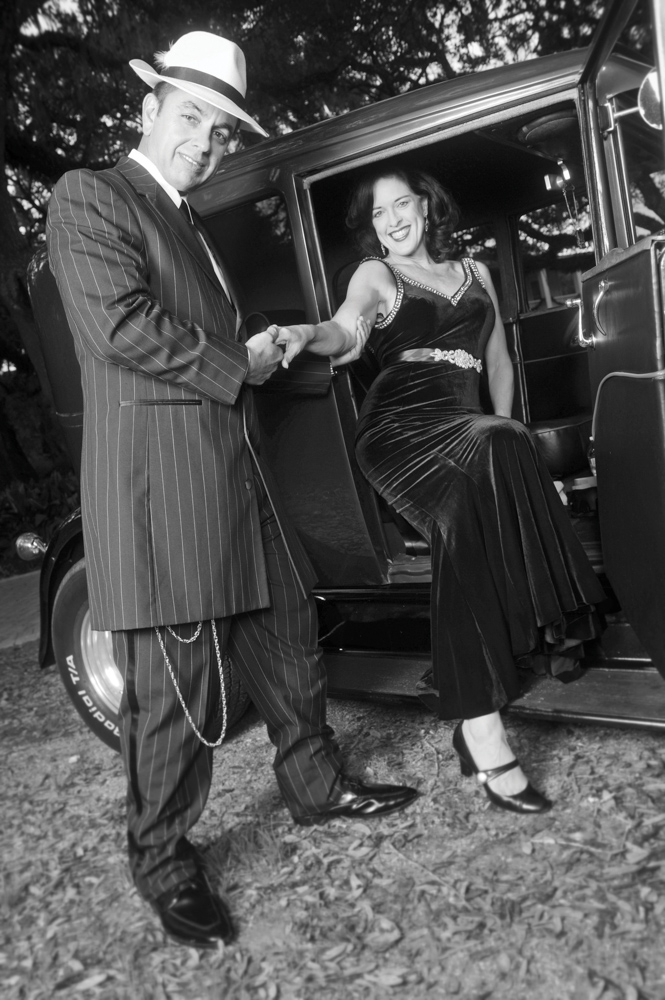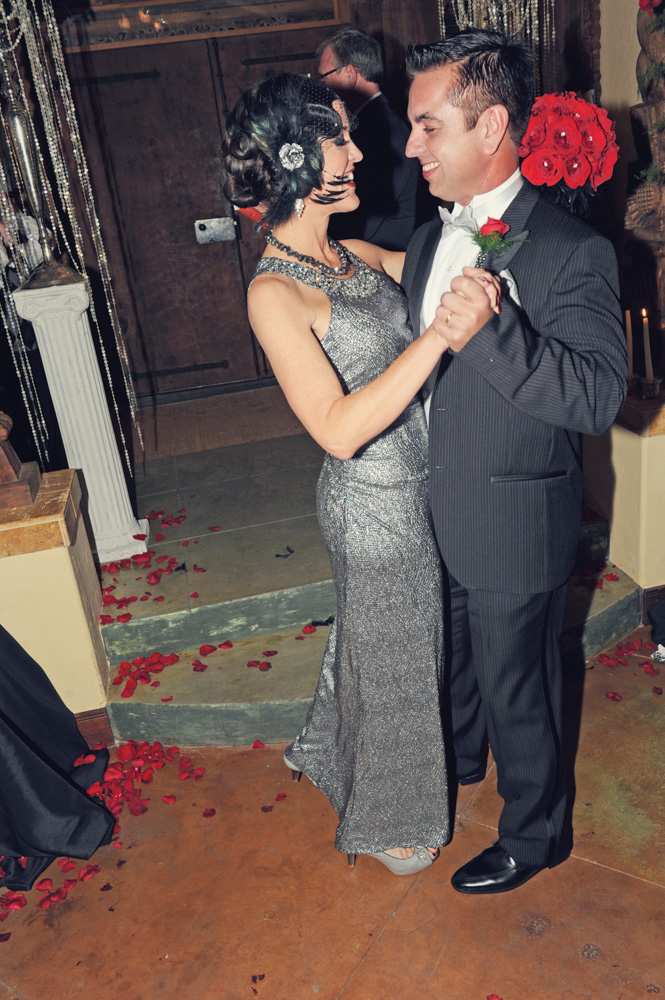 Jimy and I were—and are—very touched that our families and so many good friends came to share our special day with us.
I loved both of the toasts during the evening: first a beautiful, sweet ode to love and loving God from my sister Liz, and later a fun and spirited toast from Skip. I'm a sucker for the classics, and so I serenaded Jimy with "The Man I Love," a 1920s standard by George Gershwin, during our wedding reception. This August, Jimy and I will take our honeymoon—a cruise to Mexico, Belize, and the Cayman Islands.
My wedding was one of the most fun, special, and memorable nights of my life. So often, brides are nervous and stressed, and the whole event is so surreal that they don't remember much about the festivities—they just try to make sure they get a lot of photos. But not this one! I absorbed everything. Jimy and I were—and are—very touched that our families and so many good friends came to share our special day with us.
— V —
ARTICLE CATEGORIES