By Melanie A. Cissone  |  
Photography by Romona Robbins
In Costa Rica, ¡pura vida! is an expression that is more than just two happy words. It's neither an invention to serve the tourist population nor a surfer thing. Costa Ricans use it all the time. It can mean hello or good-bye or that everything is cool. It's not surprising then that Costa Rican–born Marisol Gullo, artist and cofounder of Miramar Beach, Florida's Not Too Shabby, attacks life with that same pura vida attitude that is her essence.
Precocious from an early age, Marisol earned her high school diploma when she was fifteen years old. The entrepreneur, it seems, is blessed with not only beauty but also an innate intelligence and a natural aptitude for learning. Marisol says, "My mom homeschooled me before it was a thing, when I was very young." By the time she attended first grade at age seven, she was moved to second grade after only one semester. The same thing happened from second to third grade. By twenty-one, she had a law degree.
Marisol was raised in San Vito, Costa Rica, a small high-plateau town with a population of about fourteen thousand near the Panama border. Agriculture (chiefly coffee) and cattle farming dominate the economy of the canton's capital. "Interestingly," she says, "my town was founded by Italians."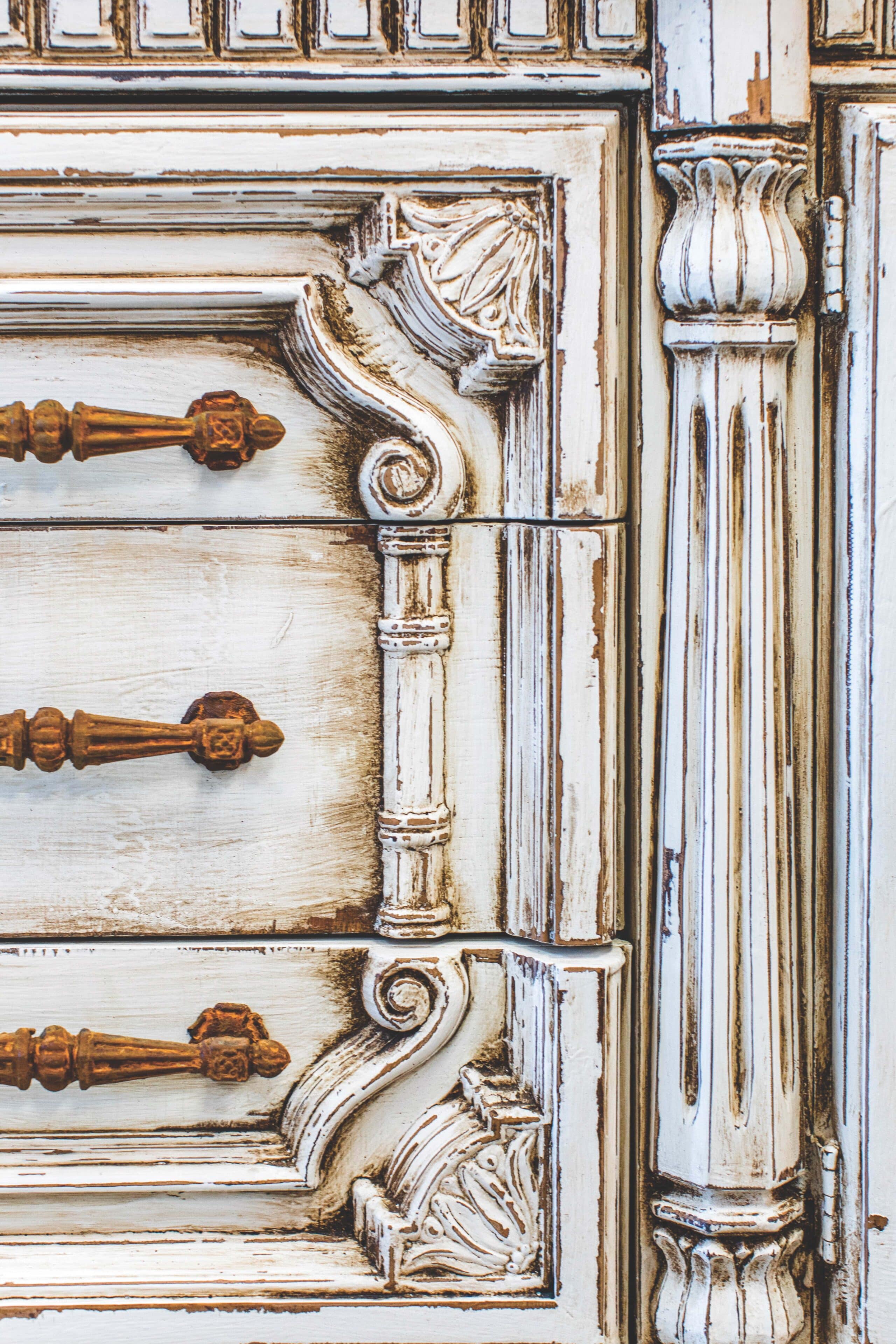 Named for an Italian saint, Saint Vitus, there isn't another place in Costa Rica as strongly influenced by the Italian culture as San Vito. In the postwar socioeconomic crisis that was plaguing Italy in the early 1950s, two Italian brothers marshaled a group of fellow countrymen willing to forge a new life elsewhere and led them to Costa Rica. For its part, the Costa Rican government offered ten thousand hectares of land to some 250 colonists settling in its country. San Vito itself grew from forty-five inhabitants in 1952 to over ten thousand by 1982. Marisol, now forty-two, was born during that explosive population growth.
While pursuing a career as a young attorney in the nation's capital of San José, Marisol met her husband, Las Vegas native Tony Gullo, while he was visiting Costa Rica with his father, a casino operations consultant. Tony's immediate and extended family are all from New Orleans, which is how Marisol and Tony, both born and raised worlds away, even knew about the white-sand beaches of Florida's Gulf Coast. After a year's courtship, the two married, honeymooned in South Walton, and moved to the Emerald Coast in 2001. Is it merely coincidence that Marisol means "sea and sun" in Spanish?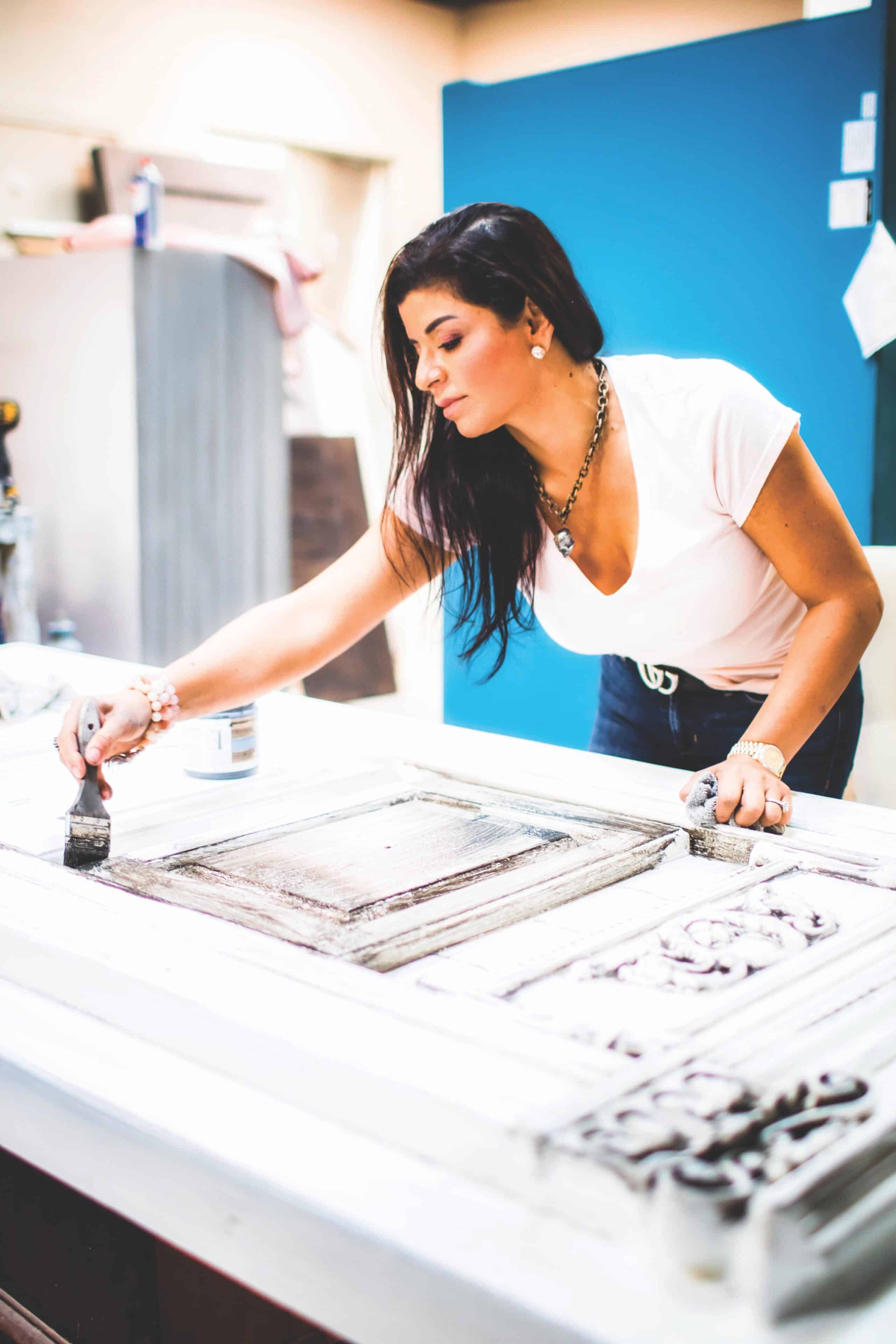 Marisol is close with her family. Reflecting on the pace at which she transitioned from school to attorney to young bride, she says jokingly, "It almost killed my mom."
When the couple began a construction and custom cabinetry business, Marisol's ace in the hole was her ability to speak Spanish. At one point, they had thirty employees, and the jobs they undertook during the early to late 2000s moved along faster and more efficiently because Marisol could communicate with the largely Spanish-speaking workforce.
"That was when I learned to work with furniture, doing faux finishes," she remembers. Marisol also became acquainted with surface materials that she began integrating with traditional art materials for her current artwork. Construction clients would commission her to do custom faux finishes on furnishings and other items. Always pleased with the results, they would ask, "Why don't you open a store and do this full-time?" So she did.
By 2008, the Gullos had transitioned out of custom home builds and into furniture and home decor that was a fusion of French provincial and coastal moodiness. They opened Not Too Shabby in Santa Rosa Beach, and last fall, after six years there, Marisol and Tony moved Not Too Shabby's showroom and workshop to Miramar Beach. The new location is two and a half times bigger than the previous one, and the couple is gleeful about the natural-light-soaked display space and bigger workshop. Marisol says, "It's been fabulous for us here."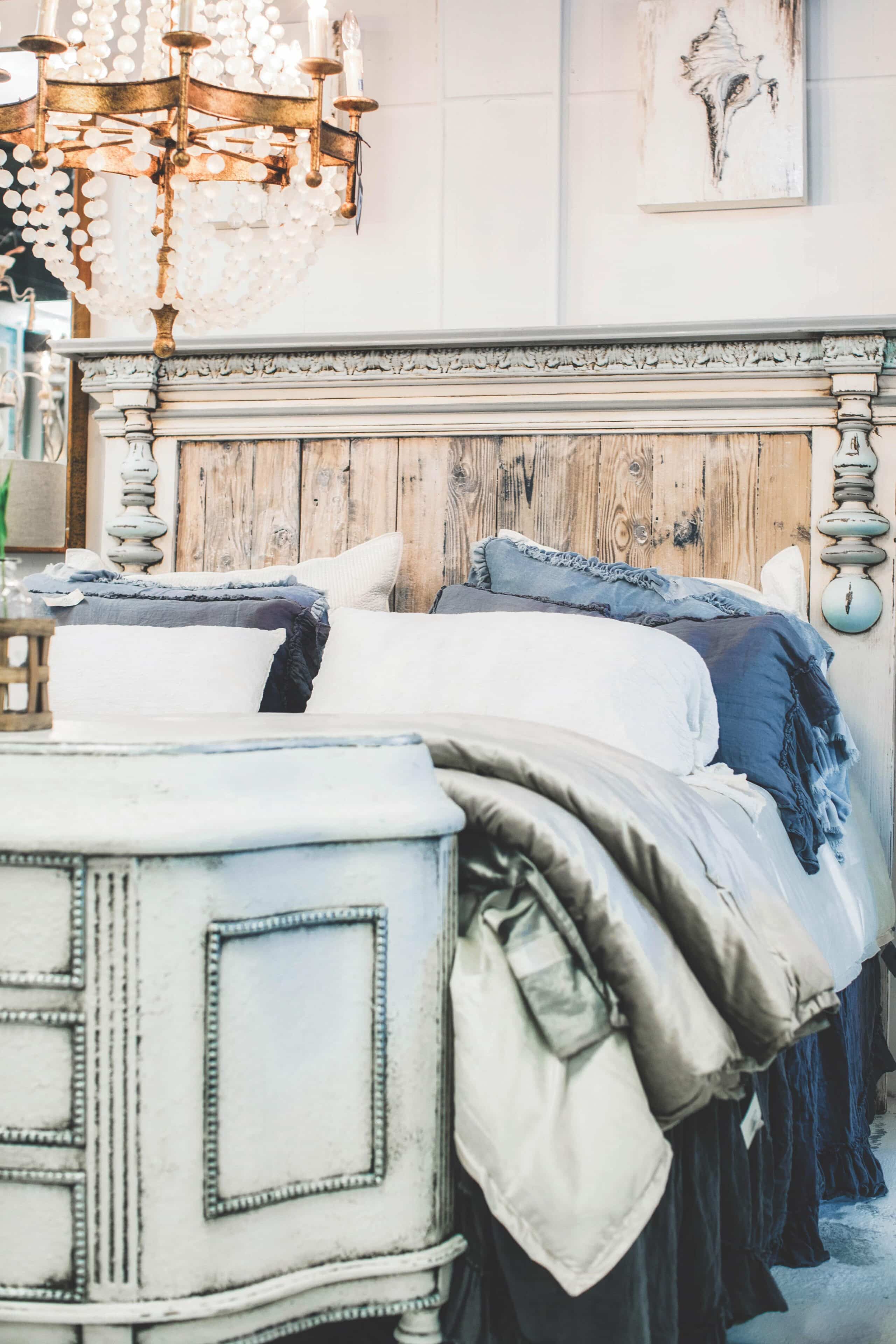 On a stroll through Not Too Shabby, which carries case pieces, vintage repurposed architectural elements, upholstery, lighting, linens, decorative accessories, and jewelry, Tony says, "Marisol's touch is on everything." While she doesn't think twice about getting dirty herself, Not Too Shabby's customized furniture operation has grown such that she and her husband expanded the workshop of craftsmen and women building repurposed items and applying faux finishes to meet the demand. But it's all under Marisol's direction. "Our team is family," Tony insists.
"Displaying artwork in a realistic setting enables our customers to understand it. It also contributes to sales," something she never thought could happen.
Hanging throughout the showroom is Marisol's artwork, which ranges from zero-dimensional paintings to weighty mixed-media works. Marisol, South Walton's 2017 Artist of the Year, says, "As an artist, I'm constantly second-guessing." She might not be as self-confident as she would like to be in the creative process, but she does know a thing or two about merchandising. She says, "Displaying artwork in a realistic setting enables our customers to understand it. It also contributes to sales," something she never thought could happen.
The faux-finish work launched her into decorative artistry for which she became known, and that, in turn, introduced her to textured materials for painting that have become familiar in her current works. "I love texture," she says. Drawn to vintage and antique doors, door jambs, and old windows, Marisol will reinterpret existing structural elements and make something equally beautiful and useful or use them as unique framing for her paintings. She lights up when she says, "I get tremendous satisfaction from repurposing an object."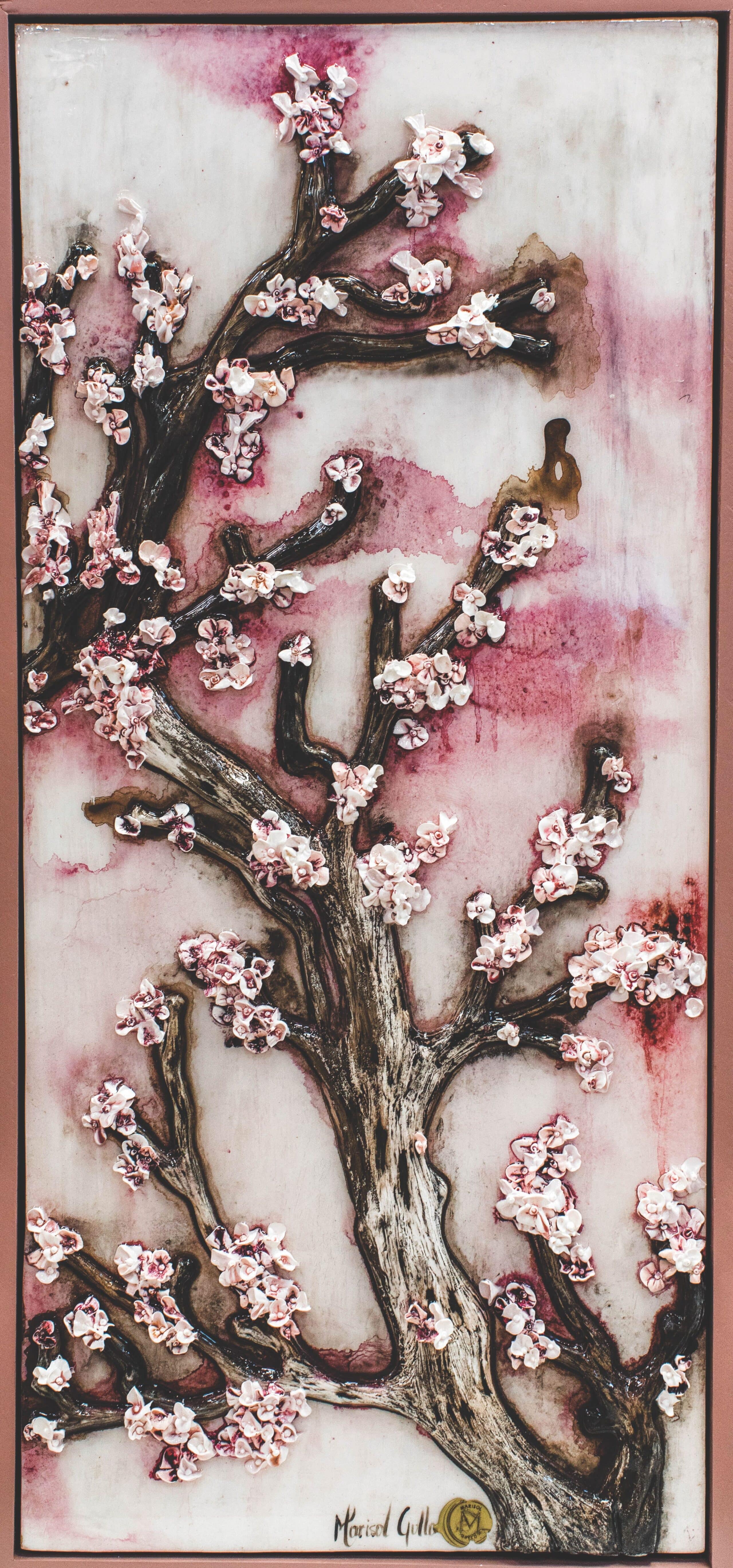 "I've always made art and I love to draw. I just never thought you could make money doing it," Marisol confesses. That changed when a painting she'd done of seahorses sold within a week of being hung in the showroom. Inspired by the Gulf Coast's light, color, flora, and fauna, the artist combines her preferred Venetian plaster with molding paste for malleability to create structural oeuvres but leans toward watercolors when she has a softer goal in mind. She will try any material in her paintings or on furniture pieces.
The true north of Marisol's compass is her eight-year-old son, Joshua. She's reminded of her mother's angst when she left the nest and says, "That baby means the world to me." As if she was seated beside her mother, she says, "Mom, now I know."
Together, the trio have gratitude in their hearts and an ever-present attitude of openness about what the future holds. ¡Pura vida!
— V —
---
Visit MarisolGullo.com or stop by Not Too Shabby at 9755 Highway 98 West, Miramar Beach, to see and learn more.
ARTICLE CATEGORIES