By Chris J. Ogle | 
Photography by Nate Bressler | 
Videography by Shane Reynolds
When a group of local, well-traveled surfers, divers, and fishermen set out to explore the Maldives, they quickly realized that not only had no one in their group ever been there, but they also didn't know  anybody who had ever traveled there. The surprises that followed were many—and well worth the trip.
Maldives (mol-deevz): An exotic chain of atolls in the north Indian Ocean
We were at over thirty-two hours of travel time when our flight finally descended through the clouds to reveal a minefield of royal blue and turquoise ringed atolls that comprise the promised land of the Maldives. Velana International Airport (also known as Malé International) provides the unique experience of walking a hundred feet from the terminal to board a water taxi that quickly whisks you away from civilization and all the residual stress of Western life. The dots on the map that we had all studied so intently became a dizzying blur of crystal clear water, palm frond–covered islands, and endless blue skies. We motored over decent-sized groundswells atop a glassy sea while observing waves breaking on the islands in every direction. It wasn't long before we all fell under the spell of this tropical playground.
Florida's Emerald Coast—in particular, Destin—is home to a surprising number of seasoned adventure travelers, thanks in part to a significant number of surfers and scuba divers who travel there to teach and take advantage of the warm Gulf of Mexico. For our trip's organizer, world-renowned videographer Shane Reynolds, exploring the surf from the deck of a 120-foot liveaboard ship with a handful of good friends has been a lifelong dream. Good thing for us, Shane doesn't waste much time when it comes to his bucket list—and he's not bad at bringing the right people together, either.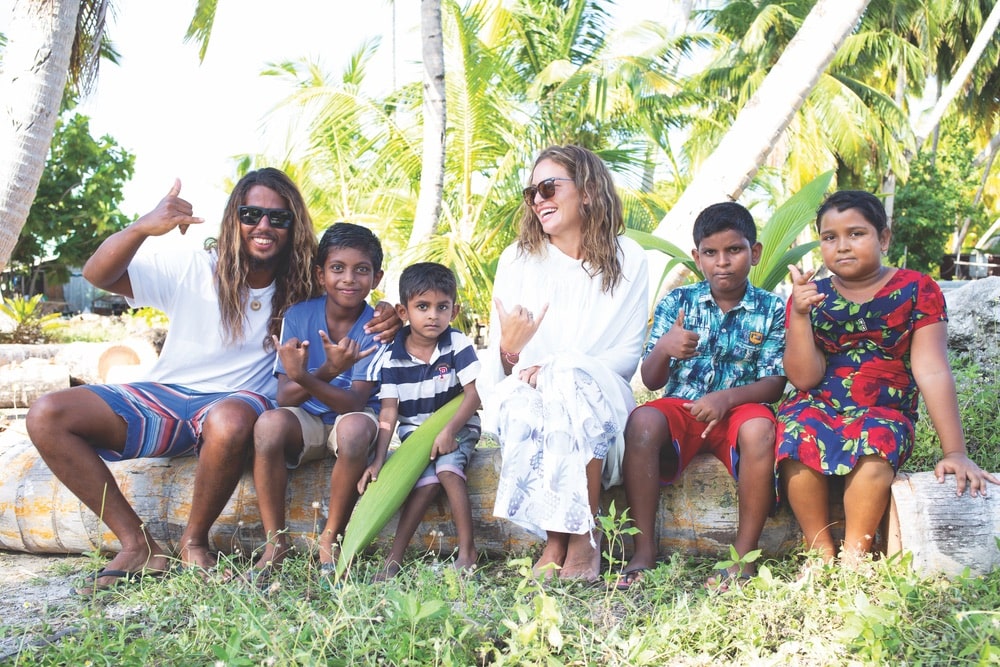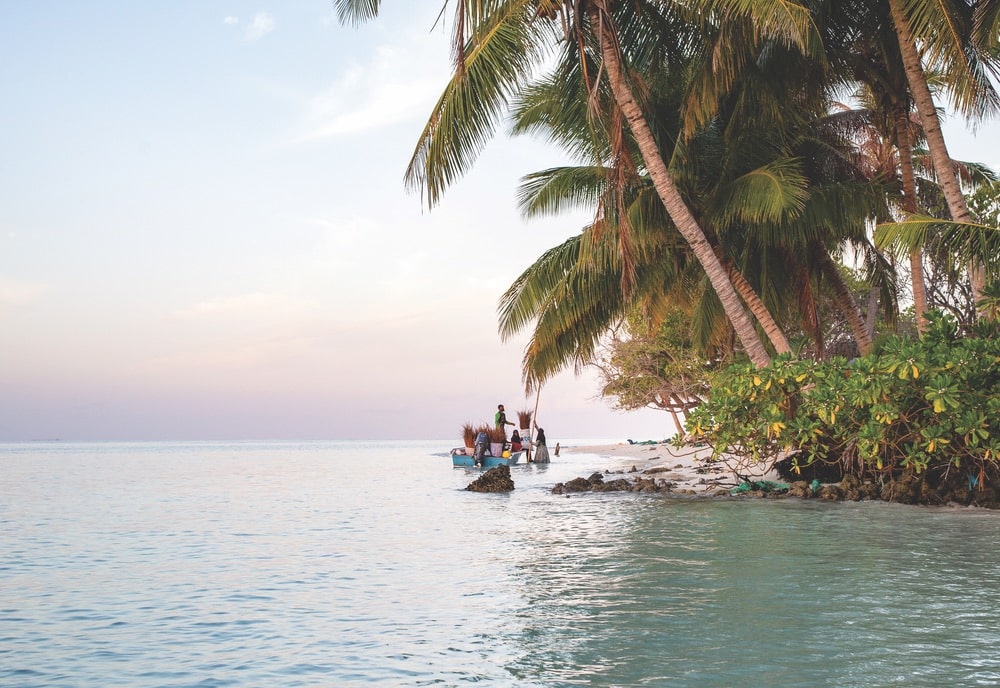 After connecting with Carpe Diem Maldives, a reputable Maldivian fleet mostly known for diving, Shane committed to helping fill a surf charter on their second-largest yacht, the Carpe Vita. The vessel sleeps twenty but has a twelve-person maximum for this type of charter. The first commitment to join was from Nate Bressler, a fun-loving, mustached photographer from Los Angeles. With a minimum of persuasion from Nate, four of his LA friends decided to join the group: Oscar, the Survivor alum; Stephanie, the free diver; and the adventurous duo of Greg and Christine. From the Florida Panhandle came prominent local artist Harley Van Hyning, a.k.a. Gnarly Harley, followed by Sid the Army man, Jason of Xtreme H2O Sports, and, rounding out the crew at the last minute, yours truly—a lifelong waterman and third-generation Destin local. Fittingly, the LA crew flew west and we flew east to meet for the first time on the other side of the world. Our mission was to score uncrowded waves, dive in pristine waters, catch and eat some good fish, and capture it all in photos and video. For all of us, it was a "no mo' FOMO" trip!
By the time we watched the port of Malé fade into the distance behind us on a Sunday afternoon, we already felt like old friends. One evening surf session over a shallow left-hand point break and a buffet-style dinner on the back deck later, and our group had grown by three: our local surf guide, Naan, our dive guide, Saaji, and our trip director, Tina. The entire local crew on board the Carpe Vita knew exactly how to squeeze every drop of perfection out of these islands, and there is no better catalyst to the bonds of friendship than like minds sharing space in paradise.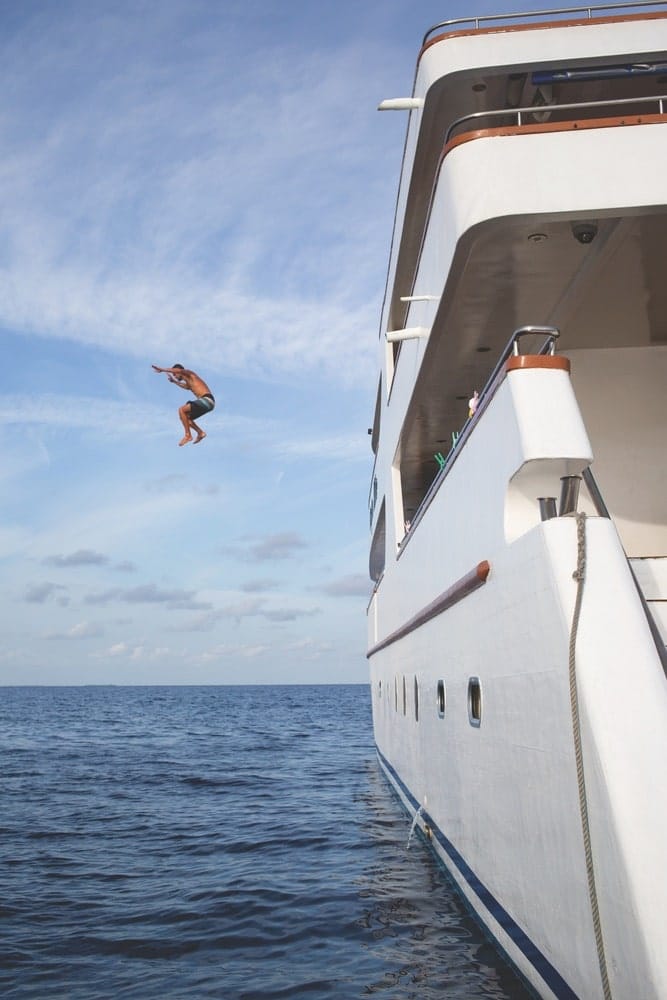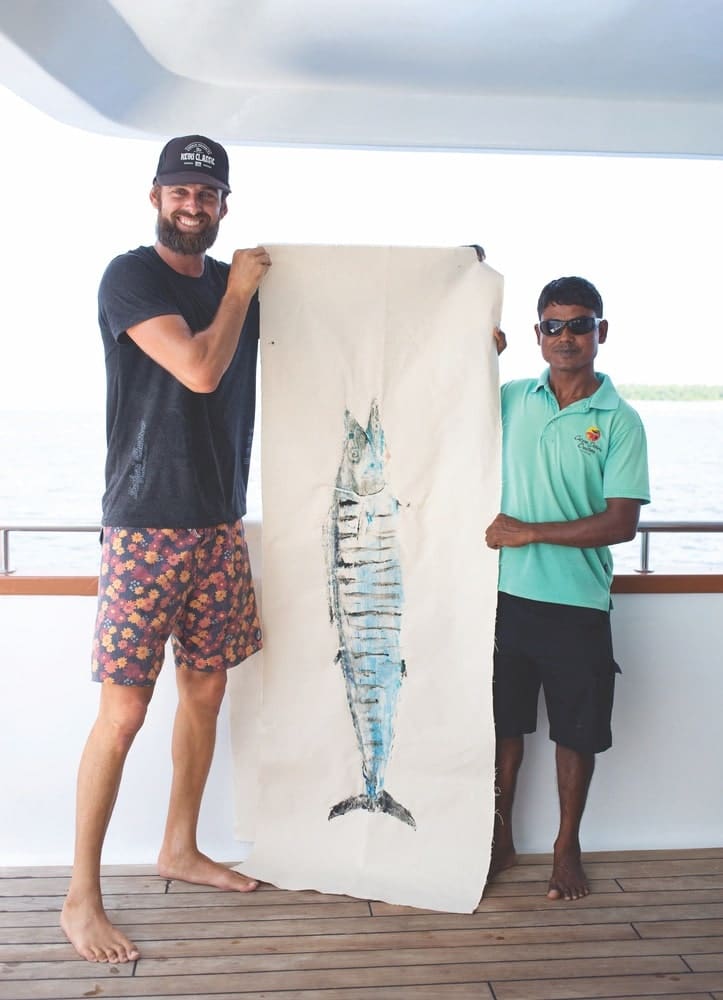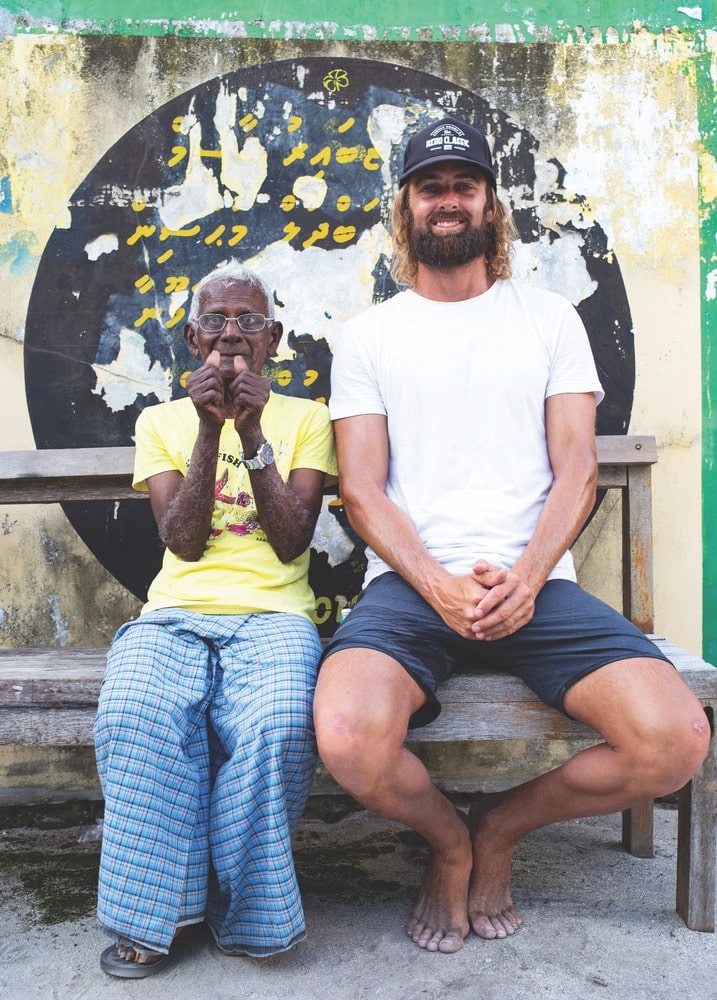 Laughing and recounting great rides together became a moment in time that was punctuated by flashes of reality setting in—this was, indeed, happening. I can still recall numerous Walter Mitty moments when reality seemed to catch up to—and surpass—fantasy. The magic of the tropics seemed to slow down time as the experiences of our new family intertwined, but one story in particular sums up the perfection for all of us.
Picture waking up to the giddy excitement of Gnarly Harley dragging his first hand-lined wahoo back to the boat. After breakfast, we gathered around as he prepared his paint set for a go at gyotaku, the Japanese art of making a print using an actual fish. The wahoo was carefully placed on the table while its dorsal and side fins were meticulously pinned out and its mouth propped open to reflect a lifelike image of the predator in action. When the artist was happy with the positioning, he pressed a cut of canvas over the fish to absorb the paint and forever preserve and honor the life of the fish. There was instant gratification upon the reveal of the raw print—and immediate anticipation of how it would look on the wall after Harley painted in the details by hand, but that could wait for another day. In that moment, the surf was firing with no one in sight, and for Harley, dragging his hand along a perfect wave was the best possible way to wash the wet paint from it. By the time we paddled back in, there was wahoo sashimi waiting for us. It was truly the circle of life—the good life: fish, paint, surf, dive, eat, and repeat.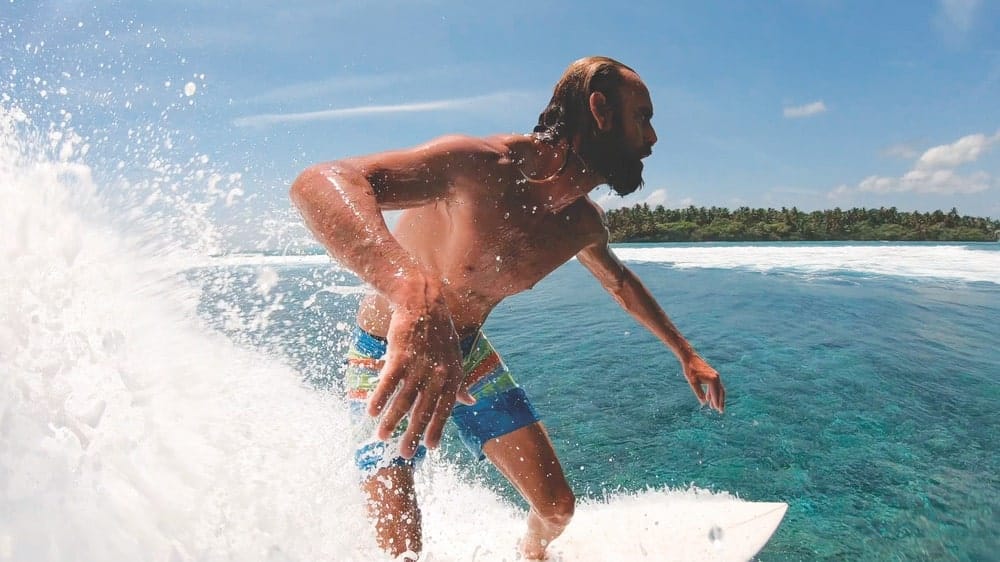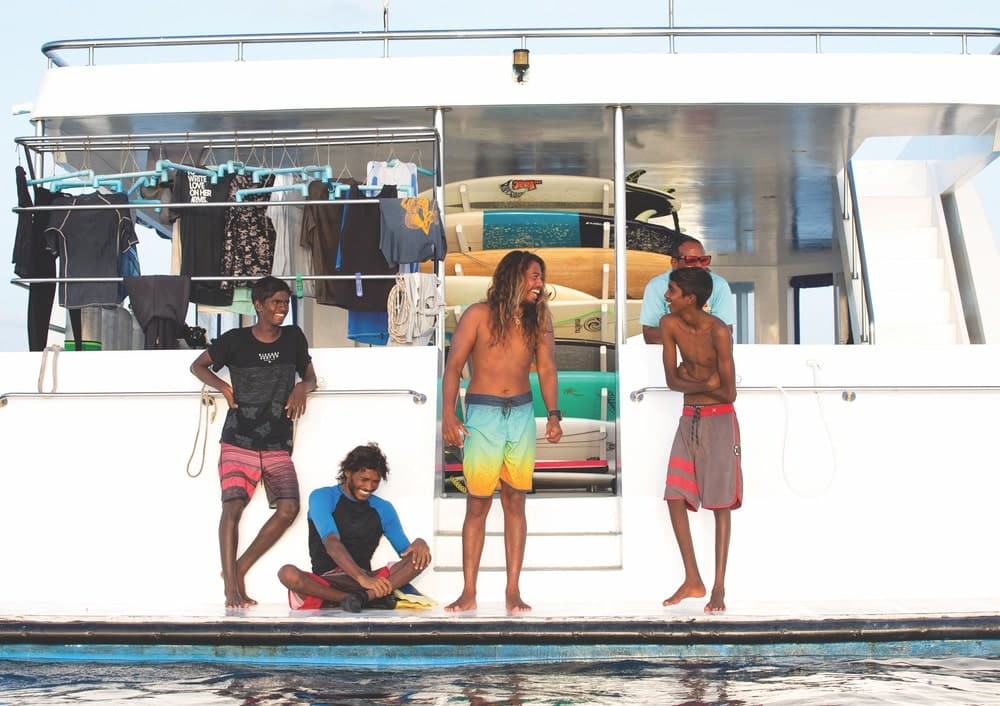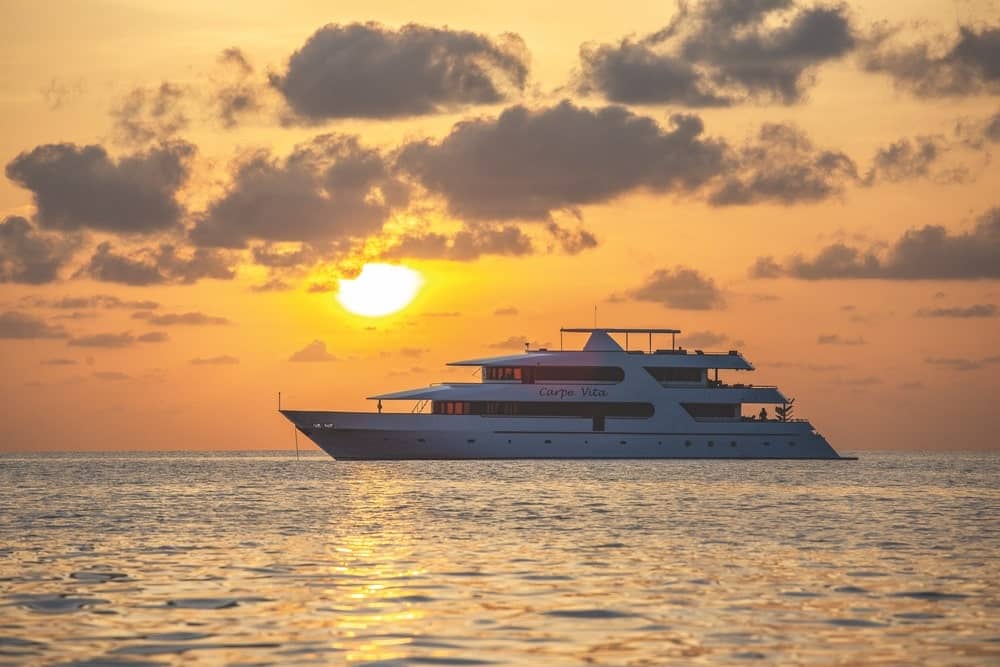 As "perfect" as this all sounds, it's actually a selfish way to travel. Learning new cultures is a vital aspect of exploration, and we didn't go all that way to stay in our comfort zone. So the nearby island of Hulhudheli served as an inspiring day trip. We were the only tourists around, and the locals greeted us with smiles while the customary Muslim call to prayer echoed throughout the town. Elderly women sat weaving coconut husks into braided rope in a process that would have tested the patience of Job. Small children gawked at us while Nate tried to coax smiles out of them. Most of the women wore burkas, a stark reminder of where we were.
Our second island visit was a night out at the Blue Star Club on Fulidhoo to take in some traditional Maldivian drumming and singing. As we gathered in the open-air common area, the ceremony started slowly. It felt like a scene out of a movie with us, the Westerners, being observed just as much as we were observing their culture. The beats became so overwhelming that, within minutes, we were all dancing with the locals in a blur of energy that could easily have lasted all night. For the rest of our journey, and the rest of our lives, those infectious beats and genuine Maldivian vibes will be imprinted on our souls.
There is almost always inspiration in travel, but for that rare moment when you take a leap of faith and really go big, it always seems like a no-brainer when you look back on it. There is a vastness to the universe that you slowly realize while you are contemplating life from the deck of a yacht parked off an unnamed tropical island with perfect surf on the other side of the world.
But hey, that's just my bucket list. What's on yours?
— V —
---
Chris J. Ogle is a Destin, Florida, native and a local financial advisor. He is a lifelong saltwater enthusiast who loves surfing, fishing, and diving. Follow Nate Bressler (@whereveruwannabe), Shane Reynolds (@colorearthpro), and Harley Van Hyning (@gnarlyharley) on Instagram for more dynamic visuals of their work and world travels.
ARTICLE CATEGORIES