Recipes for Your Holiday Table
It's that time of year when the Christmas bells are ringing and holiday hosts are planning festive soirees and spirited spreads for gatherings with those they love most. Whether you're planning an elegant dinner party, a merry brunch feast, or a workplace smorgasbord, this roundup is for you! VIE got in touch with some of our favorite foodies to find out what's on their tables, and they graciously agreed to share the holiday cheer. Be sure to stop by their blogs or social media channels to say thanks! Bon appétit!
---
The Poinsettia
Courtesy of St~Germain There's nothing to kick off a dinner party or festive soiree like a signature cocktail! This bubbly treat will keep you feeling merry and bright.
StGermainLiqueur.com | @stgermaindrinks
Ingredients
4 oz Martini & Rossi prosecco

1 oz pomegranate juice

1/2 oz St~Germain elderflower liqueur

Optional garnish: edible glitter dust
Directions
Add all ingredients in a chilled flute and stir gently. Cheers!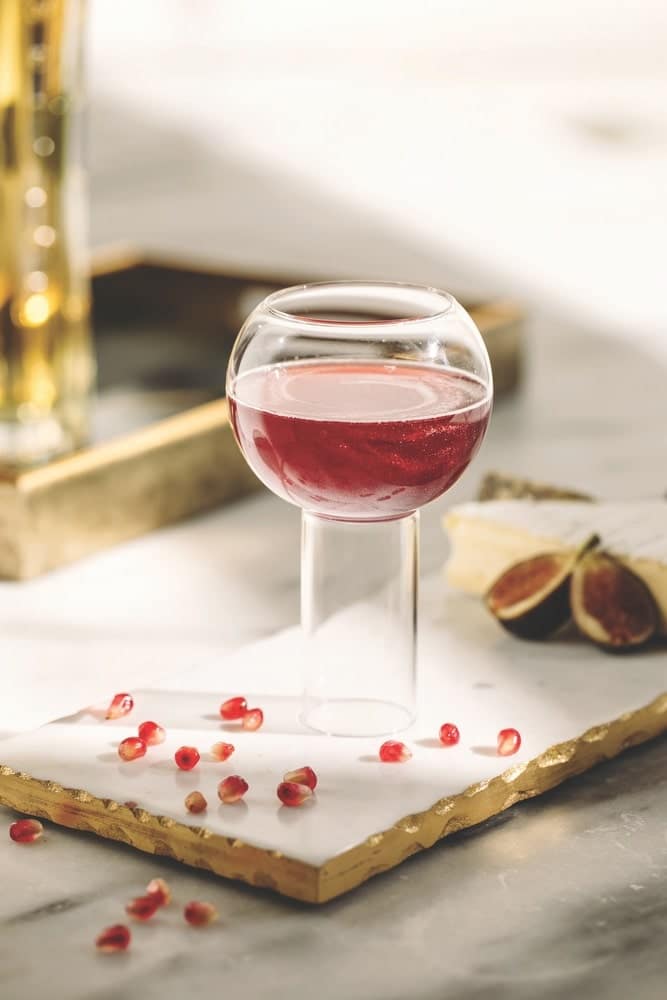 ---
Tomato Burrata Salad
When the author's blog is called Don't Go Bacon My Heart, you know the food will be rich and delicious. We love this fresh tomato burrata salad recipe for a small party appetizer, but the talented Chris Collins also says it's a great lunch for two!
DontGoBaconMyHeart.co.uk | @dontgobaconmyheart_
Ingredients
Marinated tomatoes

1/2 lb (250 g) baby plum tomatoes, halved

2 tbsp extra virgin olive oil, for tomatoes

1 tbsp red wine vinegar

2 tbsp very finely diced red onion (approx. half a small onion)

2 tsp very finely diced fresh basil, plus a few small leaves to serve

2 tsp very finely diced fresh parsley

1/4 tsp each: salt, black pepper

1 x 5-oz (150-g) ball of burrata cheese (or similar size)

1 small baguette, sliced (see notes)

2 tbsp extra virgin olive oil, for toasting bread

1 clove of garlic, peeled (optional, see notes)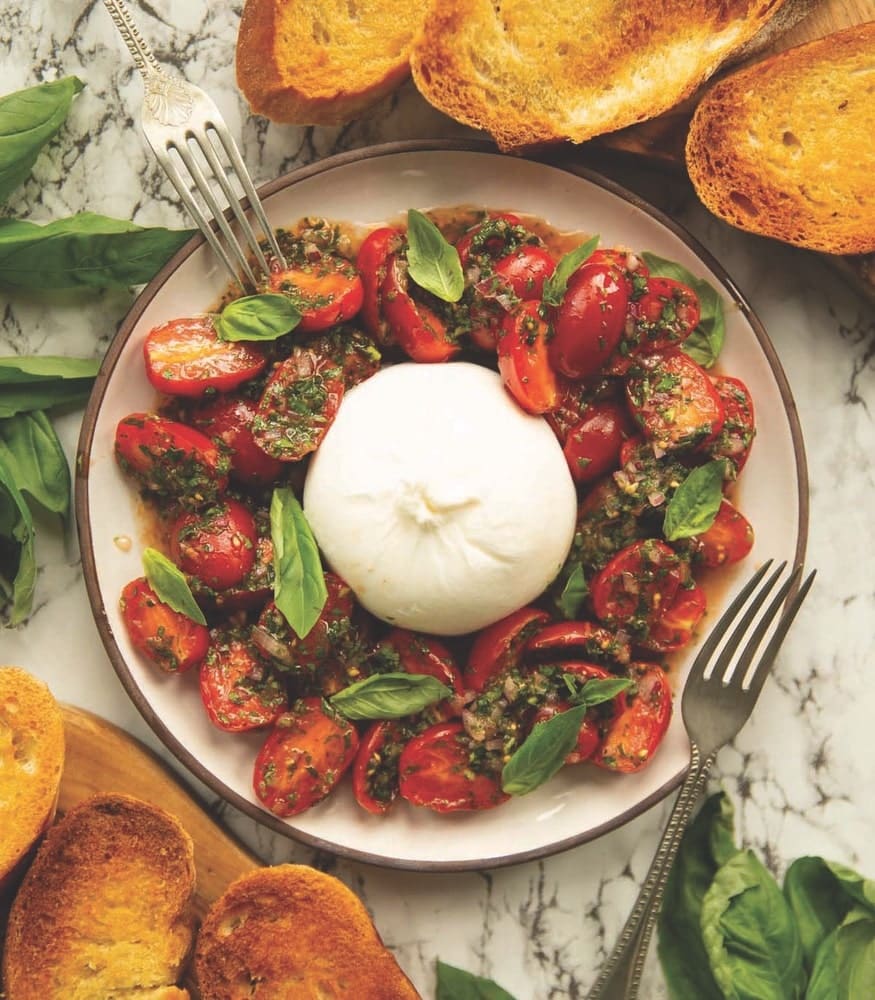 Directions
Tomatoes: In a large shallow dish, whisk together extra virgin olive oil, red wine vinegar, onion, basil, parsley, salt, and black pepper. Add sliced tomatoes and toss to coat them in the marinade. Leave in the fridge to marinate for as long as you have time (overnight best, 1 to 2 hours great, but even just 30 minutes will work wonders).
For the bread: Slice bread to your preferred thickness, then space it out on a large baking tray. Lightly brush both sides with oil, then pop under the grill and broil both sides until golden and crisp. Optional: Lightly rub one side of each slice of toast with garlic.
Place burrata in the center of a serving plate and add the marinated tomatoes around the outside. Drizzle leftover marinade over the tomatoes, then dot over a few small basil leaves for garnish. Slice open burrata, then tuck in by spreading it over the toast with the marinated tomatoes on top (kind of like bruschetta). Enjoy!
Notes:
Bread: Go for something firm, like sourdough or ciabatta. Here I've used artisan-style bread, which works nicely. You want a sturdy bread that will crisp up nicely and give you a nice crunchy contrast to the soft tomatoes/burrata.
Garlic: This is optional but gives an extra layer of flavor. The excess heat will gently "cook" the garlic. Don't go overboard; just a gentle rub, otherwise it'll be overbearing.
Serving: I usually serve this for lunch for two people, with around 3 slices of bread each. You could stretch to 4 servings with 8 slices, especially if it's just a starter.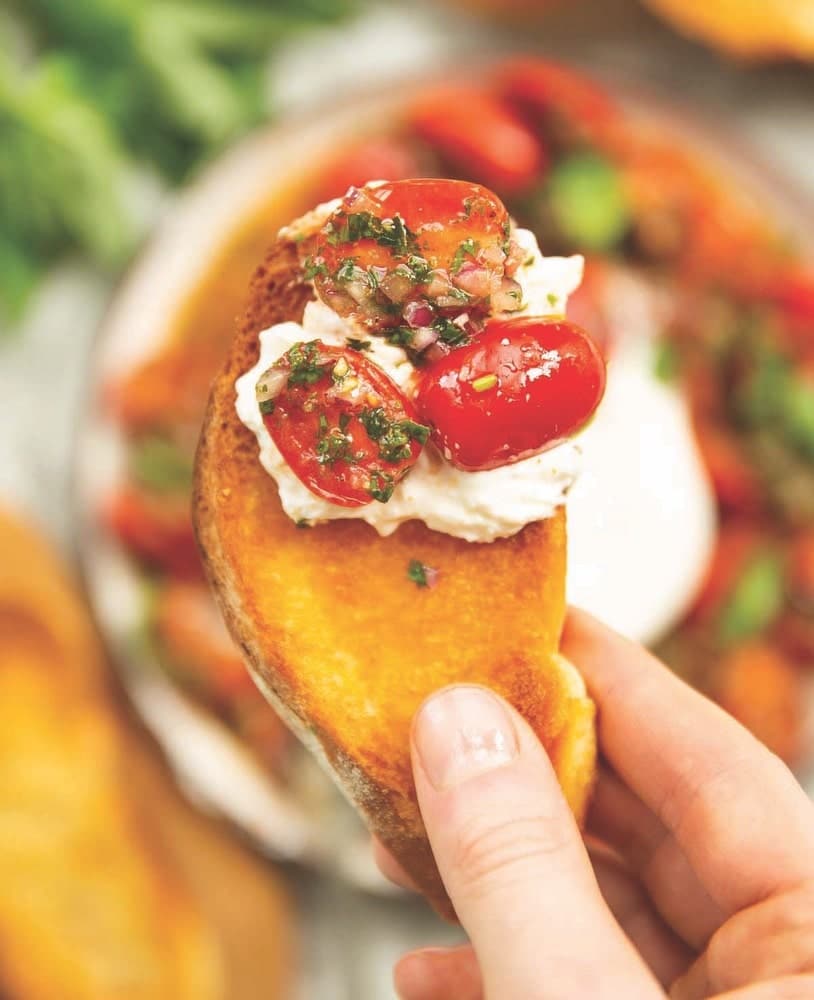 ---
Holiday Harvest Rice
Remy Park of the Veggiekins blog brings us this tasty vegan, gluten-free appetizer or side dish that is sure to be a hit for any get-together.
VeggiekinsBlog.com | @veggiekins
Prep time: 45 minutes
Yields 6 to 8 servings
Ingredients
Grains

1/4 cup long grain brown rice

1/4 cup white or tricolor quinoa

1/2 cup wild rice

2-1/3 cup vegetable broth

Everything Else

1 red onion, minced

1 shallot, minced

1/2 cup celery, minced

3/4 cup carrots, minced

5 cloves garlic, minced

12 oz mushrooms of choice (I used button, oyster, and shiitake)

1 tbsp fresh sage, minced

1 tbsp fresh thyme, stems removed

1 tbsp fresh rosemary, minced

1 tbsp gluten-free soy sauce

1/2 large apple, diced

1/4 cup pomegranate seeds

Salt and pepper to taste

1–2 tbsp vegan butter* (optional)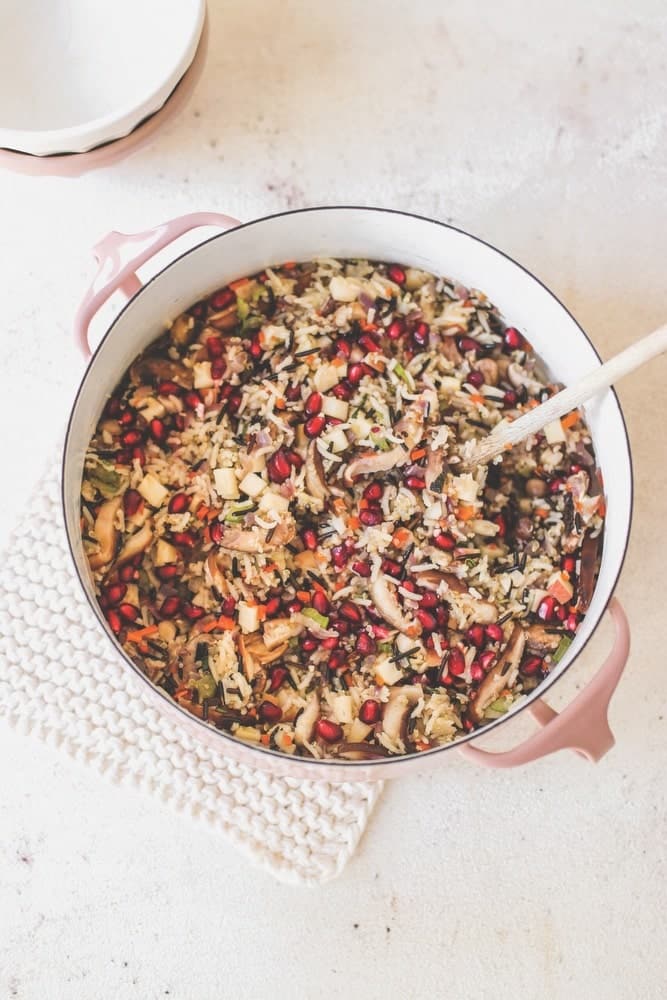 Directions
For the grains: Add grains and vegetable broth to a saucepan and bring to a low boil. Reduce the heat, cover, and let simmer for about 30 minutes. Once grains are ready, give them a gentle fluff and set them aside.
For everything else: In a large saucepan, sauté the onion, shallot, celery, and carrots with a touch of neutral oil until tender. Add garlic, mushrooms, herbs, and gluten-free soy sauce and sauté for another 3 to 4 minutes.
Add the cooked grains to the mix and gently fold to combine all ingredients evenly. Finally, add apples to warm for a few minutes. If using vegan butter, toss into the drive until melted and nicely incorporated. Taste and season your rice with salt and pepper as desired.
When ready to serve, toss pomegranate seeds into the rice and enjoy!
*Adding the vegan butter gives the dish a nice extra oomph and richness. You can exclude it if you'd like.
---
Green Beans Amandine
Green beans amandine is a simple dish of sautéed green beans and garlic, toasted almonds, and a squeeze of lemon. It is bright, citrusy, and nutty for a healthy side dish worth sharing. "My family loves this classic recipe," says author Hannah Sunderani of The Two Spoons Cookbook. "If you ask me, it's far too delicious for how quickly it comes together."
(Vegan, gluten-free, grain-free, soy-free, no sugar added, refined sugar-free) Yields 4 servings
Ingredients
1/2 cup slivered almonds

3 tbsp olive oil

4 cloves garlic, finely chopped

2 shallots, finely chopped

1 lb (450 g) green beans, trimmed

1/2 tsp fine sea salt

Pinch of freshly ground black pepper

1 tbsp lemon juice

Zest of 1 lemon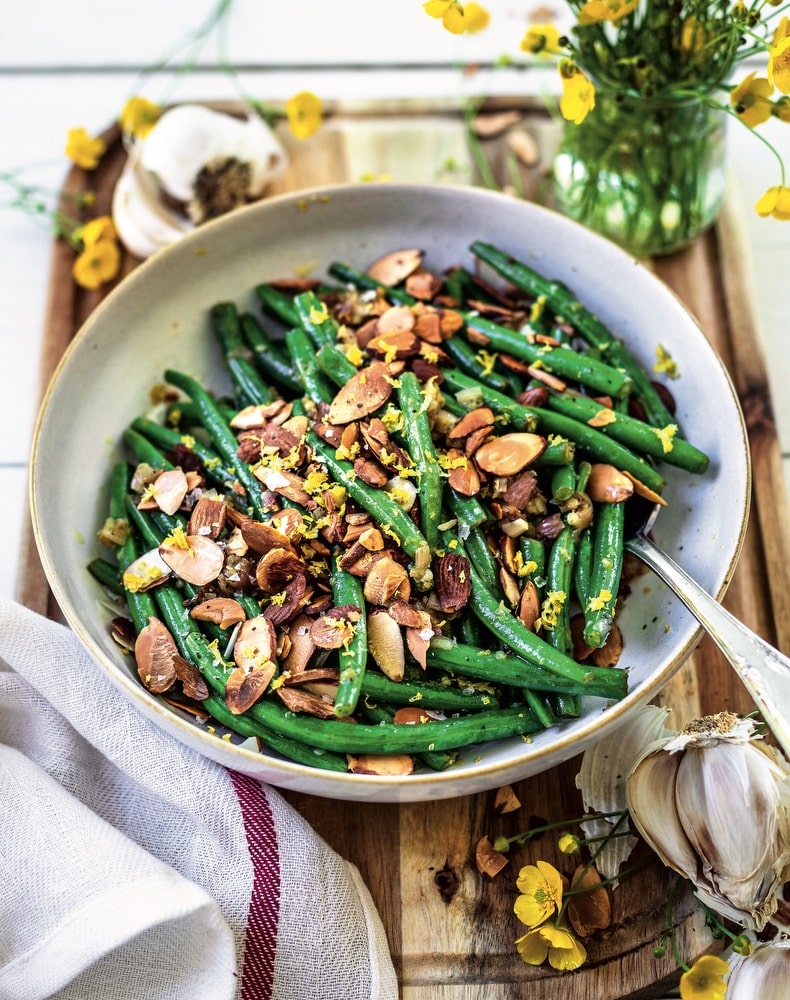 Directions
In a small skillet over medium heat, toast the almonds, stirring often, until fragrant and golden brown, 5 to 7 minutes. (Keep a close watch on the almonds, as they can quickly go from lightly brown to burnt.) Set aside.
Heat the olive oil in a large skillet (preferably cast iron) over medium heat. Add the garlic and shallots and cook, stirring frequently, until the shallots are softened, 2 to 4 minutes.
Increase the heat to high and add the green beans, salt, and pepper. Sauté the green beans until al dente, 5 to 7 minutes. Pour in the lemon juice, and sprinkle with the toasted almonds and lemon zest. Toss to combine. Serve hot.
---
Lemon Tart
"Lemon tart was served at our wedding in the Dordogne region of France," says Two Spoons app creator and blogger Hannah Sunderani. "Even though all the food was a smashing success, it's the lemon tart my mum always raves about. I created this recipe in tribute to that tart so I can serve it to my mum for years to come." It's sure to be a beautiful addition to any holiday table!
(Vegan, gluten-free, soy-free, refined sugar-free)
Yields 12 servings
Ingredients
Crust
1 cup (133 g) gluten-free old-fashioned rolled oats

1/2 cup (60 g) raw walnuts

1/2 cup (50 g) almond flour

1/4 cup (50 g) coconut oil, melted

2 tbsp pure maple syrup

1/4 tsp fine sea salt
Lemon Filling
1 can (14 oz/400 ml) full-fat coconut milk

Zest of 1 lemon

1/2 cup lemon juice

1/4 cup pure maple syrup

1/8 to 1/4 tsp ground turmeric, for coloring

Pinch of fine sea salt

1 tsp agar-agar
Garnishes (optional)
1 lemon, thinly sliced

1/4 cup fresh raspberries

1 tbsp unsweetened coconut flakes
Directions
Place the cashews in a small bowl and cover them with boiling water. Soak for 1 hour, then drain. (Alternatively, soak the cashews in room-temperature water to cover for at least 6 hours or overnight, then drain.)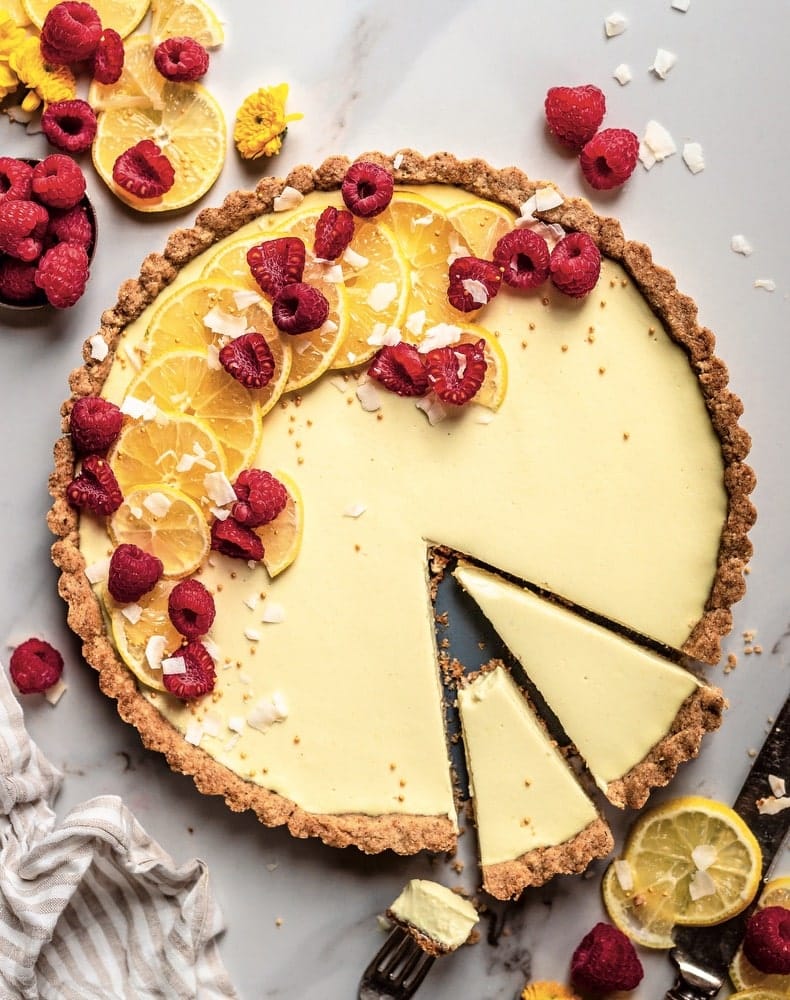 Make the pastry crust: Preheat the oven to 350°F (180°C). In a food processor, pulse the oats until they reach a flour-like consistency. Transfer the oat flour to a small bowl. Add the walnuts to the food processor and pulse into a fine meal. Add the oat flour, almond flour, coconut oil, maple syrup, and salt. Pulse until well combined, 15 to 30 seconds.
Transfer the dough to a 9-inch round tart pan with a removable bottom, and press it evenly into the bottom and up the sides. Using a fork, poke 10 to 12 holes in the base of the dough. (This will stop the base from lifting as it cooks. There's no need to use pie weights with this crust.) Place on a baking sheet and blind-bake until golden brown, about 10 minutes. Let the crust cool on a wire rack for at least 20 minutes.
Meanwhile, make the lemon filling: In a high-speed blender, combine the drained cashews, coconut milk, lemon zest, lemon juice, maple syrup, 1/8 teaspoon of turmeric, and salt. Blend on medium-high speed until smooth and combined. Add up to 1/8 teaspoon more turmeric for coloring, if desired. (Note that the color will deepen when the filling is heated.) Next, add the agar-agar and blend on low speed until combined, 15 to 20 seconds.
Pour the filling into a medium saucepan. Over medium heat, stir often with a spatula until the mixture has thickened to a pourable custard consistency (just before it reaches boiling) and there is a bit of resistance, 7 to 10 minutes. Working quickly, pour the filling into the blind-baked tart shell. It will begin to thicken immediately. If the filling is uneven, gently jostle the tart back and fork on the counter to smooth the top. Pop any air bubbles with a toothpick.
Let the tart cool completely in the pan on a wire rack at room temperature. Then cover with plastic wrap (it's OK if it touches the filling), and chill in the refrigerator for at least 3 hours, preferably overnight. To serve, gently remove the sides of the pan. Garnish the tart with thinly sliced lemon rounds, fresh raspberries, and a sprinkle of coconut flakes if desired.
Notes:
Storage: Store the tart in the pan with the top covered with plastic wrap, or in a round airtight container, in the refrigerator for up to 1 week. For covering the tart, plastic wrap works better than a reusable wrap. Plastic wrap is easier to peel away from the filling without sticking.
Cracks: If your filling cracks when it sets, it could be that you transferred the tart to the refrigerator before the filling had completely cooled to room temperature. Alternatively, it's possible that the filling was overheated and got a bit too thick. The ideal consistency is a pourable custard. However, cracks are totally fine—it tastes just the same with or without cracks!
Do ahead: The crust can be assembled 1 day in advance. Press the dough into the tart pan, cover it with plastic wrap, and refrigerate for up to 24 hours. Bring to room temperature and bake as directed.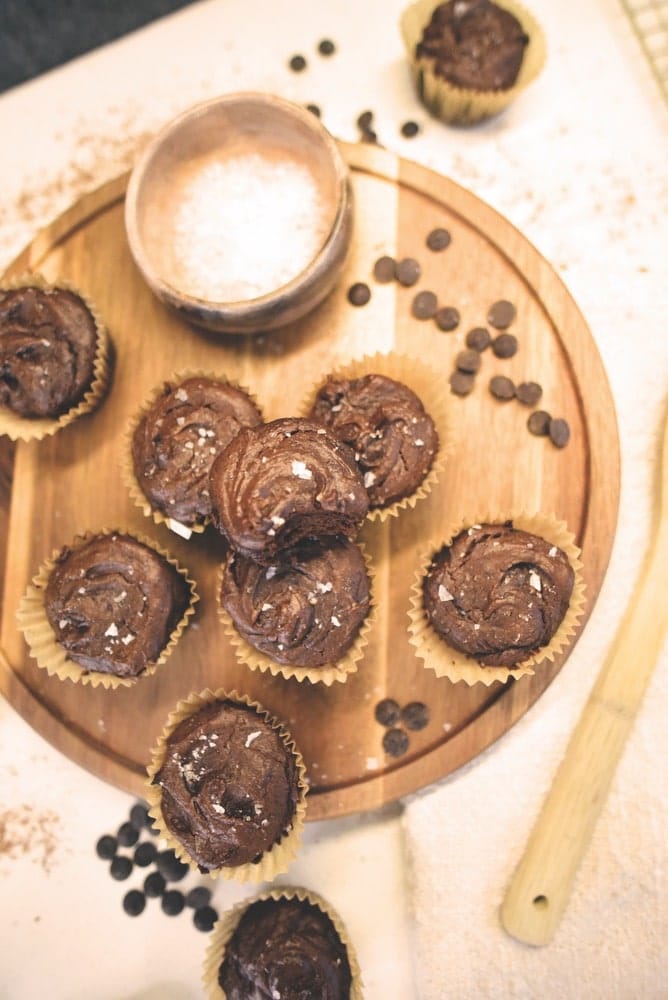 ---
One-Bowl Fudgy Chocolate Muffins
Sophia Richards, also known as Sophia Victoria Vegan, is a Northwest Florida local and self-taught, allergy-friendly baker and food blogger focusing on nourishment and gut health. Each bite of these flourless, fudgy muffins will transport you to a chocolate paradise—perfect for a Christmas breakfast or brunch!
SophiaVictoriaVegan.com | @sophiavictoriavegan
(Nut-free, oil-free, gluten-free, refined-sugar free, whole food plant-based)
Yields 12 muffins
Ingredients
1 cup unsweetened sunflower butter (can substitute your favorite nut butter)

1 cup organic pumpkin puree or mashed banana

1/2 cup pure maple syrup

1/4 cup date sugar or coconut sugar (optional for added sweetness)

1/2 cup cacao powder

1 tsp baking powder

1 tsp vanilla extract

1/2 – 1 tsp sea salt

1/2 cup dairy-free dark chocolate chips or a roughly chopped bar of dark chocolate

Flaky sea salt for topping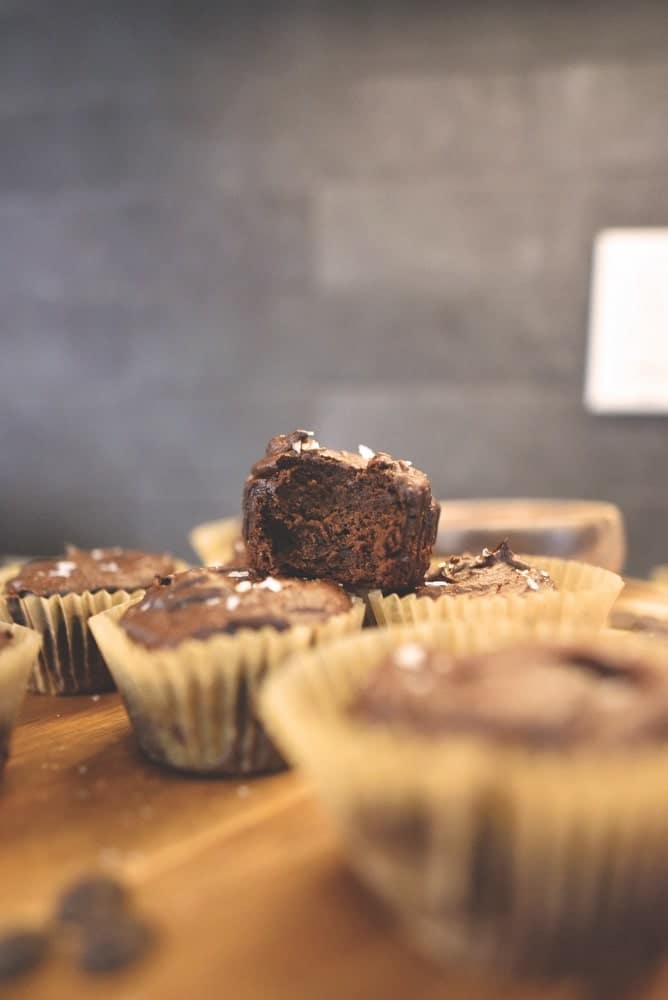 Directions
Preheat the oven to 350 F. Line a standard 12-cup muffin pan with paper or reusable silicone liners. In a large mixing bowl, add the ingredients in any order you wish, except the chocolate chips. Once you have all of the ingredients (except the chocolate chips) added, combine them with a spatula. Then add the chocolate chips. At this point, taste and adjust sweetness and saltiness. Divide the batter evenly into 12 muffins. Sprinkle a pinch of flaky sea salt on top of each muffin. Bake for 25 minutes, let them cool, and enjoy!
— V —
---
ARTICLE CATEGORIES