A Collective Work of Artistic Expression
By Lisa Burwell  |  
Photography by Romona Robbins
Last fall, on one of those blissful Florida days that Highway 30-A is world-famous for, my bicycle beckoned to whisk me to my Grayton Beach office just a few miles away. When Suzy called and asked if I could stop by for coffee on my way home to talk about an idea, the thought of enjoying a cup of my favorite Starbucks on her shop's patio sounded like a pleasing way to wrap up the day. Little did I know that the day would only get brighter.
The Idea
Suzy Accola, owner of Q Tile at Uptown Grayton, shared with me that Coastal Elements Construction, a design-build company, was building a beautiful home in WaterColor. And, as a vendor with a vested interested in the project, she wanted to know if VIE would be interested in an opportunity to use the home as a platform to celebrate the art of design, all the while raising money to benefit local charities. The opportunity to showcase a home and its various designers, each taking a portion of the interiors to create his or her artistic vision, is nothing new. But to have a local grassroots effort in taking this kind of event to this level is something our community has never seen. An idea was birthed that day—the house would be known as Maison de VIE—the house of life.
We've all heard about how some of the best ideas are those scribbled on a napkin, and to some degree that is literally what occurred. A friendly conversation over coffee percolated into a creative collaboration to feature state-of-the-art architecture, interiors, contractors and artisans, art, and gardenscapes. Proceeds generated from an invitation-only fund-raising event—an intimate Gatsby-themed dinner soiree—to take place in the newly completed Maison de VIE will benefit Emerald Coast Middle School, South Walton High School, Seaside Neighborhood School, and the Ohana Institute.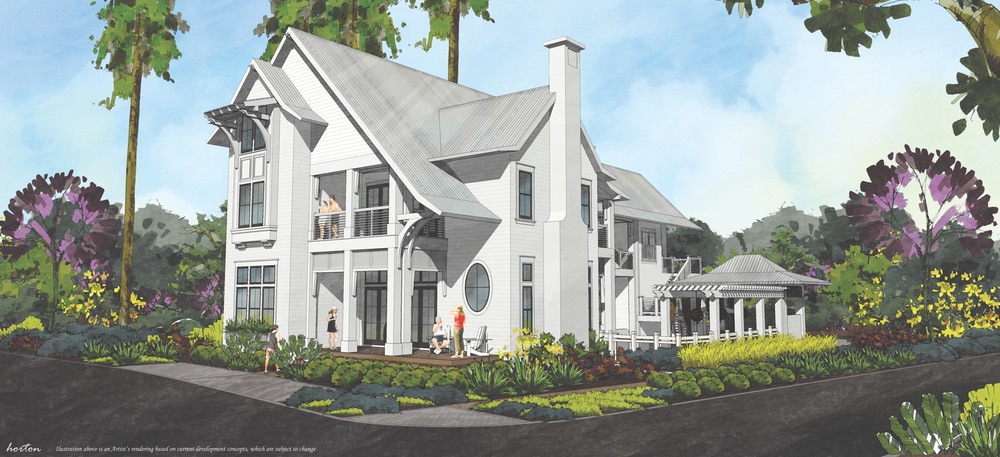 So the process began of telling the story to artists, interior designers, tile and lighting companies, and so forth, about the mission of gathering a brood of like-minded creative types to place their mark on Maison de VIE. The home, which is for sale and listed with Karen Wagner of Premier Property Group in WaterColor, would be a showcase for all who participated, as well an inspiration of ideas for anyone who viewed it. "I am pleased to have been chosen as listing agent for this stellar home. The opportunity to work with such a great group of professionals at Coastal Elements, Q Tile, and VIE Magazine is exciting! Of course, I am looking forward to finding the right family that will enjoy the home and all it has to offer."
Throughout Maison de VIE's organic evolution, I have had the great pleasure of getting to know Suzy Accola. She is full of life and great ideas, and she is a dynamo who really knows how to make things happen. This project was Suzy's brainchild and she has done an amazing job of rounding up a stable of the absolute best of the best in the industry in a very short time. Her Q Tile showroom, located literally only steps away from Starbucks in Uptown Grayton, offers the most exquisite and unique tile and lighting. "We went for a sophisticated, elegant look with the sea in mind. A modern twist was added with a shake of attitude," she said when describing her tile selection for Maison de VIE. "We wanted the overall feeling to be beautiful and serene. You will see a lot of curves in the patterns, with very few straight edges. I feel the tile itself within the home can be described as art."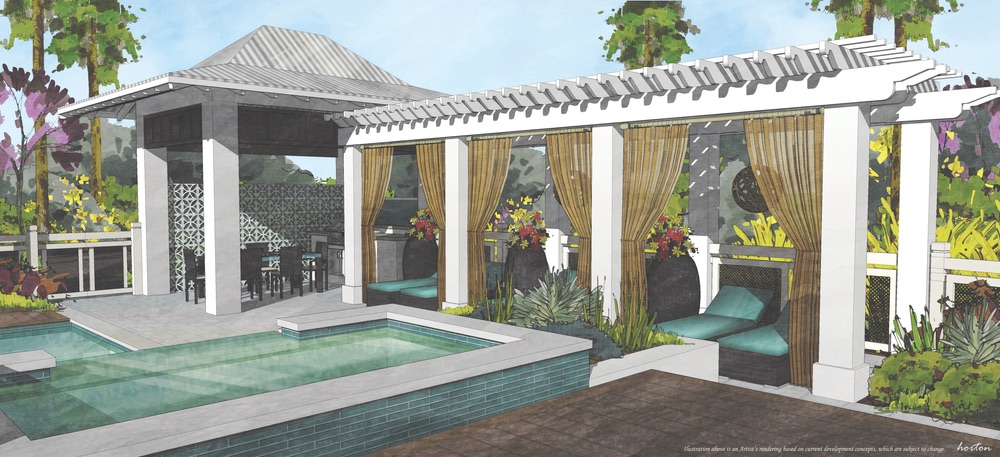 The Home
The home, envisioned by Coastal Elements Construction partners Scott Kurfirst and Jim Accola, was beautifully brought to life by the architect of record, Tammy Massey Architecture and Interior Design. Relocating to the area from the Midwest over a year ago, Coastal Elements Construction brings twenty-five years of building experience to the coastal communities along Scenic Highway 30-A. Maison de VIE is their first entrée into the area. "With our children attending school here and our being part of such a unique community, we are excited to be building a home that will showcase our craftsmanship as well as allow us the opportunity to give back," said Scott Kurfirst. The effort to excel is evident in the construction of the substantial home. "When Scott and I started building together a little over seventeen years ago, we both decided that one of our core philosophies would always be quality over quantity," said Jim Accola.
"When collaborating with Jim and Scott on their vision for the home located in Phase III of WaterColor, I felt that the cascading steps and landscaping, along with the dramatic sweeping rooflines, articulated accent window, and shadow lines of the whimsical storybook siding, was the perfect way to make use of the location," said architect Tammy Massey. "In addition, detailed elements of the anchoring grand kitchen were essential in articulating the character and essence of the home. While the three-story grand staircase serves as the happy spine of the home's plan, it reaches out and elegantly embraces the courtyard gallery on the main level, while linking the second and third levels in a similar nurturing fashion." Of Tammy's adept design of the home's spacious interior, Scott added, "It begs for family gatherings!"
The style of the home, described by Scott and Jim as "coastal elegance," is Tammy's interpretation of minimalist Queen Anne meets Tudoresque, with all the charm encased in a Southern vernacular frame. "I felt the need to unleash a bit of creative freedom and diversity along the sprawling park area of Sand Hill Circle. Given the uniqueness of overlooking the engaging nature of the park setting, and the opportunity of embracing such a lovely corner location, vernacular precedents led the design to allow integration of whimsical features and tasteful elements reflecting a personality and spirit that would be unique to the neighborhood," Tammy mused.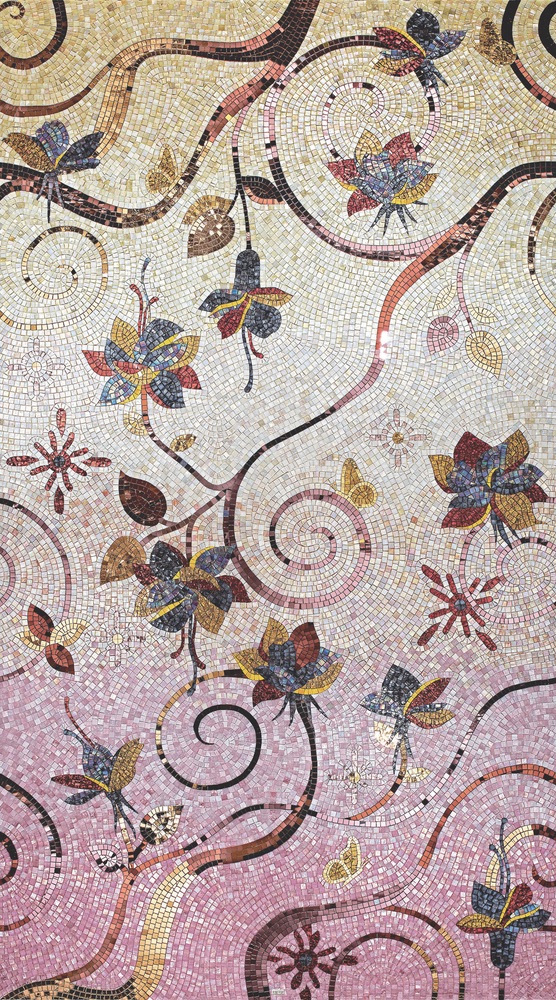 And There Was Light
Drew Bevolo had just finished an in-person interview with twenty of the top interior design bloggers in the country when he graciously granted me an interview by phone. An authoritative yet playful tone resonated as he passionately spoke of the business he takes very seriously. Drew knows everything you need to know about lighting—and why not? He is the third-generation owner of legacy business Bevolo Gas and Electric Lights in New Orleans.
Drew's grandfather, Andrew Bevolo Sr., founder of Bevolo Gas and Electric in 1945, collaborated with world-renowned architect A. Hays Town to create the original French Quarter copper lamp in the '40s—a fixture that today adorns many historic buildings in the French Quarter, across the country, and the world over for that matter. Andrew Sr. was a master craftsman who worked to help build the famous New Orleans Higgins boats for the war effort during World War II and the first Sikorsky helicopter. "My grandfather built the first helicopters in New York and Connecticut, which is one of the reasons we still use aviation materials to create our lights, and why they last better than any other," said Drew.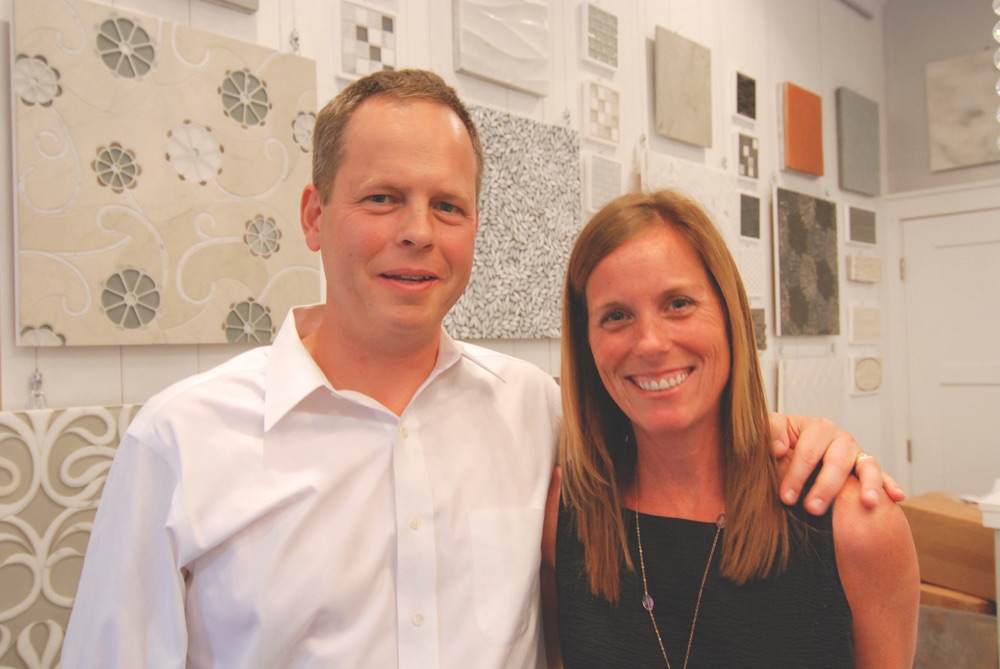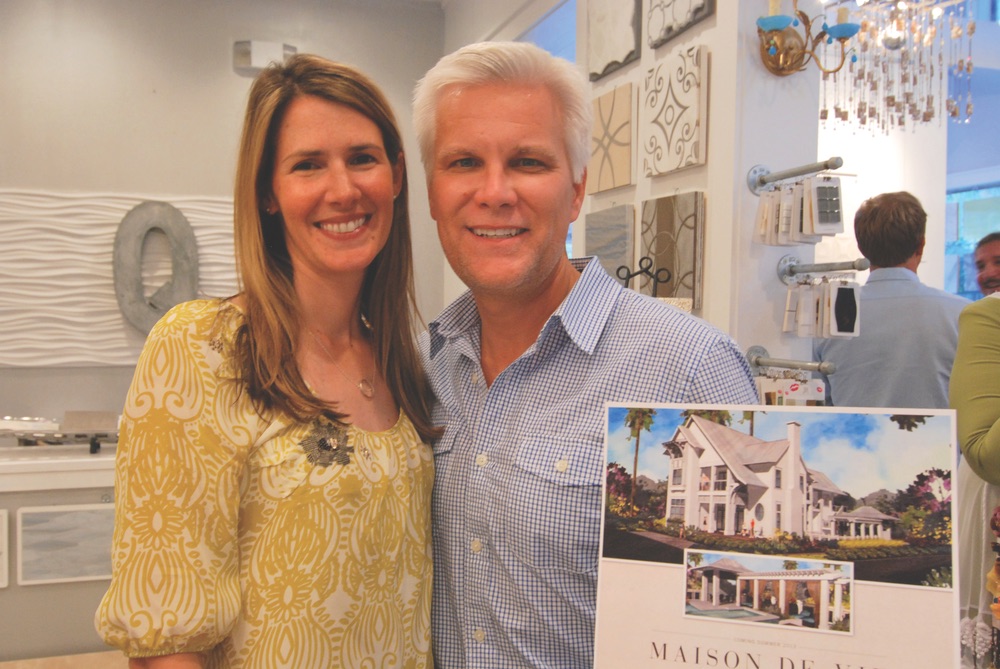 Bevolo lights are sold in all fifty states and in thirty-one countries. So, when I asked Drew how their business had weathered Hurricane Katrina and the recessed economy over the past five-plus years, he humbly mentioned that they were well diversified, which enabled the company not only to sustain, but also to grow. "We have a consumer-driven business model, which is, basically, to make things right with the consumer in mind. A business will always succeed as a result." Made-in-America lights that are built to last for three hundred years is something that is unheard of in today's throwaway society. Couple that with a commendable business model, and another explanation for their success is realized—their products are sustainable. "Our business is sustainable and green, and has been long before it was fashionable."
Although their products are sold worldwide, the Florida market has been very good for their business and this is due in large part to the need for products that can literally "weather" the harsh elements the Sunshine State likes to dish out. "On average, the consumer replaces their lights every three to five years, but in Florida it's every six months," said Drew. The New Urbanism communities use Bevolo lights because they are the greenest and most sustainable you can buy, and because they are scaled to the architecture of the home. "We have the most efficient gas burner in the world, and the tremendous curb appeal of our lights will help sell a home much better than a home adorned with electric lights." The Bevolo lights for Maison de VIE have been specifically designed for and scaled to the home. Drew said he reviews every drawing and gives his seal of approval before it goes out the door. "We ask the home what it likes and wants, and when it is a show home like Maison de VIE, I will review twice."
So, impressed with his command of his business and the products they produce, I asked Drew what he wanted our readers to know about Bevolo and he said, "We want to invite people to visit the lighting museum we recently opened where craftsmen make copper lanterns, educating onlookers about the art of lighting." Bevolo makes over five hundred different styles that sell anywhere from $200 to $5,000; some of their designs even adorn the former homes of Franklin D. Roosevelt and Thomas Jefferson. Bevolo also counts a smattering of celebrities among their clients, so I think Maison de VIE is in very good hands. I can't wait to see the home all lit up!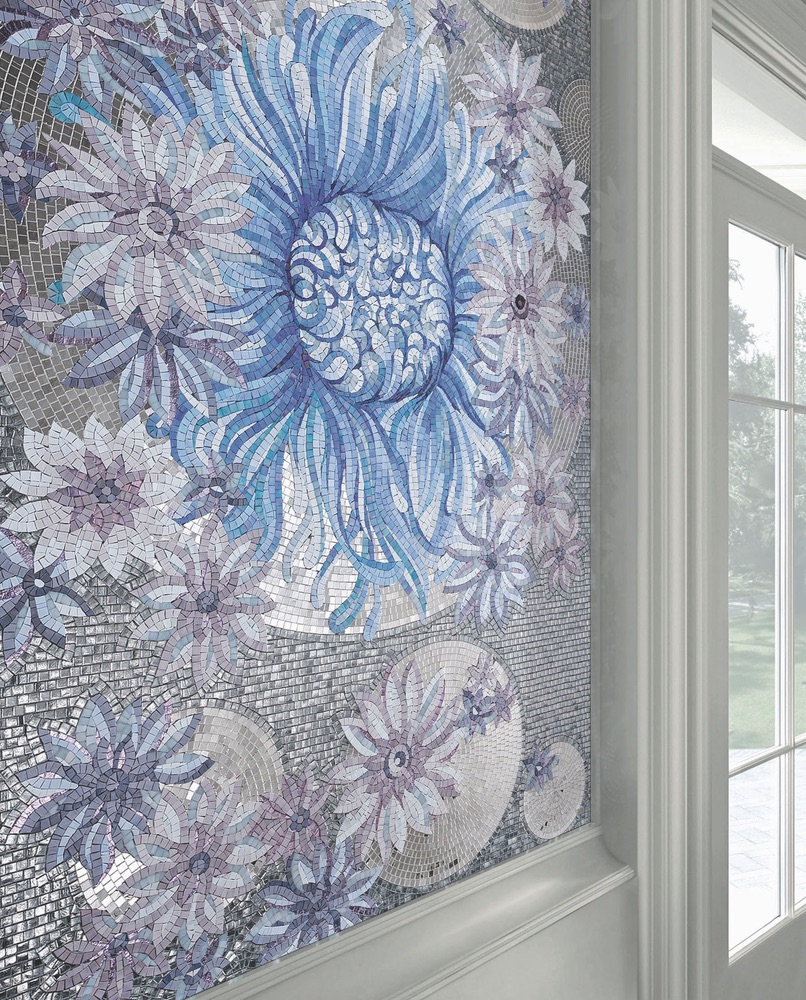 The Elegance of Water
A pool may not be an essential amenity to a home, but it can be an elegant point of interest and add a level of sophistication. Well, if you want to see a residential pool that has really morphed into a statement piece, look no further than Maison de VIE. Cox Pools, Horton Land Works, and phenomenal Italian tile company Sicis have created what can only be described as a work of art.
To design a pool layout and surrounding landscape that blends seamlessly with the whimsical architecture and an unusual placement on the property required the eye of a talented designer. Landscape architect Chad Horton of Destin-based Horton Land Works stepped up to the challenge. Using the layout and the pool, cabana, and trellis locations from Tammy, Chad worked closely with the Coastal Elements to find simple, bold, and elegant ways to improve the courtyard space and pool design. "The Maison de VIE courtyard and pool design is a great example of an opportunity to create separate gathering spaces and 'rooms' within a small outdoor space," said Chad. The pool proportions, the tiled sun shelf, the built-in submerged seating, the pool plaster color, and the balance of gathering and circulation space were all evaluated to achieve a perfect design for entertainment. Chad added that many of the major exterior decisions were based on the interior view corridors to ensure that there was a seamless connection between the architecture and the exterior spaces.
"The special attention we gave to the Maison de VIE pool is something we are proud of," said Cox Pools general manager Jeff Hunt. Cox Pools has been in business for fifty-four years and is family owned and operated—most employees have been with company for ten years or more.
"We custom design a pool only every two years. It's not something we do every day because it is mostly cost prohibitive." In response to the consumer's increasing desire over the past five years to be more green conscious, Jeff added, "We have developed a go-green package that uses an energy-efficient variable-speed pump. The package also has an ozone sanitation system, which operates in much the same way as the method for filtering bottled water—a process which produces oxygen as a by-product." Cox Pools is the exclusive dealer of Paramount—a leading producer of ozone sanitation systems available on the market today.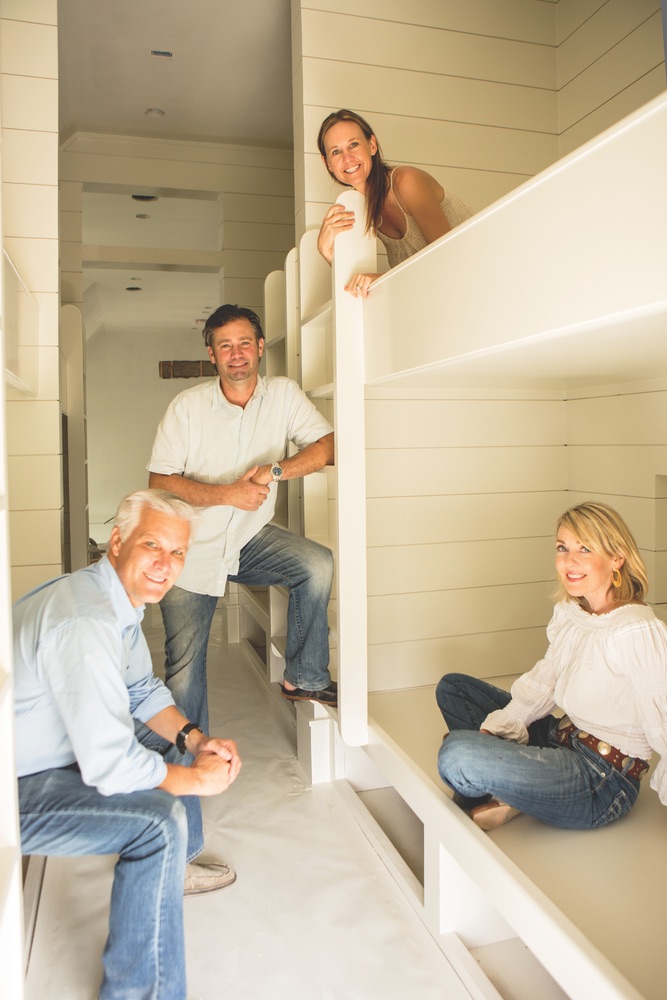 Maison de VIE
from
VIEzine
on
Vimeo
.
Though the home's eight-by-twenty-nine-foot pool is modest in size, it certainly is not lacking in style. With Suzy's tasteful input, it has been dressed entirely in an exclusive tile line by Sicis of Ravenna, Italy. The five-eighths-inch mosaic tile, in various shades of blue and turquoise Murano smalto and iridescent glass, was selected to mimic the colors of the beautiful Gulf that we are blessed to see every day. When looking into the pool, there is a glass mosaic scene that truly depicts the waters that surround us.
Unfortunately, only a few of the participating Maison de VIE vendors could be highlighted in this sneak peak of what is yet to come. VIE is currently working on a short documentary, which will record the construction of Maison de VIE to its completion, and a resource room brochure featuring the entire list of participating vendors; both are due out early summer. An in-depth article on Maison de VIE, complete with dramatic photos, will also be featured in the 2013 Home & Garden issue (September/October).
Please take special note of those ads with the Maison de VIE seal throughout this issue; the seal signifies participating advertisers and sponsors.
Coming This Summer
The Great Gatsby, the literary classic written by F. Scott Fitzgerald in the early twentieth century, celebrates life with a reckless abandon and an insatiable avarice for revelry and opulence. In honor of the debut of Baz Luhrmann's film interpretation of the novel, VIE is taking inspiration from the era to throw an intimate dinner gala soiree, which will take place in Maison de VIE this summer. It is my hope to channel a moment in time where happiness and fun collide, and only goodness abounds!
— V —
ARTICLE CATEGORIES