By Jordan Staggs | 
Photography by Jack Gardner
When you live, work, and play in the same area—even one as beautiful and inspiring as Northwest Florida's Gulf Coast—it can become easy to fall into a style rut. For the talented designers at Lovelace Interiors, staying fresh and unique when it comes to each client is the key to creating residential and commercial spaces that look incredible and stand the test of time. No two projects ever look the same, and owner Susan Lovelace and her team are proud to collaborate closely with home and business owners to make sure each client's vision is flawlessly executed.
"Designing spaces with different vibes is one of our strong points as professional designers," Lovelace says. "We do not have a certain look; we believe that our job is to execute the elements and principles of design and to give the clients their style. We work with them to make livable and comfy spaces that define how they live—it's about their needs and, naturally, that changes with every client."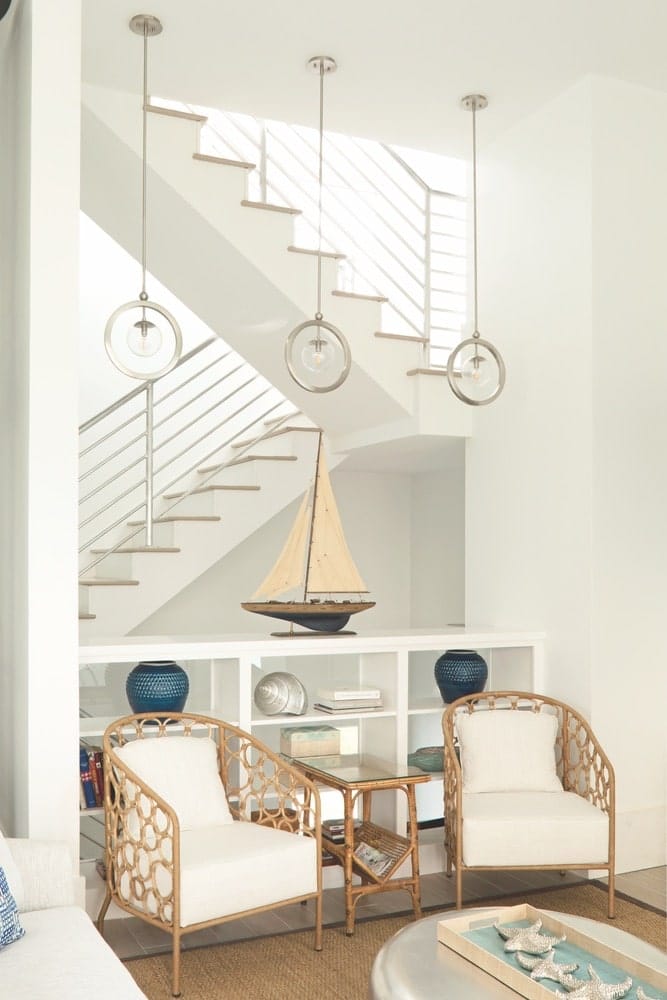 Two stellar examples of Lovelace Interiors' residential designs are found along the beaches of the Gulf of Mexico. The first, the Murphy residence, was designed by the late architect Dawn Thurber—it was one of her last projects, which makes it extra special for the homeowners as well as the interior design team. A "typical beach house" often means muted colors or all-white everything; this beach house is not typical. Instead, the client preferred a more sophisticated design with bold color in exaggerated coastal hues on a white backdrop. Lovelace and the team worked with the homeowners from the blueprint phase of the home to the finish selections, including flooring, tile, lighting, cabinetry, countertops, appliances, stair railings, paint colors, and furnishings.
The Murphy home's traditional facade gives way to more contemporary interiors, and Lovelace began its design process by selecting fabrics and patterns for custom draperies and bedding to distinguish the personality of each room. Bathroom and accent tiles coordinate with the scheme for each space, with several tile accents throughout the home providing focal points that are not only beautiful but also functional for life at the beach.
"Designing spaces with different vibes is one of our strong points as professional designers."
"This was the client's vacation home—a place for their family and extended family to gather from all over the country," says Brooke Williams, interior designer for Lovelace Interiors. She worked on the home with lead designer Susan Lovelace and designer Lindsay Cannon. "We created two main entertainment areas for them, with different occasions in mind." The downstairs living room is warm and cozy, with a huge wraparound sectional sofa and a wet bar—perfect for movie and game nights. The second-floor living room is well suited for dinner parties in the large open kitchen and dining room, where stackable doors open to fabulous views from the south-facing porch.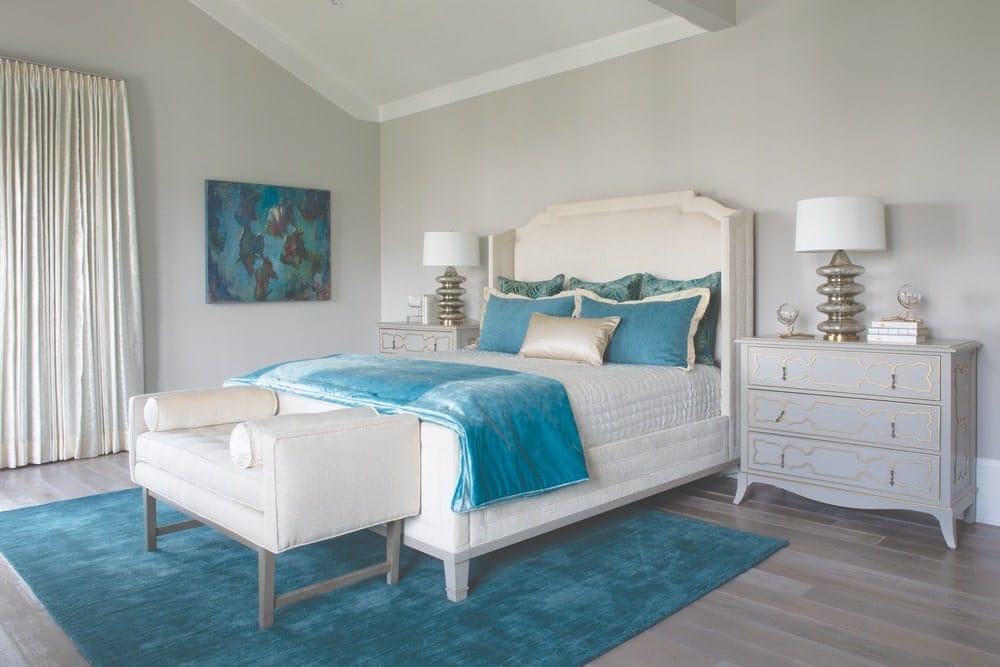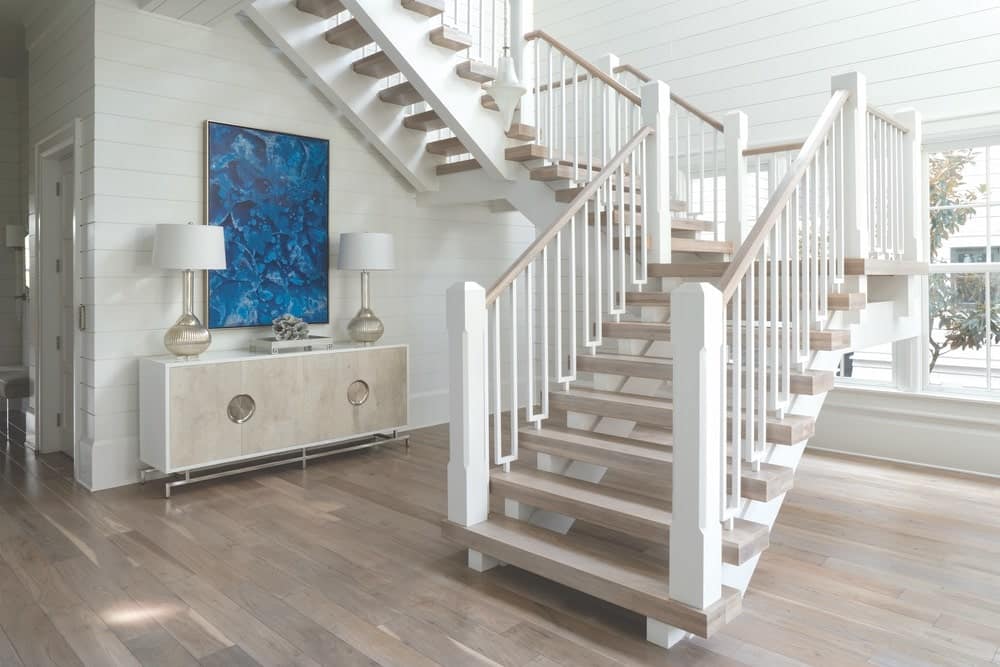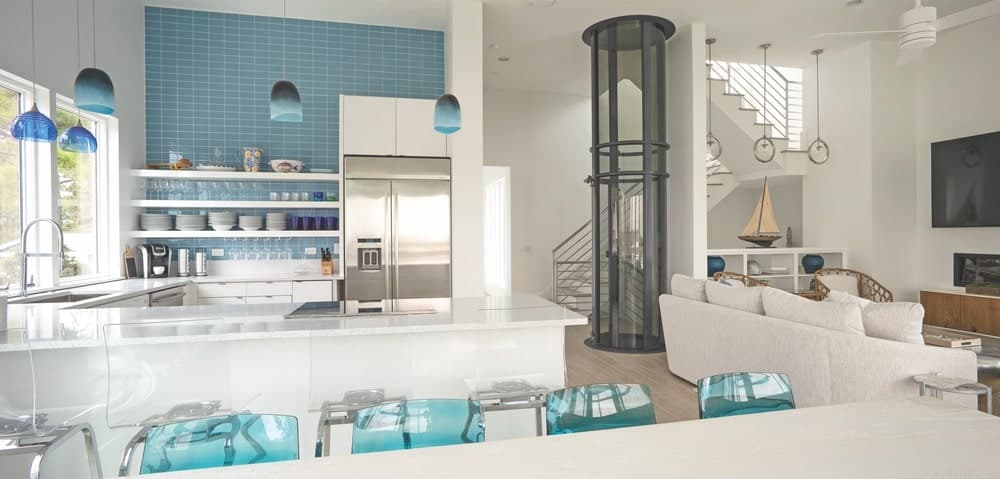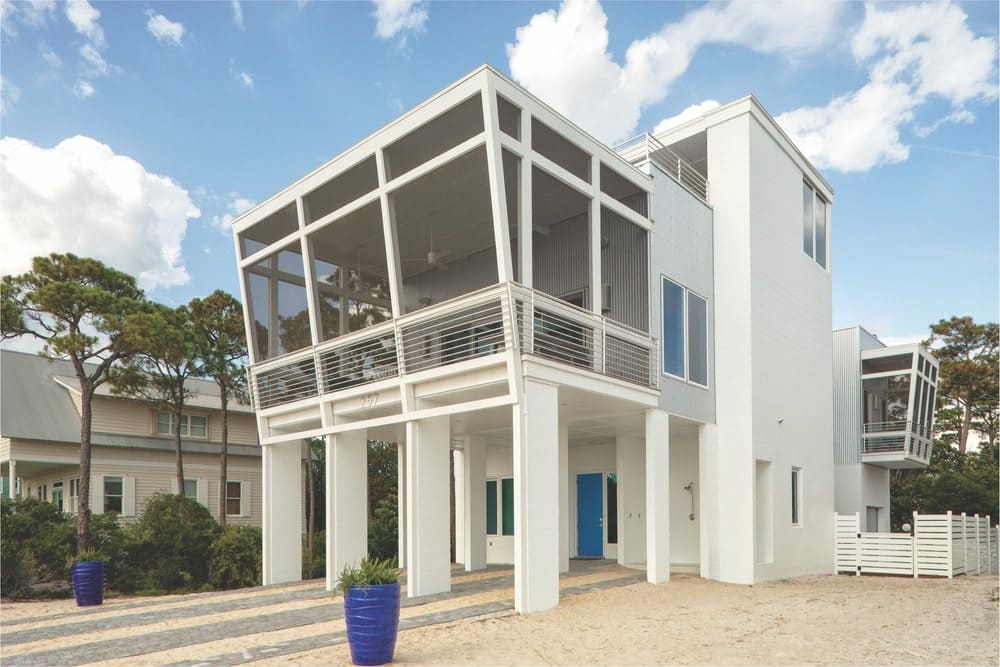 The floating central staircase offers a beautiful focal point within the home. "This was an architectural element that evolved into a design statement," says Williams. It is accented by a three-story staggered pendant light fixture, sourced from Q Tile in Grayton Beach, Florida. All of these features—not to mention the fireplaces, the detailed ceilings, the arched exterior entry, and the pool area—combine to make the home a real work of art. Every masterpiece needs the perfect setting, and this one has it: it is ideally situated along a boardwalk and near white-sand dunes.
Perhaps competing with the Murphy residence for the best views, the Nunnery home boasts unobstructed vistas overlooking the dunes of Grayton Beach State Park and the Gulf of Mexico. Its "contemporary meets coastal casual" vibe is reflected in the grand façade, designed by architect Carey McWhorter, who sadly passed away recently from a rare form of Parkinson's disease. "My husband, Phillip, and I have always admired Carey McWhorter's work," says homeowner Brenda Nunnery. "While we both love contemporary construction, I am drawn to beach shacks—we owned one on this same street for twenty years."
"The design had to hold its own against the strong and beautiful architecture yet not take away from it."
While creating the plans, McWhorter asked Brenda what a "modern beach shack" meant to her. "I replied, 'a modern home with a lot of screened porches.' He drew an incredible house with four porches and a courtyard, and when Anthony Vallee came to finish the plans, we all stayed 100 percent true to Carey's original drawings. We are honored and humbled to own this wonderful Carey McWhorter home."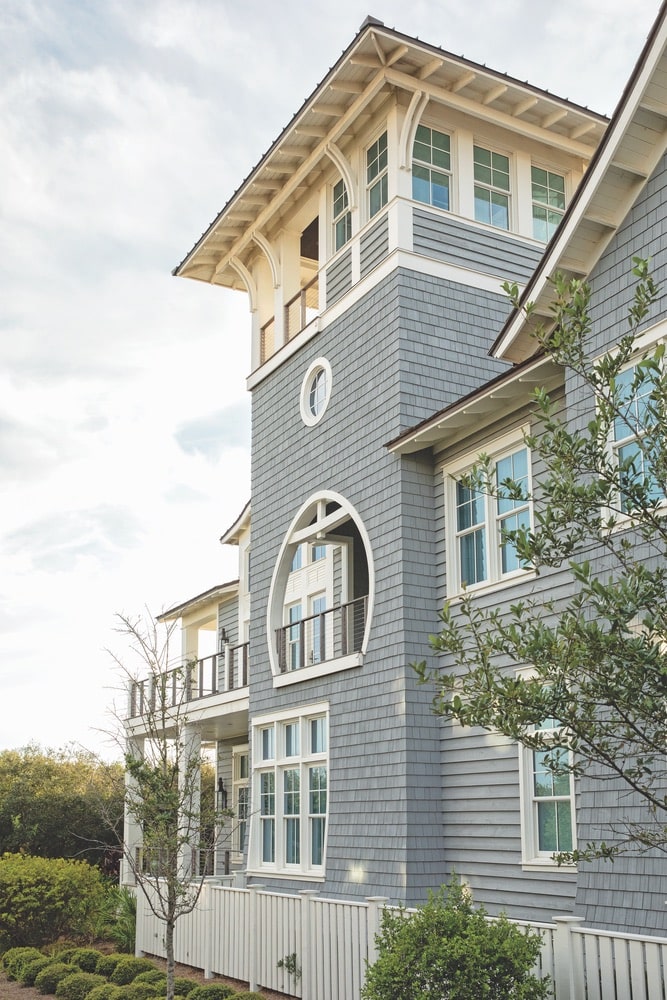 When the team from Lovelace Interiors came in to work with Brenda and Phillip on their modern beach shack, comfort, function, and durability were the top priorities. Taking inspiration from the Gulf of Mexico and the state park outside, they developed a palette of various blue shades and included green glass tiles for the showers in each bathroom. Each bedroom's design stems from those hues but with unique implementations. Rattan, wood, seagrass, and other coastal textures round out the beach-shack vibe in an elegant way through furniture and decor accents. "The design had to hold its own against the strong and beautiful architecture yet not take away from it," says Williams.
As the family planned to rent the home to vacationers before eventually moving in full-time, the Lovelace team made sure that the quality and durability of the items in the house did not compromise its aesthetic. All materials, while beautiful, also hold up to wet bathing suits! Not only are the acrylic dining chairs and barstools durable furnishings, but they also bring out the contemporary side of the home. A few special pieces of artwork and furniture, such as a picnic table that was once in Brenda and Phillip's old beach house, add a personal, lived-in touch that makes this the perfect modern beach-shack getaway.
— V —
---
Visit LovelaceInteriors.com to see more of the firm's portfolio of work or to contact Susan Lovelace and the team about your next project.
ARTICLE CATEGORIES