By Dean Mitchum | Photography by Romona Robbins
I was never an animal lover, or even a pet enthusiast, but I married one. My wife is a pet lover. I've seen through the years what the pets in her life have brought to her: joy and sadness, pain and pleasure, but most of all, friendship—a relationship with a special friend who's always loving and faithful. These are the kinds of attributes I love in my lady, my wife of thirty-two years, Lisa. We've had several pets together—even one cat who lived eighteen years and a dog who lived fifteen.
We would always get the pets from a shelter or through people we knew. She's always had a heart for the underdog—no pun intended. She has a knack for choosing the not-so-pretty thing and turning it into something beautiful.
I've never fully understood the relationship between pet owners and their pets, but in the last few years I've come to witness an amazing thing: a totally loyal pet to a totally loyal pet owner.
A few years had passed since we lost our first dog of fifteen years when my wife, knowing I wasn't crazy about getting another one, asked me the question. "Would you mind if I got another dog?" Pausing for my response, she braced herself. I said the same things and asked the same questions as I had years before.
"You know I don't miss having a pet, right?" I asked it as if she had never known how I felt. "I don't have to feed it, right? I don't have to walk it, right? I don't want the responsibility, remember?"
But something was different this time. I could see it in her eyes and hear it in her voice. The longing for a loyal pet was becoming too much to bear. Her pet lover's heart needed a pet to love. The heart of the one I love needed a pet.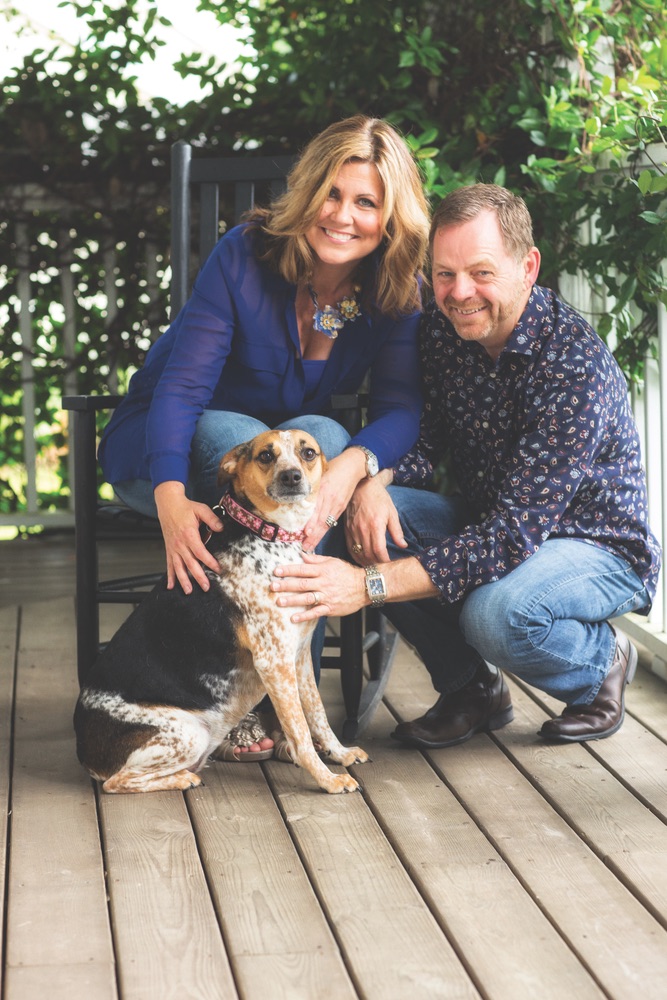 I made a decision: because I love the one who loves animals, I would show my love by sharing our home with another pet. A dog again, not an independent cat like I tended to like, but a dog who needed to be fed, walked, and played with.
So, we took a trip to the local animal shelter, Alaqua Animal Refuge. Of course, they had more than just dogs, so we spent time looking at all the animals. I tried to look interested but, just as I do with shopping, I didn't fake it very well.
We walked several dogs and played with a few, but went back to the one who surprised me. She was bigger than what we were looking for, but not too big. The caretaker at the shelter told us they would put new dogs in with this dog to help them settle in. She was a great companion for new dogs; she could make the nervous new arrivals feel at home. My wife loved that. This dog was like her. My wife chose her and the adoption process began.
So, for her fiftieth birthday present, my wife got a dog. Not just any dog—a bluetick coonhound–pointer mix with German shepherd coloring. We're not sure what all she is, but she is beautiful.
At home, we were thinking of names and decided on Daisy. My wife loves flowers and since we have a cat named Petunia, it was only fitting to have a dog named Daisy. (Early in our married years, as part of a compromise, she let me name the first three cats. I chose Sylvester, Elmer, and Fozzy. After that, she decided that cartoon names were not the way to go. So having me name the dog was out of the question.)
Over the past two years, I have seen the happiness and joy that Daisy has brought to my wife. The dog she picked has been as appreciative of our home and family as my wife is of her. Countless times I've watched as they have lain together, played together, slept together, and ridden around town together. Daisy is always near my wife, whether she's on the couch or in the shower. She has to be near her, showing complete acceptance and loyalty, wagging her tail at the whisper of her name, running ahead of us to bed, and waiting for her snacks.
I couldn't have asked for a better dog for my wife than the one we got at Alaqua that day, and seeing the joy and pure happiness that my wife experiences makes me feel loved not only by her, but by her dog as well.
— V — 
ARTICLE CATEGORIES