Food and Fancies from Australia to New Zealand
Story and photography by Colleen Sachs
I sat at my desk with a letter in my hand. An opportunity to spend three weeks in Australia and New Zealand had come up. I was finally going to travel to places I had wanted to go since I was a child, when my father returned completely smitten from a business trip there. They were places that promised enough similarities to the United States to make them familiar yet had enough differences to make them exotic. They were places with fascinating wildlife, spectacular scenery, and a bounty of incredible food.
Sydney
Sydney, home to gorgeous beaches and world-class cuisine, was my starting line. There is never a lack of adventure when exploring Sydney. Dive, surf, or cycle at Manly Beach, or spend the night at the Taronga Zoo in a safari-style tent.
The Amora Hotel Jamison was a comfortable home base, with its spacious rooms and professional staff. Sydneysiders love breakfast, and Amora's Gallery Restaurant is a good option. (Try the pancake stack with crispy bacon and caramelized bananas!) Amora Hotel Jamison is located close to the Rocks and the Opera House, both popular Sydney destinations. It is also steps away from the Wynyard train station and a short walk from the Circular Quay (the hub of the ferry system), making transportation convenient.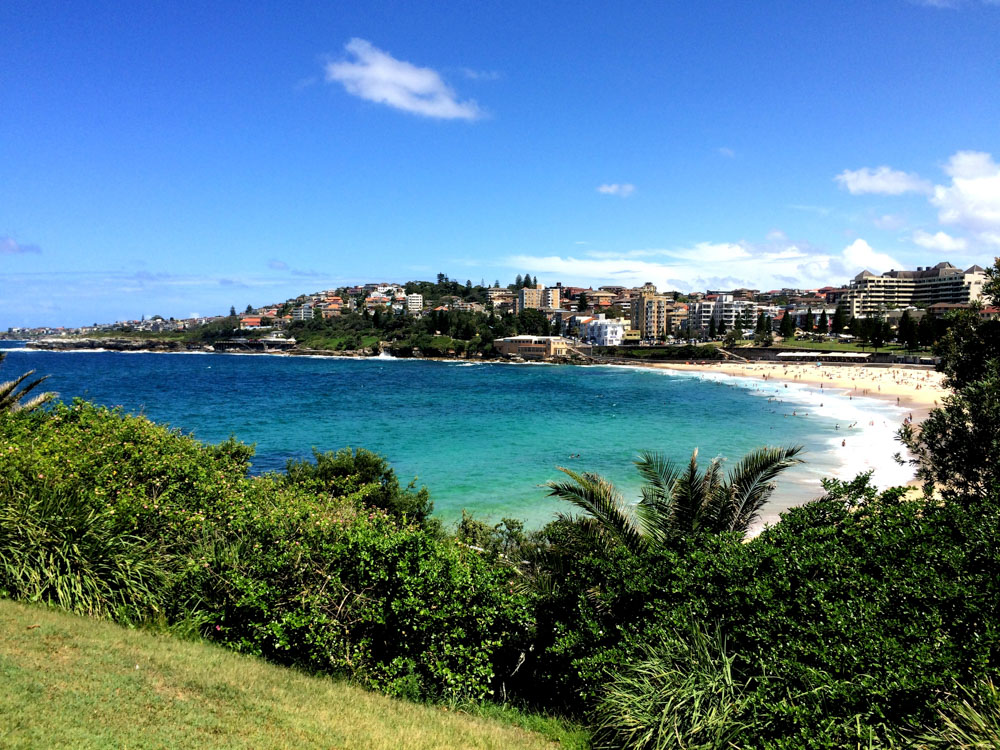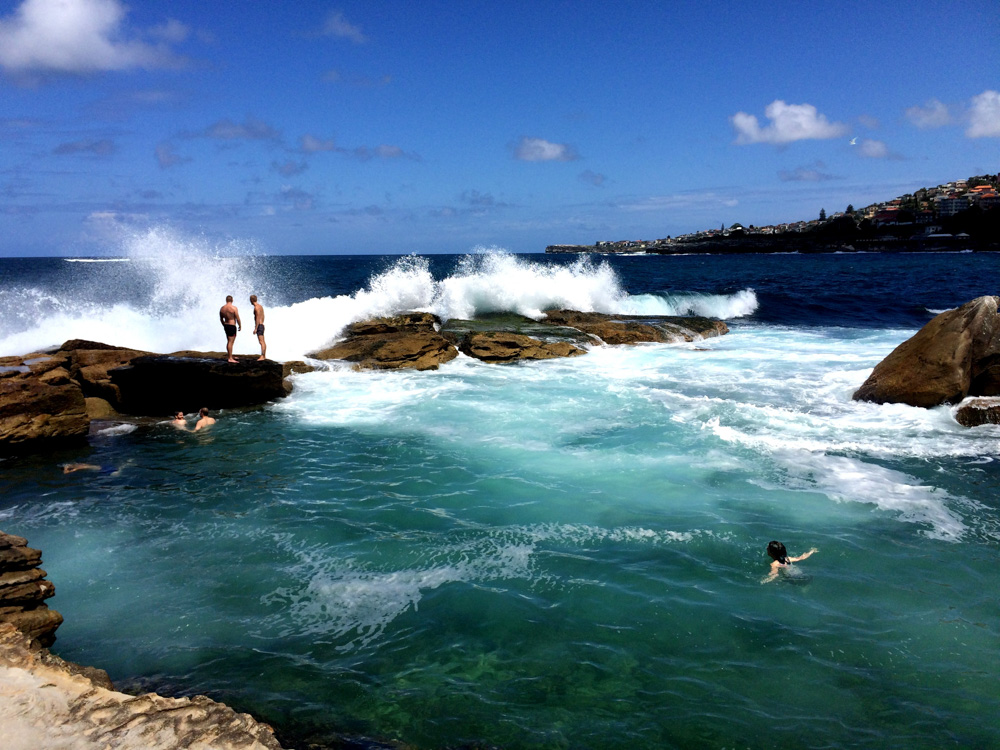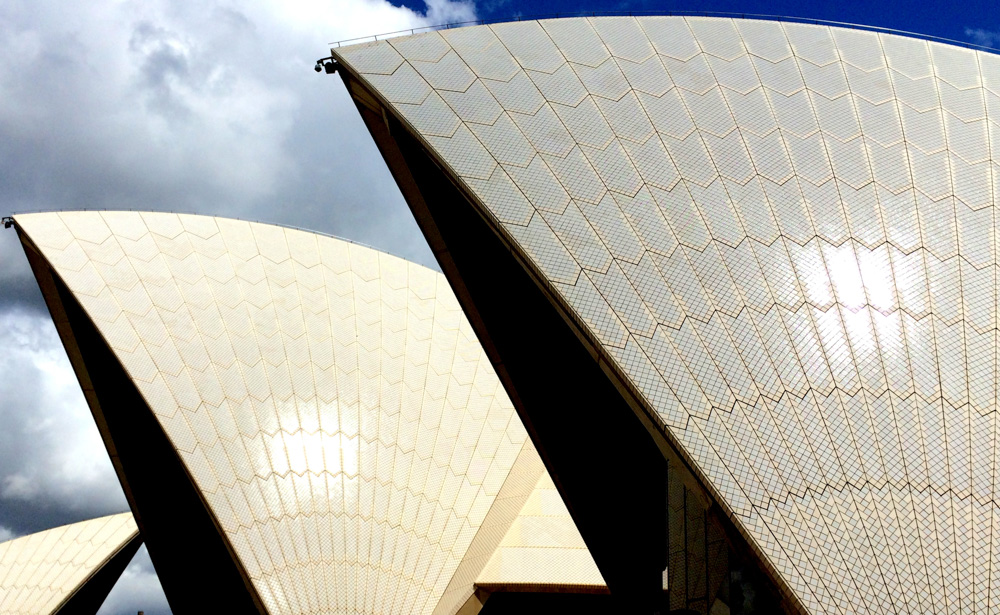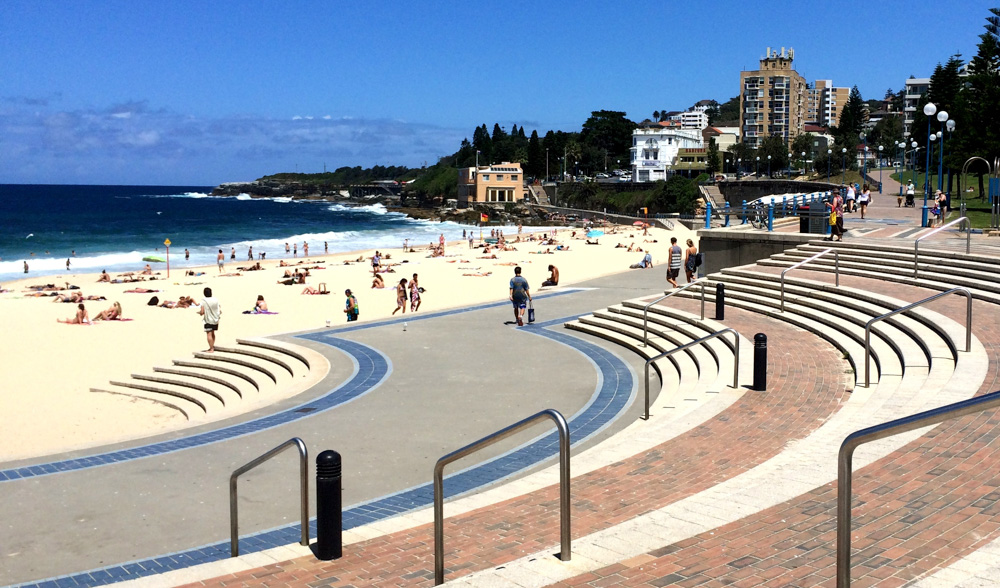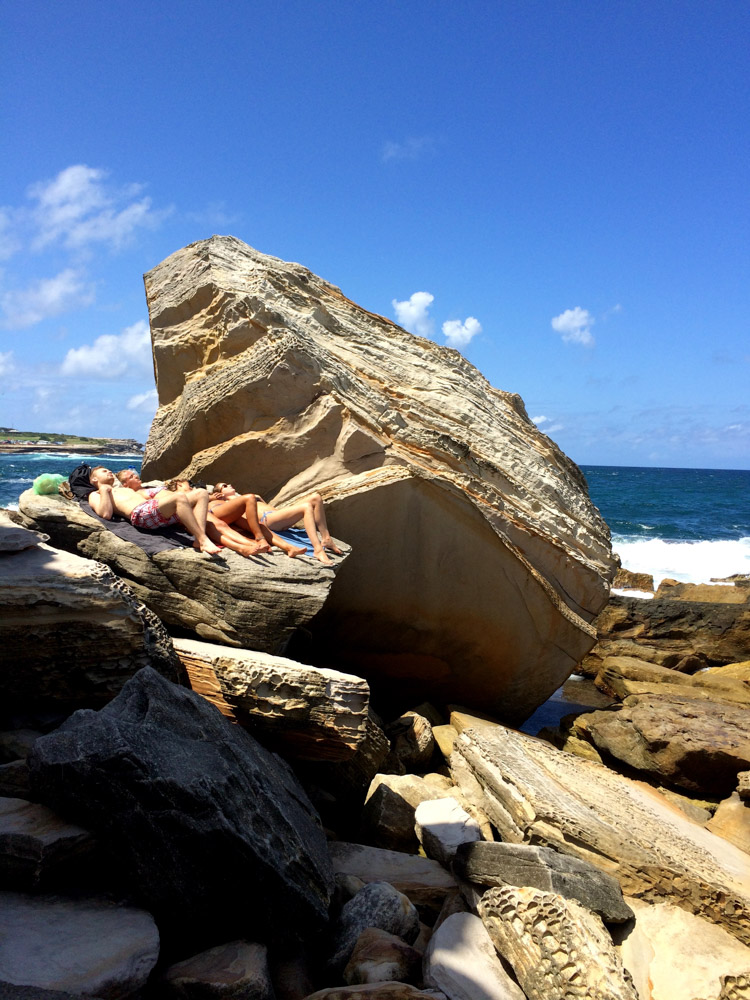 One of the best things to do when visiting Sydney is free: the six-kilometer walk along the coast from Bondi Beach to Coogee Beach. Starting at Bondi, one of the most famous surfing beaches in the world, the route takes you past beaches, along tidal pools and coves, and through parks and residential areas. Each beach offers exciting activities such as surfing, snorkeling, and swimming. In between the beaches are hidden gems, such as the beautiful natural pool surrounded by rocks, known as a bogey hole, on the path north of Coogee. Swim in the protected area as waves break on the rocks, or sun on one of the large boulders.
Dining in Sydney hits all ranges of price and cuisine. Sepia is considered by many to be one of the best restaurants in the world today, and Quay is known for its outstanding food and breathtaking Opera House views. When researching dining in Sydney, it was obvious to me that one restaurant, Tetsuya's, served as the genesis of Australian fine cuisine by influencing many of today's chefs in Sydney and beyond. Dining at Tetsuya Wakuda's eponymous restaurant is to take a journey through the bounty of Australia via the cuisines of Japan and France. Tetsuya's decor, with its extensive art collection and tables overlooking a lovely Japanese garden, exudes quiet elegance.
There is never a lack of adventure when exploring Sydney. Dive, surf, or cycle at Manly Beach, or spend the night at the Taronga Zoo in a safari-style tent.
So does the food. Nothing is over the top; whether it is chilled pea soup with a quenelle of bitter chocolate sorbet or seared veal tenderloin with smoked bone marrow, the highest quality ingredients come together in creative ways. Tetsuya's signature dish is a confit of Petuna ocean trout—with brilliant coral-hued flesh and a silky texture that show beautifully—served with a fresh, crunchy fennel salad and a bit of trout roe. Tetsuya's degustation menu of ten courses is thoughtfully paired with wines from Australia, New Zealand, France, Italy, Spain, and Japan.
On the casual end of things is Chur Burger, which is in the food-obsessed Surry Hills area. The menu is simple: thick, juicy burgers, creamy milkshakes, and crave-worthy sides. House-made soda is pulled from a tap, while beer and wine are also available. The burgers aren't limited to beef; a lamb burger is dressed with mint sauce and feta, while a spiced chickpea fritter is topped with grated beetroot and honey labne. The best bite of food at Chur Burger was a blackboard special: superb McClure's pickle spears, coated with a crumb crust, deep-fried to a golden brown, and served with jalapeño aioli.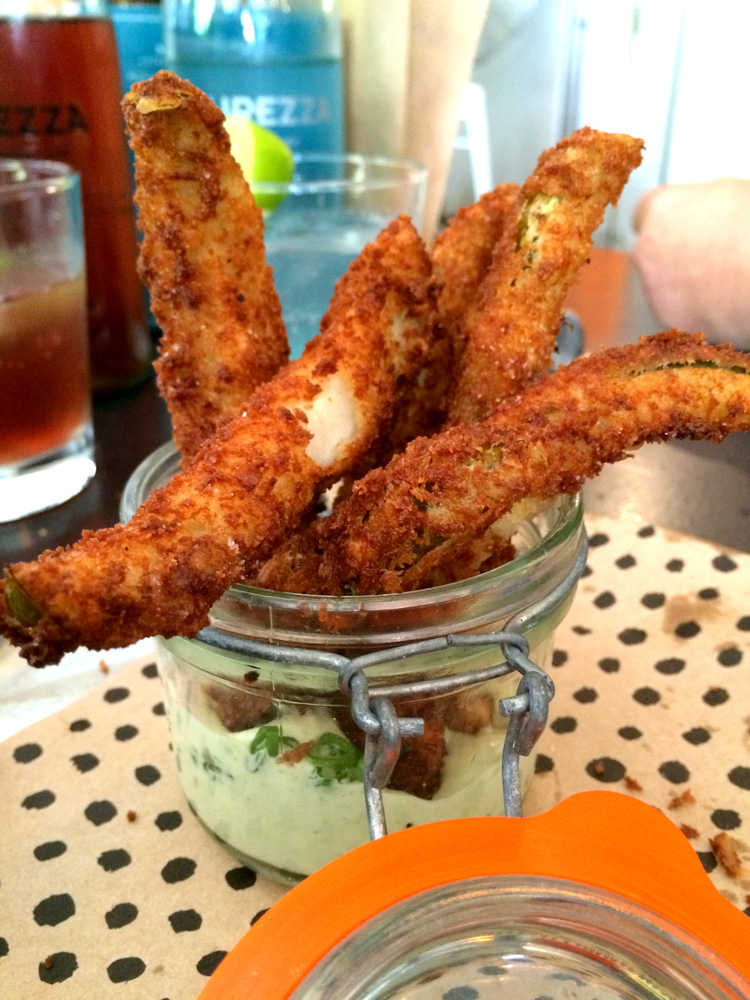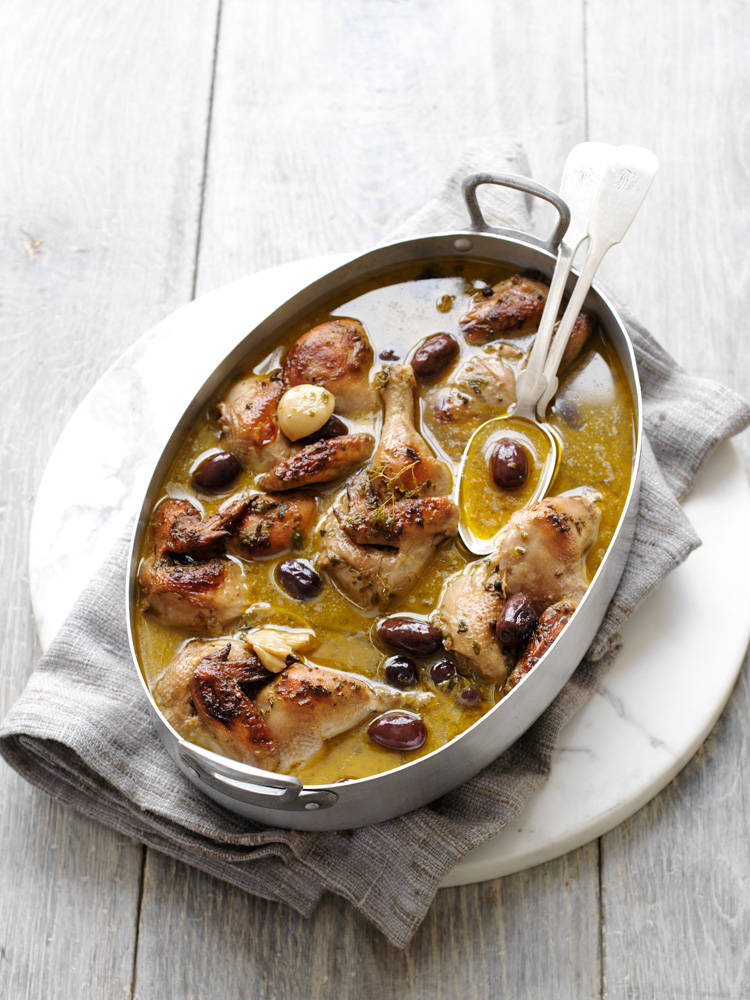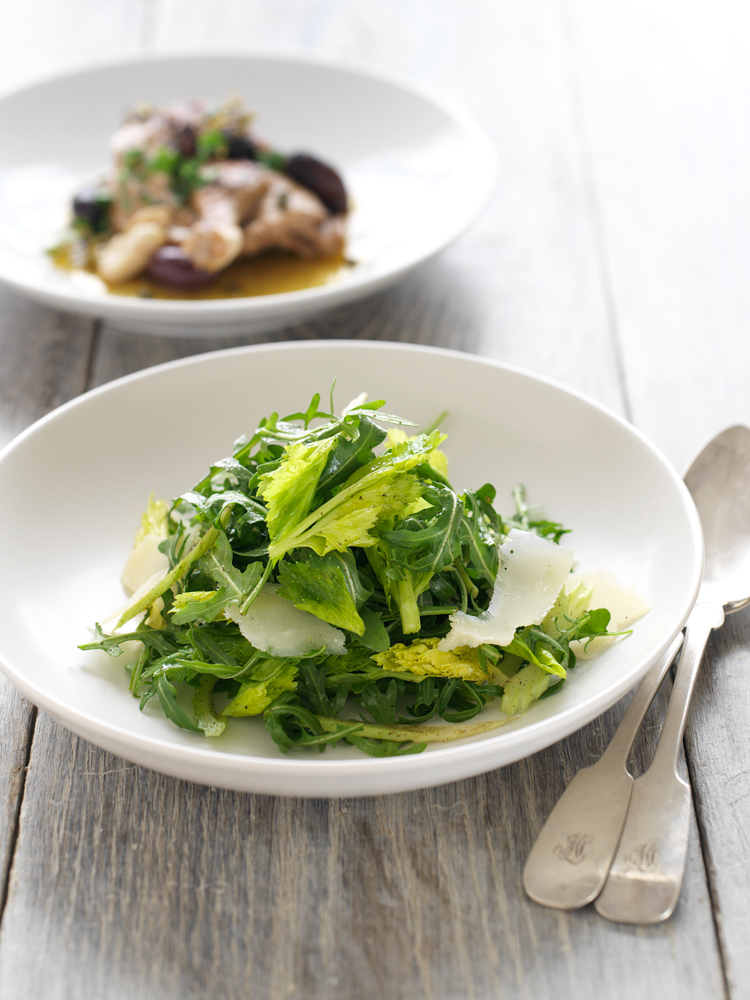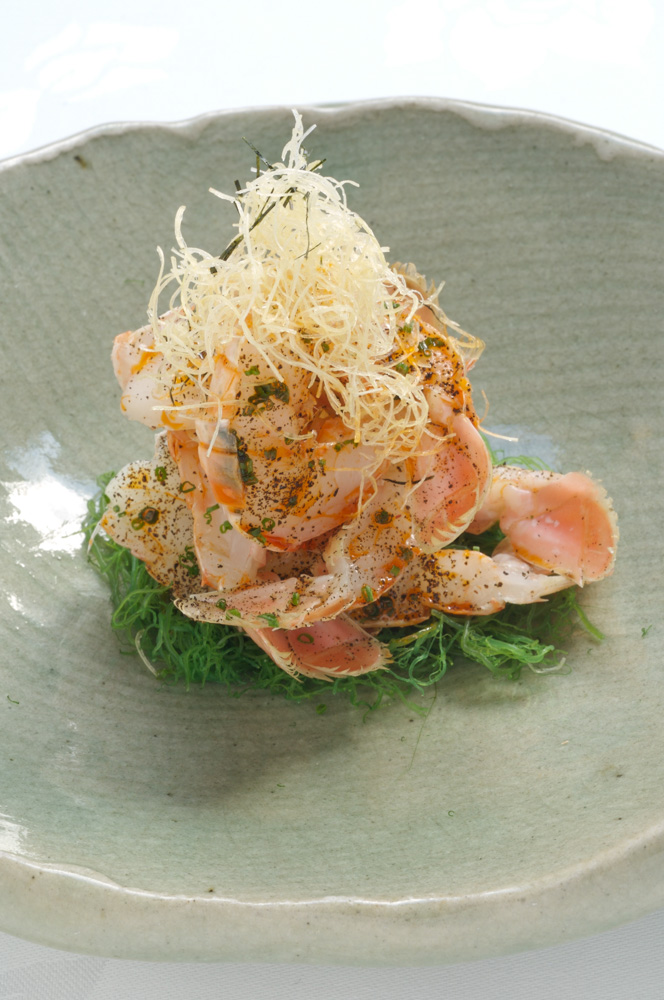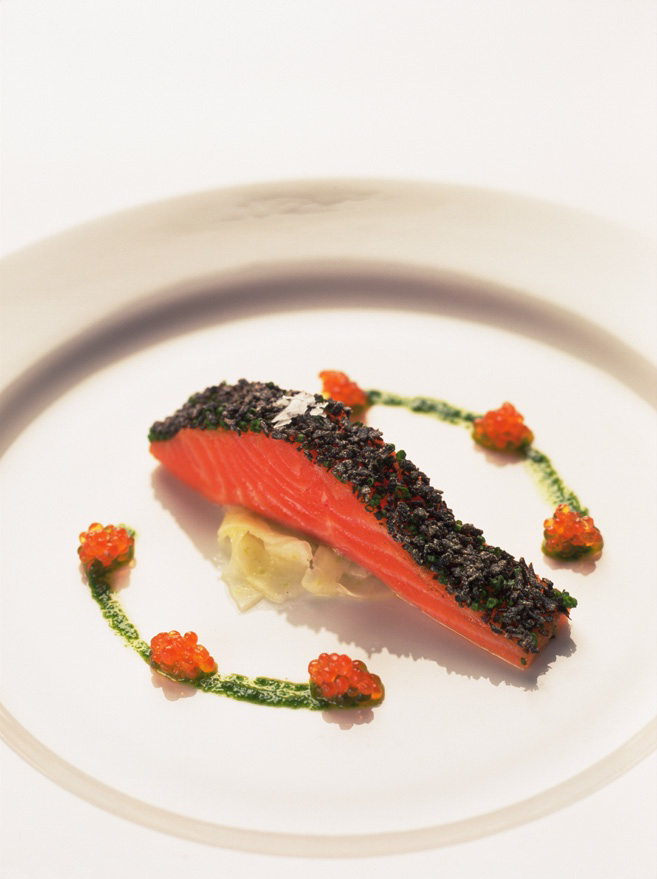 Hobart, Tasmania
Further south is the Australian state of Tasmania, a large island with almost half its area dedicated to conservation. Strict quarantine laws keep out potentially invasive plants, making Tasmania a locavore's paradise. Hobart has a deep history as the gateway to Antarctica, but it also has a very young, hip feel. In the evening, locals make their way to Salamanca Place to have dinner and catch up with friends. Restaurants like Cargo Bar Pizza Lounge have outdoor dining along the sidewalk, lending a communal air to the neighborhood. On Saturdays, Salamanca is also the site of a popular market with about three hundred vendor stalls.
Franklin, a new bar and restaurant not far from Salamanca, is one of the hottest tickets in town. Chef David Moyle sources the best that Tasmania has to offer for his menu, which emphasizes seafood (including periwinkles, octopus, and abalone) but doesn't disappoint with meat and fowl either (sweetbreads, pigeon, and bone marrow). With a modern aesthetic, Franklin is a perfect fit in Hobart.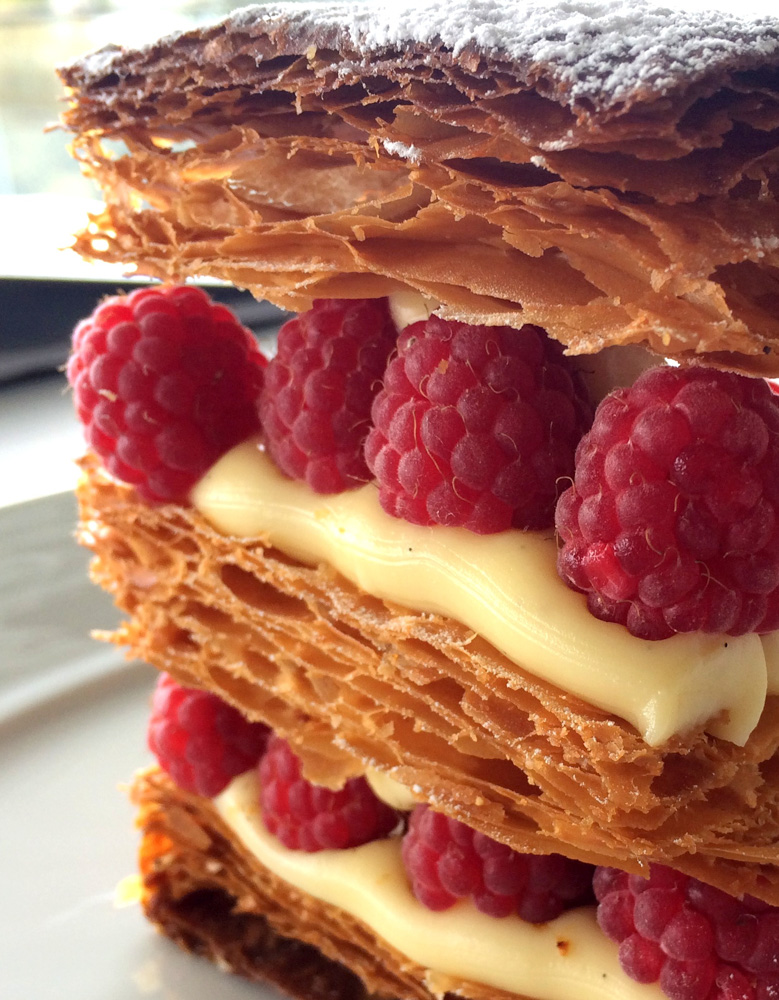 Just up the Derwent River is professional gambler David Walsh's MONA. Walsh has created a world that includes the Museum of Old and New Art, restaurants, the Moorilla winery, the Moo Brew brewery, and entertainment venues. The best way to get to MONA is via the ferry, which features the Posh Pit, where guests are served wine, beer, and canapés—or you can spend less on the ride and sit on seats that look like fanciful sheep.
The grounds are dotted with art installations, including an ornate metal cement mixer. The museum—which explores death, sex, and dark themes, such as in the Hiroshima in Tasmania exhibit—can be thought provoking, irreverent, avant-garde, disturbing, and beautiful all at once. As the cylindrical elevator descended into the bowels of the museum, I felt as if I was inside the early 1990s video game Myst, working my way through a labyrinth and looking for clues.
Hobart has a deep history as the gateway to Antarctica, but it also has a very young, hip feel.
MONA's restaurant, the Source, is a sensory experience in the best of ways. Subdued but elegant, the dining room has a lovely river view and is the perfect backdrop for Chef Philippe Leban's food. Chef Leban's culinary pedigree and name may be French, but his accent and food are all Australia. Visiting at the end of the Australian summer meant fruits and vegetables were at their peak, as exhibited by my warm salad of yellow beans, mint, and peaches. The fresh seafood included a mound of Moreton Bay bugs (flathead lobsters) covered with slivers of apple resembling fish scales, and dory lapped with chaudfroid sauce and served with baby zucchini and radishes. Local raspberries were the star of a napoleon, and a chocolate tart was teamed with sweet strawberries and ice cream made with local cream. To accompany a meal at the Source, try one of Moorilla's wines from either the New World–inspired Praxis series or the Old World–style Muse series.
On a sunny Sunday afternoon, MONA's open-air market of clothing, crafts, and consumables was in full swing. I felt very connected to the island—which residents lovingly call Tassie—as I sat on the grass, listened to music, and had a cone of Scott Logie's Black Mountain Larder Crème Anglaise ice cream, made from Derwent Valley dairy products.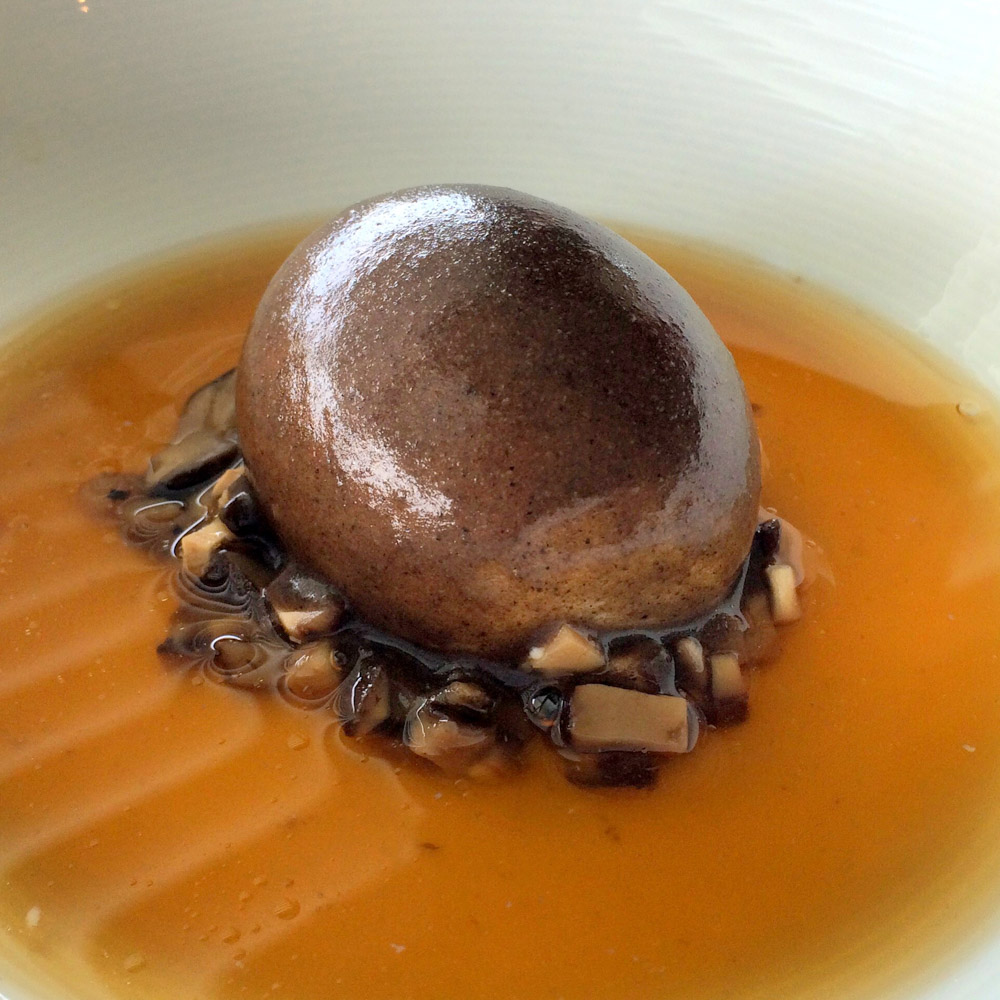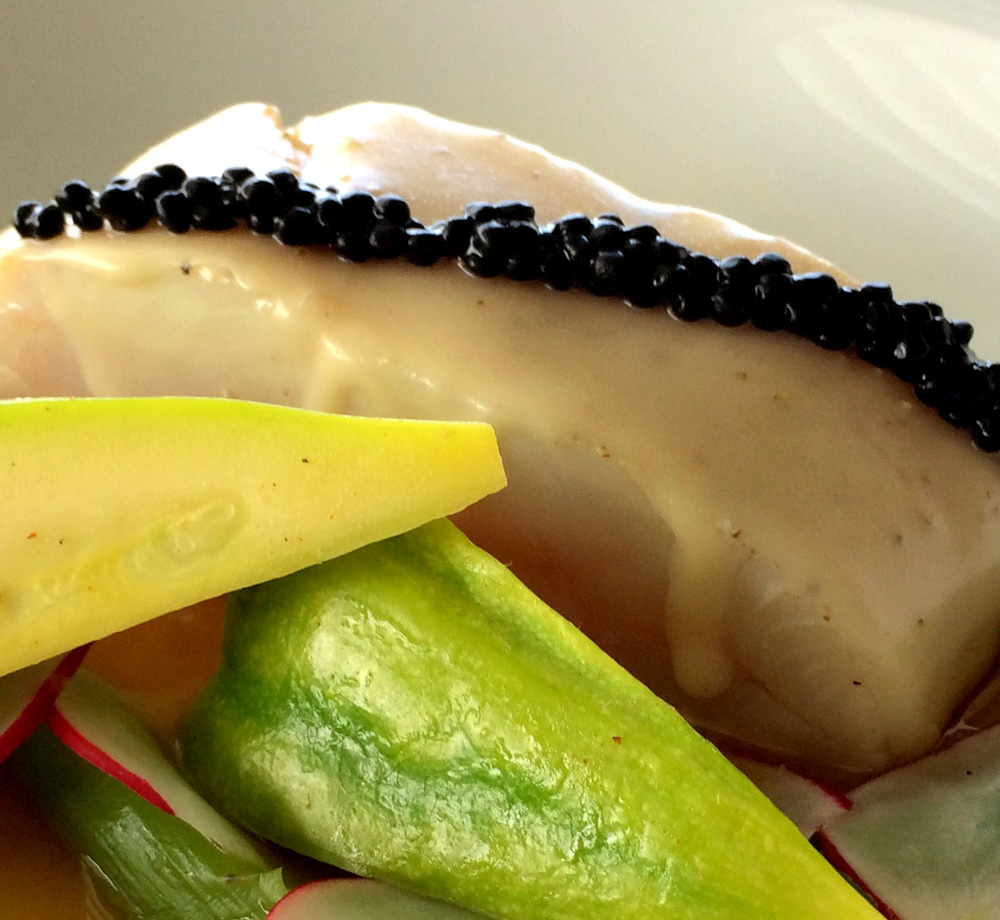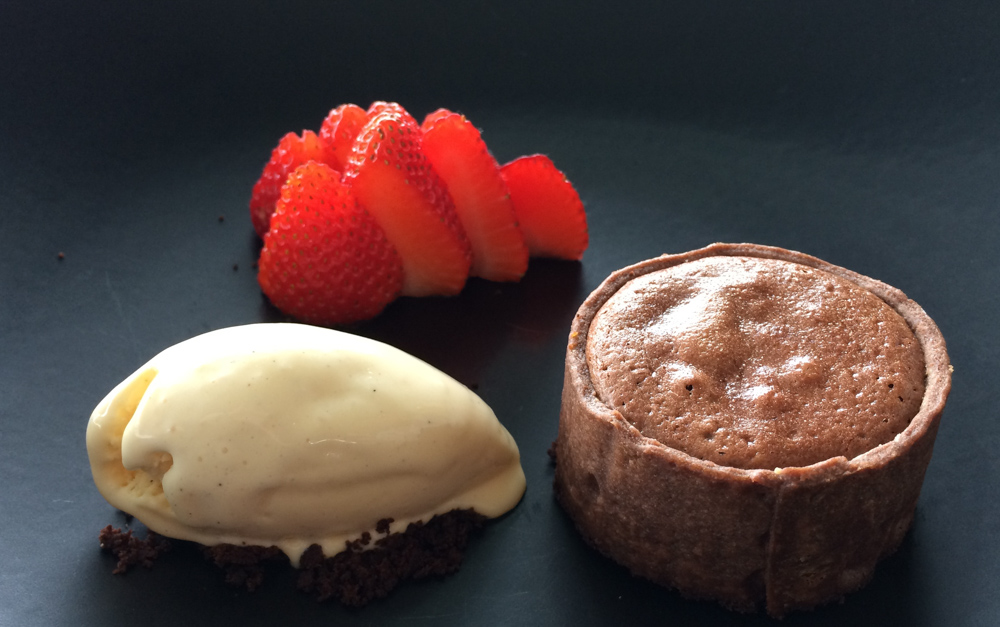 Dunedin
Leaving Australia behind me, the South Island of New Zealand provided something different at every turn, beginning in the southeast coastal town of Dunedin. Some say it is the most Scottish town outside of Scotland, and the damp, chilly day emphasized that idea during my visit.
Princes and George Streets meet at a statue of the Scottish poet Robert Burns at the Octagon, an eight-sided plaza in the city center. I strolled along these streets taking in views of historic buildings, gardens, shops, and restaurants. Locals recommended Fish Hook (their motto is "We catch it, we cook it") on George Street for classic fish and chips, with a golden beer-battered crust and incredibly moist, flaky fish inside.
Just off the Octagon on Stuart Street is Scotia Bar and Bistro. Mary Jane Hewitson, who owns Scotia with her husband, Jazz, and his brother Paul, related that Scotia got its start as a whisky-collecting competition between Jazz and Paul (more than 250 varieties are behind the bar today). Scotia pays tribute to Scottish cuisine in a most delicious way. Mary Jane says, "People think Scottish food is stodgy, but we do some little twists on things." A New Zealand touch is part of each Scottish classic. New Zealand lamb shines, with a meltingly tender duo of rack of lamb and slow-cooked neck of hogget (the next stage up in age from lamb) served atop a rice-stuffed onion. Scotia's haggis tastes like very moist meatloaf. Instead of the traditional accompaniment of neeps (turnips), Scotia serves mashed kumara, a New Zealand sweet potato. It is a dish so delicious that you always want just one more bite. The same is true of the cullen skink (smoked fish, potato, and herb chowder).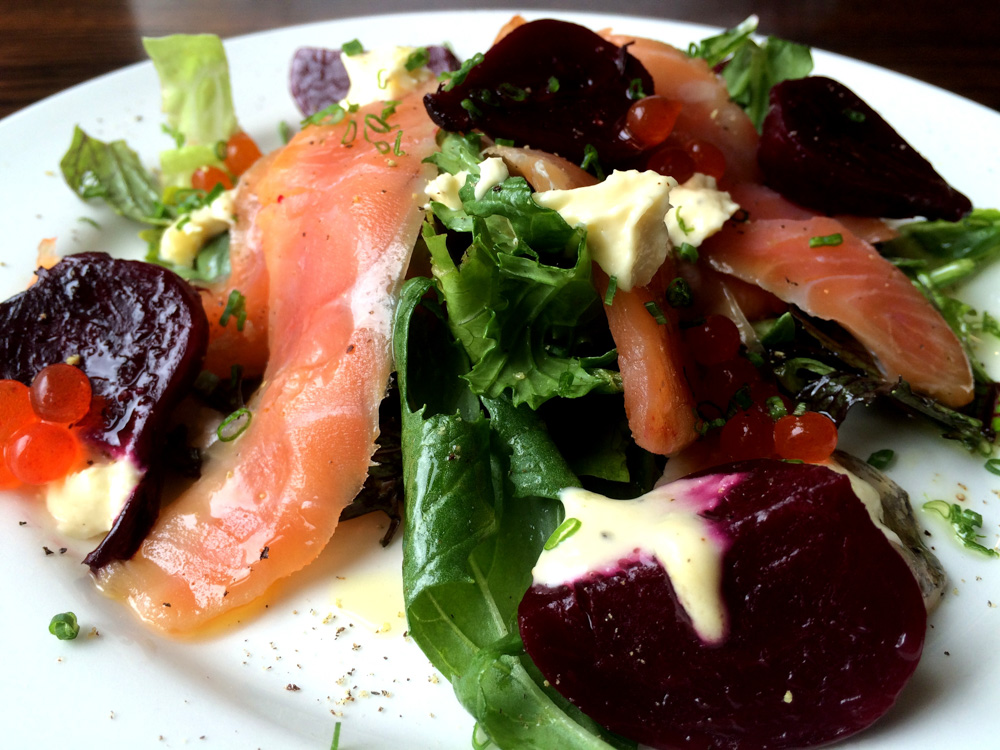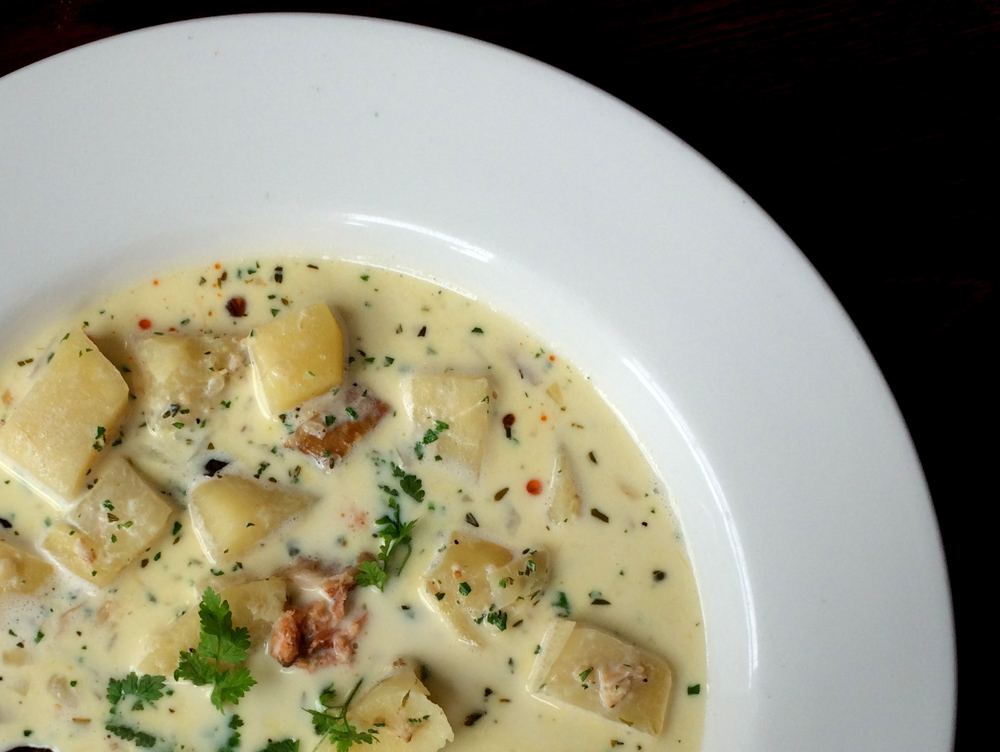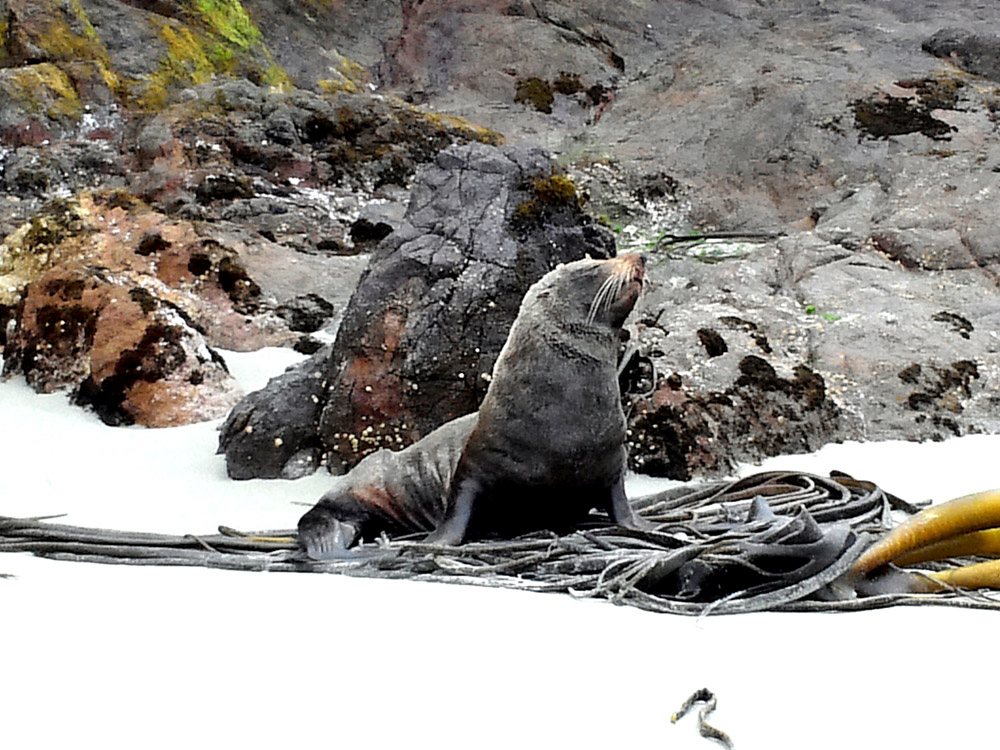 After eating your way through Dunedin, spend some time on the nearby Otago Peninsula, with the Pacific on one side and Otago Harbour on the other. The peninsula is home to a breeding colony of northern royal albatross, and there are abundant opportunities to explore hills and valleys, stroll along the beach, and view wildlife up close.
One of the best ways to do all of this is on a mountain bike. While it is easy to rent a bike and head out on your own, I opted for a small group tour from Offtrack MTB Tours. Guide Nick Beekhuis led our group through bucolic pastureland and around marshlands and tidal inlets populated by swans and small wading birds. Near the end of the ride, we left our bikes at a car park and hiked a short distance across farmland to a pristine beach, where a yellow-eyed penguin nest was visible and fur seals provided entertainment.
Fiordland National Park
Cross to New Zealand's west coast to see majestic Milford Sound in Fiordland National Park, a major part of the Te Wahipounamu World Heritage site. Tours are available by plane, boat, and kayak. While much of the country's geology resulted from volcanic activity, the fiords (locally referred to as sounds) were created by glaciers. Fiordland is accessible and popular with visitors for its stark, unspoiled beauty. As the boat I was on made its way through the sounds, I realized that it was one of the few places I had ever been where people had left no mark. The cliffs are covered with beech trees, the tree ferns are lush and abundant, and clouds hang on jagged peaks, giving the area an otherworldly feel.
On rainy days (with three hundred inches each year, this is one of the rainiest places on Earth), the cliffs explode with waterfalls, the most famous of which is Stirling Falls. The rain also makes Milford Sound an exceptional scuba destination, as a layer of freshwater from the rain collects tannins that darken the sound, causing sea life that normally avoids light and lives deep in the water to come much closer to the surface.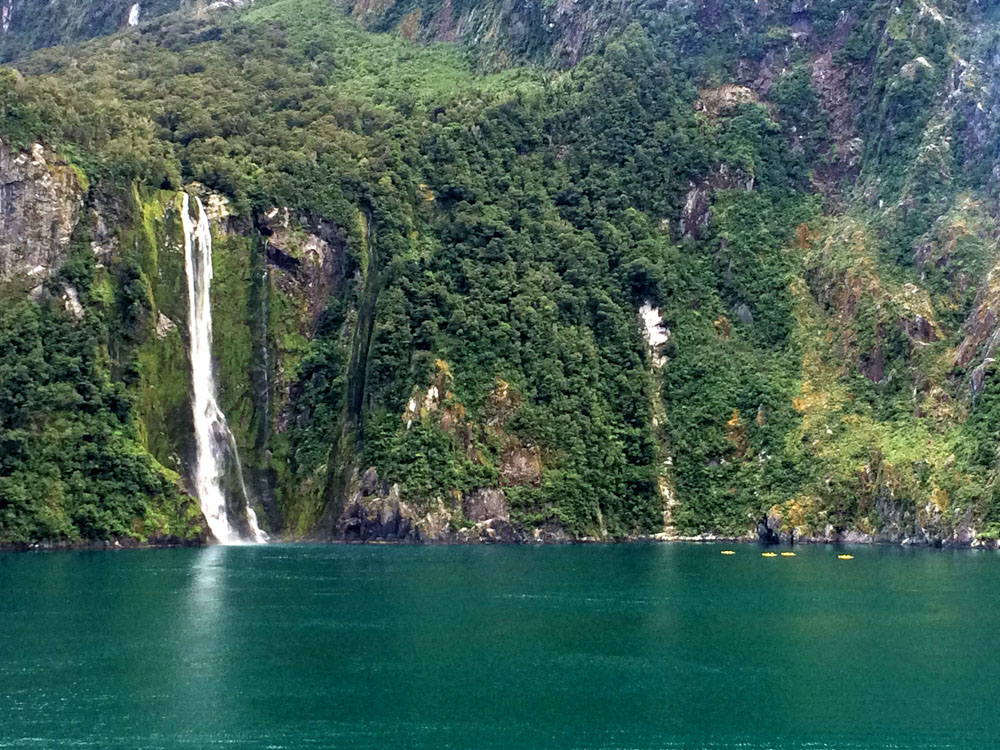 Akaroa
Further up the east coast from Dunedin is the charming village of Akaroa, located in the crater of a defunct volcano. Akaroa is as French as Dunedin is Scottish. Enjoy a meal of mussels steamed with cider in the fragrant, lavender-lined front garden of the Brasserie. Stroll down Rue Lavaud and Beach Road past cafés, boutiques, parks, and the beach. Everything here moves at a leisurely pace.
Akaroa Harbour is home to Hector's dolphins; at just four to five feet in length, they are the smallest dolphins in the world. Tour operators at the wharf take visitors on boats to see—and even swim with—these beautiful dolphins in a marine sanctuary.
While I was planning this trip, a friend recommended a tour so unusual that I just had to try it out. Local postman Robin Burleigh drives a bright red van that holds up to ten people. In the mornings and afternoons, he drives it as a school bus; during the middle of the day, he takes people through ten valleys and stops at about a hundred and forty postboxes on his rural route, which covers a large portion of the Banks Peninsula near Akaroa. Robin has a wealth of information about the area and conveys it in an entertaining way. He made stops at places that aren't found in guidebooks, including a small church that had Maori carvings throughout the interior and a picnic table where he set out tea, coffee, biscuits, and cheese. His wife, Jo, had included homemade relishes and pastries. One of the last stops was the place Robin called "the most beautiful beach in the world": the beach at Le Bons Bay, which was peaceful and had sand that sparkled in the sun. It was easy to see why this is the place Robin and Jo call home.
A group of four ladies (three of them sisters) had come down from Wellington and Christchurch to take the tour, and we spent the day trading stories and comparing accents. Along the way, I got some information about my next destination—Wellington.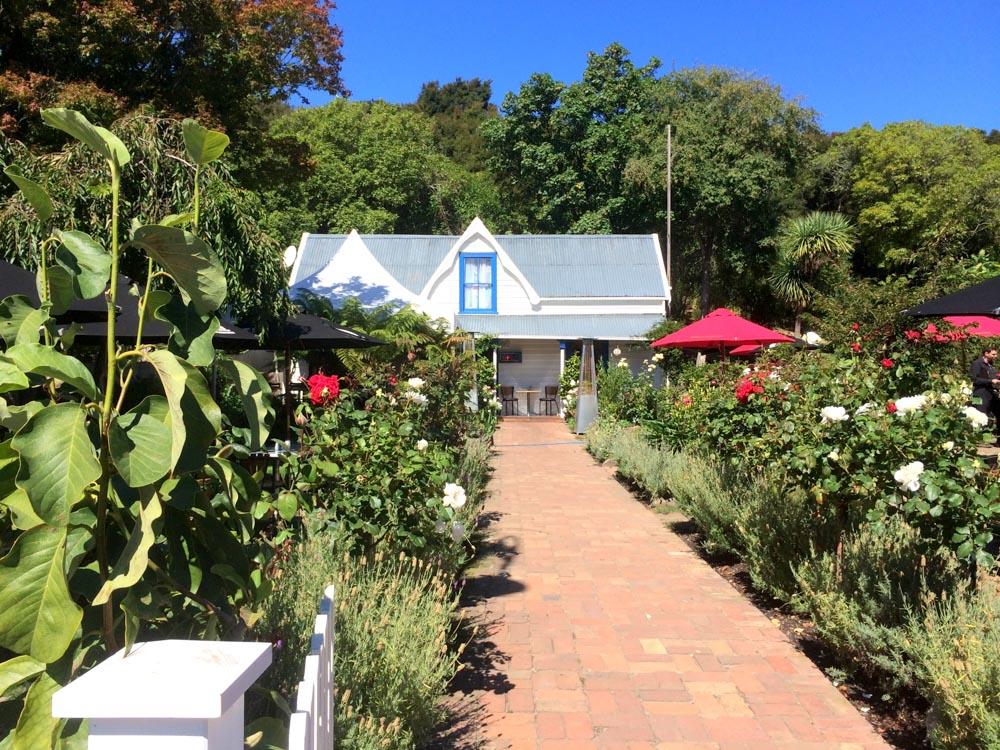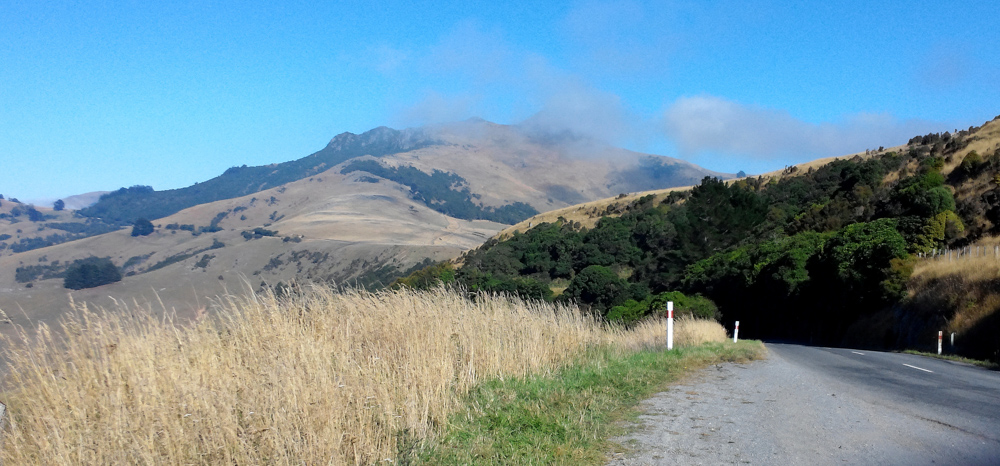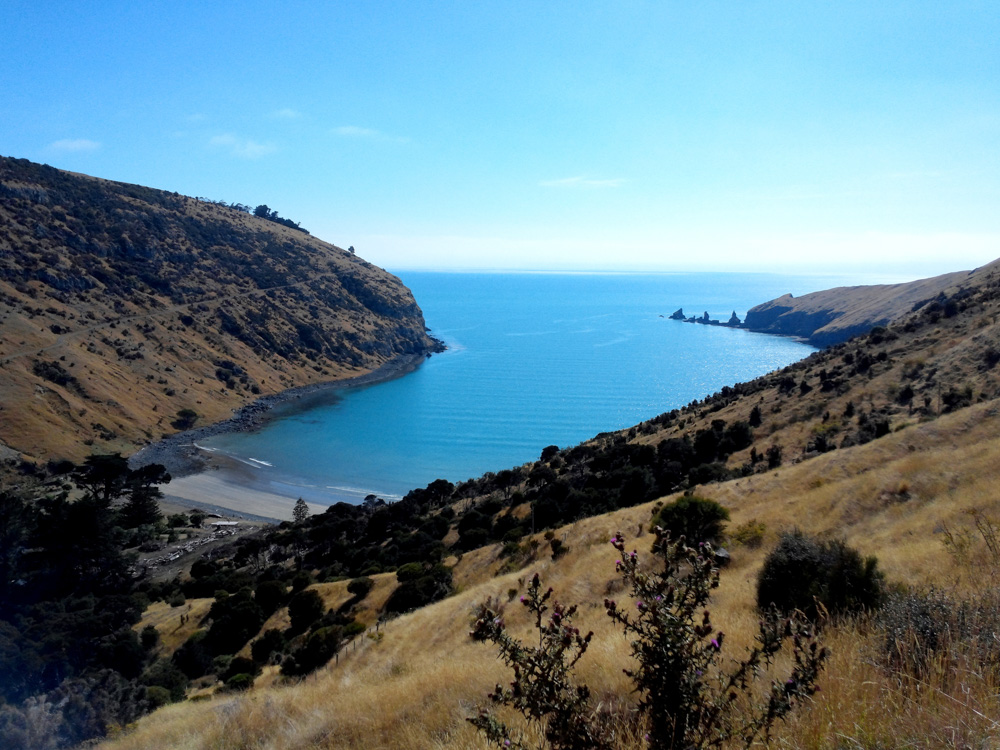 Wellington
Wellington is located on the southern coast of New Zealand's North Island. With water and hills surrounding the city, beautiful views are easy to find. Take the cable car from Lambton Quay to the scenic lookout at Kelburn; then, watch the sunset from the top of Mount Victoria.
For a different kind of view, I headed to Cuba Street, where I shopped bohemian style at vintage boutiques, perused art galleries, and watched street performers. Global Culture sells great kiwiana, such as artisan jewelry, Royce McGlashen pottery, and prints of Dick Frizzell's controversial Mickey to Tiki Tu Meke, which depicts the transformation of a cartoon character into a Maori mythological icon.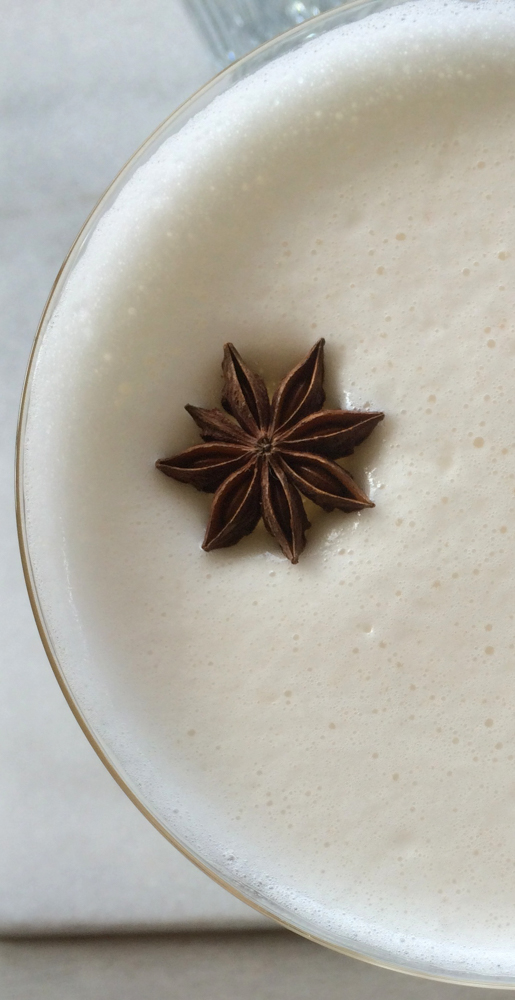 A few blocks from Cuba Street is the Museum of New Zealand Te Papa Tongarewa. Filled with interactive exhibits, Te Papa highlights New Zealand's nature, art, culture, and geological history (including an earthquake simulation). The Bush City outdoor exhibit takes you through the landscape and features a sand pit that lets kids dig for fossils. The Mana Whenua exhibit explores the culture of the Maori, the indigenous people of New Zealand.
Wellington is about many things, but food just might rank above all the others. On Cuba Street, Floriditas Café and Restaurant is an excellent stop for breakfast, lunch, or dinner. Go for a leisurely brunch of avocado, rocket (arugula), and poached eggs on ciabatta with hollandaise, and wash it down with a Bellini.
Wellington is about many things, but food just might rank above all the others.
Across the street from Te Papa is the elegant and whimsical Hippopotamus, located in the hip Museum Art Hotel. Lunch, dinner, and high tea can all be enjoyed there. When you step off the elevator, be sure to look up and see the herd of tiny elephants walking upside down on the ceiling. Just inside the entrance, a beautiful mirrored bar reflects the mod pink-and-green decor and the harbor view. It is a lovely place to enjoy afternoon cocktails and a board of duck liver pâté with mulled wine gelée, cornichon, caramelized onion, and an assortment of bread and crackers.
In the Mount Victoria area, Ortega Fish Shack produces some of the best food in Wellington. The atmosphere is laid back, but the food and drinks are seriously good. I had creamy oysters from Stewart Island and gurnard, a sustainable fish that also happens to be delicious. Meltingly tender beef filet with fries and crepes with orange caramel sauce prove that seafood isn't the only thing this restaurant does well. There is also an extensive list of wine, beer (Kereru Toasted Coconut Porter is a must try), and creative cocktails.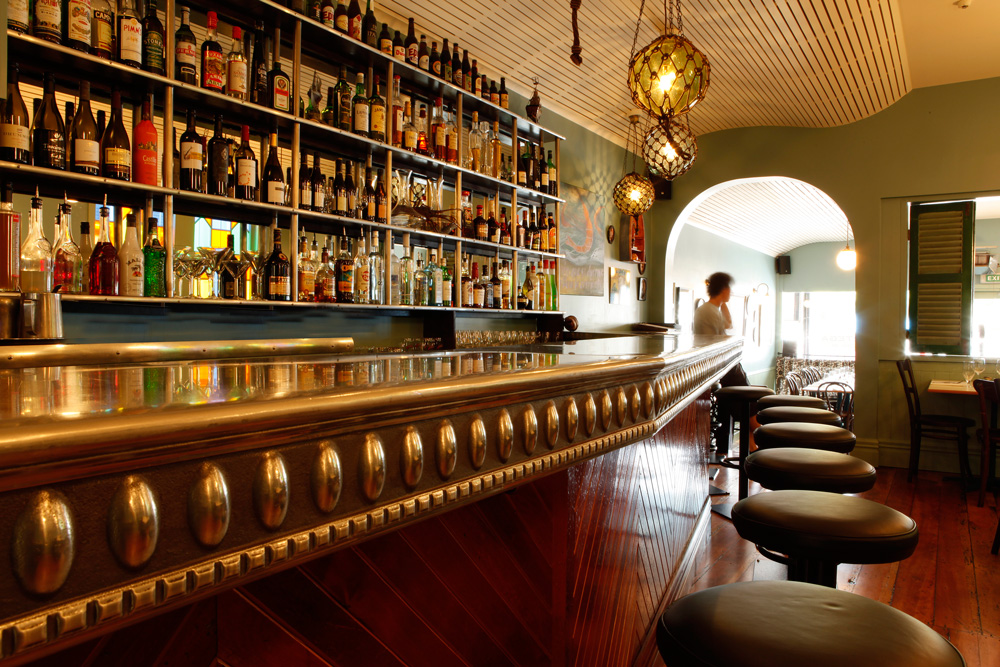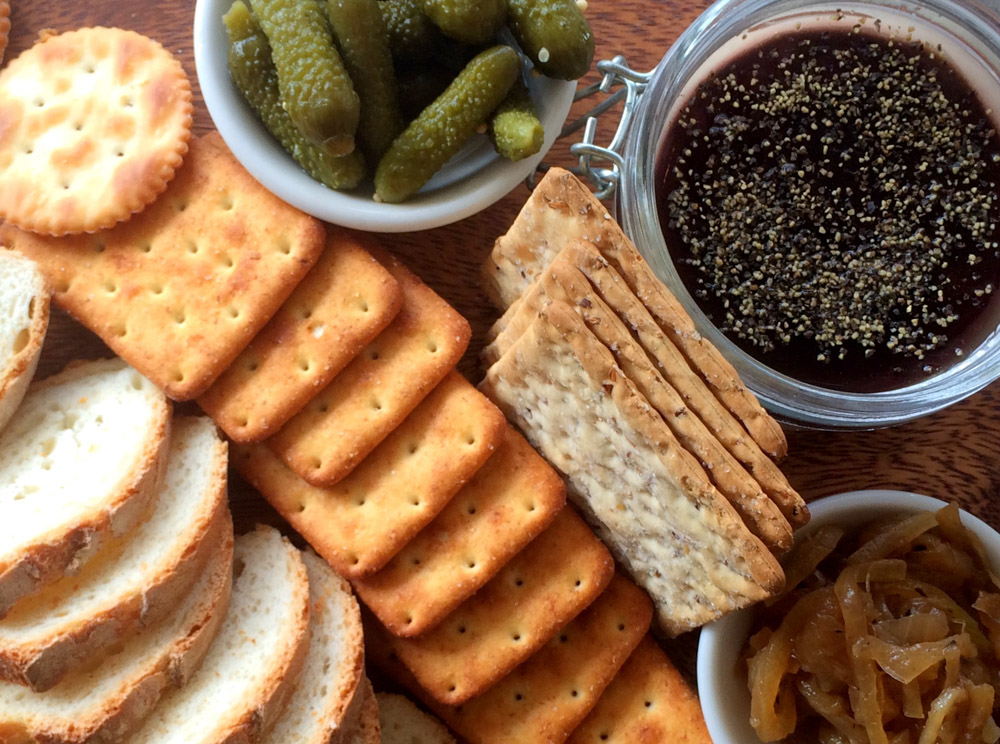 Rotorua
When planning this trip, I wasn't sure that I wanted to go to Rotorua, with its reputation for being a bit of a tourist trap (one of its nicknames is Roto-Vegas). But I found that a knowledgeable guide could make all the difference when you want to get off the beaten path. Susanna Shelton, a US transplant, and Aussie Karen Conroy conduct small group tours of the area. In one day, I saw a redwood forest, steaming mud pools, and boiling geothermal springs. I learned how locals still use the steaming pools, within steps of their homes, for cooking. I stood at a spot where I saw adjacent lakes of completely different colors, visited the lovely Government Gardens, and made a sixty-step descent through lush bush to see Okere Falls.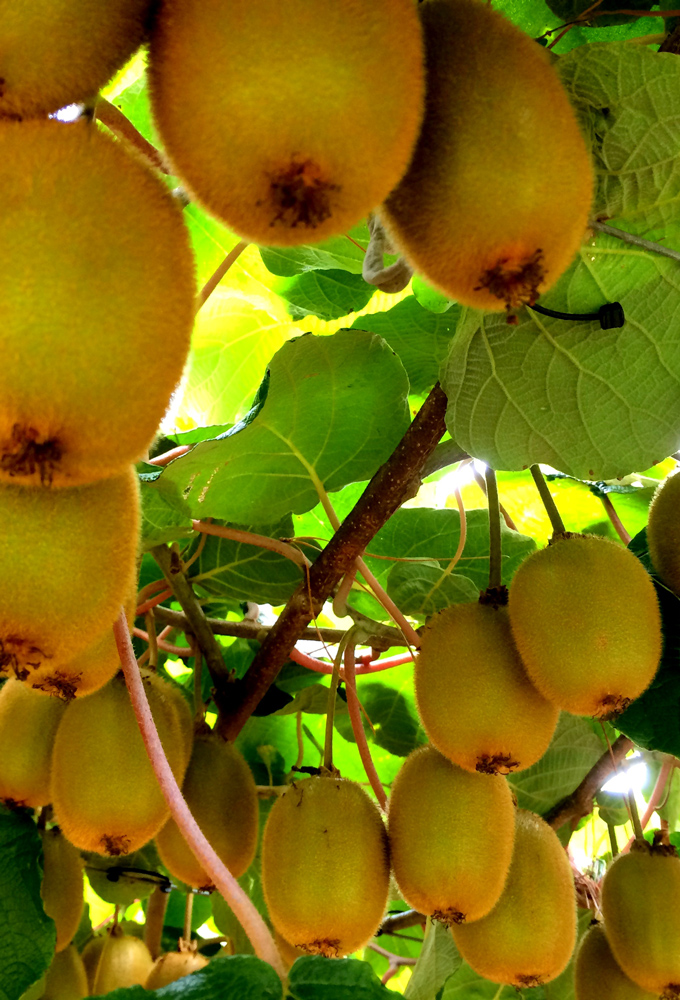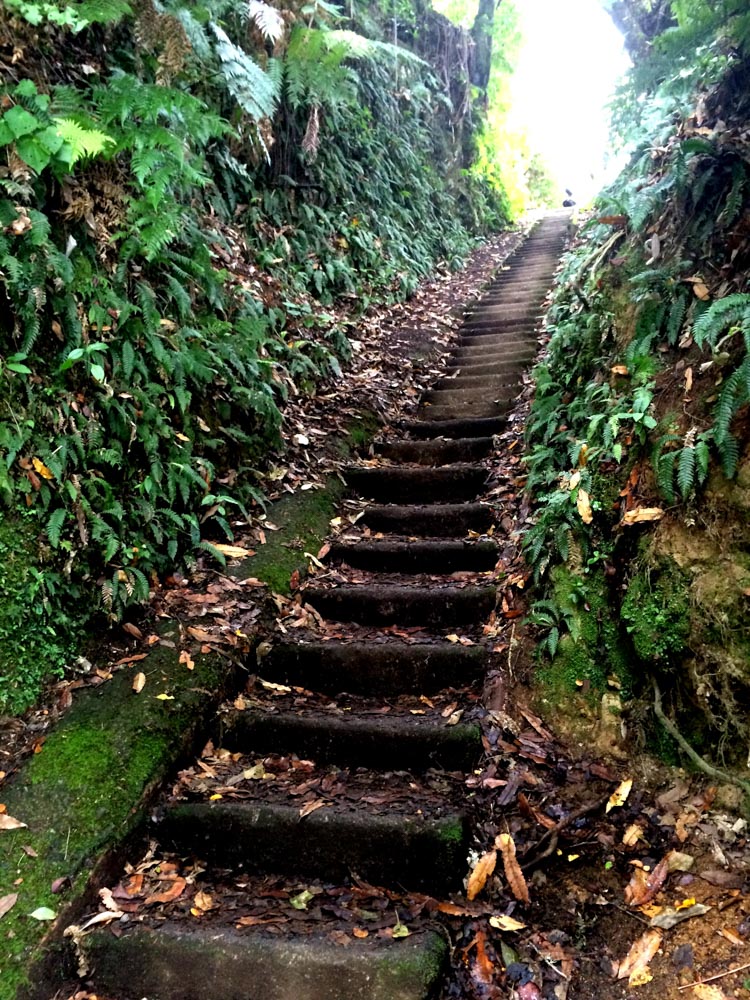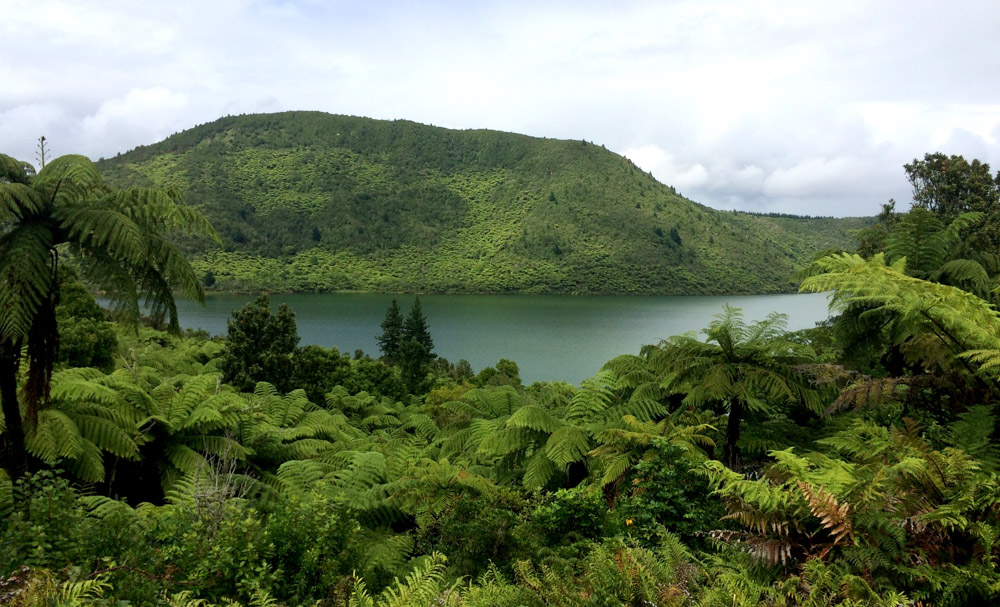 Auckland
While in Australia, I had the good fortune to meet twin sisters from the Auckland area, one who lived on Waiheke Island and the other in Devonport. A conversation and some handwritten notes from the sisters transformed an ordinary day of visiting tourist destinations into a lovely day of exploration for me.
Reachable by ferry from downtown Auckland, Waiheke Island offers vineyards, breweries, beaches, hiking, diving, and zip-lining. A twenty-five-minute ferry ride from Waiheke ends at the charming village of Devonport, where I wandered up Victoria Road, stopping into shops along the way, before reaching Mount Victoria. The steep but pleasant climb paid off with views of Auckland and the surrounding area. It was a relaxing afternoon where my biggest decision was whether to eat at Manuka Cafe, Corelli's, or Bette's Bar and Eatery.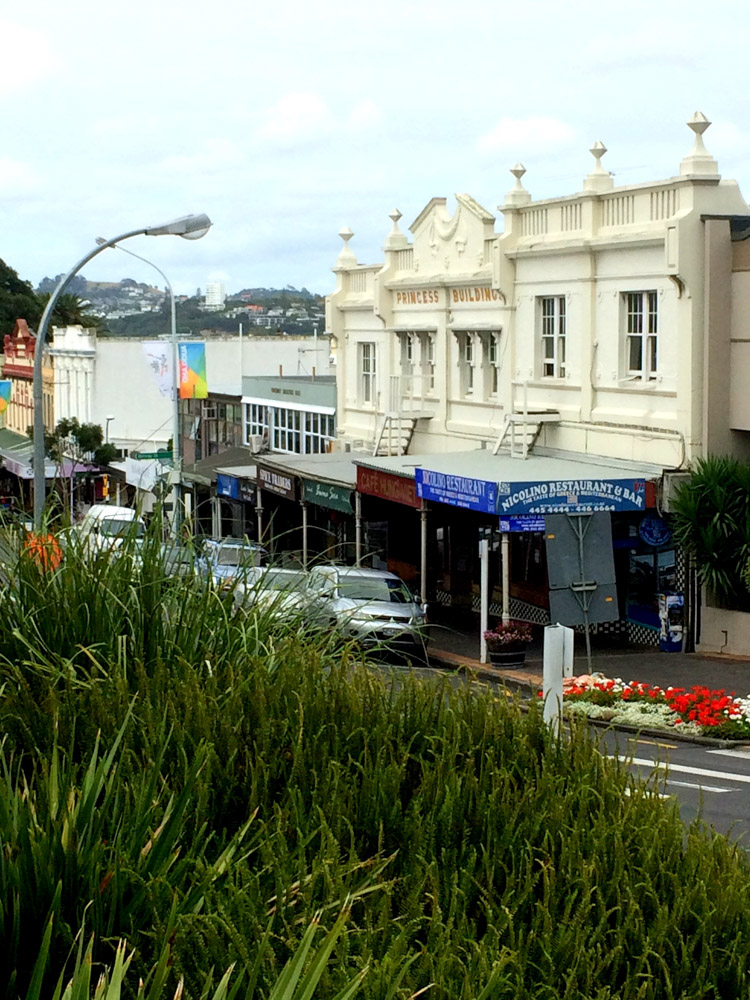 As I enjoyed my meal (at Manuka Cafe), I thought about the things I had learned about Australia and New Zealand. The people are friendly, the food is fresh and delicious, the scenery is spectacular, and sisters apparently like to travel together. Like my father before me, I was completely smitten.
— V —
---
Sydney
Amora Hotel Jamison Sydney 11 Jamison Street Sydney, NSW 2000 +61 (02) 9696 2500 www.sydney.amorahotels.com Dive Centre Manly 10 Belgrave Street Manly, NSW 2095 +61 (02) 9977 4355 www.divesydney.com.au Manly Surf School 93-95 North Steyne Manly, NSW 2095 +61 (02) 9932 7000 www.manlysurfschool.com Manly Bike Tours and Hire Shop 6-54 West Esplanade Manly, NSW +61 (02) 8005 7368 www.manlybiketours.com.au Taronga Zoo Bradley's Head Road Mosman, NSW +61 (02) 9969 2777 www.taronga.org.au Sepia Restaurant 201 Sussex Street Sydney NSW 2000, Australia +61 (02) 9283 1990 www.sepiarestaurant.com.au
Quay
Upper Level, Overseas Passenger Terminal 5 Hickson Road, The Rocks NSW 2000, Australia +61 (02) 9251 5600 www.quay.com.au Chur Burger 48 Albion Street Surry Hills NSW 2010, Australia +61 (02) 9212 3602 www.churburger.com.au Tetsuya's 529 Kent Street Sydney NSW 2000, Australia +61 (02) 9267 2900 www.tetsuyas.com
Hobart
Cargo Bar Pizza Lounge 51 Salamanca Place Battery Point, TAS 7004, Australia +61 (03) 6223 7788 www.cargobarsalamanca.com.au Franklin Bar and Restaurant 30 Argyle Street Hobart, TAS 7000, Australia +61 (03) 6234 3375 www.franklinhobart.com.au MONA 655 Main Road Berriedale Hobart Tasmania 7011, Australia +61 (03) 6277 9900 www.mona.net.au Black Mountain Larder Crème Anglaise +61 (406) 522 582
Rotorua
Cruise Tours Tauranga +64 (07) 571 2453 www.cruisetourstauranga.weebly.com
Dunedin
Fish Hook 424 George St Dunedin, Dunedin North 9016, New Zealand +64 (03) 477 1620 Scotia Bar & Bistro 199 Stuart St Dunedin, 9016, New Zealand +64 (03) 477 7704 www.scotiadunedin.co.nz Offtrack MTB Tours +64 (211) 750 832 www.offtrack.co.nz
Akaroa
The Brasserie 41 Rue Lavaud Akaroa 7520, New Zealand +64 (03) 304 8585 www.thebrasserie.co.nz Black Cat Cruises – Dolphin Tours Akaroa Main Wharf Akaroa 7520, New Zealand +64 (03) 304 7641 www.blackcat.co.nz Eastern Bays Scenic Mail Run +64 (03) 304 7784 or +64 (03) 304 8526 akaroaadventurecentre@gmail.com
Wellington
Global Culture 30 Cuba Street Wellington, New Zealand +64 (04) 473 7097 Te Papa Tongarewa 55 Cable Street Wellington, New Zealand +64 (04) 381 7000 www.tepapa.govt.nz Floriditas Café 161 Cuba Street Te Aro, Wellington 6011, New Zealand +64 (04) 381 2212 www.floriditas.co.nz Museum Art Hotel 90 Cable Street Wellington 6011, New Zealand +64 (04) 802 8900 www.museumhotel.co.nz Ortega Fish Shack 16 Majoribank Street Wellington 6011, New Zealand +64 (04) 382 9559 www.ortega.co.nz
Auckland
Manuka Cafe 49 Victoria Road Devonport 0624, New Zealand +64 (09) 445 7732 www.manukarestaurant.co.nz Corelli's 46 Victoria Road Devonport 0624, New Zealand +64 (09) 445 4151 www.corelliscafe.co.nz Bette's Bar & Eatery 8 Victoria Rd Devonport, Auckland 0624, New Zealand +64 (09) 446 6444
ARTICLE CATEGORIES